Just My Cup of Tea
Ever since I was a little girl, the few times my family would go out to eat Chinese food, I would be more excited about the green tea than the pu pu platter we always shared! In fact, during the 7 years I lived in England, people were always floored that "the Yank" didn't want the proffered cup of coffee they assumed I'd want, but matched them cup for cup in the tea department (and believe me, Brits drink gallons of tea). In fact, one of the favorite places I visited when I was living there was a tiny teapot museum. I could have spent hours in there! So, when my mother-in-law asked if there was anything I wanted from her home as she was downsizing, I quickly pounced on claiming her teapot collection, which now sits pride of place in my living room. This lifelong obsession with tea – and the fact that January is National Tea Month – will help you understand why I decided to feature a spot of tea puzzles this month!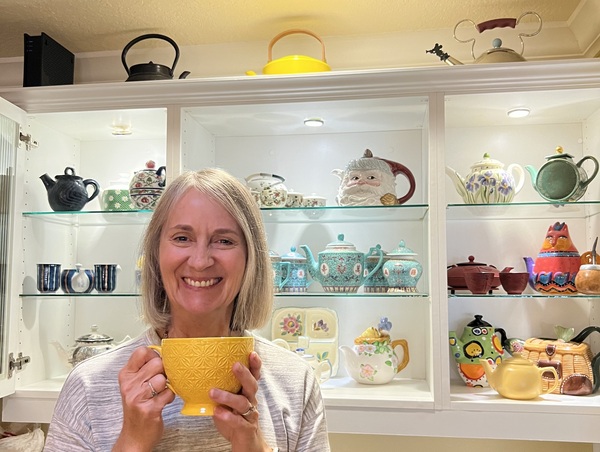 Although the first puzzle discussed here doesn't focus solely on tea, this 1000-piece Cream Teas & Queuing puzzle from Gibsons felt like a nod to the many cups of tea I enjoyed in England! When Gibsons says they use the thickest puzzle board on the market, they are not lying. You could say they were as thick and rich as the clotted cream that comes with an English cream tea (gosh but I miss those scones)!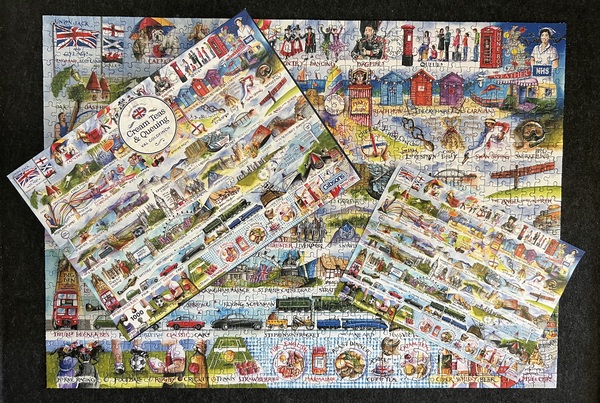 This puzzle experience is making me pine for the others in this series by artist Val Goldfinch, including Deckchairs & Donkeys and Pork Pies & Puddings. Val specializes in detailed watercolors that, like this one, feature many images in one puzzle. I smiled as I reminisced about the English foods, festivals (my favorite is Cheese Rolling) and locations I experienced over there that are in this puzzle!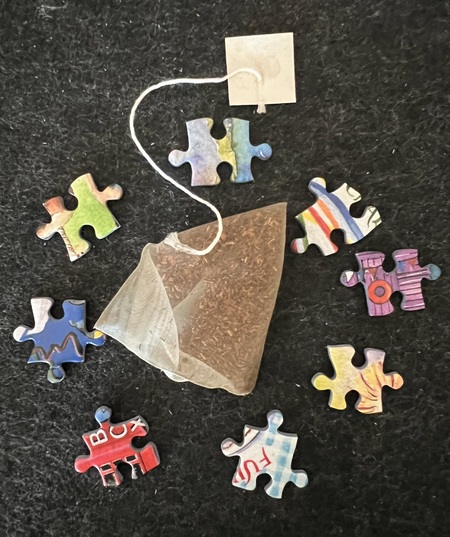 Next up was this 1000-piece Tea and Cookies by Buffalo Games with artwork from another favorite artist of mine, Aimee Stewart. Her images always make me smile. I mean how cute are those gingerbread men? Her bright colors and patterns make for quick work for me, as they make it easy to spot what pieces go where. The thing I struggled with the most on this puzzle? The teabag! I was convinced the puzzle was missing a piece because it just wasn't registering for me. It was a big "duh" moment when I finally found it! I enjoy Buffalo Games puzzles – the pieces, which are 100% recycled paperboard, are on the smaller side, but snap together nicely and they come with a large poster to make spotting those patterns even easier.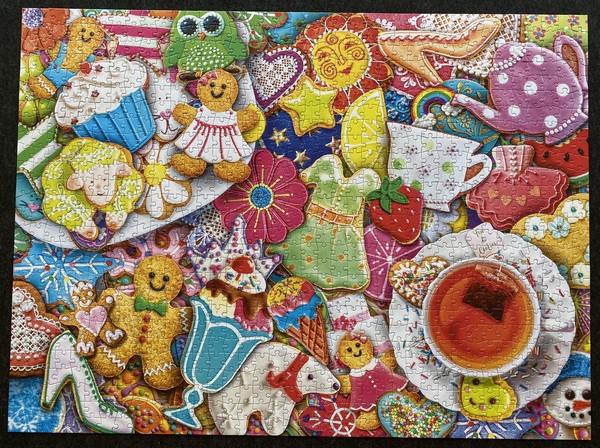 Eurographics offers a number of tea-themed puzzles, such as The China Cabinet and Tea Cup Party, all spotlighting photos by Alison Henley from The Vintage Table. My favorite is this 1000-piece Colorful Tea Cups as it came close to a gradient puzzle with like-colored cups stacked one on top of the other. As usual for me - as can be seen in this progress photo - I struggled with the grey spaces in between the stacks. But once I figured out one piece in each of those areas, a detail that would run through that line became apparent and it went quickly. The random cut pieces had no false fits, held together well and I loved that there was color on literally every piece – no areas of "sameness" which is my nemesis!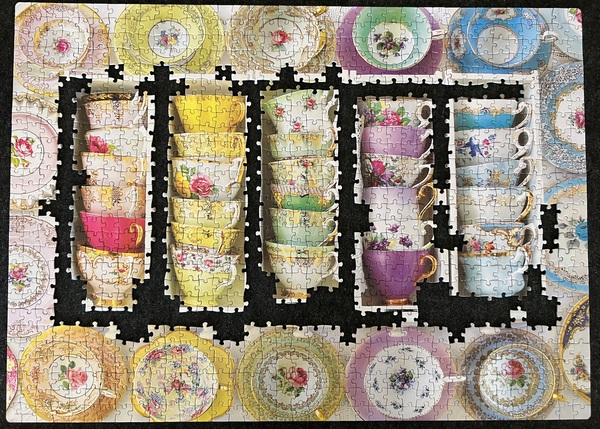 Lastly, Afternoon Tea by Galison was more challenging than I thought it would be - I usually complete a 500 piece puzzle in one night and this took two - but that didn't stop me from enjoying it immensely! The ribbon cut pieces and repetitive pattern of the flowers and leaves put my skills to the test, but that was balanced out by the distinctive patterns on the floor and stand-out elements throughout, like this menu board and blue chairs the kitties are keeping as warm as the tea on the table. I am drawn by the soft colors British illustrator Victoria Ball uses in her artwork and can't wait to dive into another of hers, Florette, that is in my stash.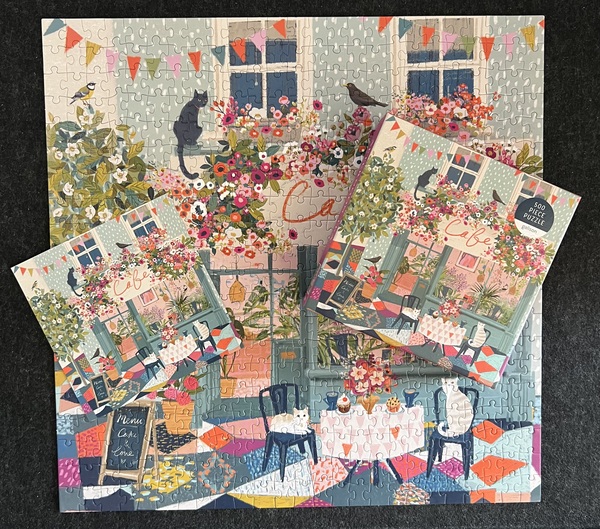 Well, the kettle is whistling (a tip I learned in England – NEVER use microwaved water if you want a GOOD cup of tea) and it's time to refresh myself with a cup before heading back to my puzzle board. Cheers!
– Lisa @lisalovespuzzles