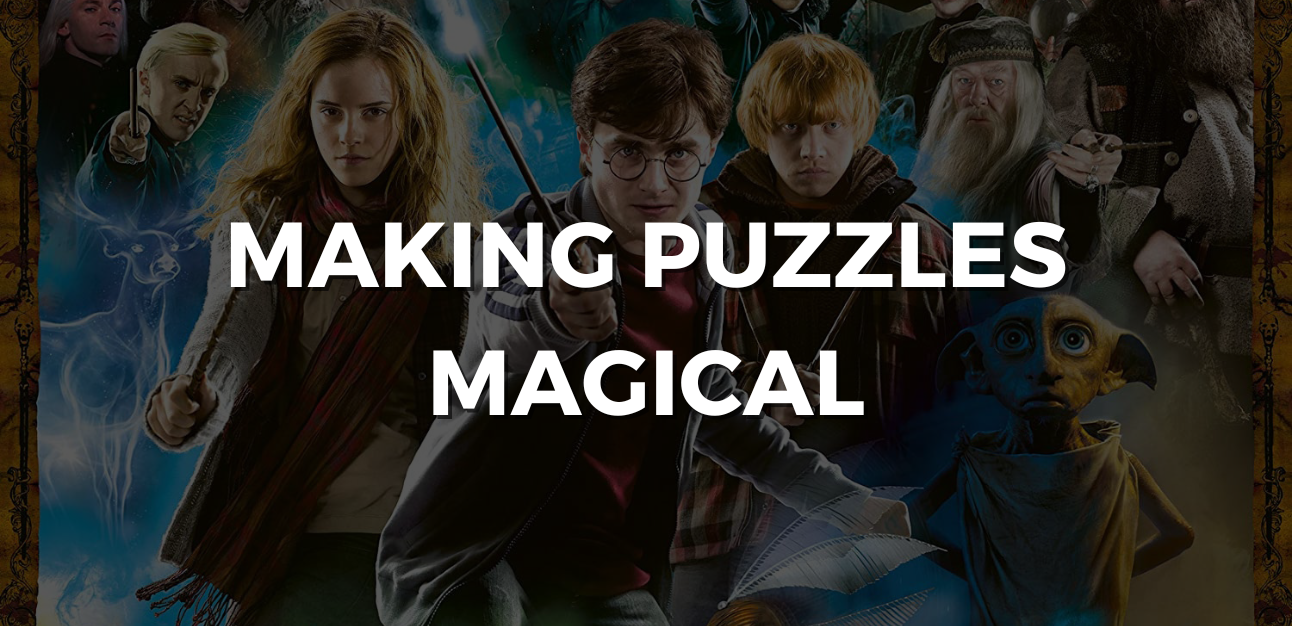 Making Puzzles Magical
I still remember the thrill of midnight release parties for the latest Harry Potter book. Hanging out with all the other muggles looped through the bookstore while we practically glowed with anticipation was, well … magical. The Wizarding World still captivates me twenty-five years later and now I get to explore it through the wonderful world of jigsaw puzzles too!
Now, some will argue that Harry Potter is best suited for the winter holidays, but I always revisit Harry and his friends in October. C'mon – witches, wizards, monsters and magic – what about that doesn't sound perfect for Halloween season?
My personal collection of Harry Potter puzzles includes several of the book cover puzzles from New York Puzzle Company and a 3-D puzzle from Wrebbit3D that I wrote about in this post. New York Puzzle Company also carries several puzzles featuring the book illustrations in a variety of piece counts. Despite my "Harry Potter is for Halloween" stance, I am saving Christmas at Hogwarts for December puzzling. And I might have to add Three Broomsticks to my winter puzzle list too.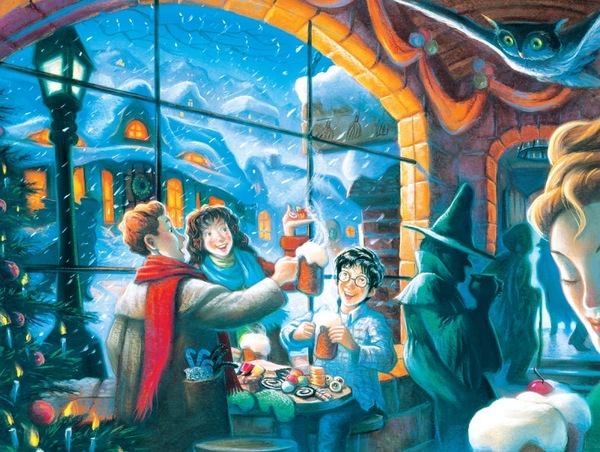 Three Broomsticks | New York Puzzle Company | 500 pieces
But back to HP and Halloween plans. I hope to collect and build all of the HP Wrebbit3D puzzles in the Diagon Alley series. Wouldn't that make an awesome Halloween display?! Gringotts Bank is still at the top of my list. It's one of their new releases this year and I just can't get enough of that dragon! If space is a limitation for you, there's good news – Diagon Alley also comes in a single 3D puzzle with a smaller footprint. Tiny Harry Potter World? Yes please!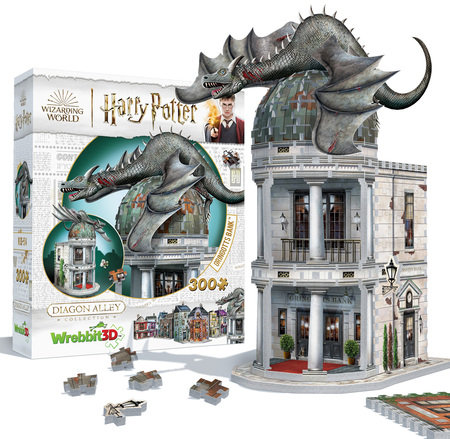 Gringotts Bank| Wrebbit3D | 300 pieces
If tiny Harry Potter is your jam, New York Puzzle Company, Re-Marks and Paper House Productions all have mini HP puzzles. A little Hermione hanging out with a little Harry – so cute! I think the minis from New York puzzle company would be the perfect puzzle pairing to introduce kids to both HP and puzzles. Mimbulus Mimbletonia makes me laugh every time I see it. That image of smelly liquid exploding all over the Hogwarts Express cabin is both ridiculous and amazing.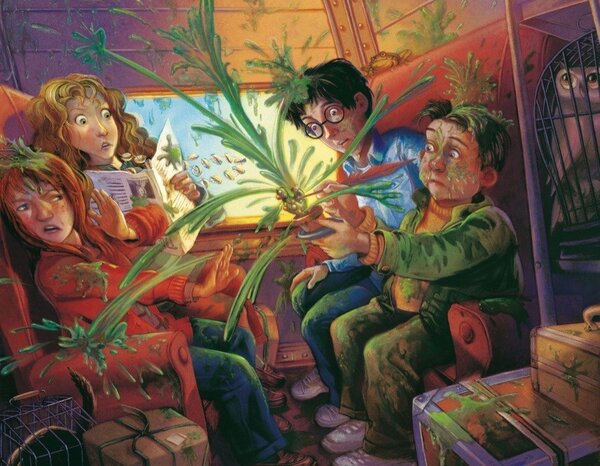 Mimbulus Mimbletonia | New York Puzzle Company | 100 pieces

I tend to favor these illustration-style puzzles, but I have to say some of the photo HP puzzles from USAopoly are pretty incredible. USAopoly is known for their pop culture puzzles and their HP images look like a seriously entertaining challenge. Dobby is a perfect example of a puzzle design that looks impossible at first glance, but when you take a closer look, the magic reveals itself bit by bit. Even within its limited color palette, there is a distinct gradient and so much texture and movement. I think this one would be a terrific challenge to tackle!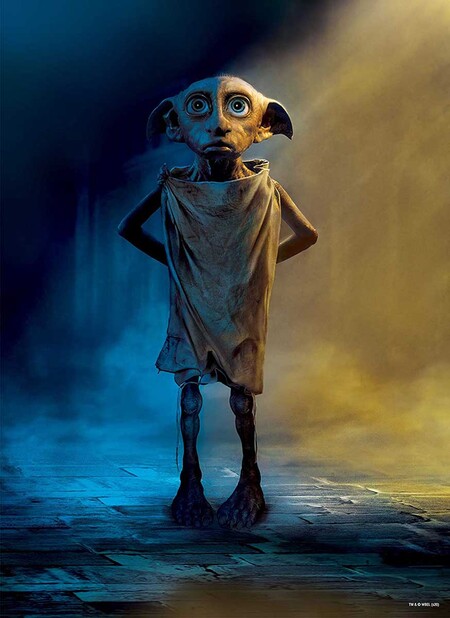 Dobby | USAOpoly | 1000 pieces

If you thought foam 3D, illustrated and photo puzzles were all the magic HP puzzles have to offer, please take a peek at Metal Earth's HP collection. The level of detail on these ingenious metal puzzles is insane. Buckbeak caught my eye first and then I went all the way down the rabbit hole, ending with the wonder that is Hogwarts in Snow. (Ok, maybe the HP is a winter series is starting to make more sense now.) I haven't done a Metal Earth puzzle myself, but you can check out this post if you want to learn more about them from a fellow ambassador who has.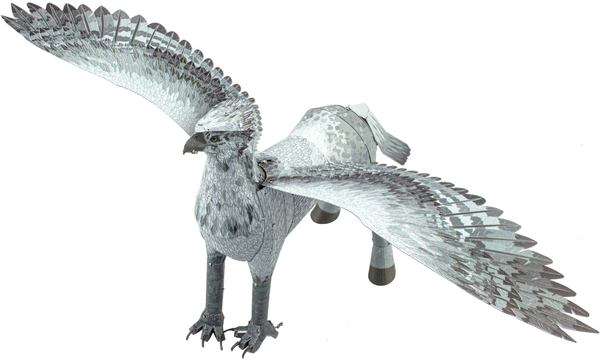 But wait, there's more! Have you been wanting to try a lenticular puzzle? Once again, HP has you covered, just like magic. This Fawkes puzzle from 4D Cityscape looks intense. Just look at his stare! In my opinion, 300 pieces is the perfect piece count for a lenticular puzzle. You get the unique experience of the 3D image without an overly challenging high piece count. If you're curious to learn more about the lenticular puzzle experience, you can read more about them here.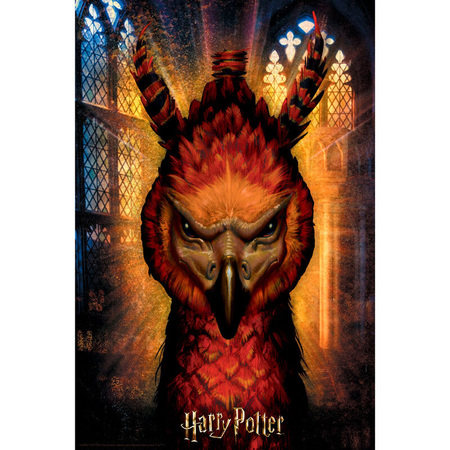 Fawkes | 4D Cityscape | 300 pieces
Ok, I saved this one for last on purpose. It takes a lot to impress a seasoned puzzler. With years of puzzling behind me, I've seen so many formats, gimmicks, twists and trends. But what I haven't seen before is a scratch off puzzle. That's right- a scratch off puzzle! Also from 4D Cityscape, comes this Harry Potter Wanted Poster puzzle. How does it work? You assemble the puzzle, then scratch off to reveal a new image. It's magic! And the original image is on the other side, so you get two puzzle images in one go. Goes right on the wish list for sure!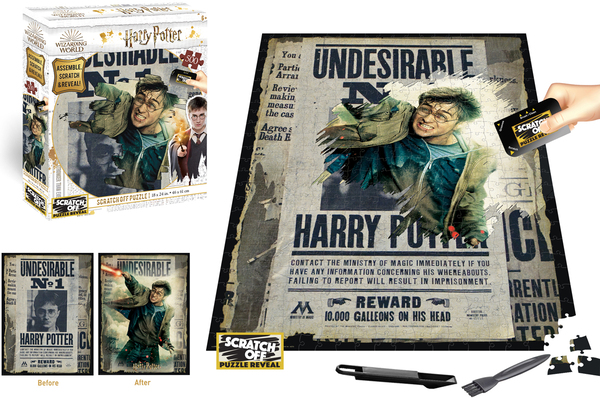 Harry Potter Wanted Poster | 4D Cityscape | 500 pieces
Whether you celebrate HP during spooky season or winter, or all year round, there's a puzzle companion (or five or six) to help you get in the magical spirit. I'd love to know if you give any of these a try. Come back and tell me about it! Until then,

Happy Puzzling! xo, Sarah B.@necessarahly_puzzles