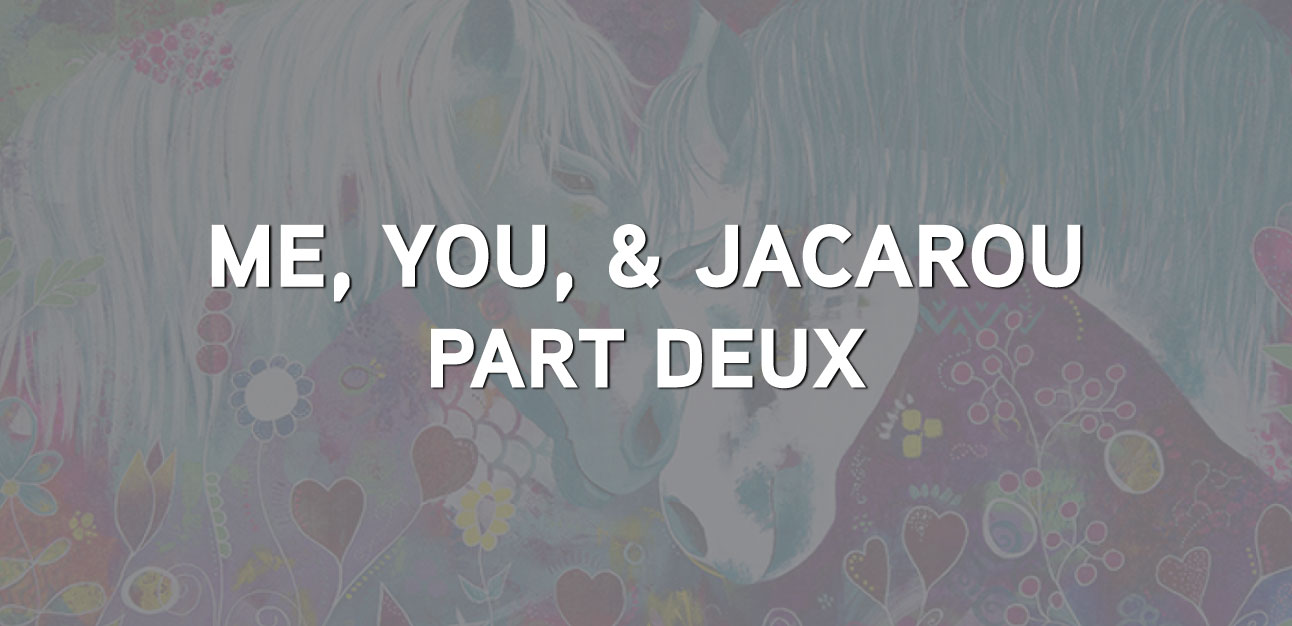 Me, You, and JaCaRou! Part Deux
Anie Maltais is the owner and founder of JaCaRou Puzzles in Quebec, Canada. We continue Part 2 of our interview and talk about die cuts, the raging debate between glossy vs. matte finish, and peculiar puzzle habits. Read part one here.
Note: This interview has been lightly edited for length and clarity.
Tracy Williams (Shortened to "T" for the rest of the interview): The JaCaRou puzzle that I'm working on has a resealable bag! That's great! Everybody wants to support brands that are looking for ways to reduce plastic waste these days.
Anie from JaCaRou (Shortened to "A" for the rest of the interview): Yes, puzzlers do mention that they like the resealable bag. They also like that there's not too much puzzle dust. Those are the two things that people look for. Oh, there's another thing also. I used to have a die cut where pieces could fit in many places. People don't like that and I don't like that either! (laughter) I quickly changed to a new die cut where the pieces only fit in one spot. With my first designs, I didn't realize that I was sometimes designing borders that were all similar. Now I try to make a border where the four corners are all very different.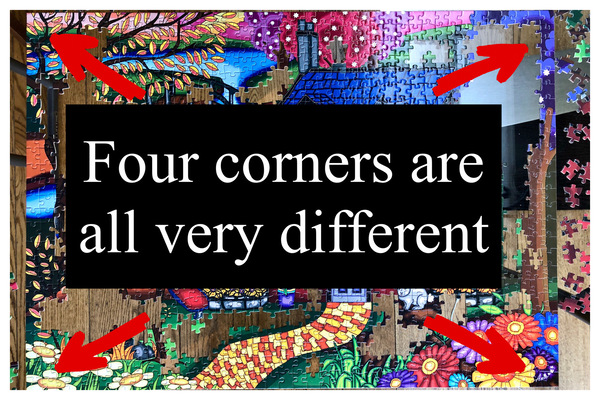 Country Living | JaCaRou | 1000 pieces
T: How do you go about changing the die cut? Does your rep in China send you samples?
A: Actually, the rep will send me an image of the die cut and I can see how the pieces look on the image. When you pick a die cut, sometimes you need to pick the one that they already have open. You can also have your own die cut made if you want to pay extra. Then it's yours to keep because they're going to be able to use the die cut for many cuts. Our current die cut is my favorite from the whole seven years because the shapes are fun and not so regular.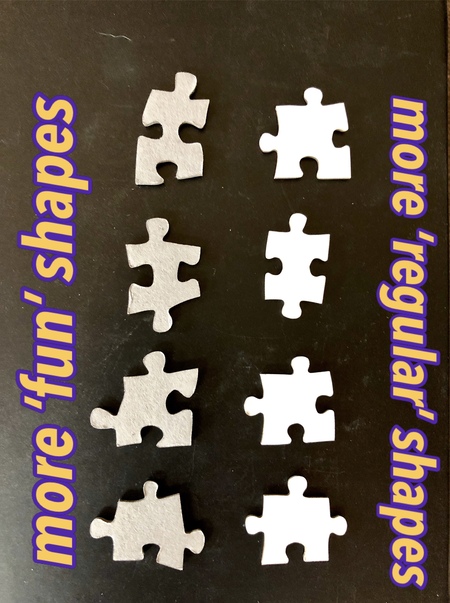 T: Will the die cut from the manufacturer be different each year?
A: I love the current die cut, so I asked my rep to keep it the same. If I asked her to change it, she would change it. But the one I have now, I'm happy with it. It might change a little bit if they remake one, but it's going to be similar. The other reason I want to keep the same die cut is if I need to send a replacement piece, the cut has to be exactly the same. I did have another company that I was working with, and the quality was nice and everything, but I could not replace pieces because there was a little difference in the pieces with each cut. Because of that, I decided not to use them as a manufacturer.
T: I think the various die cuts are so interesting.
I have another art question … Do you have favorite themes that you like to use?
A: I try to go with different themes every time I start a new collection. I don't want to always make the same types of images. In my case, I'm not an artist to begin with. That's not how I started. Sometimes there are artists that say, "I do art, so I'm going to make a puzzle from my art." That's not the way I did it, because I was not an artist. I was just someone who had some knowledge in drawing. I started creating images so that I would have more puzzles that I wanted to work on. I actually don't design the puzzles the same way that I did before. Five years ago, I was just starting with Photoshop and I was doing more collage designs and putting some textures in. I didn't have all the expertise that I have now. Now, I'm very good at Photoshop and when I draw an image, and I color it, I'm much better than I was before. Maybe it was good before, I don't know. (laughter). As for the subjects and the theme, sometimes people will suggest something. I remember at one point someone said, "Would you do a giraffe?" I said, "Okay, I'll try." And then I did the giraffe puzzle.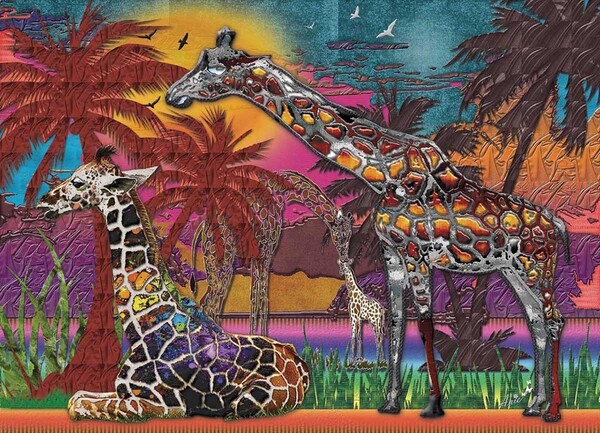 Rainbow Giraffes | JaCaRou | 1000 pieces
Every year, for four years, my brother-in-law kept asking me for a golf puzzle, because he's a golfer. And I said, "You know what, I'm not inspired. I don't know how I would do an image for golf. I'm not a golfer. And do you really think people are going to buy it?" But he kept asking me every year. So this year, I thought, "I'm gonna do it and then he's going to leave me alone." (laughter) And I did it! I finally came up with something and it's kind of fun. It's more of a cartoon type of image and it's selling well! So he was right! (more laughter) Sometimes if someone tells me to do something, and it's not in my head or I don't see it, then it might take me a while.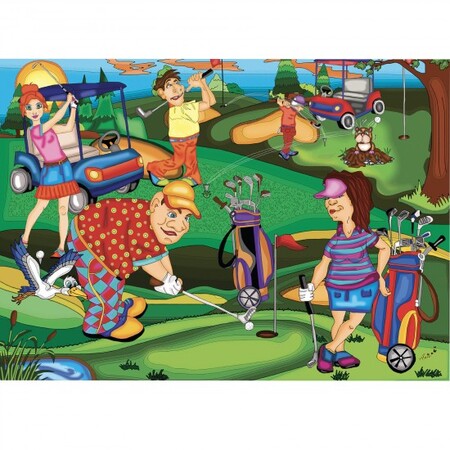 T: Do you include a special object in all of your images? I think they are called 'Easter Eggs'. For instance, some artists hide a black cat somewhere in the image or they'll include the numbers of their house address somewhere in the image.
A: No, I don't do that. But sometimes I do put in a little humorous thing that I hope people will see. I made two puzzles, "New Dogs on the Block", which is like New Kids on the Block and "Backstreet Cats", which is like the Backstreet Boys. In the Backstreet Cats puzzle, there is a small "Dog Missing" poster on the wall. So sometimes I'll put in a little thing that people will notice. I'm not very obvious, but my signature is always the same.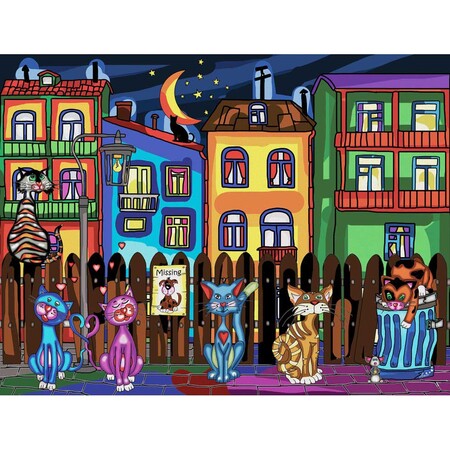 Cat's Night Out | JaCaRou | 1000 pieces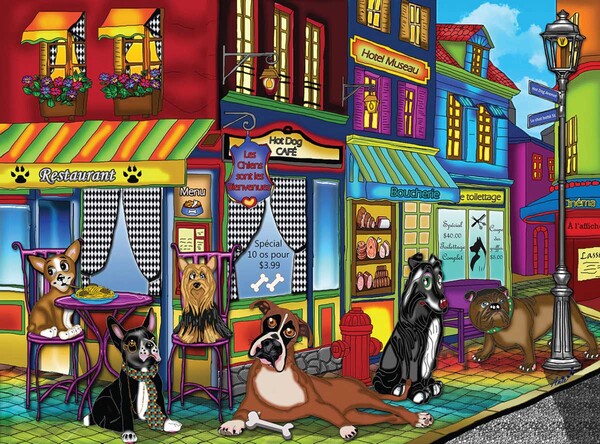 New Dogs on the Block | JaCaRou | 1000 pieces
I actually did something fun on one of our 2,000 piece puzzles. When I was a kid, there was a children's show here called La Souris Verte, which means 'The Green Mouse'. There was a lady dressed as a mouse and when the show started, she would sing this little song. The song counts down all the animals. So you have 10 sheep, 9 sparrows, 8 groundhogs, you know … and the last one is La Souris Verte (one green mouse). So I made a design for the last collection. It's 2000 pieces and it's called "Hommage A La Souris Verte" (Tribute to the Green Mouse). But for English speaking people it's called "10 Sheep and More". People younger than me don't know what I'm talking about. (laughter) But the people from my generation know what I'm talking about and they can see the puzzle has 10 sheep, 7 rabbits, etc. All the animals in the song are there. People that know the song just love it and other people just like the image.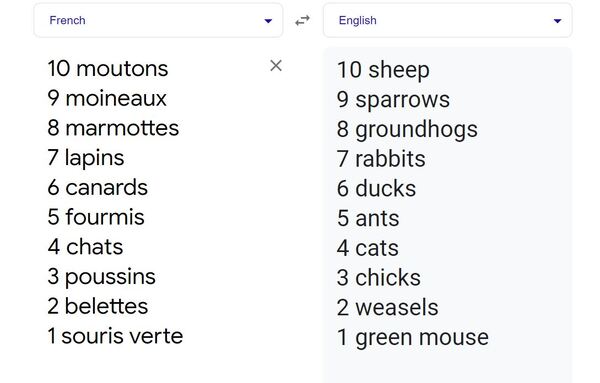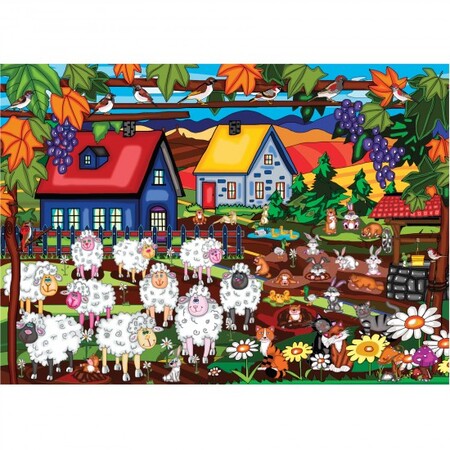 10 Sheep and More | JaCaRou | 2000 pieces
T: I have to get that puzzle now!
A: I'm going to add a 1000 piece option because people like it so much. People keep asking for 1000 pieces. Right now it's in 2000 pieces, but I'll do it in 1000 pieces too.
T: What changes have you seen in the puzzle industry and in the puzzle community since you started your business seven years ago?
A: Like I said, many, many small companies came up in the past few years. Some of them will probably stay. Some of them will probably go. I don't know. That's one thing that's changed. When people saw that people were looking for puzzles, a lot of people wanted to make puzzles. Sometimes I have people contacting me directly to ask me who my manufacturer is and how I started the business. I'm very generous with telling people how I did it. But giving my contact and my manufacturer is something that I cannot do, obviously. I did my homework to get my samples. It's not that I don't want competition, but if I found my recipe, I don't want people to just copy my recipe. They can find their own. But I do tell them how to do it … you go on Alibaba to find a manufacturer, you contact them, and you try samples. That's how I did it. I do try to help by saying go here and there and you'll find your way.
Another thing that's changed in the puzzle industry is that I see a lot more colorful images than before. I think a few years back, the industry was more boring. Not boring images, because there were some companies doing fun images, but now I see that companies are trying new things … more colors, different types of puzzles, more cartoon type puzzles. I know in the past, not many companies were doing cartoon type puzzles. For example, Ravensburger was doing more traditional puzzles, but now they are doing a lot of different things. They have the Disney puzzles and that is very popular. Do you have a favorite brand?
T: Let's see … I like eeBoo puzzles a lot!
A: Oh, yeah. I haven't tried them because we don't have them here in Canada. Or do we? I don't think we have them in stores. I do sometimes try out some new puzzle brands. I tried an Anatolian puzzle. We don't have them here and I like them. We have Cobble Hill puzzles in stores, but I did order it online. I do try other brands just to see and compare and because I enjoy puzzling so much, but eeBoo I'll have to try because their images are great.
T: Their pieces have almost an enamel finish. When you pour out the pieces, it's like little pieces of Chiclet gum. I like the shiny pieces and the pieces feel really fun. Plus their images are so cute!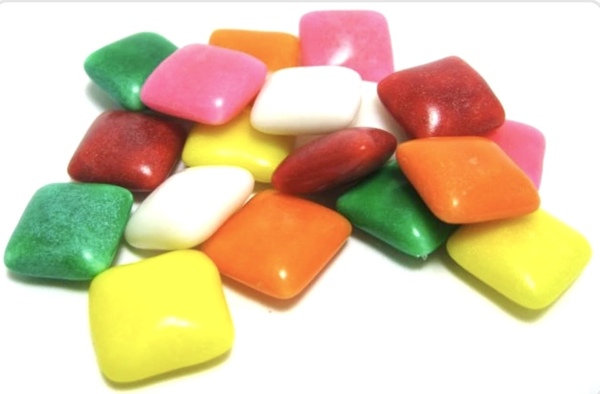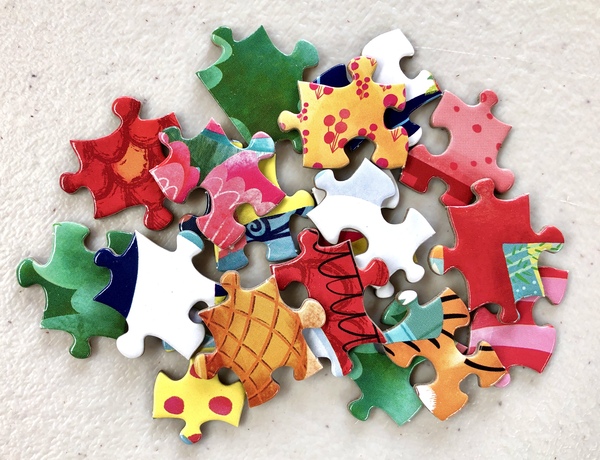 A: The shiny part … some people don't like my puzzles because they have a gloss finish. The reason it's a gloss finish is because I think it looks nicer for the colors. The colors are more vivid than with a matte finish. And personally, I do like the gloss finish better. I know some people would say they don't like it and they can't see too well under certain lighting, but I don't want to change that because the gloss finish makes the colors look so good.
T: Gloss finish pieces don't bother me because the lighting where I puzzle allows me to see the pieces all right.
A: All of us puzzlers! We're all so particular! (laughter) When I put in a piece, I just press on it for some reason. And at the end, when I finish a puzzle, I rub my hands across the puzzle. I know we all do that! One time I was at a trade show and I put out an actual puzzle. I was working on the puzzle with other people and I saw that people were pressing on the pieces after they put them in and rubbing their hands across the puzzle and I thought, "Oh my gosh, we're all crazy. Like, why do we do this?!" I don't know why we do these things! When I open a box, why do I smell it? (laughter) I just like the smell of a puzzle when I open the box. And the way I sort … I sort all my pieces by shape first. Some people sort by colors, but for the first sort, I sort by shapes and then I sort by color. So I have six buckets because there are six different shapes. I have my way to do it. (more laughter)
T: Where do you see the puzzle industry and puzzle community going in the next five years?
A: So hard to say because when I started my company, people were looking at me in a strange way … "Um, yea, puzzles? Are they even popular?" Most people didn't see why I was doing it. Most people thought it was kind of strange, because they felt like it was an old thing that no one was doing anymore. But for me, I knew there were puzzlers out there because I could see there were people on Facebook who were passionate about it. It's become so popular during the past two years, but will it stay or not? I'm not sure. I think when people go back to normal life after the pandemic, it's going to go back to the people who were doing puzzles before … but some new people have discovered puzzling and they love it. So, it's so hard to say. I have no idea. Some people think 'Is it an old person thing?' but there are lots of young people doing it now. Younger people in their 20s and their 30s. I hope it's going to keep going.
T: As we've been talking, I'm realizing that social media has changed so much about society. Now there is a huge puzzle community on social media and the community keeps the hobby going, just like there is a sewing community and a dance community and a thrifting community on social media. So maybe because there are all these new communities that have built up around these special interests, those communities will carry it forward. Whereas before Instagram, I thought I was the only jigsaw puzzler in the world! (laughter) I didn't know any other puzzlers until I found them on Instagram.
A: Me too. There was no one around me that was doing puzzles. I don't know how I found the first jigsaw puzzle group. I was on Facebook and for some reason I found Jigsaw Puzzle Connection. I became a member and it was like "Oh my gosh! People were showing pictures of their puzzles and I was showing pictures of my puzzles and I just loved it. Then I showed the image that I drew for my first puzzle and that's how it all started. My business came about because of social media. If I didn't have people who told me, "Oh my gosh! That puzzle looks so nice!" then I would have just forgotten about it and just kept puzzling at home and not started a business. Social media helped me get my start.
T: I think it's exciting to see what the future will hold!
A: I think the puzzle community is a good community as well. Every time I was in a puzzle group, it was always a good thing. The people were so positive and nice and even when they didn't like something, they said it in a nice way. And I said, "Oh, my gosh, that must be a thing with puzzlers." I was thinking, "My goodness, they're so cool." And that's what I thought the whole time.
T: Yes, I've noticed the same thing. The puzzle community is full of kind hearted people.
A: Very much, yes. I do love the puzzle community. So I don't know where it's going to go to answer your question. I just hope it's going to keep going. And I'm going to try to find new images and fun ways to make puzzles. I was thinking of doing a round puzzle. I've never done one. And I'm trying new things and adding other products. But at the same time, I'm getting older. So maybe I won't be here in five years. At one point, I'm going to have to retire.
T: We're all going to live to be 120 and I think we have to plan accordingly! (laughter)
A: I don't see myself that old. But hopefully, if I am that old, I'm going to be healthy.
T: Is there anything that you want people to know about your company?
A: I guess I told you a lot of what I want them to know … that I'm doing my best. But they already know that.
T: I appreciate your time so much. This has been such a delightful hour. I'm so pleased. Thank you.
A: (laughter) I was thinking, "Oh my gosh, maybe I'm going to be boring", but I guess it went very well.
T: I have a feeling that we could talk for hours! (more laughter)
This has been your roving puzzle reporter, Tracy @16feet reporting live for Puzzle Warehouse. If you have someone you'd like me to interview, drop a note in the comments or send me a message on Instagram!