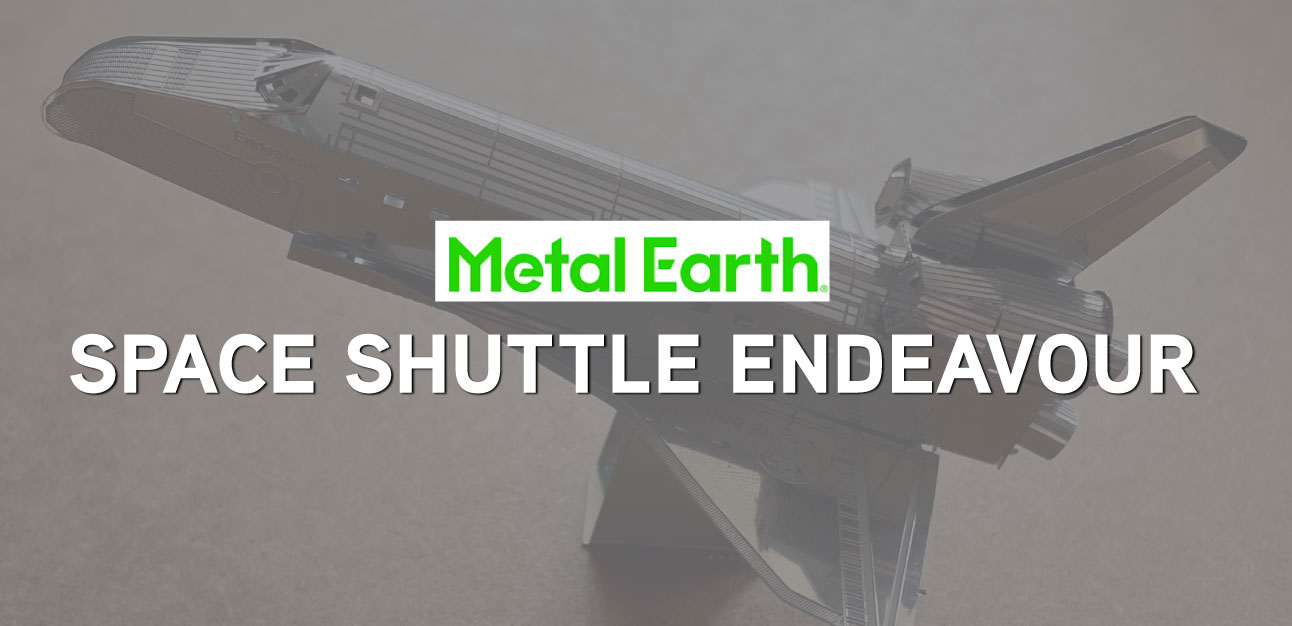 Metal Earth - Space Shuttle Endeavour
If you're like me, when someone says "jigsaw puzzle", the first image that comes to mind is the standard, rectangular or square puzzle with traditional shaped pieces. The innovations we see now within the puzzle community is incredible. We have stainless steel puzzles, PVC puzzles and puzzles that can stick on windows just to name a few. 3D puzzles have been available for some time but for me are not generally a style I consider when I'm puzzle shopping.
I love things that are related to NASA and space, so I was quite intrigued to see a Metal Earth "Space Shuttle Endeavour" model/puzzle in my recent ambassador box from Puzzle Warehouse.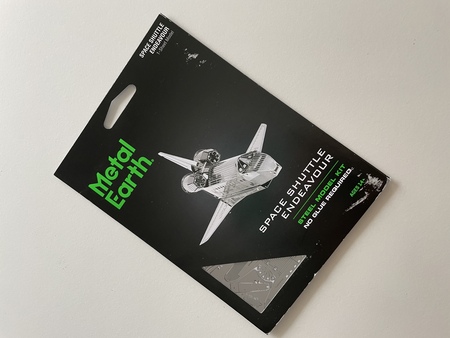 Inside the packaging for this particular design is a single steel metal sheet with the pieces of the shuttle attached and a sheet of instructions. It's recommended to have some tweezers or needle-nose pliers and a wire cutter on hand to make the build process a bit easier. I gave myself the recommendation of also putting on my reading glasses.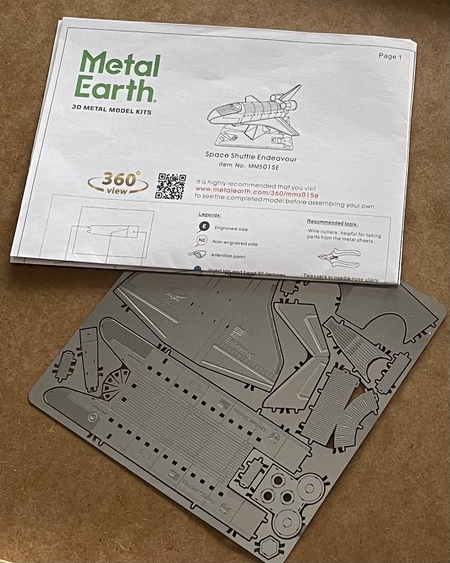 After separating each piece from the sheet, it's time to start the build. Some of the pieces are quite a bit smaller than I anticipated and I was already wondering if my brand new, stronger reading glasses were going to be sufficient for what lay ahead….Do I even own a magnifying glass? Why don't I own a magnifying glass?

Okay….step one…roll the body piece over something cylindrical. This is actually problem solving at its finest already. What to use? What to use? My trusty makeup bag provided the item I need! Lip Balm….you heard it here first, it's now a puzzling must have. That part went well! Then I was asked to insert tabs into slots and and bend the tabs to hold parts in place. Serious question, why don't I own a magnifying glass? It's a little fiddly and it takes more time than I'm going to admit but I got the top of the shuttle attached to the body.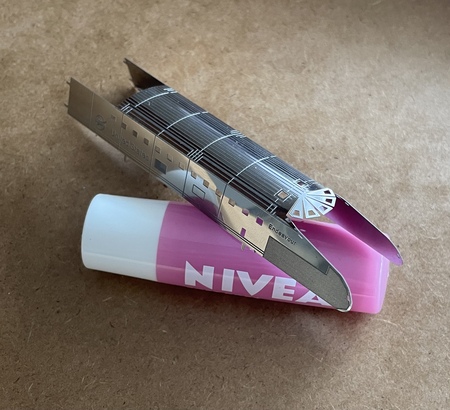 The nose of the shuttle took just as long and there were definitely some words muttered that I'll censor out of this blog post myself. Eventually it was in position, tabs bent to keep it in place and I was a little bit pleased with how it looks so far.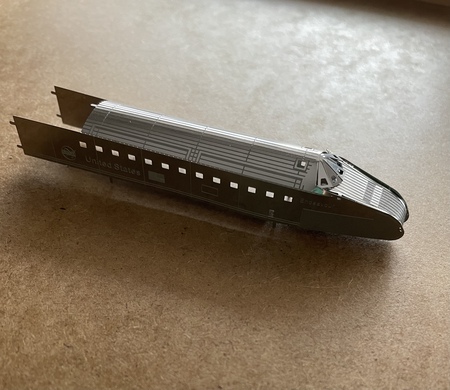 Right about now I was very much aware that building even a small metal space shuttle is no joke. I now needed to work on the smallest parts. They needed to be worked into a circle so one edge meets the other. I had the tweezers, the pliers and a whole vocabulary of words that shall not be mentioned here at the ready. I used every single tool available, including the vocal ones. Once the circle was created, there were another four waiting for the same technique. I lost track of time at this point or possibly blacked out in frustration….I'm not really sure which one. I think two hours passed…possibly more and I got those circles somewhat round. Those circles need to be created really well in order to fit properly into the slots on the connecting piece. Somewhat round was not going to work.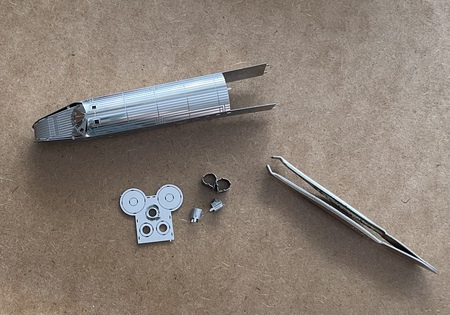 In an attempt to hold on to the little bit of patience I had left, I decided to move on from the tiny pieces for a while and worked on some of the larger pieces instead. This went much better and I could see my space shuttle taking shape.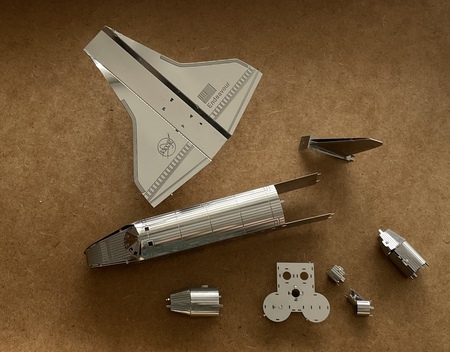 Below you'll see the "finished" Space Shuttle. Those tiny pieces were just too frustrating for me to complete, I managed to get three of five attached but I was pretty much over the whole venture by this point. Metal Earth is actually a magnificent product. The quality is very, very good. I found the instructions to be clear. The engraved surface that provides the details on the model is top notch. Someone with a lot of patience and a very good eye for small detail would find these models to be very rewarding to build. This particular model is moderate in skill level. Metal Earth have easy, moderate, expert and challenging levels in their range. I think for me, I'll practice with their easy range before I attempt to build a shuttle again….or I could just leave the whole shuttle thing to NASA….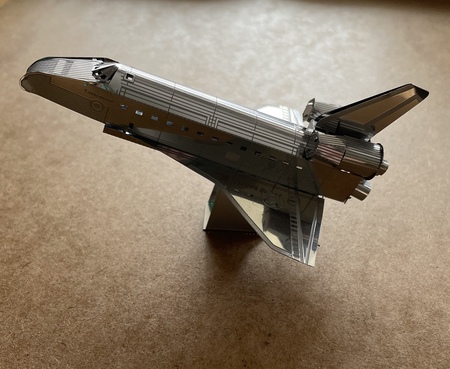 You can find the Metal Earth range (including tools to help with your build) at Puzzle Warehouse here.
Rell @relishpuzzles