Modern Geometrics
Ahhhh! The joy of relaxing mindfulness. Just as multi-colored gradients, geometric puzzles share that calming experience. They're the perfect kind of sort-as-you-go puzzle because the colors are easy to identify. So, if you're in the mood to complete a puzzle for the pure relaxation of it, hopefully some of these recommendations will fulfill your need. Plus, a modern geometric blog topic was the perfect excuse for me to buy more geometric puzzles. I love the clean, modern look of them and wanted to highlight a variety of puzzles, cause that's my style.
Galison, one of my all-time favorite puzzle company, produced a 500 piece double-sided puzzle called Distorted Cubes (A-E). The design is by artist, Sol LeWitt and includes his artworks Distorted Cubes (A-E) and Distorted Cubes (A) which are part of a linoleum cut series at the MoMA.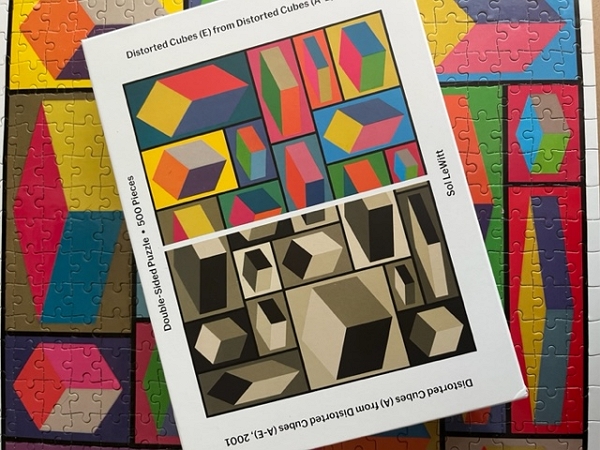 You may be thinking that double sided puzzles will counter that whole relaxation thing, because of the image on both sides, but this is not the case with this one. This particular puzzle has one side that shares black values, and the other side has bold colors. This gives you the best of both worlds.
Check out these pieces. Notice something?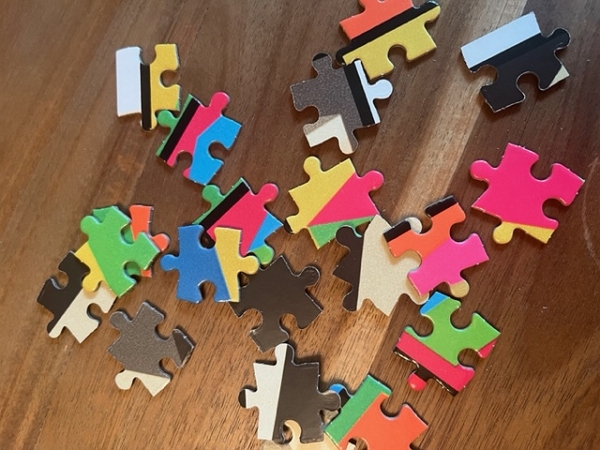 The two sides are easily distinguishable. Plus, the colorful side is semi-glossy whereas the monochromatic side is totally matte. Flip them over to whichever side you want, put it together, and repeat it all over again. Twice the fun.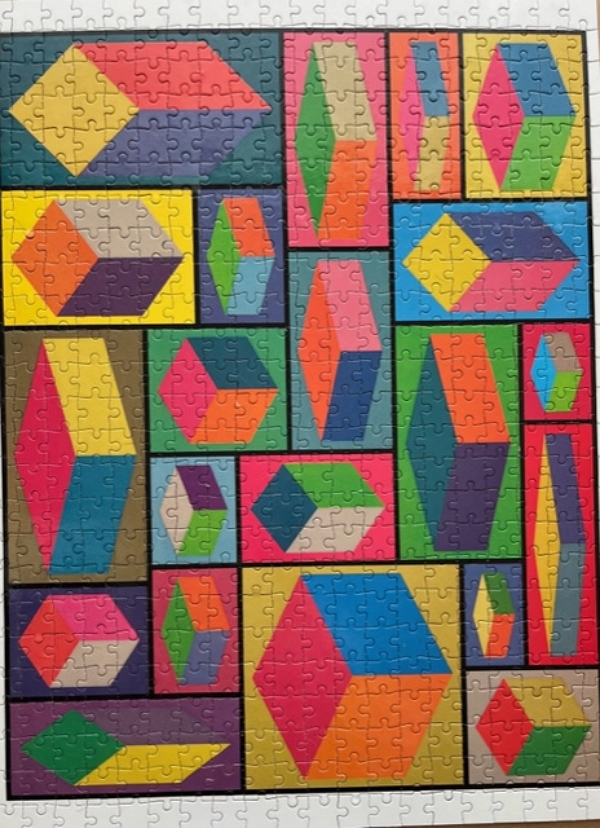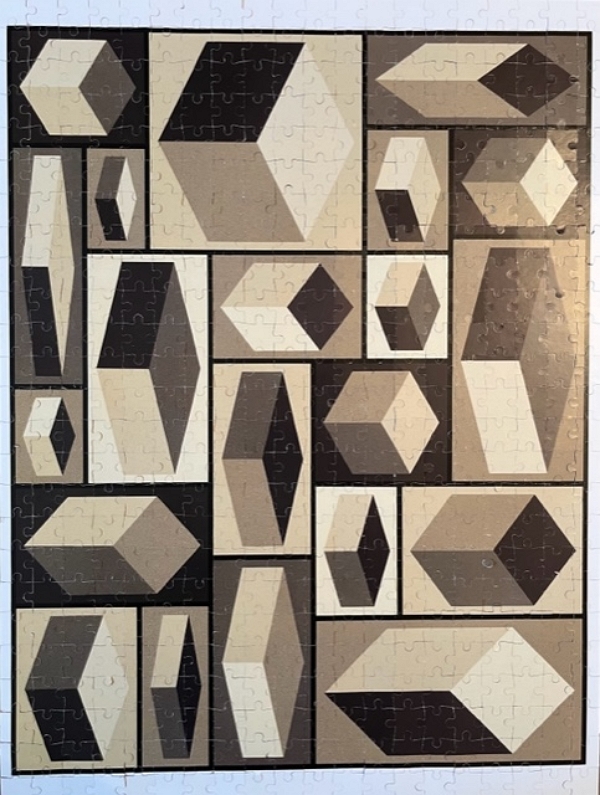 Another puzzle full of geometric goodness is Buffalo's 300-piece jigsaw puzzle entitled Hexagon Multicolor B.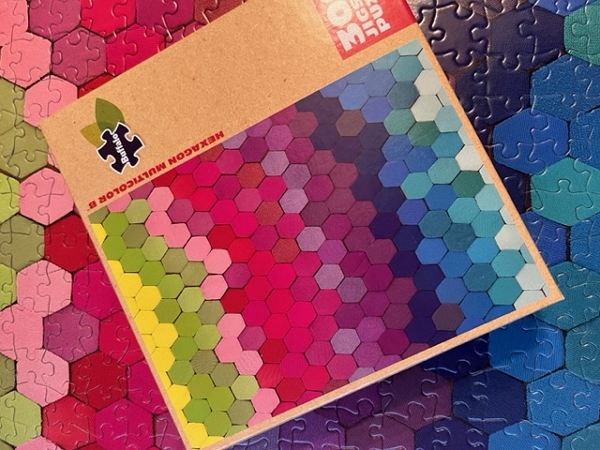 The coolest thing about this is that this puzzle features artwork by Lynn Haughton. This particular artwork was made of recycled wetsuits. When I first began working on this, I thought that the puzzle had subpar graphics, but after reading about the artwork (which is described on the oversized print that came with the puzzle), I learned that the artwork is made from repurposed wetsuits. Here's a closeup of the wetsuit texture.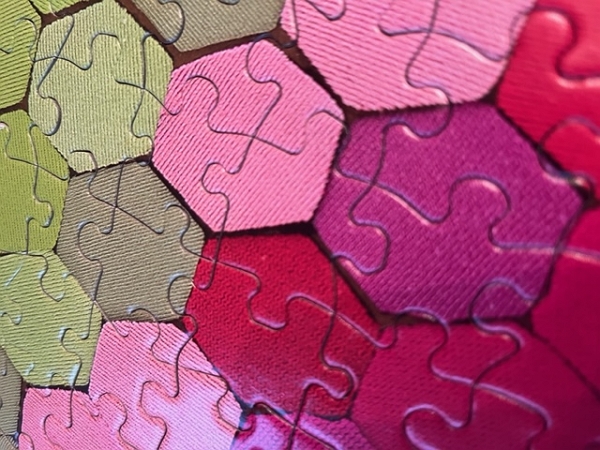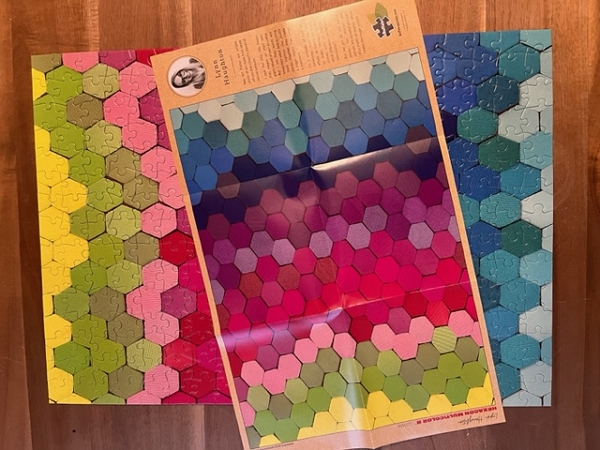 Buffalo really showcased their support of recycled materials with this one. The back of the box lists just how far they went from bagless manufacturing to their utilization of 80/20 Veggie to Water-based Inks. They even went as far as describing their glue formula.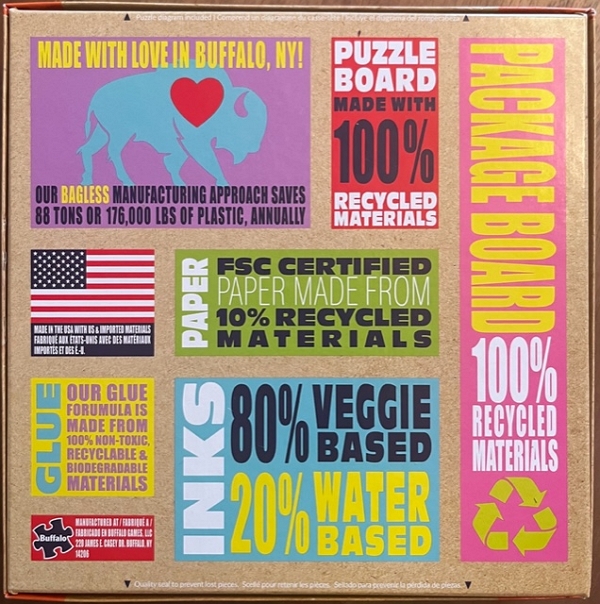 This is definitely one you'll have to check out. Be sure to read Haughton's description of her process and how each of us can contribute and have a significant impact on our climate crisis. Even a small effort makes a difference.
I like variety, so, I chose Organic Geometry by Frank Lloyd Wright. This puzzle encompasses variety in and of itself. This 500-piece "multi-puzzle" puzzle includes three shaped puzzles. Basically, it's a triangle inside of a circle that's inside of a square. Here's some images to provide you with visual references.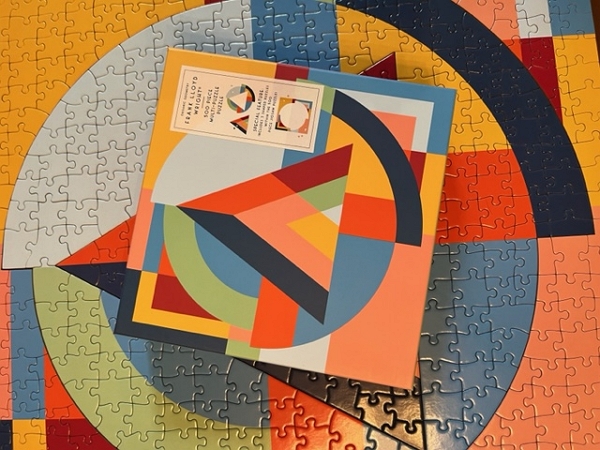 Each ring of three different geometric shapes consists of colored shapes within them.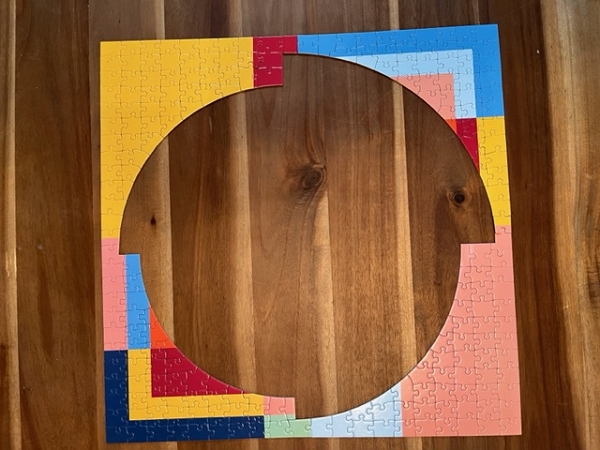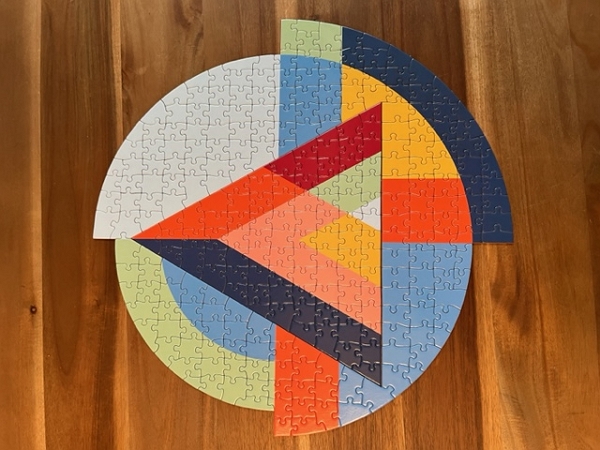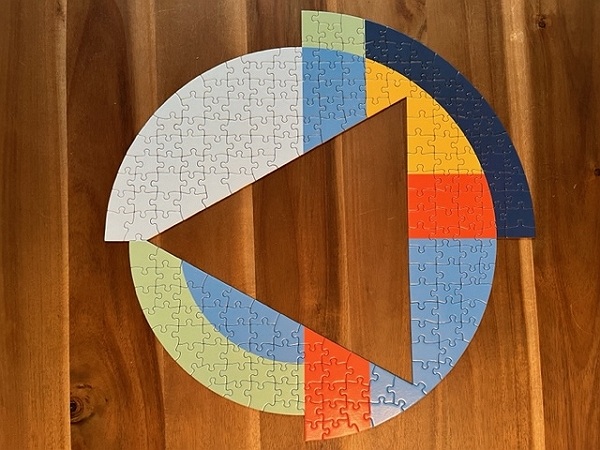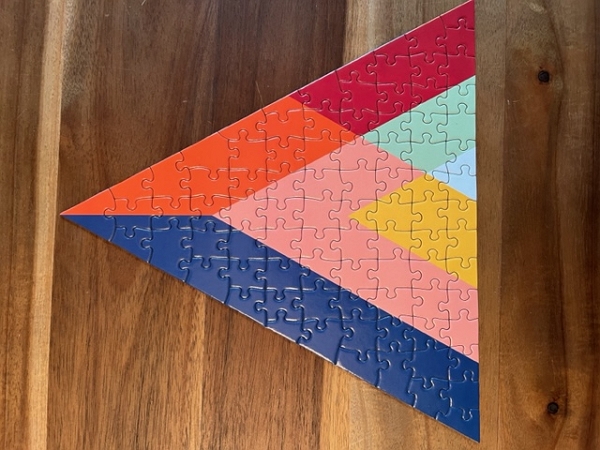 Because this puzzle was really three puzzles in one, it had a lot of edge pieces which increased its complexity.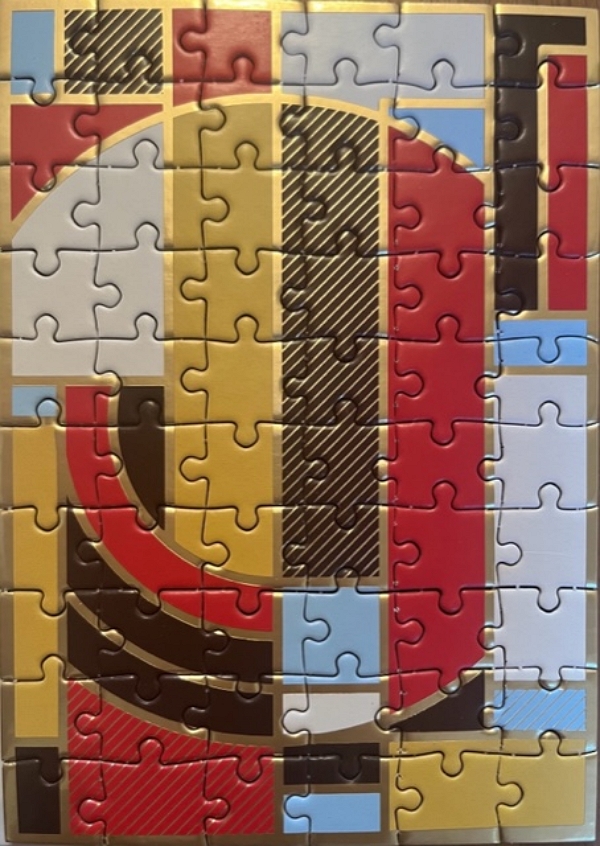 I enjoyed the artwork of this puzzle so much that I wanted others to enjoy it, too. So, I decided to purchase a mini 60-piece version of a Frank Lloyd Wright puzzle that is 100% mailable. I mean how cool is that? All you do is write your message on the back of the puzzle. (It comes assembled). Then you take it apart, put the pieces in the envelope, and mail it off to some lucky person. I want one of these mailed to me. It's that cool.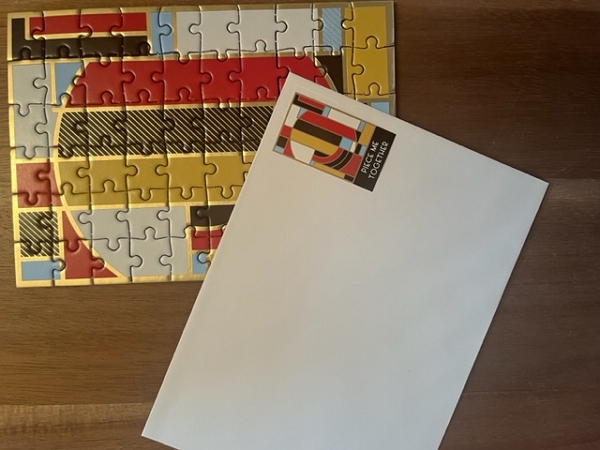 If you've been following my blogs, you'll know I'm big on self-care. One way to self-care is by showing gratitude. How better to show gratitude than by writing a letter to someone you care about on a puzzle that they can build?!? Perfect, right? So, think about someone who you're truly thankful for and send someone a short letter telling them why specifically you're thankful for them. Mail it on a puzzle card or just mail it on its own. It'll make both of you feel good, but whatever you choose to do, make time to puzzle.
Before you go, you can check out Puzzle Warehouse's extensive collection of puzzle cards here.
Jaime @introvertedpuzzler