Much Ado About Puzzling
Verily, Puzzle Warehouse dissectologists, a pleasing puzzle hath I completed anon!
Oops, sorry, I forgot for a moment that the 21st century was well underway. I got lost in a beautiful 1000-piece Shakespearean puzzle by Ravensburger called Windsor Wives, with intricate, texture-rich artwork by the prolific puzzle illustrator Peter Church.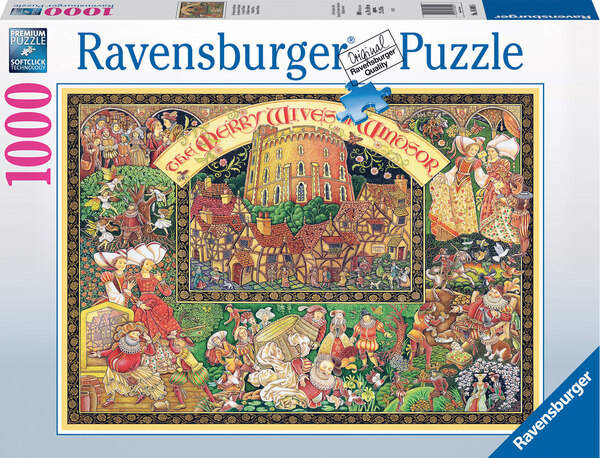 Before we go any further, I suppose I ought to introduce myself. My name is Richard, and though you may know me from Instagram or my YouTube channel this is my very first post as a Puzzle Warehouse Ambassador. I'm so chuffed to be included amongst such an esteemed group of fellow puzzlers and to be celebrating the truly insane selection of puzzles that the site carries (seriously, you can scroll for hours and never run out of puzzles to choose from).

As my inaugural blog topic, I've chosen to write about puzzling images related to Shakespeare, because my life – when I'm not puzzling – is devoted to theatre. It's how I've made my career, and theatergoing has been a passion of mine from an early age. While my job is related to musical theatre specifically, I've been a fan of Shakespeare a.k.a. "the Bard" since college, luxuriating in the rich language and complicated universal themes of his work. In my early 20s, I studied abroad in London and had the opportunity to take a course devoted to his plays – we even got to visit his birthplace in Stratford-upon-Avon, where the Royal Shakespeare Company is based!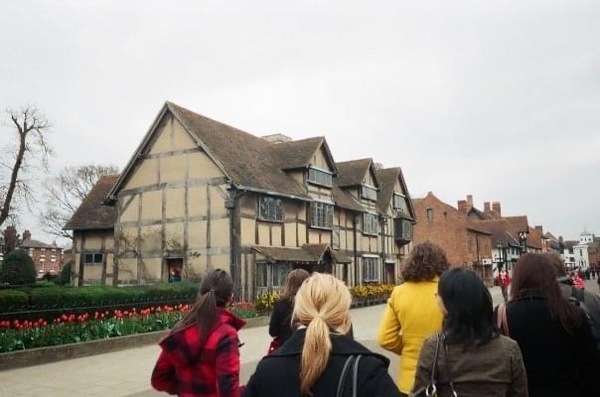 A snapshot from our class trip, showing the birthplace

I've done a rough tally, and I'd estimate that I've seen about two-thirds of his 39 plays (humblebrag, sorry), which leaves me with a lifetime of catching up to do as I work my way through the rest. In my opinion, Shakespeare gets a bad rap because of the early English language in the plays. But the best Shakespearean actors that I've encountered treat the dialogue as if it were written today and deliver the lines in what I'd call a "plain-spoken" way, conveying the meaning of each scene through their acting so that an audience follows the emotional journey even if every word isn't understood.
What drew me to this puzzle was not just the Shakespearean theme but the truly eye-popping illustration by Peter Church, whose illustrations appear on a host of other Ravensburger puzzles, including two others themed after Shakespeare, the 1500-piece The Tempest and another 1000-piece puzzle, Romeo & Juliet. Each of these is beautiful in its own right, but I was drawn to the deep green and rich red-and-gold colors of Windsor Wives. From checking out Peter Church's other work online, I see that he's also painted images of A Midsummer Night's Dream and Twelfth Night, and I'd love to see these made into Ravensburger puzzles one day.
One of Shakespeare's plays I hadn't seen is the Merry Wives of Windsor, which is actually one of his least renowned plays despite featuring one of his most beloved characters, the comedic buffoon John Falstaff (he's the jolly gray-bearded gentleman who appears four times throughout the puzzle). It's often said (though unconfirmed) that Queen Elizabeth I requested Shakespeare write the play after seeing the character of Falstaff in another of his plays.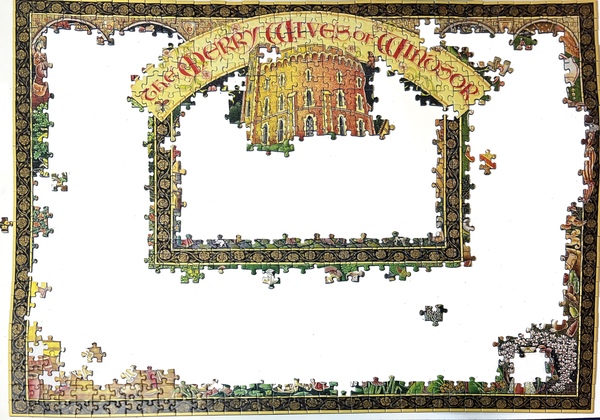 The first thing I noticed about the puzzle Windsor Wives, once I started to dig into it, was how unusually satisfying the sorting was. Typically I think of sorting a jigsaw as a slightly arduous process, but as soon as I started experiencing the colors and textures of the pieces in this one I realized how much of a joy the puzzle would be. For example: even though there were a number of green pieces, there was a variety of leaves and trees throughout, and in a manner that was fairly easy to distinguish. Once I finished sorting, I decided to put together the edges of the puzzle first, even though the patterned border of the puzzle meant that it wasn't the easiest section to do.

In addition to the outer edge of the puzzle, you'll notice there's a kind of "second border" in the center of the puzzle, so I sorted out those pieces as well and put that inner section together, figuring that this would give me a locational framework for the rest of what was to come. I also put together the title of the play – The Merry Wives of Windsor – because I love puzzling text and I couldn't resist tackling the words next.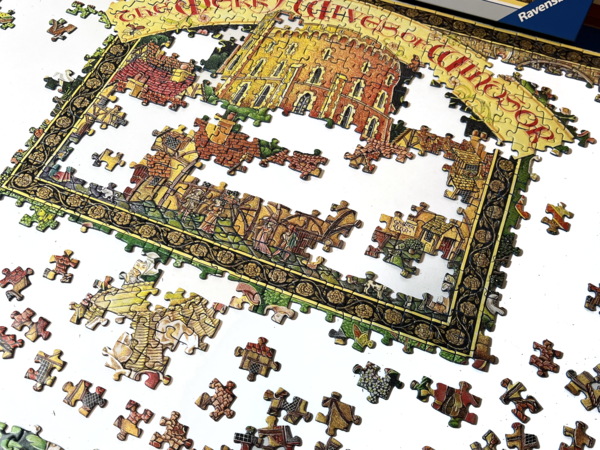 The setting of the play – the town of Windsor in England – is also the home of the famed Windsor Castle, which is the central cylindrical structure toward the top of the puzzle. Because of the reddish-yellowish color of those pieces and their bricklike texture, I was able to pull those pieces out – as well as some of the rooftops and building facades from the town – and decided to start filling in as much of that section of the puzzle as I could as a next step!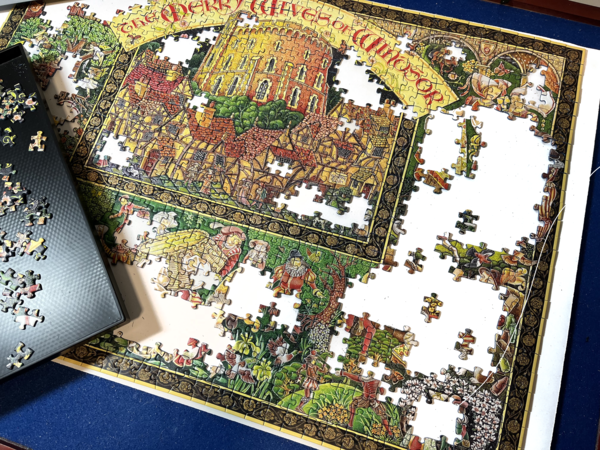 Another group of pieces I had pulled during my sorting were pieces that were either mostly, or partly, green. So I started working on those next. Honestly, it was one of my favorite parts of the puzzle. As I mentioned above, I loved distinguishing the different textures of trees and grasses throughout the puzzle.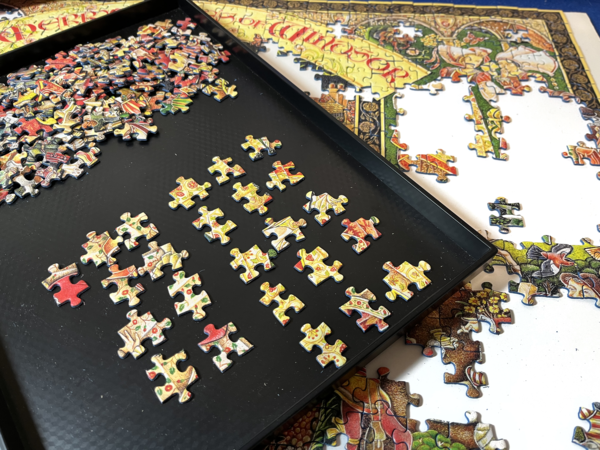 Next it was time to pick out some of the fabric patterns from the dresses of the title characters, the Merry Wives themselves. Another favorite part of the puzzle!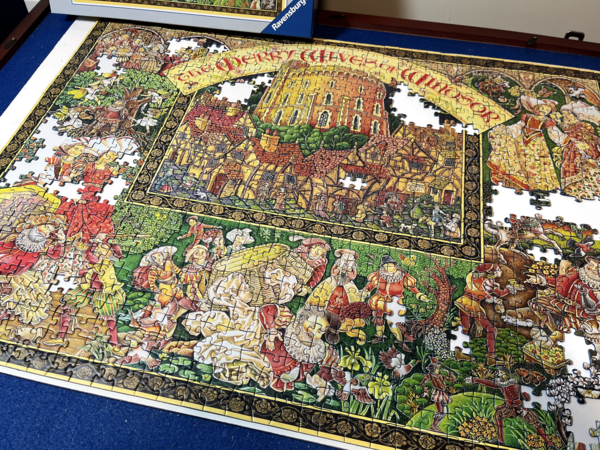 Once I had finished the dresses, I was nearing the home stretch! Isn't it so satisfying, when you only have a handful of pieces left, to fill in all those last remaining gaps and finally complete the image?!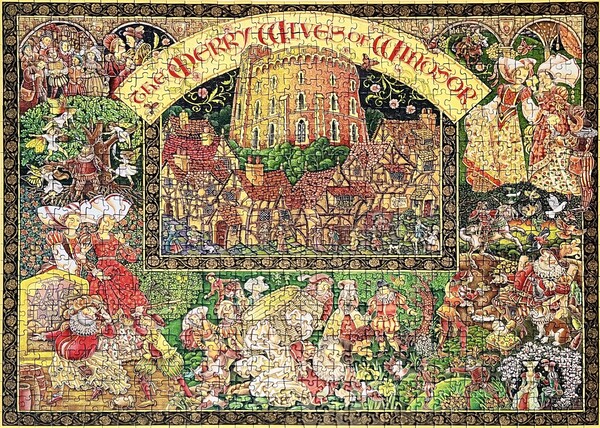 Voila! I have to tell you, once this puzzle was finished I sat and stared at it for a solid ten or fifteen minutes, in total awe of the beauty of the illustration. The completed puzzle is the standard size for Ravensburger puzzles, 20" x 27", and it's just large enough to really admire all of the little details of various scenes depicted. Much of the humor of The Merry Wives revolves around the comedic Falstaff being tormented by various parties who seek to expose his foolish romantic exploits (for example, he woos two married women, Mistress Ford and Mistress Page). In one scene, local children from the town dressed as fairies taunt Falstaff (depicted on the left-hand side of the puzzle). In another, the wives convince Falstaff to hide in a laundry basket by telling him one of their husbands approaches – at which point, he's carried off and dumped into a river (depicted at the bottom center of the puzzle, pictured below). I love that Church's artwork is able to encapsulate various aspects of the play in one cohesive image.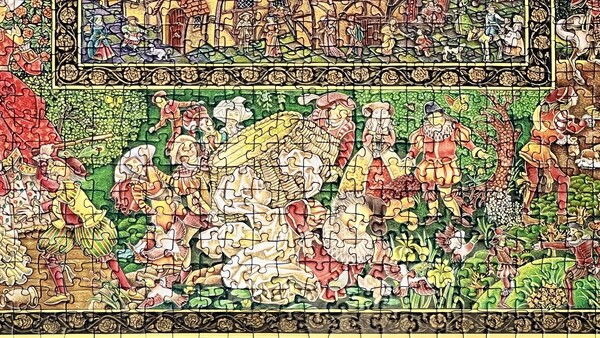 It was such fun to get to know a play by Shakespeare that was new to me through completing Windsor Wives, and from watching a production of the play online alongside my puzzling experience only enhanced the experience (though, believe me, it's not required!). Even though the play isn't as renowned as other comedies like Much Ado About Nothing or Twelfth Night, Merry Wives is a fun exploration of class and romance, and with some funny and witty dialogue.
Aside from the content of the puzzle, the quality was also top-notch. Ravensburger, especially because of the mostly-matte finish of the pieces and the vast variety of images, is one of my go-to puzzle brands, and picking one of their puzzles off the shelf feels like visiting with an old friend in terms of its reliability. There is a bit of puzzle dust, but it doesn't bother me because the quality is otherwise so good. If you do try this one out and enjoy it, you can view the many other Ravensburger puzzles that Puzzle Warehouse carries here.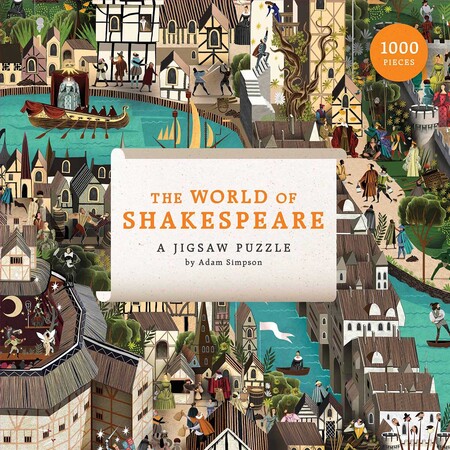 If you're more of a fan of crowd scenes and map puzzles, the brand Laurence King also has this World of Shakespeare puzzle, which features artwork by Adam Simpson and depicts London in the day and age of the Bard, with lots of characters, scenes, and easter eggs included.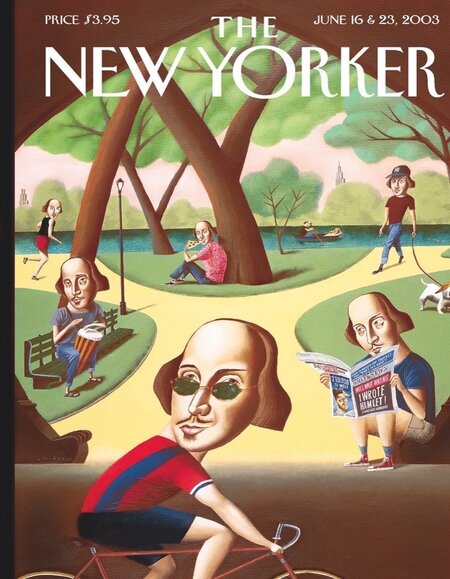 New York Puzzle Company also has this cute 100-piece mini puzzle called Shakespeare in the Park that's perfectly paired with an outdoor "Shakespearience" if you're planning to be waiting in line for any outdoor productions this year.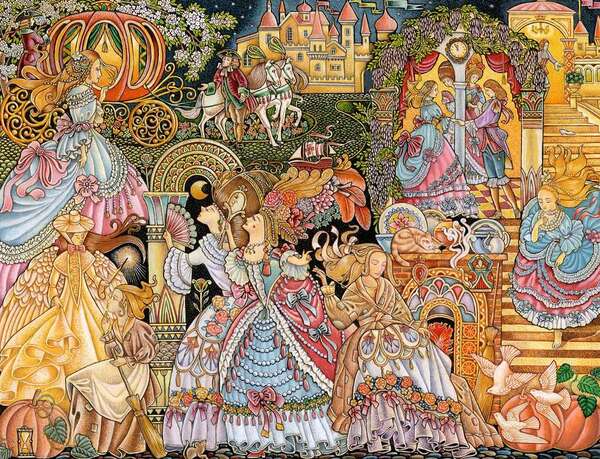 And last but not least, if you like the illustration style of Windsor Wives but Shakespeare isn't really your jam, no worries – Ravensburger also has this gorgeous 2000-piece Cinderella puzzle, also with Peter Church artwork.
Thanks for coming along with me on this tour of Shakespearean puzzling. I hope that, whether you've read Romeo and Juliet in high school or are a die-hard fan who's seen a lesser-known play like Cymbeline, there might be a little something for everyone here to remind you of the intersecting joys of puzzling and the Bard.
And now, anon – back to thine puzzle table with thee! After all, all the world's a jigsaw, and all the men and women merely puzzlers… ;-)
-Richard (@piecebypiecepuzzler / YouTube channel: Piece By Piece Puzzler)