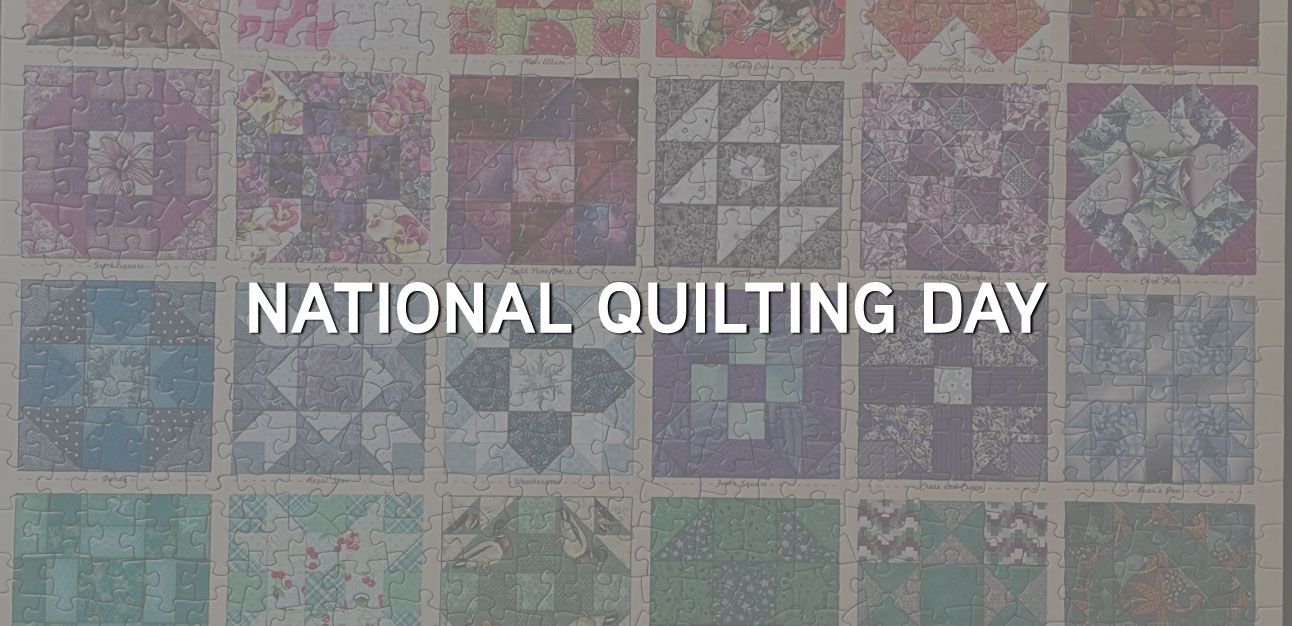 National Quilting Day
In honor of National Quilting Day tomorrow, I thought I would do some piecework myself – patching together some of the beautiful puzzles I've done - and want to do - that feature quilts.

I've noticed that a lot of puzzlers out there are avid crafters, but I have a confession to make. I am NOT one of them! So why am I writing a blog about quilting and why do I have so many puzzles that feature them and other crafts? It's because I WANT to craft. But ever since I failed my sewing class back in seventh grade (everyone in my class made three articles of clothing by the time I finished my one vest that turned out to be 3 sizes too large for me), I've realized I do not possess the talent – just the desire! So, while I cannot craft, I can craft vicariously through puzzling!

Another reason I love quilts are the colors. I am a color fiend! Every year I would beg my mother for a brand-new box of crayons. The BIG box of 64 colors was my jam. The young me would have salivated if the 152-Ultimate box that is now available was sold then. I guess that little kid still lives on in me, because I recently bought a 120-color box of markers in the hopes that I would use them to create replacement puzzle pieces for any thrift store find I had that was missing pieces. Sadly, I've had one go at this and I can report I had similar results as in my sewing class – complete disaster! But I did have fun trying…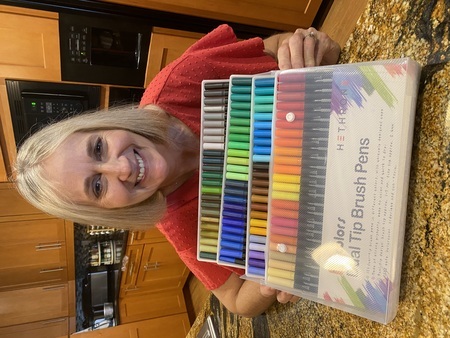 As per my last blog, my goal this year is to try "new to me" puzzle brands this year. The very first JaCaRou puzzle I tried was this 1000-piece stunner called "Quilted Hearts." Sorting was a breeze, as the bright colors allowed me to quickly identify what pieces, which were random-grid cut with a sturdy quality to them, should go on what tray. Then the concern set in – would I be able to do my typical "border first" build when all those pieces looked so similar? Thankfully, I quickly noted that the solid and dotted stripes next to the red border were slightly different, which made matching up what went with what easy. Phew – my traditional way of building a puzzle could endure!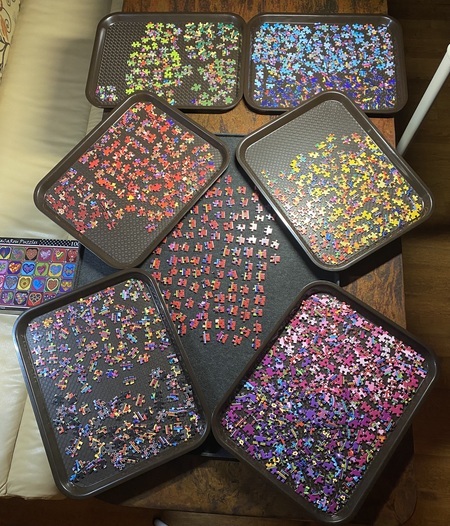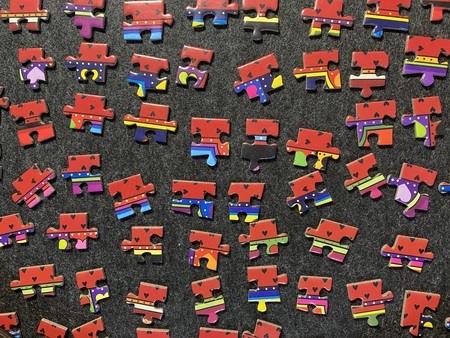 From there, it was a quick and fun build, putting together one quilted heart at a time. My favorite one? The puzzle piece heart of course! I also loved this swirled heart where you can also read JaCaRou's origin story off the box written by the creator and designer, Anie Maltais, who is in Ontario, Canada. I would agree completely that she hit the mark if this puzzle is anything to go by. JaCaRou's product is high quality and it even passed the pickup test! Since completing this puzzle, I've confidently added more JaCaRou puzzles to my wishlist.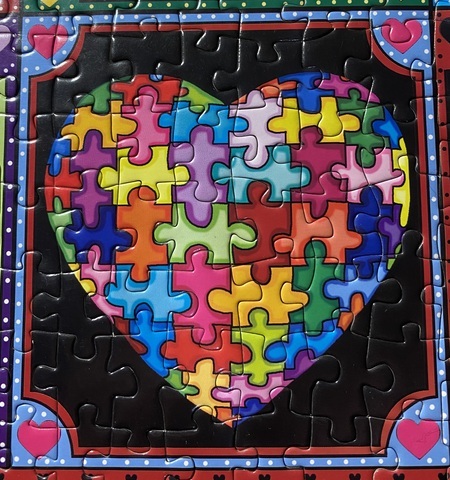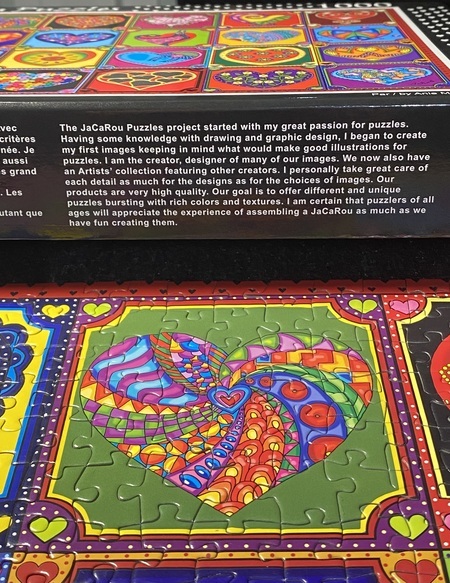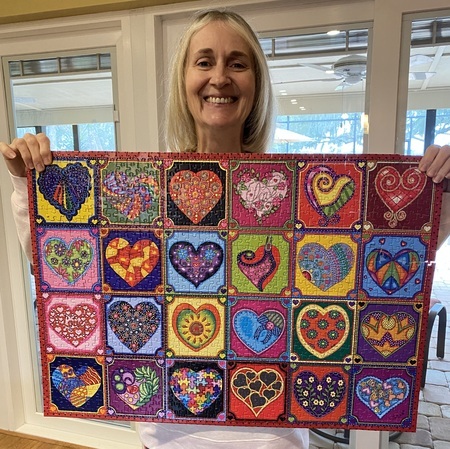 The next puzzle, "Wind In The Whiskers" was from a tried-and-true favorite brand of mine – Cobble Hill. I love the linen textured paper, quality inks, premium grade blue board and the fact that they are 100% recycled chipboard. There was a poster in the box, but as it was the same size as the box, I just propped that up on my table as my guide. I've only been puzzling for a little over a year and the first time I opened a Cobble Hill, I was stunned as I'd never heard of a random cut puzzle and I thought, "What the heck is this?!" I wasn't sure how I'd like doing one, but I must admit, I was instantly hooked! I have trouble spotting pieces by traditional shape, but with a random cut the interesting pieces seem to "pop" more for me and the fact that no two pieces are the same mean no frustrating false fits. As I mentioned above, I love color and my favorite of them all is lavender, which is why this puzzle called out to me. The gorgeous blue and white quilt really stands out among the sea of lavender and green and was the easiest part of the build. In fact, it served as the starting point for this puzzle. In addition to the quilt, I must admit, the frisky felines added to the fun…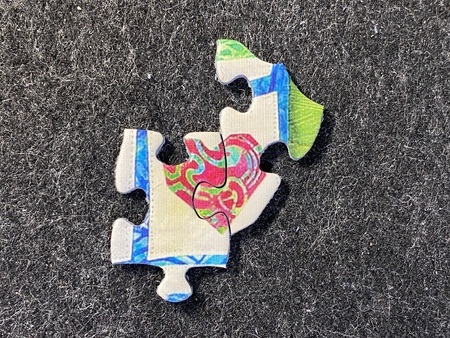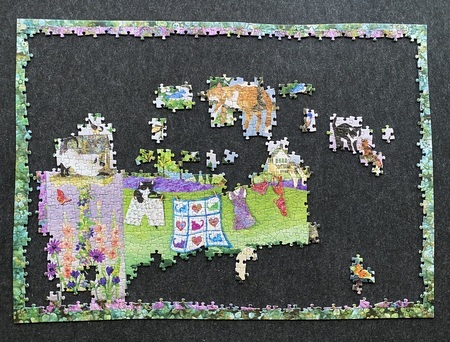 Speaking of cats, one made an appearance on the final puzzle I assembled for this blog – a 500-piece "Garden Quilting" by SunsOut featuring artwork by Vessela G., a mixed media artist who frequently features quilts in her gorgeous artwork. This brand is also environmentally-friendly, featuring soy-based inks on 100% recycled cardboard. SunsOut proves that bigger is indeed better, as the sizable box made for an easy frame of reference, the larger pieces made handling a breeze and the finished product was heftier than a typical 500-piece puzzle, logging in at 18" x 24".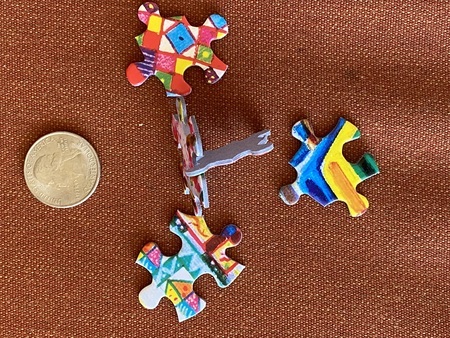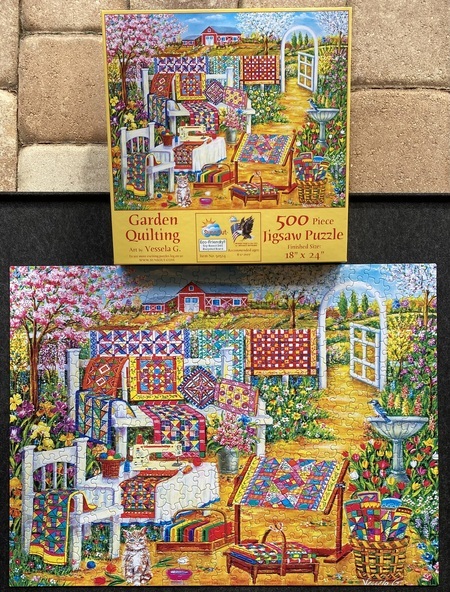 National Quilting Day may be over after tomorrow, but more quilting-themed puzzles await me in the future. I'm salivating to have a go at this beauty, another 1000 piece from Cobble Hill called "Common Quilt Blocks" that one of the ladies in my puzzle club completed and is up for trade (hopefully) at one of our next meetups.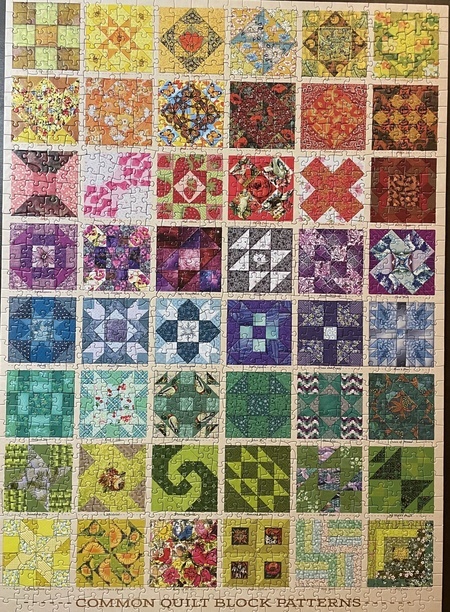 -Lisa