Nurturing Your Puzzle Set Up
Happy February Puzzle Fam!
This month is starting out sunny and cold, but don't you worry, the PNW rains aren't gone for too long. The weather report says we have at least a week of rain coming up. It can get kind of oppressive, but the rains fill our lakes and rivers and keep our mountains snow covered. In fact, one of this state's crowning glories is a beautiful, glacial topped mountain. I read somewhere that the glacial soil lends itself to our glorious farmland here.
I have friends that are already planning their spring gardens and have been reaping the benefits of their winter gardens for months. I am not a gardener. I've got what's known as a black thumb and can kill plants just by looking at them. My husband is the gardener of the family and treats his little sprouts like his babies, and yes, he even talks to them. He makes sure that they have the optimal environment to grow in and does everything he can to make his plants comfortable. So why am I waxing poetic about plants and gardens? Because why are we any different than the plants we baby and coax into growing? Why shouldn't our areas be nurtured and tended? Now, watch me awkwardly segway into the subject of my article this month…. our most holiest of holies, our inner sanctums…our puzzle nooks! Starring Fruits and Veggies (a 300 piece puzzle by Buffalo Games) and featuring the puzzling areas of our very own 2023 ambassadors!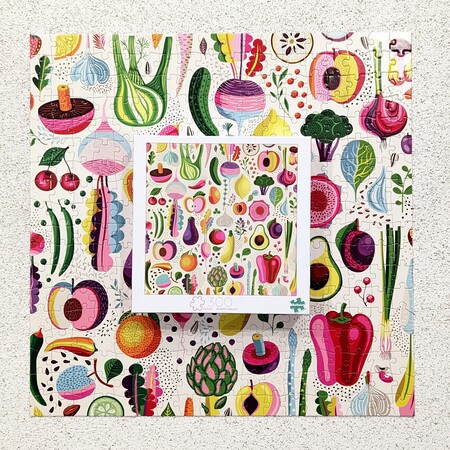 Before I get into puzzle set ups, how cute is this puzzle? I first saw this one floating around Instagram and fell in love. Why are these fruits and veggies so adorable? It's no secret that I'm a huge sucker for collage puzzles, but I feel like this puzzle just takes it to the next level. The colors are bright and cheerful, the way the food is laid out is pleasing to the eye, and there's just something really comforting about it. Come to find out (thanks to an art loving puzzle fairy), the artist is Helen Dardik, so no wonder I love it so much! I think I might actually save this one and hang it in my kitchen! Too cliche? I care not! I shall have fruits and veggies hanging in my kitchen!
Rant over, back to the puzzle. Being only 300 pieces, this puzzle was a breeze to put together. I should know, I did it twice in two days. Why? Because I flipping crunched this one prematurely too! What am I thinking about that puts me on remote control? I spaced again, did a puzzle pick-up (which this puzzle passed with flying colors) and then packed it up. As I was walking past my table, I realized what I did, promptly shrieked, dumped the puzzle back into my tray and assembled it again while binging some Netflix (for anyone curious, I am currently watching You). This time I didn't even bother sorting and I think I finished it in about an hour or so. 300 piece puzzles for the win!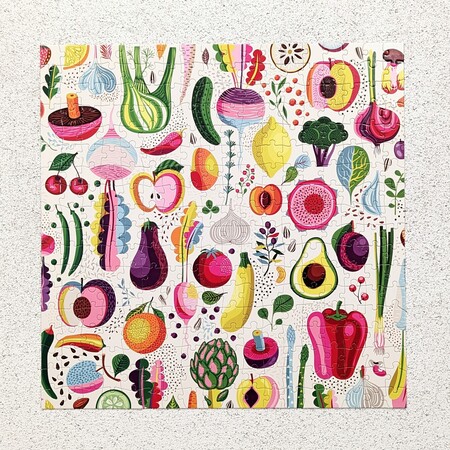 So, back to where we puzzle. I found out early on that puzzling on a flat table did not do wonders for my back. Fun fact, two summers ago, I threw my back out hunched over my coffee table puzzling my little heart out! Lesson learned. I promptly deep dove into puzzling solutions. Lesson number one, no more slouching over too low tables like the goblin girl I am. Unfortunately, I only have one tall table and it's our dinner table. I have caviar dreams of a large table that will only hold my puzzle and nothing else! Some of my fellow PW bloggers are lucky enough to have this set up.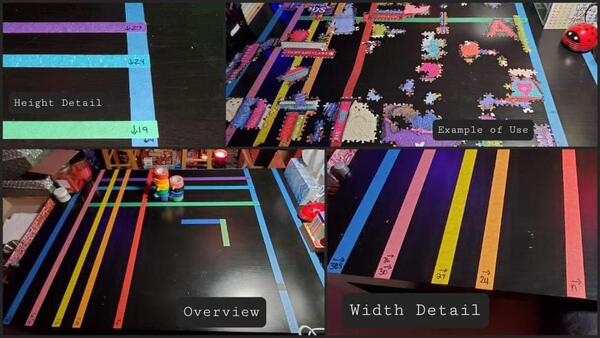 Jenn likes to use different colored tape as a dimension guideline for her puzzles which is a really fantastic idea.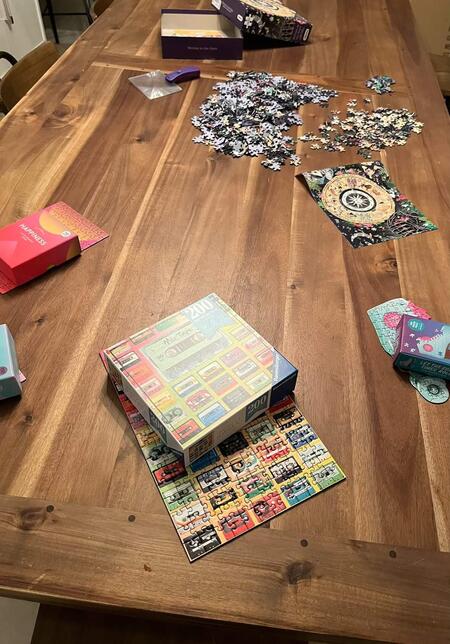 Jaime likes to spread out over her huge puzzling table (swoooon).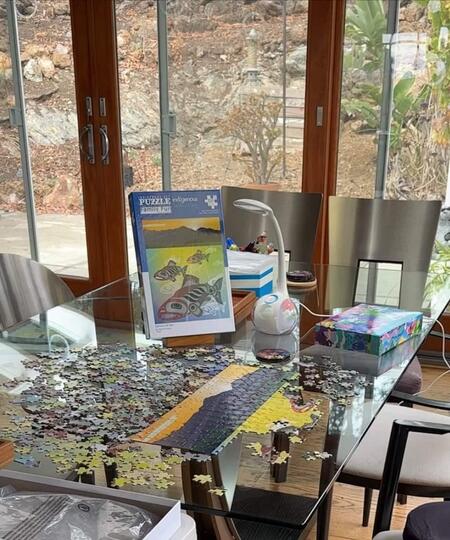 Tracy has the added benefit of some gorgeous natural light to aid in her puzzling! Some of our other ambassadors choose to use boards on their tables.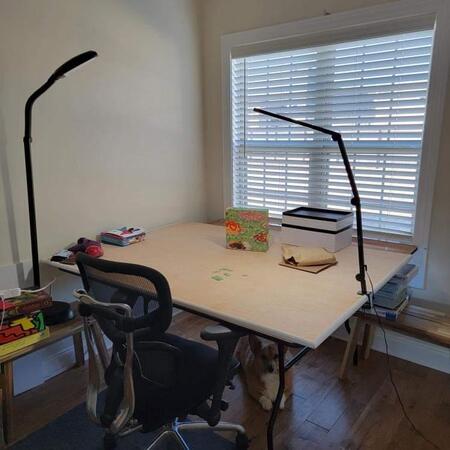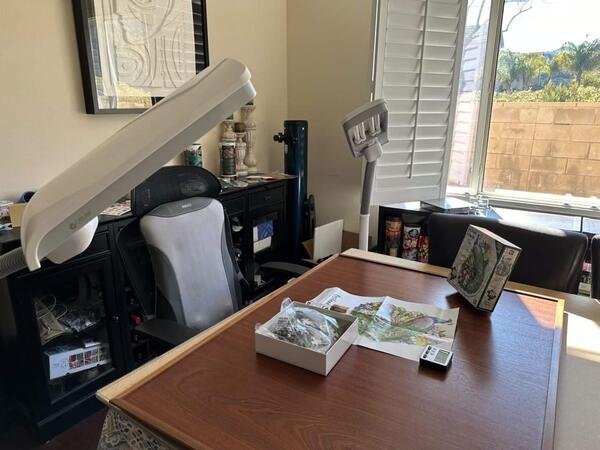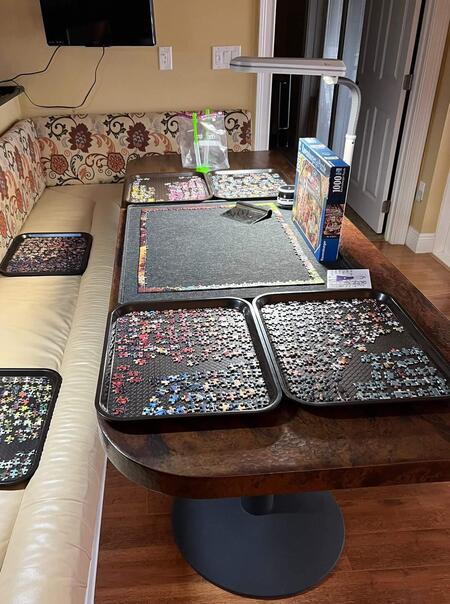 Here are pictures of Diane's, Alyssa's and Lisa's set up. They can keep their stand alone boards on the table, or move them someplace else. This Hart Puzzle Mat and Gibsons' puzzle board can both fit 1000 pieces and the Gibsons' board is even felt lined. As I didn't think my family would be stoked about eating on the floor and I have a rambunctious cat, I started with something portable (and covered) such as a Stow and Go. This roll up mat by Ravensburger fits a 1500 piece puzzle and was actually really easy to work with. It also has the added benefit of being made of felt, so if you have a slanted table, your puzzle pieces won't slide off! If you're not too jazzed about rolling your puzzle, there is also the option of a Portapuzzle which fits a 1500 piece puzzle and can fold up flatly and tucked away under a couch or table.

Working on a flat table still bothered my back, so I had to look into slanted options, such as Ravensburger's Wooden Puzzle Board that can fit a 1000 piece puzzle. A less expensive option is Ravensburger's Puzzle Stand and Go.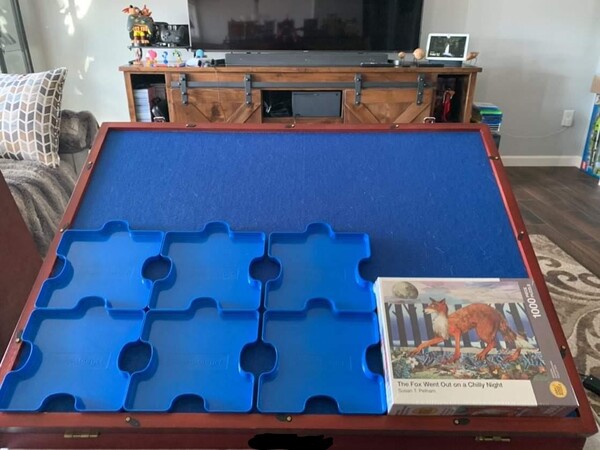 For a while, I used one of these and had an area similar to Gail's couch set up in the above picture (Aren't those trays adorable? Both MasterPieces and Eurographics make puzzle shaped trays). Unfortunately, my kids would constantly bump into it, so I had to move my puzzling back to the kitchen table. After a lot of trial and error (and not caring how much space I ended up taking in my living room), I finally found a set up that I was comfortable with.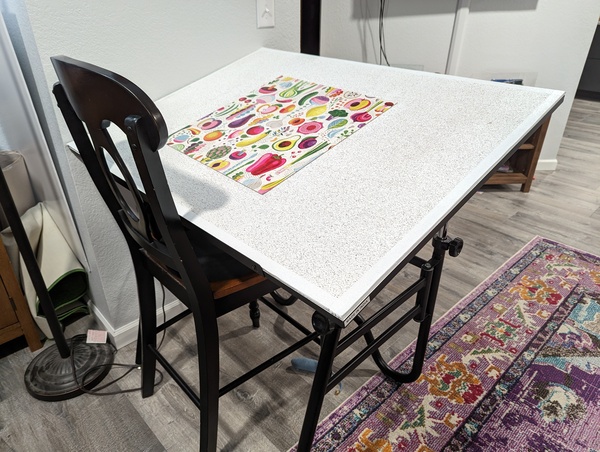 The photo above shows my current puzzling area. It took me a while to get this set up figured out and, like I said above, a lot of trial and error. The most important thing to remember is that your puzzling area is your own. If it isn't comfortable to use or enjoyable to be in (just ask Jenn about her Puzzle Piazza), you're not going to have fun puzzling or even worse, you might hurt yourself like I did! What works for one person may not work for you, but I think we can all agree, no matter what your set up looks like, make sure it is well lit!
-Keep on puzzling!!
Gaby @puzzlepastime on Instagram