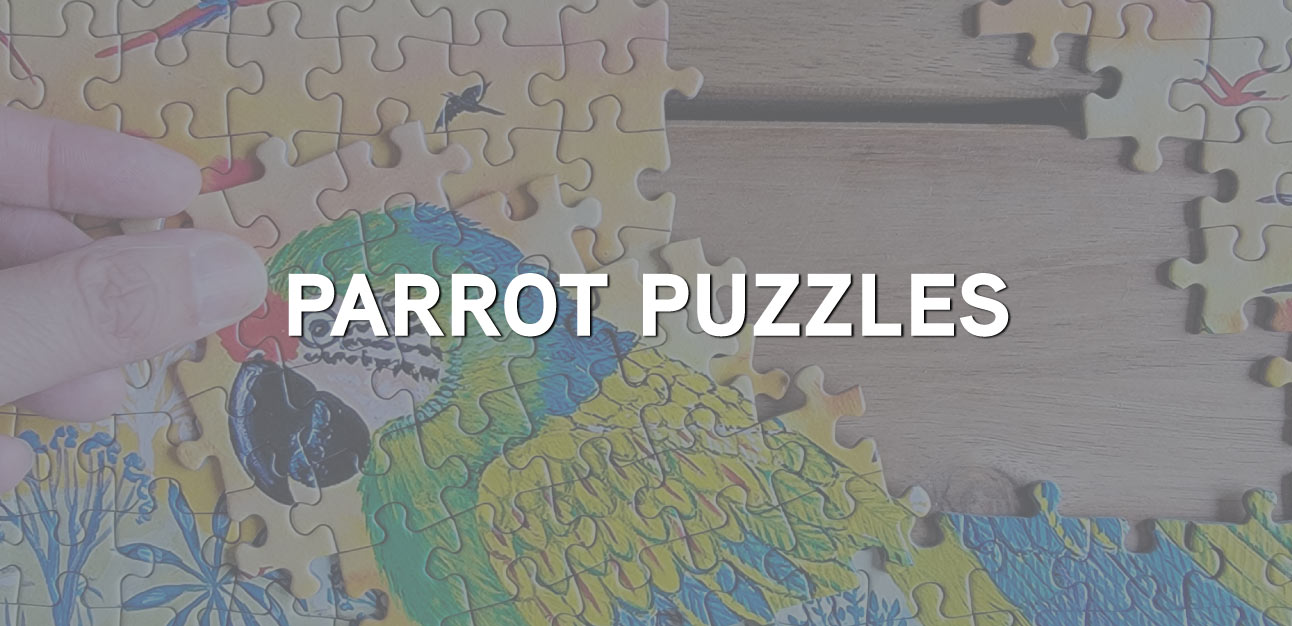 Parrot Puzzles
One of the plethora of things I love about puzzles is that there are so many different styles. This month, I decided to try different styles of puzzles that feature parrots; and I challenged myself to go beyond a jigsaw puzzle and try something new. And so behind the journey is a tale of 4 styles of puzzles.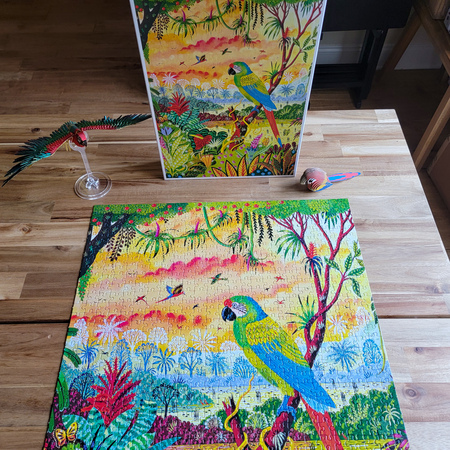 First up is a traditional jigsaw puzzle - The Great Green Macaw from Piatnik.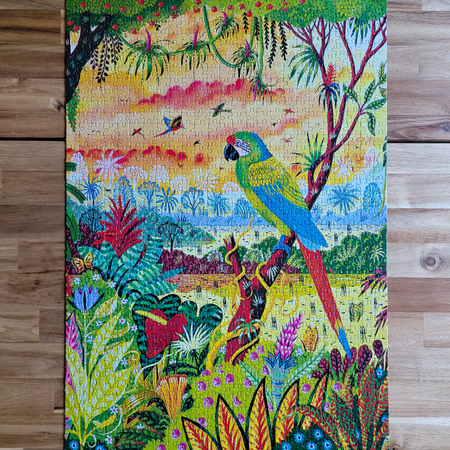 It has been a very long time since I have done a Piatnik puzzle so it was like doing a new to me brand. The pieces are traditionally shaped with enough variation to ensure no false fits.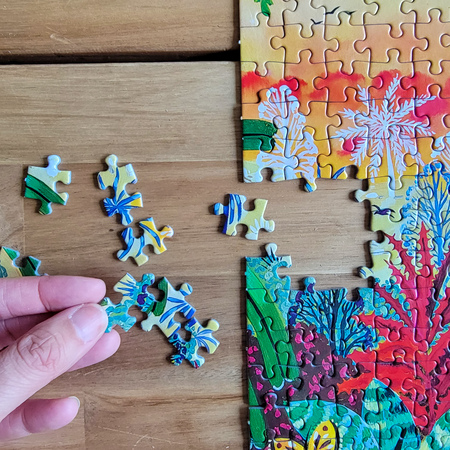 My strategy for The Great Green Macaw puzzle was to focus on all the patterns. I started with the bottom: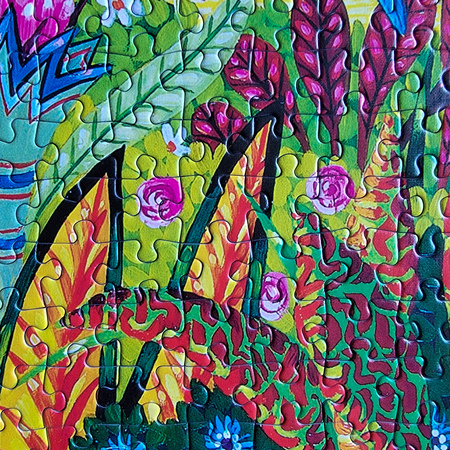 Then finished with the Macaw and the sky. The sky was definitely the most challenging section, but I found this puzzle to flow together quickly and easily thanks to the beautifully detailed art of Alain Thomas.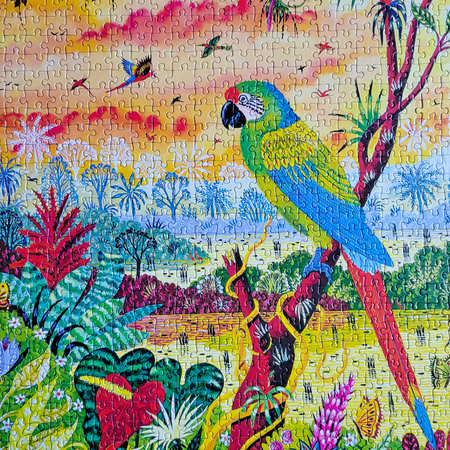 Next up is a shaped puzzle from my favorite shaped puzzle brand - Madd Capp. To make this puzzling experience even more fun, I put I am Parrot together with 2 of my nieces and nephew.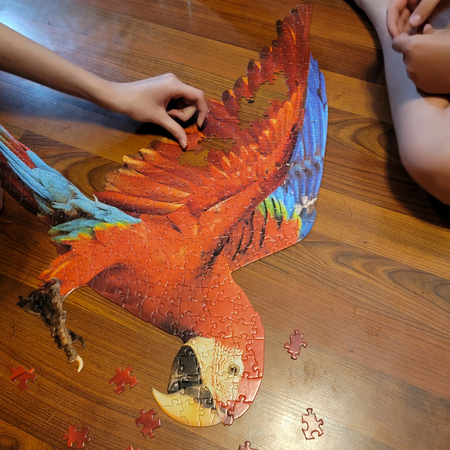 Although only 300 pieces, it was quite a challenge! My nephew focused on the Blue feathers of the tail and wings and the head.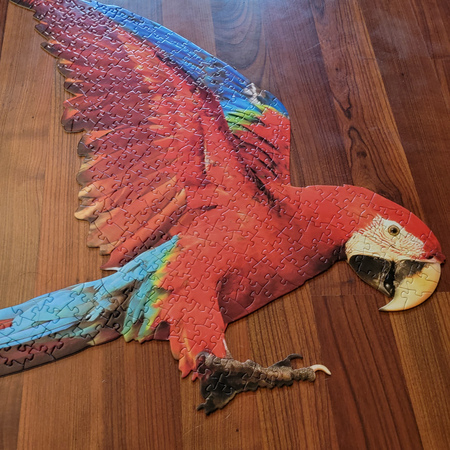 While he was working on those parts, I worked on all the beautiful red feathers. When we got to the last 30 pieces, my nieces joined in. It took us 3 puzzling sessions to complete I am Parrot.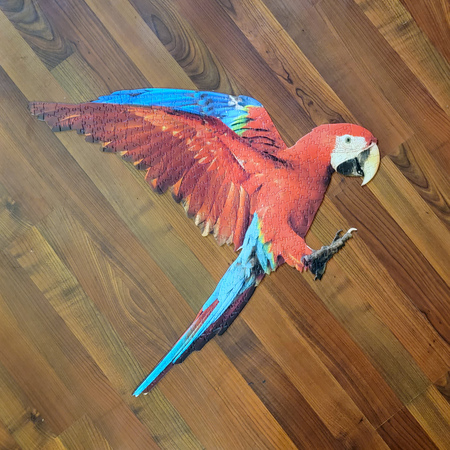 Next in my journey of various types of parrot puzzles is a 3D cardboard one from Eugy. The Eugy Parrot was by far the easiest of the parrot puzzles.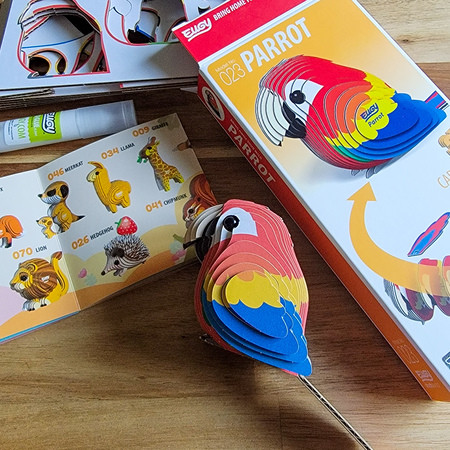 The simple instructions are included on the box. As you connect each layer, you add a little of the included non-toxic glue. Very easy, very fun, and very much a quick kick of serotonin.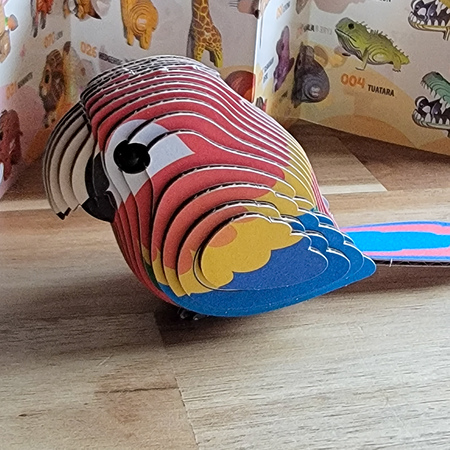 The last one came out of a poll I shared on my Instagram stories, and it's actually what prompted me to try 4 different styles of puzzles that feature parrots - a Metal Earth 3D puzzle. At the time of this blog post, there were over 300 metal puzzles. I wanted to try one, since it is not something I had tried. (Gaby did one last summer and you can read about her experience here.)
I could not decide which I wanted to try - the parrot or the peacock. So I left it up to the Instagram puzzle community to help me decide. The parrot was the overwhelming winner.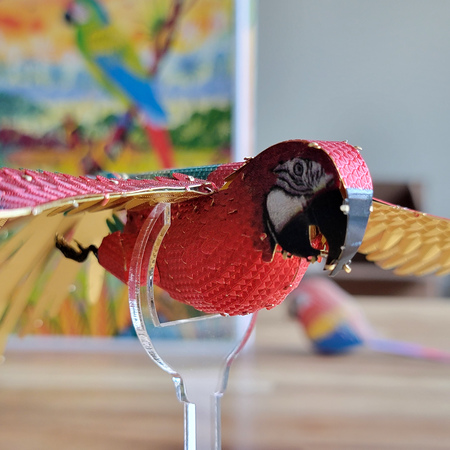 Now, I am not a 3D type of person. I have tried crystal puzzles and struggled big time. I also tried the Hogwarts Castle, which I had stored in my attic after deciding I needed a break from it (and unfortunately it was lost during the tornado that hit our house in 2020). When I opened the little box and pulled out the metal sheets, I was surprised at the size. In my head, it was much bigger (I did not read the dimensions).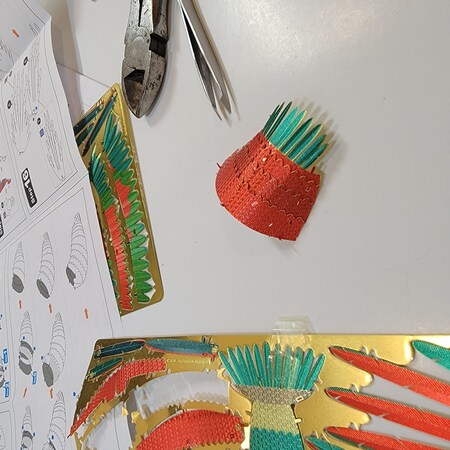 It wasn't particularly difficult to put together although it did have many, many steps. I did find that crossing off the steps as I completed them to be very helpful!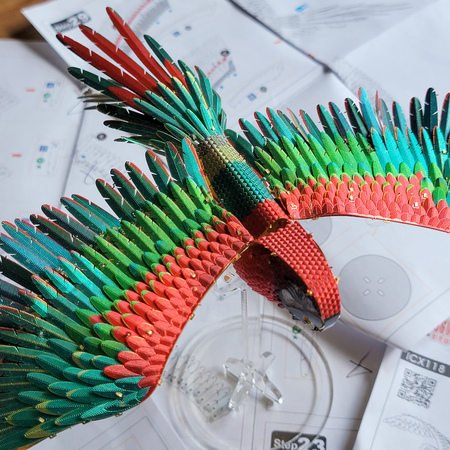 One section that I really struggled with was getting the wings on properly. You can see in the picture below they are not quite secure. Could that have been from when I was flying it around the living room showing it off? Possibly.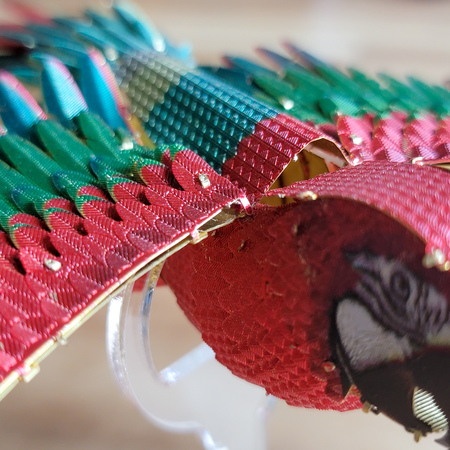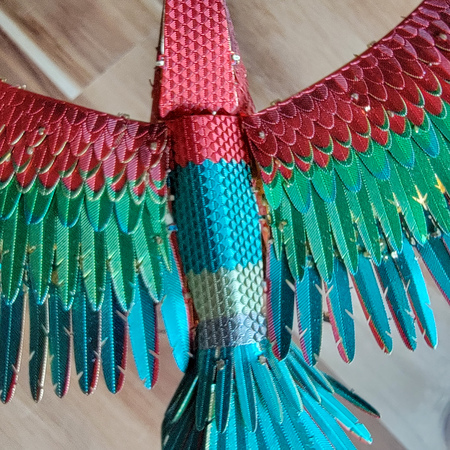 I really, really enjoyed it and definitely want to do more. I am going to be adding the Metal Earth tools to my cart to make things a little easier. I ended up using very old metal cutters and the tweezers I usually use on my eyebrows. They worked, but the metal cutters were too large and a bit unwieldy to work with.
It turned out absolutely stunning. It is so detailed with lots of feathers and even a claw.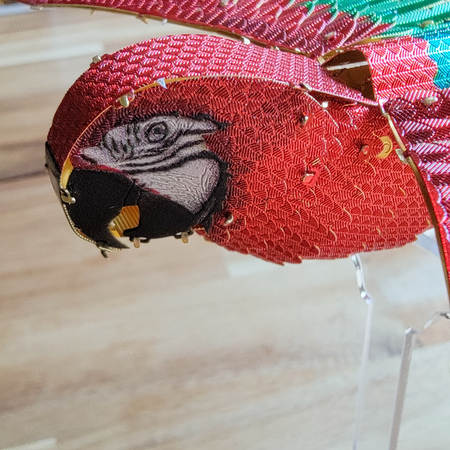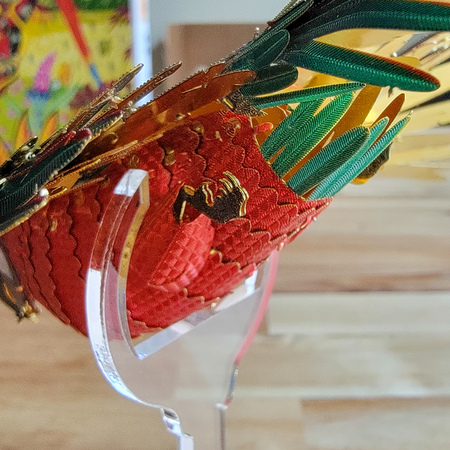 My only question is, if I do get into doing more of these metal puzzles, where will I display them?
All parrots in 4 different types of puzzles. Each one was unique and so much fun! I really enjoyed branching out from my typical cardboard jigsaw puzzles.
Until next time, happy puzzling!
Diane aka@bizzlespuzzles