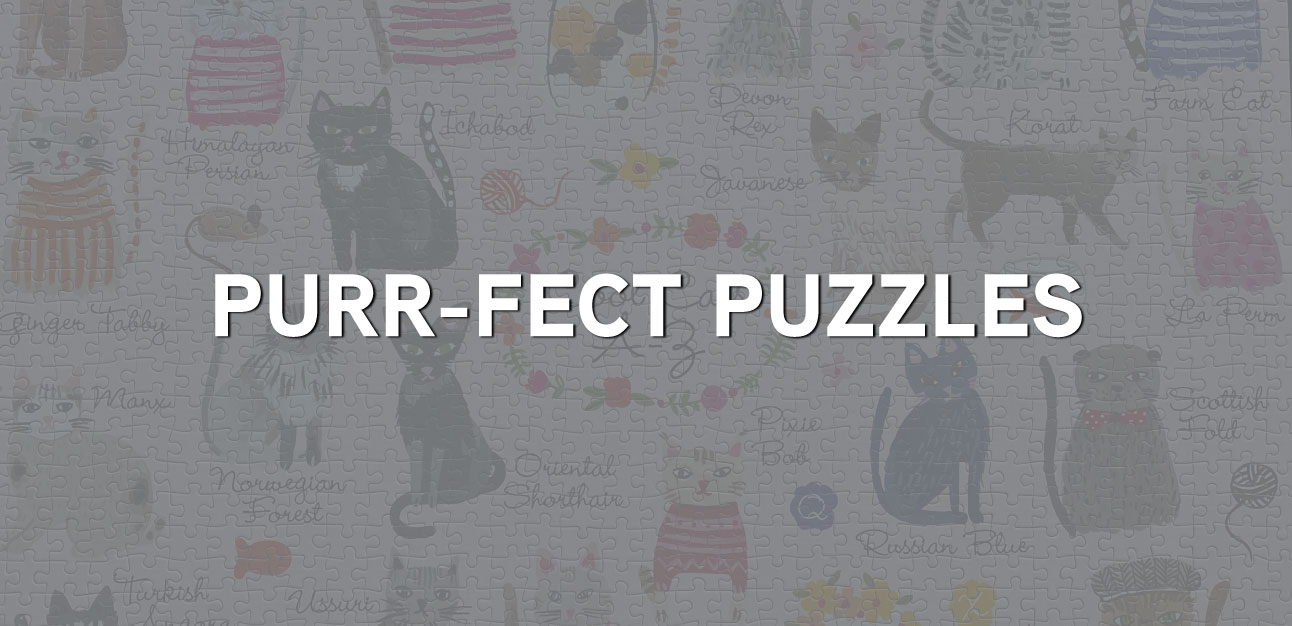 Purr-fect Puzzles
June, a month that is the height of "kitten season" when large litters of kittens are born, is National Adopt-A-Cat Month. When I heard this, I knew I had to – like a cat – pounce on featuring cat-themed puzzles.
As I look back over my past blogs, I've realized an underlying theme…apparently I love to do jigsaw puzzles that allow me to experience things I cannot do or have. I.e. I wrote a blog on puzzles featuring quilts because I love quilts, but am the least "crafty" person I know. I created a blog on flower-themed puzzles, as I adore colorful blooms, yet I have a "brown thumb." And now, I'm writing about cat-themed puzzles, but sadly I cannot own a cat, as my husband and I are both crazy allergic. We did have these two "porch kitties" adopt us – they traipsed up our driveway one day and proceeded to live in our yard for 17 years. We always wanted to bring them indoors, but the few times we did to keep them safe during hurricanes, we were both wheezing and sneezing like maniacs! Now that Fat Cat & Fraidy Cat have crossed the rainbow bridge, we live vicariously through our mothers' cats. My mother-in-law owns two Bengals and my mother has this cutie, Whiskey. So happy he was chosen by the care home she lives to be their resident cat, as more black cats are put down in shelters than any other kind, due to the superstitions associated with them.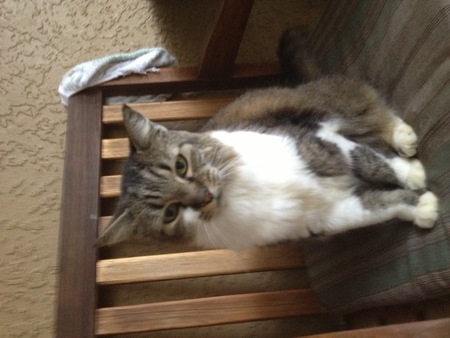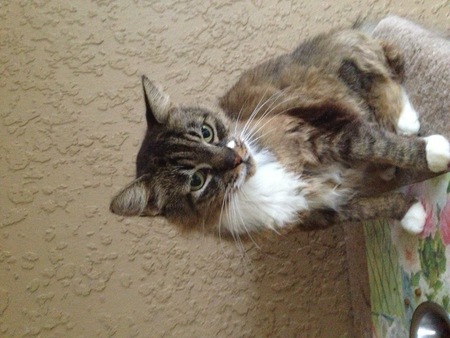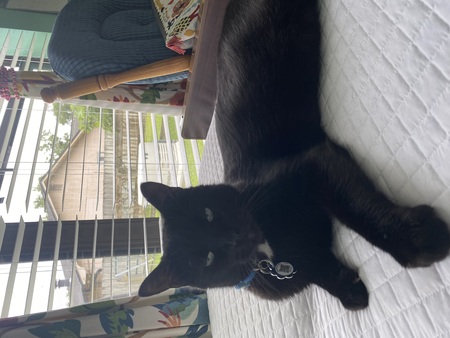 I'll hit "paws" on lamenting and start talking about the plethora of cat-themed puzzles I have been able to curl up with! My favorite to date is "Catsville," a 1000-piece, random-cut puzzle from Cobble Hill featuring the artwork of Shelley Davies. The first time I did one of her puzzles, I assumed the art was illustrated by hand. Then, a friend shared a fascinating video that shows how she creates three-dimensional collages, painstakingly arranging and rearranging all of the items featured in the collage out on the floor before capturing the image used for the puzzles.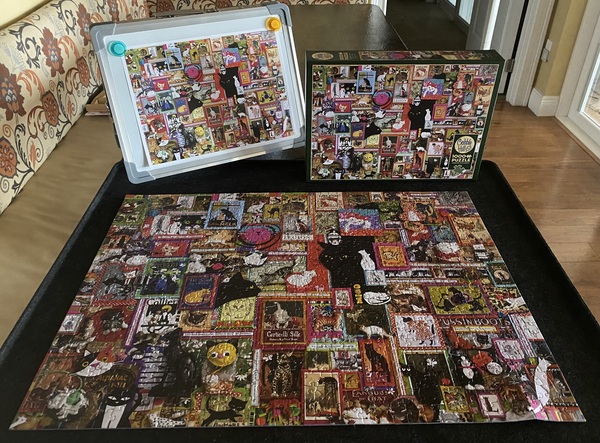 The puzzle is a delight to complete with textured linen pieces with no false fits that really hold. It comes with a poster, which was handy as the Cobble Hill logo covers the lower right part of the box image. I place mine on a whiteboard easel that comes with magnets, making it easy to reference vs. laying it flat. It was captivating to discover all the little hidden elements featured in the collage as I built the puzzle and the quotes highlighted made me giggle!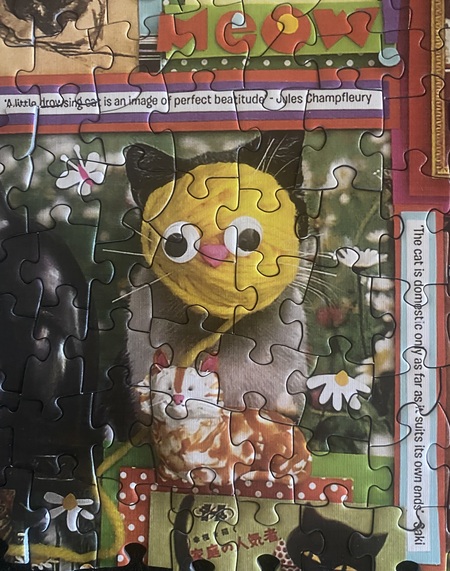 In my commitment to trying new brands, I gave this 1000-piece "Cool Cats A-Z" by Mudpuppy, featuring the artwork of Carolyn Gavin, a whirl. I was a bit concerned at first that all the pink and the same-shaped pieces would make this one tricky, but there was usually enough of the cat's coat or other item (the little mice are adorable) that it was easy to spot what went where.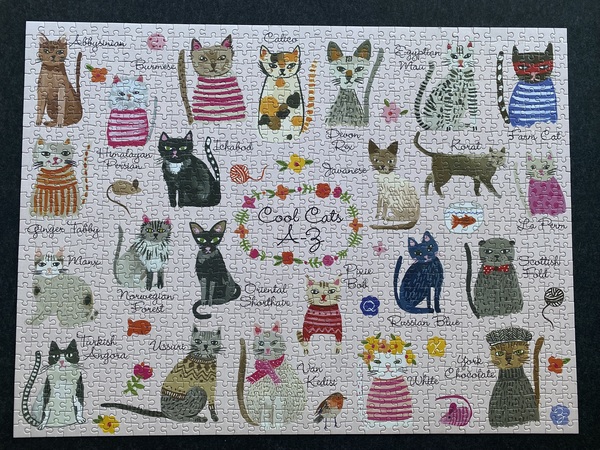 I enjoyed that puzzle so much – you may say that it was the "cat's meow" - that I completed another Mudpuppy – a 500-piece, ribbon-cut, family puzzle called "Bookish Cats." The different color blocks made this easy to put together, but if you want something even quicker, Puzzle Warehouse offers the individual images featured in each section available as 100-piece puzzles as well. Mudpuppy has a team of only 25 people based in New York, committed to environmentally-friendly puzzles. Though small, they do a mighty great job of that with sturdy pieces made out of 90% recycled paper and non-toxic inks that yield minimal puzzle dust.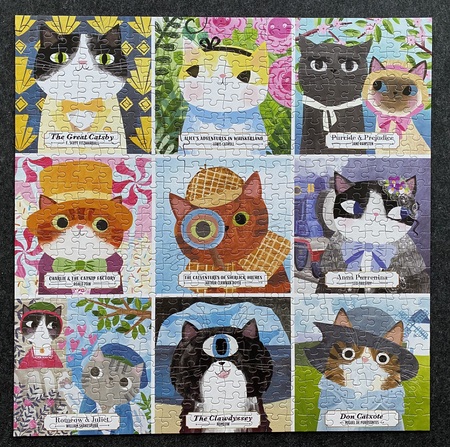 Another quirky puzzle I tackled for this blog was Eurographics' 1000-piece "Funny Cats" by artist Lucia Heffernan. As Lucia states on her website "my body of work is an expression and exploration of my fascination with animals, though my paintings I seek to give animals a voice and personality." She's certainly done that with this whimsical puzzle! Eurographics' puzzles are near and dear to my heart, as one of theirs was the first puzzle I ever completed, kicking off my obsession with puzzling. Every time I do one, the experience is fantastic – bright colors (I found it easiest to build the color blocks first and fill in the cat faces last which was kind of eerie), quality pieces (this one was ribbon cut) that use recycled blue board paper and vegetable-based inks that yield little puzzle dust.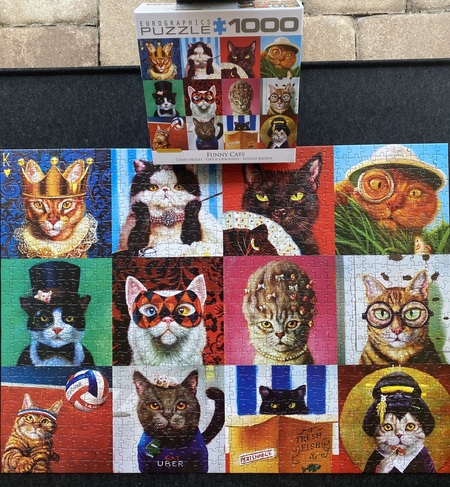 In closing, I encourage you to 1) consider adopting a cat from a local shelter and in addition to, or failing that, 2) complete a cat-themed puzzle. When I put "cats" in the search box for Puzzle Warehouse over 500 different puzzles popped up, so chances are good you'll be able to find the "purr-fect" cat-themed puzzle for you! Goodness knows I'll be doing more, as I have these two in my stash - Buffalo Games' "Curiosity Shop" and "Scent" by Gibsons by one of my favorite artists, Linda Jane Smith. Meow!
-Lisa