Puzzle Review: Garden Bunny by Wooden City
Lately, it feels like everyone in the puzzling world has started doing wooden puzzles, so of course I wanted to give them a try. With thoughts of spring and the Easter Bunny in my head, I decided that Garden Bunny by Wooden City would be perfect.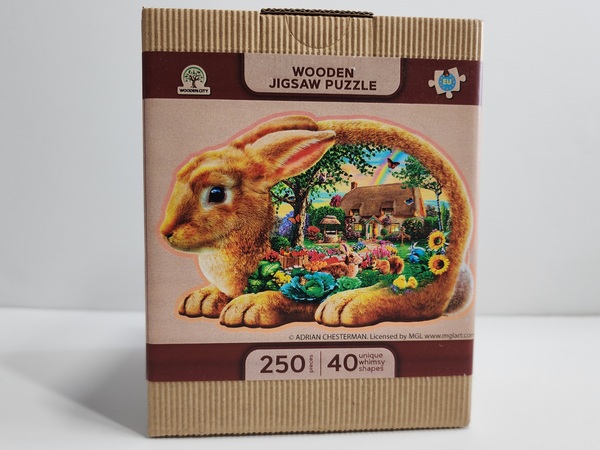 Wooden City puzzles come packaged in environmentally friendly packaging. The 250 pieces are in a paper bag. No plastic here! There's also a small included reference picture if you need it, but I prefer to puzzle without the picture.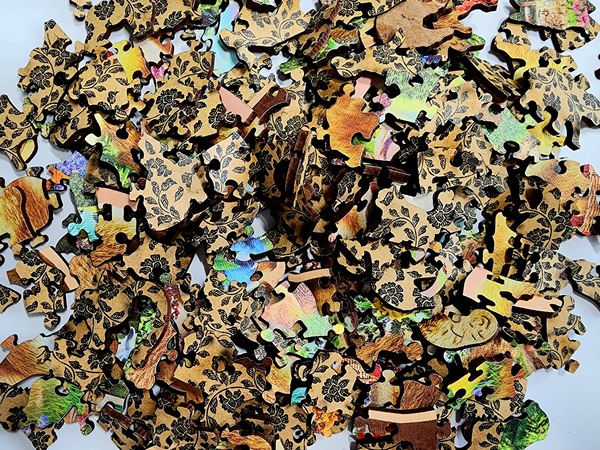 The random cut pieces are 2.8mm thick and feel quite nice. There is a pattern printed on the back, so you can easily tell if they are face up.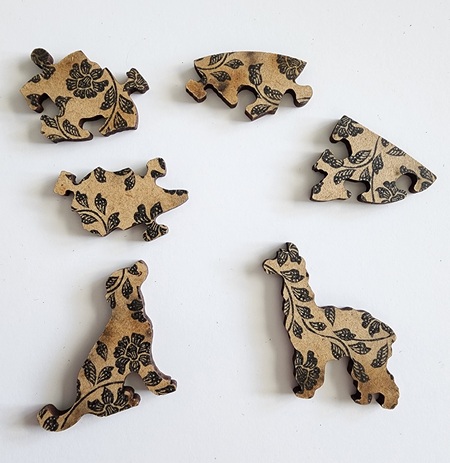 I am almost always an edges-first kind of puzzler, except when it comes to shaped puzzles like this one. I've learned that it works better for me to start with the inner parts, but of course I sort the pieces first.

Most wooden puzzles have special pieces called whimsies. Whimsies are cute little shaped pieces, in this puzzle they're all animals. And there are 40 of them!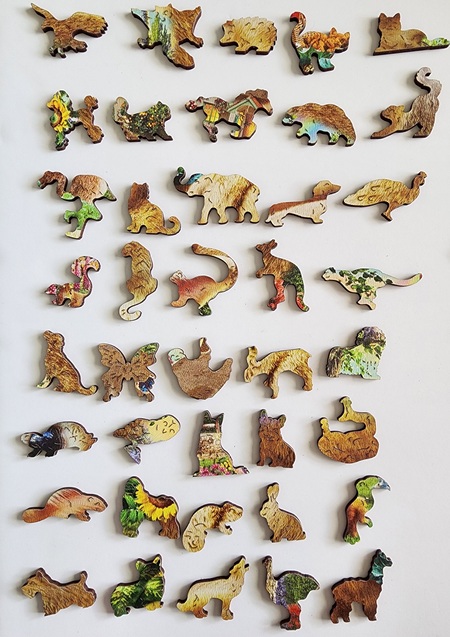 When I sorted the pieces I made three piles: whimsies, regular pieces, and edge pieces.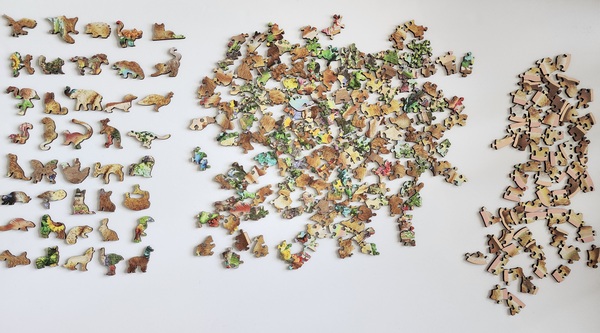 I was then ready to start puzzling. I looked for colors and textures that stood out to me and started pulling those pieces out to work on. Wooden puzzle pieces don't click together like cardboard backed puzzles do. It's more like you drop the pieces into place. It's really quite satisfying.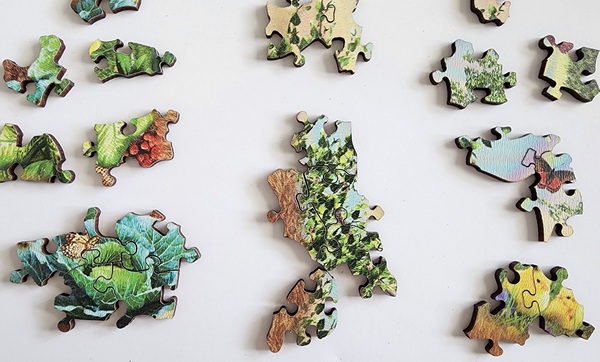 I continued in this manner and the puzzle slowly started to take shape. I thought it would be fun to save the whimsies for last.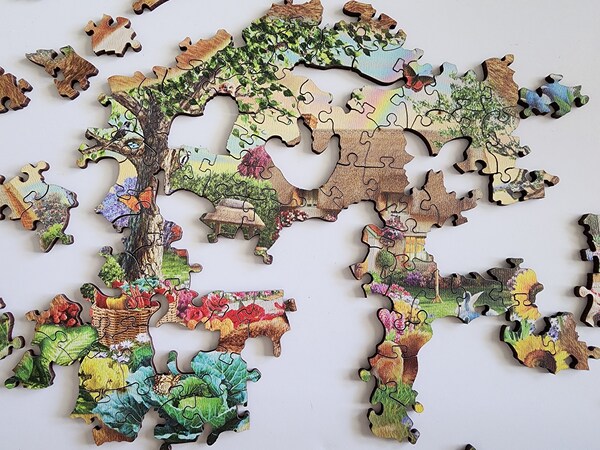 Once I got a large portion of the middle together, I got stuck. So I decided to start working on the edge pieces. There's a very slight color change from peach to pink, and this was helpful in trying to figure out which pieces went together.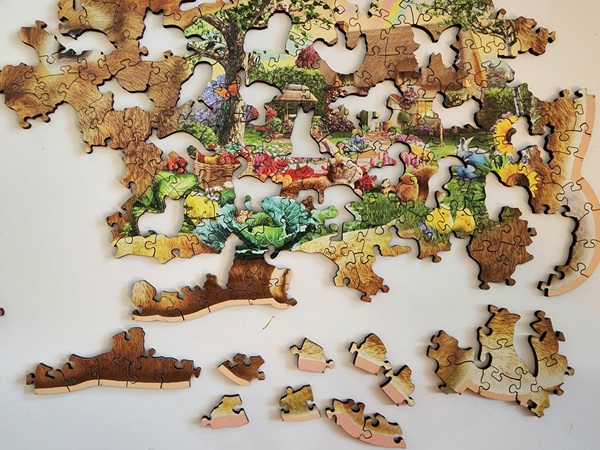 Working on the edge pieces helped a lot and before I knew it, I only had the whimsies left.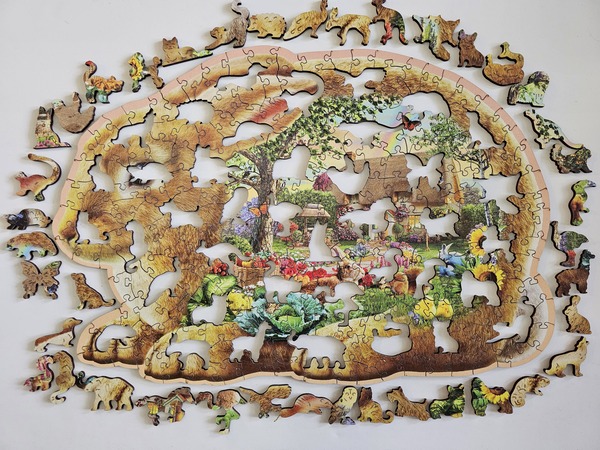 This was such a fun and adorable puzzle. It measures 14 3/4"×10" and took me just about two hours to complete.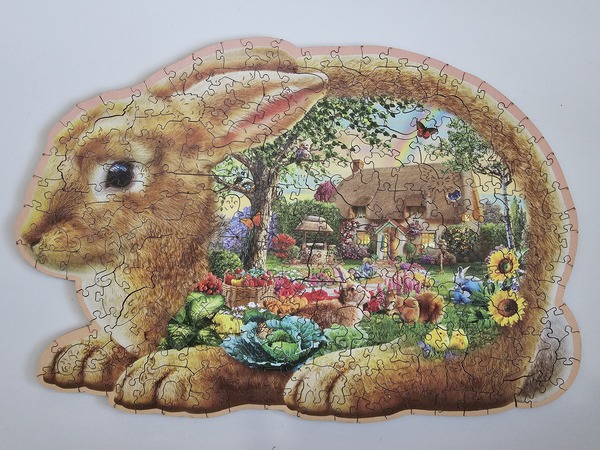 I totally understand why wooden puzzles are so popular now!

Until next month, happy puzzling!
- Angel @endless.puzzles
What do you do with the finished puzzle? That was very interesting the way you described the way you put it together.