Puzzle Review: How to Paint a Watercolor Universe by Mchezo
Hi, puzzle people! My name is Alex, and I'm so excited to be contributing to the Jigsaw Junkies Blog as one of the 2023 Puzzle Warehouse Ambassadors! I started collecting and doing puzzles in April 2022, and it quickly became a passion (or obsession, but passion sounds less harsh). I absolutely love puzzles, and I'm so grateful to be able to share something that I love with other people. One of my favorite things about puzzling is exploring different brands and puzzle image artwork. What better way to get to explore an image or artwork than by putting it together one piece at a time?
In the name of exploration, I wanted to try a puzzle from a brand new to me…Mchezo! And this is the puzzle review of How to Paint a Watercolor Universe. First of all, the artwork just captivated me. I love watercolor and the textures created by the different watercolor applications in the image. The fantastical art depicts a woman panting her own universe. Billowing from her brush is a world of her own creation. I couldn't help but think about how our brains are constantly interpreting stimuli, creating our own reality every moment of every day. But I digress…Look at this pretty puzzle!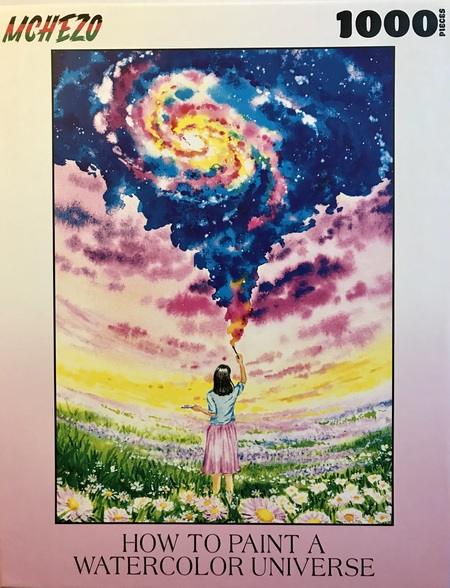 Let's talk about the puzzling experience! Artwork aside, I could tell I was getting into something special as soon as I opened the box. It's sturdy. I love a good puzzle box. The pieces also come in a resealable plastic bag, and there's a reference poster that's almost the size of the box. It's the perfect size to be helpful if you use the box to sort pieces, but it's not so big that it becomes ungainly and cumbersome.
The pieces are nice and thick, and there is so much variety in the piece shape. Just look at those pieces! The colors are vibrant, and image is clear and crisp. I pulled out a few of my favorites to show you some of the different shapes and how pretty these pieces are individually!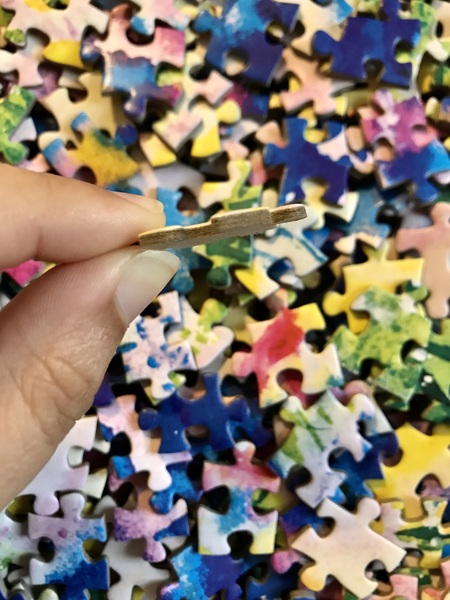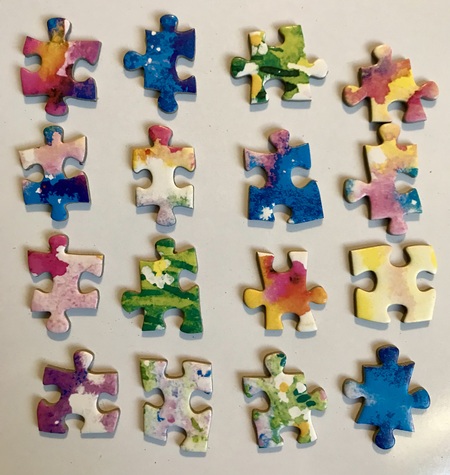 The fit is perfection. There were NO FALSE FITS! I'm going to say it again. This beautiful puzzle with its potentially tricky large areas of similar colors had NO FALSE FITS…it's a dream. I cannot explain enough how satisfying this puzzle experience was. The pieces hold together so well without being ridiculously tight. I started with the edges and could pick up a whole edge to move into place without worrying that it was going to fall apart. The pieces also made a super satisfying schiccck (or click) sound when you put them in place. It's a full sensory experience.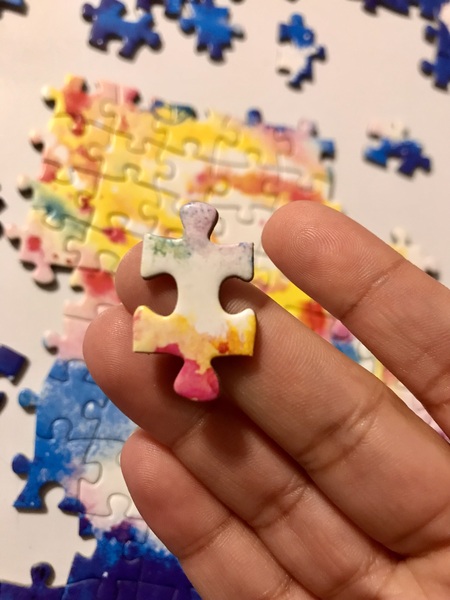 This is my favorite piece!
For this 1,000-piece puzzle, I started with the edges. I tend to start with edges anyway, but in this case, I thought it would be helpful to have it framed so I could move around to different sections if I wanted to. Because I tend to not do much sorting, I started with the grass since those pieces stood out to me most. I continued up to the yellowy section and the woman. At this point I felt like I needed a break from the pastels. I thought I'd just be able to go up and bust out the dark blue of the universe, but it proved to be tricky. It's a lot of blue! The easiest pieces to pull out in the blue section is where it meets the pink of the "real world" sky. I shifted focus to those pieces, finishing the pinks, purples, and whites of the lower sky before trying to retackle the universe. The colorful galaxy in the top center was super fun, and then I was able to finish up the dark blue.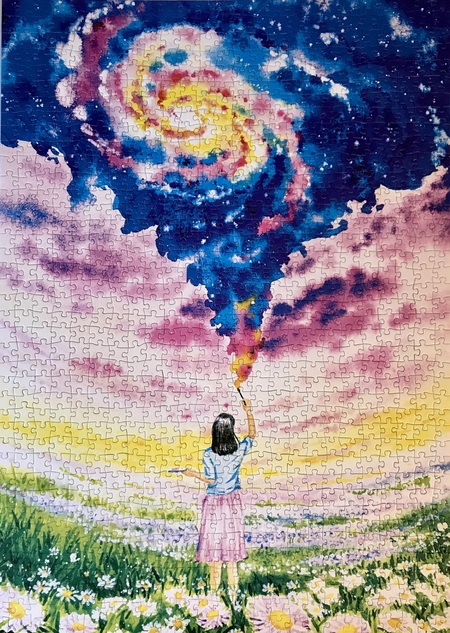 For me, this wasn't an easy puzzle, but I never felt stuck. I'm sure it would have been easier to sort by color and piece shape, but I tend to puzzle in my bed and haven't worked out how to sort out lots of pieces in rows. So, I use a few box lids and a large dry erase board to puzzle, but I don't sort much. Even without major sorting, this puzzle was incredibly satisfying. I can't wait to do more puzzles from Mchezo. Here are a few of my favorites from Mchezo and other brands that remind me of How to Paint a Watercolor Universe.
I love puzzles with magical, fantasy, and mystical images. This Mchezo puzzle, Spirit Board, is already in my ever-expanding to-do pile. The colors are beautiful, and it looks like stained glass.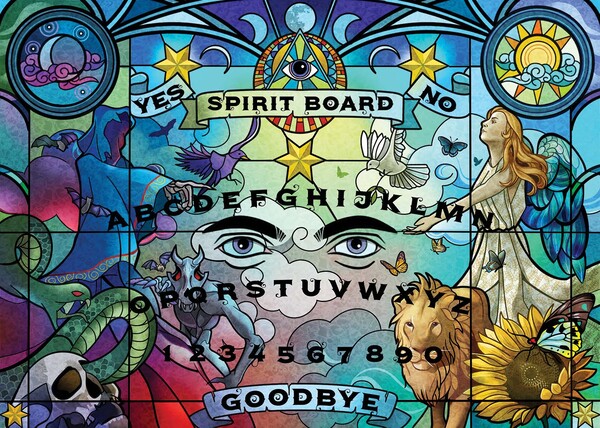 I also love how adorable this Magical Bakery puzzle by Mchezo is! The artwork is vibrant and whimsical. How cute are those tiny dragons?!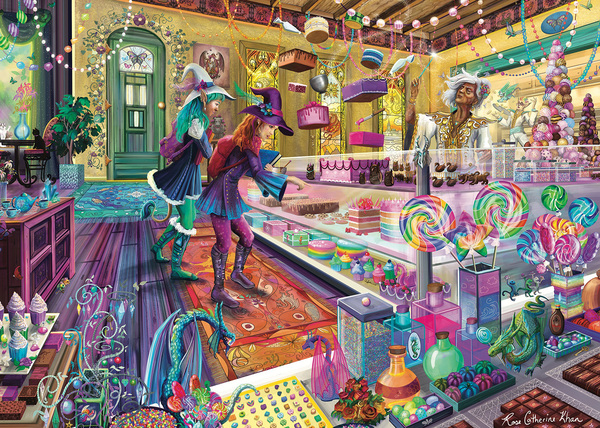 Sometimes I like a more limited color palette. This Mchezo puzzle is still adorable and magical, but it's primarily rich reds and golds. It looks like a fun challenge! Plus, I love the title's play on words: Book Wyrms.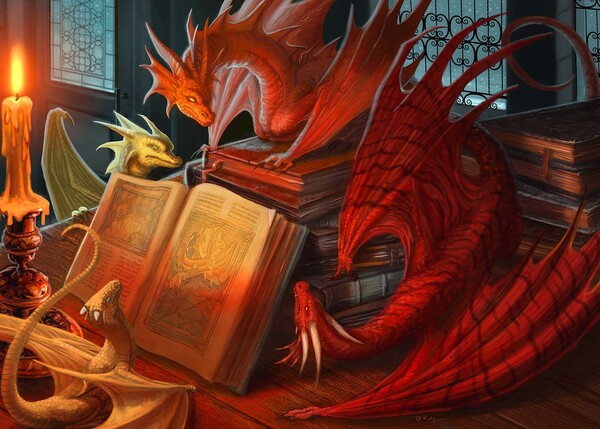 Another puzzle that's giving me all the watercolor vibes is Heye's Universe Creator. It's playful and sweet, really leaning into the whimsical vibe that comes so naturally to the watercolor medium. The artwork is by Lora Zombie, and it's going straight onto my wish list.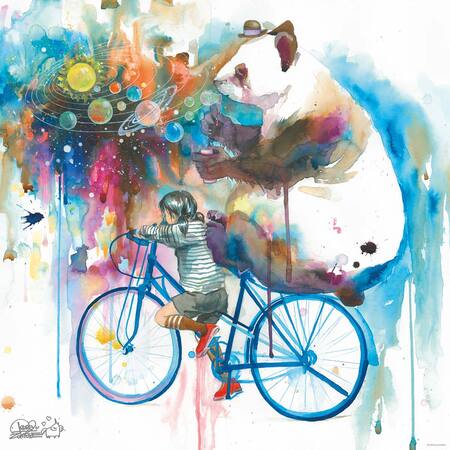 The last puzzle I wanted to share with you, is a puzzle that offers a similar puzzle experience as far as the artwork is concerned. Educa's June, with artwork by Esther Gili, has the grass with flowers and a pastel sky contrasted with the richer, more saturated colors of the girl's hair. It's similar to how the flowery fields and soft colors of the sky contrast with the painted universe in How to Paint a Watercolor Universe. I also quite enjoyed this puzzle when I did it a few months ago. But that's another story…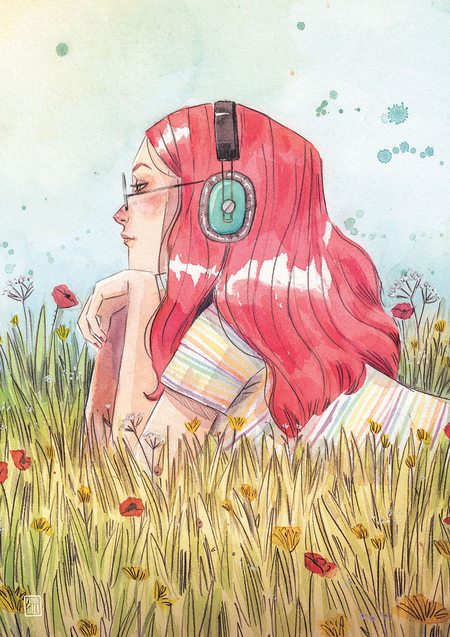 I hope you're able to find the perfect puzzle that inspires you to piece together your own little universe!

-Alex @pokylittlepuzzler