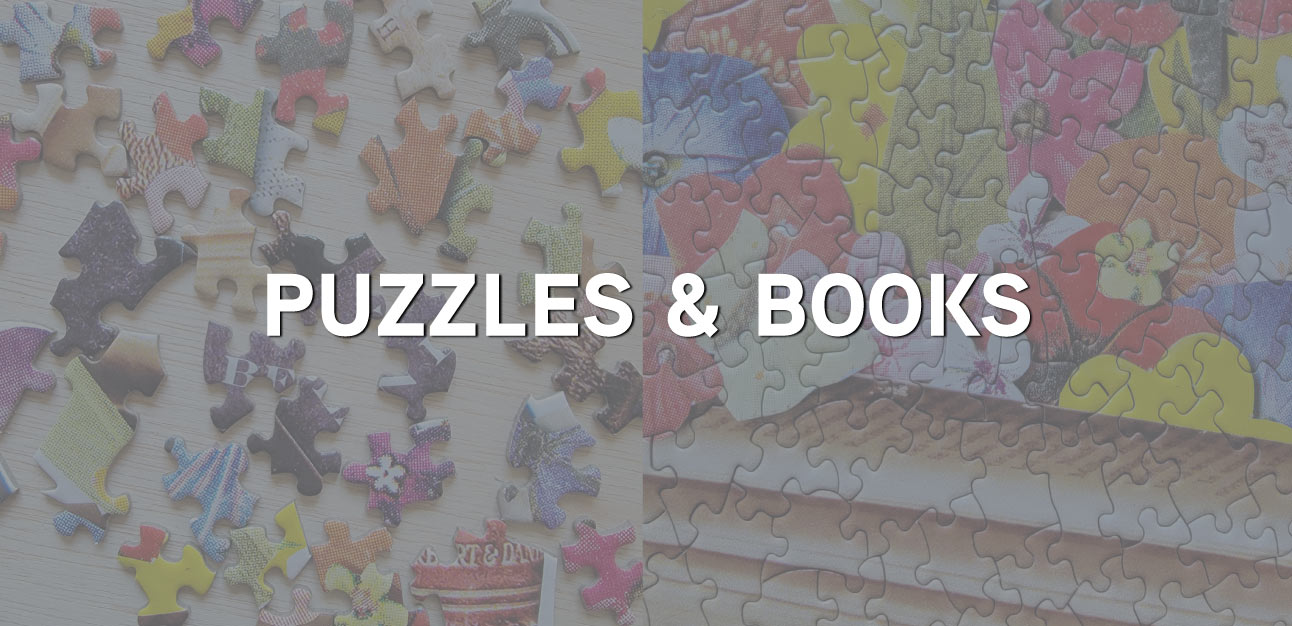 Puzzles & Books
Is there anything better than puzzles and books? Maybe add a cup of coffee to the mix and it is my ideal way to spend a quiet day. I love listening to audiobooks while I put a puzzle together (pro tip: check your local public library to borrow audiobooks for free). What makes that even better is when the puzzle itself features books. I just finished my very first shaped Galison puzzle. I've done many Galison puzzles, but never a shaped one. Given my love for puzzles and books, there's no shaped Galison more perfect for me than Blooming Books.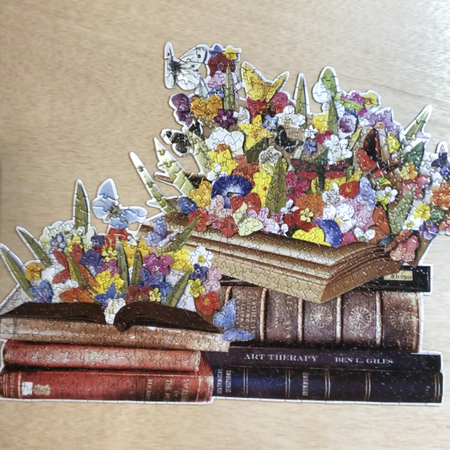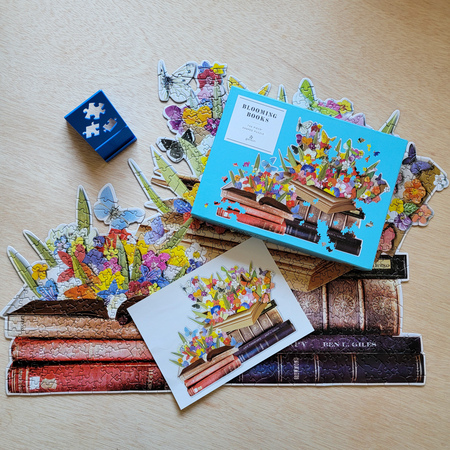 But before I get into telling you about the puzzle, I have to show you this really neat new accessory I got - a Puzzle Box Stand. This was such a cool way to not only keep my puzzle box standing, but there is also a space for the included poster. I am not the most graceful person and inevitably bump my table while I puzzle which always causes the box to tip over. This stand solves that problem!

What's always interesting when it comes to shaped puzzles is that I never do the edges first. It's pretty common to get the edges of a puzzle together first to give you the framework to work with, but with the irregular edges of shaped puzzles, it is much harder to do. So I decided I would start this one with the books.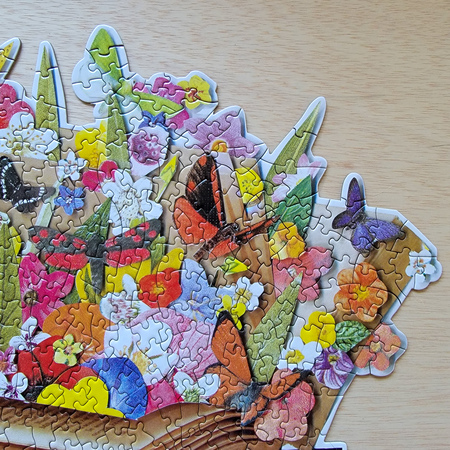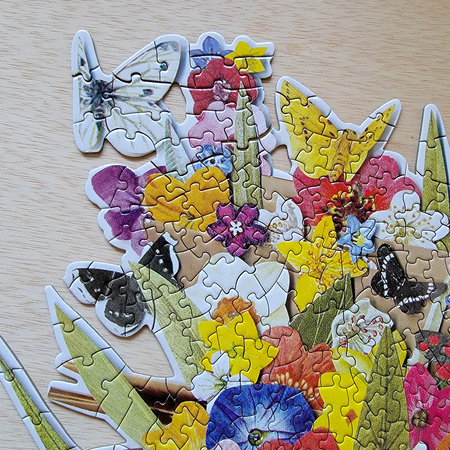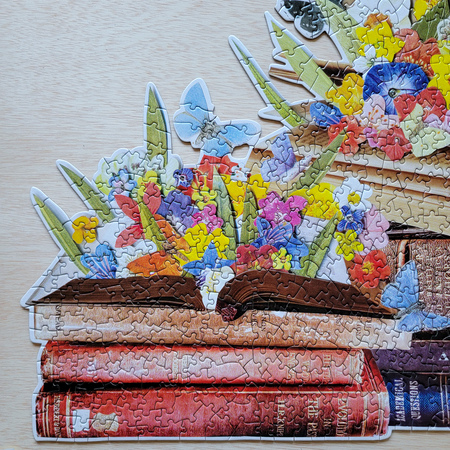 Blooming Books features the art of Ben Giles, who "describes his work as a composition of nature, metamorphosis, light, color, collage, collaboration, juxtaposition, repetition, excitement, evolution, manipulation, music, television, improvisation, participation, and seduction." (from Puzzle Warehouse description) I thought the different styles of the books and flowers/butterflies were a very intriguing combination.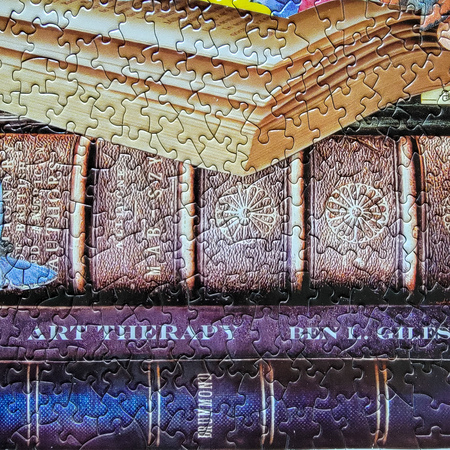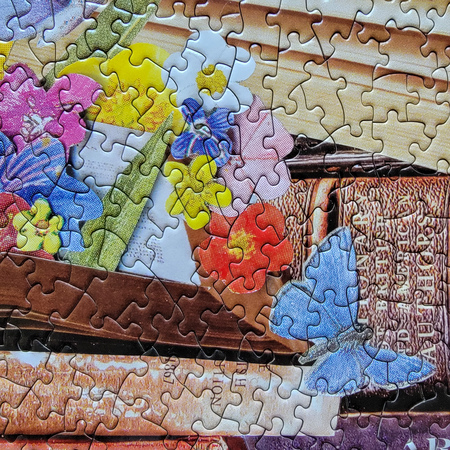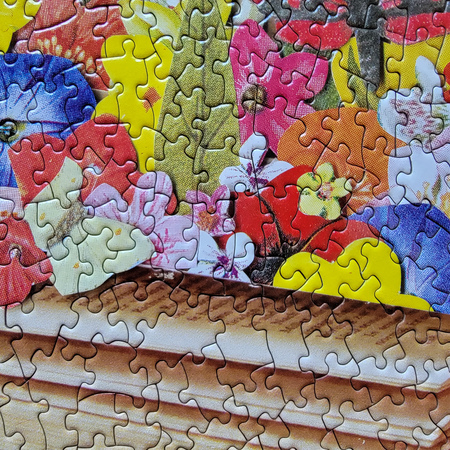 Sections can be easily moved around, which I did a lot of while working on this puzzle. I would get a portion together then need to refer to my poster to put it in the correct location.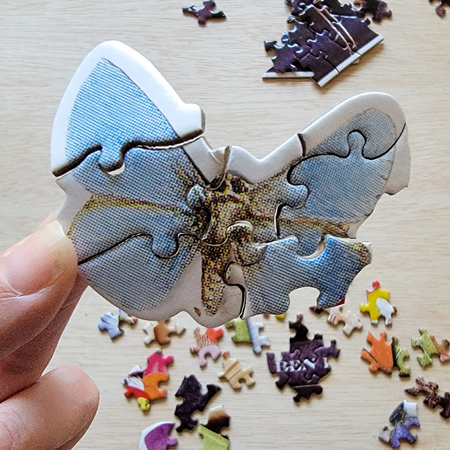 The pieces are irregularly shaped, which always adds an extra challenge.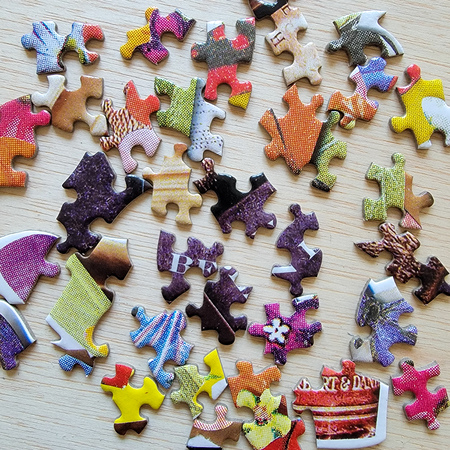 Love the idea of book-themed puzzles, but not into shaped puzzles. No worries! Here are some other excellent puzzles currently available at Puzzle Warehouse.
Ideal Bookshelf is a quick and fun one from Galison. I've done this one several times and always think about which books I've read that fit into the books' titles (unforgettable book, book my best friend game me, book I read again and again, book I would grab if the house is burning, best book I ever read, childhood favorites, book that makes me look smart, book that makes me laugh out loud, super fantastic book, book I never finished).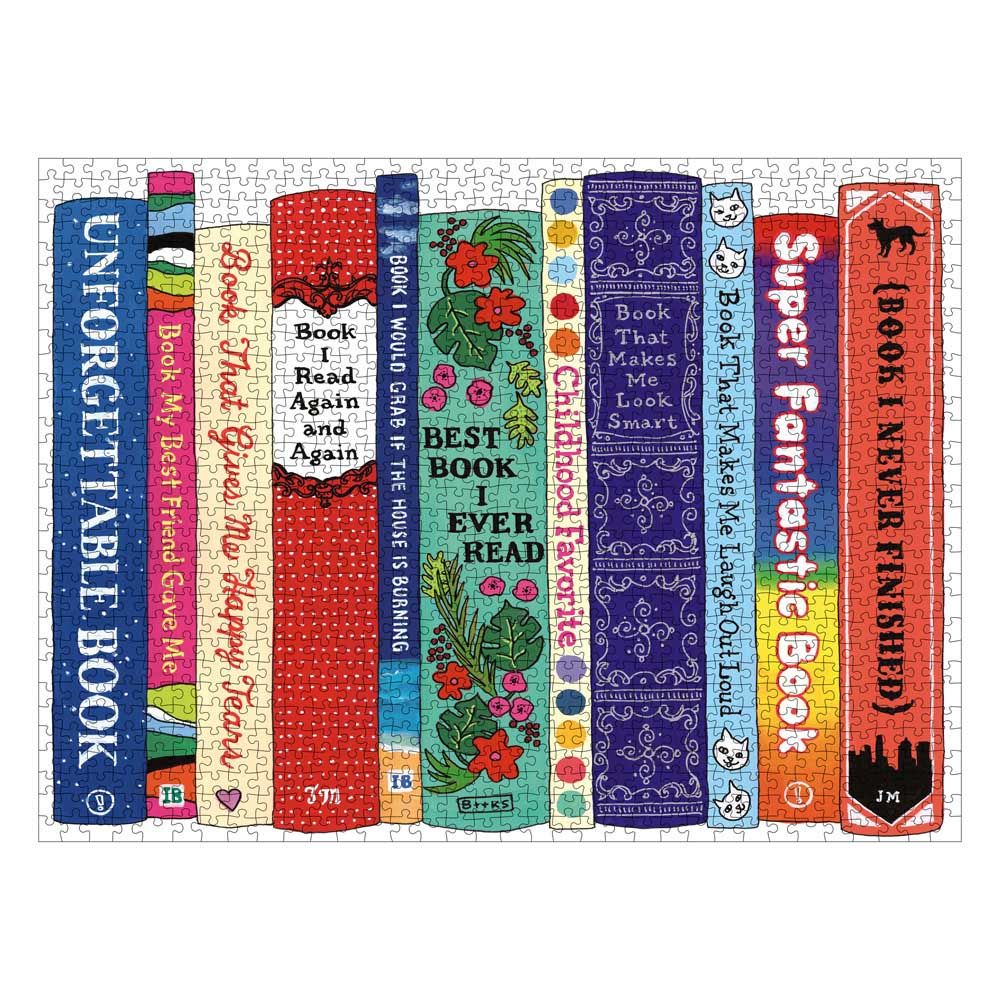 Ideal Bookshelf | Galison | 1000 pieces
Harry Potter fan? I cannot recommend the New York Puzzle Company Book Cover Collage enough. It has all the HP books in one puzzle.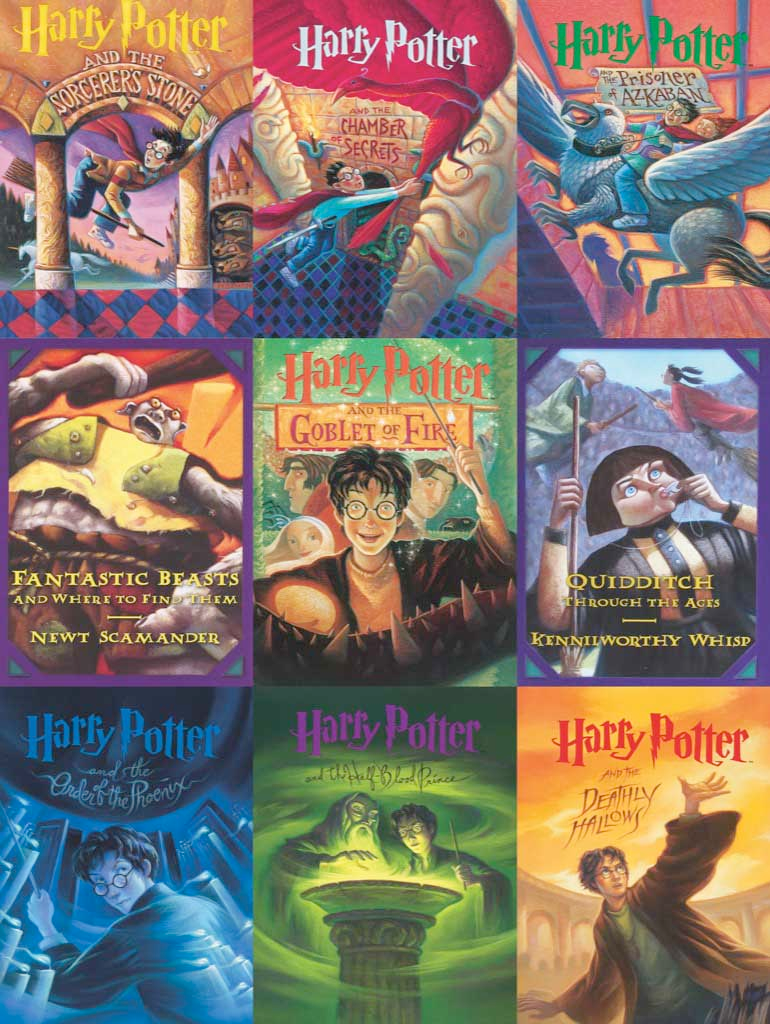 Book Cover Collage | New York Puzzle Company | 500 pieces
Cats and books and puzzles? What an epic combination! This cute Storytime Kittens puzzle is definitely for you.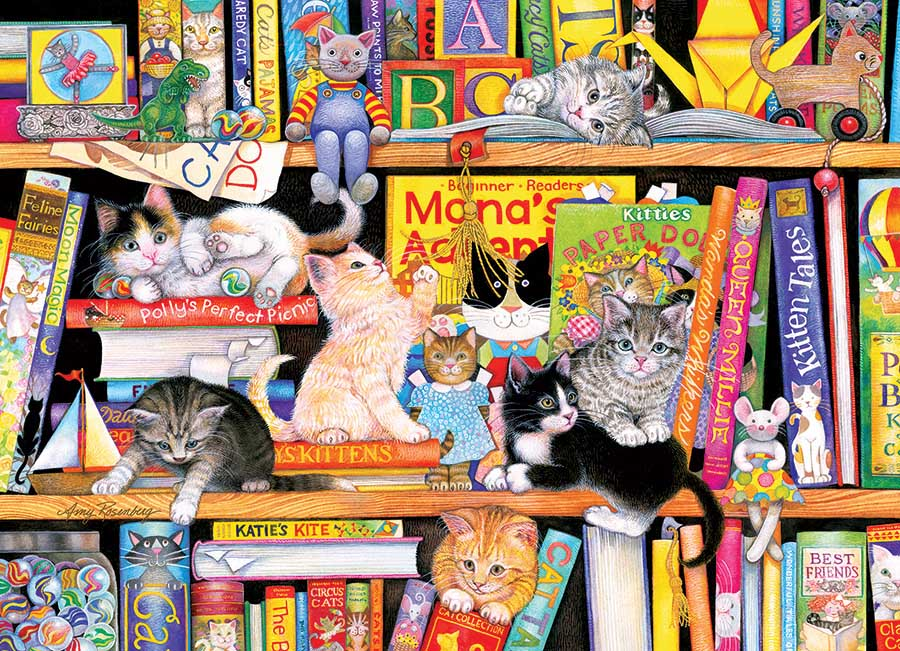 Storytime Kittens | Cobble Hill | 350 pieces
Want all the books? Then take a virtual trip to The Book Shop by SunsOut.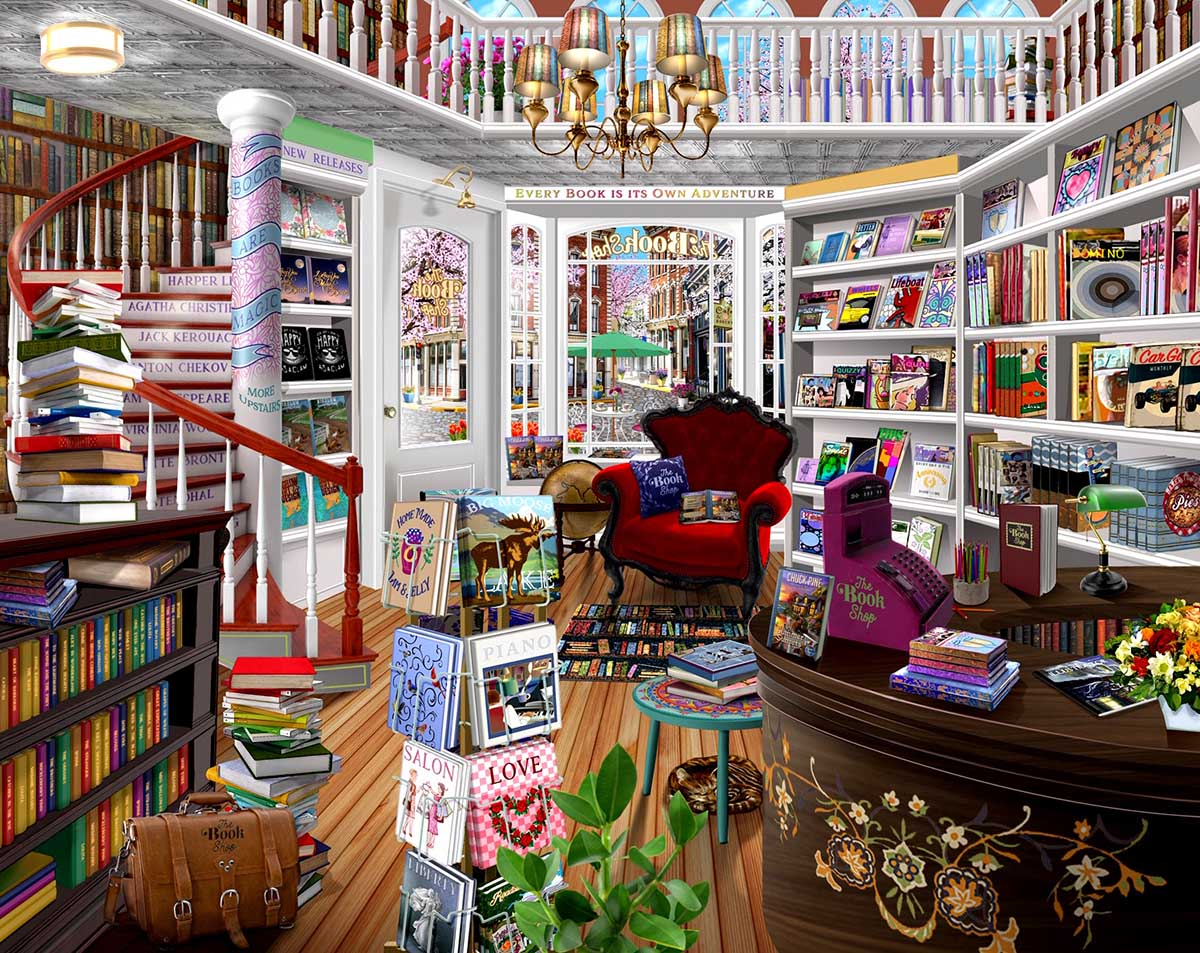 The Book Shop | SunsOut | 1000 pieces
For something totally different (and one I just added to my wishlist), check out The Old Man and the Sea metal sculpture. I am definitely going to need to try this one out and display it on my shelves.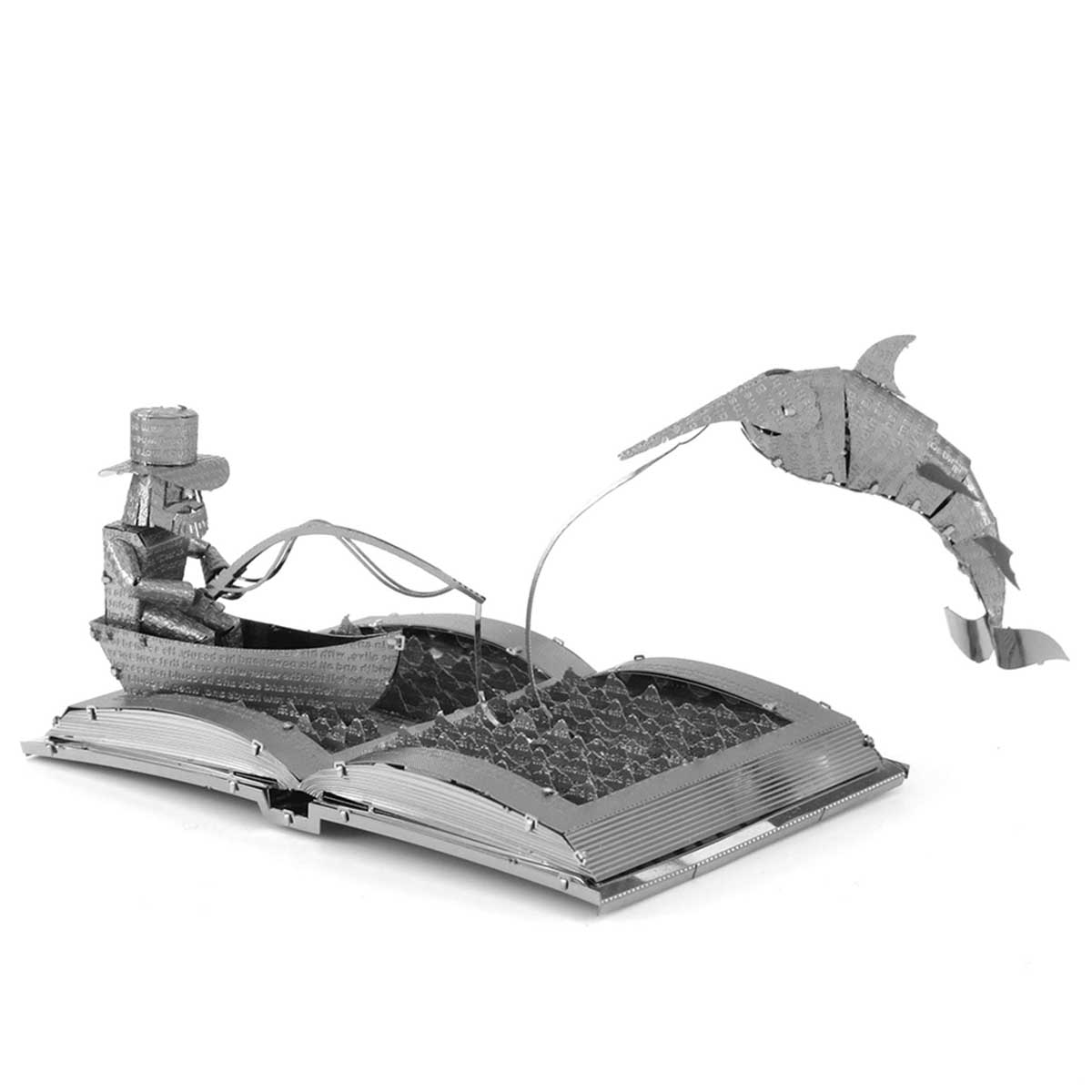 The Old Man and the Sea Book Sculpture
Do you have a favorite book-themed puzzle? Let us know in the comments!
Happy puzzling (and reading)!
Diane aka Bizzle's Puzzles
So many fun book related puzzles! Thanks for the review and I definitely want to check out the Old Man and the Sea puzzle/sculpture!