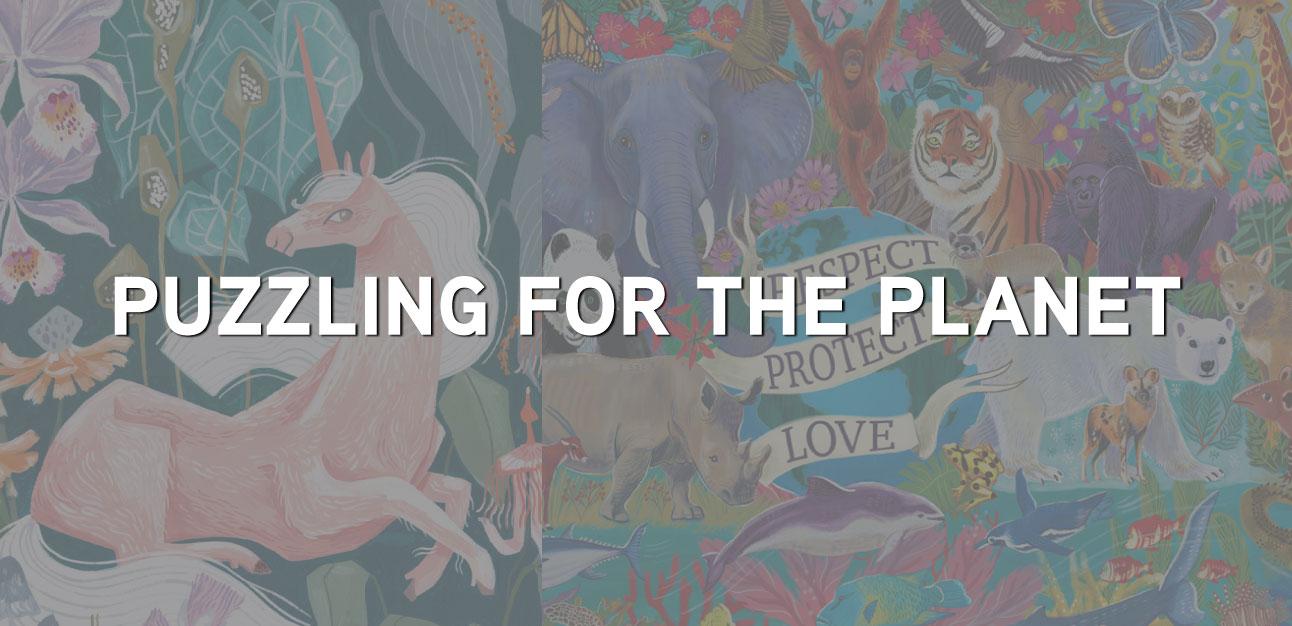 Puzzling for the Planet
With April being Earth Month, I started thinking about puzzling and wondered how I could make it a more eco-conscious hobby. The good news is that many brands have already recognized the importance of using sustainable materials for both their puzzles and their packaging. Some even partner with global organizations dedicated to making our planet healthy. Read on to learn what I discovered!
Buffalo Games is the top producer of puzzles in North America, holding about 45% of the market share. That comes out to 10 million puzzles per year. Yes, you read that right. Ten million puzzles per year! (I'm totally imagining Dr. Evil with his pinky to his lips, saying "ten millllion puzzles.") With that much product on the market, it's incredible to know the puzzles are made with 100% recycled paperboard and there is no plastic outside or inside the box.
Buffalo is probably one of my most often purchased puzzle brands. They have such a huge array of images and styles and I love that they release popular images in various piece counts. I currently have my eye on a couple of their new releases, Astrological Imagery and Lush Unicorn.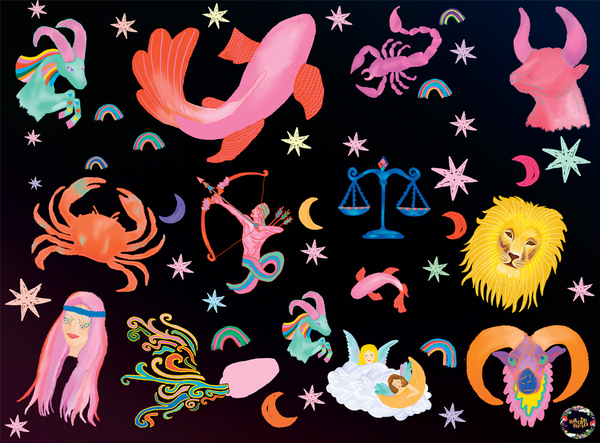 Astrological Imagery | Buffalo Games | 1000 pieces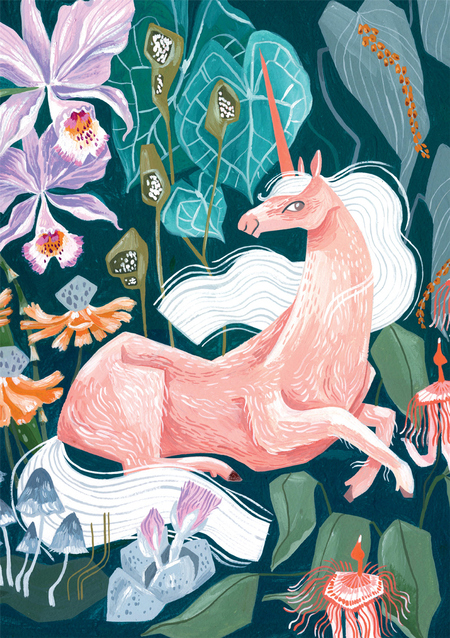 Lush Unicorn | Buffalo Games | 300 pieces

Another of my go-to brands is New York Puzzle Company. I wrote about their partnership with 1% for the Planet in this post. Not only does NYPC give 1% of their profits back to support environmental non-profits, but they've also worked to make their own products more sustainable. I think this is the first brand I heard about making their exterior shrink-wrap recyclable. They also use recycled chipboard and soy inks.
Why is soy ink important? Traditional ink is petroleum-based, whereas soy ink comes from, you guessed it, soy beans. The ink also provides more accurate colors, which makes a huge difference for puzzles, and it's easier to recycle products printed with soy ink.
NYPC just released a series of puzzles featuring images of National Geographic covers. What's more earth-loving than that?!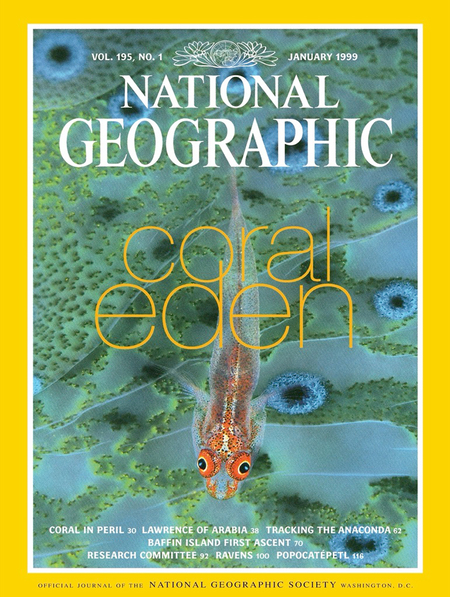 Coral Eden | New York Puzzle Company | 500 peices
Eeboo has taken their environmental commitment seriously by choosing manufacturing products that earned them a certification from the Forest Stewardship Council. Their puzzles are printed with vegetable-based inks on 90% recycled board. No wonder the colors in their images are so bright and shiny! And if you're looking for more brands that are FSC-certified, Clementoni and Djeco both make the list.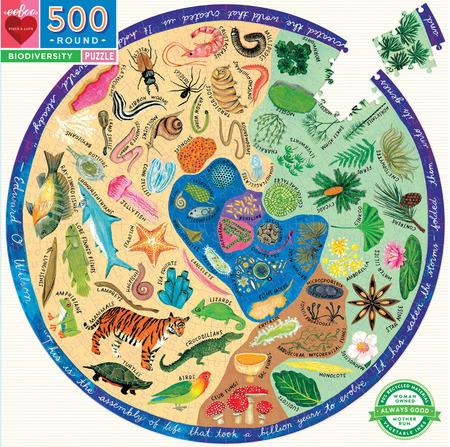 Biodiversity | eeBoo | 500 pieces

Environmentally sustainable puzzles don't stop with recycled materials and non-toxic inks. And they aren't just produced by the large brands I mentioned above. A newcomer to the Puzzle Warehouse family, Enwood Games is a small, New Jersey-based company that has hit the puzzle scene with unique art, quality products, and a strong environmental commitment. In addition to using 100% recycled cardboard, Enwood's puzzles come in a reusable cloth bag. Earth friendly and swanky!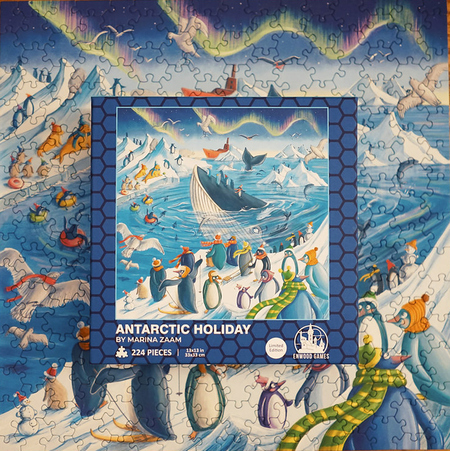 Antarctic Holiday | Enwood Games | 224 pieces
Another small brand doing big things for sustainability is Puzzle Sensei. In addition to their puzzles coming in a resealable plastic bag (yay for limiting single-use plastics!), Puzzle Sensei donates 5% of their profits to Feeding America, an organization dedicated to sustainability by preventing food waste. What a perfect partnership for this foodie image-based brand!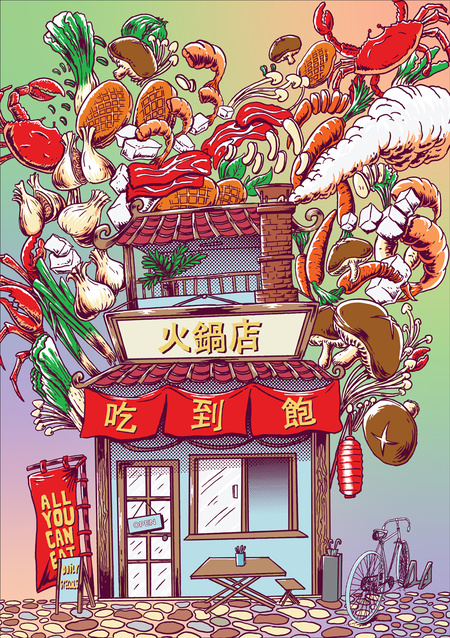 Shabu Frenzy | Puzzle Sensei | 1000 pieces

I'd love to hear from you about more brands earth-friendly efforts. Please share them in the comments below! I can't wait to learn about more brands puzzling for the planet!
Happy Puzzling!
xo, Sarah B. @necessarahly_puzzles