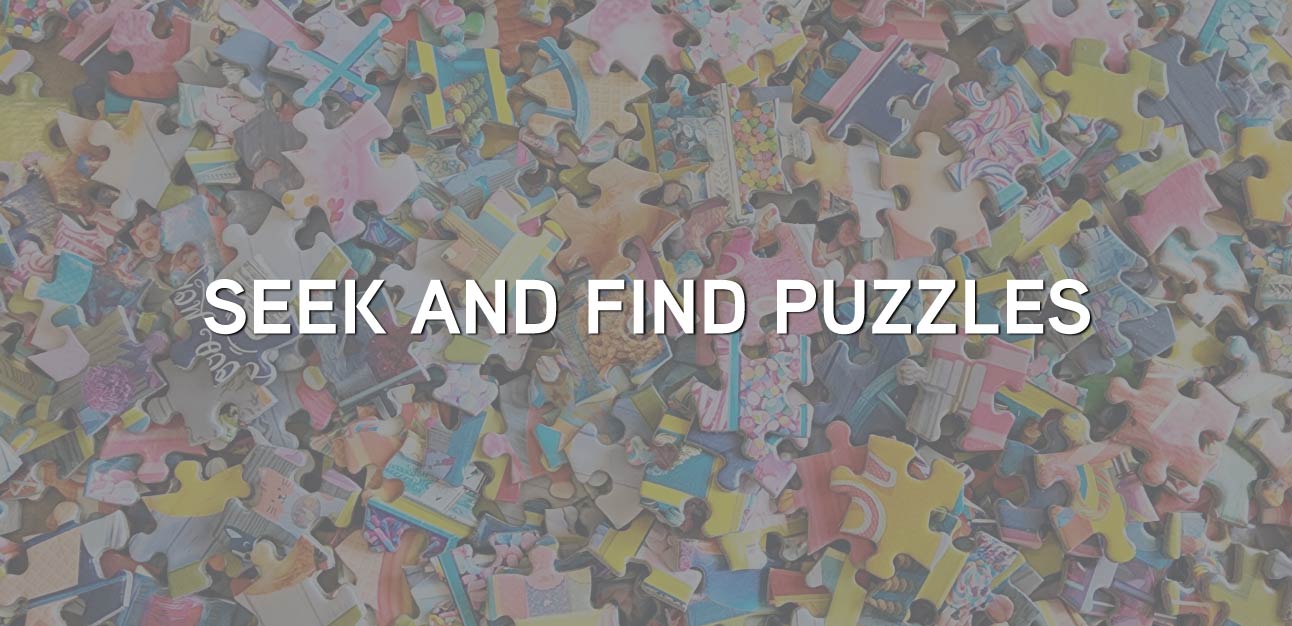 Seek and Find Puzzles
Are you looking for a puzzle that has a little extra spice? I have the perfect thing for you: Seek & Find puzzles! These puzzles give you a little bit more to do after you're done with the puzzling. I find that they are a good way to bring my non-puzzling family members in on the fun. Once I've completed the puzzle, they can help me seek out the items.

First up is "Sweet Treats" by Buffalo Games (from the Look Closer series), it has 500 pieces, but is also available with 2000 pieces if you'd like more of a challenge. The completed size is 21.25"×15". It is recommended for ages 14+.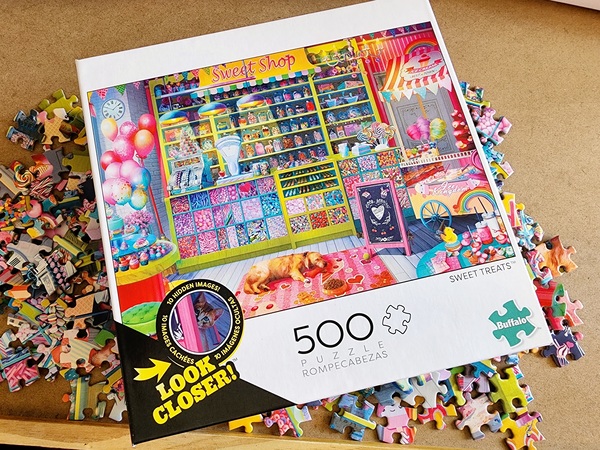 This puzzle has ribbon cut pieces with a glossy finish.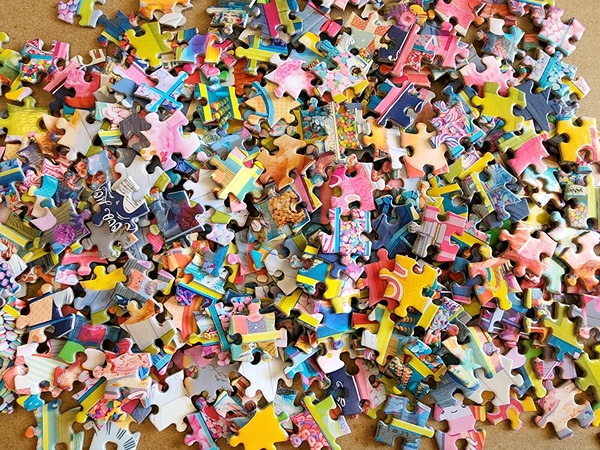 They include a fold out picture for reference. On that fold out is the list of 10 items to search for. If you can't find them all, there's an answer key on the fold out picture just below the list of 10 items. This puzzle has bright, fun colors, and yummy subject matter.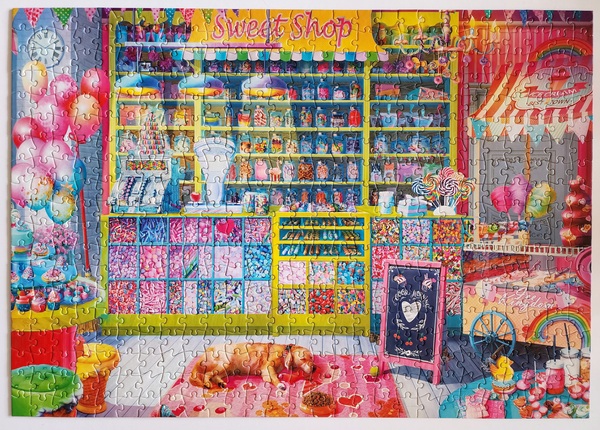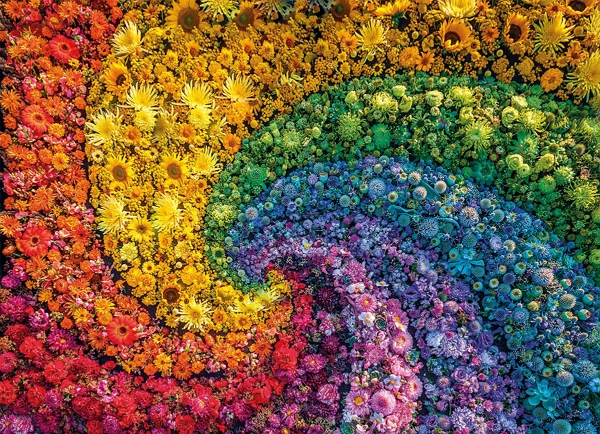 Next I tried the puzzle "Star Wars: The Death Star" by Buffalo Games. It has 300 ribbon cut pieces and 15 hidden characters. These pieces are 67% larger than average puzzle pieces which can make grasping the pieces easier. You can see the size difference here: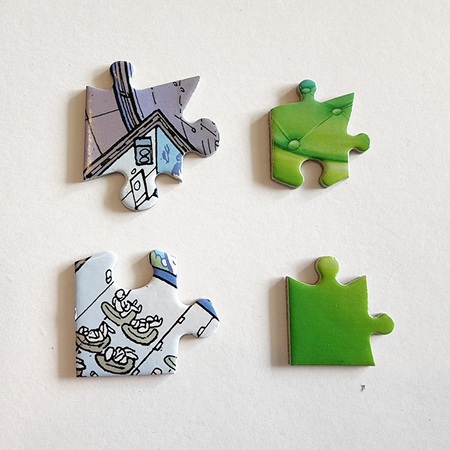 The completed size is 21.25"×15" and the recommended ages is 14+. There is no answer key with this puzzle, but that shouldn't be an issue for Star Wars fans. This is a great one to assemble if you want something quick or if you're looking for an easier puzzle with larger pieces.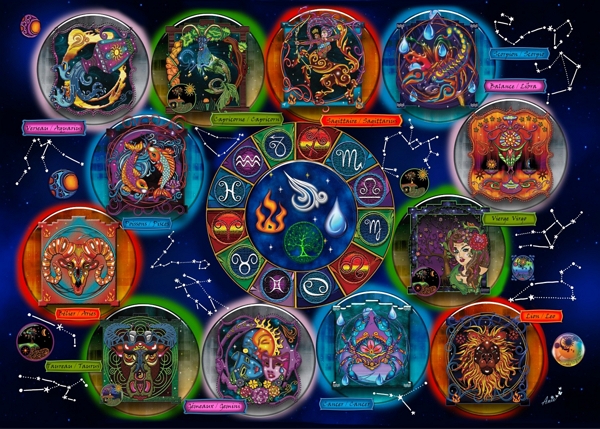 The last puzzle I assembled is "Seek & Find Games" by Hart Puzzles. It has 500 pieces with a glossy finish. It is recommended for ages 12+. This puzzle has unique cut pieces so it's a bit more challenging, but definitely fun. I really liked that the list of items you're searching for is part of the actual puzzle.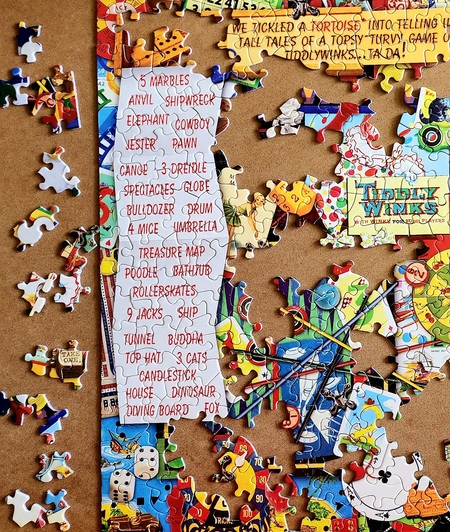 A fun fact about Hart Puzzles is that they donate to a variety of charities from each puzzle sold (more info can be found on the insert included with puzzle or on their website). The completed puzzle is18"×24".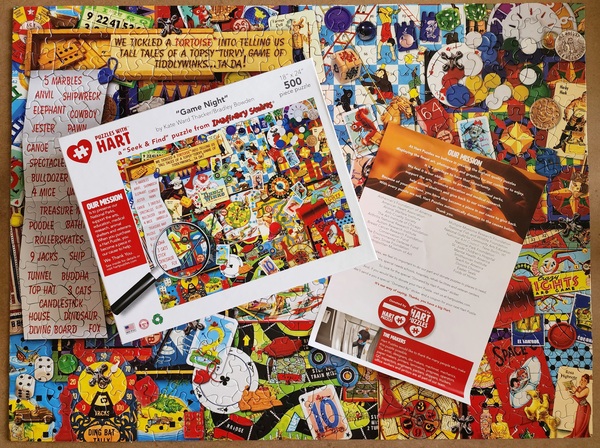 If you have younger kids you would like to do a seek & find puzzle with, I recommend this one by Mudpuppy, which is for ages 4+: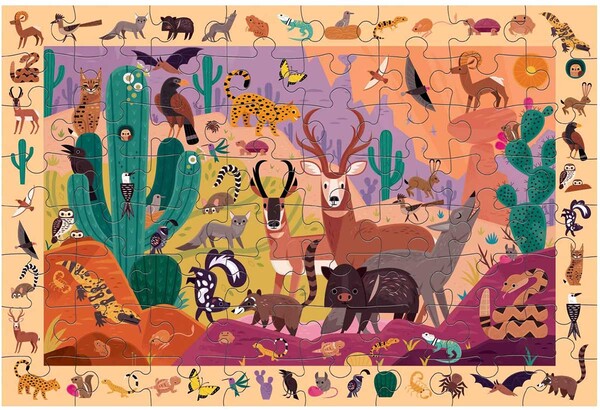 These seek & find puzzles are fun to do solo, but the added element makes them extra fun to assemble with others. You can race to see who can find the items the fastest. It's a fun idea for some great family time!
Happy puzzling! - Angel @endless.puzzles