Sharing the Puzzle Love
I'm so excited to write my first blog for my fellow Puzzle Warehouse Jigsaw Junkies! I've found my tribe! A quick bit about me… I live in the Midwest where there are plenty of cold winter nights and hot, humid days when it's perfect to stay inside and puzzle. My husband and I share a house with three furred and feathered buddies--none of whom have the slightest interest in jigsaw puzzles. I can't claim missing pieces were batted off the table by the cat, chewed up by the dog or carried off by the cockatoo!

I've always loved jigsaw puzzles, but thanks to a few Facebook puzzle groups I joined last year, my collection has grown tremendously! Who can resist all those great little works of art? Part of the fun for me is sharing photos and swapping puzzles with other dissectologists, passing puzzles on to friends, leaving them in my Little Free Library for someone to discover, or donating them for others to enjoy once I've finished them.
I've found that a great way to share the puzzle love is by mailing mini puzzles! I've always enjoyed writing and receiving "snail mail" and have lots of pen pals and old friends I correspond with. I can't just send a card or letter, though. I always have to add a fun surprise in the envelope and RoseArt's mini shaped puzzles are perfect! Even if the recipient would never spend hours putting 1000 pieces together, everyone gets a kick out of a mini puzzle and RoseArt has a great variety of designs. Each box contains 500 pieces and at least 12 individual puzzles, so you can gift a fun puzzle for just over a buck!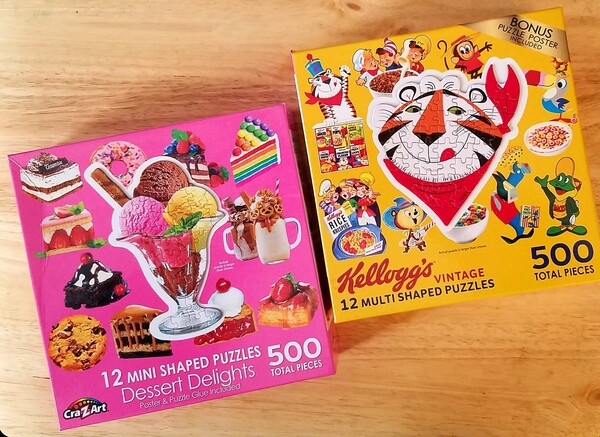 Need some inspiration for which mini puzzles to mail? I like to send a slice of birthday cake (or other decadent treat) in a birthday card from the Dessert Delights 1 puzzles. Much easier than sending the real thing, and they're calorie-free! Remind someone that "they're G-R-R-R-REAT!" with a Tony the Tiger puzzle from the Kellogg's collection.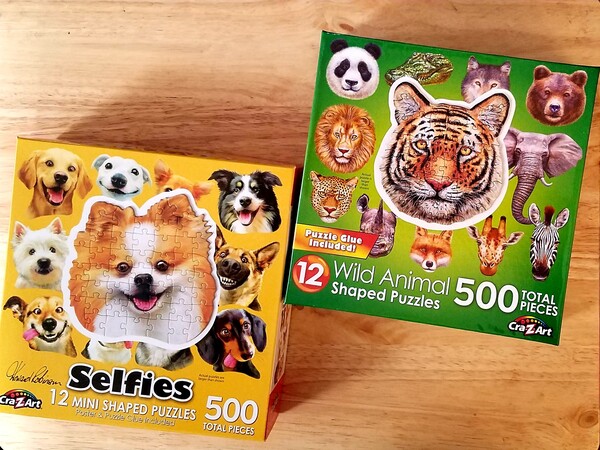 If you know a dog lover, pick out a pup from Dog Selfies or if a friend has a favorite animal, check out the Wild Animal mini puzzles. (With a little puzzle glue, all of these make great coasters, by the way!) I had a box of butterfly note cards that I teamed up with the lovely lepidopterans from the Butterflies III box. One of my friends liked hers so much that she framed it! For someone who can use a smile, there are more fun critters to mail from Ocean Selfies and Jungle Selfies.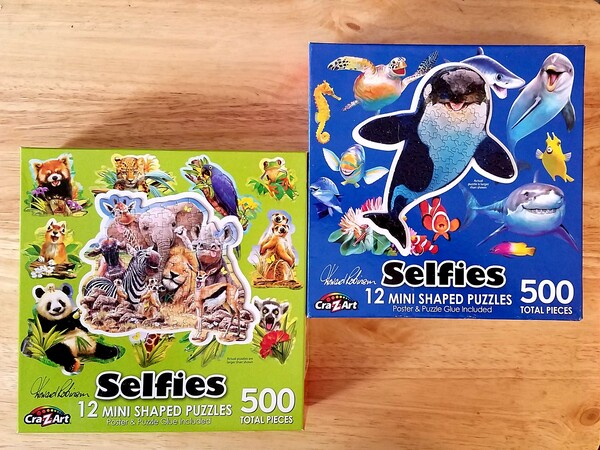 The puzzles come mixed in a single bag, but RoseArt makes it easy to sort and pick out the puzzle you want since the back of each mini puzzle is a different color. They also include a poster that shows each image for easy reference. My friend and I are both big Peanuts fans, so I picked out a Snoopy puzzle to send her to demonstrate my hints for mini puzzle mailing!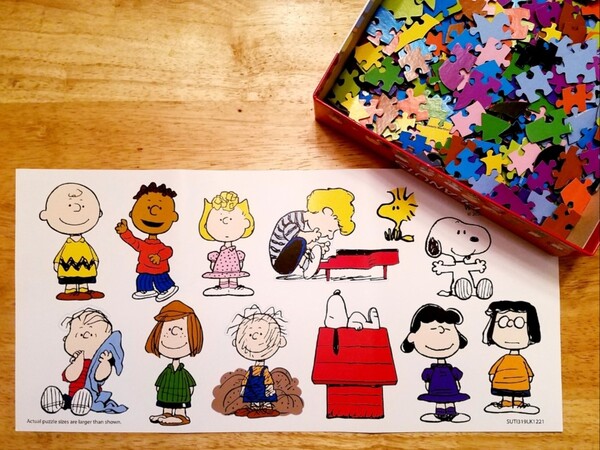 I ALWAYS assemble the puzzle for a couple of reasons. First, I want to make sure that I don't accidentally leave a piece out (we all know—nothing worse than a missing piece, right?) Second, mailing the puzzle flat with your card keeps it under ¼" in thickness so you can send it in an envelope rather than having to mail it as a parcel for a higher fee.

I've found that size A9 envelopes work great for mailing mini puzzles. At 5 ¾" x 8 ¾" most puzzles fit well, or you can use 6" x 9" booklet or catalog envelopes. I order mine online or you can find them in any office supply store. To get my puzzle to fit, I'm going to separate Snoopy's nose and one edge of his doghouse and leave the rest together. I always cut out and include the picture of the puzzle from the poster, and since I've accumulated a bunch of little organza drawstring bags, I send one along for puzzle storage.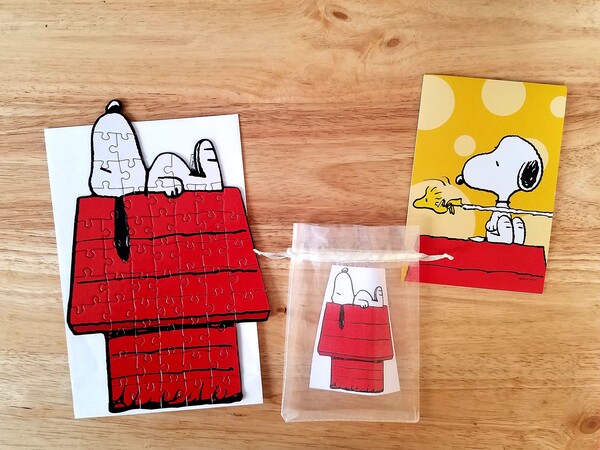 Since I send a lot of mail, my digital postage scale gets regular use! If you don't have one, not to worry. Most of the mini puzzles I've mailed weigh an ounce or less. (The Snoopy puzzle was exactly one ounce on my scale.) Adding in the envelope and the weight of the card your including, the total weight will probably be under 2 ounces. That means you'll need a Forever stamp (current 1oz. price is 63 cents) and an additional ounce stamp (current price is 24 cents) or just use two Forever stamps! If the card you're sending is large, or you're adding more fun stuff (stickers are always appropriate!) that might take it over 2 ounces, so be sure to add another stamp or stop by the post office to have them weigh it. The only thing worse that a missing puzzle piece is having to pay for insufficient postage!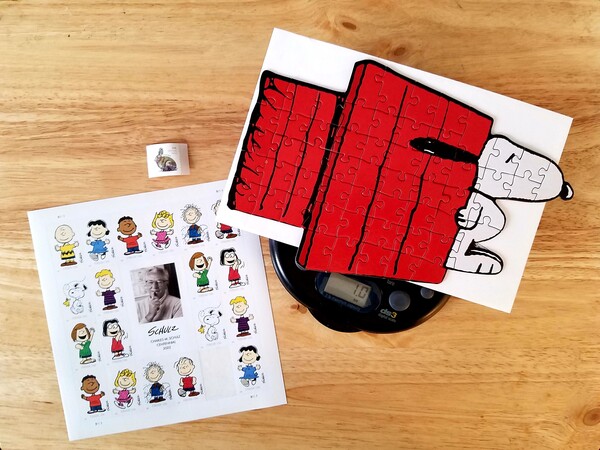 Snoopy and his doghouse are ready to mail! I hope my first blog for Puzzle Warehouse has inspired you to share some puzzle love with your friends and family and send a surprise mini puzzle in their next card or letter!
Puzzle on!
Dawn @5wolves