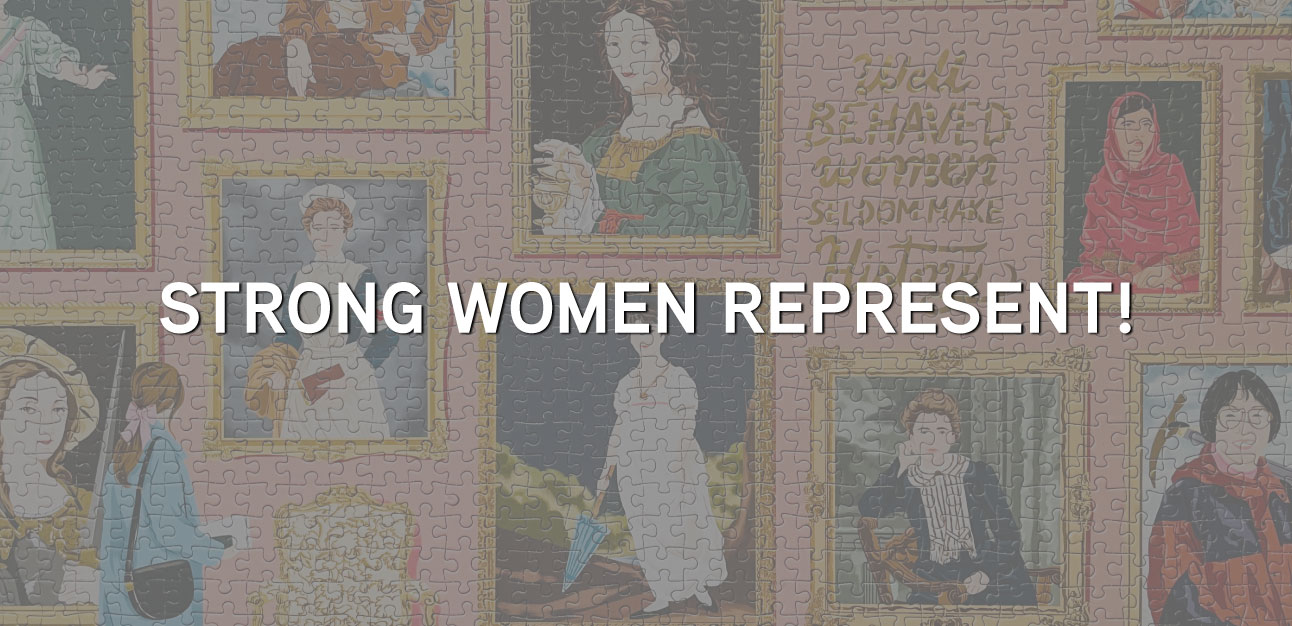 Strong Women Represent!
Just like Jigsaw Junkies very own puzzling master and loquacious comedian Gaby, I was raised on science fiction movies growing up. I can't tell you how many times I got caught tip-toeing downstairs past my bedtime trying to sneak scenes from these action packed, gory, and definitely not kid approved movies. I think out of sheer will power, I wore my dad down, and against his better judgment, he gave in one night and let me stay and watch. Did this impact my childhood? 100% YES! By the time I was nine, I was quoting Terminator 2 and Aliens, and Sarah Connor and Ellen Ripley were just some of my role models. Around 12 years old, I even begged my dad to buy me fingerless biking gloves, and I wore them everywhere so I could feel bad @$$ like Vasquez.

It never really occurred to me that I was vibing with strong women characters, I just knew I wanted to be fearless like them when I grew up! So when I saw this She series: Pop Culture, a 1000 piece puzzle by Lucky puzzles, I knew I had to have it. While it may not have some of my ultimate favorite characters, Anne of Green Gables (Anne with an E), Leslie Knope, and Dottie definitely make my top ten!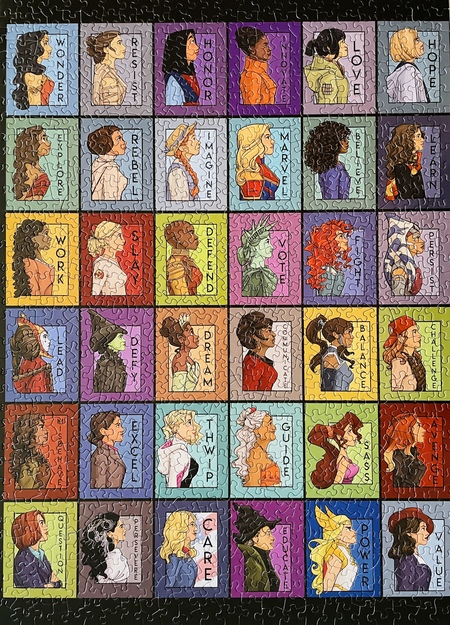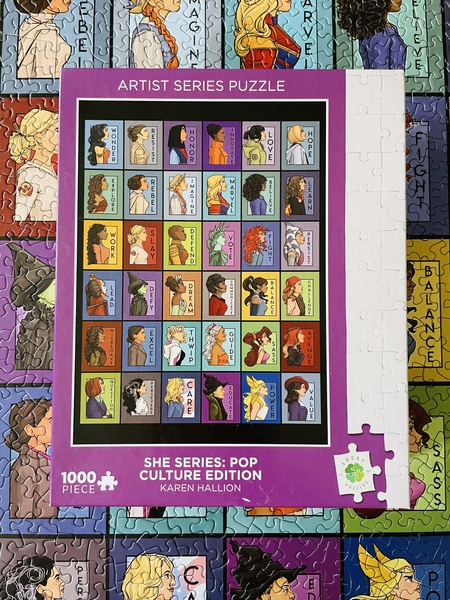 What I didn't realize when I did this Lucky puzzle though, is how much I'd want to continue with this theme: prevalent strong women being represented in all of their beautiful brilliance! So, for Women's History Month- I went on the hunt for strong women puzzles, and I couldn't believe what I found!

First, Lucky puzzles has a second puzzle in their She Series: Real Women. How cool is it, that this company has a Pop Culture and a Real Women series?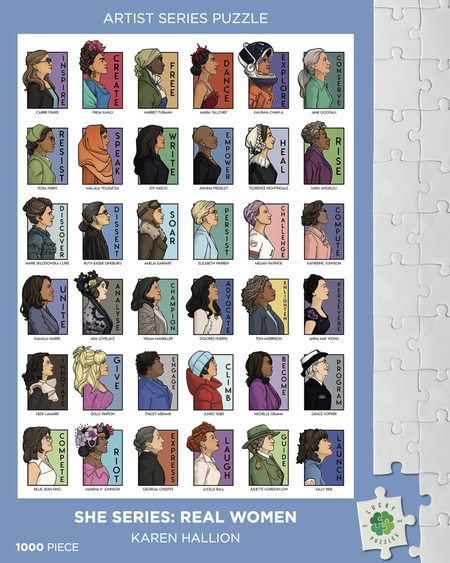 In my own crazy puzzle stash, I also found this amazing 500 piece puzzle titled Little Feminist by Mudpuppy. What I love about this puzzle is the fact that the names of these strong women appear below them! As I was going through my Lucky puzzle Pop Culture- I found I could only name about ¾ of the women on that puzzle. There's no cheat sheet provided, so the women that I don't know will stay unknown to me- and that is driving me nuts! If you know them, check out the end of my blog and comment!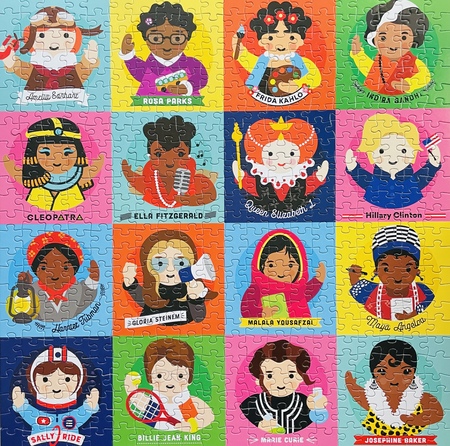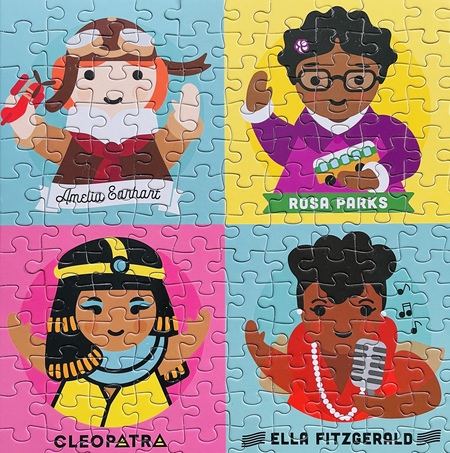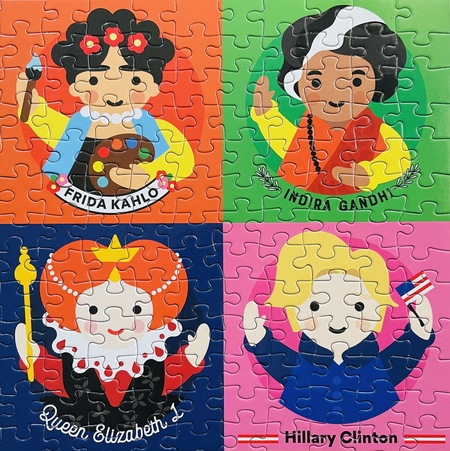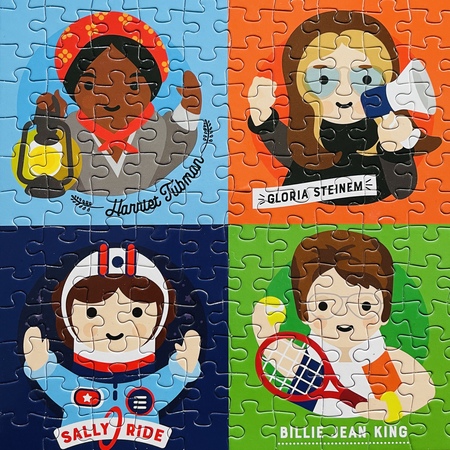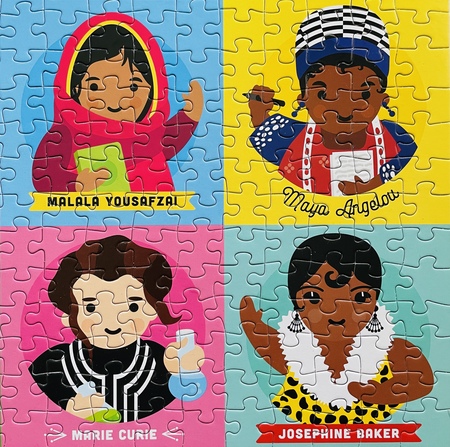 Then I found some truly amazing bright and colorful Strong Women puzzles from eeBoo puzzles. eeBoo is a woman owned company that already evokes the strong woman vibe! I love their glossy puzzle pieces, because it showcases the vibrant colors that often make up their images. Specific to Women's History month, we have the 500 piece International Women's Day puzzle, as well as the 500 piece Votes for Women puzzle. Now, if you'd rather, in the voice of Moira Rose, your bébé wasn't subjected to the awesomeness that is sci/fi gore at the tender age of nine, check out the 100 piece International Women's day puzzle and the 100 piece Votes for Women puzzle (informational poster included!). I think these would make amazing and educational time passers for any mother/daughter duo! (or, you know, mother/son, father/daughter, father/son duo!) But if you're overall just looking for some feel good, inclusive, strong women puzzles- check out Moon Dance, Woman in Flowers, Find your Voice, and Goddesses and Warriors.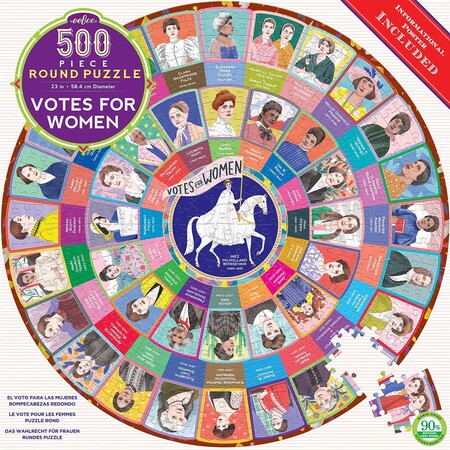 Votes for Women | eeBoo | 500 pieces
Ok, my jigsaw junkies, to discuss my next recommendations, I have to first confess something that I bet might surprise you. I have never done a Cobble Hill puzzle. There. I've said it. And it has nothing to do with them, and everything to do with me! I love their images, and I hear they are superb quality. I even have some in my puzzle to do stash. But somehow, not one has made it on my puzzle board yet! Soon enough, I promise! But until then, I did find two puzzles that I feel thoroughly fit the theme this month: Nevertheless She Persisted in 1000 pieces, and The Nineteenth Amendment in 1000 pieces. For your non history buffs like me, puzzles like this definitely make me feel scholarly and more knowledgeable, which is just another added benefit to puzzling!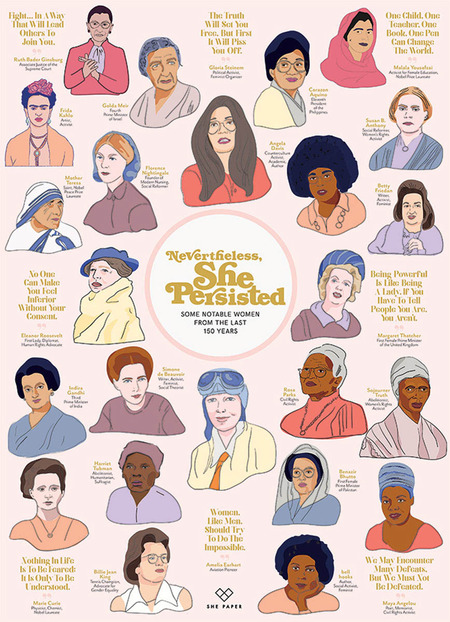 Nevertheless, She Persisted | Cobble Hill | 1000 pieces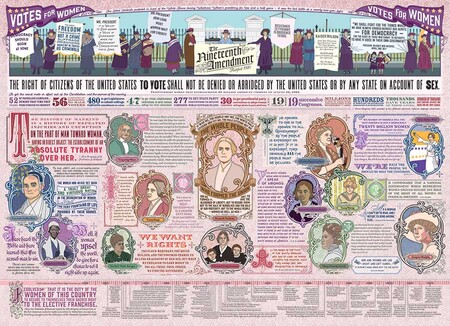 The Nineteenth Amendment | Cobble Hill | 1000 pieces
Back to my own crazy puzzle stash, I found I had the 1000 piece Galison Herstory Museum, and thought it was another perfect puzzle for this month! This puzzle is part of their foiled series, and if you have never done a foiled Galison puzzle, I encourage you to do one IMMEDIATELY! I am such a fan of the shiny beauty that the foil adds, and it is so sturdy. It actually seems like it is part of the puzzle piece, so you don't have to worry about the foil addition rubbing off, or leaving little weird flakes in your puzzle box. All the added beauty, with no additional hassle!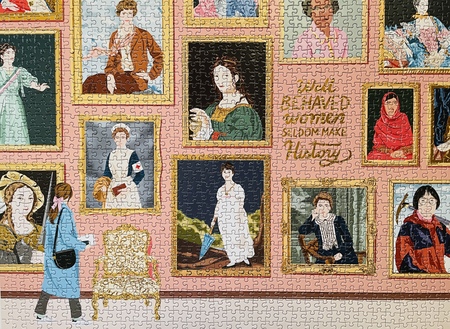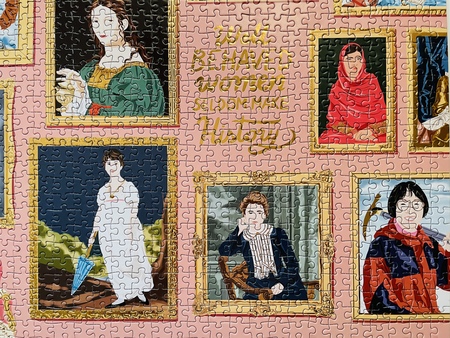 Forgive me here, because now we jump all over the place! Aquarius has a 1000 piece Rosie the Riveter (Smithsonian) puzzle, and Masterpieces has a different version of Rosie the Riveter. Then there's Pigment and Hue which offers a 500 piece take on Women of WWII- which is a two-sided puzzle, one of which features Rosie the Riveter as well! All three of these puzzles look quite intriguing! You could also check out Gibsons' Rebel Girls 500 piece puzzle. And last, but certainly not least, if you're feeling a bit playfully naughty and racy- check out Eurographics' 1000 pieces of sexiness: 50 Shades of Her.
I don't know about you, but this blog definitely added a hefty amount of puzzles to my wishlist! Stay strong and fierce, my amazing female puzzlers! And to the male puzzler out there- I appreciate you too!!!
-Amanda @600hoursofpuzzle
PS: Ok- as I sat and named these characters- I realized I didn't know nearly as many as I thought I did. Shame on me! I've named as many as I can get- can you help me with any others??? Any that I misnamed?