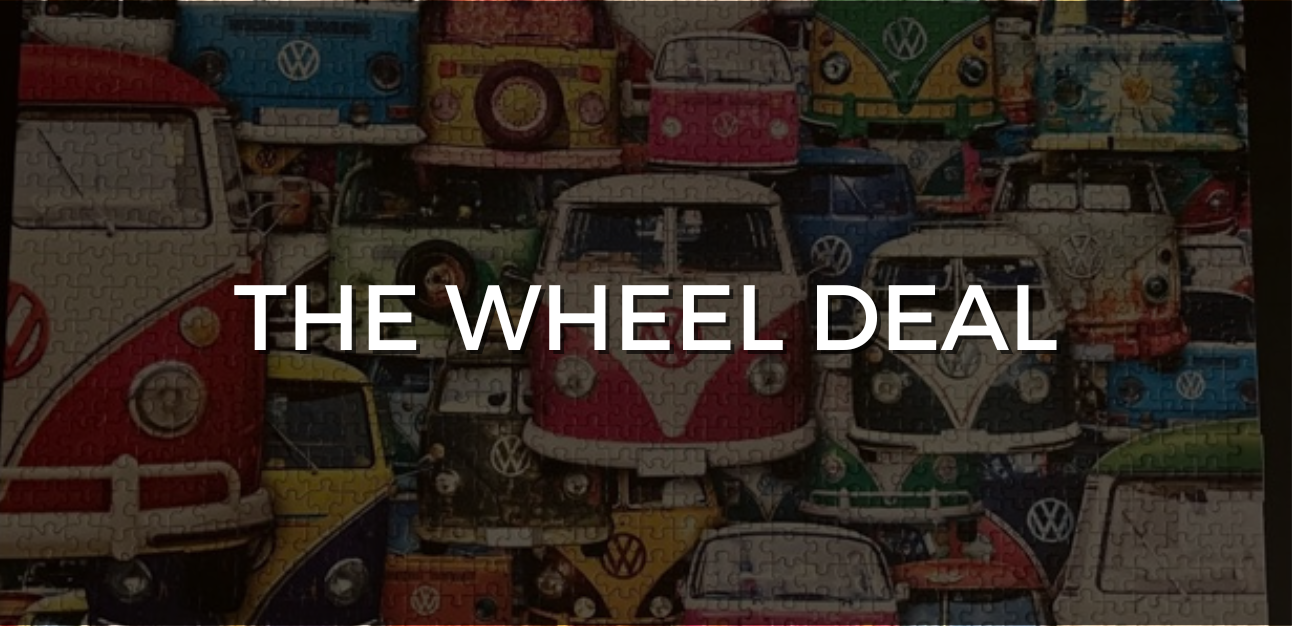 The Wheel Deal
Ever make an offhand comment to someone about liking something and suddenly, everyone starts sending you stuff relating to that? That's what happened with me and Volkswagen buses. I mentioned how cool they were and that I wanted to own one someday and the next thing you know I started getting all sorts of items with VW buses on them. Including the very first puzzle I ever did two and half years ago - this 1000-piece Eurographics puzzle, Funky Jam. What a great puzzle for my first attempt! Sturdy pieces on recycled board with vibrant colors that made it a joy to do. Those windshields though – phew, THEY were tough. Honestly, I was just amazed that I managed to complete it...and that I liked it. Enough to attempt two other puzzles I got with it. And THAT was it - my passion for puzzles kicked into overdrive!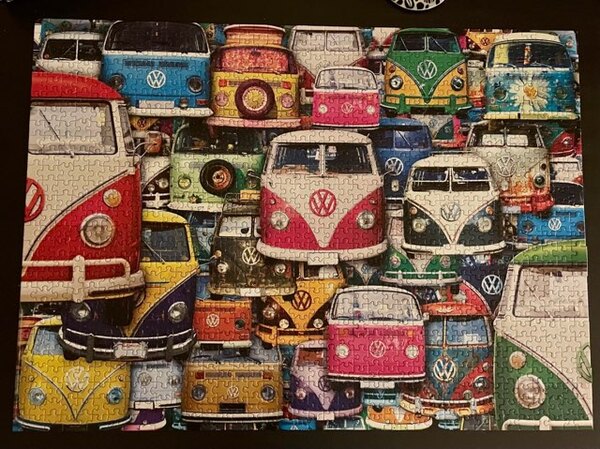 From then on, there have been many more puzzles that put the spotlight on my desire to hit the open road and travel, something my husband and I plan on doing in future summers. We placed an order for a van and anxiously await its arrival, which we were told would be four weeks. That was nine months ago. Yes, the supply chain struggle is real… Until the van arrives, I guess I'll have to make do with building puzzles that feature hitting the open road!

Like this puzzle – the 500-piece Beachtime Camper by Vermont Christmas Company – which made me long to travel to the beach. Thankfully, it's relatively close to my home in Central Florida, so no camper required! I may just have to reach out to artist Randy Wollenmann to see if he can work his magic on our conversion van. He uses mediums like oils, acrylic, gouache and pastels in his traditional-meets-abstract artwork and the design of this masterpiece of his just explodes into life as each random cut piece locked tightly into place.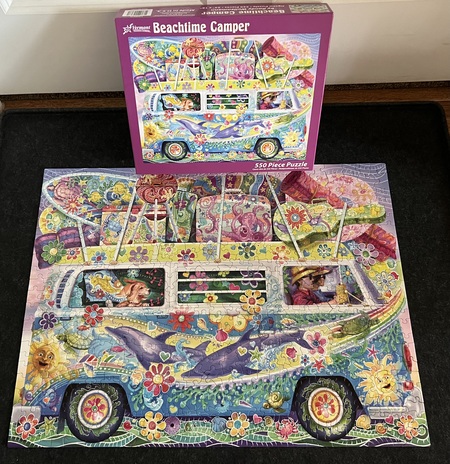 If you're ever in the mood for a snack puzzle, you can't go wrong with the 300-piece, adorable camper puzzles from Ceaco. I was honestly a bit of a snob about doing puzzles with less than 1000-pieces, but a friend got this Happy Camper-Lake Camper one for me and I fell in love. The larger pieces held together well and the bright colors were a delight. I'm planning on doing the whole series.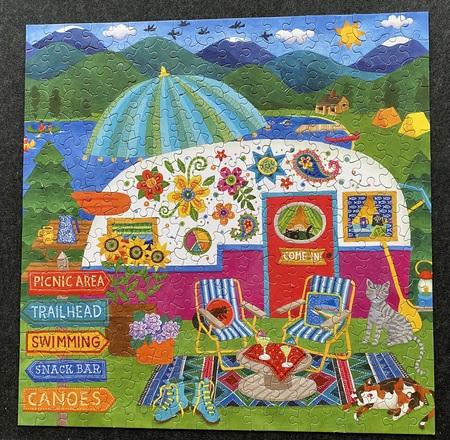 Now THIS puzzle – Buffalo Games' The Family Campsite - sparked another puzzling passion for me. I am now a raving Aimee Stewart fan and may have gone a little crazy collecting her puzzles after completing this one, with another 30 awaiting assembly on my shelves. I adore how Aimee, a self-taught artist who specializes in eclectic digital painting and photomanipulation, writes on her website that she is "a cartographer of the imagination and a champion of daydreams." This puzzle brings that to life with lots of whimsical touches (the squirrel jamming by the radio and those cheeky raccoons were my favorites), made even more enjoyable with Buffalo Games' quality precision cut pieces on 100% recycled paperboard and a bonus poster making it even easier to capture every detail.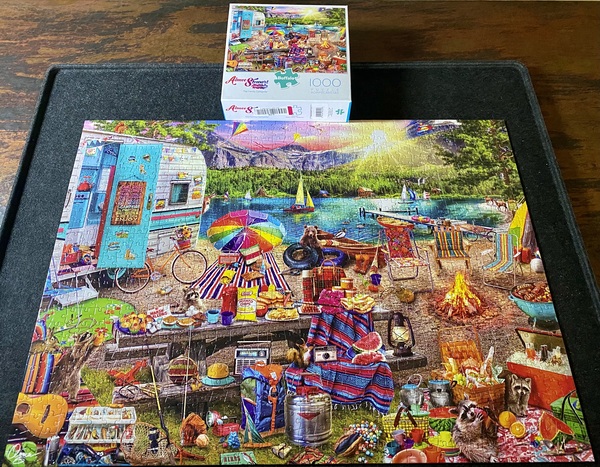 The last puzzle I want to share is Hitting The Road, a 1000-piece delight by Cobble Hill. Cobble Hill tops the list of favorite brands for me with their random pieces on textured linen print paper that ensure reduced glare and a large box that allows you to track what you are building either using it, or the enclosed poster.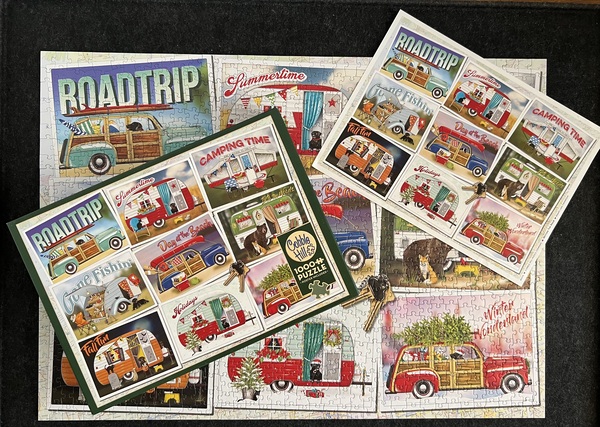 The nine scenes illustrated by artist Mary Lake-Thompson, who has been drawing and painting her whole life, were super cute and made for a quick build as the different backgrounds made it easy to figure out which piece belonged in which panel. Halloween was my favorite, especially as it's right around the corner, along with Gone Fishin' as that's what we plan to do out of our conversion van.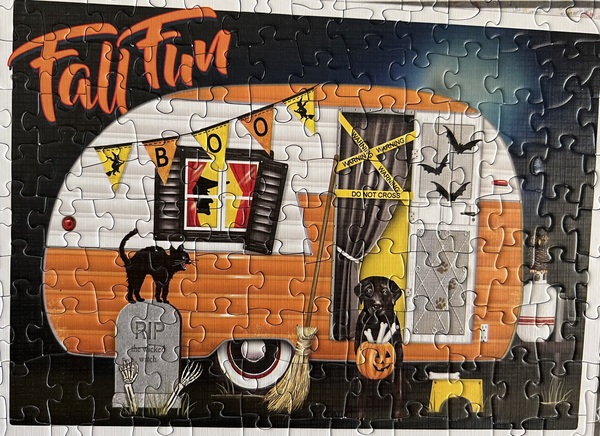 It may be the end of the road for this blog, but I certainly won't be putting the brake on completing puzzles like this in the future. I have Camping For Christmas by Vermont Christmas Company queued up for December and these beauties are parked in my Puzzle Warehouse wish list - Camper Life by eeBoo; First Things First and Far From The Madding Crowd, both from The Camping Collection by Trai Hiscock manufactured by All Jigsaw Puzzles, and Happy Trails by Puzzle Twist.
See you on down the road!
Lisa - @lisalovespuzzles