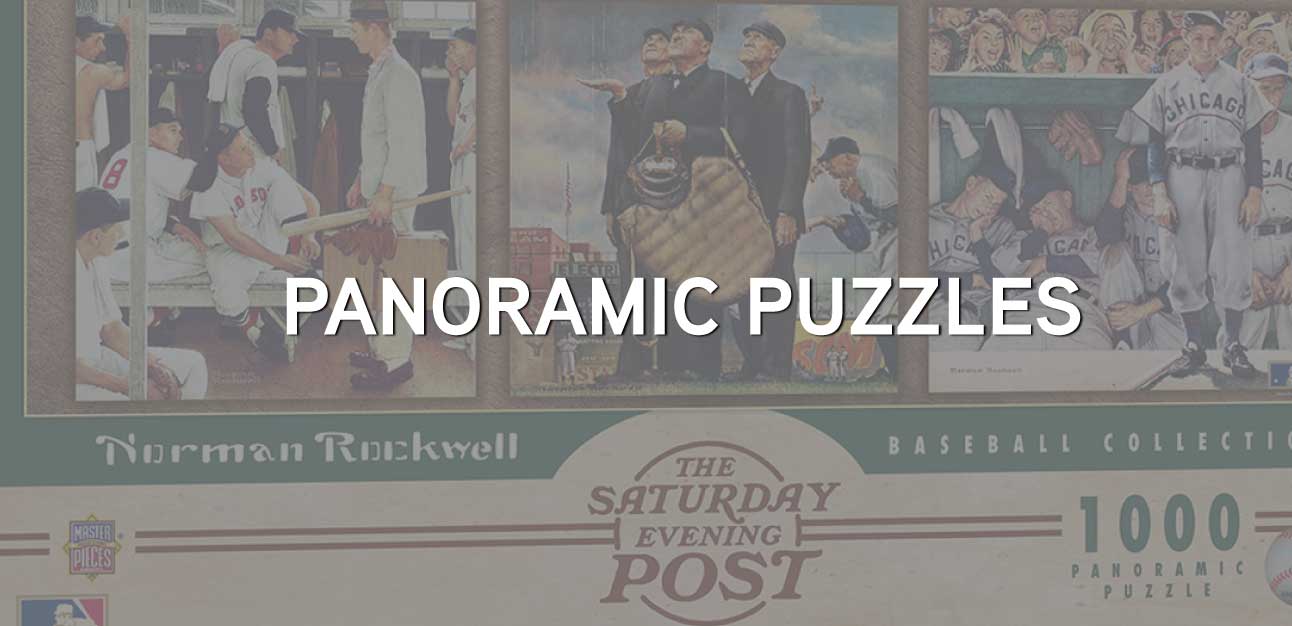 There's More to a Panorama
I just finished Afternoon in Paris, a 1000 piece panorama puzzle from MasterPieces, made from recycled material. I don't usually choose puzzles with a soft water color look, but this one had such interesting detail and scope I couldn't resist. It came in a sturdy panorama-shaped box. When I shook the pieces in my colander there was almost no puzzle dust.

Afternoon in Paris | MasterPieces | 1000 Pieces | 39x13 Inches
The artwork is by Art Poulin. I am impressed with the range of this man's talents. He is considered to be one of America's foremost folk artists. In addition to puzzles, his work includes seasonal cards, calendars, apparel, crafts, and home/garden decor. He supported his country for 27 years of active duty as a tenor in the US Army chorus in Washington, DC. He is married to Gail Fraser who is the author of the famed Lumby series.
The different colors of the store fronts made them a logical place to start. The items in the store windows were tricky to find because they were so small. There were several I didn't find until I was down to the last few pieces. I appreciated the somewhat "gridish," yet random cut of the pieces that did not align at all four corners: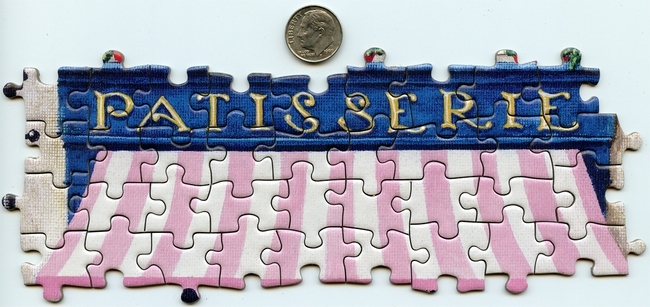 As I sat enjoying my completed puzzle I became curious, wondering where the word panorama came from. (As I've said before, sometimes my mind wanders down strange paths.) I was surprised to discover that it was originally coined in 1789 by an English painter, Robert Barker, to describe his panoramic paintings of Edinburgh and London. Ancient Greek culture in all its forms was becoming popular at this time, so I guess it was only natural that he pulled together an old English word and two Greek words to get a new word that meant "all seeing view." Who knew, right?

I enjoyed working on a puzzle that included more "stuff" without being several thousand pieces. One of the things about a panoramic puzzle that appealed to me is that there's room for several people to work at the same time. I went looking for more panorama puzzles. I could not believe the many different themes: famous artwork, cities, landscapes, animals, sports, and more. I've picked a few that caught my eye.
Newshounds, at 1000 pieces from SunsOut, captures all the traditional participants in print journalism: delivery boys, photographers, cranky editors, society and food reporters, all tricked out in their bow ties. I suspect the cat in the background is really an undercover investigative reporter. Artwork is by the British artist Nigel Hemming who has been described as "one of the UK's most famous canine artists." SunsOut puzzles are made in the U.S. with soy-based inks on recycled boards. This is now on my Wish List.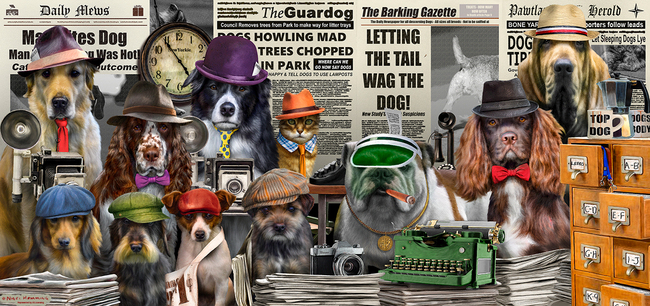 Newshounds | SunsOut | 1000 Pieces | 34x16 Inches
Cat Lineup is another 1000 piece panorama puzzle from SunsOut – have to give equal time to both catsAND dogs. If you've always suspected that cats are secretly villainous, this puzzle might be a purrfect choice for you. From the con artist pretending to be a professor in his gold-rimmed glasses and bowtie, to the high society jewel thief draped in her latest haul, these cats are up to no good. Hate to meet the ginger with the eyepatch in a dark alley. Artwork by Lucia Guarnatta.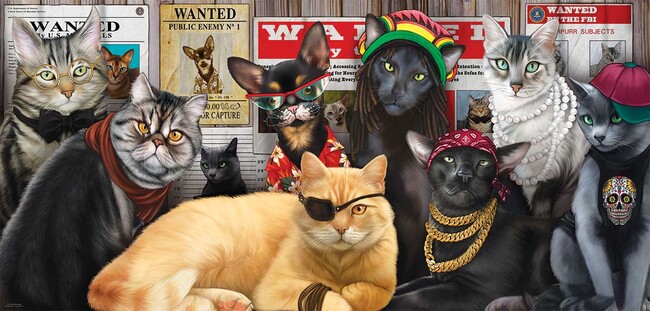 Cat Lineup | SunsOut | 1000 pieces | 34x16 Inches
For those who enjoy great art in puzzle form, the Sistine Chapel from Eurographics is a beautiful choice. It's made from recycled board and printed with vegetable based ink. Artwork by Michelangelo.

Sistine Chapel | Eurographics | 1000 Pieces | 39x13 Inches
Western Birds from SunsOut, is 500 pieces that I think younger puzzlers might enjoy– especially if they live where these birds are common. For those of you who live on the East Coast, there is an Eastern Birds version.

Western Birds | SunsOut | 500 Pieces | 12x36 Inches

There is also a guide on the product pages for these puzzles.

Baseball from MasterPieces is 1000 pieces from the pictures of Norman Rockwell and the "Saturday Evening Post": The Rookie, Bottom of the Sixth, and The Dugout. The puzzle is made in the U.S. using recycled material for the board. Once you've said Norman Rockwell, you don't have to say much more.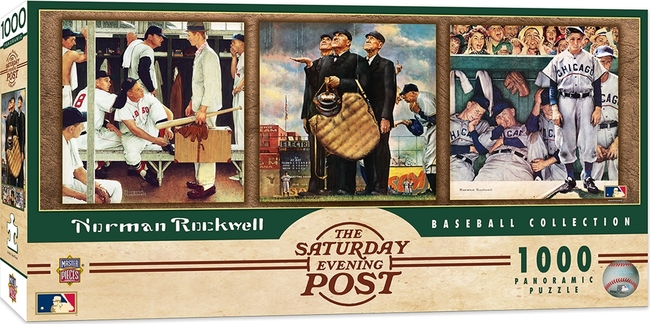 Baseball | MasterPieces | 1000 Pieces | 39x13 Inches
And now for something outrageously beautiful. Flamingo Dance from Clementoni is 1000 pieces of intense and glorious color. Pieces have a linen finish with a slight sheen and are ribbon cut with varied piece shapes. Clementoni was founded in Italy in 1963 by Mario Clementoni with a mission of emphasizing the importance of play – for all ages.

Flamingo Dance | Clementoni | 1000 Pieces | 15.6x8.5 Inches
I'm still lost in the wonder of that flamingo sunset. While I come back to myself and real life, happy puzzling,
-Madelle