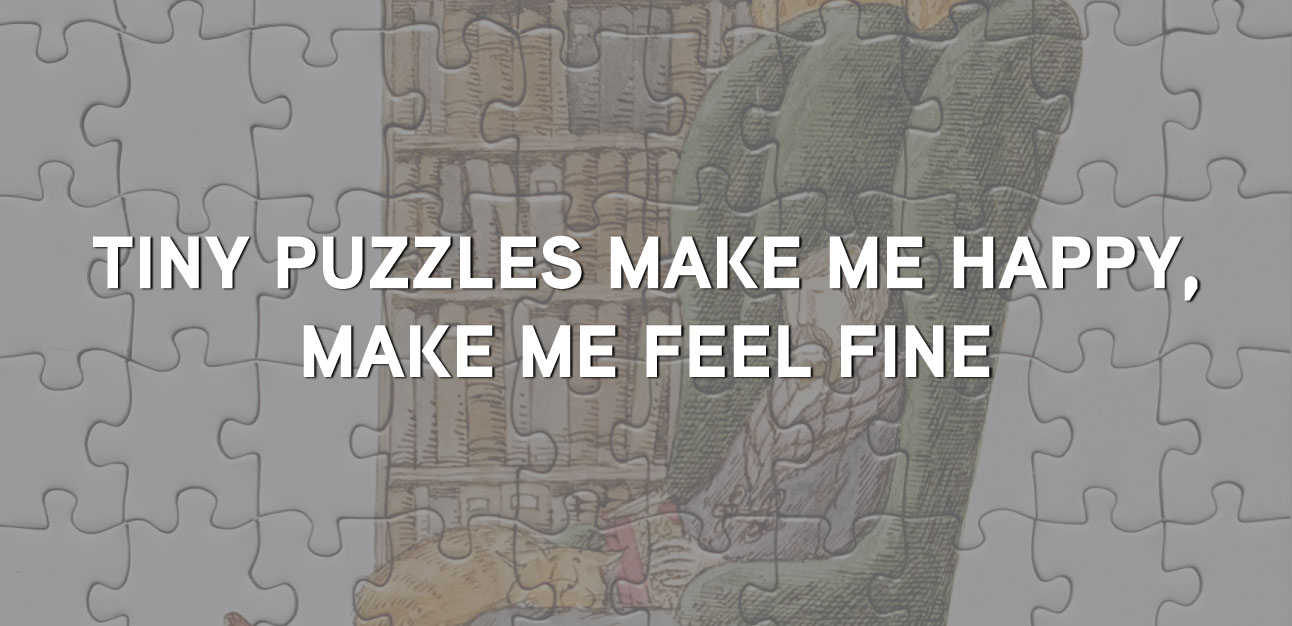 Tiny Puzzles, Make Me Happy, Make Me Feel Fine
Hello out there in Puzzle Land! April may have brought showers, but it also brought me a kitchen renovation with the added bonus of new floors. Don't worry, my house was not destroyed by a PNW springtime deluge (although we did have one week where it hailed everyday, and one day it hailed so much there were leftovers the next day!), it was something we planned and wanted for a very long time. If you've ever done a home renovation, it can be quite……taxing. The entire kitchen was gutted, so we emptied it and used my youngest son's room and the garage as storage. We cleared everything off the floors that we could, even my beloved puzzle table. On that note, remind me to write an article about my puzzle set up, it's journey is quite ridiculous.
With my puzzle table (and all tables) packed up, I had to think of a puzzling solution! A lot of people like to puzzle on the floor, but I have unfortunately had to accept that I am no longer a spring chicken and that would throw my back out for a month. Since being laid up with a heating pad wasn't an option, I had to get creative. The solution ended up being a piece of foam board and tiny puzzles. I was able to sit on the couch (the only furniture that stayed in the house) and puzzle to my heart's content. Unfortunately, the reno was so exhausting that I didn't puzzle as much as I wanted to, but whenever I needed to, I was able to indulge in my favorite activity while chaos reigned around me.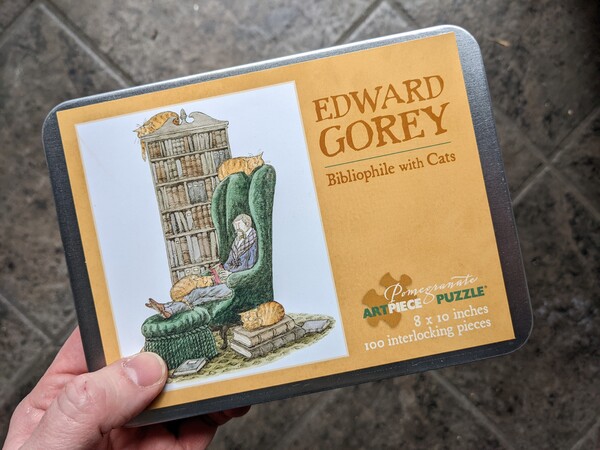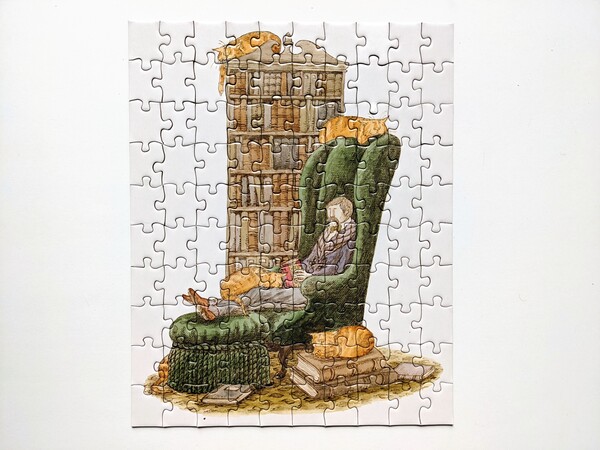 Tiny puzzles are a lifesaver. Now, what qualifies as a tiny puzzle is absolutely subjective, but for this article's purpose, I am going to limit the piece count to 100 and lower. I was, however, able to comfortably puzzle 500 pieces with a foam board on my lap. One of the best tiny puzzles that I've done is Pomegranate's collection of 100 piece puzzles. One of the first puzzles I did during our renovation was Edward Gorey's "Bibliophile with Cats". That puzzle is unfortunately out of stock (at time of writing), but luckily, another tiny puzzle featuring Gorey's deliciously macabre work is still available. "Wrap it Up" is just as marvelous and endearing as Bibliophile.
These 100 piece puzzles are the perfect thing when you are short on space. They are packaged in a hinged tin that's about the size of a wallet and half as thin. The actual puzzle measures 8" x 10". The pieces are the same outstanding quality as standard size Pomegranate puzzles, just half the size. This puzzle was pretty easy, but I had a marvelous time putting it together. The image from Gorey is adorable and I love how he always uses so many different patterns. Another artist from this collection is Charley Harper. His images are amazing for tiny puzzles as his geometric designs are not only spectacular, they add a nice amount of spice.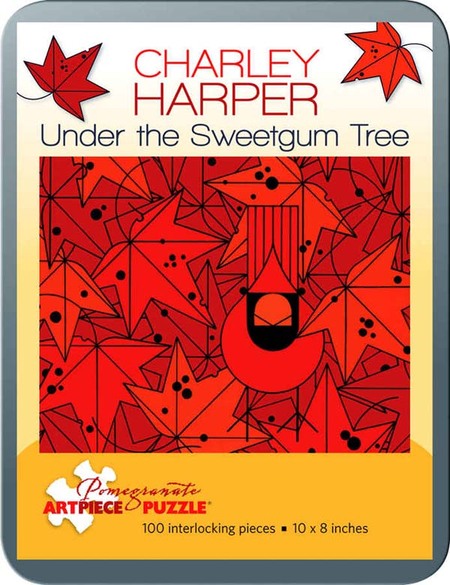 Under the Sweetgum Tree | Pomegranate | 100 pieces
Indigious Collection by CAP also has a collection of tiny puzzles, all 72 pieces. They also come in a tin and the finished puzzles are 8" X 11". CAP represents Indiginous artists from all over North America and each artist is paid royalties from each sale. My favorite one that is in stock is Sasquatch by Sue Coccia.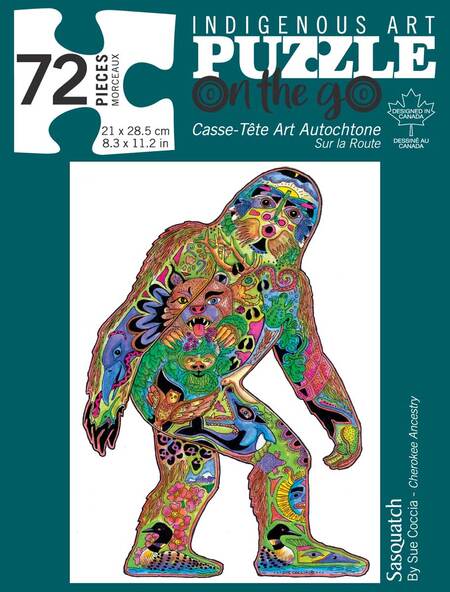 Sasquatch | Indigenous Collection | 72 pieces
I would be remiss if I didn't mention Galison puzzles. If you haven't done a Galison, I highly recommend them. They have fantastic art and there is a huge variety of styles. Their 100 piece puzzles are absolutely adorable. Most of them are shaped and the images are super cute. I did two of them last year and really enjoyed the experience. A bit of a warning though, these puzzles have smaller pieces, so as long as you are comfortable with that, you will have a lot of fun with these!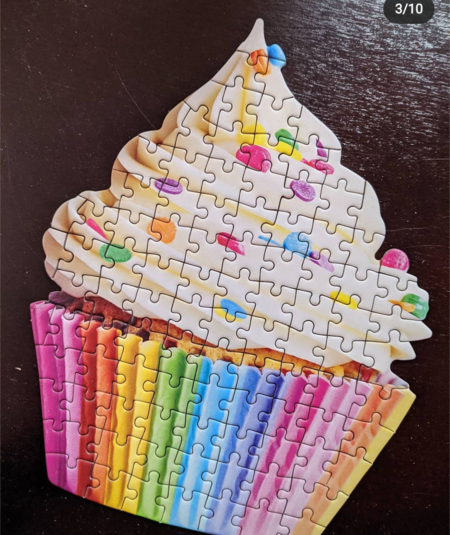 You're Sweet | Galison | 100 pieces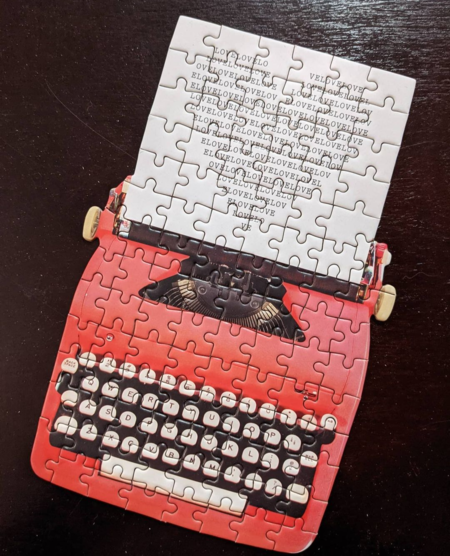 Vintage Typewriter | Galison | 100 pieces
I hope I've helped to show you some tiny puzzle ideas for when you are low on room! If you have a foam board or even a large book, you have a place to puzzle on.
As always,
Keep on puzzling!!
Gaby aka @puzzlepastime