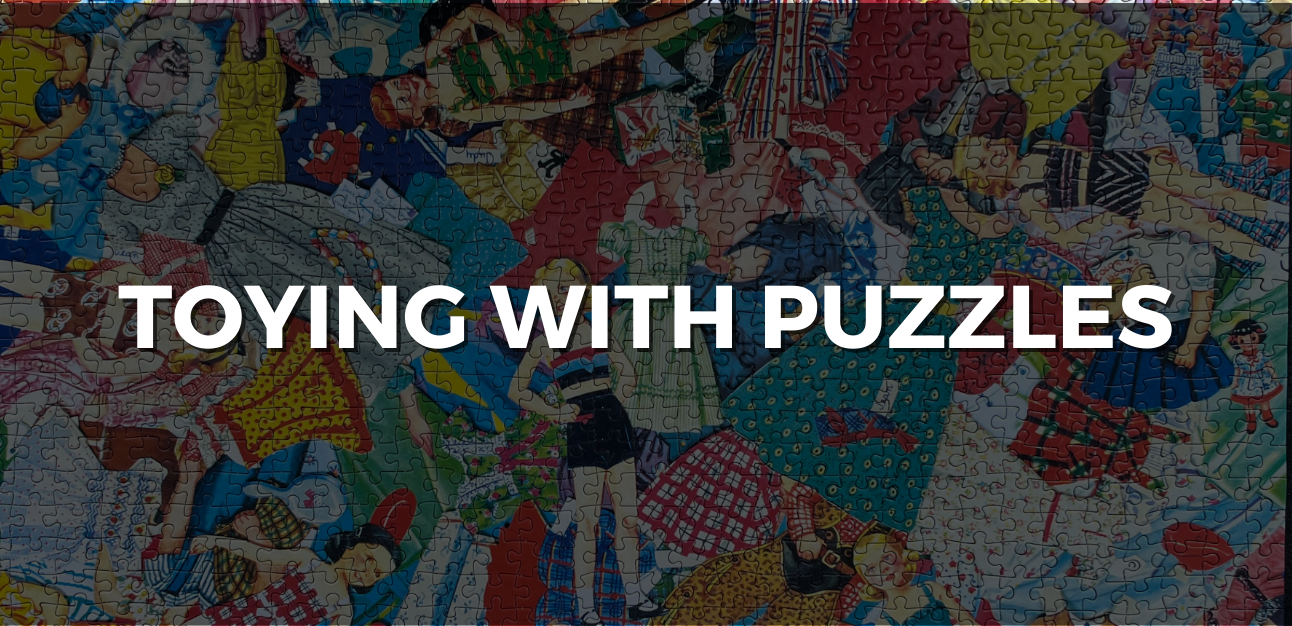 Toying With Puzzles
December finds most children making lists of all the toys they want Santa to bring them but it finds me delighting in assembling puzzles that feature toys instead!
My toy-themed tour starts with this 1000-piece Eurographics Ye Olde Toy Shoppe.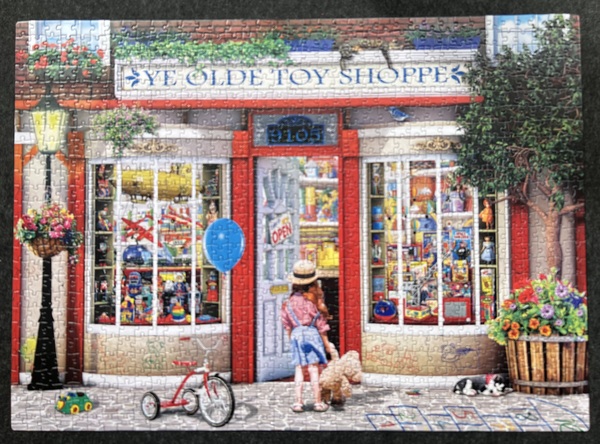 This puzzle is urging us to go in by tempting us with an array of toys in the window, many of which were childhood favorites of mine including Pick-up Sticks, Etch a Sketch and Magnetic Wheel. But the "aha" is that the same puzzle you are building can be found in miniature in the window! One of many amazing details artist Paul Normand surprises you with.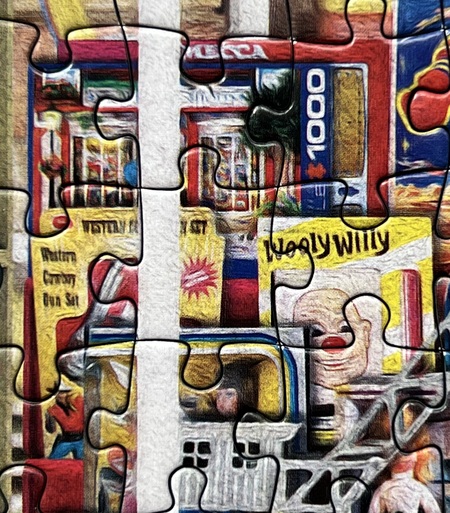 With our next puzzle, a 1000-piece by Jumbo, we get to go inside The Toy Shop.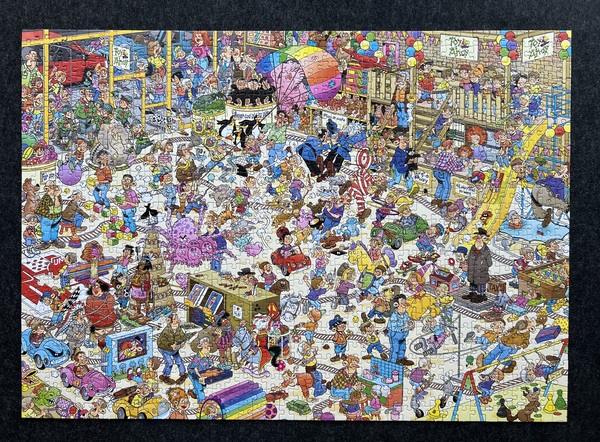 In keeping with what I love about Jan van Haasteren's puzzles, there is a lot going on and it is bedlam inside! As fellow Puzzle Ambassador, Madelle B., pointed out in her blog A Box Of Absurdities, I enjoyed searching for all of the favorite characters Jan includes in every one of his puzzles, including himself and his two fellow artists, the police officers and the crook. It seems that the adults in the toy store are having just as much fun as the kids and the same could be said about me, as I had a blast completing this!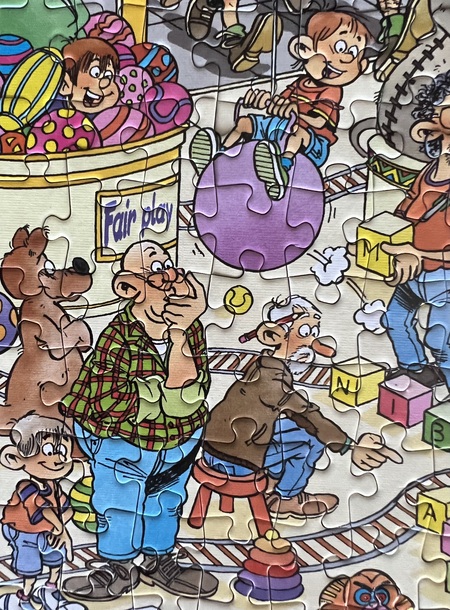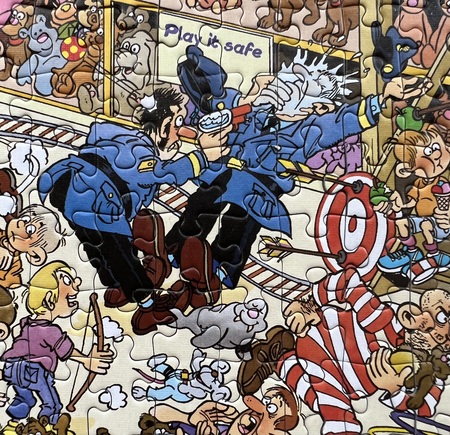 Of course, one cannot leave a toy store without making a few purchases and the toys I chose included a 1000-piece by Galison, a brand I love for their adorable images. It was impossible to resist the swirl of colors in this 1000-piece Vintage Paper Dolls puzzle.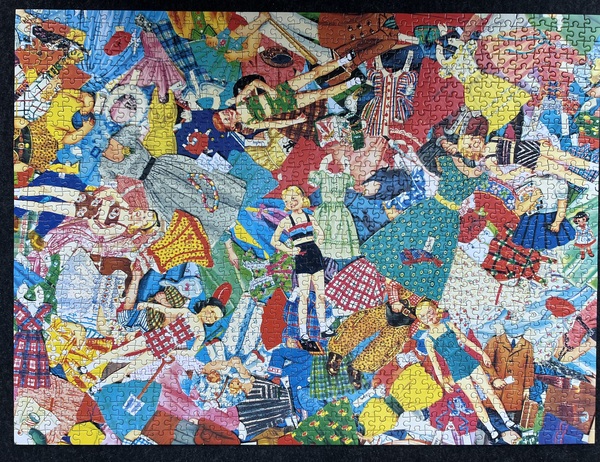 I have to say it was way more fun to do this puzzle than it was to fuss with getting those dang tabs on the clothes to stay put on the actual paper dolls I used to play with!
I also completed these two Springbok puzzles – a 1000-piece Comic Book Galore and a 500-piece Marble Madness. The fit of their random-shaped pieces were quite different on each. You could tell they'd been manufactured at different times with one being very tight and the other an easier fit, but I truly enjoyed both, hunting for where each of their quirky shapes would fit. Not an easy feat with all the bright colors each featured!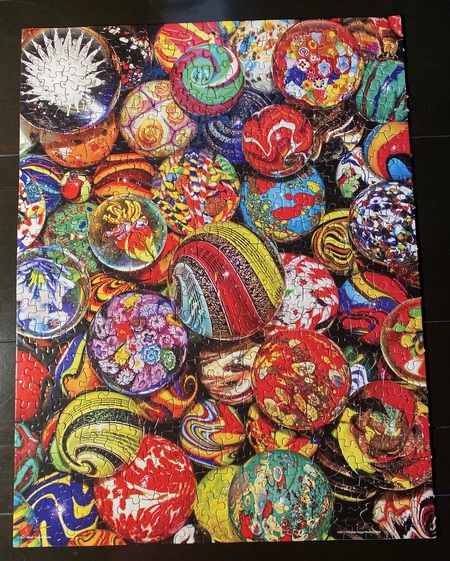 After picking up the toys, it was time to ship them off. What better postage to use than one of the Toy Stamps featured in this 1000-piece puzzle by Ceaco?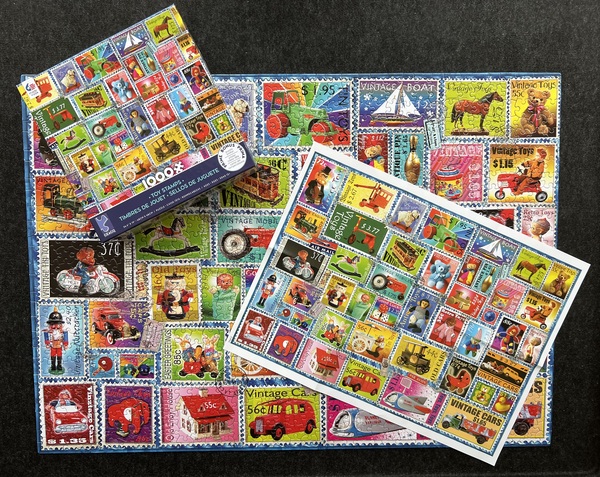 I find their stamp-themed puzzles a nice way to re-set after completing a harder puzzle, as the backgrounds make it easy to spot what will go where. This one's cast of quirky toys was especially enjoyable, but boy…there sure were some creepy looking toys back in the day and I found myself giggling over those shown in fine detail on the poster included in the box.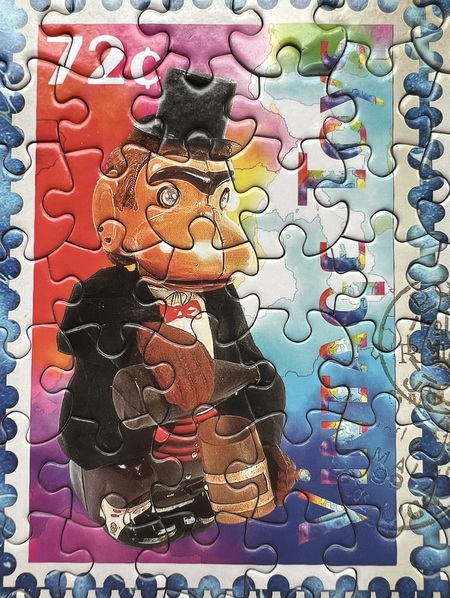 Finally, it was time to see where the toys were delivered. It looks like many – including my beloved pick-up sticks – can be found in Fun in Bobby's Room, a 550-piece Karmin International puzzle featuring artwork by Rosalind Solomon.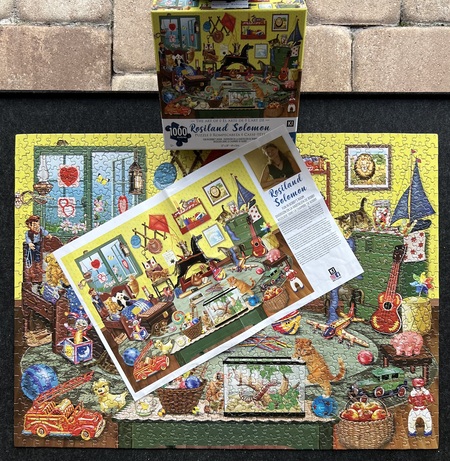 The poster included with the puzzle explains how she transitioned from illustration in pencil, ink and mixed media to working in Photoshop, to create artwork that still looks hand-painted and sweetly realistic, which is part of why I liked it so much. The other is that Karmin International, a brand I discovered just this year, has brilliant crisp colors and a nice, snug fit.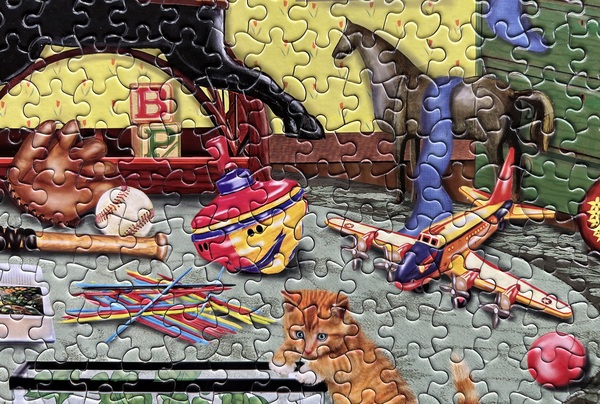 Sadly, it's time to end the blog and put away my toys. I've enjoyed sharing them with you and I'm looking forward to playing again sometime soon, perhaps with these beauties that await on my shelves – Jumbo's Wasgij's Toy Shop and these two from Cobble Hill - Elves at Work and Dollies. Or if you want to bring some toys to share, feel free to bring these from my wish list - Vermont Christmas Company's Santa's Toy Workshop, Galison's Game Night and MasterPieces' Let The Good Times Roll.
Have a playful and happy holiday! – Lisa @lisalovespuzzles