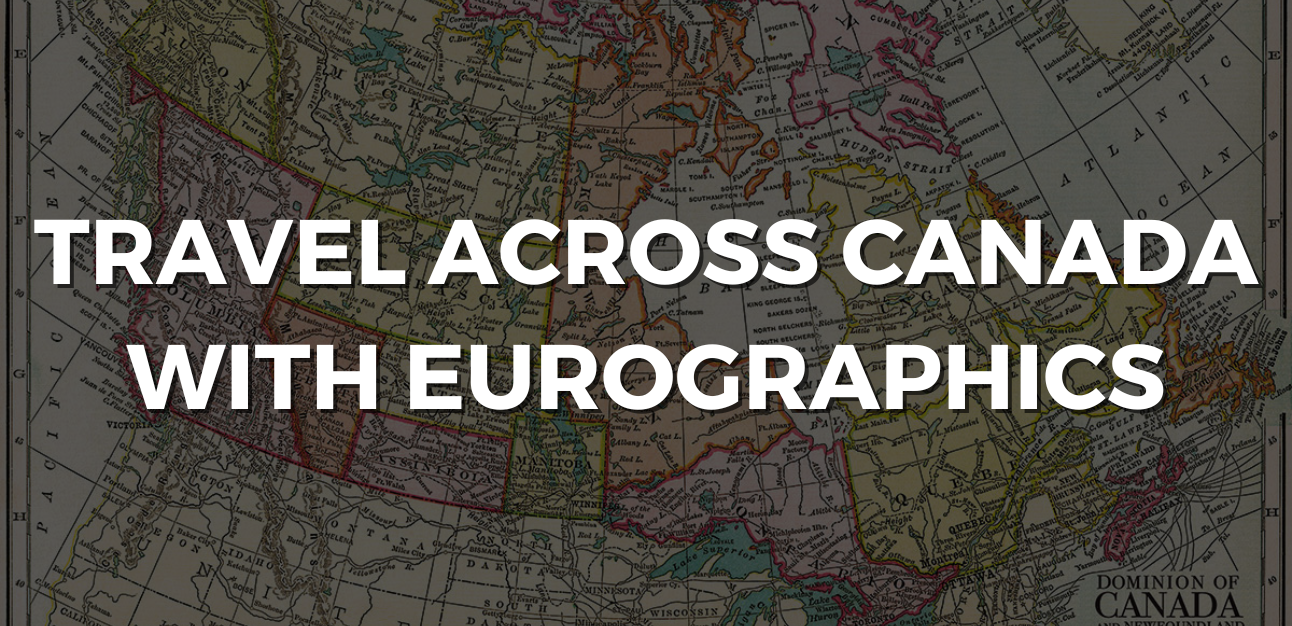 Travel Across Canada with Eurographics
Canadian Pacific - Railroad Adventures covers so many categories! It is a collage of historical posters representing many facets of the CPR company. The railway, completed in 1887, connects the east and west coast of Canada. It's incredible to think of all the areas of travel and vacation land that are represented here!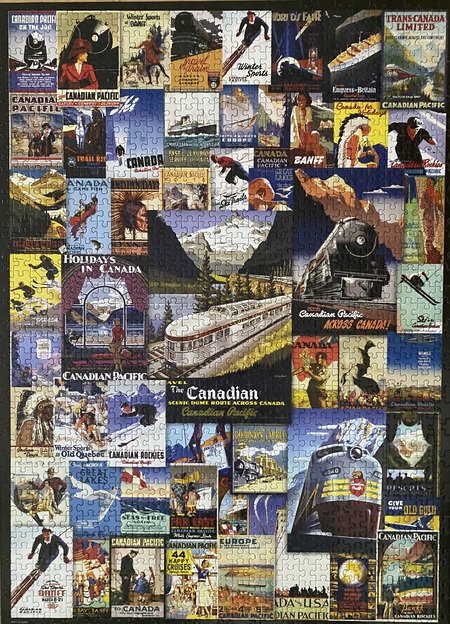 This 1000-piece puzzle is from the Eurographics Vintage Ads and Posters collection. It's finished size is 19.25" x 26.62". The pieces are sturdy and all the pieces, except for the edges, are the very same shape and size! This is so unlike the last few puzzles I've worked on that had very random sizes and shapes. I found it almost soothing and comfortable to work on.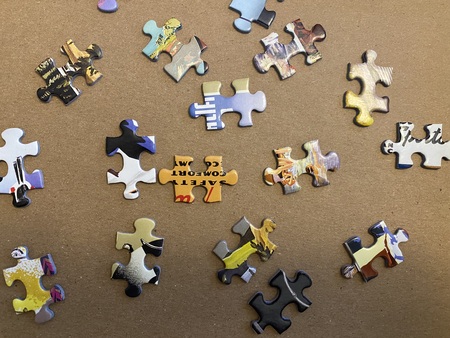 Eurographics is a company based in Canada. Now, I just happen to be Canadian and just happen to be a person who has travelled coast to coast on these very rails that are pictured here. Perhaps this is what attracted me to this puzzle! I'm also very impressed with Eurographic's commitment to being environmentally responsible. They source sustainable and recyclable materials for their products, and they prioritize the importance of efficient use of energy in their offices and warehouses.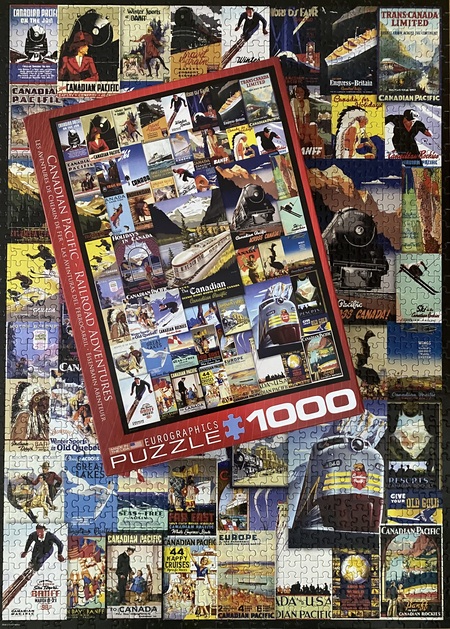 I began this puzzle with my usual method of finding all the straight edge pieces and building the frame. My next strategy was to search out words. I love puzzles with words! Especially when they are different colours and fonts! It was also fun to piece together the many different trains, boats, and people, thinking of how life has changed since these posters were in use.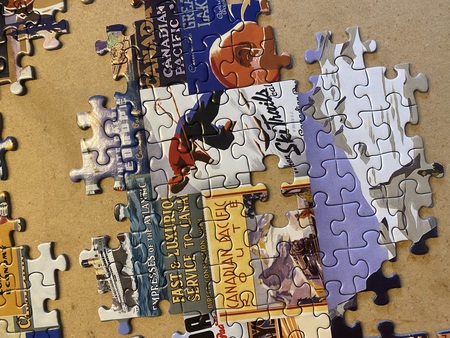 I searched out a few more of Eurographics Canadian themed puzzles. I love maps and these two maps of Canada are going on my to do list. Map of Canada and Antique Map – Dominion of Canada and Newfoundland are both 1000-piece and look a bit challenging but will definitely feed my geography itch.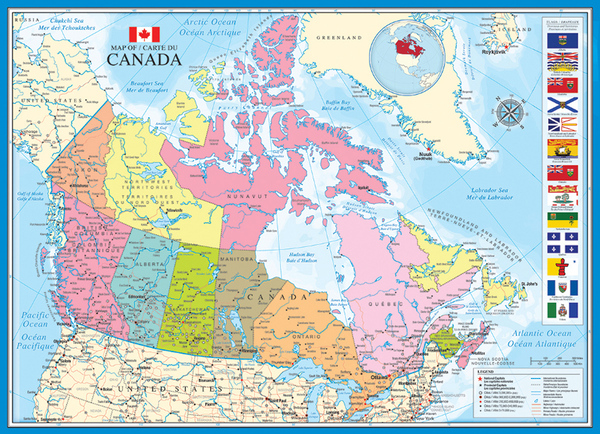 Map of Canada | Eurographics | 1000 pieces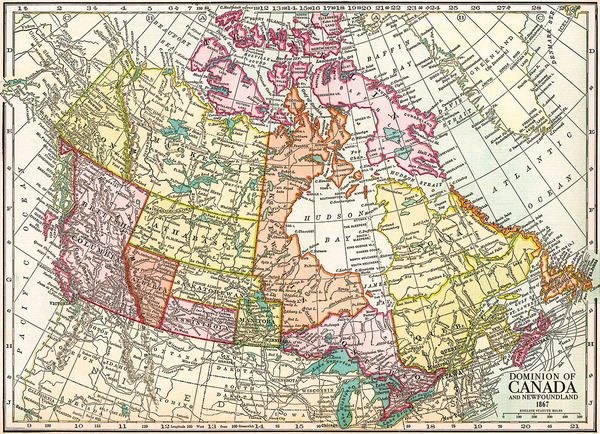 Antique Map | Eurographics | 1000 pieces
Banff in the Canadian Rockies is from the Archives of the CPR. It is a charming and inviting scene looking into the mountains from the Banff Springs Hotel. I worked in Banff but nor during the time pictured here! This is another 1000-piece, 26" X 19" regular shaped puzzle.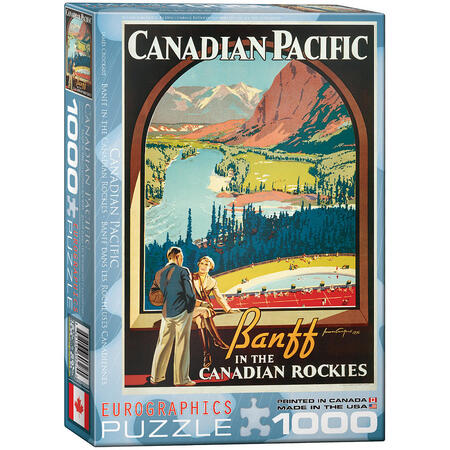 Then just for fun, here is another vintage Eurographics, Royal Canadian Mounted Police. This 1000-piece collage of old posters is quite comical. Mounties don't and never did wear their red coats while on duty. These are for ceremony only! I won't even begin to comment on all the other faux pas in this picture!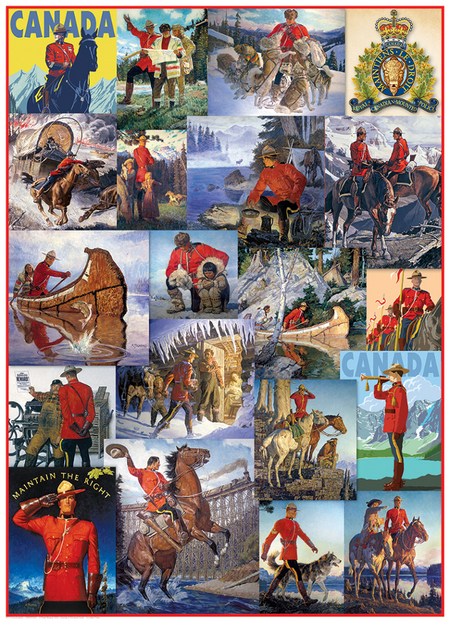 I am thinking my next puzzling adventure may be to explore abstracts!
- Mary Ellen