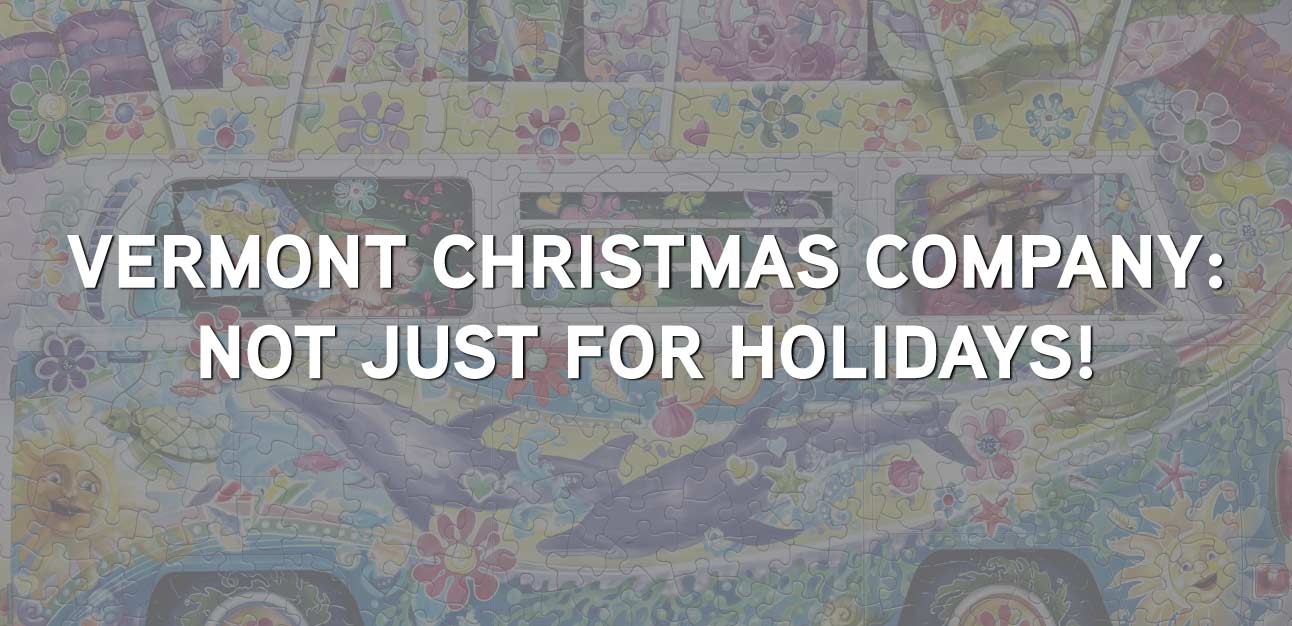 Vermont Christmas Company: Not Just for the Holidays!
If you heard the name "Vermont Christmas Company" and thought, like I originally did, that this puzzle brand was all about Christmas you'd only be partially correct. While VCC has a lot of Christmas and winter-themed puzzles, they are so much than that. Do they have elves, Santa, and ice skating? Yes, of course. But do they also have cats and dogs, fairy tales, and landscapes? Yes, yes, and yes!
This month I received one of their new releases, Beachtime Camper, through the Puzzle Warehouse Ambassador program. As soon as I pulled it out of the package, I knew I had to feature this puzzle. Its crazy patterns and colors are about as far as you can get from a holiday puzzle. Take a look at this wild ride!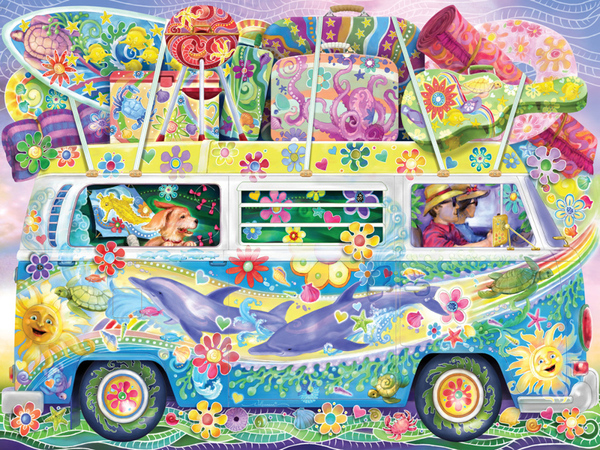 Beachtime Camper | Vermont Christmas Co | 550 pieces
Now this is not my first VCC puzzle or even my first non-Christmas VCC puzzle. Actually, it's not even my first VCC puzzle featuring art by Randy Wollenmann, a fan favorite whose work is featured on many VCC puzzles. Fair warning, this might turn into a bit of a joint homage to VCC and Randy because that magic combination happens to have produced several puzzles I love. I'll talk a bit about those later. But first, off to the wacky world of Beachtime Camper.
If you're new to VCC or need a refresher, the first thing you should know is that they have wonderfully thick pieces cut into irregular shapes. While they do tend to be a little bit on the dusty side, it's not outrageous. And I've never had an issue with poor cuts or peeling pieces. The colors are always vivid and richly saturated. Just take a peek at those colors and shapes!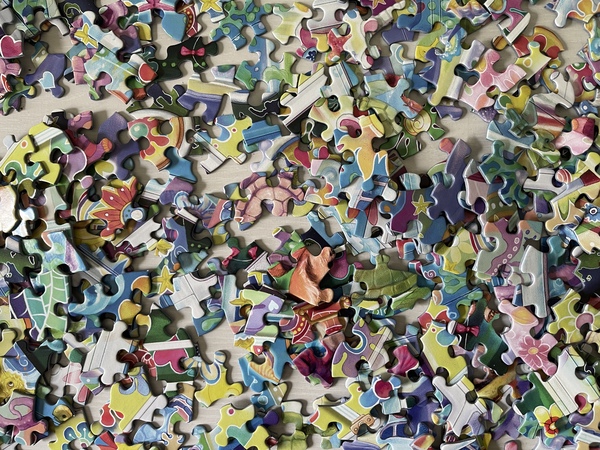 Another thing to note about VCC is that their borders are tricky. I did my usual border sort and had a lot of pieces – more than I would normally expect with a 550-piece puzzle.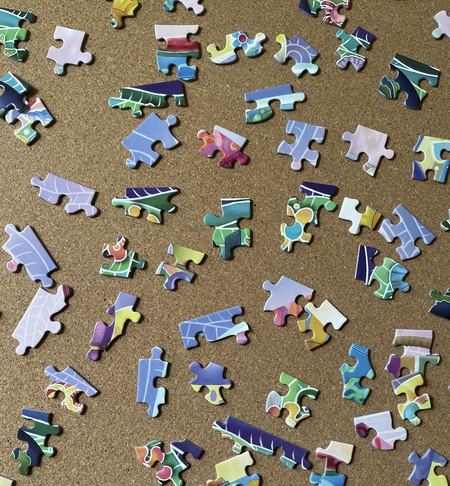 What's happening here? Hmm… VCC got me again! All of the below pieces feature a straight (at least to my eyes) edge but they are NOT border pieces. And just when it was finally coming together for me, they did it again with border pieces that rest against each other rather than interlock. For me, this added challenge makes the lower piece count even more fun. Normally I can zip through around 500 pieces in a single sitting, but when the borders are sneaky like this it makes the puzzle last longer which I really appreciate.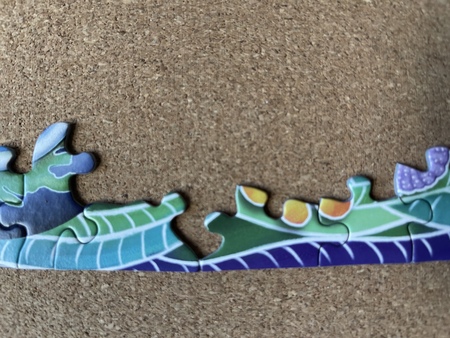 Once I had the border set, assembling this puzzle took me on a journey all over the place. Normally I work one section at a time in some semblance of order. Not so, here. Different patterns would catch my eye and I'd be off in a whole new direction. I loved that there were very few repeated elements so that even in a puzzle this busy, I never got stuck.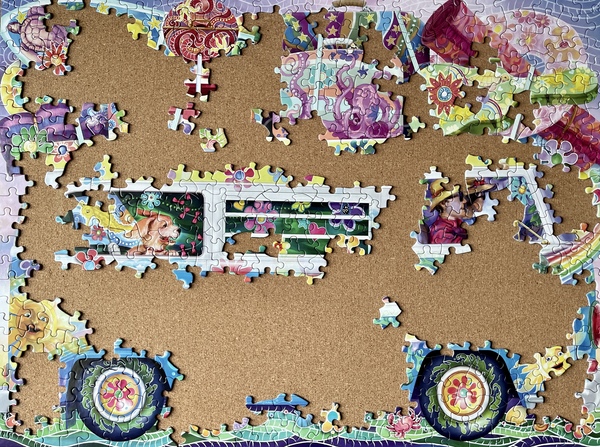 The finished puzzle is just as cute as can be. These people look like the most fun to go camping with. After doing this puzzle do I want to paint all my camping gear with wild colors and take off on an adventure? Definitely! I'll probably have to settle for more crazy puzzle adventures though, but that's fine with me.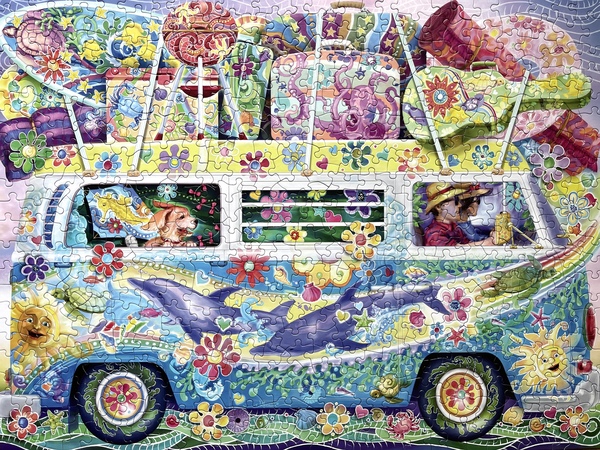 I mentioned loving the Randy Wollenmann + VCC combination, so here are a few others that I adore, including two of the cutest holiday puzzles ever, Toy Shop and Festival of Lights, and the very cool zodiac-themed Day of the Dead.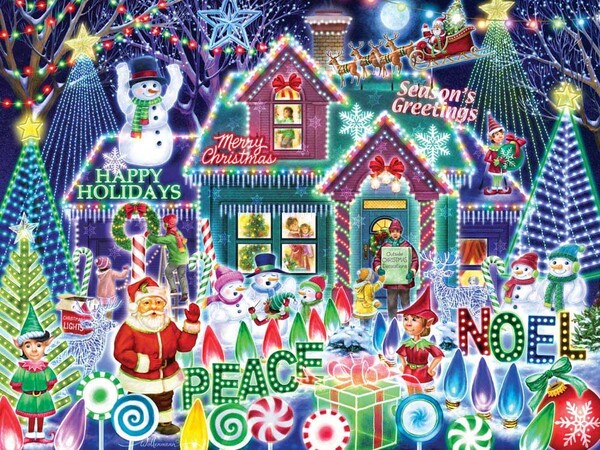 Festival of Lights | Vermont Christmas Co | 550 pieces
And even though Halloween is still a ways away, I did already add the latest spooky season puzzle from this fab collab to my collection, Halloween Carousel.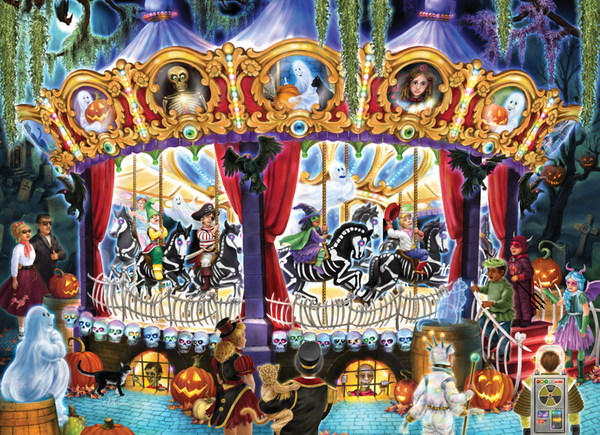 Halloween Carousel | Vermont Christmas Co | 1000 pieces
Whether you check out Vermont Christmas Company's wide range of holiday puzzles or explore some of their other fun images, I hope you enjoy their quirky pieces and have as much fun with them as I did!
xo, Sarah B. @necessarahly_puzzles