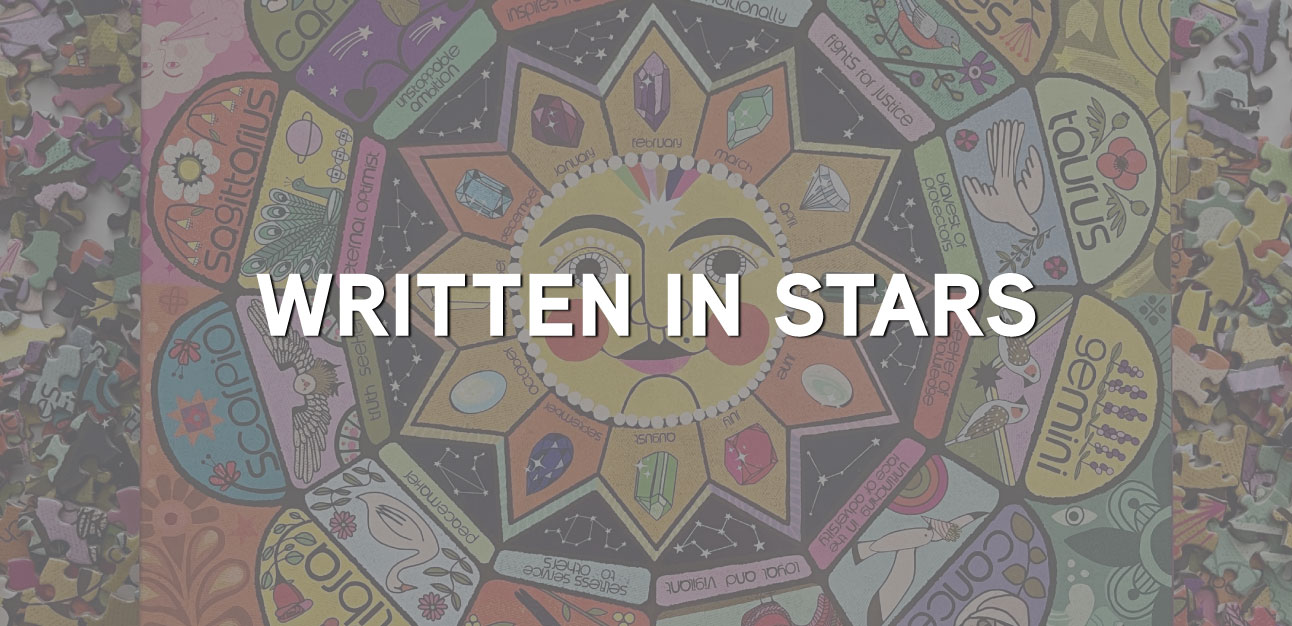 Written in the Stars – eeBoo Astrology Puzzle
When eeBoo's Astrology puzzle hit the market, it immediately became my favorite image they've released so far. It wasn't until I had the opportunity to assemble it that I started to think about why that is and ultimately ask myself the Big Question, "Is puzzling written in the stars?"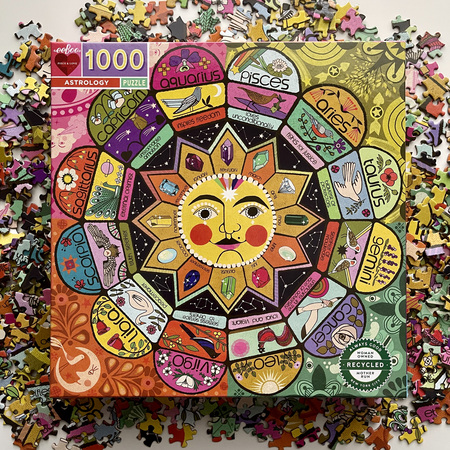 Okay, bear with me here. I promise I'll only get a little "woo woo" about this. Doing an astrology-themed puzzle seems like a legitimate time to wonder whether how or why you puzzle is reflective of your zodiac sign's traits.
Like any good non-sciencey scientist, I was my own primary test subject. I am a Gemini. If you don't know any Geminis, we're cosmically required to have dual personalities. So how does that manifest in puzzling? Let's take a closer look at the puzzle to find out.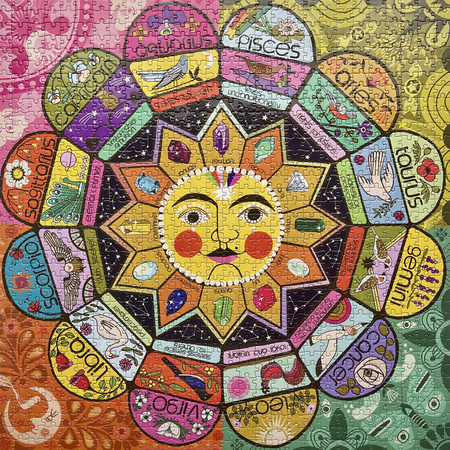 This puzzle is master class in symmetry and balance, which appeals to my control-loving, orderly side. For starters, the puzzle is a square shape. Hello perfection. Within the square, it's sub-divided into four smaller periphery sections organized by the elemental signs – earth, air, water, fire. These encircle the central gemstone section. The overall effect is that you can read the puzzle from any direction – top to bottom, left to right, center to border – and you'll always be able to follow the line of each astrological sign. It's a symmetry extravaganza!

What about the other side of my Gemini brain that craves freedom and maybe just a little chaos? Again, this puzzle delivers in a big way. There is so much information, both literally and visually, in this image that it was like being in a carefully constructed whirlwind. Kudos to the artist, Anisa Makhoul, for the incredible amount of detail she included. It ticked all the Gemini boxes for me.

Now that I had a better understanding of why I was drawn to this particular image, I turned to my puzzling style to see if I could find any astrological correlations there too.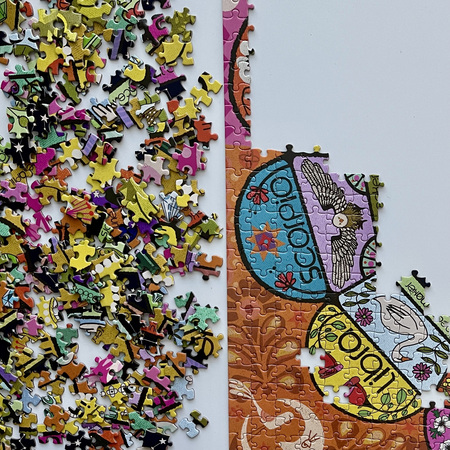 The above photo is the equivalent of wearing a sign that says "Hi, I am a Gemini." My preferred puzzling style is to sort out and assemble the border first, then build section by section from the outside in. And I usually don't sort other than the border so I'm pulling from a big pile of random pieces. It's the perfect marriage of chaos and order and it feels 100% satisfying to me to puzzle this way. I don't even mind that it probably slows me down because I don't like moving on to a new section until I've hunted down all the pieces I need.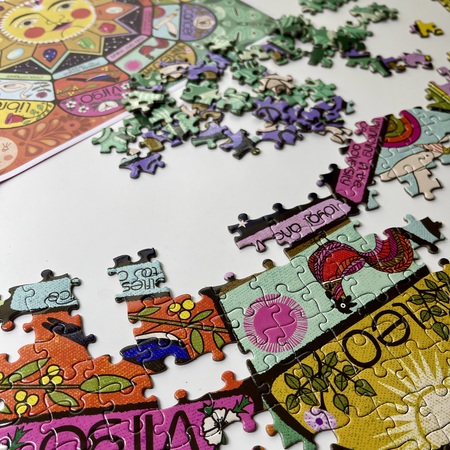 My "research project" was going so well at this point that I decided to conduct a wholly unscientific survey of the Jigsaw Junkies crew to get their take on this "written in the stars" idea and pair them with puzzles based on the results.

Rell is a Capricorn. Capricorns are often characterized as ambitious, organized and sometimes stubborn. For Rell, this manifests as wanting to do high piece count puzzles, needing to sort (even though she hates it), and being unwilling to give up on super challenging puzzles. I would pair the Capricorns with the Triangle Pattern puzzle. They won't have to sort – because you can't really sort this one. And it's decidedly challenging even though it's only 500 pieces.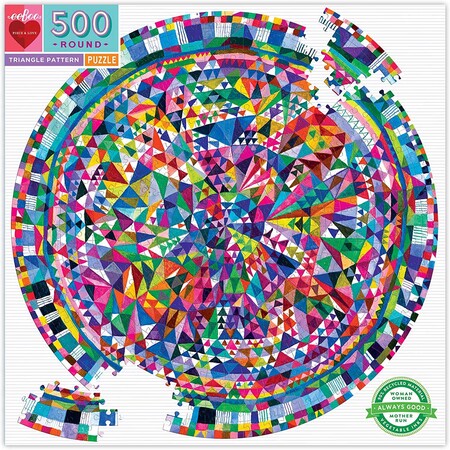 Jenn is a Virgo. Virgos tend to be logical, practical perfectionists who are hyper-aware of every detail. Guess what? Jenn likes to sort puzzles so they're in smaller sections and will fixate if she can't find the last piece in the section she's assembling. Hello Virgo. I think Jenn would enjoy Koala House Party with its very sortable sections that are all full of adorable details.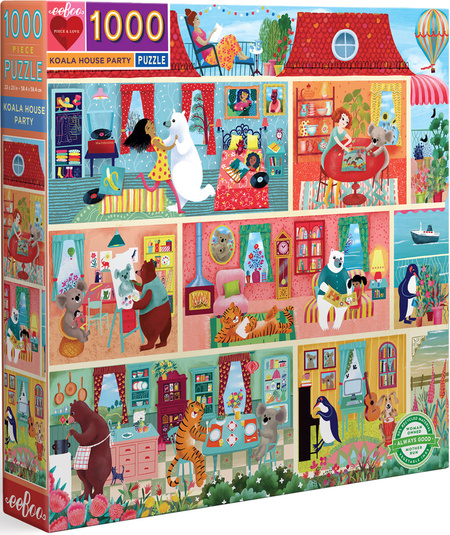 Our Scorpios are Lisa, Tracy and Angel. Scorpios are said to be intense and "all in" when they commit to something. For some, this means puzzling strictly solo and being determined to finish puzzles even if they're not enjoying it. For others, "all in" means curating a big puzzle collection. Like, really big. Hmmm. Maybe I should start claiming to be a Scorpio. For Lisa, Tracy, and Angel, I'd recommend starting with the city-themed puzzles, like Marrakesh, because there are several different designs so it only makes perfect Scorpio sense to collect them all.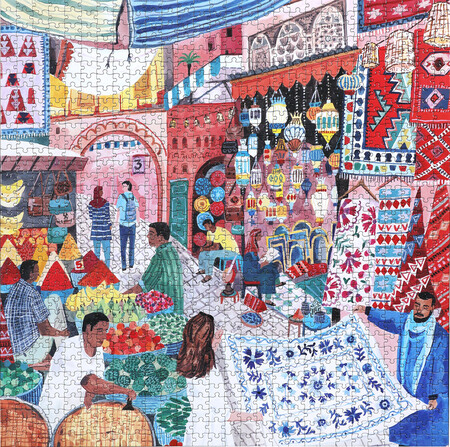 Gaby is a Leo. Leos have a rep for being the ultimate showmen. On Instagram, Gaby brings it with her puzzle roll ups, pick ups, and spin arounds. I'm always holding my breath when she gets going! Leos are also known for having a way with words. If you've read any of Gaby's blog posts, you'll know that she is a witty writer who integrates puzzling with funny anecdotes about her life. What puzzle could be better for a writer than 100 Great Words?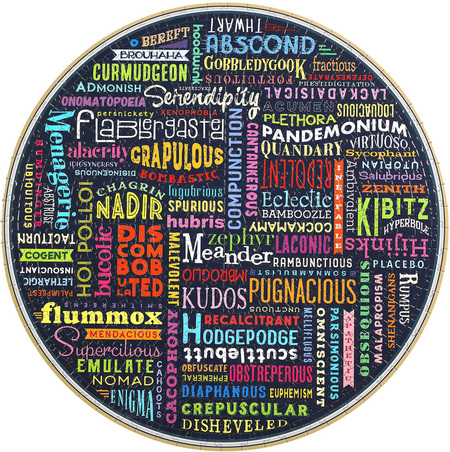 Diane rounds out my "study". She is a Libra. Libras are known for seeking balance and being analytical thinkers who are able to intently focus on small details. Sounds perfect for a puzzler! Diane finds the time spent focusing on the little puzzle details of shape, color and art very calming. She pairs puzzling with audiobooks to balance her experience and help her avoid overthinking. A Rainbow World has an incredible variety of shapes and colors and tons of tiny details that I think would be the perfect fit for Diane. Puzzle pun intended. Always.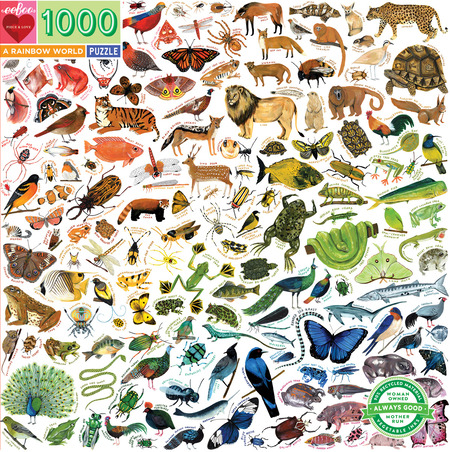 So there you have it. Puzzling is written in the stars for all of us. #science. Astrology was my cosmic puzzle match. If you need help identifying yours, I'm happy to make recommendations based on your answer to the terrible pick-up line, "What's your sign?" Except this won't be terrible because it will lead to a puzzle pick-up! That's right, you got another puzzle pun. You're welcome.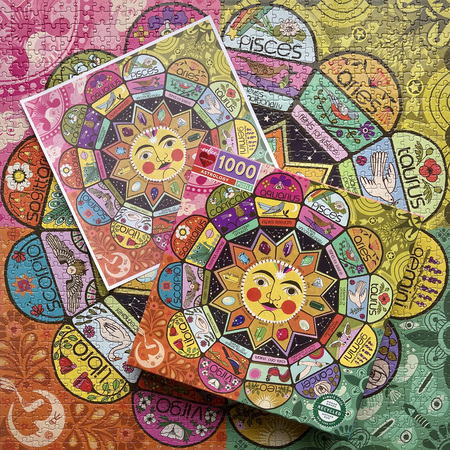 I'll wrap this up by saying that eeBoo has been one of my favorite puzzle brands for a while now. The glossy, bright pieces are like little bits of puzzle candy! And I love that this mother-led, woman-owned company is committed to partnering with and promoting independent artists to produce ecologically responsible puzzles. They've hit the trifecta of great art, quality materials, and eco-consciousness that I look for in a brand. They have good puzzle karma written all over them! Ooo – Puzzle Karma. That could be my next unscientific research study! Until then, Happy Puzzling!
xo, Sarah B. @necessarahly_puzzles
5 Stars
Tracy - Vallejo, CA
What a fun post!! I love zodiac puzzles and it was so much fun reading why different puzzles and puzzling styles appeal to certain signs!! Brb ... I'm off to start my Scorpio inspired collection!! 🤩🤩
5 Stars
.Rell - , Australia
I love this Sarah! This was such a great read.
5 Stars
Amanda K. - Cincinnati, OH
Such a fun thing to think about- signs and whether it coincides with how we puzzle! Loved it!