Impossible Jigsaw Puzzles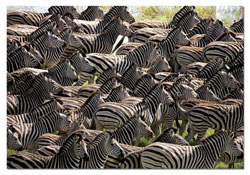 Are you up for a challenge?
Even if it is an impossible one? Because Puzzle Warehouse has prepared for you some impossible jigsaw puzzles. When I say impossible, I don't mean one hundred thousand pieces impossible, I just mean impossible. Impossible to assemble and even impossible to conceive, these jigsaw puzzles will give you sleepless nights and make you doubt yourself and your puzzle making skills.
What defines these impossible challenges are their repeating colors, shapes and images. Whether you have to assemble a 500 pieces swarm of colored butterflies, a 1000 pieces artwork depicting dozens of Clown Fish or a 500 pieces herd of zebras, you should be aware of the difficulties that you will have to face.
In the beginning, all the pieces will look the same and the only ones you will be able to distinguish are those that make up the borders of the puzzle. And if you think they will make the rest easy for you, you couldn't possibly be more wrong about it. Assembling such an image requires you to be fully focused on the task and a lot of concentration. It will take you ages, but in the meantime it will keep you entertained for hours.
The best thing about it is that, in order to work on it, you will have to give up, even if it's only for a short moment, everything else in your life. No more worries will bother you during the intense time when you will be trying to figure out which piece goes where, which fish belongs where and what zebra has an ear like the one you're holding in your hand.