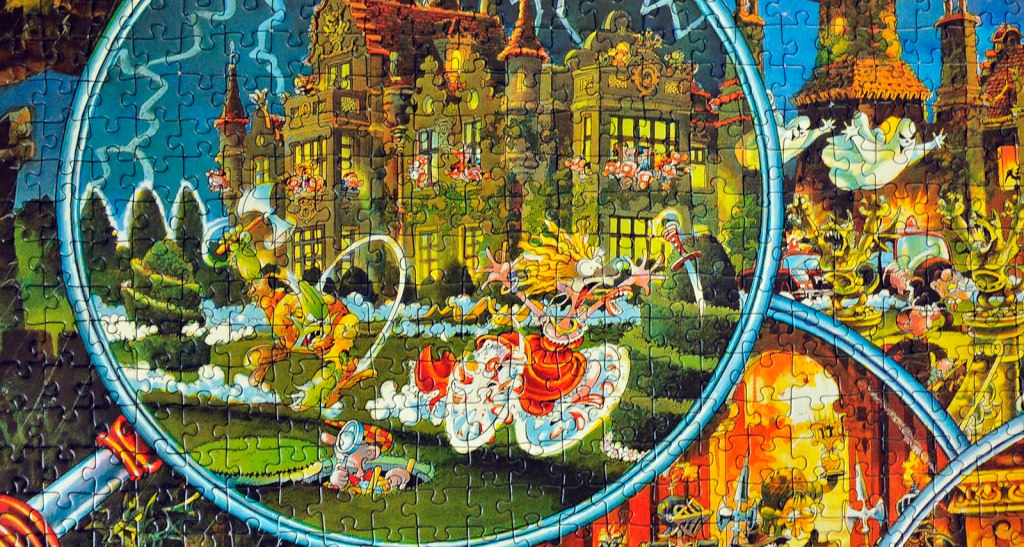 Review: "Who did It?" by Michael Ryba, Heye, 2000 pieces – 10/10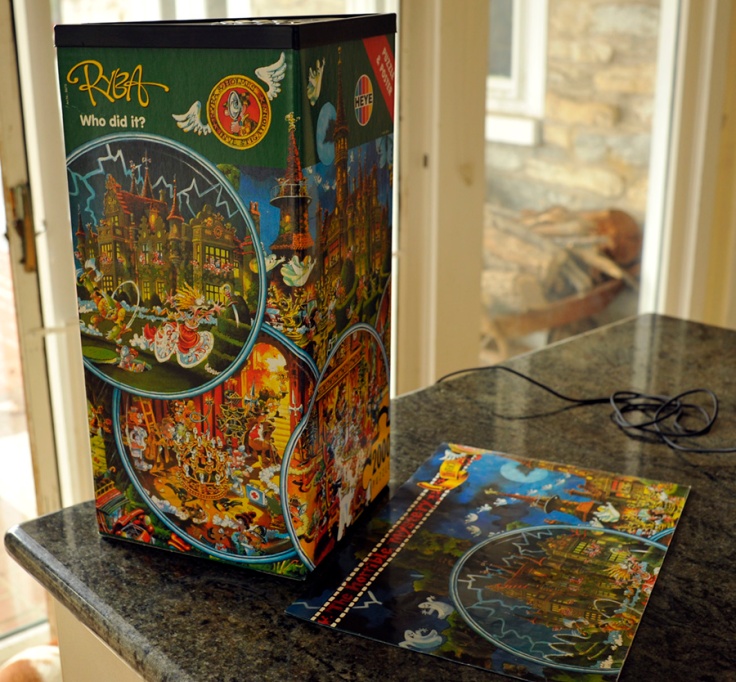 Publisher: Heye (Germany), published 1998 and currently reissued in a rectangular box
Title: "Who Did It?", Artist: Michael Ryba, 2000 pieces
OUR RATING: 10/10

I worked this puzzle years ago, but it was time, over the lengthy holidays, to get it out again. This has long been one of my favorite Heye puzzles. I love Ryba's cartoon art, and I love the 'faux scary' cartoon themes (others are Loup's "Castle of Horror" and Prades "Walpurgis Night"). I'm a big murder mystery fan and a Heye fan, so this puzzle is the best of all possible worlds for me. I also like the size. 2000 pieces is just enough to make for a significantly longer and 'chunkier' puzzling experience than my usual 1000 piece puzzle, but it's not endless. This time I will preserve the completed puzzle using my temporary mounting system so I see the full assembled puzzle anytime I want.
Box Quality:
As readers of my blog know, I love the Heye triangular boxes. It's a fun shape that shelves well in pairs of two. They just feel more "special" than the rectangular boxes, and the quality of them is great–colorful, fun, and sturdy in the German board game tradition. This original version of "Who Did It?" from 1998 is in the triangular box shown above and below. (Click on any picture in this review to get a larger photo.)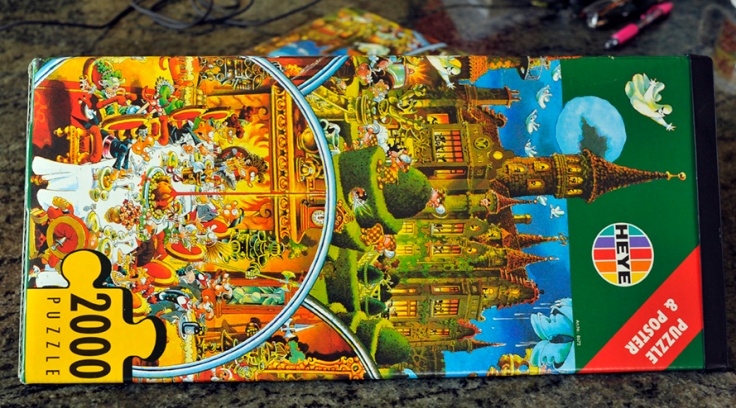 The back side shows the entire picture and has information about the artist and puzzle.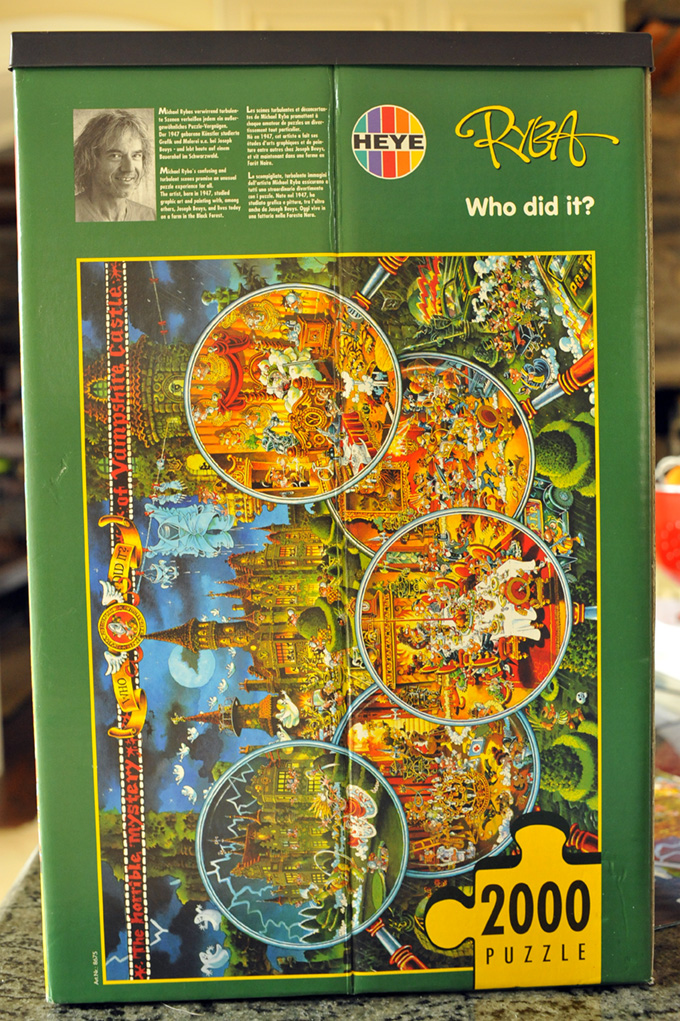 Top:
The older Heye triangular boxes had black plastic caps which were only held on by the shrink wrap. These are super annoying since they come off and get lost behind the shelves once you have opened a puzzle. The later triangular boxes have an attached top with a graphic of the puzzle, which is a big improvement. However, this 1998 puzzle box has the old black top.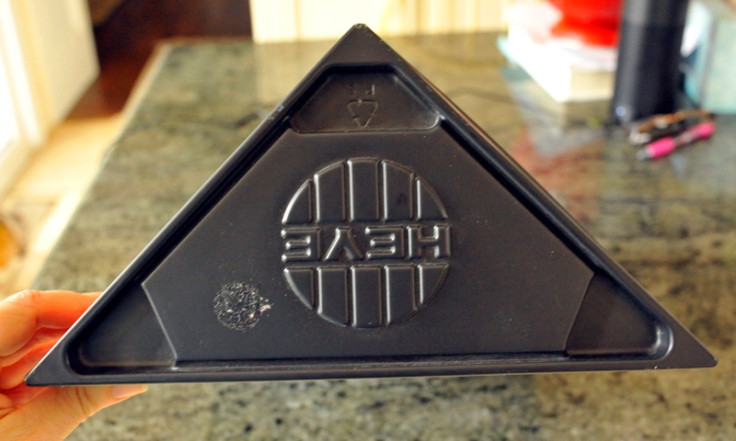 Bottom:
The bottom has copyright and other retail info.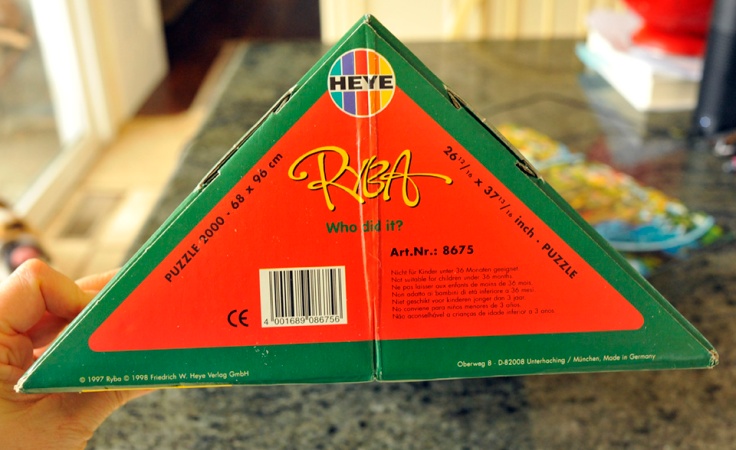 Inside:
Inside the box is a bag with the puzzle pieces and a large poster of the image on thick paper. You can see the front and back of the poster below. The back of this poster has a 'solution' to the murder mystery in the image. I've blurred it out to prevent spoilers. I doubt this poster is included in the newer rectangular reissue ("Crime Scene"). The solution on the back isn't the sort of thing you can "guess" from looking at the puzzle. It's more like an extra little story that goes along with the image. It's printed in four languages. [Click here to see the back of the puzzle without the blur–spoilers included.]
I always use the Heye posters quite a lot while I'm working the puzzle because with the high level of detail, you need to refer to the image often and it's much nicer with the large poster than trying to work with the box.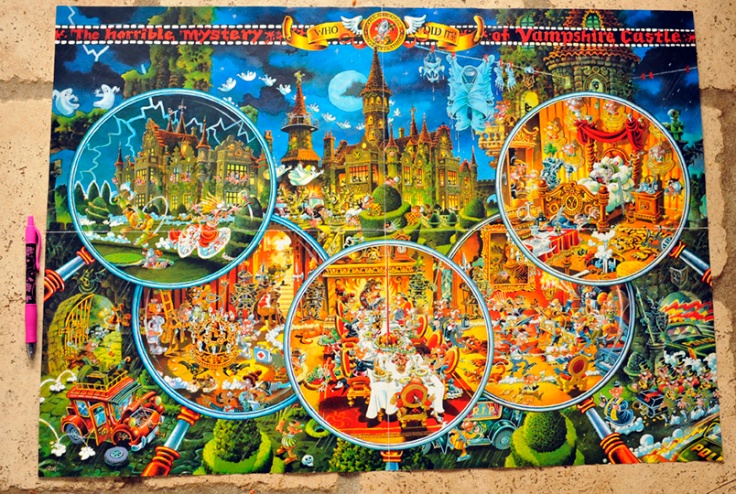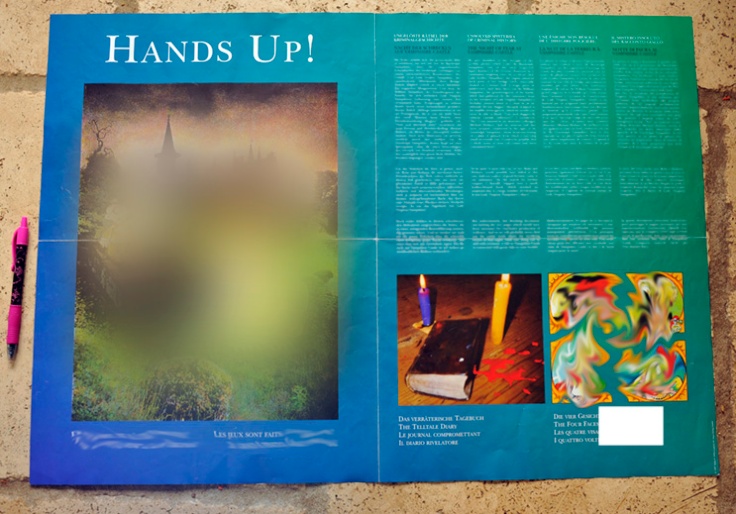 The Image:
As I said above, I adore this image. It's a spoof on murder mysteries. Each little scene in the puzzle has many threats from daggers, to knights with axes, to bottles of poison, saws, etc. And it's all set in a spooky old castle. (Click on any of the images in this review for a closer look.)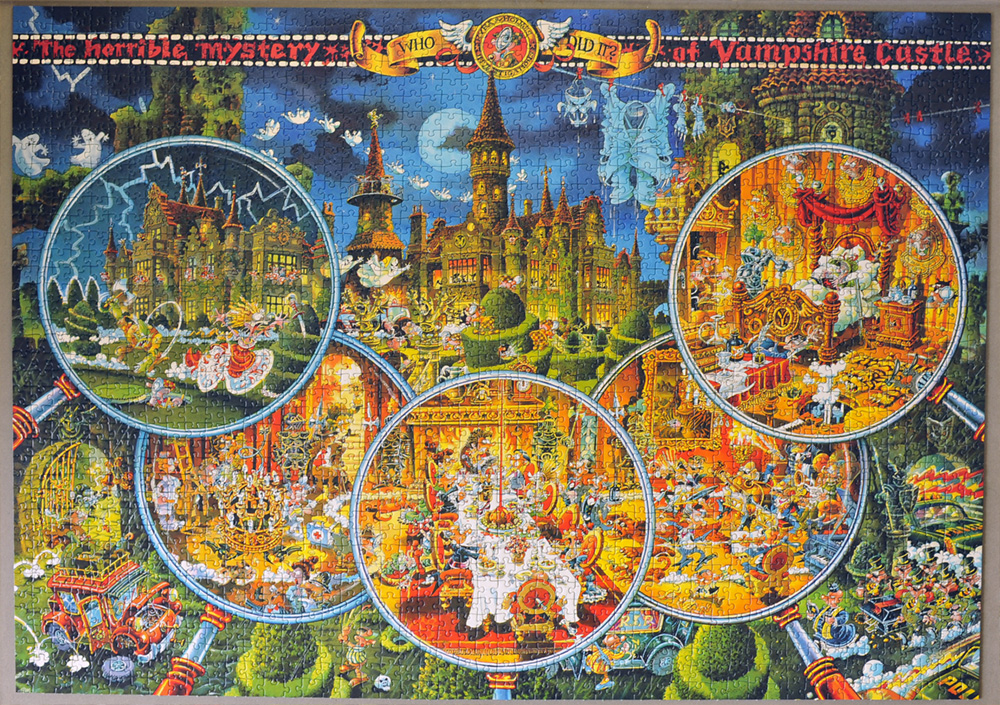 Puzzle Quality:
You can see my Heye brand comparison here for details. To sum: Heye is one of my favorite brands, mainly because of their awesome cartoon puzzles and overall German quality. Although Heye has a standard grid cut, there's lots of variety in the piece shapes, as you can see in the close-up below. The pieces feel thick and have a nice, linen, non-glare finish to the pieces. The fit of this 1998 puzzle is slightly loose, so it's difficult to move pieces without them falling apart. However, there is never any question about whether a piece fits or not (unlike Gibson and Educa). The piece fit is very specific.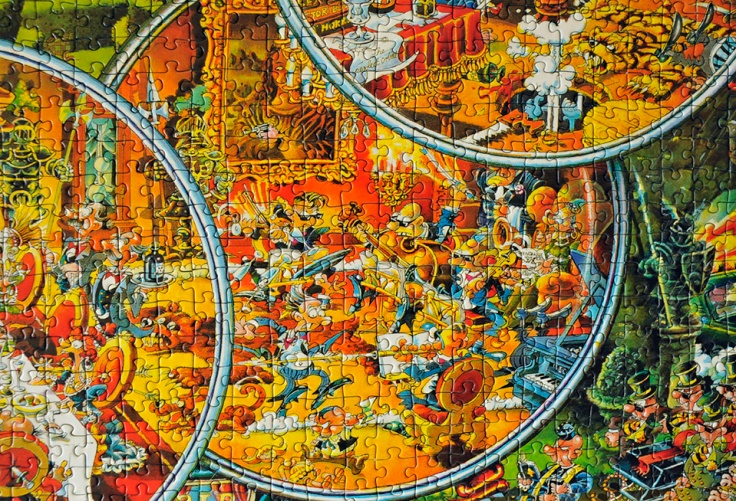 Assembly:
"Who Did It?" is definitely a challenge. There are lots of yellows/golds and greens in the picture. I assembled the border first, then the frames of the magnifying glasses. This helped separate the main areas/vignettes within the puzzle. I used the poster to check individual puzzle pieces quite often to see where they went. But the little figures have different outfits and expression, so it isn't difficult to tell where each piece goes. The puzzle wasn't frustrating since there aren't large areas of similar color/texture.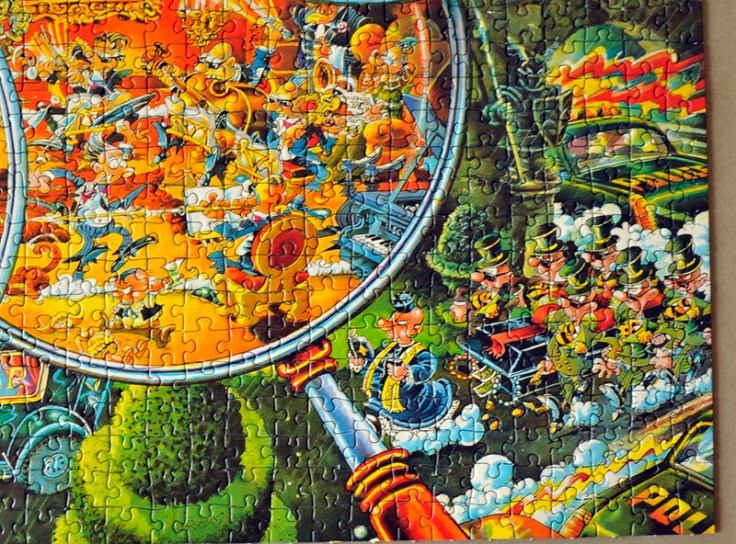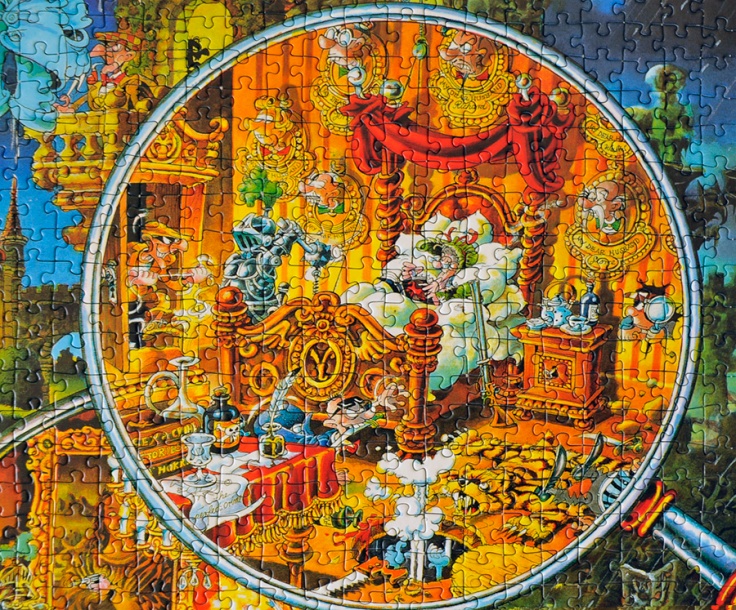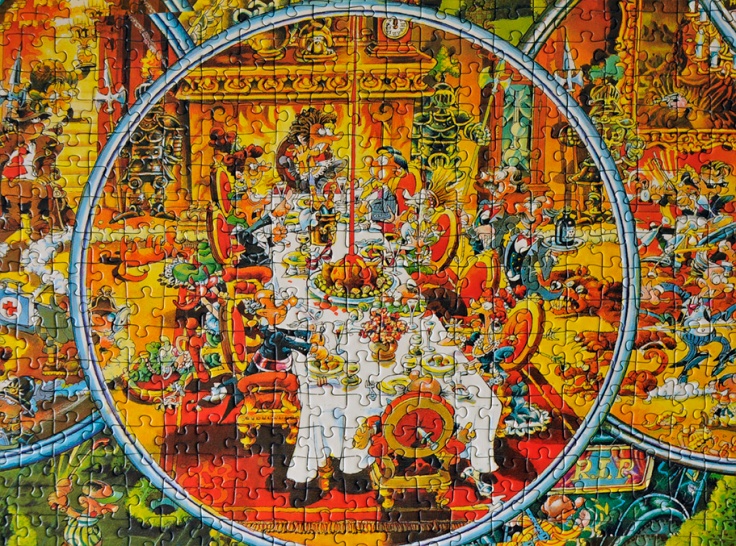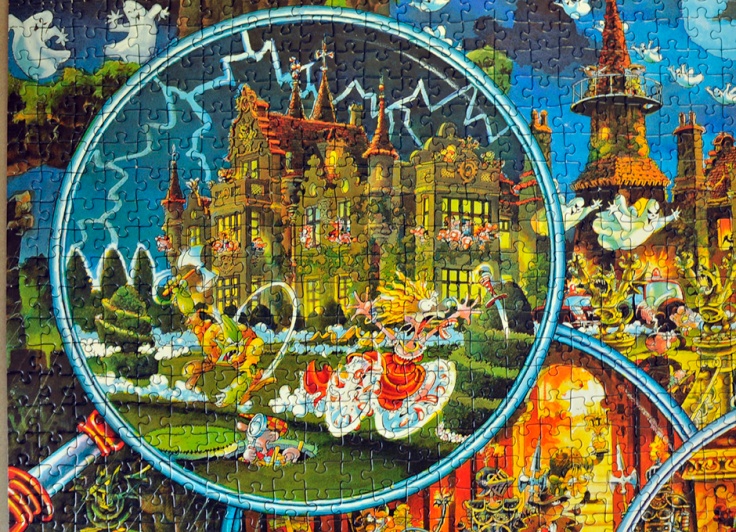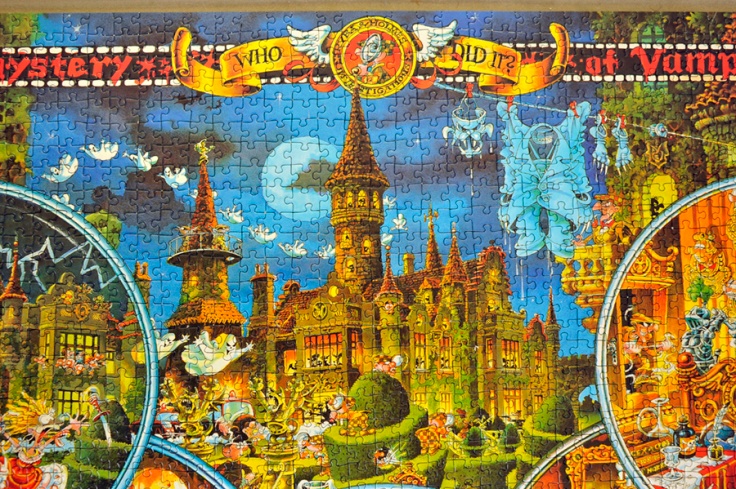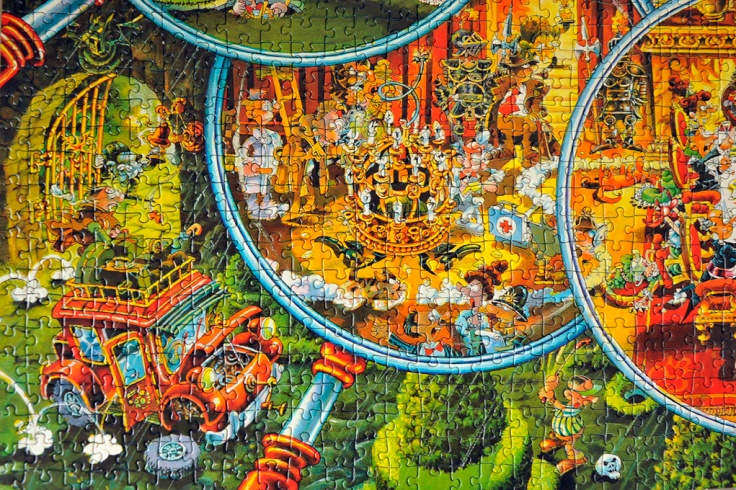 Conclusion:
"Who Did It?" is a classic Heye that's a must have for all cartoon puzzle lovers. It's been republished by Heye as part of their Cartoon Classics (still in 2000 pieces) in a rectangular box under the name "Crime Scene". You can see it here on Puzzle Warehouse. Grab it before it goes out of print again!
On a sad note, Michael Ryba unfortunately was killed in a car accident a few years ago. Such a great loss for his family and fans! But for his jigsaw puzzle fans sake, I hope he had some artwork not published previously that Heye could make into new puzzles. Also there are also some great older Ryba images I'd like to see reissued (such as "Fire Brigade", "Big Attack", "Amazonas", "New York", "Holiday On Ice", "Surfing in Heaven"). Please, Heye!
JJ