Earth Day
I've always been an outdoorsy, nature-loving gal who tries to do what I can to protect the environment. I'm an obsessive recycler, toss everything I can into the compost bin and never use chemicals on my lawn. I try to live by the phrase "every day is Earth Day!" The actual Earth Day is celebrated every April 22nd on the anniversary of the first one held back in 1970 as a grassroots initiative to increase environmental awareness.

By now, you may be wondering: what the heck do jigsaw puzzles have to do with Earth Day? For eco-conscious folks like me, one great bonus to our puzzling hobby is the fact that most are made of cardboard (often from recycled material), they usually come in cardboard boxes, they're biodegradable and if you puzzle in the daytime in natural light, they don't require electricity! If you're a person who tries to reduce, reuse, and recycle, when it comes to puzzles two out of three ain't bad! We may not reduce our tendency to acquire puzzles, but we can certainly reuse and recycle them, so--win, win!

I'll highlight some great puzzles to celebrate Earth Day below, but the one I chose to put together is Mother Earth from eeboo, illustrated by Maya Hanisch. This was such a fun and whimsical design. I started this one by putting together her dress and worked my way out, saving the more challenging background and most of the border for last.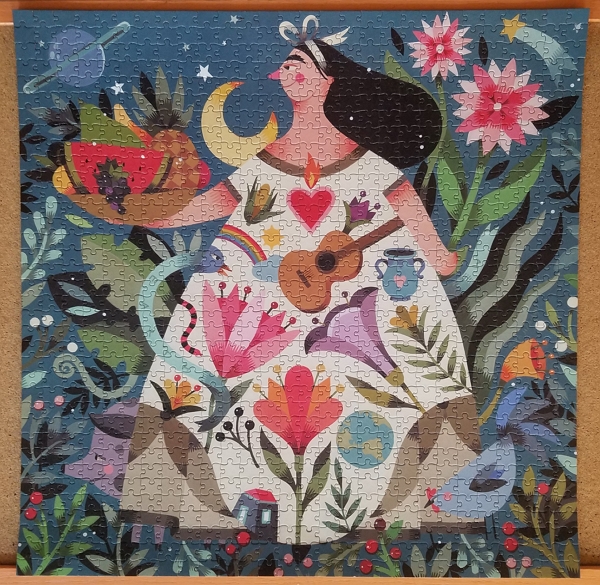 Besides the great quality and variety of their puzzles, one of the things I like most about eeboo is their dedication to sustainability. They use 90% recycled materials, printed with vegetable-based inks. While pieces come in a plastic bag, their newer releases come in a compostable bag. Love it! Their products are certified by the Forest Stewardship Council and are Climate Pledge Friendly. It's no surprise that they have such a great variety of puzzles with environmental and nature themes, perfect for Earth Day like Planet Earth! If you like round puzzles, check out Biodiversity or get inspired by Climate Action.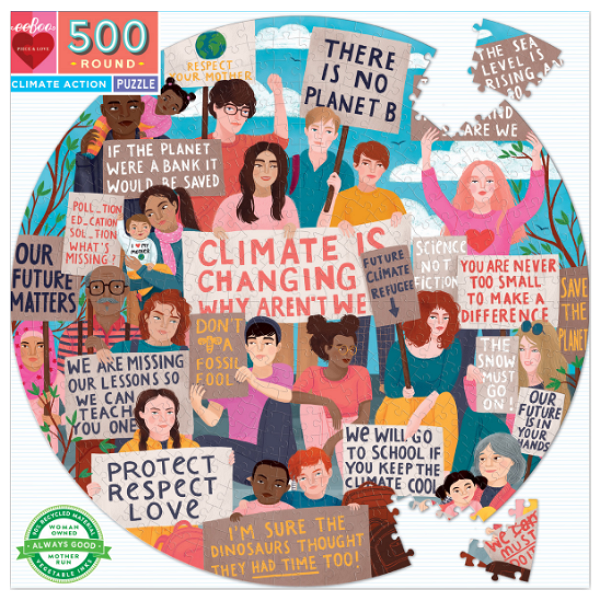 Eeboo has excellent puzzles to teach the kiddos about the environment while they play, like the 48-piece floor puzzle Within the Biomes, the 64-piece Wild Things or 100 piece puzzles like Life On Earth and Natural Science that comes with an educational poster, too!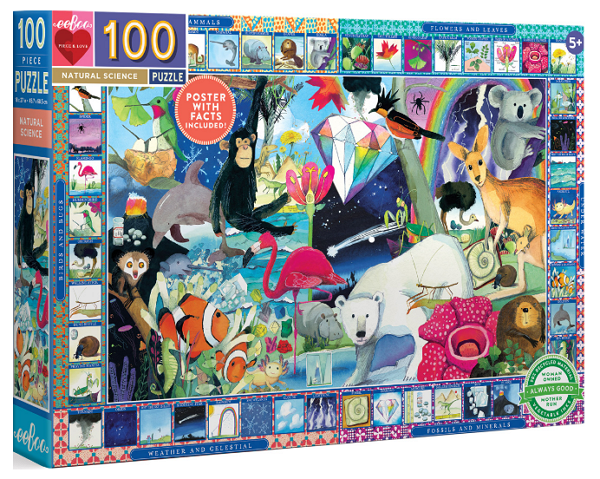 I'm a big fan of Buffalo Games puzzles, not only for their hundreds of designs that come in the box, but for what they say on the back of the box. When it comes to sustainability, they mean business! 100% recycled paperboard and FSC-certified paper; 80% veggie-based and 20% water-based ink. Buffalo Games boxes are sealed with 100% non-toxic, biodegradable glue, which means NO plastic. The fact that their packaging method saves 10,000,000 plastic bags a YEAR is impressive. The less plastic in the environment, the better!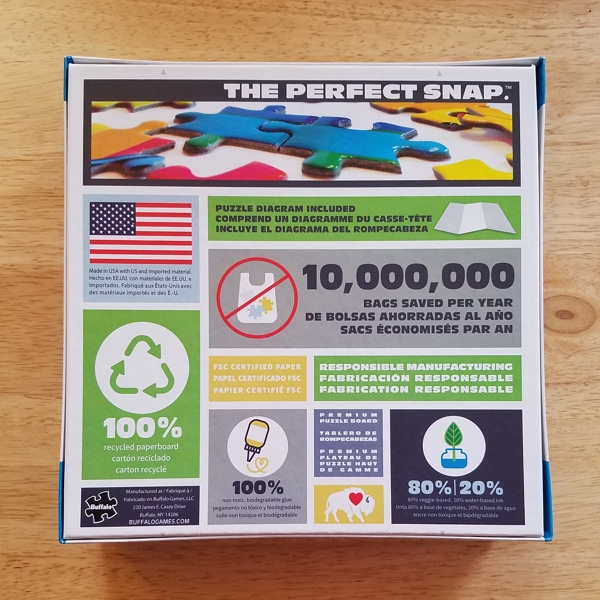 My fellow Nebraskan, photographer Joel Sartore, is on a quest to document the earth's amazing diversity by taking portraits of 15,000 at-risk species living in the world's zoo and wildlife sanctuaries for his National Geographic Photo Ark project. His beautiful Winged Jewels puzzle is available in both 500- and 1500-piece versions from Buffalo Games.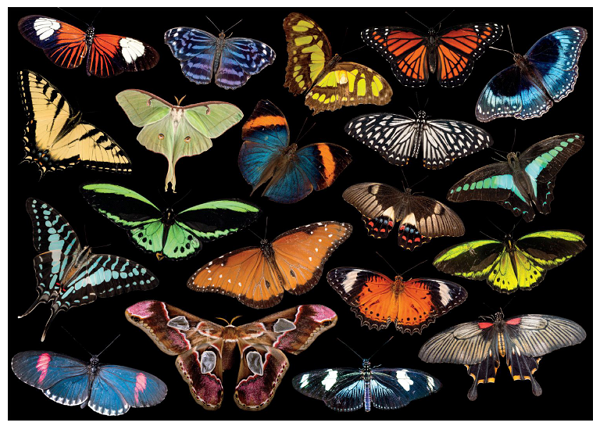 New York Puzzle Company shows their concern for the earth in many of their puzzle designs and in their dedication to reducing their impact on the environment. The shrink wrap on their boxes is recyclable; they use recycled chipboard for all their boxes and puzzles; and their printing is done with soy ink, making their puzzles recyclable and biodegradable. New York Puzzle Company takes things a step further with their membership in 1% For The Planet, pledging 1% of the sale of each puzzle to environmental non-profits committed to creating a healthy planet. Check out their 1000 piece Earth Day puzzles like Big To Small or Mother Nature.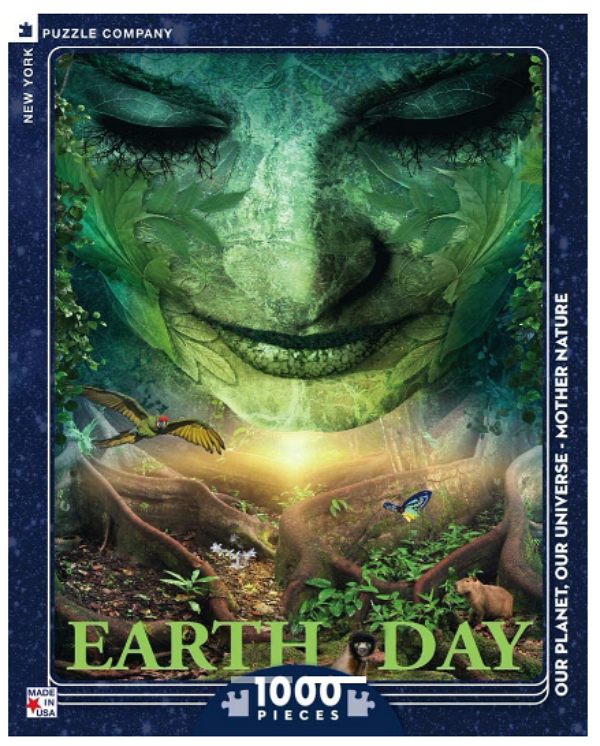 Purchase Eurographics beautiful Our Planet puzzle and you help plant a tree! Assemble this design from the Save Our Planet puzzle collection made from recycled blue board paper and printed with vegetable soy ink for Earth Day and you can feel good knowing that Eurographics has partnered with One Tree Planet—a non-profit dedicated to helping the environment by planting trees. Eurographics has already planted over 1000!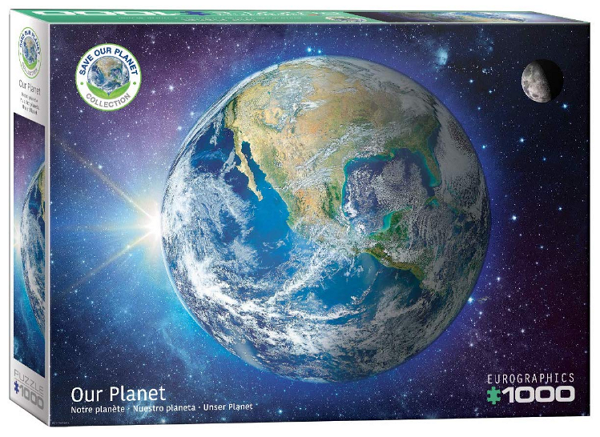 Jigsaw puzzles may be the perfect eco-friendly hobby. I hope this blog inspires you to celebrate Earth Day by spending time enjoying nature and relaxing with one of these beautiful puzzles—then reuse by doing it again later, donating or swapping it, recycle once it's worn out, and repeat with the next puzzle!

Be good to Mother Earth!
Dawn @fivewolves