Hello Autumn: 5 Stages of Puzzling in Fall
I have always said that Autumn is my favorite season and I know I am not alone. Even though, today is technically the start of fall, for me fall starts around September 1st. Already, I have been well on my way to doing some of my fall puzzles. I am someone who likes to do a few puzzles for each season. However, I feel like my puzzling preferences when it comes to autumn puzzles, comes in stages. Let me know which stage or category you typically do for autumn in the comments. :)
Stage 1 - Holding onto Summer as Long as Possible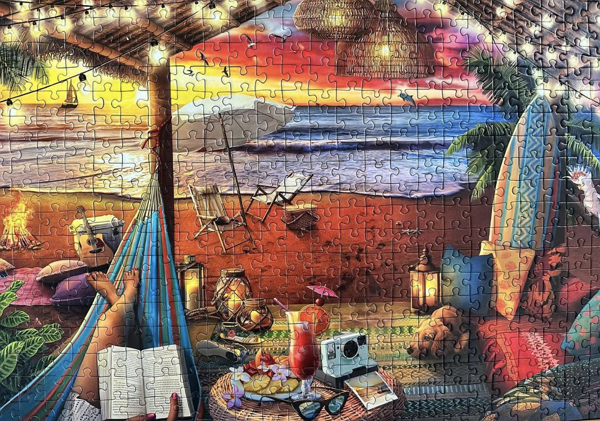 Particularly when I lived in Maine, I wanted to hold onto summer for as long as I could. As much as I love Autumn, I am not a huge winter fan. In September, I would try to get a few extra puzzles done from my summer to do pile. However, I'll start leaning towards warmer tones such as in Cozy Cabana by Ravensburger. The Cozy series from Ravensburger is one of the first times I've fallen in love with a series. Each image is warm and inviting. I think the next from this series that I am wanting it Cozy Cabin which could fall into this category perfectly.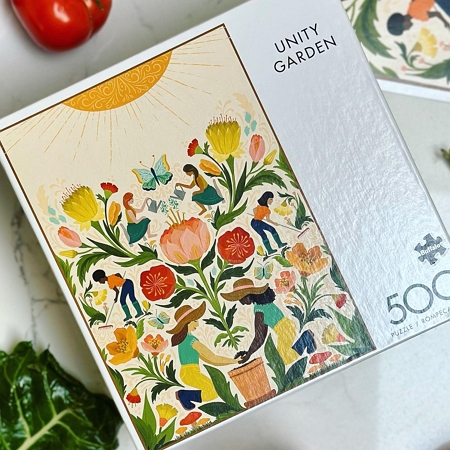 Another fun puzzle was this one. I recently did Unity Garden by Buffalo Games which had been on my wish list for a while. It was such a fun image and I LOVED the colors. To me, the flowers and sun has the puzzle leaning towards a summery puzzle, but the farming makes it border on Autumn. The sentiment in this puzzle is also lovely.
Stage 2 - Foliage and Leaves, Bring on the Color!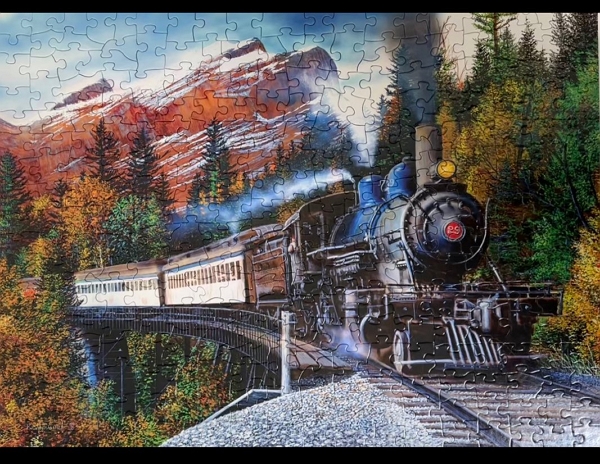 When I had moved to Sunny California, I found that I craved seasons and quickly moved towards more autumn inspired puzzles around the end of august. I think it was in hopes that the 100 degree days would come to an end. Once it is mid-September or officially autumn is when I typically pull out the colorful leaves. This may be because I missed the changing of the leaves from when I lived in Maine. A puzzle I did recently that reminded me of my hometown is Autumn Express by Roseart. We lived near North Conway, NH where you could take train rides through the foliage. This is such a nostalgic image for me.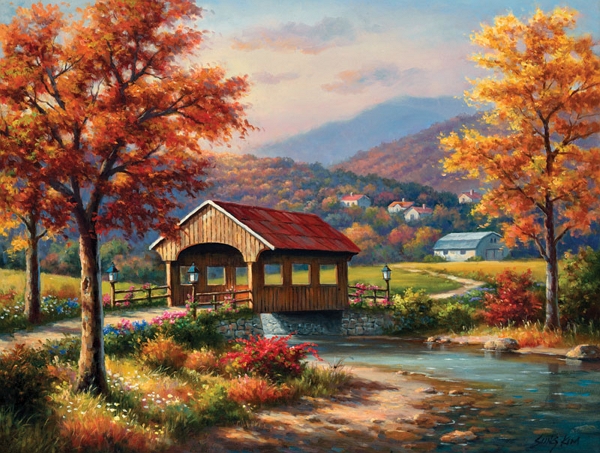 This could also be said for Covered Bridge in Fall by Sunsout. There's just enough trees and colors for it to be challenging, but not too much that it is impossible. Putting on a cozy sweater, drinking some hot cider and doing a puzzle full of colorful leaves – yes please!
Stage 3 - Cozy, Warm, and Perfect Puzzling Weather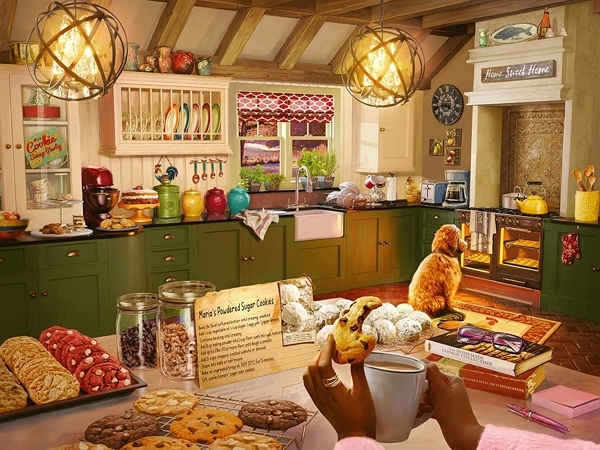 Now, this is the first autumn in our newest location in Washington and I am SO excited for the changing of the seasons! I have been loving our first six months here and am liking the cooler weather. With shorter days and cozy nights by the fireplace I must say it is the perfect time of year to pull out my puzzles. When I think cozy and warm it usually leans towards baked goods or puzzles with animals, such as Cozy Kitchen by Ravensburger. I know, another Cozy Ravensburger, but it has so many great elements. There are dogs, cookies, warm lighting, and coffee, it's timeless. Let's just add that one to my wishlist too…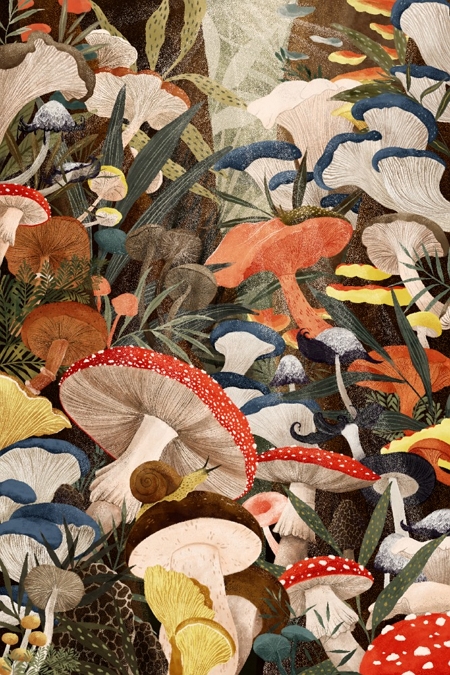 During this stage I weirdly lean towards doing a puzzle with mushrooms in it. This may be an odd choice, but here me out. Recipes with mushrooms typically remind me of cozy comfort food and walks in the woods. Beef Stroganoff, cream of mushroom soup, beef Wellington, mushroom risotto, Salisbury steak with mushroom sauce. Maybe this is just me, but these foods give me comfy vibes. In turn, I want to do puzzles with mushrooms. I haven't quite got to my mushroom puzzle for the season yet, but I'm digging this Woodland Mushroom puzzle by Lantern Press. Do you see the fall vibes or is it just me??
Stage 4 - Bring on Halloween!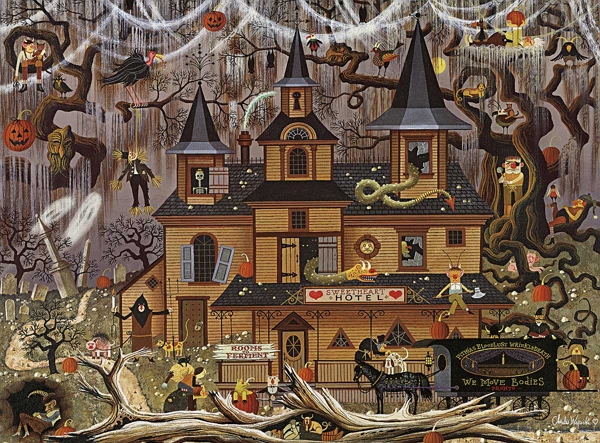 We're thinking ahead here, but stage 4 of autumn puzzling is Halloween. I know there will probably be a future post, but I am already preparing for October. When you are reading this, October is just a few days away and I don't know about you, but I am LOVING the Halloween puzzles that I am seeing! Last year I only did a couple Halloween puzzles, including All Hallows Eve by New York Puzzle Company. This year I plan to do more, including Haunted Hotel by Buffalo Games.
I must admit, in preparation for my Youtube channel I have already done a couple. I recently did Toy Factory and was incredibly surprised by the final image, which is not what you see on the box. If you want a creepy Halloween puzzle, I suggest an escape puzzle by Ravensburger.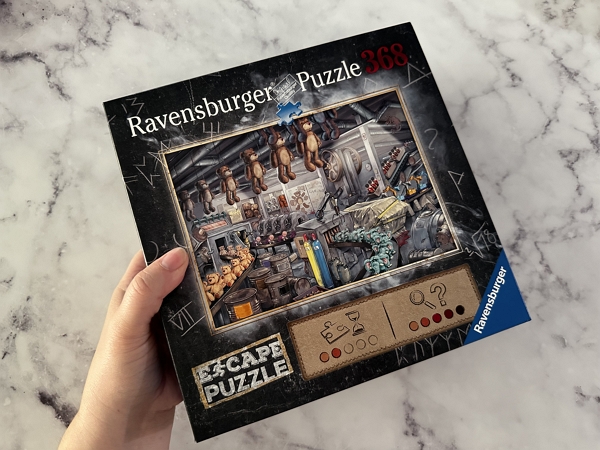 Stage 5 - Autumn Harvest & Pumpkin, Pumpkin, and Pumpkins
The change of seasons means back to school, colorful leaves, pumpkin patches, corn mazes, cozy home décor, the potential for cooler weather and of course delicious fall foods. Pumpkin spice lattes, pumpkin pie, pumpkin spice muffins, pumpkin bisque, pumpkin cheesecake, you get the picture – the food (and puzzle) industry thinks everyone is in love with pumpkin. Me – bring me a caramel apple spiced latte and I will be happy for the rest of the day. Seriously, have you had one??? It is just warm cozy fall days in a cup.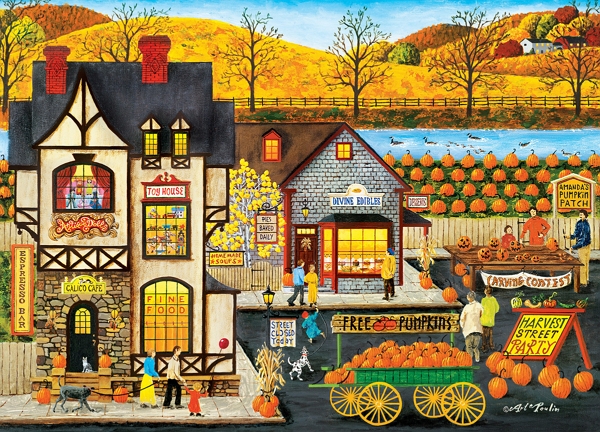 I'm not really a fan of pumpkin flavors but any puzzle that has a pumpkin or apple in it just screams fall. Harvest puzzles in general including Harvest Street Party by Masterpieces are prefect as we edge towards Thanksgiving. As I start preparing for family activities and good food a nice farm or produce puzzle is always welcome. I think this year my harvest puzzle of choice is this one, Harvest Goddess by Roseart. Isn't that a gorgeous image!?!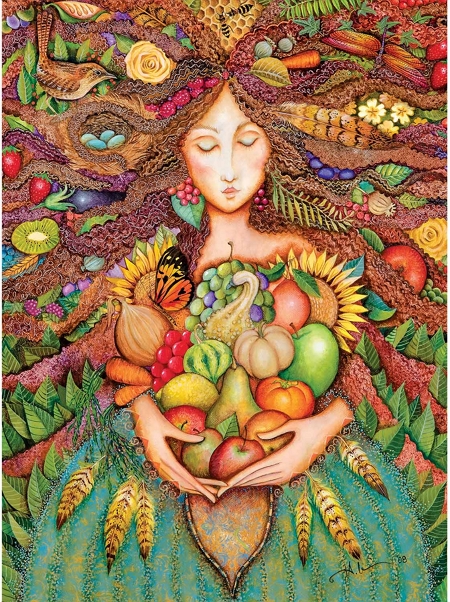 Bringing this blog back to the present, as I am typing this, I am in the tiptoe stages into fall. Currently on my puzzle table is New York Puzzles: Autumn Fabrics which is the perfect pre-fall puzzle. It clearly has some autumn elements but if you did a quick glance, you could quite tell. However, I am so excited for all my future puzzling this season, it is going to be a great time!
Happy fall puzzling, no matter what Stage you are in!
Emilee – The Casual Puzzler