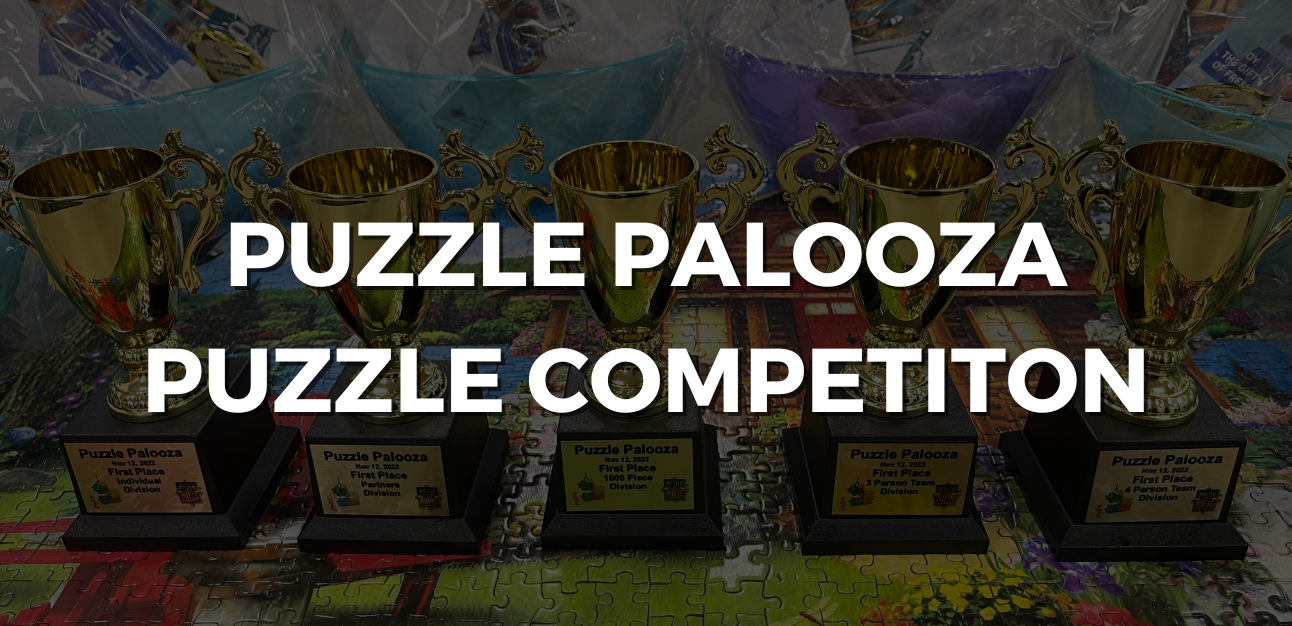 Puzzle Palooza Puzzle Competition
On a snowy Saturday morning in November, puzzlers of all ages came together in Shelbyville, Indiana to participate in Puzzle Palooza, a speed puzzling competition hosted by and benefitting Shelby Senior Services. That's right, I said speed puzzling. If you aren't familiar with the topic, it is exactly what it sounds like and I'm here to tell you it is F-U-N!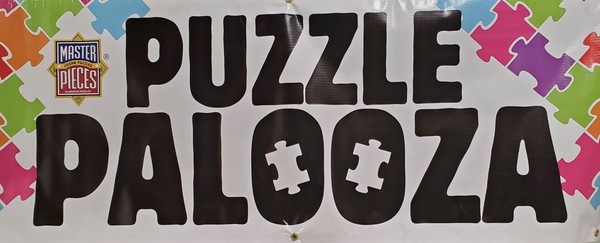 How does speed puzzling work? I'm so glad you asked! For larger competitions, there's usually a sponsor. In this case, it was MasterPieces. The sponsor provides all of the competition puzzles and usually the prizes as well. Oh yes, of course there are prizes! This event was chock full of prizes and awards. Just look at those shiny trophies and participant medals! And there were prize baskets too with puzzles and more goodies.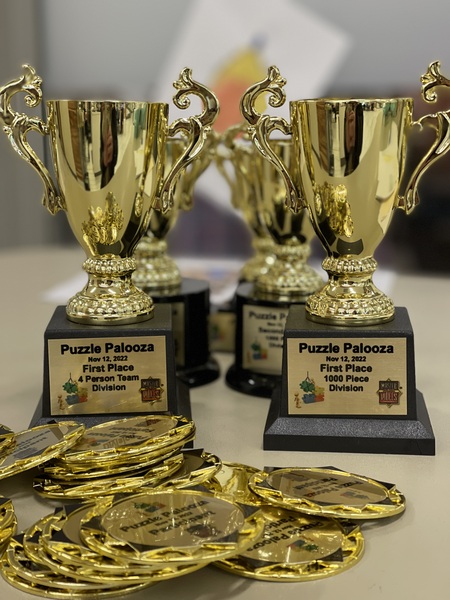 Competitors can register for as many of the tournament events as they like. Or, in my case, as many as my old lady back could withstand. Because let me tell you, speed puzzling is killer on your body. It is INTENSE. You are standing, sitting, leaning, reaching, and shuffling around the table nonstop for the whole contest.
Puzzle Palooza offered a full suite of events, starting bright and early at 8 a.m. with an individual round battling it out over this charming 300-piece Autumn Warmth puzzle featuring art by Alan Giana.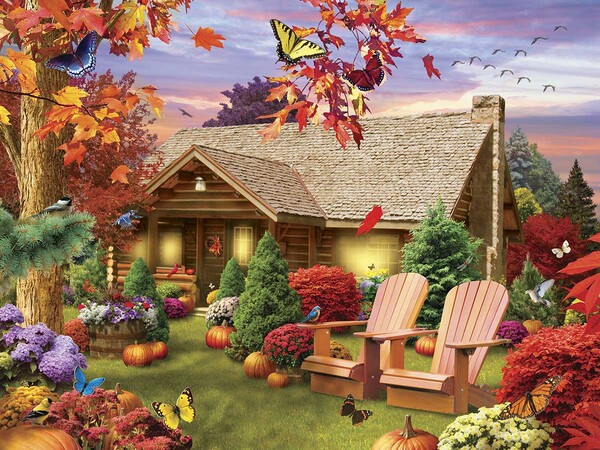 Autumn Warmth | MasterPieces | 300 Pieces

In case you're wondering how fast these events can go, the winner here completed the puzzle in 23:06 (23 minutes, 6 seconds). *mind blown* Oh, but I should probably mention that the winner was none other than Puzzle Warehouse's own Sarah Schuler who just so happens to be a national champion speed puzzler.
Ok, ok so Sarah took top prize with a smidge over 23 minutes, but what about second? Well, it just so happens that Puzzle Palooza was fully stocked with championship speed puzzlers and second place went to Michaela Keener who trailed Sarah by a mere 29 seconds. Third went to another all-star speed puzzler, Josh Trauger. Seriously, it was ridiculous with talented puzzlers at this event!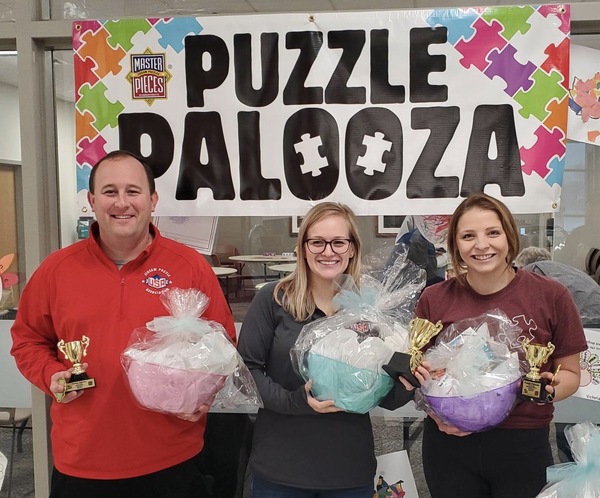 Josh, Sarah, and Michaela

Sarah and Michaela weren't done yet though. They immediately participated in the 550-piece pairs competition featuring the very appropriately selected Puzzler's Retreat puzzle with art by Chris Bigelow. And yes, they took first place with a time of 32:31.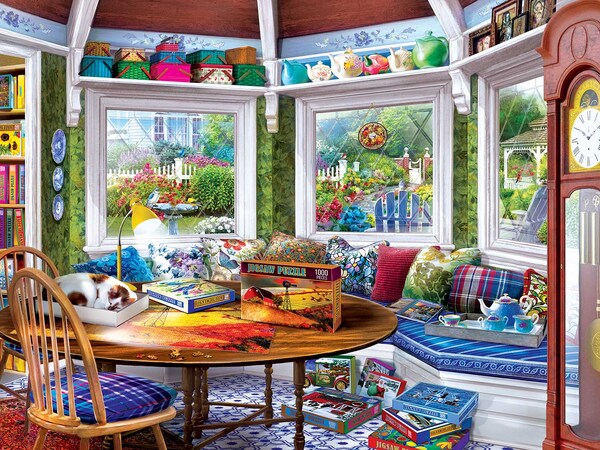 Puzzler's Retreat | MasterPieces | 550 Pieces
Next up was the three-person team round where Sarah and Michaela were joined by, you guessed it, another nationally ranked speed puzzler, Charity Taboas. This trifecta of awesomeness crushed it with David Maclean's 550-piece Oceanside Camping puzzle, with a finish time of 24:28.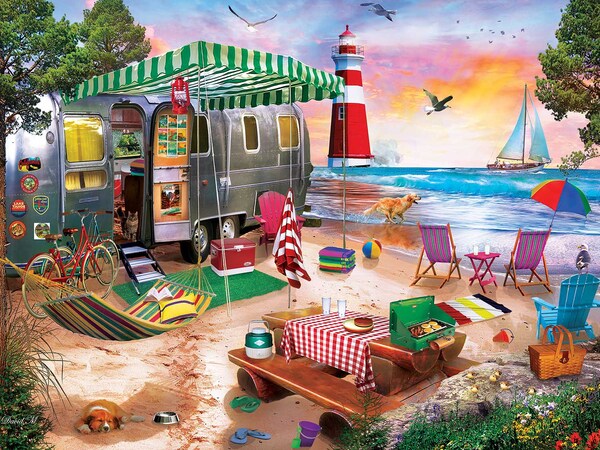 Oceanside Camping | MasterPieces | 550 Pieces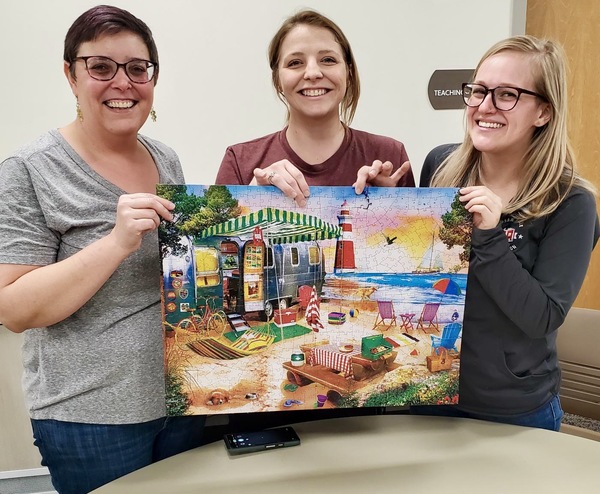 Charity, Michaela, and Sarah
The last two events of the day were four-person team challenges. And here's where I entered the mix. Am I a national speed puzzling superstar like all my teammates? No. No, I am not. Prior to Puzzle Palooza I had competed in a grand total of ONE speed puzzling competition in the casual category. I did take third, so not too shabby, right. Well, for comparison, Sarah's average time is about TWICE as fast as mine. She's like puzzle lightning and I'm like puzzle . . . slow breeze? The point is, this was very much a "little kid getting to sit at the grownups table" situation.
Except there wasn't a lot of sitting. There was, however, a lot of laughing, goofy made up songs, good-natured teasing, and general hilarity as we jammed through the classic Adrian Chesterman 550-piece Noah's Ark Finds Shore. I can't tell you how many times I muttered, "This ark. There's so much brown." But we made it through, taking first place with a finish time of 23:43.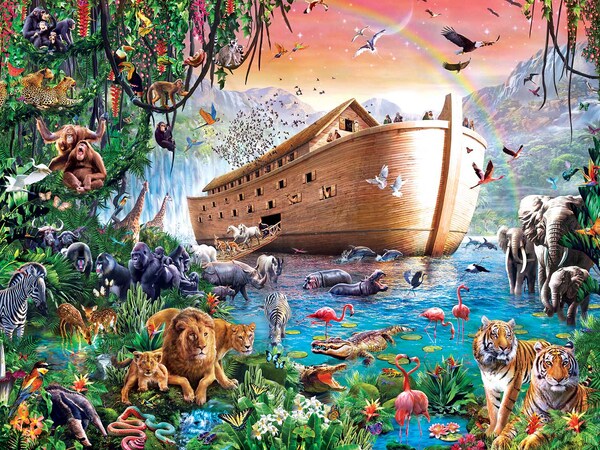 Noah's Ark Finds Shore | MasterPieces | 550 Pieces
The final team event started with a collective "Oh No" as we pulled the puzzle out of the security wrapping (aka brown paper bags to keep it secret until go time). Alan Giana's art was back on the table, but this time it was the 1000-piece doozy A Perfect Summer. This puzzle is actually a great competition puzzle because it has some large solid-color sections mixed with smaller more detailed sections.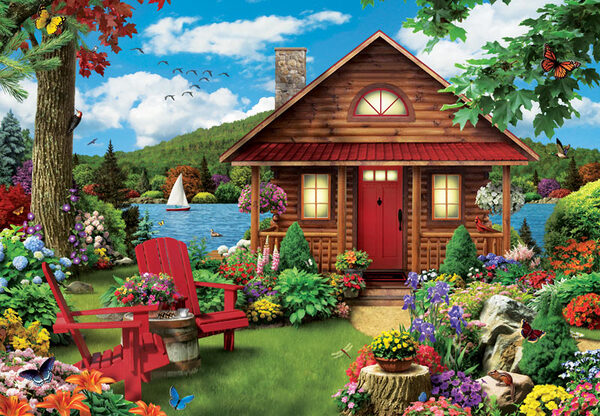 A Perfect Summer | MasterPieces | 1000 Pieces
We dove in for what would turn into a 1:02:45 marathon that left us in first place. That's right, Team Puzzlegram Fam made a clean sweep at Puzzle Palooza! Of course winning is great, but honestly just being at the table with puzzle friends was the best part. It truly was a blast from start to speed puzzling finish.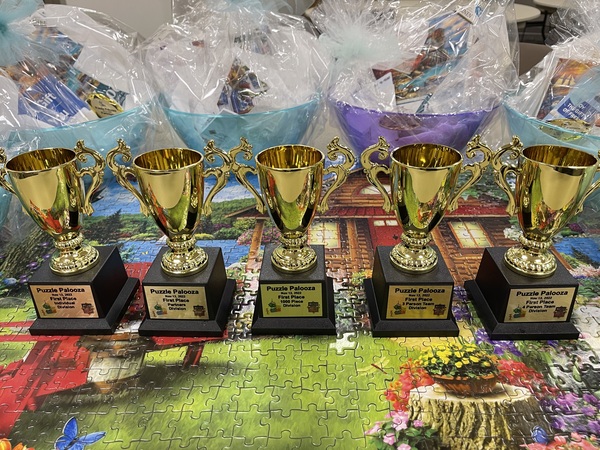 A very special thanks goes to MasterPieces for sponsoring and Shelby Senior Services for hosting what was a fantastic day of puzzling. We loved meeting everyone and Team Puzzlegram Fam can't wait for Puzzle Palooza next year!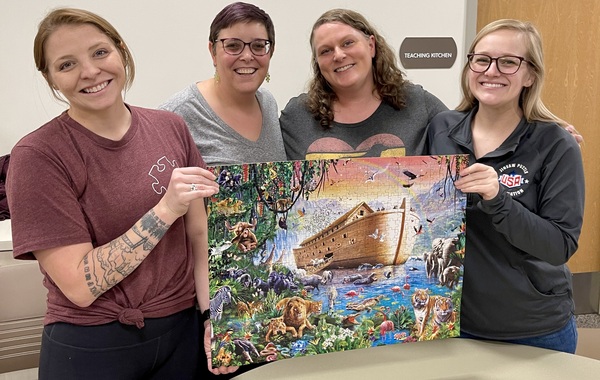 Michaela, Charity, Sarah B. and Sarah S.
With the holidays just around the corner, it's the perfect time to pick up some puzzles to have your very own Puzzle Palooza with friends and family. I'd love to know if you give any of the competition puzzles a try and how you fared. Come back and tell me about it! Until then,
Happy Speed Puzzling!
xo, Sarah B. @necessarahly_puzzles