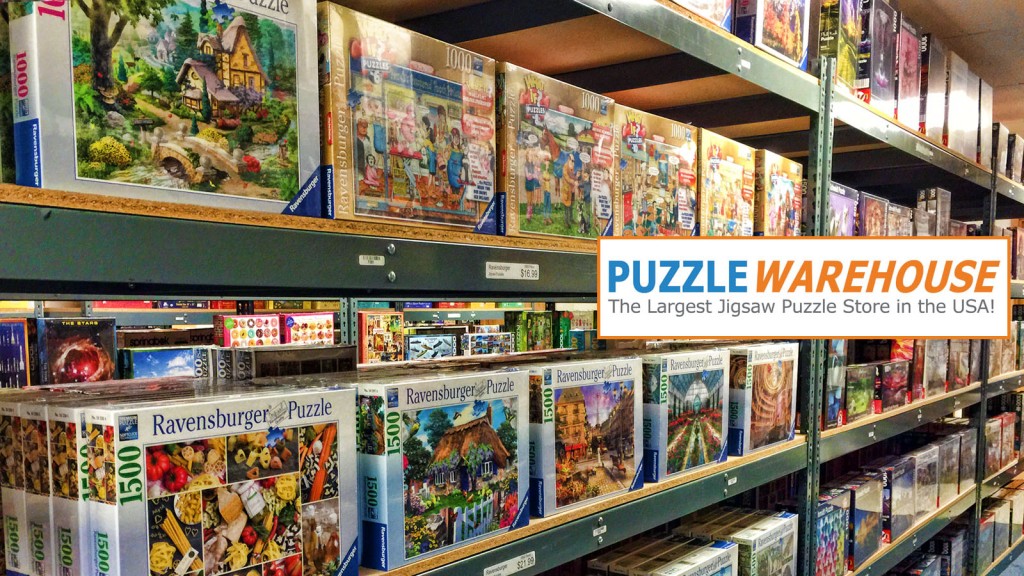 Jigsaw Junkie Joins the Puzzle Warehouse Family
JIGSAW JUNKIE JOINS THE PUZZLE WAREHOUSE FAMILY
By Jane Holmes
Jigsaw Junkie is gearing up for a big change and a new challenge starting May 2016. This humble puzzle blog is going pro! Jigsaw Junkie has joined forces with Puzzle Warehouse to become bigger and better than before.
Puzzle Warehouse is the largest puzzle distributor in the United States. Located in St. Louis, Missouri, they have a huge retail store (boy howdy!) and a large online storefront too. I can tell you, from my outsider perspective, that I have bought a lot of puzzles over the years from Puzzle Warehouse. I like the huge variety they carry (lots of my favorites like Heye, Schmidt, Ravensburger, Jumbo, Buffalo Games and more). They have a great deal on shipping ($7.99 on orders up to $75 and free after that), which is always important for jigsaw puzzle buyers. I also like their 'Puzzle of the Month' club idea, which they introduced last year.
So when they contacted me in March, I was all ears. It turns out they were readers of my little blog and wondered if there was any way we might work together. As it turned out, there was.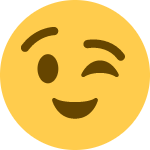 Jane from Jigsaw Junkie visits Puzzle Warehouse
I flew to St. Louis to meet with Brian, Steve, and Greg from Puzzle Warehouse. Walking into the store was like entering a puzzle lover's paradise! Seriously, I have never seen so many shiny, shrink-wrapped puzzle boxes in all my life. I nearly went into cardiac arrest. If you live anywhere remotely near St. Louis, you need to see this store!
Here's a little taste, but I'll share more photos later.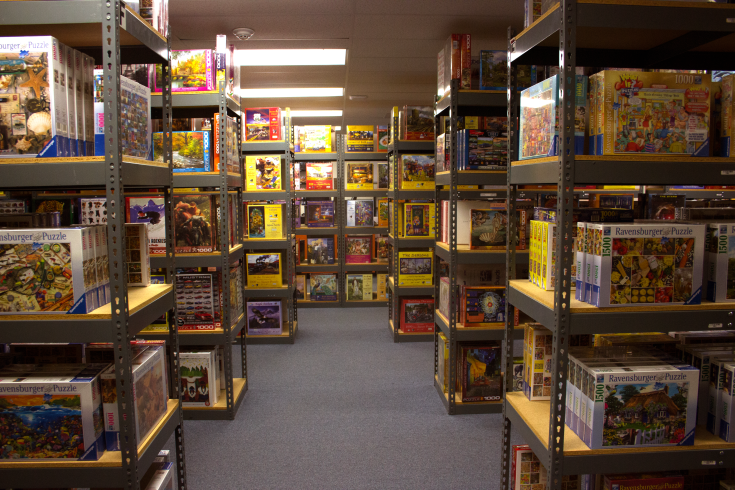 Puzzles as far as the eye can see.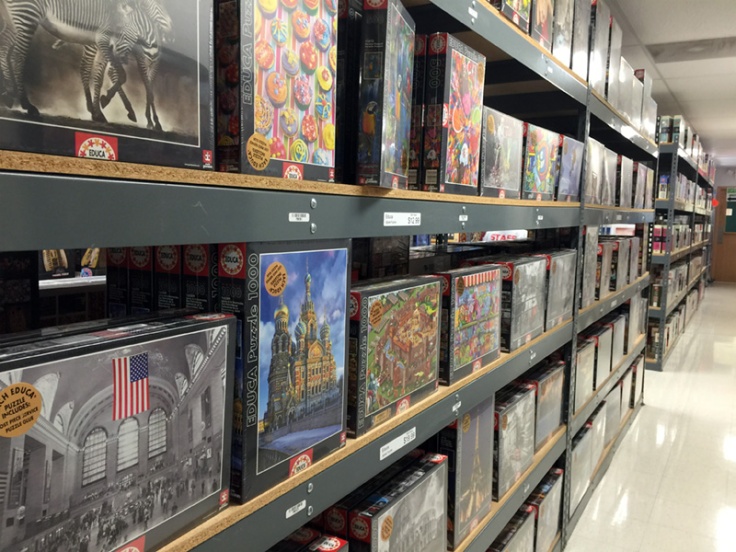 The Educa display at Puzzle Warehouse
After wandering around the store in a daze for a time, and then getting an official tour which included the Super Secret Warehouse Area, the guys at Puzzle Warehouse corralled me into a room to chat. We came up with lots of cool ideas for the blog! So. Many. Ideas.
I knew I'd found the best possible partners to take Jigsaw Junkie pro. Puzzle Warehouse is US-based and a short plane ride from where I live. They are brand-independent but brand-inclusive. Meaning they carry just about anything I'd ever love to feature on the blog, and I can continue to cover all sorts of puzzles and brands rather than focusing on just one brand. Also, they're very nice people who are committed to the jigsaw puzzle market and already have a good customer base.
What The Future Looks Like
In the coming months, we'll be trying out new things. But some great benefits are already apparent.
Jigsaw Junkie will be able to post way more reviews and features because that's now my job rather than a hobby. You can expect to see at least two reviews and a feature every week.
We'll be able to offer discounts on reviewed puzzles and more giveaways too. Free stuff!
Jigsaw Junkie will be able to get into the industry in a way we haven't been able to before. Visits to manufacturers, toy fairs, and other behind-the-scenes info will be coming your way!
Better tie-ins with social media and special promos. You'll see more of me (hopefully in a good way) and get information faster.
Improved site design and navigation–already in the works! No more ads.
But don't worry, Jigsaw Junkie will still run honest reviews and bring you all the news on the coolest new puzzle releases.
Be sure to follow Jigsaw Junkie and Puzzle Warehouse on Facebook and Twitter to get notified when new stuff drops:
https://www.facebook.com/jigsawjunkieblog/
https://www.facebook.com/puzzlewarehouse/?fref=ts
https://twitter.com/JigsawJunkieBL
https://twitter.com/puzzlewarehouse
And more photos of puzzles
Here are more photos of my tour of the Puzzle Warehouse store.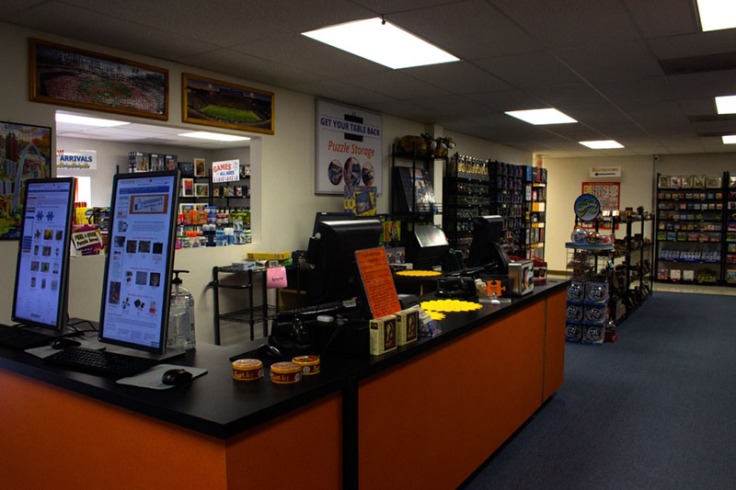 The front desk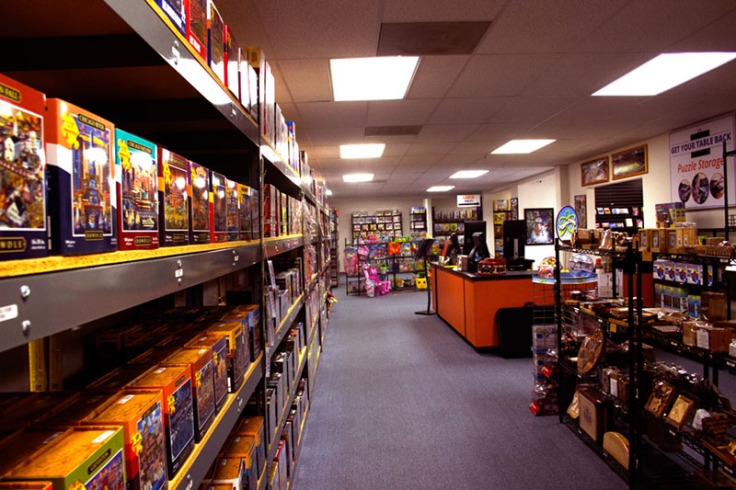 The front desk as seen from the Dowdle puzzle display.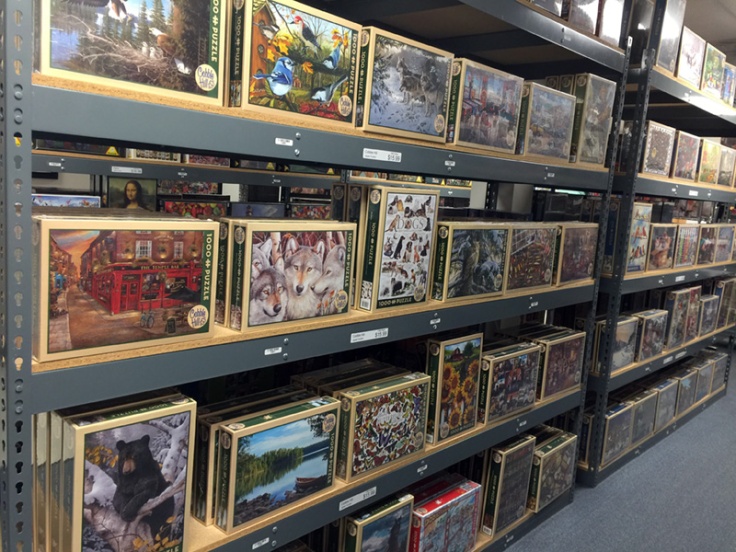 The Cobble Hill display at Puzzle Warehouse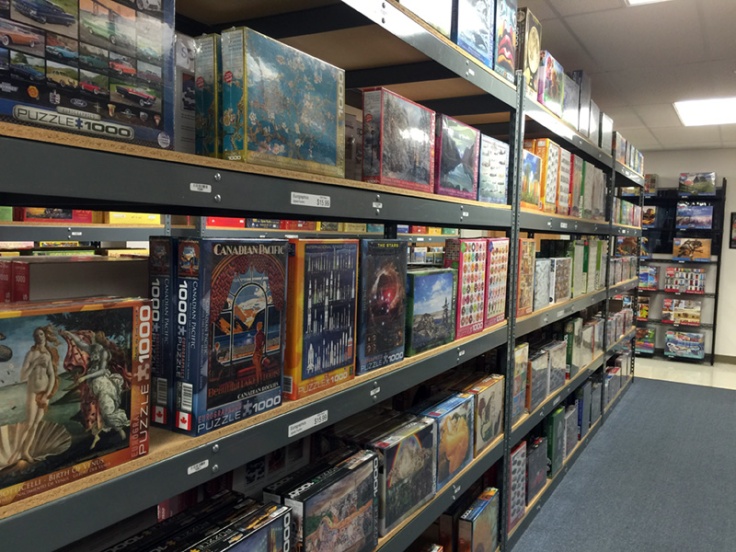 The Eurographics display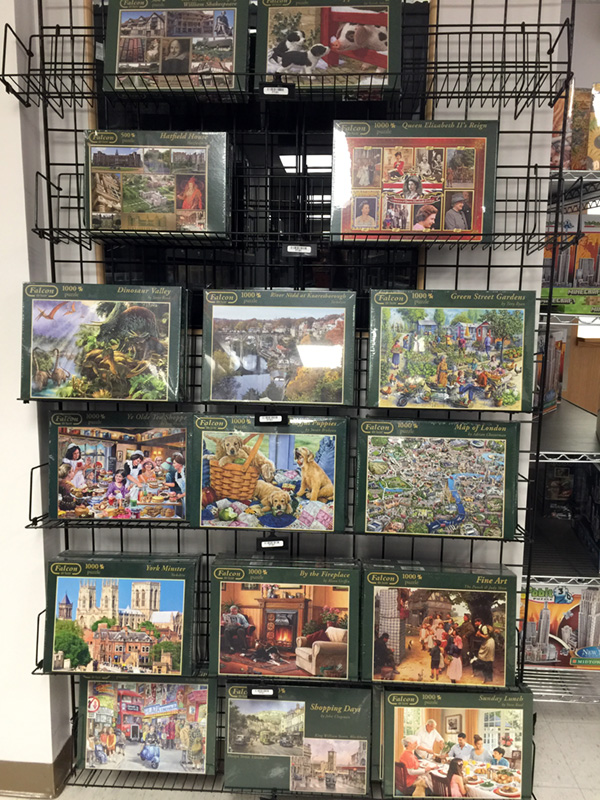 The Falcon display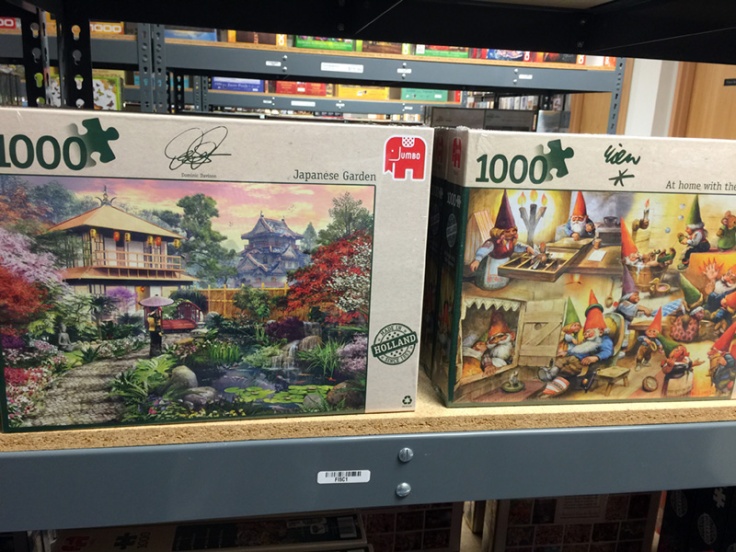 A few Jumbo puzzles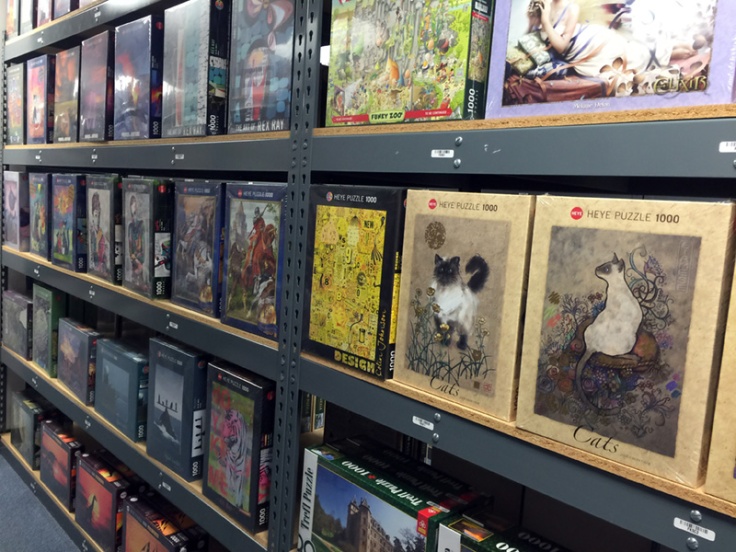 Some rectangular box Heyes–they also have a large section of the triangular cartoon puzzles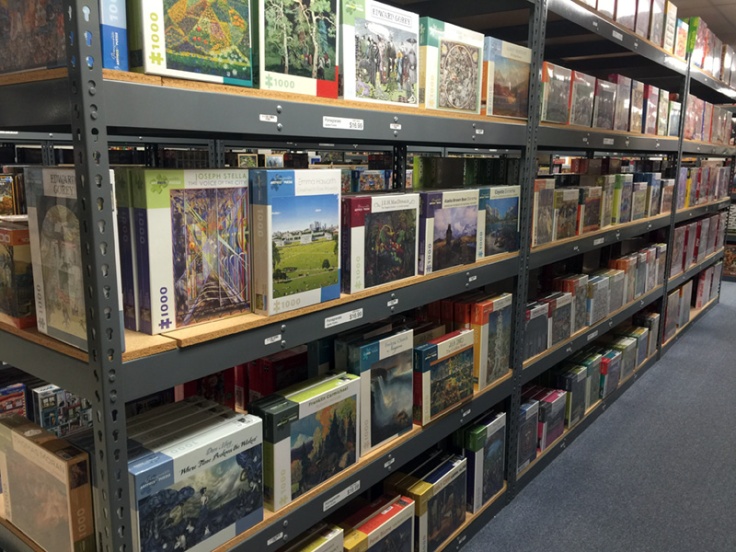 Pomegranate puzzles by the scads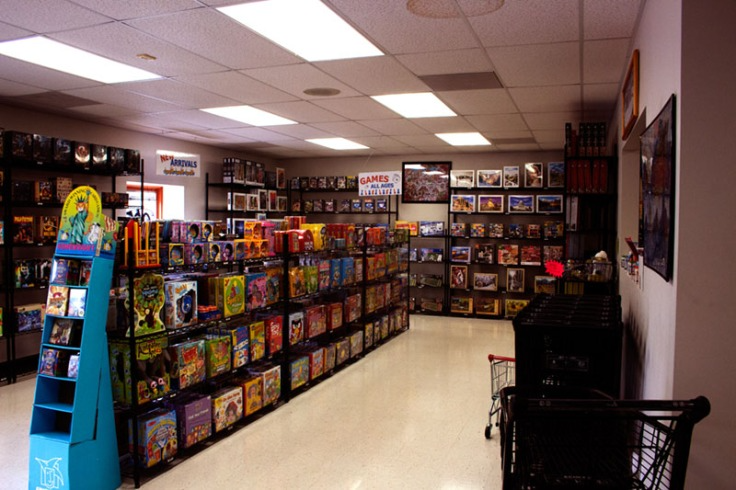 The entry room at Puzzle Warehouse has a shifting display of their current bestsellers in puzzles and some games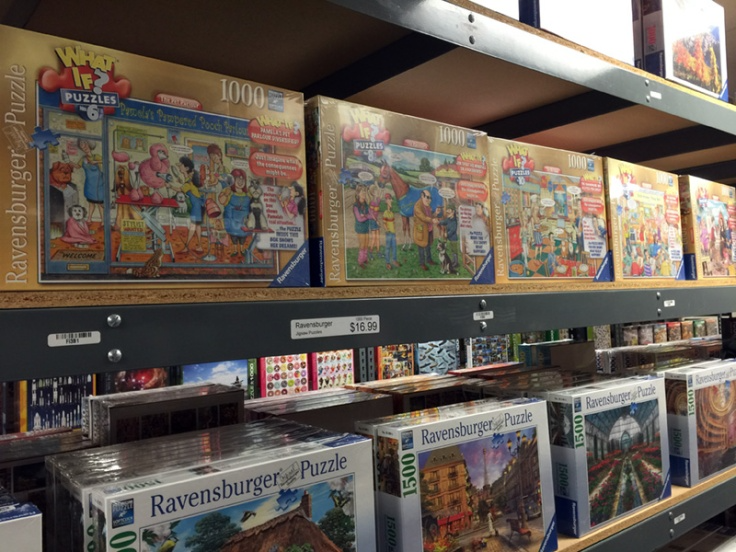 Some Ravensburgers on display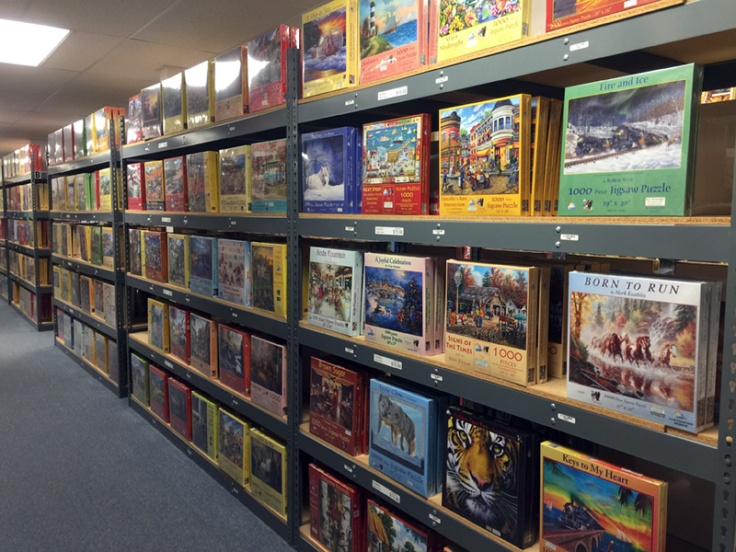 The Sunsout display at Puzzle Warehouse takes up a lot of shelves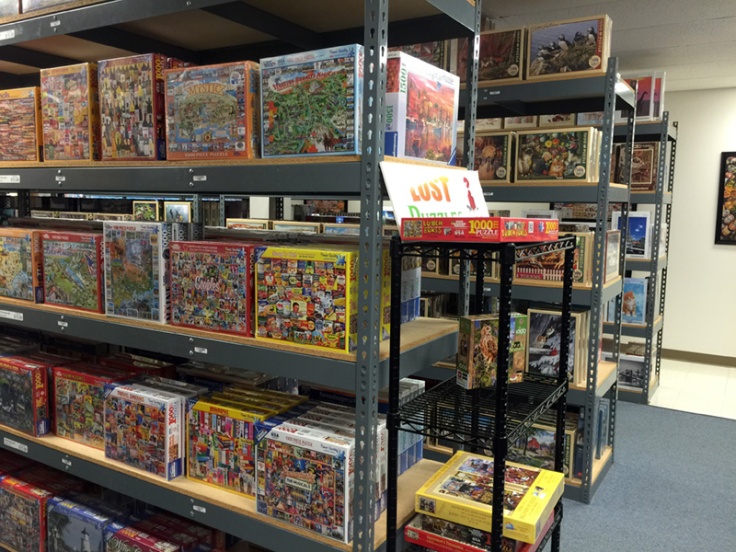 Part of the White Mountain display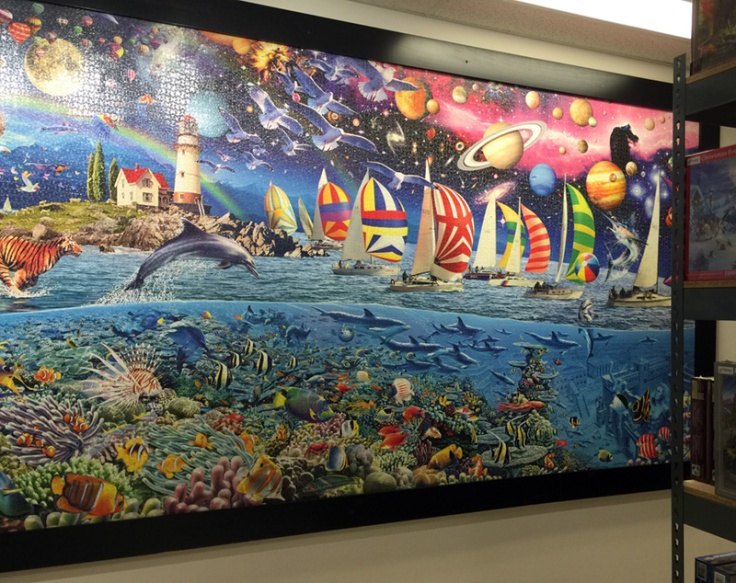 There are lots of framed puzzles on the walls including Educa's "Life", 24000 pieces! Seeing it really made me want to do this one.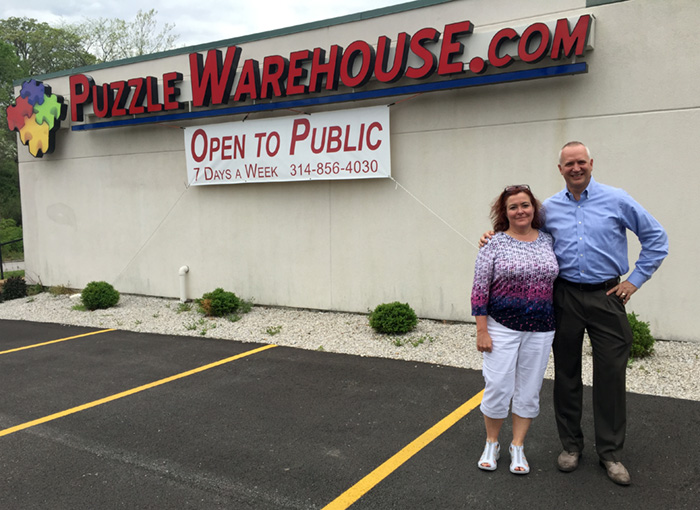 .Jane from Jigsaw Junkie with Brian Way, owner of Puzzle Warehouse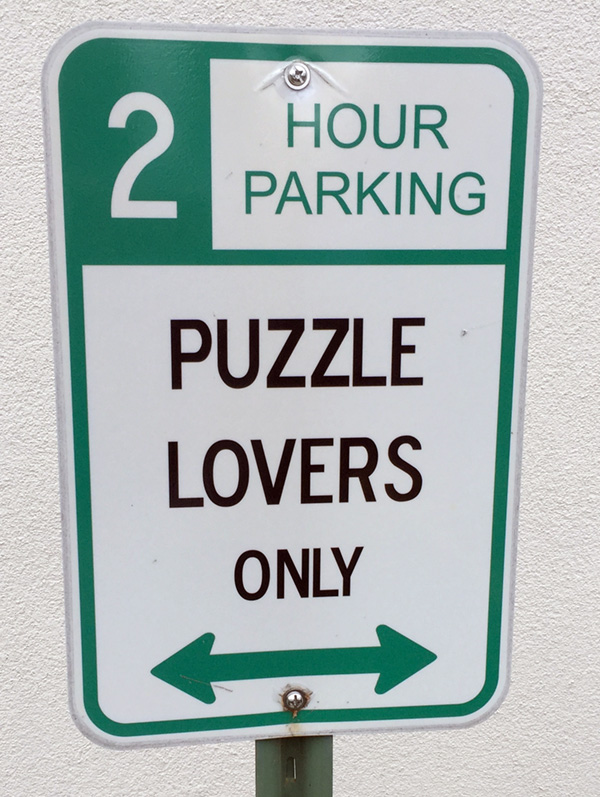 A sign in the Puzzle Warehouse parking lot. Looks like I'm going be here awhile.
Jane @ Jigsaw Junkie