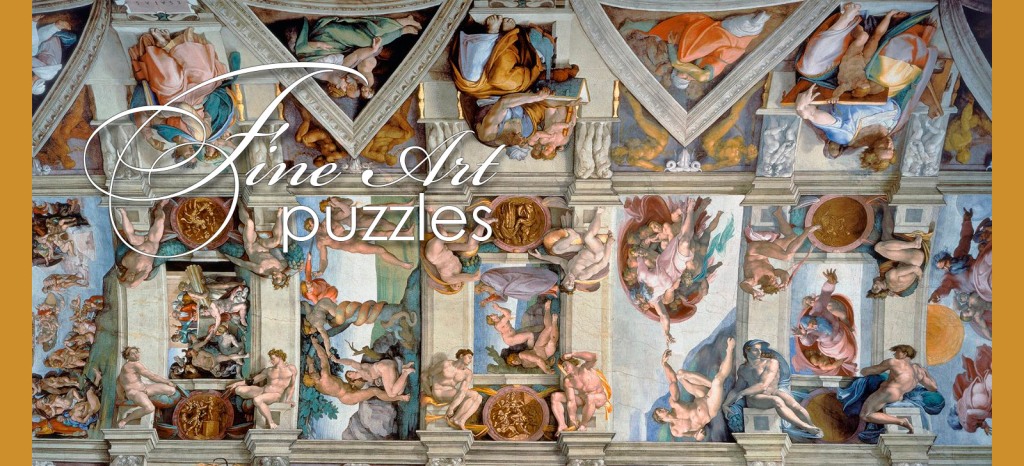 Fine Art – A Top Ten Jigsaw Puzzle List
Fine art puzzles have been around probably as long as puzzles have existed. It's an obvious concept–take already created masterpieces of the art world and make them into puzzles. It's so obvious one wonders why any other type of puzzle bothers to exist. After all, how can any new image compare to a long-established icon like "The Kiss" by Gustav Klimt or "Luncheon of the Boating Party" by Renoir?
Fortunately, for lovers of diversity in their puzzles (like me), there are plenty of reasons why fine art puzzles are only a fraction of the current jigsaw puzzle market. For one thing, the qualities necessary for a great puzzle image aren't the same as the criteria for a masterpiece of fine art. For another, there are pesky licensing issues to deal with since many masterpieces are owned by museums. Also, people are often attracted to silly or cute images like puppies and kittens–the sort you won't find hanging on gallery walls.
Nevertheless, any jigsaw puzzle lover can find some delightful diversions in the fine art category. There are fine art images which are full of color and pattern–ideal for puzzles. There are those which are appealing on a folksy, rainy-day level rather than feeling dire and serious. And there are some which simply shouldn't be missed. In this feature post I'll share my top 15 fine art puzzles currently available.
15. "Champenois" by Mucha, Piatnik puzzles — 1000 pieces
Alphonse Mucha (1860-1939) was a Czech illustrator and painter who helped define the Art Nouveau movement.
In this puzzle by Piatnik, the pink and orange flower circle, the white border and title piece, the flowers in the woman's hair, and her beige dress are all distinctive and help make a fun image to assemble.
Link to puzzle on Puzzle Warehouse.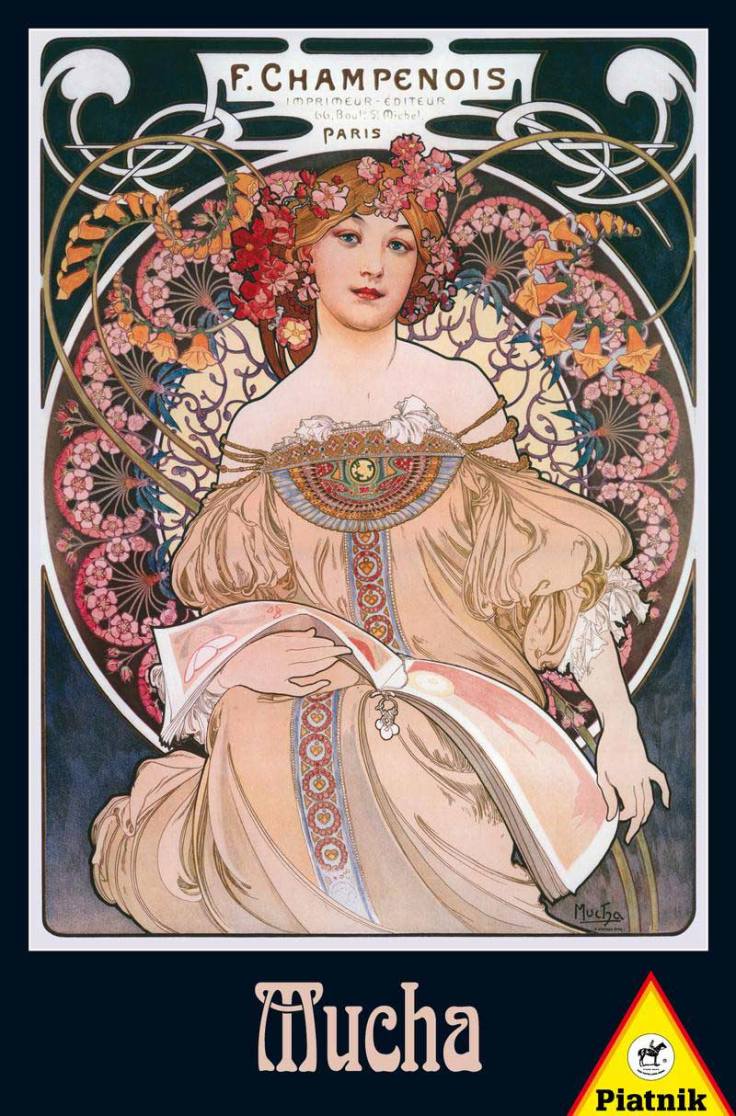 14. "Tree of Life" by Klimt, Eurographics puzzles — 1000 pieces
Gustav Klimt (1862– 1918) was an Austrian Symbolist painter and one of the most prominent members of the Vienna Secession movement.
Eurographics carries a number of Klimt puzzles. I particularly like the swirly tree limbs in this one, which make for an interesting pattern challenge in assembly. The bodies on either side, and the ground at the bottom, give a nice break from the tree limb texture.
Link to puzzle on Puzzle Warehouse.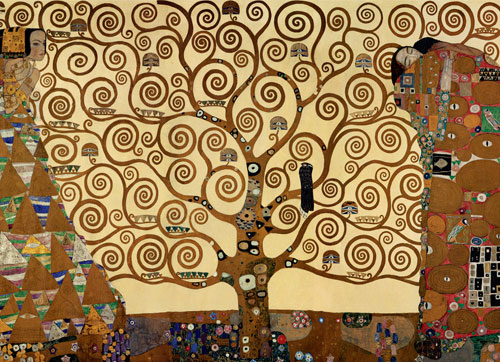 13. "British Empire Exhibtion" by Bawden & Derrick, Pomegranate puzzles — 1000 pieces
British Empire Exhibition, 1924, Published by Underground Electric Railway Company Ltd. By Edward Bawden (British, 1903-1989) and Thomas Derrick (British, 1885-1954). This watercolor painting is an original design for a poster for the railways company in London. A frameable print of this poster is included in the box.
This is a super busy image that can rival any JVH or Heye cartoon puzzle for puzzley detail. I also like the colors in this–the black, mint green, gold, red, and pink. As you assemble this puzzle you're sure to find lots of things to study.
Link to puzzle on Puzzle Warehouse.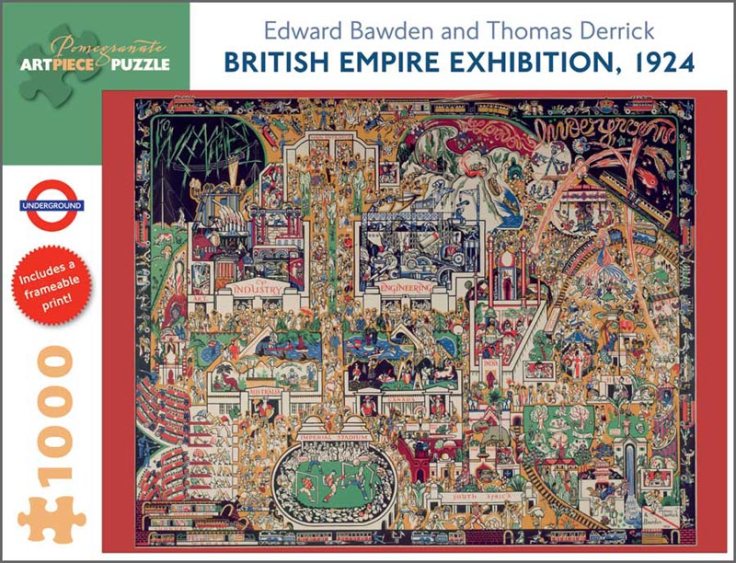 12. "Spirit of San Francisco" by Larry A. Wilson, Pomegranate puzzles — 1000 pieces
In Larry A. Wilson's fanciful montage Spirit of San Francisco he cleverly juxtaposes dozens of the city's famous sights, including Fisherman's Wharf, City Hall, the Ferry Building, and the Golden Gate Bridge.
This is a lovely landscape that has a lot of detail in the foregrounds and along the sides with the buildings and all the people in their varying outfits. The rust-colored Golden Gate bridge and the water look like a snap to assemble. The sky has enough clouds to break the area up a bit. This is a beautiful puzzle for a quiet day and the Pomegranate quality makes it a no-brainer.
Link to puzzle on Puzzle Warehouse.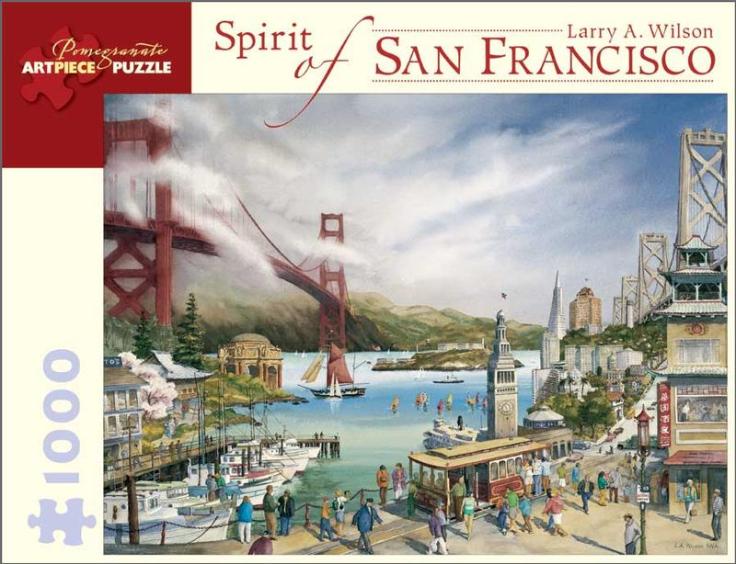 11. "Fifty Abstract Paintings" by Salvadore Dali, Eurographics — 1000 pieces
Spanish artist and Surrealist icon Salvador Dalí (1904–1989) is best known for his painting of melting clocks, The Persistence of Memory.
The "melting clocks" painting has been made into puzzles several times over as have other Dale surrealist paintings. But I'm particularly drawn to the Dali image below because of its bold colors and block pattern. It's basically a collage image.
Link to puzzle on Puzzle Warehouse.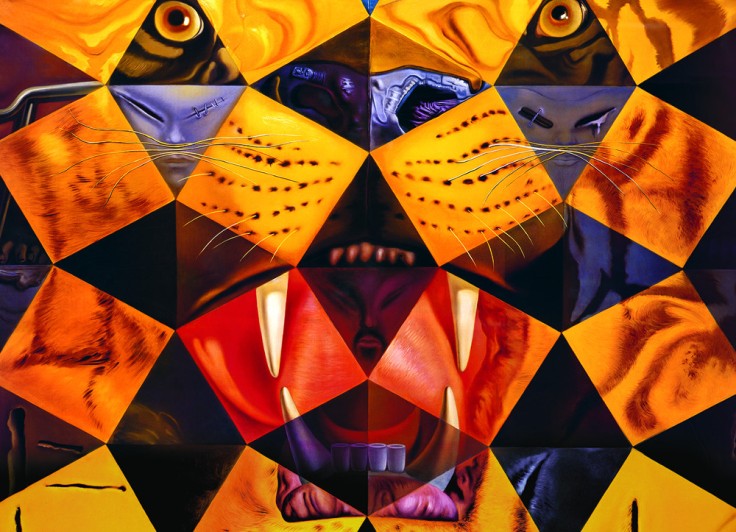 10. "Moulin" by Auguste Renoir, Piatnik — 1000 pieces
Pierre-Auguste Renoir (1841-1919), commonly known as Auguste Renoir, was a French artist who was a leading painter in the development of the Impressionist style. "Bal du moulin de la Galette" is one of his most famous paintings.
This painting has been released by a number of brands in the past, but I like this Piatnik version. It's a little sharper and brighter. There's a lot of dark clothing in this puzzle, but fortunately it's interspersed among brights shades of dresses and the park surrounds, so you should always have a tip of color or two to guide your way. Assembling a puzzle like this is a wonderful way to see the brush stroke technique of the Impressionists.
Link to puzzle on Puzzle Warehouse.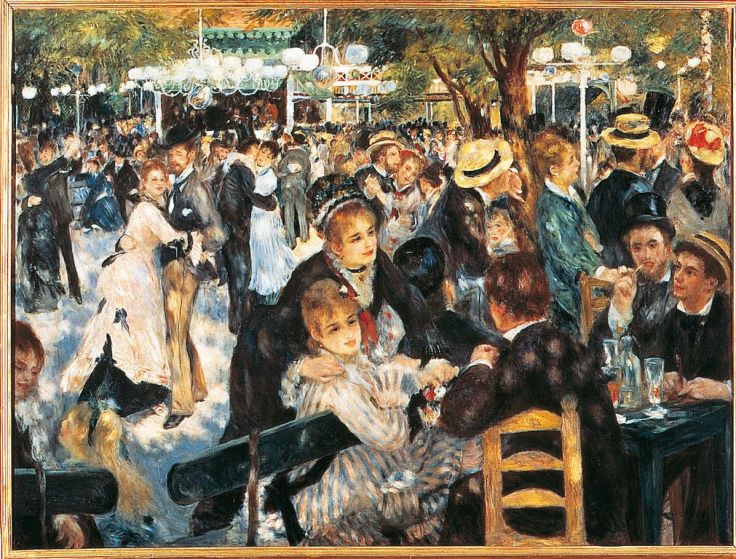 9. "Mantegna", Clemontini — 500 pieces, round
Andrea Mantegna (1431-1506) was an Italian painter. Like other artists of the time, Mantegna experimented with perspective. He also led a workshop that was the leading producer of prints in Venice before 1500.
I picked this puzzle because of it's unusual round shape and the fun patterned border. But there's only one left in stock and it's a discontinued product, so grab it if you're interested!
Link to puzzle on Puzzle Warehouse.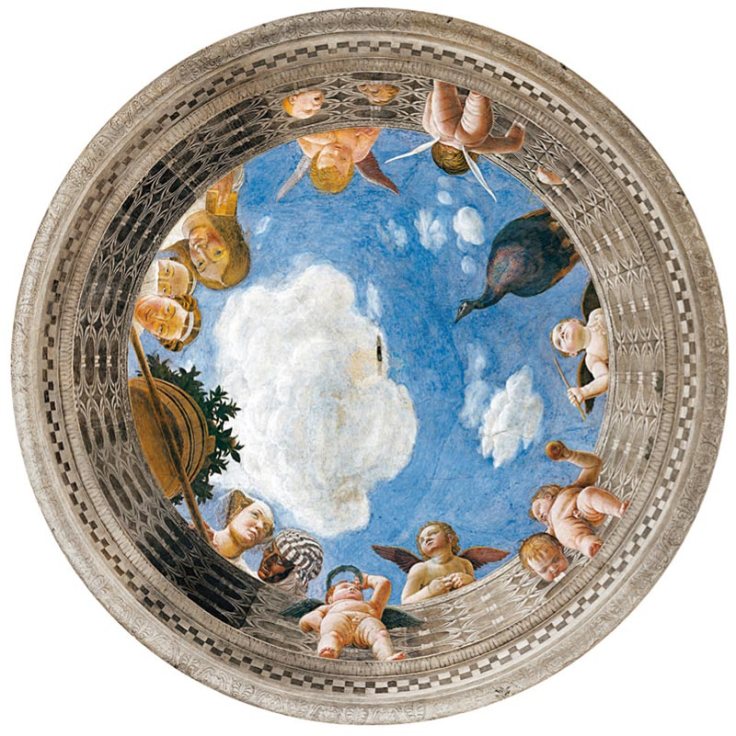 8. "Heavy Artillery" by Colin Gill, Pomegranate — 1000 pieces
At the outbreak of the First World War, Colin Unwin Gill joined the Royal Garrison Artillery, but in 1916 was seconded to the Royal Engineers as a camouflage officer. With his knowledge and Slade School training, Gill was asked to create a large work on an artillery subject, which would then form part of a great memorial gallery. Lack of funding after the war meant the gallery was never completed and Gill's painting, Heavy Artillery, was given to the Imperial War Museum. Its intricate imagery—a battery of camouflaged 9.2-inch howitzers, infantrymen resting upon their return from the line, a soldier lying on a sheet of corrugated iron—highlights the chaotic themes of war.
I like the semi-panorama shape of this puzzle and the amazing colors. The aguas, mints, rusts, lavenders, and pinks are colors you wouldn't expect in a military puzzle, but they give life to this image. I love the art style too, and the variety of characters and objects in the scene. This puzzle is one that can appeal to both male and female puzzlers.
Link to puzzle on Puzzle Warehouse.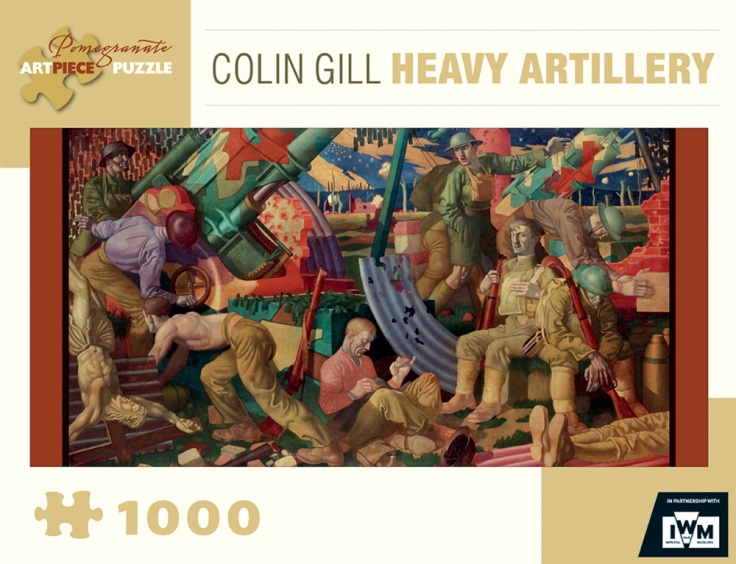 7. "Pink Shawl" by Vincente Romero, Educa — 2000 pieces
Romero is a Spanish painter born in Madrid in 1956. He has been living on the Costa Brava since 1987, choosing a luminous and peaceful setting on the Mediterranean for his studio. It is certainly this luminosity that prevails in his art.
This Educa puzzle is not only a large one at 2000 pieces, but it looks like a fun one to assemble with the broad areas of pink, yellow, blue, and the rust-patterned curtains. The light and shadows make plenty of color shades as well.
Link to puzzle on Puzzle Warehouse.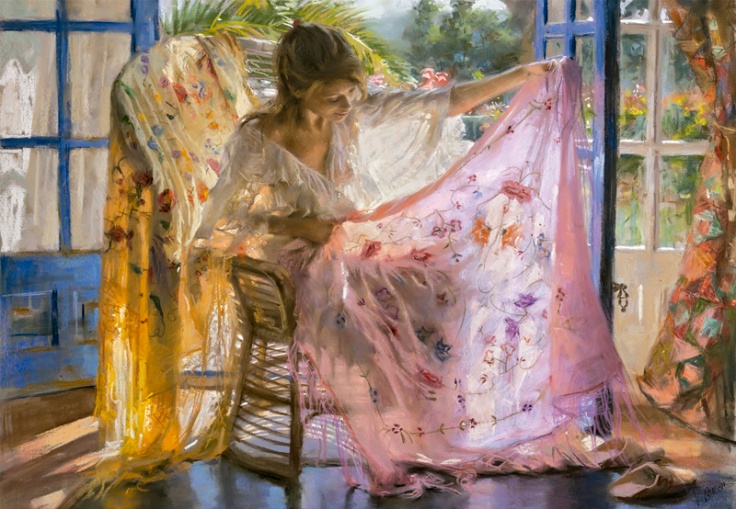 6. "Kersti's Birthday" by Carl Lasson, Pomegranate puzzles
Born into poverty, Carl Larsson (Swedish, 1853–1919) earned a scholarship at the Stockholm Academy of Fine Arts, and, afterward, supported himself as a commercial illustrator. His career in fine art, in which his ambitions tended toward the monumental and allegorical, was lackluster. This changed when he met his future wife, artist Karin Bergöö. Under her influence, he began to produce light, bright watercolors, modest in scale and subject, for which he is now famous. As shown by the image represented here, Carl Larsson delighted in rendering the cottage and its inhabitants in loving, lighthearted watercolors that document the family's idyllic country life.
What can I say? This image is just adorable! I wish it was available in 1000 or even 2000 pieces, but I'll take what I can get. I love the repeating patterns and colors in the girls' dresses–perfect for a puzzle! Add in the blue bench, the flowers, the greener, and all those sweet faces, and you have an easy and very pretty puzzle. Also see Pomegranate's 1000 piece Carl Lasson puzzle "Crayfishing".
Link to puzzle on Puzzle Warehouse.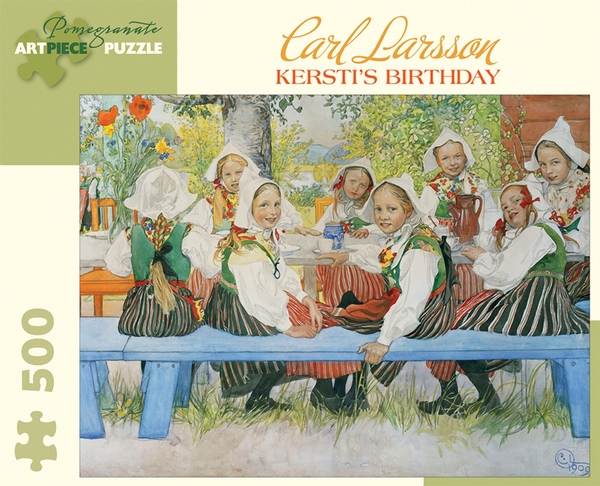 5. "Van Gogh", White Mountain — 1000 pieces
Vincent Willem van Gogh (1853 –1890) was a Dutch post-Impressionist painter whose work had far-reaching influence on 20th-century art. He produced countless works, 24 of which are included in this wonderful collection including self-portraits, Starry Night, Sunflowers, and Bedroom at Arles.
I like this puzzle for a number of reasons. The main one is that it allows you to experience so many of Van Gogh's works without having to do 24 individual puzzles. I also like the natural collage effect of the puzzle with so many individual little vignettes to put together. And I love Van Gogh.
Link to puzzle on Puzzle Warehouse.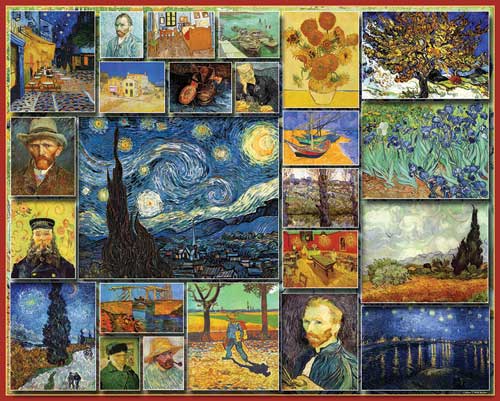 4. "The Kiss" by Klimt, Piatnik — 1000 pieces (gold foil)
Gustav Klimt (1862– 918) was an Austrian Symbolist painter and one of the most prominent members of the Vienna Secession movement.
There are several versions of this gorgeous painting currently on the market. It's just a beautiful mix of texture and pattern and it makes a wonderful puzzle. I chose the Piatnik version because it has gold foil. To me, if you're going to do "The Kiss" you should do it with gold foil! However, the Piatnik version is pricey. If you're looking for a cheaper option, try the Eurographics 1000 piece edition.
Link to puzzle on Puzzle Warehouse.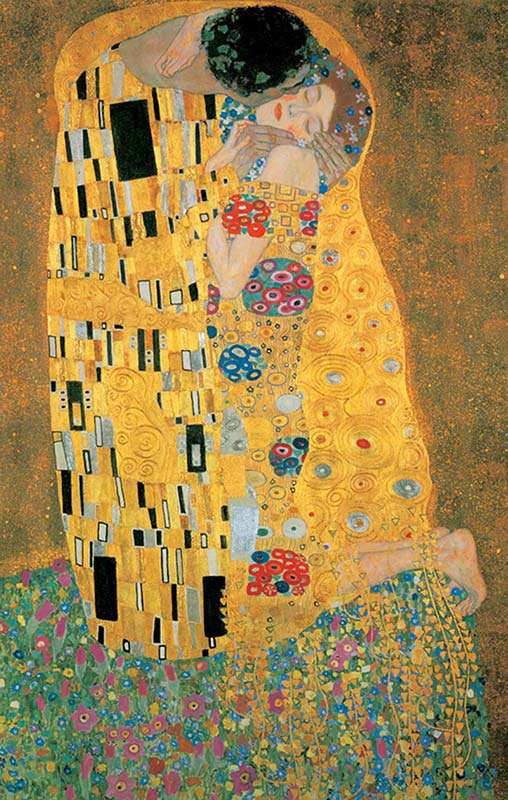 3. "Glacier Bay" by Charley Harper, Pomegranate — 1000 pieces
Charley Harper's (1922-2007) whimsical paintings have delighted art and animal lovers for more than sixty years. Harper developed his unique style while a student at the Art Academy of Cincinnati and the Art Students League in New York City. His distinctive use of simple geometric shapes, patterns, and vivid colors—a style he defined as "minimal realism"—succinctly captured the essence of each creature he portrayed.
I've reviewed a number of Charley Harper puzzles in the past, so it's no secret that I'm a fan of his work. The bright colors, patterns, and simple figures in his work appeal to me. Plus I love the nature themes. You can see my reviews of other Charley Harper puzzles here.
Link to puzzle on Puzzle Warehouse.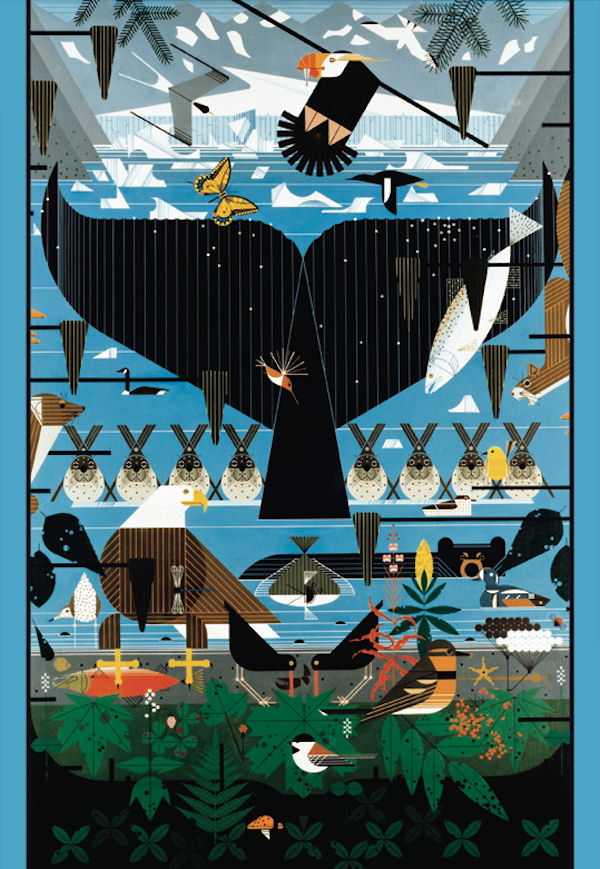 2. "The Southwest Museum Opening" by David Bradley, Pomegranate — 1000 pieces