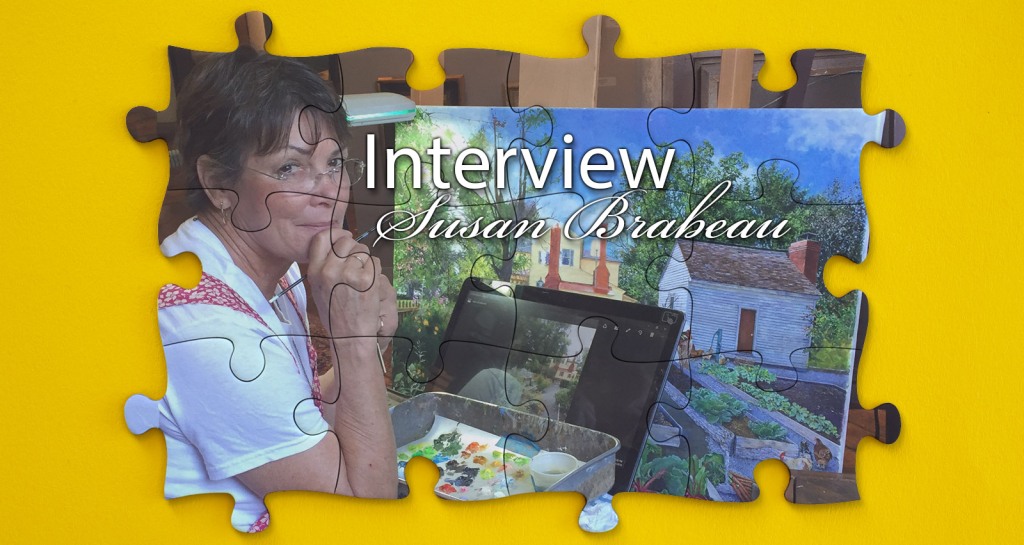 Artist Interview: Susan Brabeau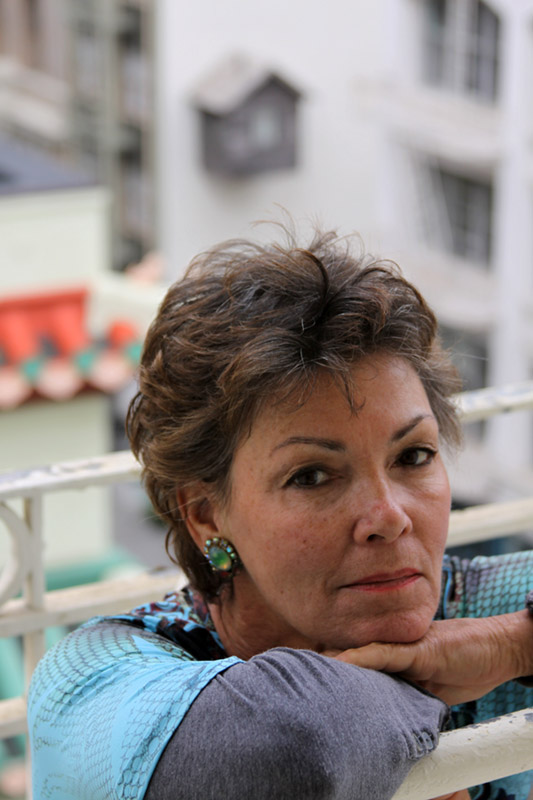 Susan Brabeau is an American artist who creates quirky Americana nostalgia paintings loaded with humor. Many of her images have been made into jigsaw puzzles from manufacturers like Sunsout, Gibsons, Ravensburger, and Holdson.
First, thank you so much, Susan, for doing a virtual visit with Jigsaw Junkies. It's a treat to be able to learn more about you. Now on to the interview.
JJ: I saw on your bio on your website that you have a background in singing and performing. Can you tell us something about that?
SB: Yes, my dad was a musician and had his own band in the 40s and it came natural for me to sing. As a result I was discovered through beauty pageants, by a talent agency in Detroit and started singing with Big Bands in the mid-1960s. It was an incredible era when the car industry was rich and booming and the big band sound was in demand. I put my way through Michigan State University with the money I made and got a degree in math and biology. But I was interested in showbiz and moved to California and then to New York City and found a career in musical comedy. I did a show on Broadway called Shenandoah and did the tours of Grease and How To Suceed in Business with Don Amechi.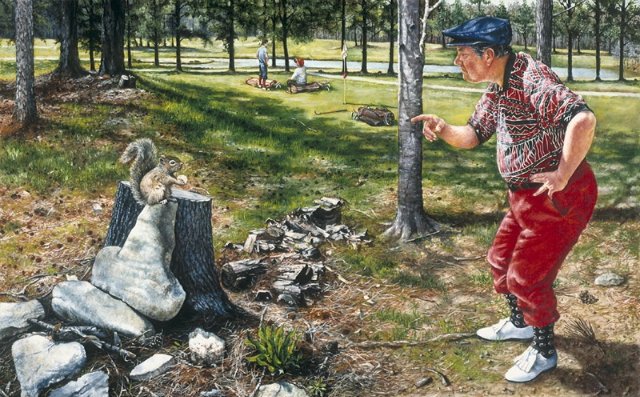 Above: Susan's painting "Golf Ball Theft", oil on canvas
JJ: Did you always paint in addition to performing? Or is that an interest that developed later in life?
SB: It developed at the end of my decision to be in show business, I had a lot of time backstage when I was an understudy, so I thought I would paint a picture and somebody bought it and I thought "Wow, I didn't have to dress up, put on make up, or go to an audition to make money and enjoy what I'm doing." After more paintings I did an outdoor art show and sold my work and that clinched it for me. I gave up showbiz. What a relief!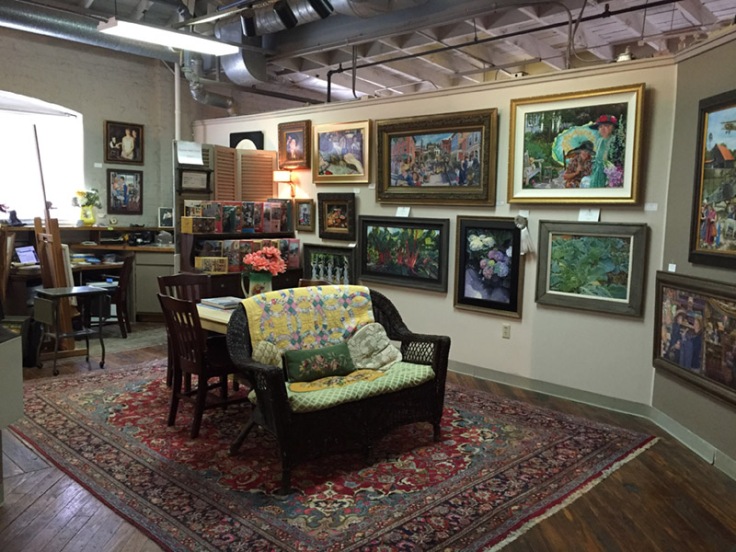 Above: Susan's studio in Raleigh, North Carolina
JJ: Who are your artistic influences?
SB: I would say that the impressionist great masters are the people that I referred to most when I need inspiration. Pissarro, Hassam, the Dutch masters, Vuillard, Rembrandt, Cassatt, Degas and the Ash Can school of painting to name a few. I have a huge library of their work and I go to museums and study their work and this is how I schooled myself. I have never taken an art class. I'm afraid that someone would try to change my style and my process. Believe or not Norman Rockwell is not someone that I've tried to emulate although I think we have a very similar sense of humor and view of the world.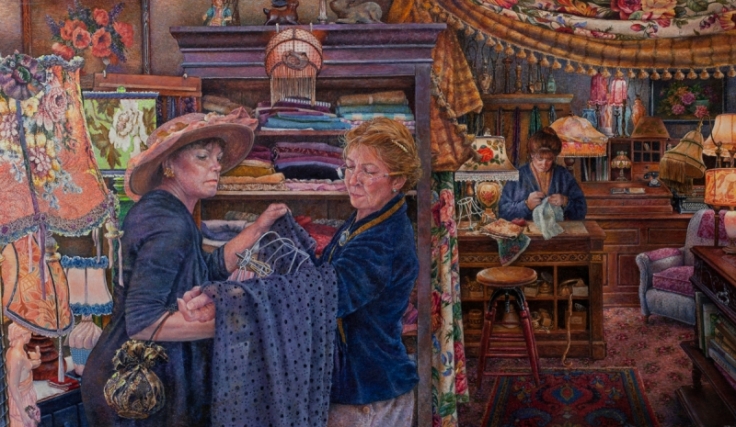 Above: Susan's painting "Shady Lady Lamp Shop", made into a puzzle by Sunsout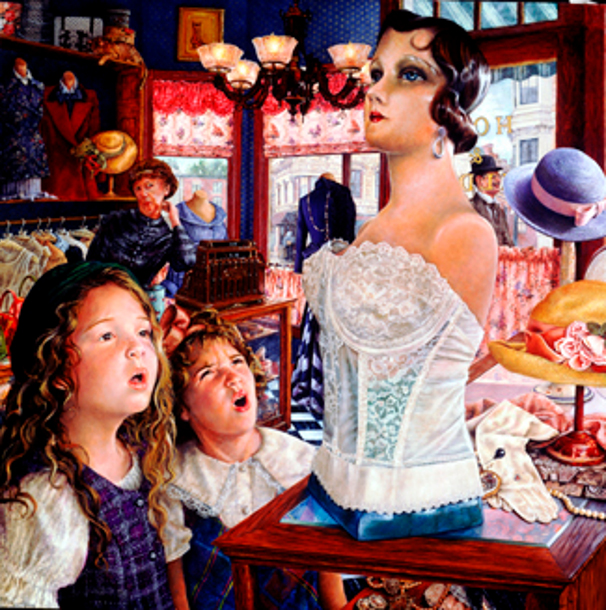 Above: Susan's painting "The Mannequin", oil on canvas
JJ: In your bio, you mention a number of family members who were artists. Can you tell us about them and how they affected your exposure to art growing up?
SB: My great grandfather, George Michael, was a well-known stone sculptor in Detroit in the early 1900s and his three sons were all portrait painters. I did not know any of them but I do have their original artwork in my home and have always been inspired by their talents and pursued mine because I thought maybe it would run in the family.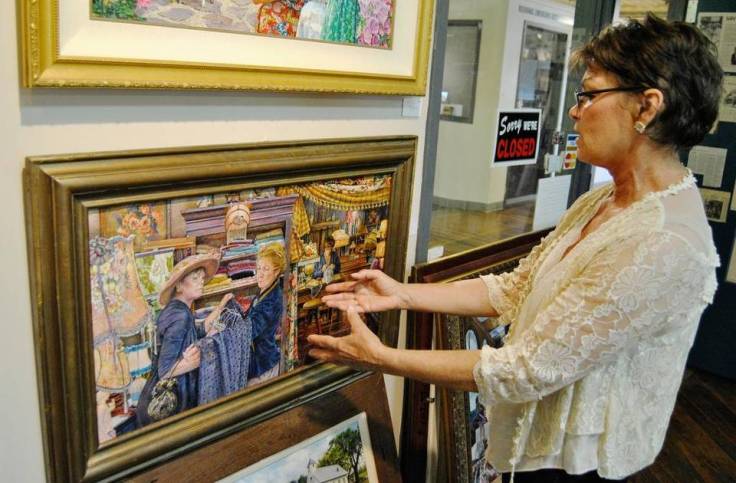 Above: This photo of Susan with one of her paintings is from this article in The News & Observer of Raleigh, North Carolina on the occasion of her winning an Award of Excellence from the Women Painters of the Southeast association.
JJ: At this point, you are very much known for your humorous Americana paintings, which seem to be set in small town American in the late 1900's. Do you have a specific location and time period in your mind when you paint?
SB: No, but when I remember the happiest times in my life I lived in a small town in Algonac Michigan when you go to the dimestore and get penny candy and buy little things. And I would go out to lunch at a little lunch counter with my mom and my grandma and life was beautiful and carefree and simple. I loved the dresses and the beautiful patterns and the flowing fabrics and the old-fashioned shoes and kindness that seemed to prevail no matter where I went. That was what I wanted to paint and that's what made me happy. And then when I did an outdoor show in Los Angeles I was discovered by a puzzle agent and when my puzzles went on the market I realized that other people loved those same values that I do to this day. I also believe that my musical comedy background impacted my awareness of silly and funny and every day experiences that people enjoy being part of. When people ask me about my story in a painting I tell them but I also tell them that it should be their story and interpreted from their life and their experiences and make up their own story. People like that!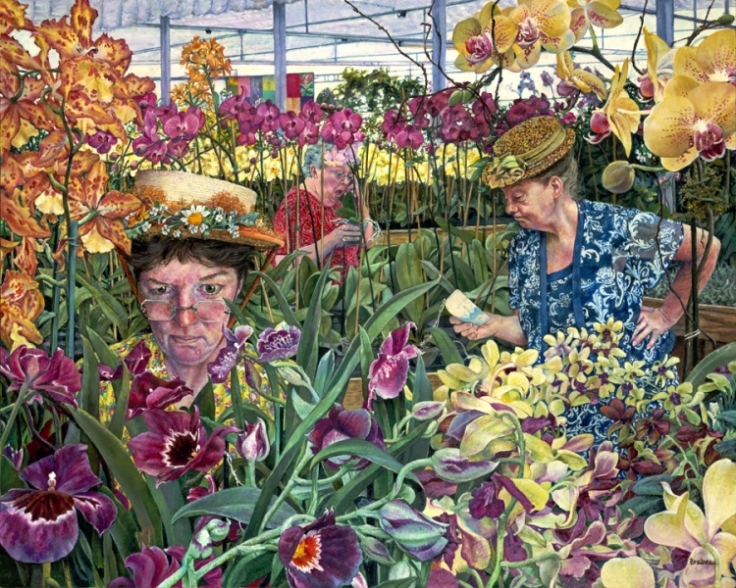 Above: Susan's painting "Orchids", oil on canvas
JJ: How did you decide to focus on Americana and specifically the character-driven approach you use? What was the first piece you did in this style?
SB: I love unique characters and how they react to certain situations. I love real life and what people do to survive every day and make the best of it and at times it can be pretty amusing. Children and older women don't seem to care about what other people are thinking of them they just naturally go ahead and do what comes naturally. I am definitely a people watcher and my memory records facial expressions and emotions and I try to use the interesting ones for future projects. I even write them down. I've been painting for about 30 years and I can't remember what my first painting was but I'm sure it had to do with people and places.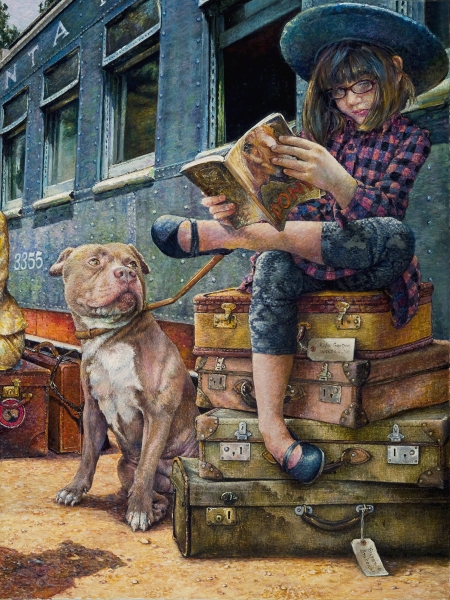 Above: Susan's painting "Gotti's Keep", oil on canvas. This was made into a 500 piece puzzle by Sunsout.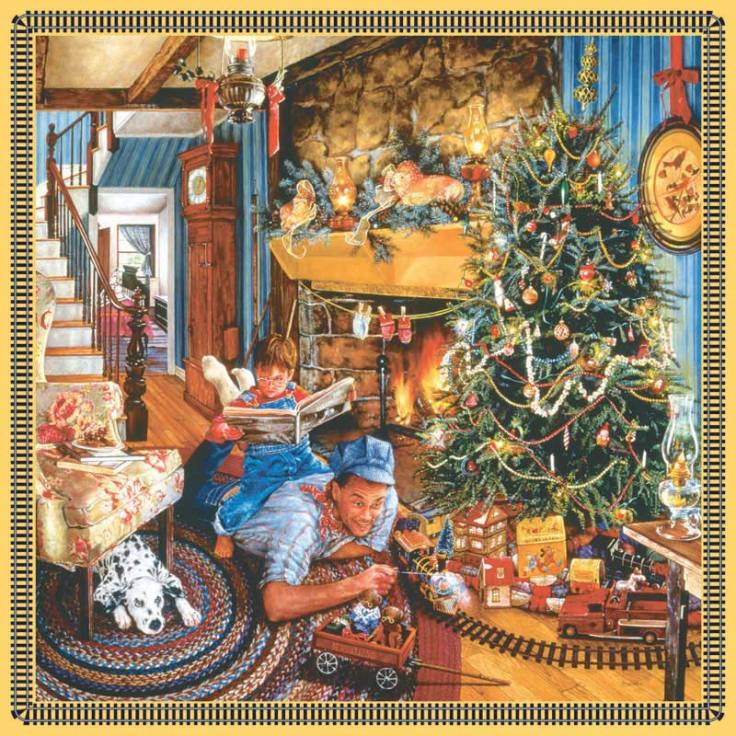 Above: Father's Christmas Train, made into a puzzle by Sunsout. Puzzle Warehouse Link.
JJ: You often include animals in your paintings and your bio says you live on a farm. Can you tell us about the animals in your life?
SB: I used to rescue animals of all kinds. I started with dogs and cats and then moved onto llamas and horses and my husband built a barn for me. Now that I'm so busy with my work I have seven dogs and three cats, have goldfish in my pond, and I board horses, and that's about enough work every morning and evening making sure they're all safe and sound. My dogs are at my side at all times unless I'm at my gallery and they go in the car with me all the time. My oldest female dog is my constant companion and she keeps all the others in line and even though she has arthritis really bad I fixed a ramp and made possible for her to go in the car. After all they're just little children and they all need to be treated the same.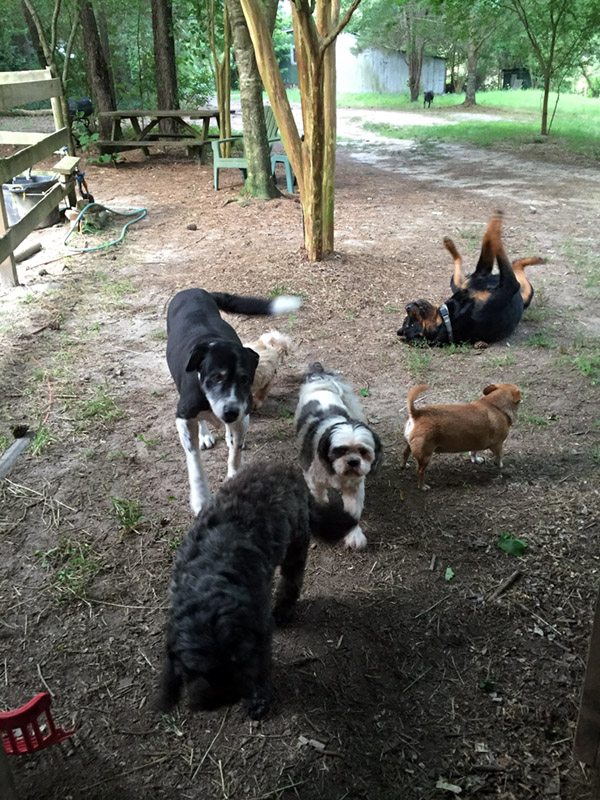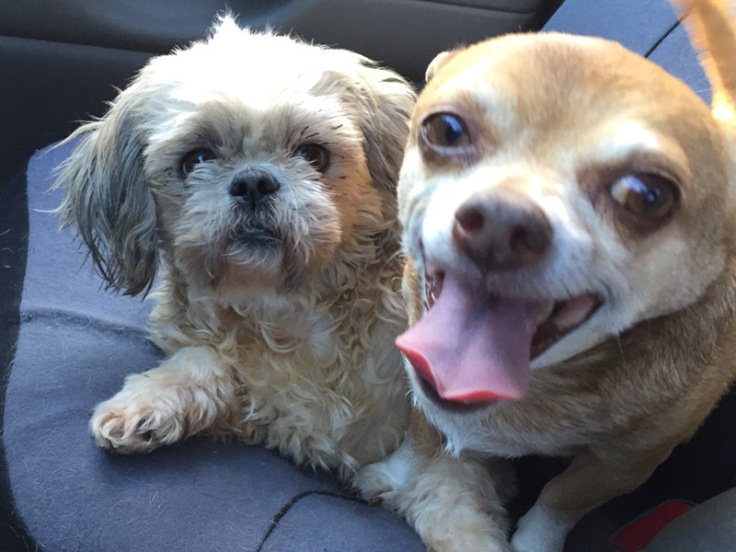 Above: Photos of Susan's dogs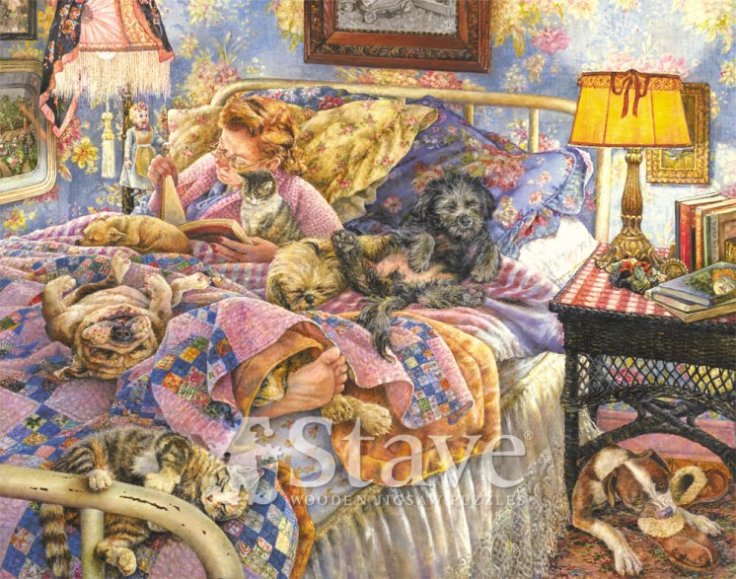 Above: Susan's painting "Pet Bed", which was made into a wooden puzzle by Stave and a cardboard puzzle by Sure-Lox. I had to admit, this looks like my house too.
JJ: Does it get challenging to come up with ideas for humorous images which are completely visual and non-verbal?
SB: Yes and that's very frustrating to me and keeps me up at night at times to figure out how to get my message across without getting overly ridiculous. I just had a situation where the electric company was cutting down trees on my property that were in the way of the electric lines and I brought cookies out to the workers because I wanted them to accept my friendship and possibly my suggestions on how to cut my trees. A typical woman thing. I was imagining the slaughter of my yard. They became my friends and my yard now is beautiful and they took away a whole woodpile that they didn't even create. Yes it's a woman thing and I wanted to paint that in a picture; A little woman in the country dress and old fashion shoes serving cookies and lemonade to the line workers so that she can be in charge in some way and be able to put in her two cents gracefully if it comes to that. I'm sure I'll figure it out during one of my sleepless nights. I think it might be a good puzzle.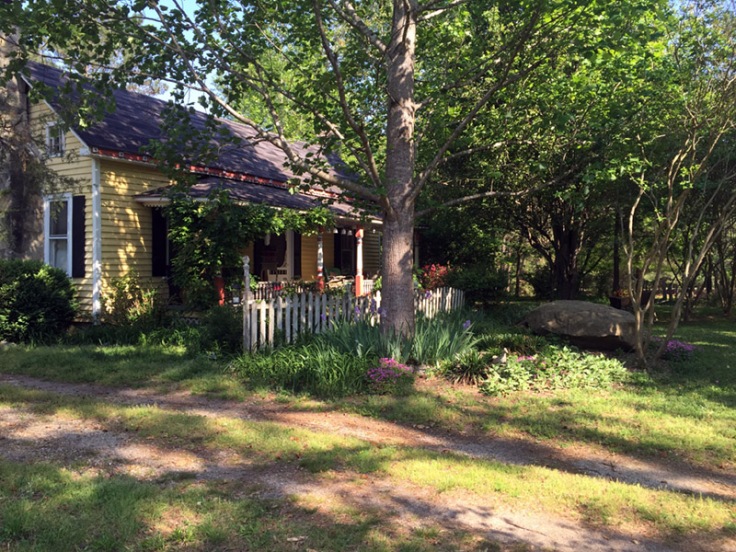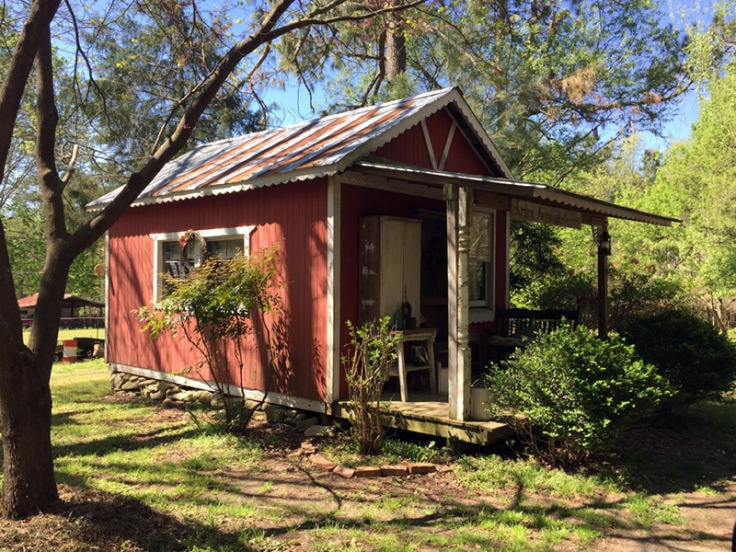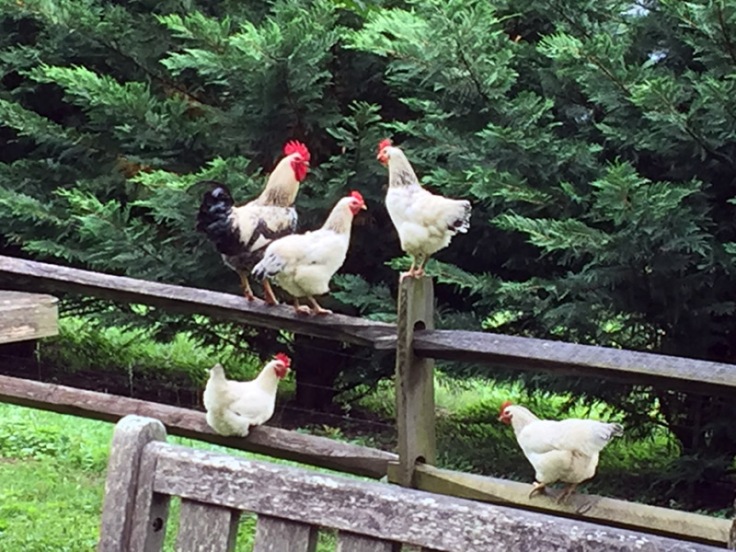 Above: Photos from Susan's farm, provided by Susan Brabeau.
JJ: Do you usually begin with an idea for a composition and setting and then try to figure out the characters and scenario or is it the other way around?
SB: I might see a person or an act that suggests an idea or I see a certain situation and I write it down right away and think about it for awhile and once I formulate that idea into a story I do the research and photographs of lots of potential interesting stuff to put in that picture and it's usually something that makes me giggle and then I get to work. It took me five years to figure out a painting that was people at the circus living their normal lives behind the big top. It is one of my favorite pieces ever and it's so interesting and it's not a puzzle. Go figure.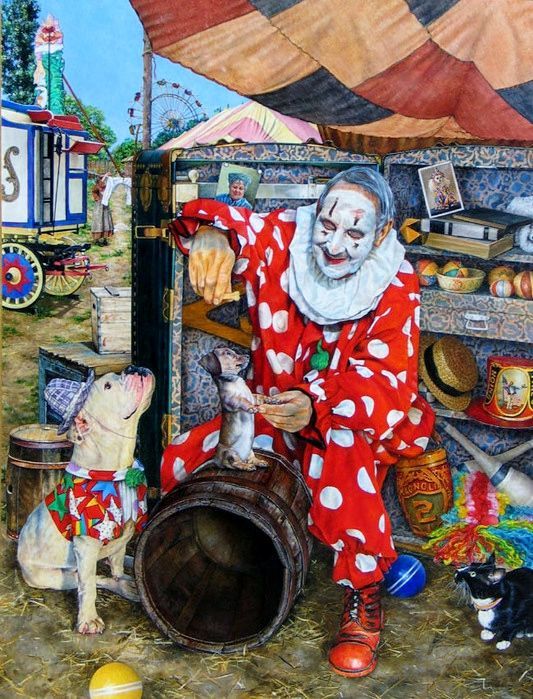 Above: Susan's circus painting, "Clown in Red", oil on canvas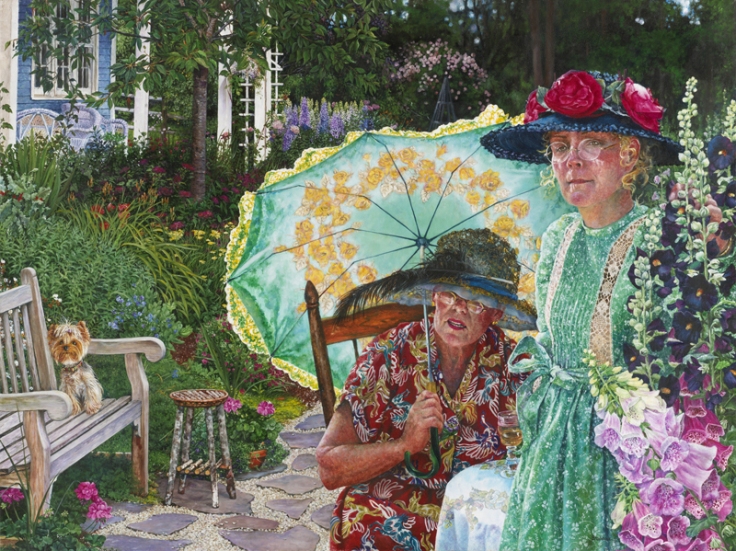 Above: Susan's painting "Two Ladies in a Garden", oil on canvas. Lovely patterns and colors.
JJ: Take us through the process of making a painting, from soup to nuts.
SB: Well first I get an idea. I have many of them waiting in the wings of my brain and I can never tell when when I was going to come out and say 'it's time his come'. And once I get serious about it I start designing the painting and drawing it out to scale and finding interesting little tidbits to add to my story, always with cats or dogs or rats or mice. That reminds me of the three old ladies from the old town I moved to 20 years ago in North Carolina. My pet rats used to live in my daughter's dollhouse and they came out to visit strolling across the kitchen floor as I was serving them martinis in my cozy, old little kitchen. Well these pillars of society in my new little town proceeded to get up on their chairs screaming and I don't think the party was really comfortable after that moment. Now I need to paint that. But back to my process once I get all of my materials together I draw it out and get as many details in place as possible and spray it with fixative. I travel to old drugstores or soda fountains or wherever I need to go to get great photos for place. If I'm telling a story I will gather my models and do photo shoots because the painting will take me anywhere from a month to three months to complete. I use only oils and very small brushes. I collect old picture frames, sometimes they even look like they're falling apart but I am very specific about what I put my paintings in and I call these old frames "portals to the past". I believe that it pulls the viewer into another time and place, besides that it's fun to go to the junk shops and antique stores and find a deal.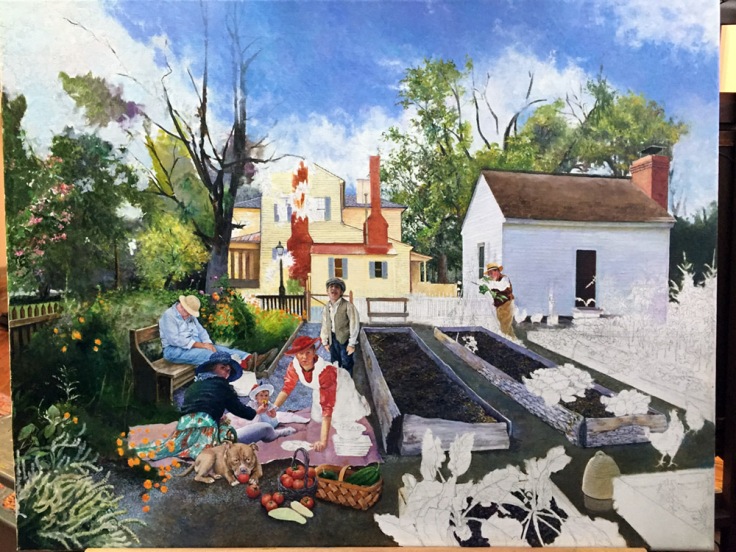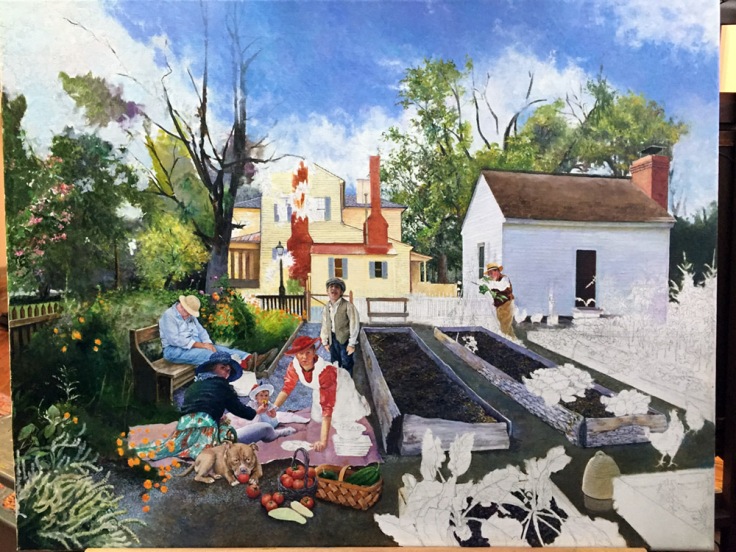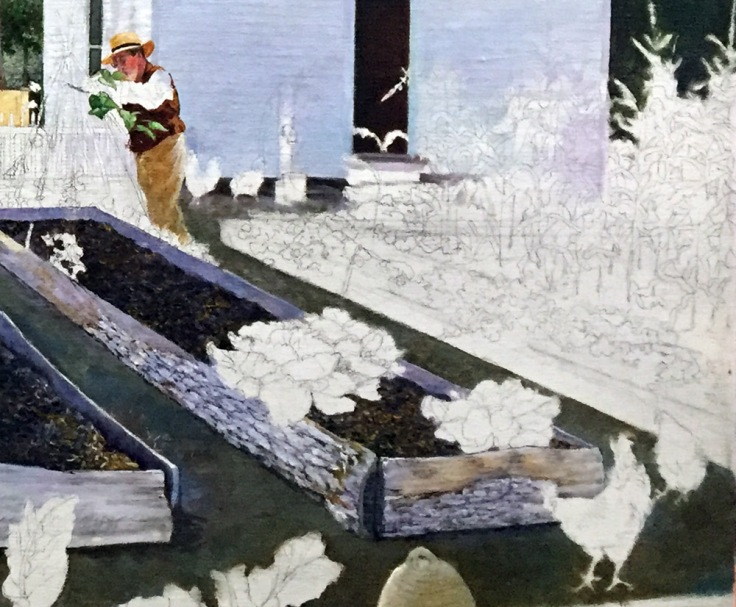 Above: Photos of one of Susan's paintings in progress. Photos provided by Susan Brabeau.
JJ: Have you done other styles of paintings or do you have any interest in doing that in the future?
SB: I am taking time out from my typical paintings in the last year to do Still Life and vegetables and flowers. None of them except one have become a puzzle even though the paintings have won awards across United States and have been a wonderful addition to my repertoire. Sunsout, the puzzle company, made a puzzle of what I call Five Generations and it is a still life of five generations of women's shoes in my family that I had in the trunk up in my attic [editor's note: you can find this puzzle here]. It is precious to me and I actually sold the original but you can buy it on the shelf as a puzzle. That is cool! My painting of "Hydrangeas" just took first place with the Women Painters of the Southeast exhibition but it's not a puzzle. I wish it was. You can tell that I did it because it's full of intricate detail which I can't seem to get away from so I've finally accepted myself.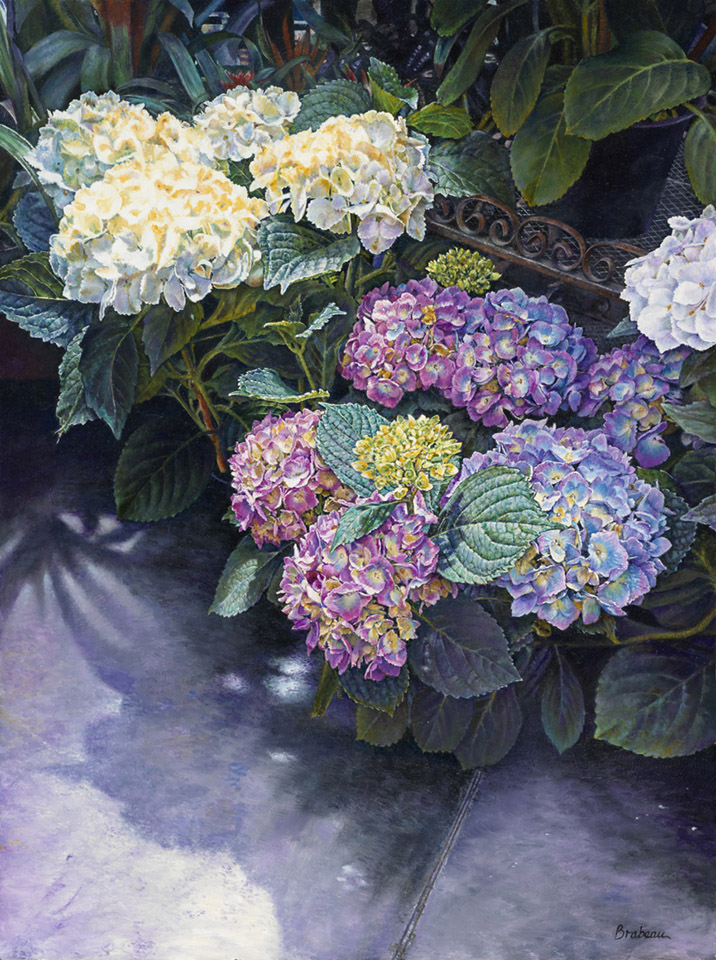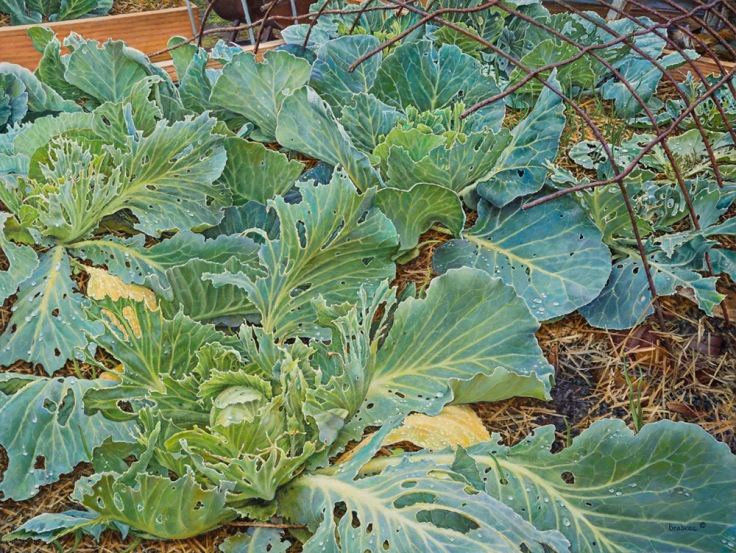 Above: Susan's recent paintings "Hydrangeas" and "Holy Cabbage"
JJ: How did you first get into licensing your images for jigsaw puzzles? When was the first one?
SB: About 30 years ago I did an outdoor exhibit in Beverly Hills California and a nice man stopped by my booth and asked me if I would like to do puzzles. And I said "why not". Well I am not represented by that company anymore but they still take care of many of my older images and have them licensed out to many puzzle companies around the world. So I am presently licensed through an agency and also out on my own. Since last year I decided I wanted to get more involved with my images and where they were going and what they were doing. It's a crazy business but I think I'm getting the hang of it.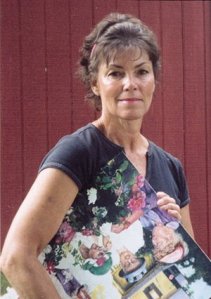 Above: Susan with a painting in progress. Photo taken by Susan's husband.
JJ: Do you do any of your own jigsaw puzzles in your family? Or any jigsaw puzzles?
SB: Not very often but I used to take them to the beach with my family and we would put one together on a card table and it was fun. Once I do start one I get obsessed and can't leave it alone, but I think a lot of people are like that.
JJ: Do you keep copies of all the jigsaw puzzles that have been made with your artwork?
SB: I do have every puzzle ever made of mine I believe and they're out in my barn in big tubs piled on top of