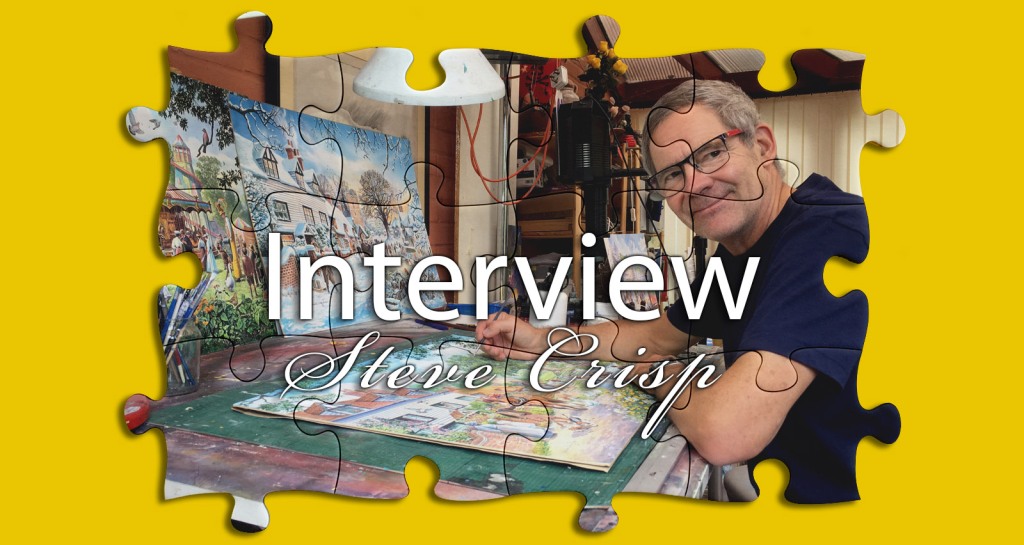 Artist Interview: Steve Crisp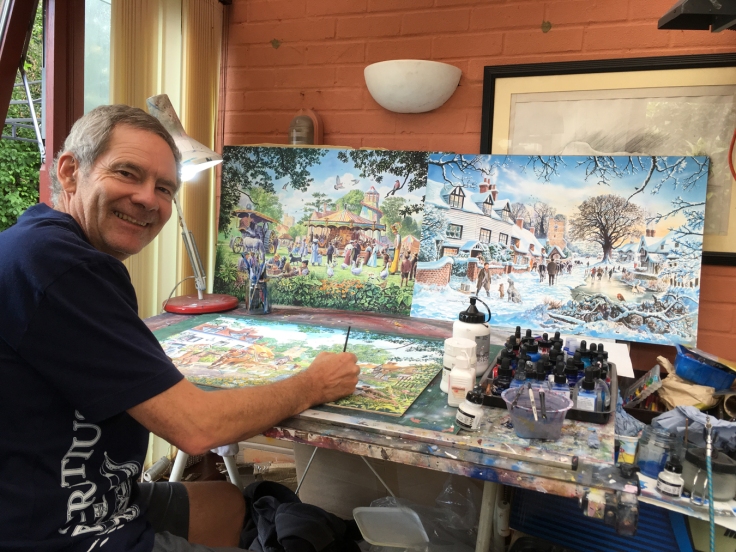 Steve Crisp is a British artist who creates rural country scenes, British nostalgia, jungle wildlife, and other lovely images that have been made into jigsaw puzzles. He's published by many brands including Sunsout, Gibsons, Falcon, and White Mountain.
See all Steve Crisp puzzles on Puzzle Warehouse here.
Those who have followed my blog for awhile know that I'm a fan of Steve Crisp puzzles. So I'm honored to have him agree to an interview with Jigsaw Junkies! First, thank you, Steve, for taking the time to answer our questions and dig up some photos and let us know more about your life and work.
JJ: First, tell us something about where you live and work. Are you a city mouse or country mouse?
Definitely a country mouse. I live in a village in the South-East of England surrounded by countryside. There are many beautiful villages and landscapes locally from where I 'draw' my inspiration for the rustic scenes I create. I work at home with two studios–one for painted work and the other for my computers.
JJ: What is your typical day like?
Working from home takes discipline so I tend to get up at 8ish and am at work in the studio bfore 9 a.m. I try to have a list of prioritized work so I am clear in what I need to achieve each day, but able to adjust if anything urgent crops up. At certain times during the day, I go for a bike ride, a walk, or sometimes have a pub lunch. I always have my phone on me to take reference photos if I see anything interesting, and if I play golf during the day, I tend to work in the evenings to make up the time–either painting or computer work.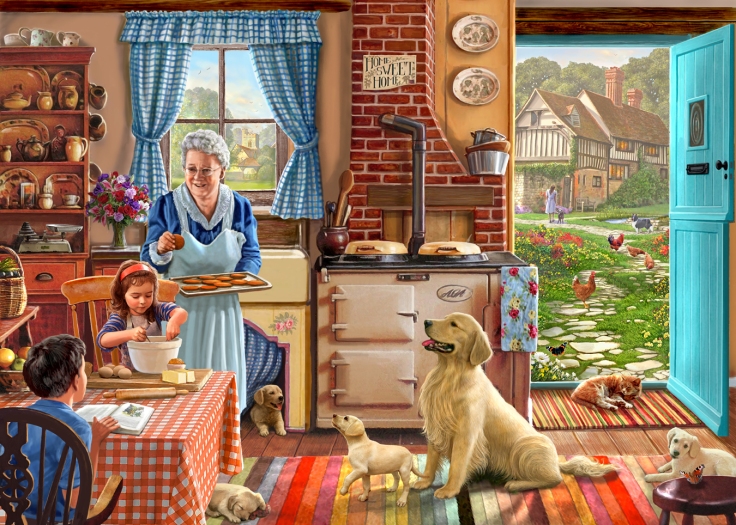 JJ: The bio on your website says that you studied at St. Martins School of Art, London in the 80s. Can you tell us why you decided to pursue a career in art? And was that something your family encouraged?
Yes – I went to St. Martins in the 70's where I specialized in illustration, which really came together in the 3rd year when I won 'Student of the Year' for a project I did for the English Tourist Board, featuring watercolours of my favorite villages and a fantasy scene to promote cycling. Having been drawing and painting since the age of 7, it was obvious by the time I was in my teens that some sort of career in art was on the cards. My family encouraged me to paint and I had many commissions from friends and family initially which moved on to art shows and private sales by the time I was 16. Some people asked me to duplicate Constable and Turner paintings–so at one point I had a good "forgery" business going on which gave me much needed income and was a lot better than my paper route or stacking shelves at Stainsburys! I went to St. Martins at the age of 20 and came out at 23 already doing professional work.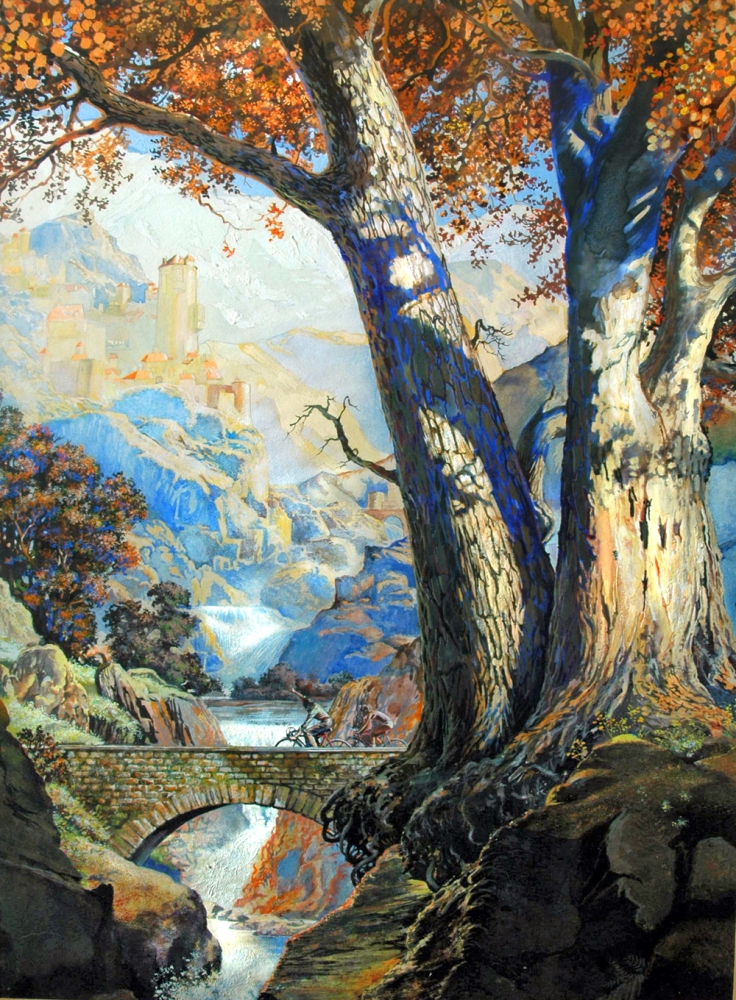 Above: A fantasy painting done at St. Martins College, 1978
JJ: Tell us a little about some of the major art jobs you've had over the years.
I guess the most well-known job would be the "Aliens" film poster followed by "The Princess Bride" film poster, but I have also illustrated 11 Stephen King book covers including "Salem's Lot", "Cujo", "Needful Things", and "Insomnia" to mention a few.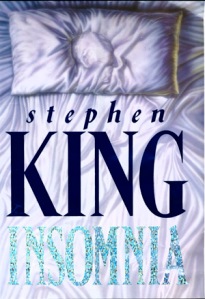 Above: The Steve Crisp cover for "Insomnia"
JJ: Who are your artistic influences?
At a young age John Constable and Turner as I loved landscapes but then I was heavily influenced by Maxfield Parrish and Roger Dean for fantasy work.
JJ: When did your artwork first start being used for jigsaw puzzles? What was the first one?
"A Village Wedding" was the first, about 20 years ago, after which I did quite a few. The most prominent being a special edition of four images of the same village scene through the four seasons — Spring, Summer, Autumn, and Winter — for W.H. Smith. Apparently they sold out!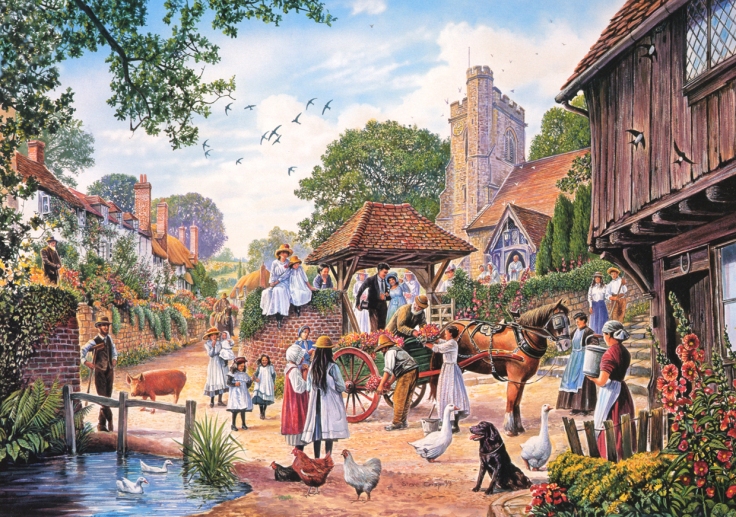 Above: The first of Steve's images to be made into a puzzle — "A Village Wedding"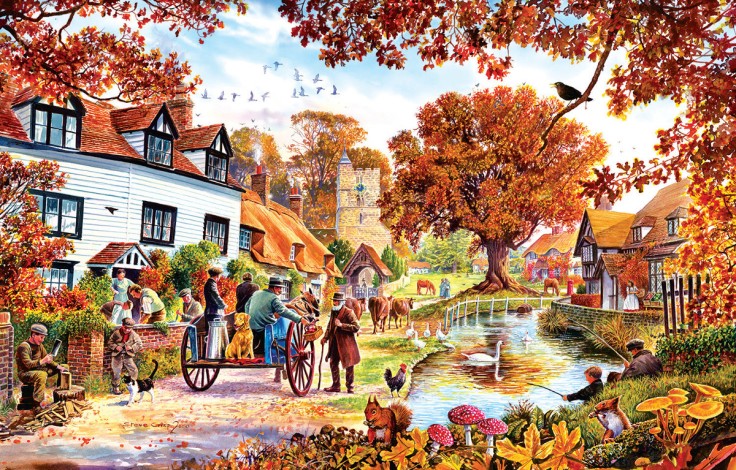 Above: "A Village in Autumn" is currently available from Sunsout
JJ: Steve Crisp puzzles are currently popping up in number from various brands. This year's batch includes "Pet Shop" from White Mountain and Gibsons, "Summer Village" and "Winter Village" from White Mountain, "Summer House" and "The Village in Autumn" from Sunsout, "The Thatcher's Cottage" from Falcon, "Spoilt for Choice", "The Toy Shop", and "Afternoon Amble" with Gibsons. That's quite a lot! Is this something you've been focused on—specifically creating images for jigsaw puzzles?
The last few years have seen a dramatic increase in the number of puzzle images I create and fortunately they've been very popular. "The Bookshop" for example, has been very successful in America and is featured in Waterstones Bookshops in England. My image of "The Trooping of the Colour" has been very successful for Gibsons and is featured in the John Lewis Group. I am really enjoying the variety of images the jigsaw puzzle companies are accepting at the moment including the rustic shop scenes, jungle scenes, classics like "Beauty and the Beast" and "The Titanic", airshows, cars, etc.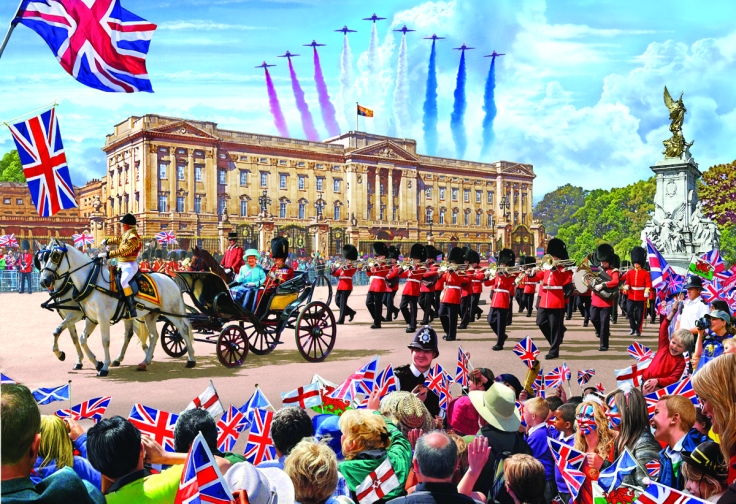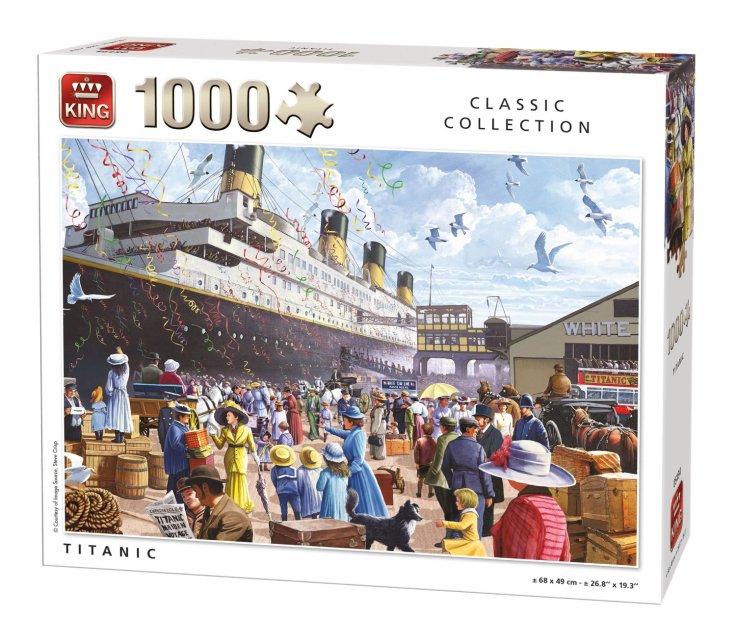 Above: One of Steve Crisp's Titantic images, this one a puzzle from King.
JJ: You're currently published by a number of puzzle manufacturers. Do you deal with them directly or is this done through an art licensing agency?
I am represented by MGL Licensing who have licensed and commissioned my work for the last 5 years as well as many other clients.
JJ: A lot of your puzzle images are in the category of British nostalgia. When did you first begin working with this theme and what draws you to it?
The theme began to be popular for me about 20 years ago and because of the "Oldey Worldey" nature of the sketches I used to do when I was younger, and the landscapes I used to create, it was a natural progression to add figures and create the puzzle scenes that are now very popular.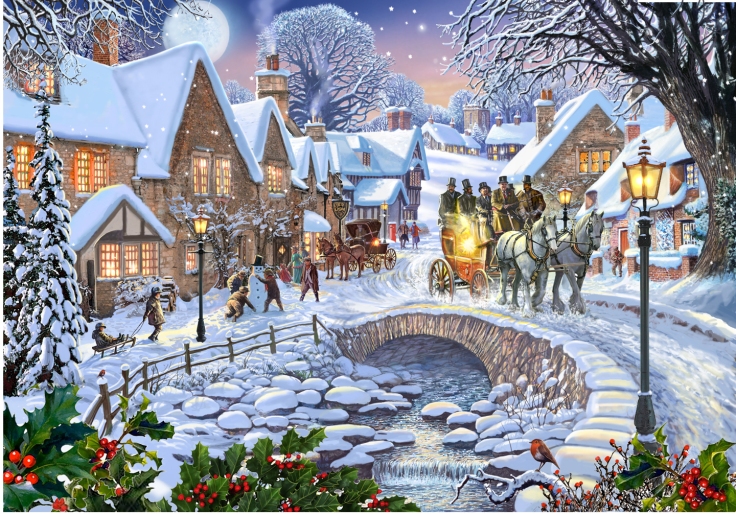 Above: "Winter Village", now available as a puzzle from White Mountain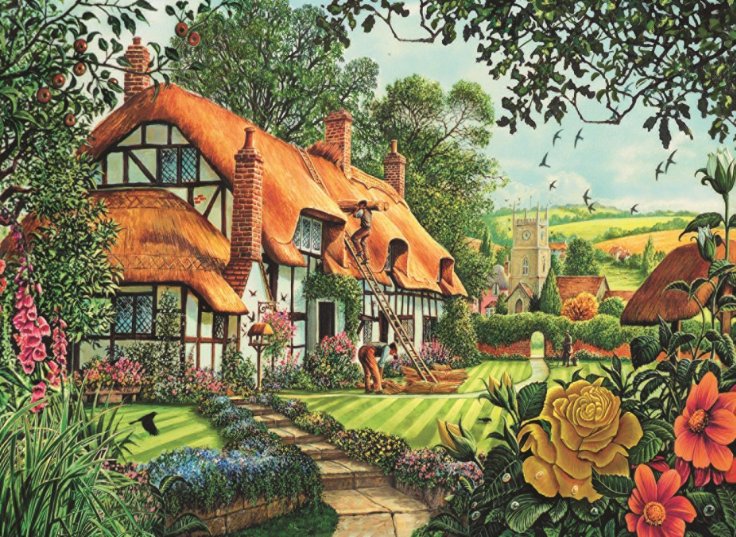 Above: Thatcher's Cottage, published by WH Smith and Falcon
JJ: You often depict village life or the British countryside in your images. Is this something you draw from real life? Do you travel to get inspiration for your images? Do you paint outdoors or inside from photo reference?
I have always painted pictures from my immediate environment right from being a young boy, so my images are a combination of person experience and reference obtained from magazines, books on nostalgia, and the internet.
Above: "Horses by the Stream", 2015
JJ: Walk us through the process of an image like "The Toy Shop" from conception to completion.
"The Toy Shop" — continuing the theme of shops — was suggested by my licensing agents MGL. It was decided to do two versions–one for America and one for the UK. Thus there had to be differences in the characters and the toys used in the image. First a rough composition was worked out depicting where the shelving would go and the general layout of the shop. Secondly, I researched 1950's characters (UK and USA) and began to place them within the image whilst trying to make little cameo scenes that relate to the various toys on display. Also, I researched the type of toys available during that period and made sure that they fitted correctly into the composition, making sure every area of puzzle had interest. The figure are mainly mothers and children but I went through many characters before deciding on the ones that actually appear in the image. At a certain time the finalities of the design was art directed by MGL so a lot of "to and fro" took place to get the image right for the client/marketplace. Once everything was agreed I then finished off the picture putting in all the details required for the final version.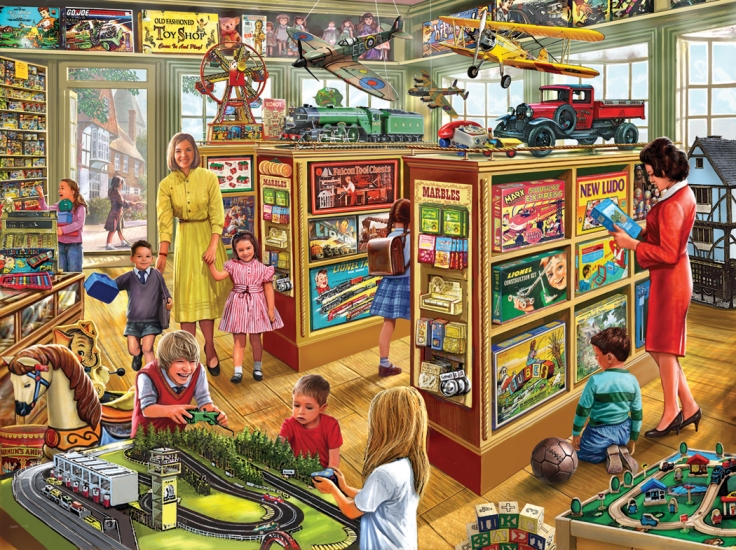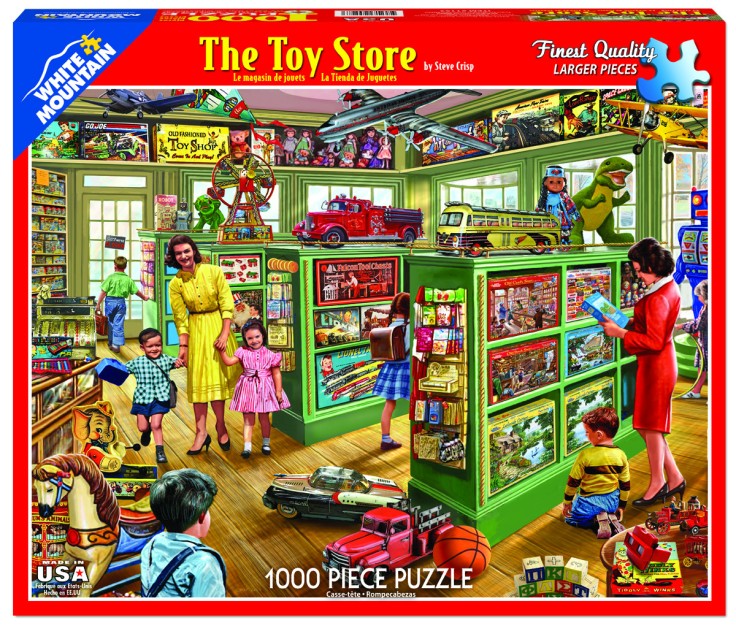 Above: "The Toy Shop", the US version published by White Mountain
JJ: A good puzzle image has different criteria than a good painting—things like the amount of detail, using different patterns and colors, not having large blocks of single color, and so on. When you create a new image aimed for the puzzle market, are you conscious of these choices or is it more instinctual?
Quite instinctive as my illustrations for the many book covers I have done over the years (about 600) are very detailed and quite involved so my compositions naturally tend to be busy with lots going on — and — if there are areas which need more interest MGL points them out and makes suggestions that I can experiment with.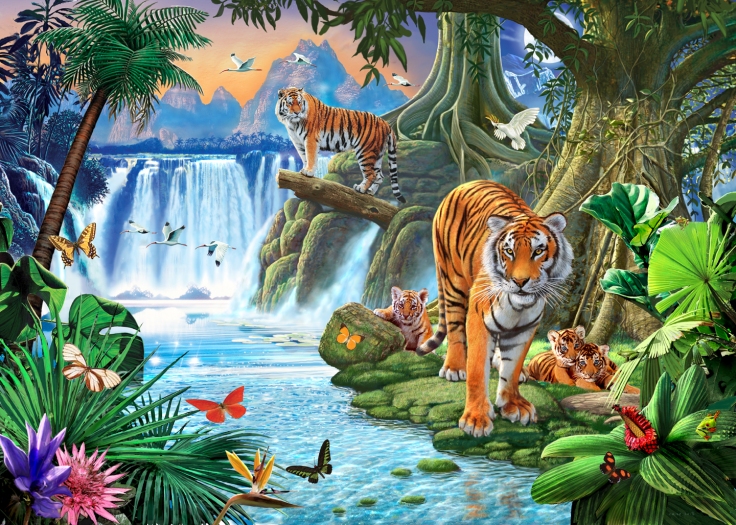 Above: Tiger Two print, made into a puzzle by Sunsout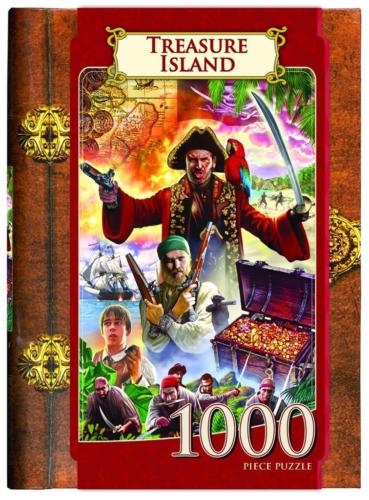 Above: Steve also did a few book puzzles for Master Pieces including "Treasure Island" and "The Holy Bible"
JJ: Do you put together puzzles yourself? If not, how did you become aware of what works best in a puzzle image?
I used to do puzzles with my kids all the time and would love to do some of the ones that I have painted but at the moment I haven't the time. The initial image idea tends to be mine, but I do get suggestions of compositions from MGL who tend to have the final say along with the client's wishes if an image has already been placed.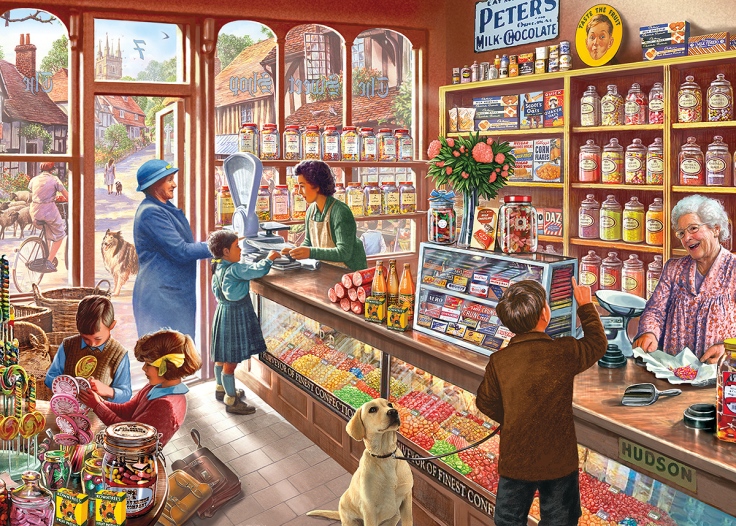 JJ: Where do you get ideas for a new puzzle image?
New ideas are mainly from MGL, client's specific wishes or something of my own which I think would be an enjoyable image for a puzzle.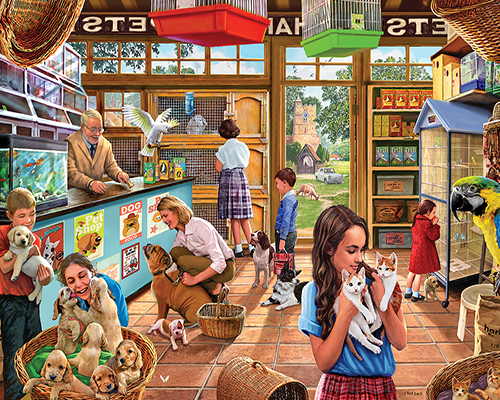 Above: "Pet Shop" has been made into a puzzle by both White Mountain and Gibsons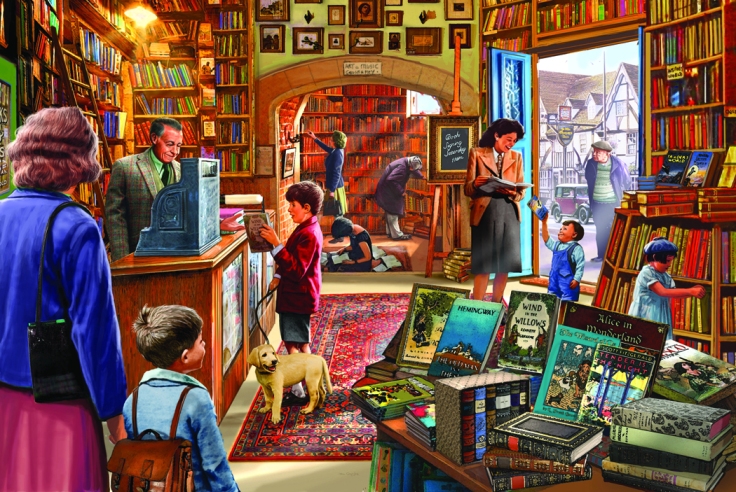 Above: The Old Bookshop has been made into a puzzle by Gibsons and White Mountain
JJ: For the people in your scenes, do you take photographs of real people as reference, use stock art, or do something else?
Reference for the characters tend to be mainly photos I have taken over the years of my family and friends growing up – also characters from old books that I manipulate to suit the image – i.e. change clothing, faces, colouration etc.
JJ: Besides your British nostalgia puzzle images, what other artwork styles are you passionate about?
Realistic airbrush work has always been a mainstay of my work through the 80's and 90's for which I am very well known in the fantasy, science fiction, and horror genres. I have painted over 200 horror images for book covers alone, so my range of different styles is quite vast.