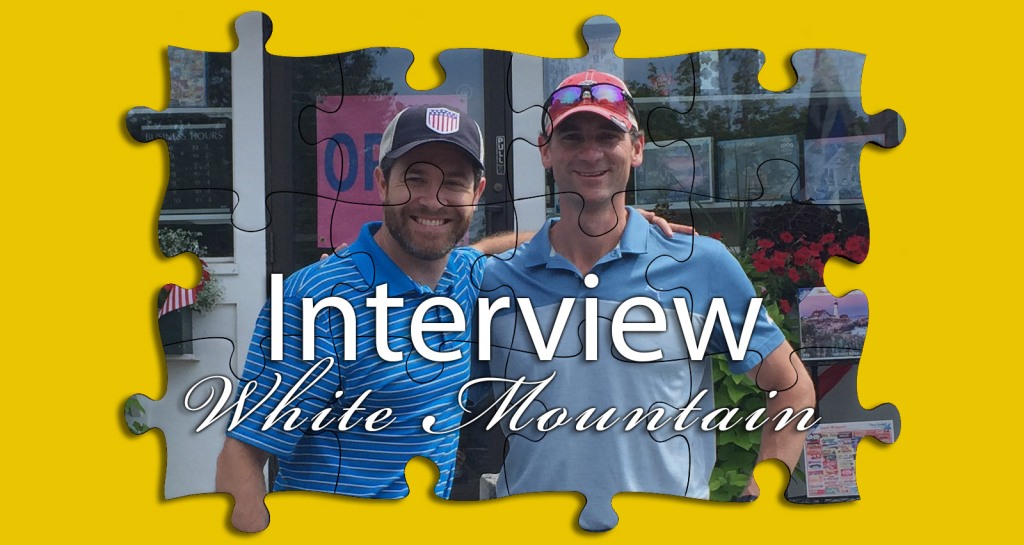 Puzzle Maker Interview: White Mountain Puzzles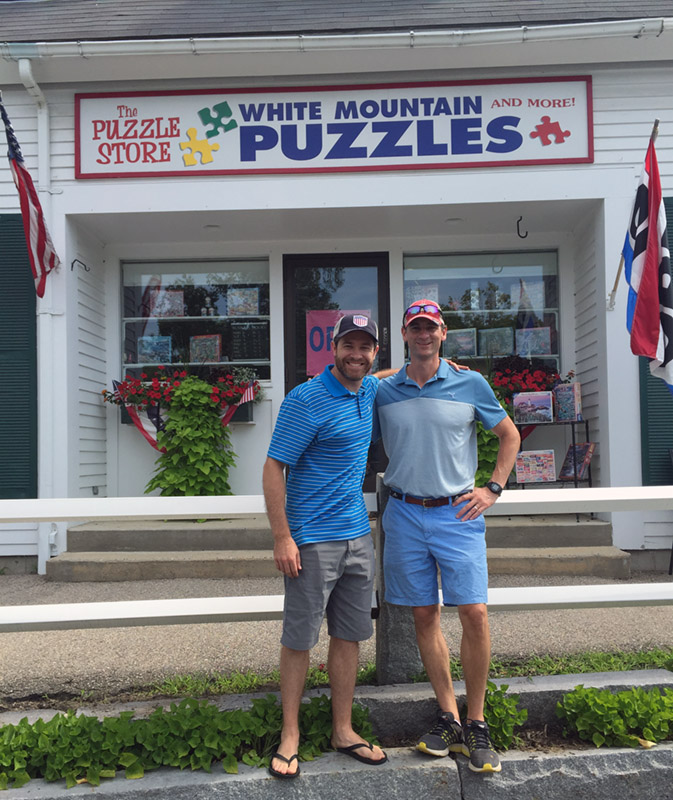 Above: Colin Wroblewski (left) and Sean Minton (right) of White Mountain Puzzles
WHITE MOUNTAIN WEEK:
This week on the blog we're featuring White Mountain puzzles. There's a terrific sale on White Mountain at Puzzle Warehouse all month (30% off!). We featured two White Mountain reviews this week ("Tapestry Cat" and "Perennials"). I was also fortunate to get a chance to interview one of the owners of White Mountain Puzzles, Sean Minton.
CLICK HERE TO VIEW THE SALE AT PUZZLE WAREHOUSE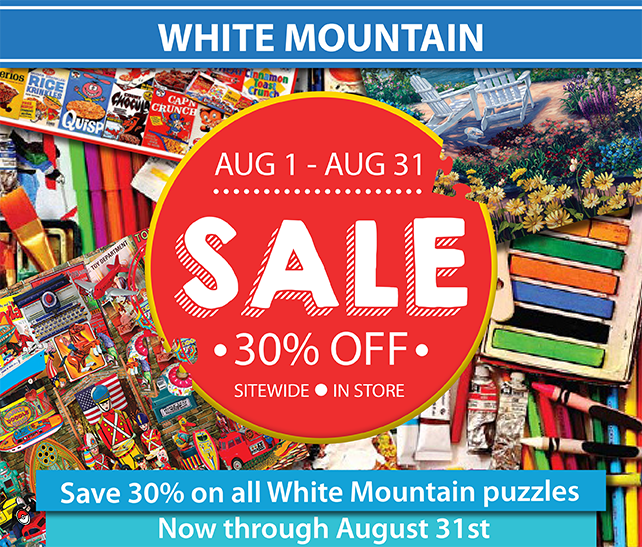 First, thank you for being with us and taking time out of your busy schedule to tell us more about White Mountain!
JJ: Can you please introduce yourself?
SM: I'm Sean Minton, one of the partners at White Mountain Puzzles. I'm one of two partners and the son of one of the founders of White Mountain.
JJ: Where are White Mountain puzzles designed and planned? Where are the puzzles manufactured?
SM: We are located in the White Mountains of New Hampshire in a little town called Jackson. It's a tiny town of about 800 people. Our company has been in this town from the start, in 1978. I grew up in this town. Colin, who is my business partner and the son of the other founder, grew up not far from here as well.
The puzzles are manufactured in Western Massachusetts, in a town called Holyoke, and some are manufactured in Indiana. All of our puzzles are made in the USA.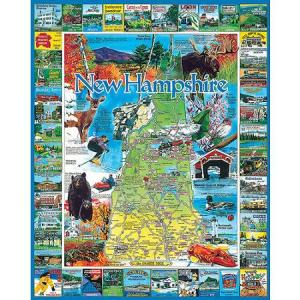 Above: White Mountain's "Best of New Hampshire" puzzle. A mood board for White Mountain's home town? This one is currently in stock on Puzzle Warehouse.
JJ: What is White Mountain's business philosophy?
SM: Our business philosophy is to put out a quality product that is unique, different than what some of our competitors are doing, and that's going to give our customers enjoyment. We look for images that are different than what's out there and will give people joy. We look for images that won't make people tear their hair out. We want them to reminisce or laugh or smile.
JJ: I noticed that you're the only puzzle company that actually queries their customers about what images they want. Can you talk about how that came about and why you do that?
SM: That started at the beginning of 2013. We've always had a decent sized list of consumers who get our catalogue and email campaigns and they were always wanting to give us feedback. So I developed an online tool that lets us do surveys and quickly get feedback from customers. I do them once every six weeks or so and we put 20-30 images in the survey. Customers can rate each image. After the votes are cast each image has a score. That's ultimately how we decide to pick an image.
We'll get anywhere from 3000-5000 puzzle enthusiast taking these surveys so that's a pretty good sample size. It vets the images so that we aren't putting out images that we might like but the customers don't.
NOTE: If you're interested in participating in White Mountain's image surveys (and thus getting a sneak peek at potential new puzzles), you can join their newsletter email list on their website here — red box in the upper left)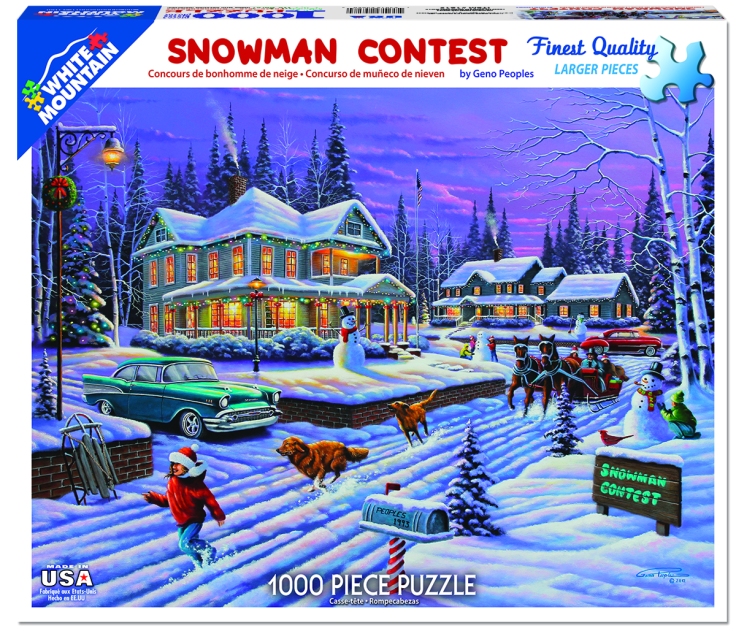 Above: "Snowman Contest" is a new Christmas puzzle coming out this fall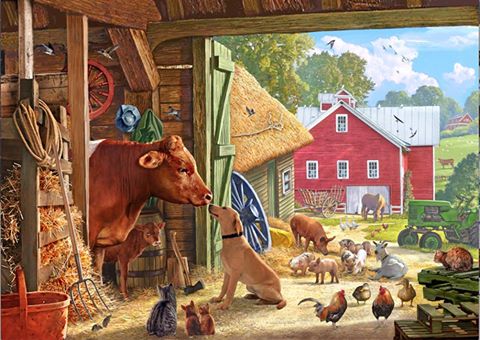 Above: White Mountain recently 'vetted' this new Steve Crisp image with their customers. Will it become a puzzle?I hope so!
JJ: Have the customer surveys influenced your line in the past few years?
SM: Yeah, they have. We only put images in there that we think might do well. When we see a winner image we know it, but it's good to get that reinforcement. More importantly, it allows us to weed out the bad images. It also gives our customers a chance to feel they're part of the process and that their vote does count. So it's a win-win for both sides.
JJ: White Mountain seems to have regular releases. How many new puzzles does White Mountain make in a year and is there a specific release schedule?
SM: We come out with anywhere from 60-80 puzzles a year. Last year was 70. This year we'll probably be closer to 80. We don't have a release schedule, it's just when they're ready. But every month we come out with 4-5 different puzzles. A lot of companies have scheduled releases a couple of times a year. We don't do it that way. It's just – when they're ready, we get them out the door and get the word out to our customer base. About once a month we have a new puzzle announcement.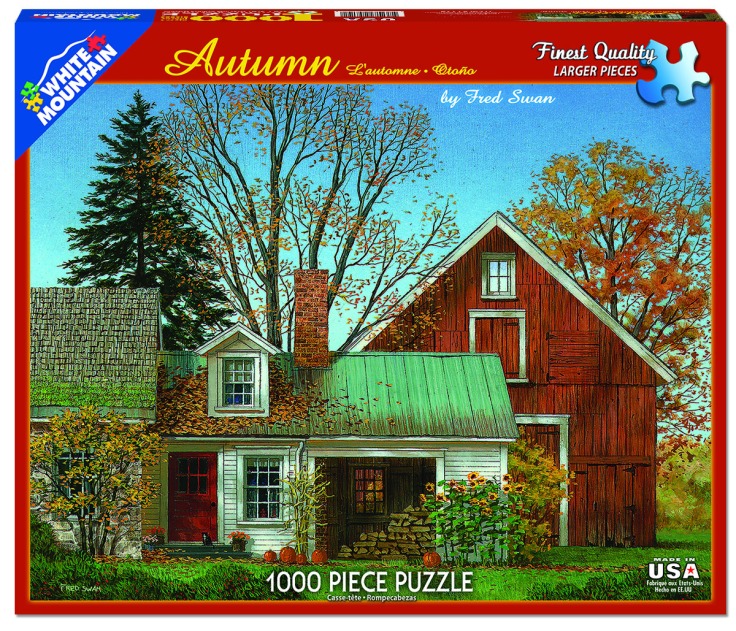 Above: A brand new Fred Swan release due out this fall.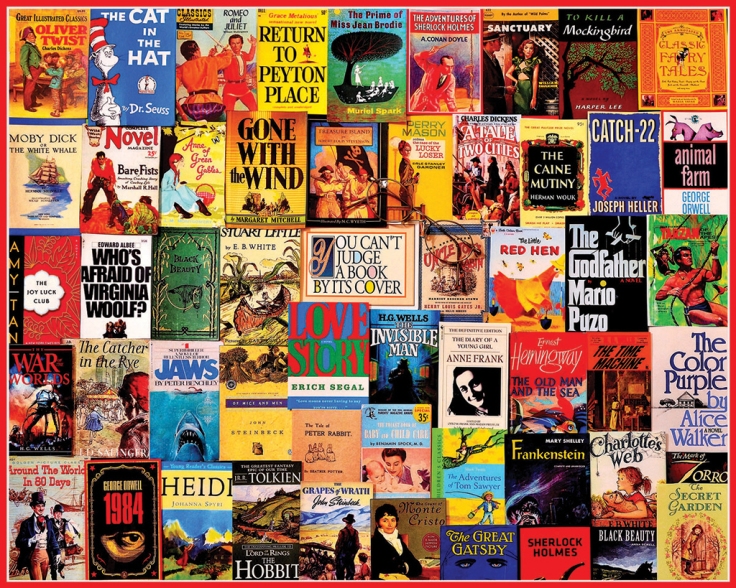 Above: One of White Mountain's most popular current releases is "Best Seller", 1000 pieces. (Click here to view on Puzzle Warehouse)
JJ: Tell us about White Mountain's history of jigsaw puzzles. When did you begin to make them and what types of puzzles did you make in the first few years?
SM: The business started in 1978 and it was not puzzles then. My father, Cronan Minton, and Ted Wroblewski, which is my partner Colin's father, started the business. The original model was more of an advertising based model. So they'd go into resort towns such as Nantucket or Cape Cod, Napa Valley, ski towns, places like that. They'd sell advertising to local businesses that wanted to promote their businesses on a souvenir poster. So they'd sell the ads, hire an artist to do a map type poster of the area with the ads, and produced it. They'd sell it around that resort area.
In the late 80's when the recession hit, it got harder to sell advertising. And they'd done a poster for Portland, Maine, and someone said 'you know, that would be a great puzzle'. And they said well maybe we should try adding a new product line. So that was the first puzzle they made. They took the poster of Portland, Maine and made a puzzle, and it sold better than the posters. So that was the start of the puzzles and the end of the poster business in '89 or '90.
We don't really do posters anymore and we do very few of the resort type puzzles. We still do a few every year, but that's essentially how the business turned into a jigsaw puzzle business.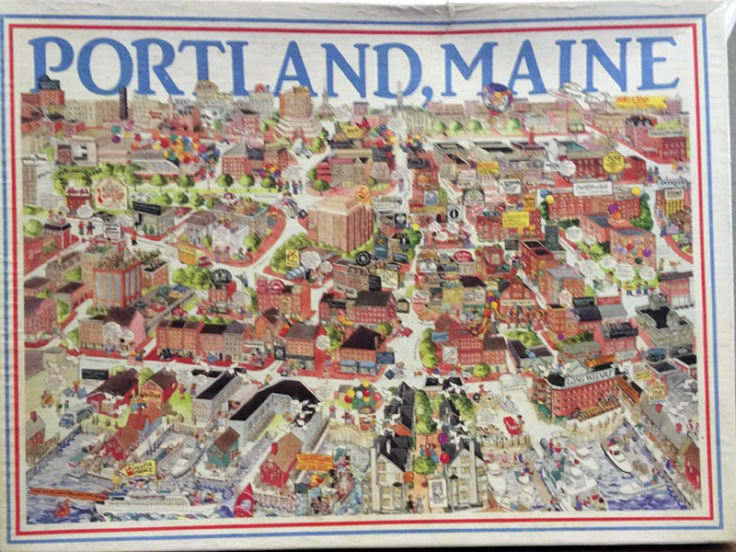 Above: The first White Mountain puzzle, "Portland, Maine".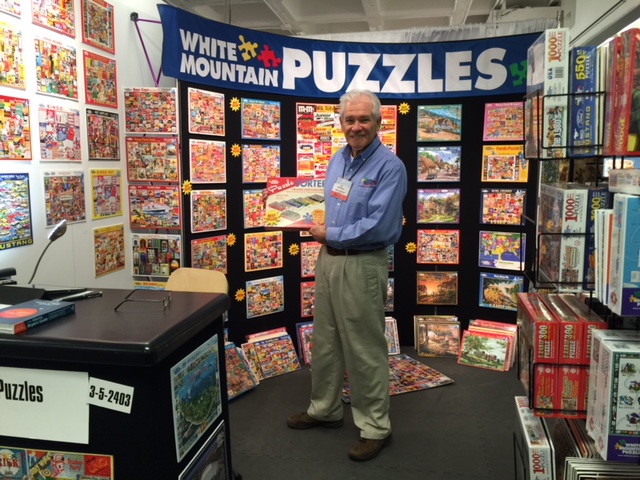 Above: One of the original founders, Ted Wroblewski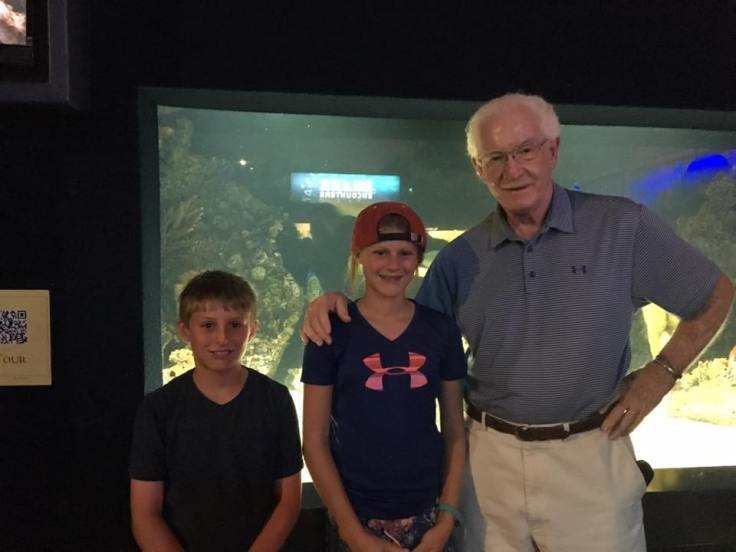 Above: One of the original founders, Cronan Minton
JJ: That leads well into my next question. In the past you've done a lot of regional and educational puzzles. How did that specialization come about?
SM: Certainly all the regional ones came out of that initial business focus of selling those ads. And then the educational side, that was more of an interest of my father's. He was originally a professor of creative writing and a scholarly type. He loved history. So he'd come up with the ideas and write all the copy, come up with all the historical facts and give that to the artists. He really enjoyed that process, doing the research and all of that. For example, he did the Civil War puzzle.
He would collaborate with the artist, give them all the notes and research that he did, and they would paint the image and then we'd produce it as a puzzle. And that got us into a lot of museums and places that featured historical products. We still do a few educational puzzles as well. We're coming out soon with an update to our US Presidents puzzle. Our artist is almost done with it. He's leaving one spot open for whoever gets elected in the upcoming election. So that one should be out shortly after the election.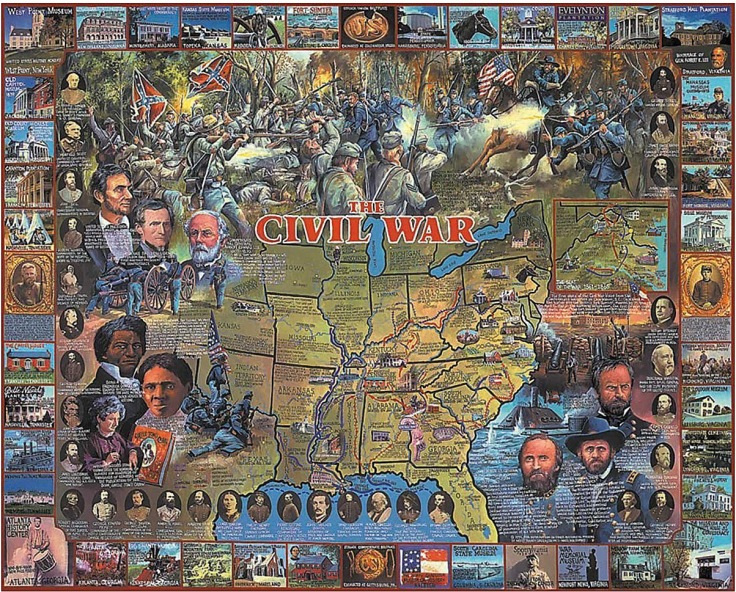 Above: "Civil War", designed by Cronan Minton. View on Puzzle Warehouse.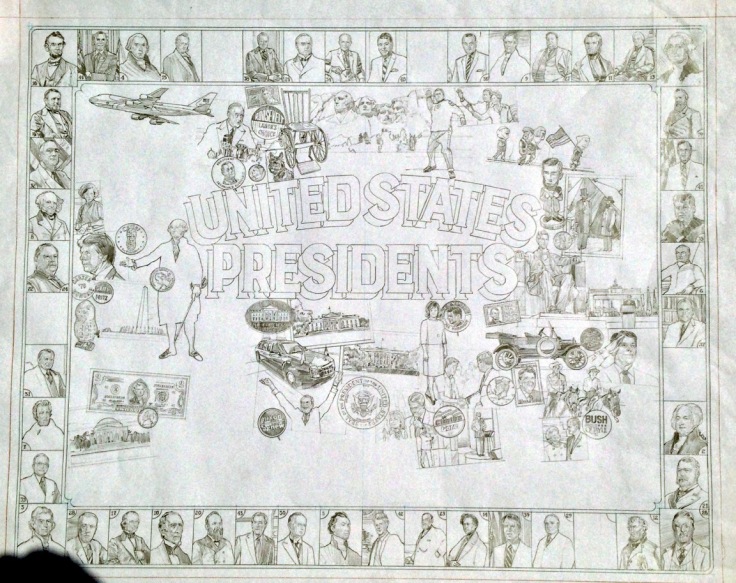 Above: A work currently in progress, "US Presidents"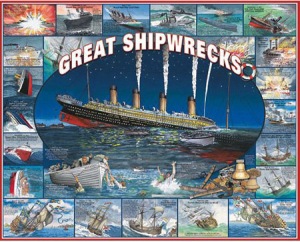 Above: Some White Mountain classics, such as "Great Shipwrecks", are out of print. However, the company regularly rotates in old images from the vaults.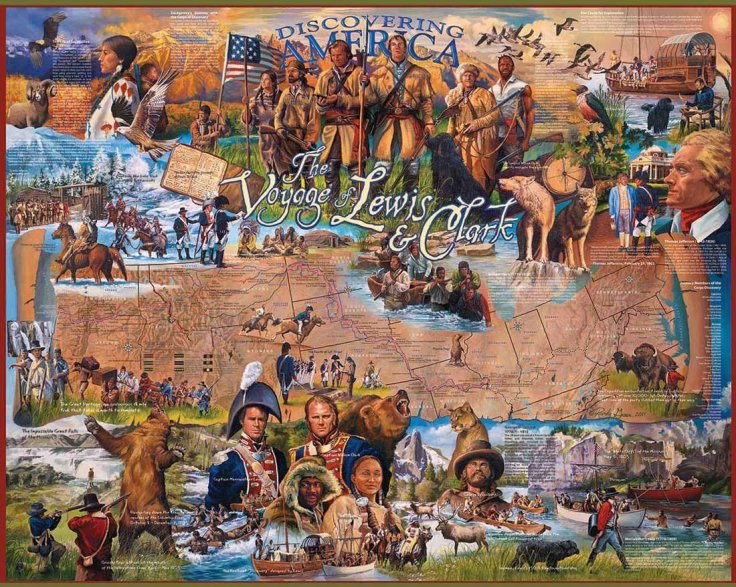 Above: Another of my favorite out of print puzzles is "Lewis and Clark"
JJ: What types of puzzle images does White Mountain specialize in today?
SM: We're known for our collage images. We've had significant growth over the last three years. Puzzles like Candy Wrappers, Games We Played, Bottle Caps, all sorts of different themes in nostalgic collages. The core audience is really families and older females. So we come out with a lot of images that are nostalgic, so people can reminisce about their childhood. And we like images that are conversational pieces. You know, if you're doing a scene with flowers it's not that conversational. Versus a collage of candy wrappers where everyone around can talk about 'Oh, I remember that one, I remember that'. So even the non-collages that we come out typically have a story within the image. For example, an old candy store that has all the things you might have seen in an old candy store. So you can reminisce about when you were a kid going into a candy store. Obviously clarity is important, lots of great detail, color…. We don't do a lot of washed out colors. It's gotta be crisp and detailed so people can figure out where the pieces go.
The other thing is, we don't do a lot of extremely difficult puzzles. The majority of our puzzles are moderate in challenge. We want people to have fun. We don't want people to get frustrated and pull their hair out and finish the puzzle and say 'I'm never doing another puzzle again'. You want them to feel like they're making progress and have fun so that when they finish they want to do another one.
We get tons of images and sometimes it's like "Wouldn't this be a great puzzle? Look at how difficult it is." But for us, it's not a goal to make people frustrated.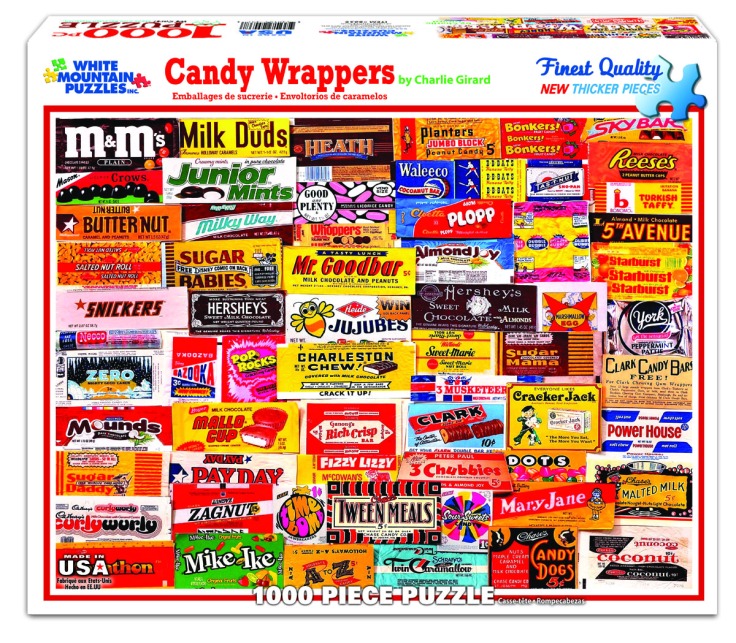 Above: "Candy Wrappers" is typical of White Mountain's collage puzzles and is one of their all time bestsellers. View on Puzzle Warehouse.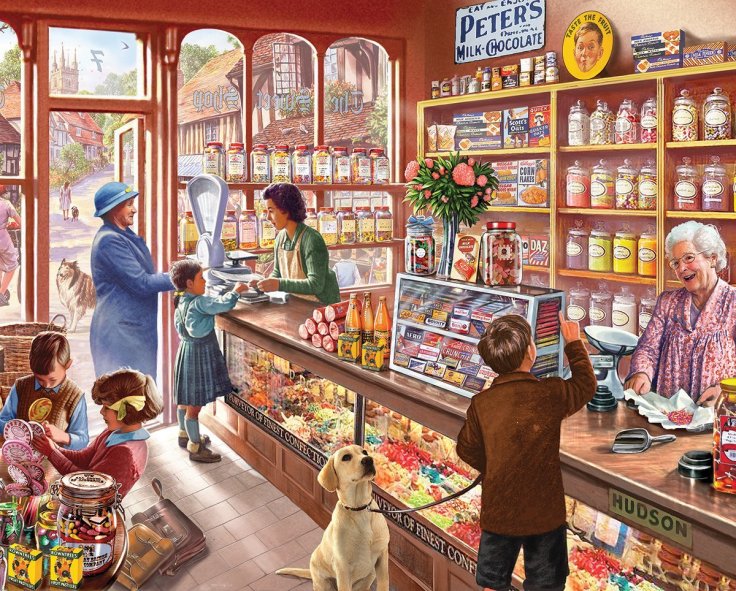 Above: Old Candy Store, a nostalgic themed puzzle by Steve Crisp. This image is available in two sizes — 300 and 1000 pieces.
JJ: Tell us about the thoughts behind your piece size and cut. Are you looking to be more challenging or easier and more accessible? What's important to you in a puzzle cut?
SM: The bigger pieces—our customers tend to be older, so they like the larger pieces. As for the random cut, it does make it a little easier to figure out where the pieces go. If every piece is the same it's not as easy. Our customers prefer that style of cut.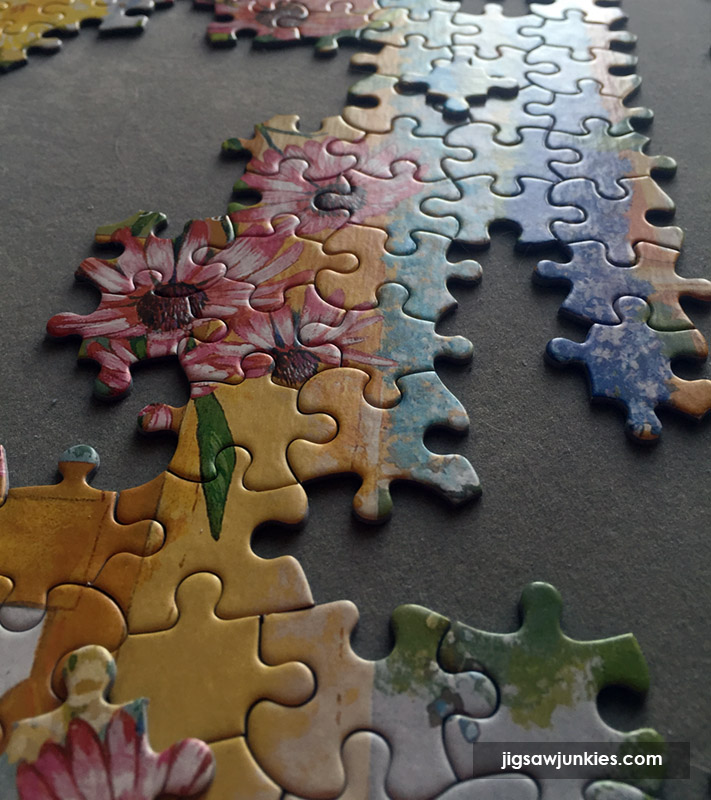 Above: A close-up look at the puzzle cut. This is from "Perennials".
JJ: What are a few of your favorite White Mountain puzzles over the years and why?
SM: "Candy Wrappers" is my all-time favorite. A lot of people love that one. We have an artist named Jim Mellett who paints a lot of our images. He's the one working on the new US Presidents puzzle. But he's come up with a number of great themes. "1980's" is one of my favorites. "Television History" is another one. So they tend to be pop culture oriented. "Baseball History" is also a good one that I like. "Cheers" is another one, that's beer labels, that's a fun one.