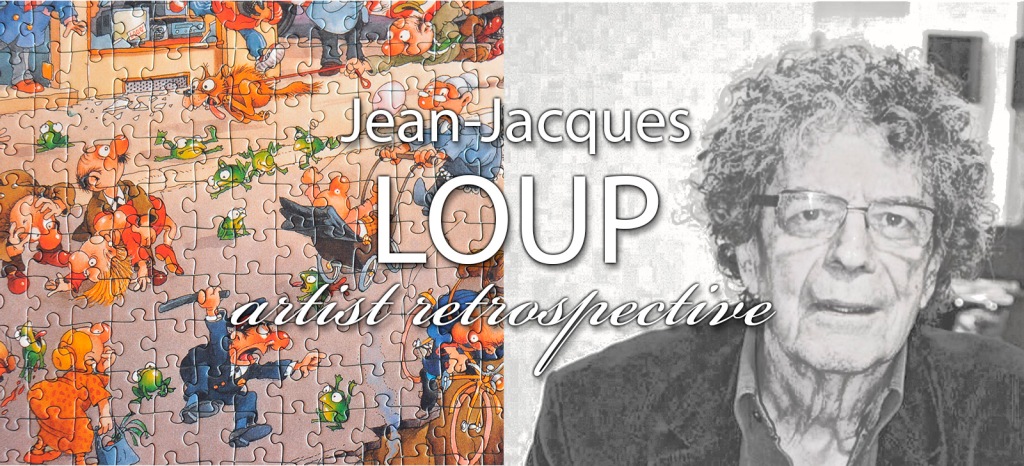 Artist Retrospective: Jean-Jacques Loup
LOUP WEEK:
This week at Jigsaw Junkies we're featuring one of my favorite puzzle artists, Jean-Jacques Loup He made puzzle images for Heye from the 1970's up until his recent death in 2015. Loup has published at least 59 unique puzzles and many have been reissued in whole or in a smaller subset of the original image. Our reviews this week are of "Ballooning" and "Castle of Horror" (it is almost Halloween, isn't it?) This weekend, we'll have a retrospective of Loup puzzles from the early days to today. Hope you enjoy our coverage of this awesome cartoonist. Don't miss the gallery at the end of this article that shows all known Loup puzzles!
ALL LOUP PUZZLES AT PUZZLE WAREHOUSE ARE 15% OFF ALL WEEK. Here's a link.
JEAN-JACQUES LOUP RETROSPECTIVE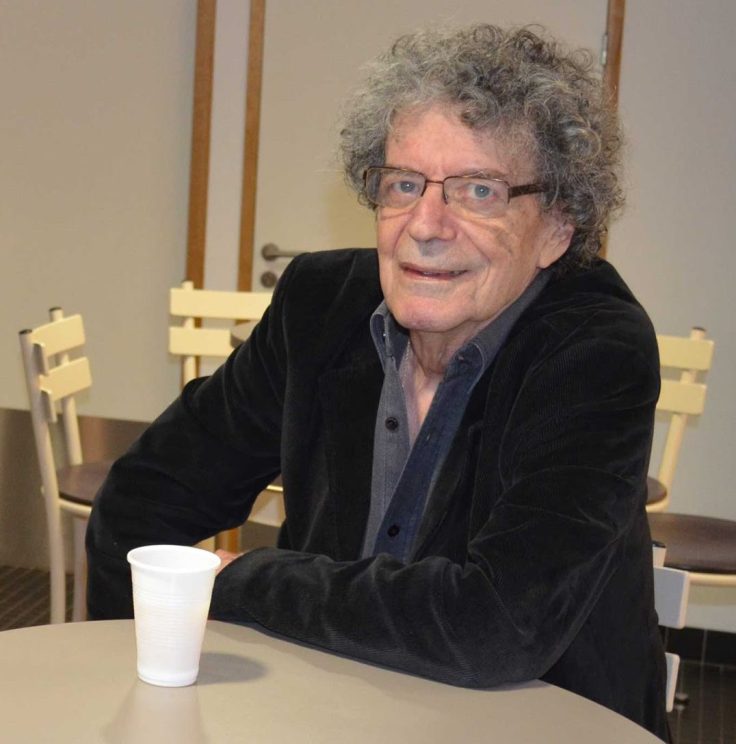 This photo and the one in the header were taken by Gérard Vandenbroucke
Biography
Jean-Jacques Loup was born in 1936 in Arles, France, and sadly passed away in Paris on July 31, 2015. Unfortunately, I was unable to interview anyone who knew Jean-Jacques personally, so the information in this retrospective was obtained off the web. Links to my sources are at the bottom of this article.
According to a tribute on Cartooning for Peace, Loup was a man with many creative interests. He was an architect, jazz pianist, comic book artist, and caricaturist. He studied architecture at the National School of Fine Arts in Lyon and worked in Paris as a cartoonist from 1969 until his death in 2015.
During the 1970s and early 1980s, he did cartoon illustrations for magazines like Mormoil, Fluide Glacial, L'Express, Le Canard Enchaîné, Charlie Mensuel, Libération, Playboy and Marie-Claire. He was editorial illustrator for VSD for 15 years. Book collections of his work have been published by L'École des loisirs ('L'Architecte'), Audie ('Touti Frouti', 1977), Dargaud ('La Bible de…', 1984) and Glénat ('La Vie des Maitres' parts 1 and 2, 1983-85). He became a political cartoonist for "Rebuts de press" in the TV show "Droit de réponse" animated by Michel Polac on TF1 French channel.
Loup regularly attended an annual festival for international press cartoonists and humorists organized in St-Just-Le-Martel, France. Gérard Vandenbroucke, the President of the Limousin region and former mayor of St-Just-Le-Martel, said of Loup that he was "the model of what a press cartoonist should be : someone who knows how to draw, but also someone with true knowledge and culture."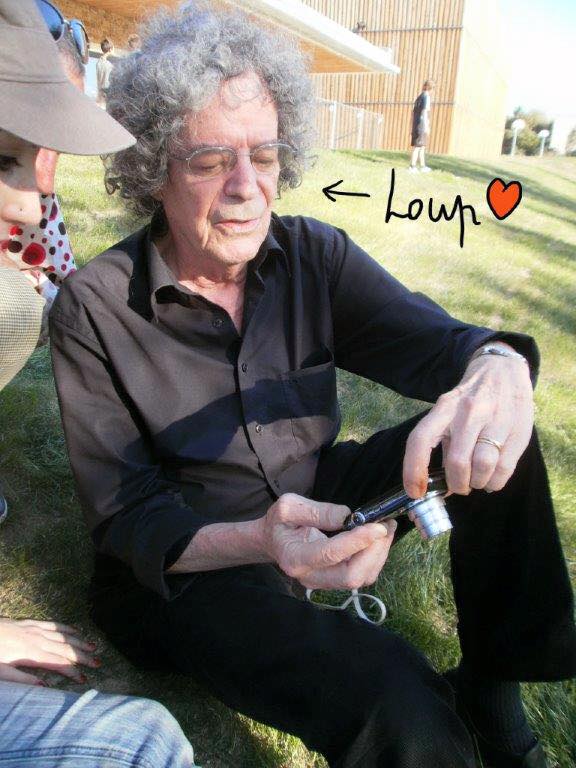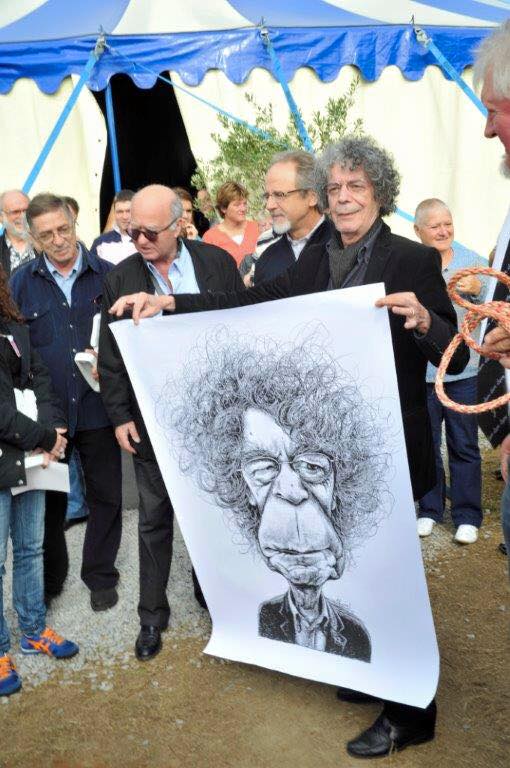 Above: The above two photos of Loup were posted on facebook by Gérard Vandenbroucke, taken at the international press cartoonist festival in St-Just-Le-Martel.
Political Cartoons and Magazine Illustrations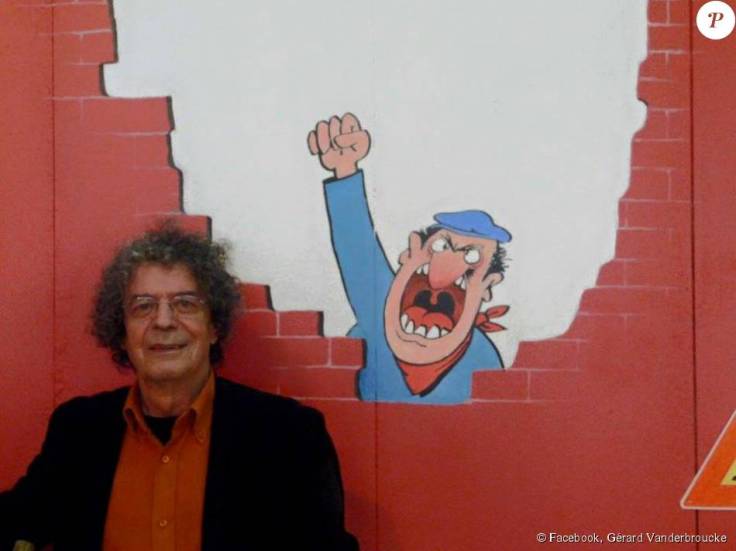 The above image is from the facebook page by Gérard Vandenbroucke.
Jean-Jacques Loup is probably best known in his home country of France as a political cartoonist and magazine illustrator. Below are just a few examples of the illustrations Loup produced for French magazines.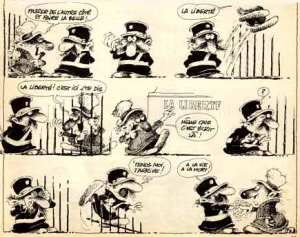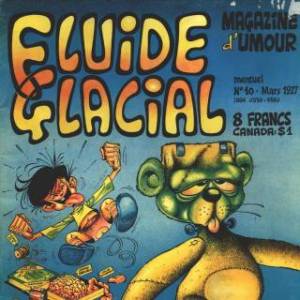 Above: cover for Fluide Glacial magazine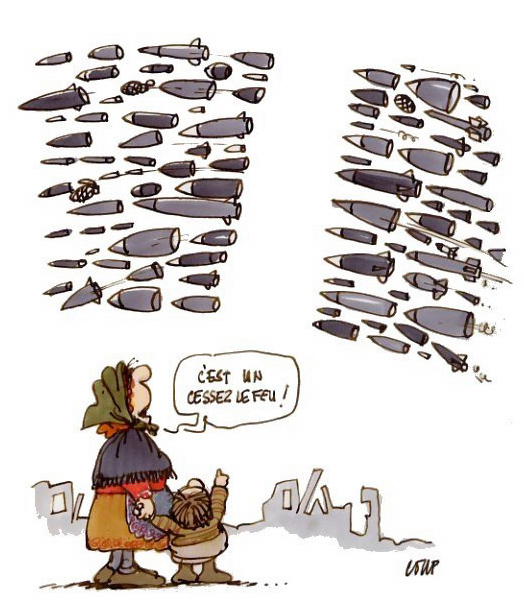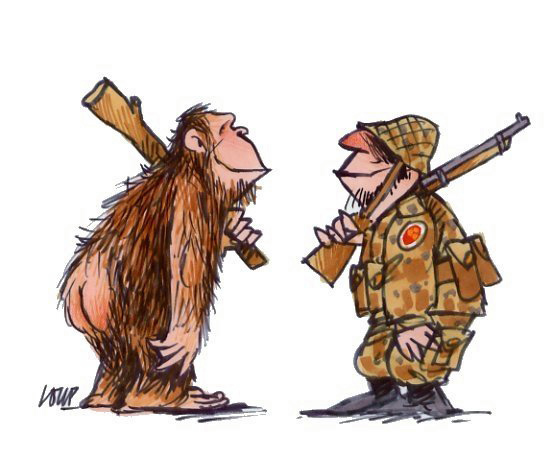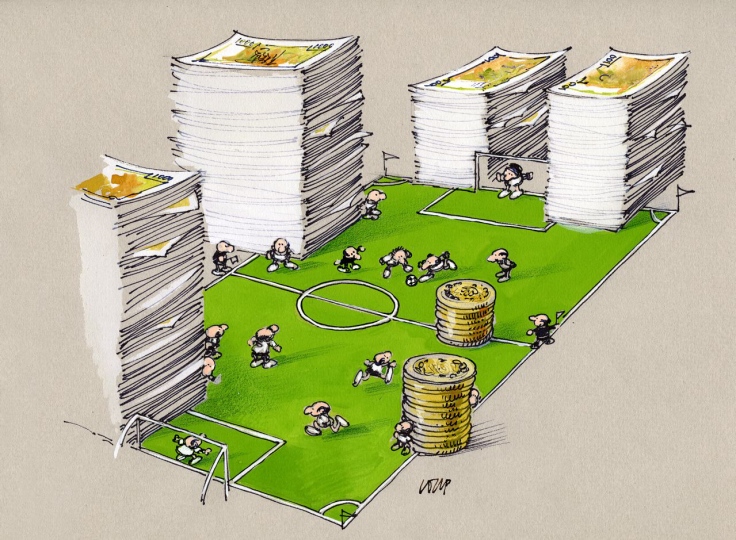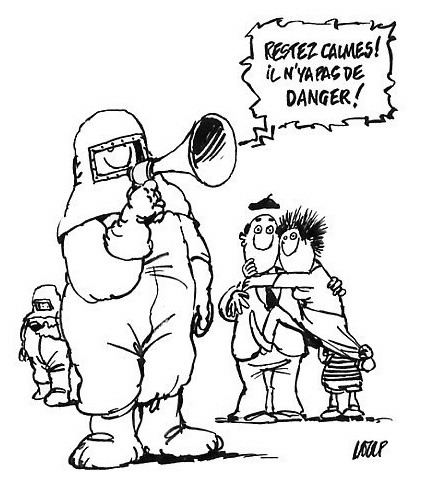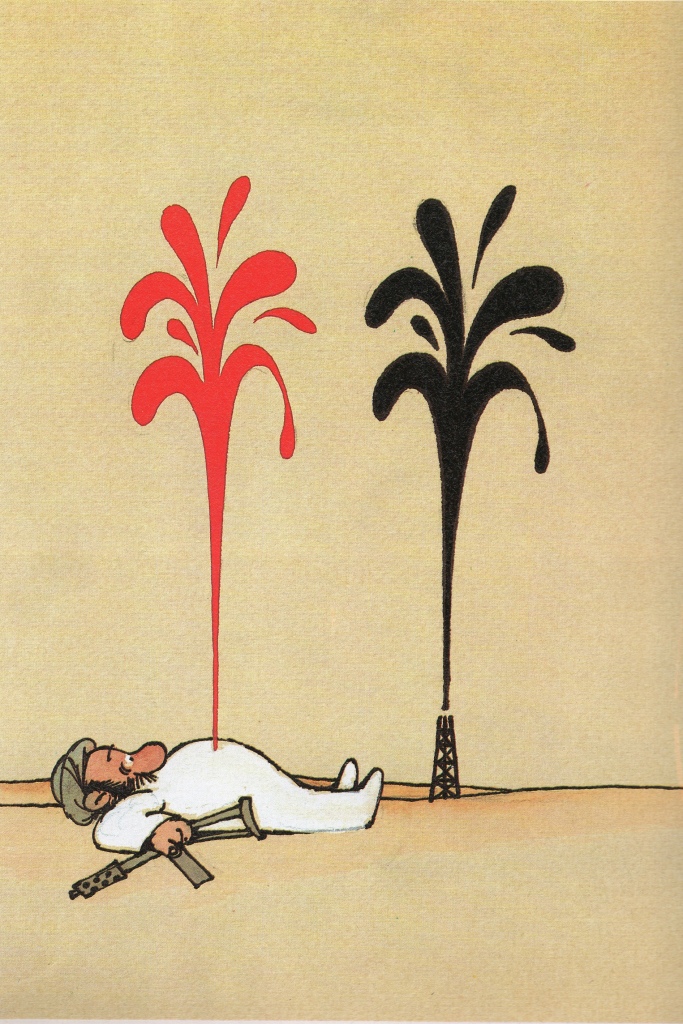 The five images above are all from a gallery of Loup's cartoons published on the Cartooning For Peace website here.
His status among French's political cartoonist can be seen in this tribute image from Placide that went along with the notice of his death (read the original here). In the image, Loup taunts terrorists "You didn't get me", referring to the tragic shooting of cartoonists at Charlie Hebdo earlier in 2015.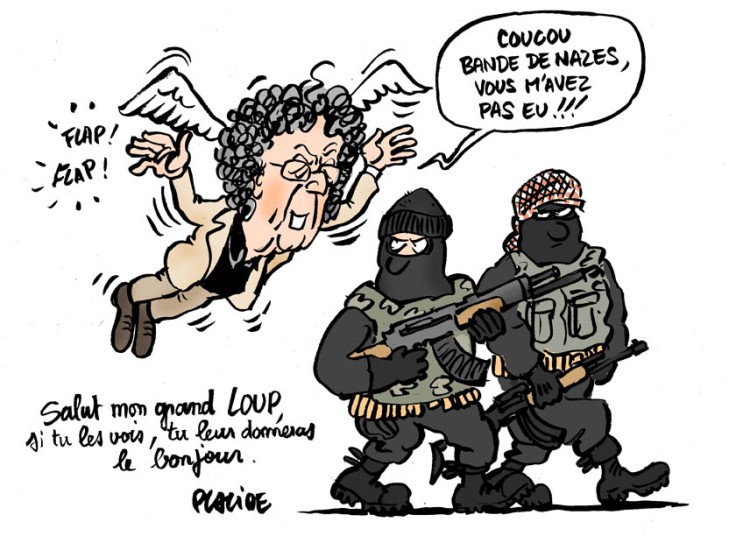 Books
Besides his work for magazines and newspapers, Loup produced several stand-alone comic books during his lifetime. Some of the images in these books later became puzzles.
Touti Frouti – 1977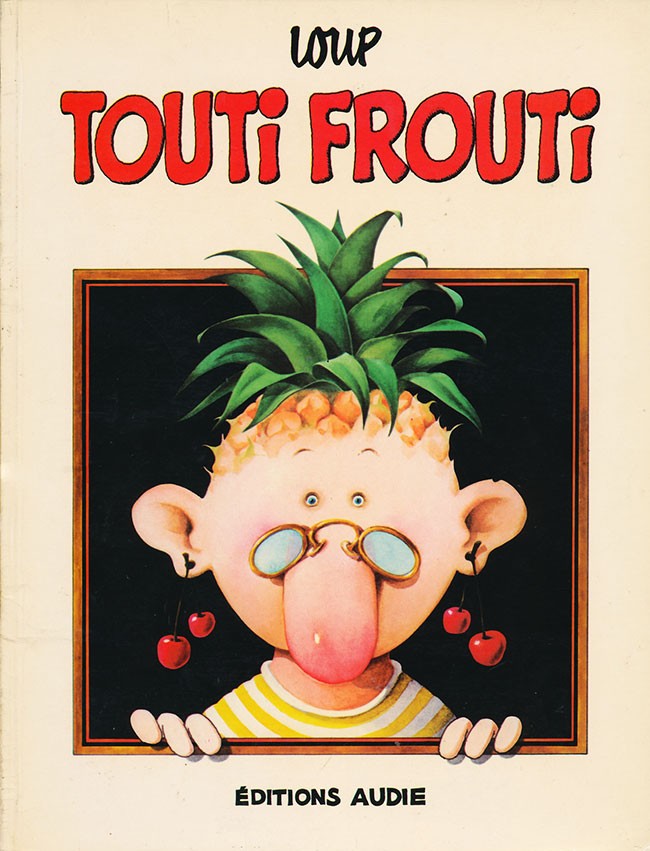 The Architect, 1977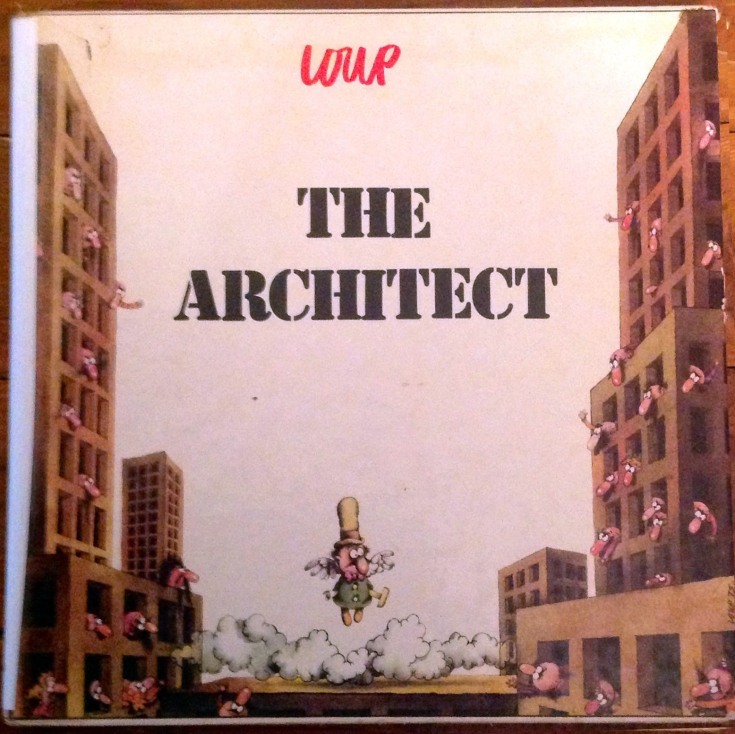 "Carnet de Croquis", 1988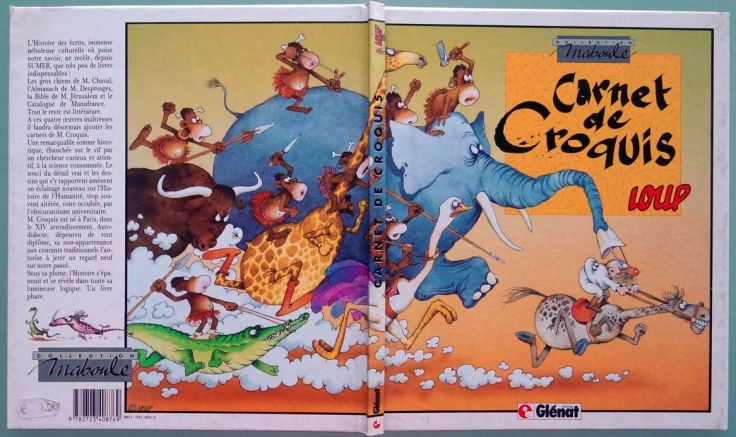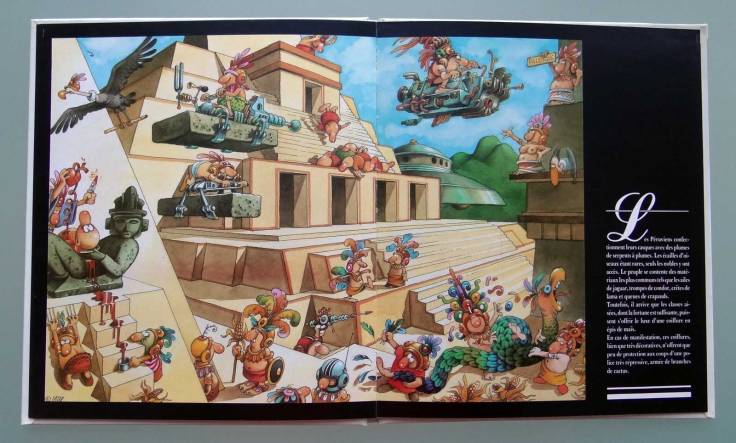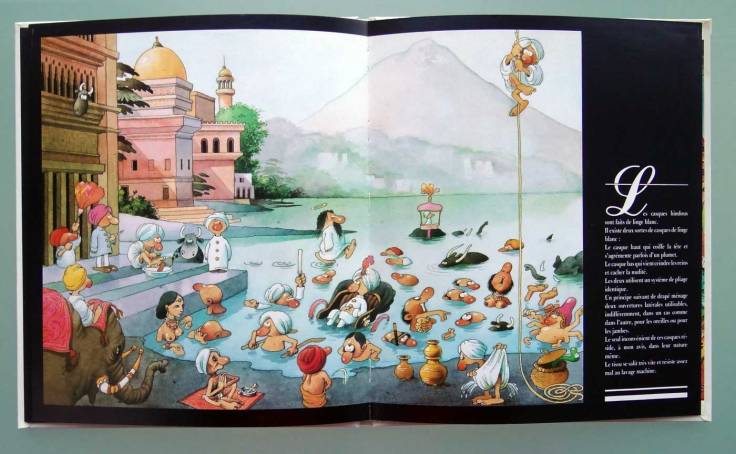 Above images from ECC-Cartoonbooks Club website.
La Vie Des Maitres — 1992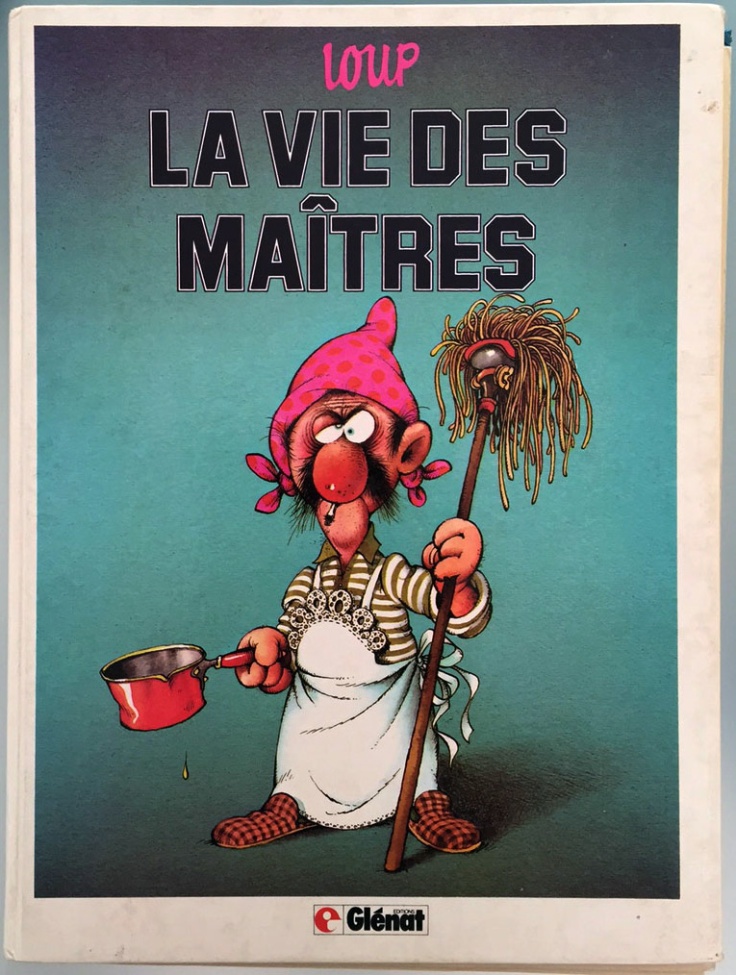 Loup Puzzle Images
Jean-Jacques Loup is best known to jigsaw puzzle lovers as the creator of many classic cartoon puzzle images produced by Heye. He released at least 59 unique puzzles images, and there are probably a few more I missed.
Loup's first Heye puzzles were released in 1974. He continued to do new images for Heye as late as 2012 ("Open Air"). The Heye website says of Loup: "The French artist Jean-Jacques Loup majored as an architect. This is immediately obvious in his ingenious puzzle motifs. Loup doesn't flinch from taboos in his eye-catching displays, but in spite of this bluntness, he always remains disarmingly funny. Jean-Jacques Loup passed away in 2015."
For his puzzle images, Loup is a master of the "busy cartoon" puzzle style. He's a master of the genre (perhaps even the very best) and has an unmistakable style. We'll sadly never see his like again. Wherever you are, Jean-Jacques, thank you for all the joy your images have brought the world!
Don't miss our photo gallery at the end of this article with pictures of all 59 Loup puzzles.
Loup's Puzzle Art Style
His puzzle "Apocalypse", originally published in 2000 and reissued in 2013, shows Loup at the pinnacle of the cartoon puzzle genre. The colors in this puzzle are brilliant without being forced or unnatural. There's a ton of stuff going on but the overall affect is not a muddle. Each detail is clear. The general palette, which is predominantly blue and orange, is well harmonized and not too busy, yet there are plenty of unique tones within the image to help assembly. The theme of the puzzle is quite interesting, thoughtful, and unique (various apocalyptic events coming to pass at the same time) while poking a bit of fun at extremists.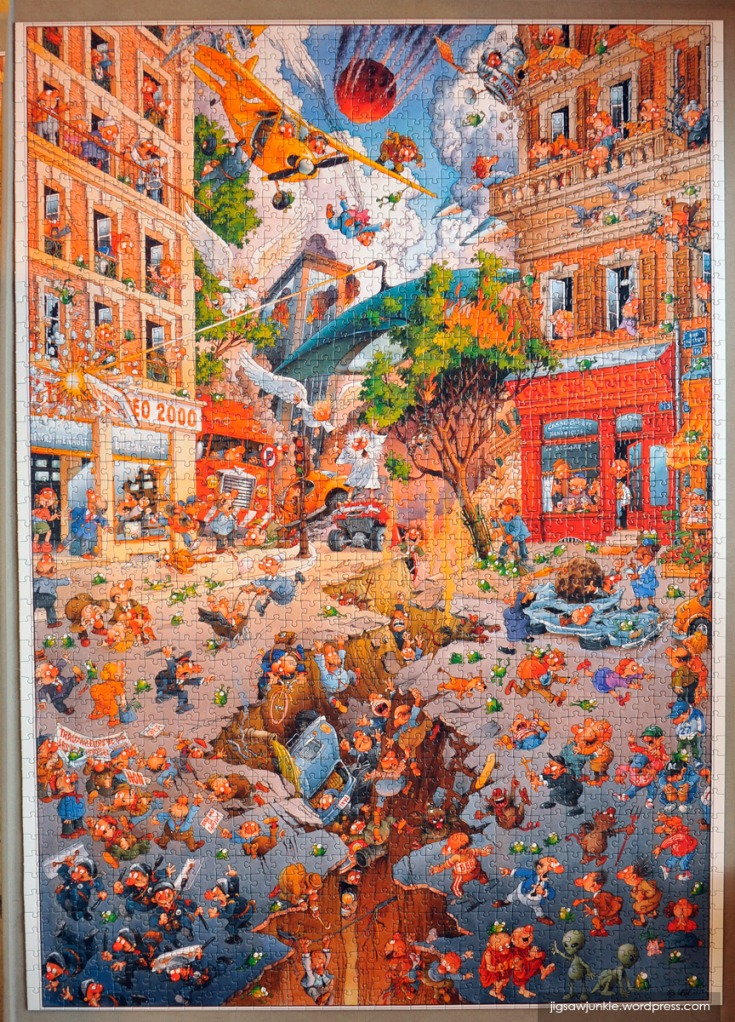 Within the fantastic detail of the image, each element is meaningful, funny, and well-executed. There are no cut-and-paste shortcuts here!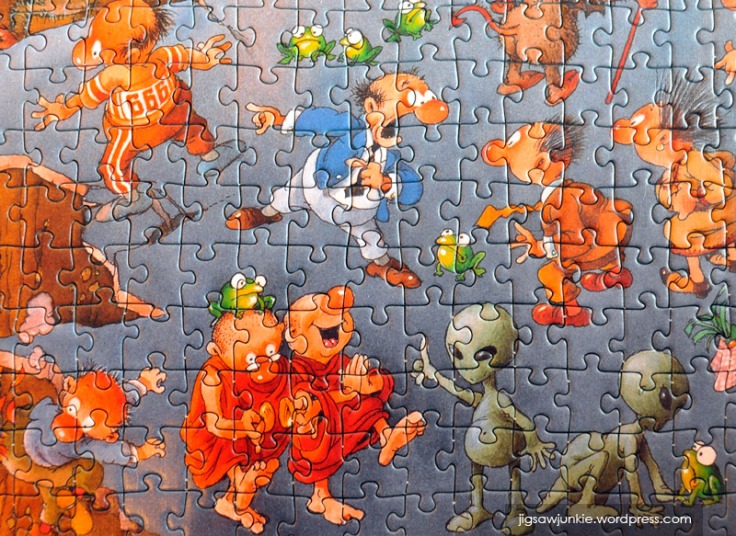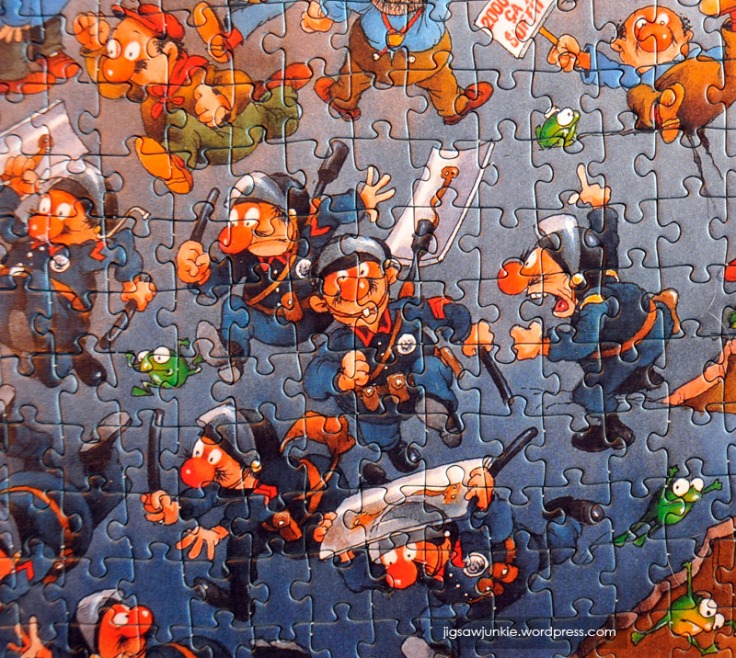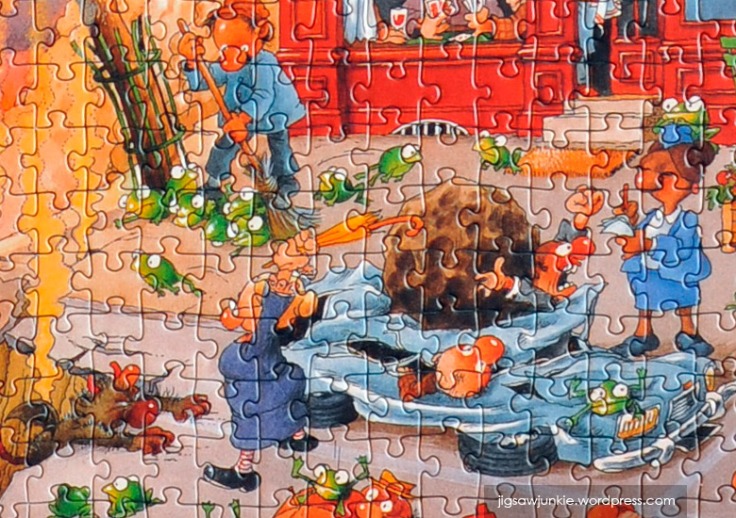 In Loup's final puzzle for Heye, "Open Air" (2012, 2000 pieces), the scene is an outdoor concert and is an interesting mix of super crowded areas (the audience) and a less crowded focus area (the stage).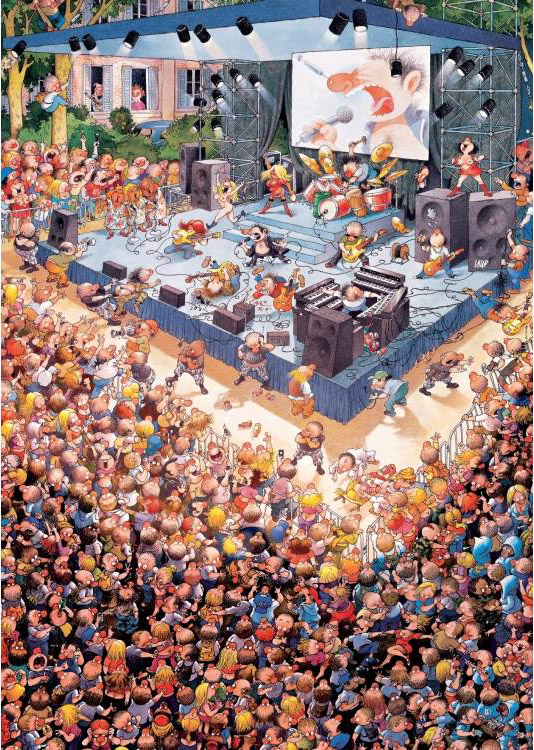 As usual with Loup, every single figure in the puzzle is an individual with a personality and each inch is a mini-story in itself.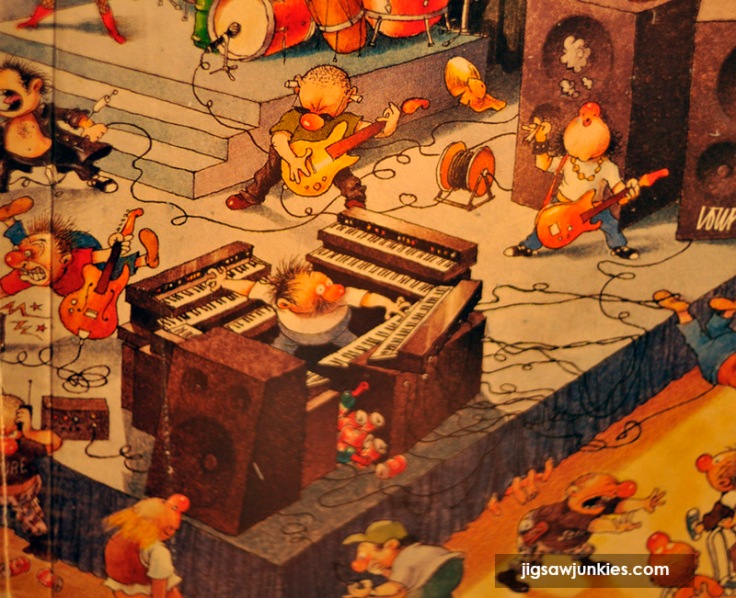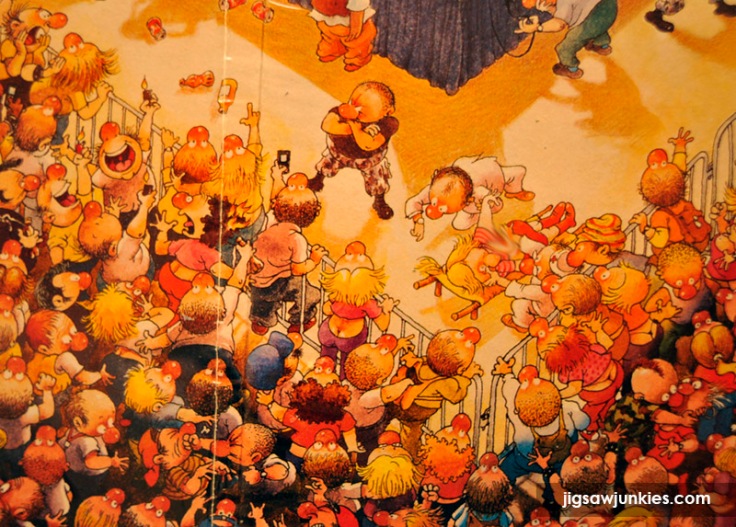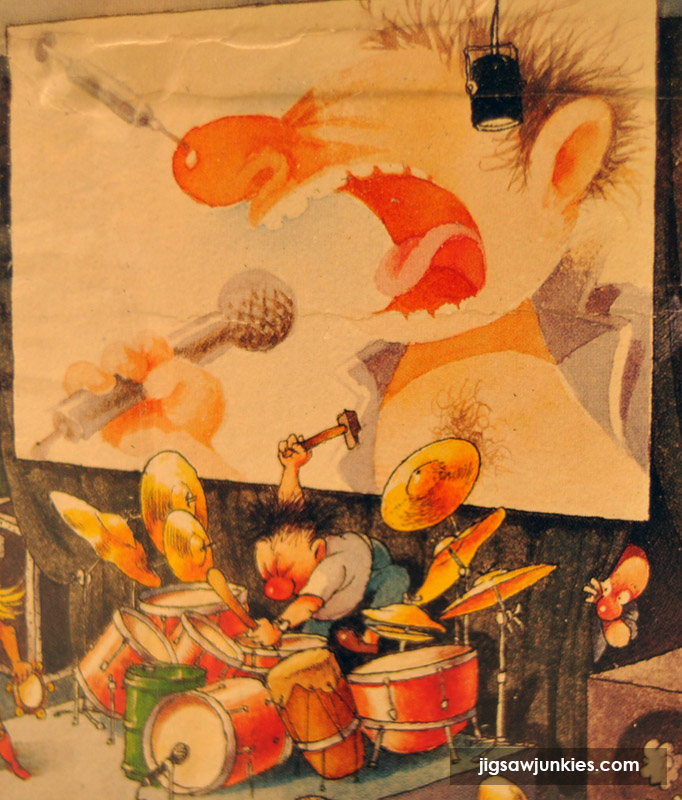 Jane's Top Pick of Loup Puzzles
When I began accumulating the photos for the gallery, there were so many Loup puzzles, I thought I'd call out a few of my favorites. In alphabetical order…
APOCALYPSE (2000 and 2013), 2000 pieces (click on any of these for a closer look)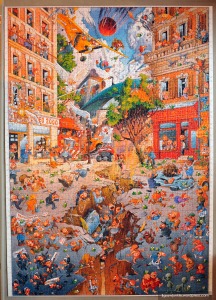 AVE CAESAR (2004), 2000 pieces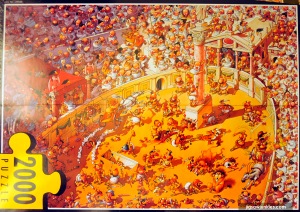 EMERGENCY ROOM (2002), 2000 pieces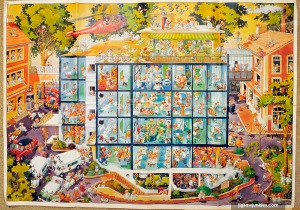 CASTLE OF HORROR (2003), 2000 pieces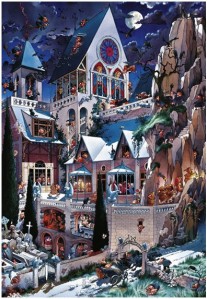 MONACO GRAND PRIX (2003), 2000 pieces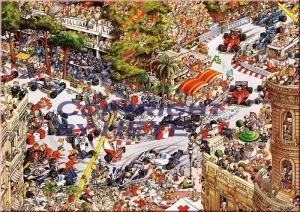 NAPOLEON'S WINTER GAMES (2006), 4000 and 2000 pieces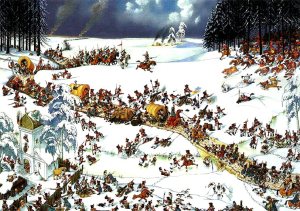 NOAH'S ARK (2001), 2000 pieces
OPEN AIR (2012), 2000 pieces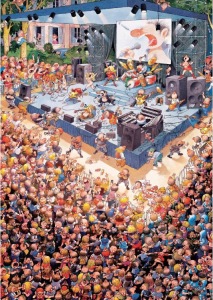 SALES (2007), 2000 pieces