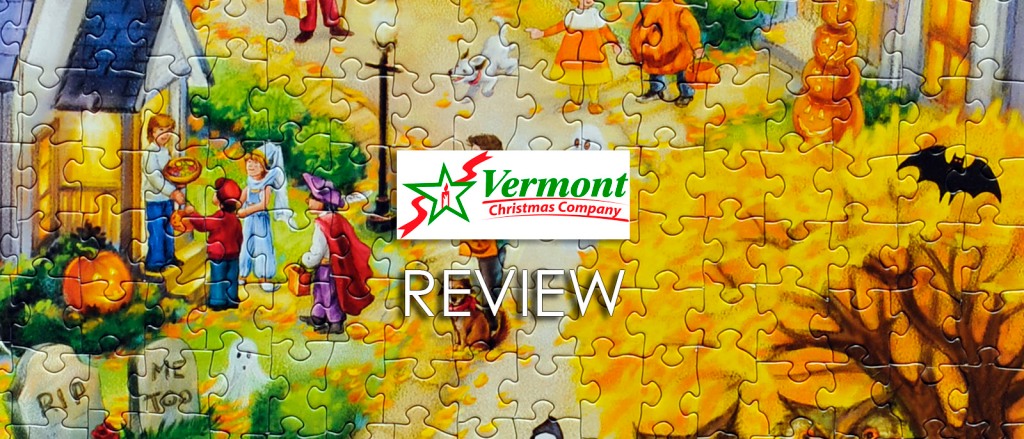 Review: "Halloween Town" by Randy Wollenmann, Vermont Christmas Company – 9.25/10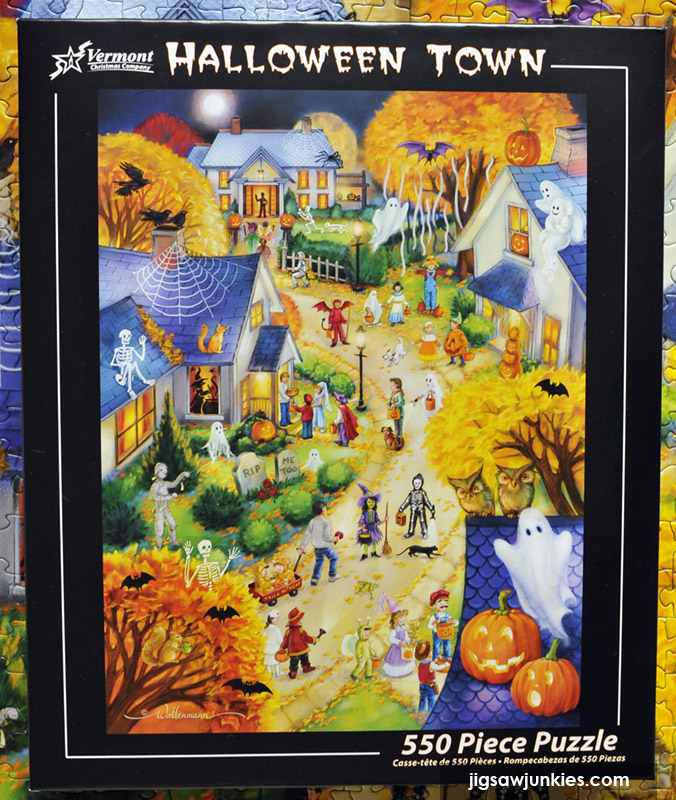 Publisher: Vermont Christmas Company (US), published 2016
Title: "Halloween Town" by Randy Wollenmann, 550 pieces
Finished size: 24″ x 18″
OUR RATING: 9.25/10

Halloween Puzzle Week
Our theme on the blog this week is Halloween puzzles. Yay! I've been looking forward to covering this topic. I love this time of year and I love Halloween. There aren't too many Halloween puzzles that come in adult sizes. This week we're going to focus on the best out there. I'll be reviewing two Halloween puzzles during the week and on the weekend I'll have a top ten list of Halloween puzzles on the market.
Box Quality: (8/10)
The Vermont Christmas Company box is rectangular and has a solid, sturdy top (above). The packaging design is very basic on the tops and sides. The artist name is not given on the front of the box.
Bottom:
The bottom of the back is plain white.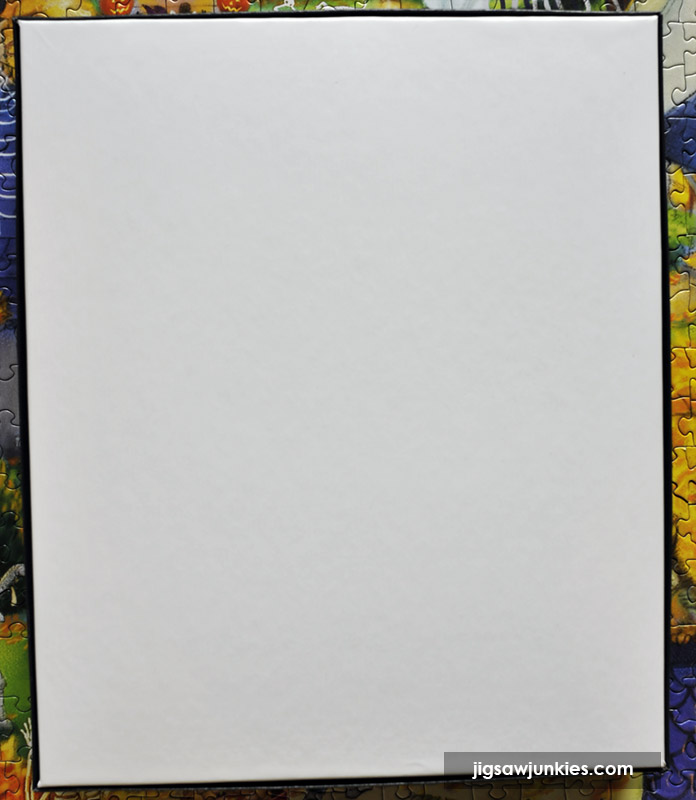 Sides:
All four sides of the box are different. Two sides have a photo of the puzzle, the puzzle name, piece count and dimensions. Missing is the Vermont Christmas Company logo, which I like to have on the side for easy reference when shelving. One side has has a little information about the company provided in three languages.
I have two issues with the sides. First. only the long sides include a photo of the puzzle and the puzzle name in English. You would not be able to shelve this puzzle with a short side out, which is exactly how I shelve my puzzles. The second issue is that the artist's name only appears on one side in a small copyright notice and, furthermore, they misspell the artist's name. (It appears as "Randay Wollenmann" but the artist's name is "Randy Wollenmann".) Doh. That's a pretty important thing to get wrong.




Here's a close-up of the English verbage on the box side.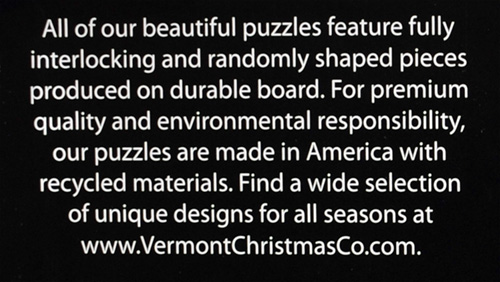 Inside:
The box contains the bag of puzzle pieces and a promo flyer for Vermont Christmas Company. The flyer shows a few of their other puzzles.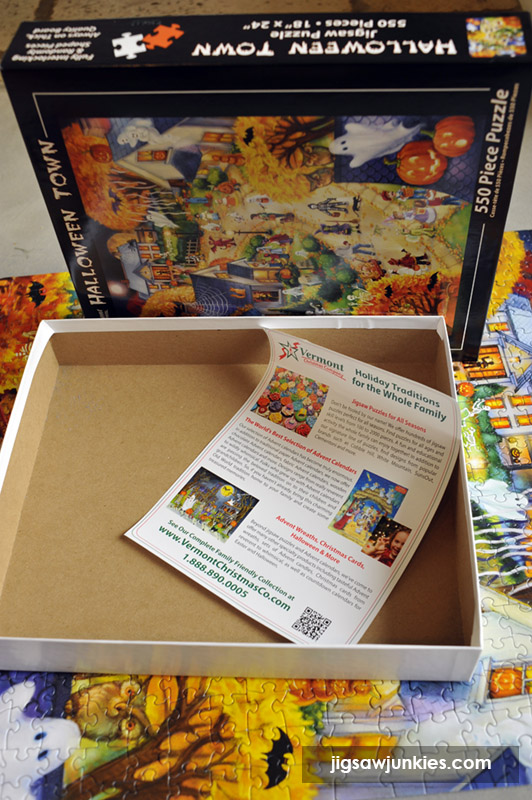 The Image: 10/10
Awesome. I love this image, and I was happy that the puzzle itself lived up to it. As I've written before, it's hard to find Halloween images that aren't drawn for second graders (including many of Vermont Christmas Company's other Halloween puzzles) or that come in small sizes like 300 pieces (like some of Sunsout's best Halloween images).
The "Halloween Town" image strikes a lot of chords for me. First, it feels a bit like a "busy cartoon" puzzle with the various small figures in costumes. Second, there's a lot of bright Halloween color in this composition with the yellow, oranges, purples, and greens. Third, it's cute without being too kiddie (yay!). And finally, it really wrings the "Halloween" theme for all it's worth! There are trick-or-treaters, pumpkins, fall leaves, house decorations, ghosts, bats and ravens. It's a perfect Halloween image. It reminds me a bit of last year's favorite, Falcon's "Halloween".
The artist for this puzzle, Randy Wollenmann, has done several images for Vermont Christmas Company, including "Christmas Cuckoo Clock" which I reviewed highly here. I like his art style and I'll be keeping my eye out for more of his puzzles.
This image gets a full 10 score.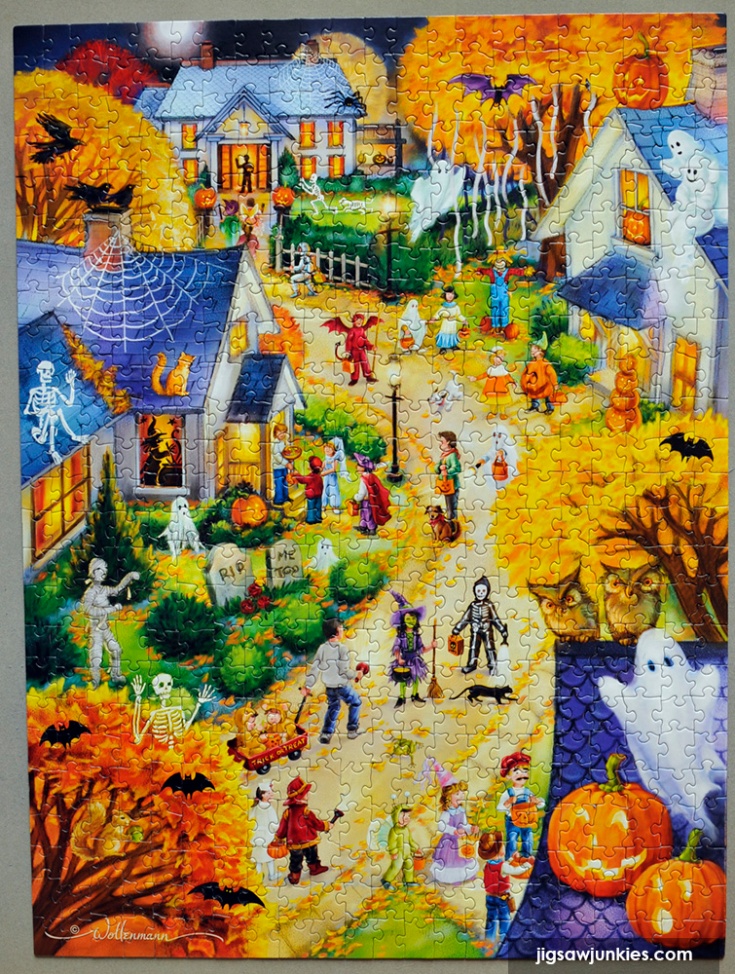 (Click on any of the images in this review for a closer look.)
Puzzle Quality: (8/10)
Just a few months ago I reviewed my first puzzle from Vermont Christmas Company and did a brand comparison. At the time I liked them well enough to add them to my list of brands I am comfortable buying anytime I like an image. This puzzle fortunately proved to be no exception. I found the quality good.
The cut on this puzzle was a bit different than the puzzle I reviewed for the brand comparison. That puzzle was a "semi-random" cut whereas "Halloween Town" is a bit more of a grid cut–but not exactly! (As you can see in the image below.) Not all corners line up and some sides are wavy and more extreme.There was a good variety of piece shapes. I liked the cut and enjoyed assembling the puzzle.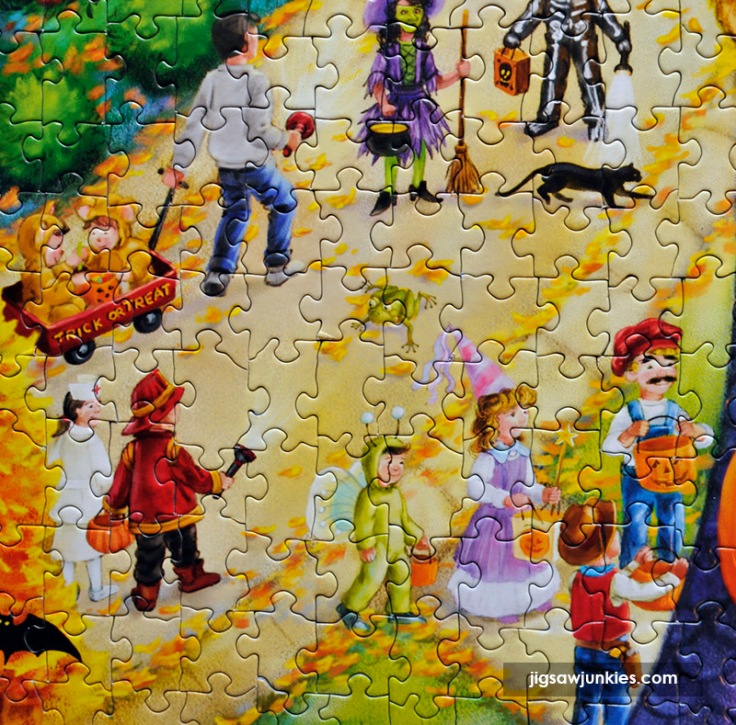 Another important issue for me is the thickness of the pieces, and VCC pieces, while not super thick visually, are hard and solid, not bendable or frayed. The image was firmly bonded and not going anywhere. There was no image lift and a small amount of puzzle dust. I also like the flat finish–the cut blends in nicely in the final puzzle. The pieces are glossy and there is some glare under overhead lights.
The interlock has normal snugness, neither super tight nor super loose. Pieces will fall apart when you move them or pick them up, so you have to use care. But the fit wasn't so tentative that nudging things made them fall apart. Overall, I've given the quality an 8. Again, henceforth I will not hesitate to buy another VCC puzzle if I love the image. It's always nice to have more options!
Assembly: (10/10)
Easy level. Super fun.
This is crazy, but I don't have any work-in-progress pictures to share because I finished this puzzle in one sitting. Like reading a really engaging book, I just kept starting on the 'next bit' and before I knew it I was almost done so I just finished it.
There are many areas in this puzzle that have bright and unique colors and that you can assemble as separate little sections. I separated my pieces during sorting by color — yellows, greens, purples, tans. This made it very easy to just take an entire tray of pieces, slide them onto my board, and do the sections in that color.
After doing the border, I tackled the bright orange and yellow trees. The orange pieces included the various pumpkins around the scene and a few costumes too.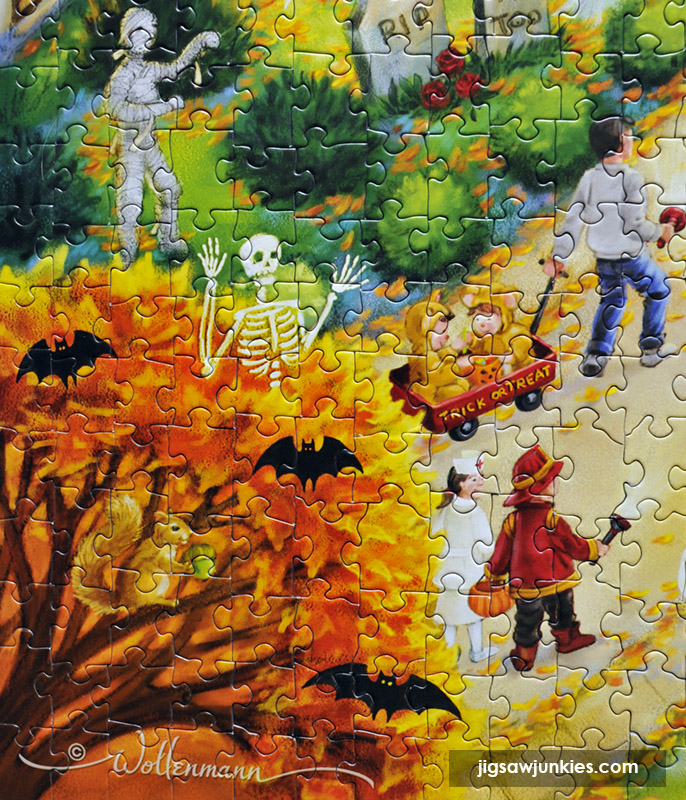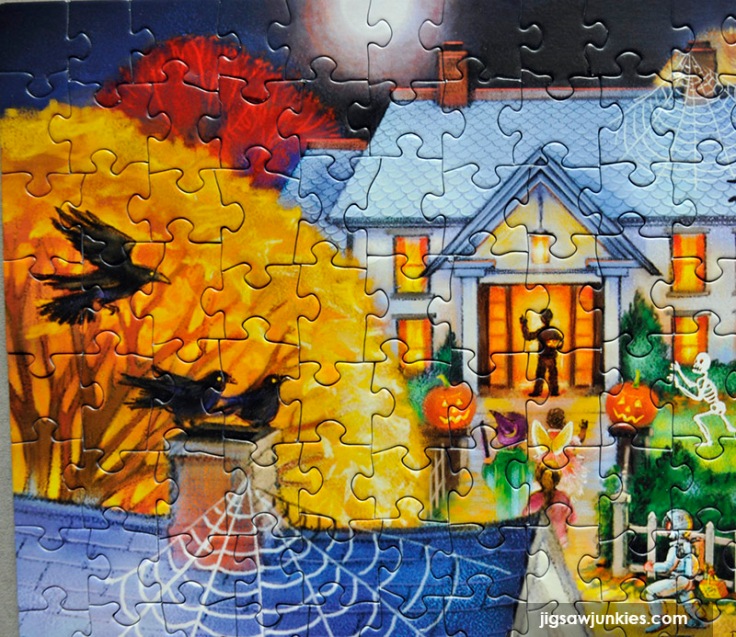 The purple pieces are also fun and easy to assemble–they make up the roofs on the buildings and a few costumes.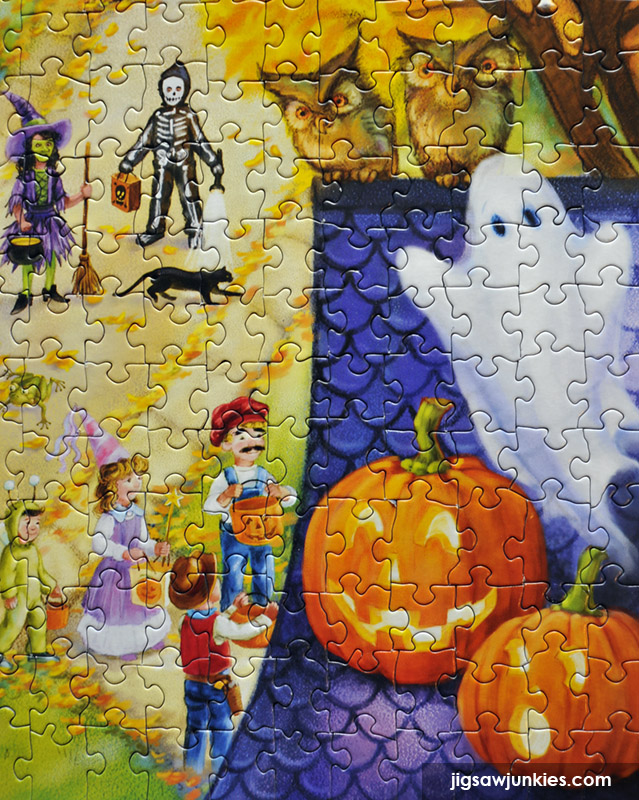 I think my favorite section was the tan street because that's where most of the characters are. Pulling the pieces that have a tan background made this section come together quickly.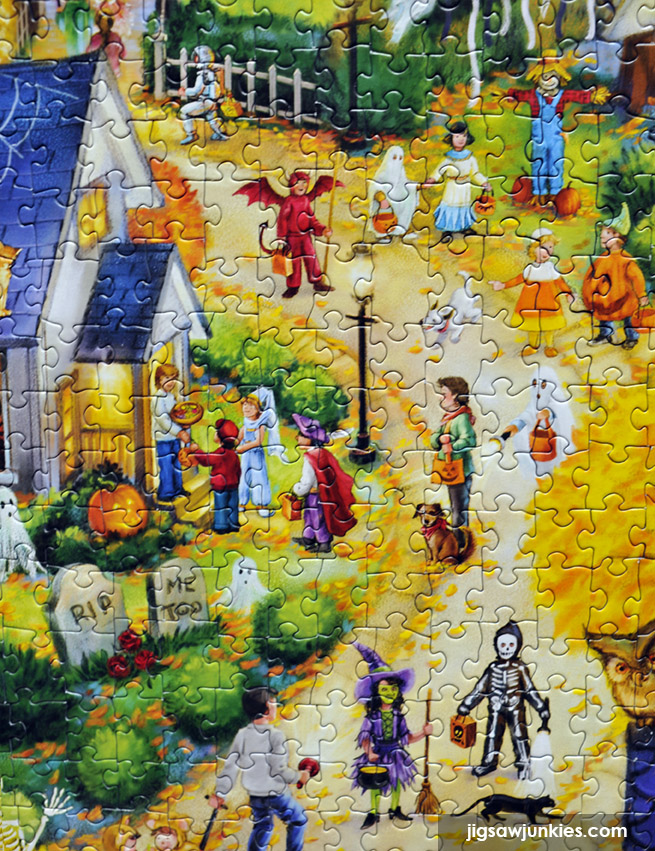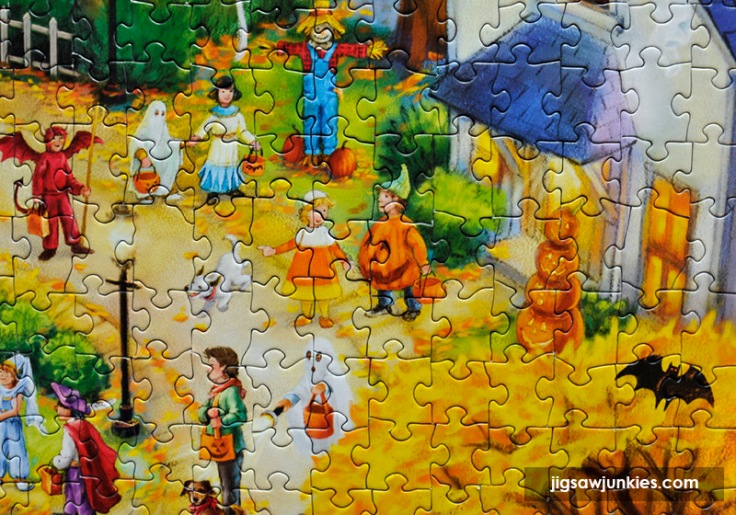 The greens were also easy, mostly making up a graveyard in a front yard and a few bushes here and there.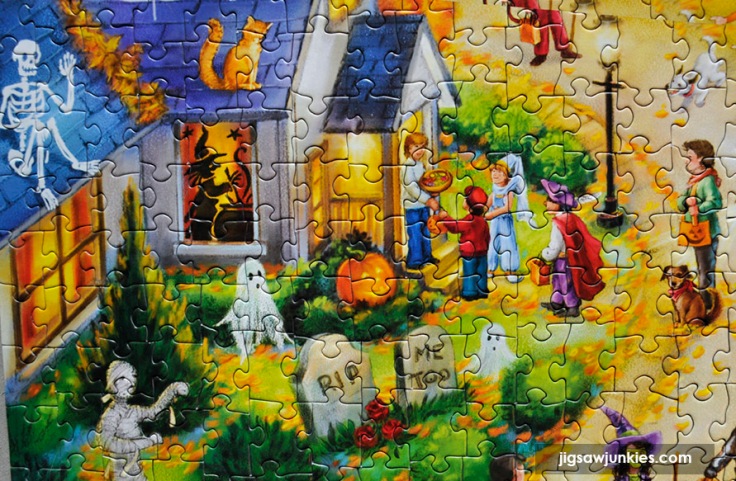 The house at the top of the puzzle was the last to assemble for me for no particular reason other than that it was furthest away from my chair, and I has working too fast to turn the board until the end.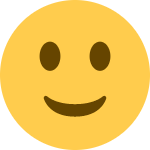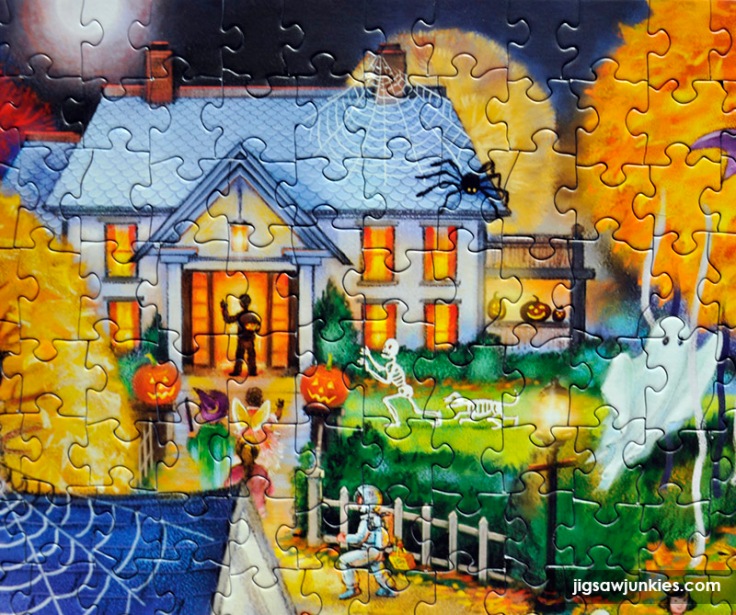 There were no "left for the end" pieces or sections in this puzzle, no 'dark areas' or 'monotone areas' or 'muddy areas' which were more difficult or less fun. That's rare! The colors and patterns were bright and distinctive throughout, so no area was any more difficult than any other.
This would also be a terrific puzzle to do with kids. I really had fun with this one and I can see myself assembling it again next year at this time.
Overall, I've rated assembly a full 10. I had fun "to the last piece" and can't think of any way it could have been better.
Bonus Point:
I don't add bonus points very often, but I did add one for this puzzle. This puzzle will be at the top of my Halloween top ten list, and I'm awarding the bonus point for being 'best of category' in Halloween puzzles.
Summary:
I loved assembling this Halloween puzzle! The image by Randy Wollenmann has bright colors and patterns that make assembly easy, quick, and super fun. It was so much fun I completed the puzzle in one session because I just had to do the "next little bit". The Vermont Christmas Company quality is good with hard, solid pieces. The cut is mostly a grid cut, but not all edges line up and some sides have wavy and diagonal edges. This gave the puzzle a unique personality, and I enjoyed working it. This puzzle is easy enough that it makes an ideal family puzzle. It's the best of the 2016 Halloween season!

Where to find:
This puzzle is 15% off for the next three days (til 10/17/16). Click below to see the puzzle on Puzzle Warehouse.

JJ