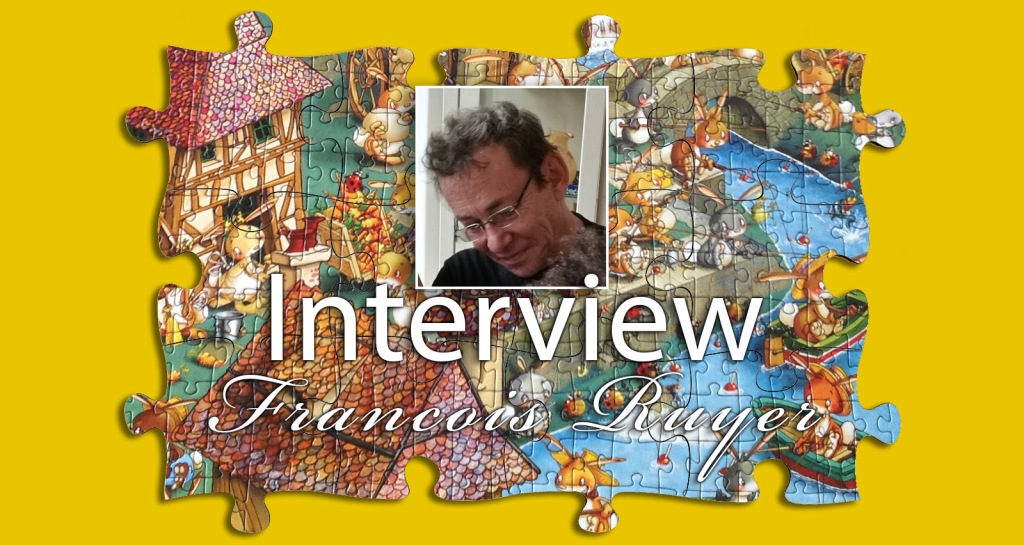 Puzzle Artist Interview: Francois Ruyer
RUYER WEEK:
This week I'm featuring cartoon puzzle artist Francois Ruyer. He has done puzzles with a few brands, but primarily with Austrian manufacturer Piatnik. I reviewed two Ruyer puzzles this week (Christmas Chaos and Story of Wine) and here's the promised interview.
View all current Ruyer puzzles in stock at Puzzle Warehouse
See my previous Ruyer reviews here.
FRANCOIS RUYER INTERVIEW: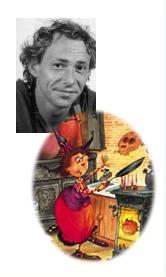 Thank you so much for agreeing to an interview, M. Ruyer, and giving us an opportunity to learn more about the man behind the puzzles!
JJ: First, please introduce yourself and tell us where you were born and where you live now.
FR: Thanks for your interest. I was born on 22nd of May at Raon l'Etape (Vosges in France). I have three children: one 26 years old and two 25 years old (twins, a boy and girl). I live in Saint Die des Vosges.
JJ: Did you attend art school or are you self-taught?
I have a diploma in National supperieur expression plastique (DNSEP) obtained in 1987.
JJ: You are known for your cartoon images. Can you tell us about what drew you to cartoon art as opposed to any other kind of art?
I have always been a cartoon illustrator since my youth. I have illustrated about 300 books for various publishers (Fleurus enfants, Hemma, Grimpress, etc.)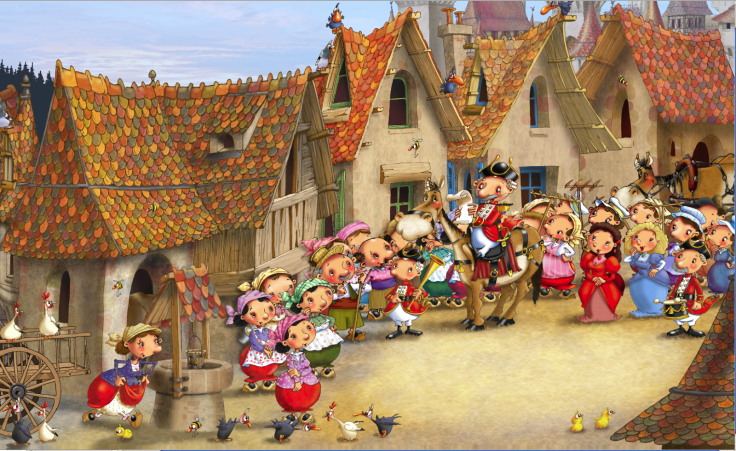 Above: A Ruyer illustration for a book "Cinderella". (click for closer view)
JJ: It seems like the role of cartoonist is more popular and recognized in Europe than in the United States. Do you have any thoughts on why that is the case?
I do not think I'm very famous in France, and I have no idea of the American market. An illustrator is not very recognized in France. It is rather the writer is recognized.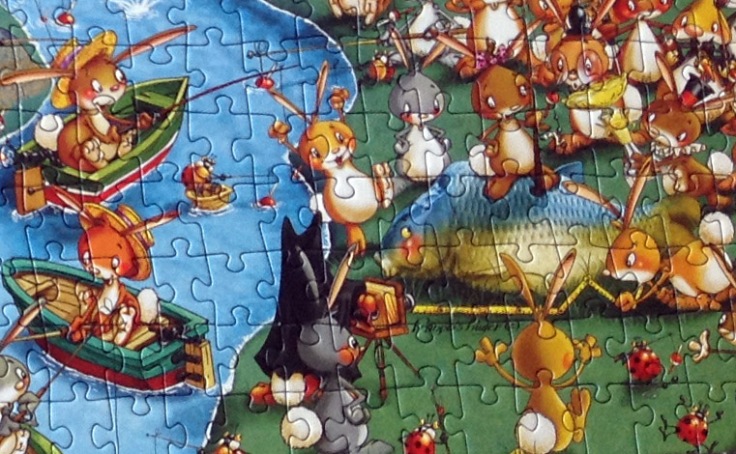 Above: Detail from Ruyer's Heye puzzle "Bunnytown".
JJ: Do you do cartoon work for other mediums besides puzzles such as political cartoons, newspapers, books, etc.?
I do not work for the adult press.
JJ: How do you decide on themes such as "rabbits versus wolves" or "witches" or "tour de France"? Do these ideas originate with you, with the puzzle company, or a combination?
I chose the theme "Tour de France" after creating a poster for a cycling event for the city of Vesoul. I thought that this image, "Tour de France", might interest other cities as a poster for their events. For Bunnytown, I had intended to sell an imaginary world for kids when I created the idea of Bunnytown. Two books and games have been done around Bunnytown, but they are not yet published. For witches, I first begun by working with this theme when illustrating a book for Fleurus Enfants twenty years ago. Since then I have illustrated many books on this theme. Other themes, such as wine, casino, beach, etc. are suggested to me by Piatnik (the puzzle company).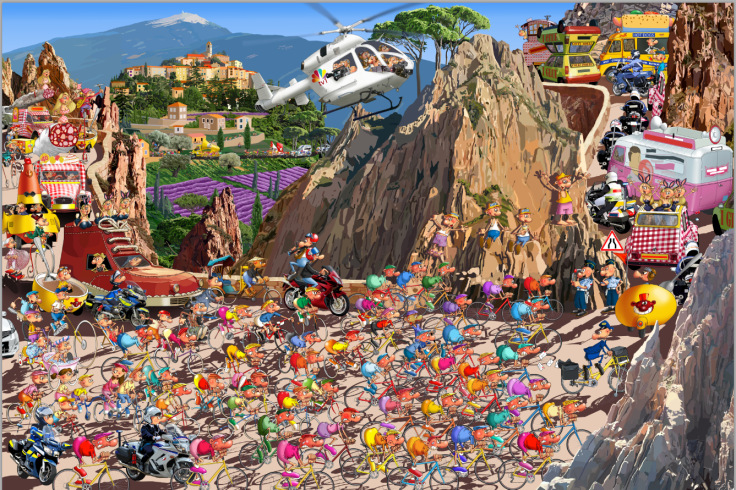 Above: "Tour de France" image, which is not yet a puzzle.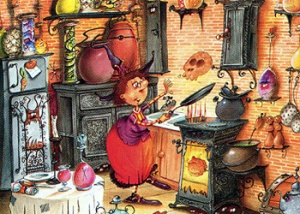 Above: Some of Ruyer's first puzzles were witch themed, such as "Hocus Pocus" from Heye.
JJ: Take us through the process of creating a work such as "Bunnytown" or "Tournament of Knights" from start to finish. Do you do sketches with pencil and paper first or do you do everything on the computer?
When I start a puzzle, I first design the backgrounds. I search the documentation on the internet and reproduce it. The tour de France, for example, is set in les calanques de piana in Corsica. I lived for four years in Ajaccio (the capital of Corsica), and I love this island and its inhabitants.
I build my puzzles in layers like a cake. I look for small gags that I hide in the image. I go with word and idea associations. I draw the characters on paper with ink. The color is done on a computer. About 10 years ago the paper I liked to use stopped being produced, and the inks became ecologically safe and are of poor quality now. That's when I began to color on the computer. In my opinion, this is a loss.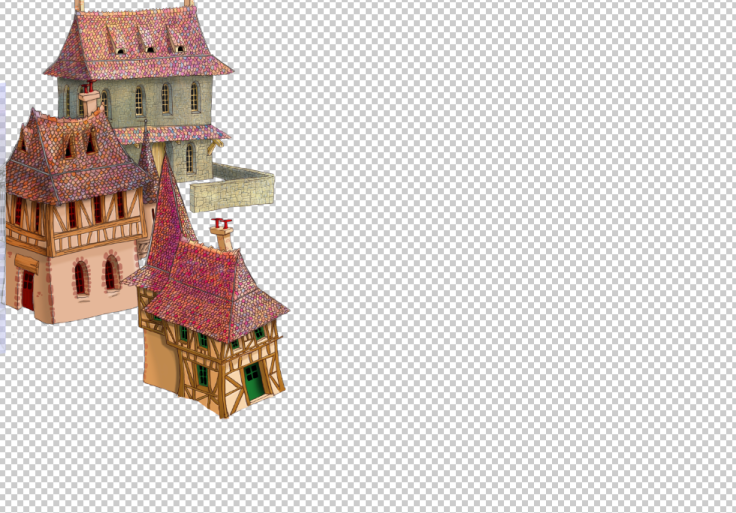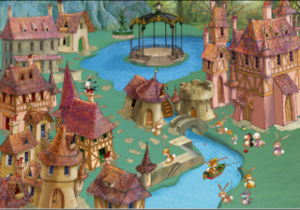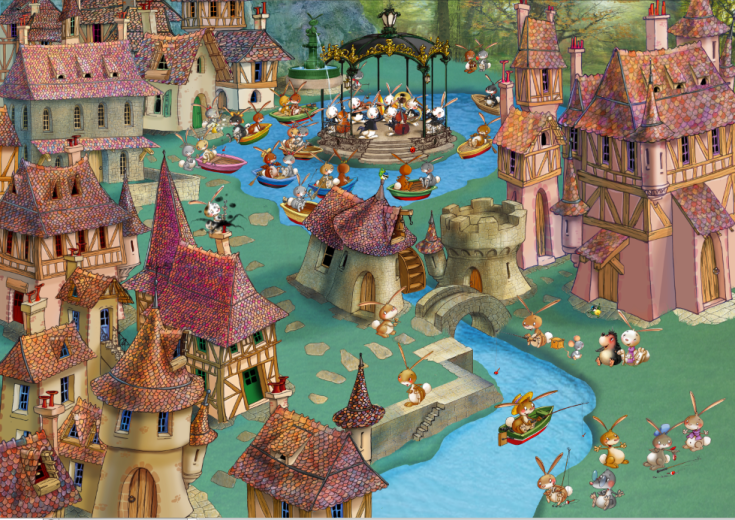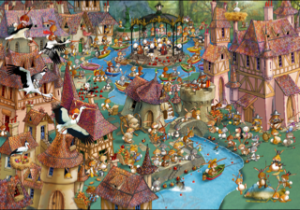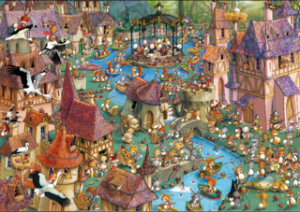 Above: The progression of the image "Bunnytown"
JJ: Your images are so detailed. For example, "Train Station" (1000 pieces, Piatnik). I counted over 80 unique characters. How much time does it take to create an image like that, from start to finish?
I usually spend a month to create the image for a puzzle.
JJ: Where do you get your ideas or inspiration for the characters? Do you ever draw in people you know?
The characters are often the same, only the expressions differ. I like drawing characters but I'm like Dubout who said "I do not draw a character that I know." (Except when I'm asked to do a portrait.)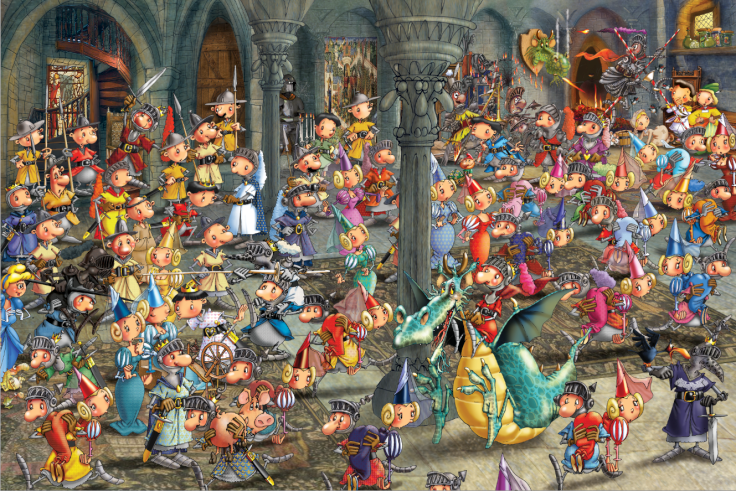 Above: An illustration posted on Ruyer's blog. Looks like great puzzle fodder to me!
JJ: You have done puzzles with Heye, Piatnik, and now Grafika. Will you continue to work with these brands in the future?
I hope to continue to work for these publishers.
JJ: Do you put together jigsaw puzzles yourself?
For the time being, I do not do puzzles.
JJ: What do you like to do when you're not working on art?
My passion is drawing, my children, my companion. I like to play checkers, chess, drink, eat well, and especially go hunting for mushrooms. When I first left school I made some furniture with two friends and maybe one day we'll do it again.
JJ: Who are a few of your favorite artists?
I love Reiser, Valerie Michault, Wolf, Mordillo, Eve Tarlet, and impressionist painters.
JJ: What puzzles can we expect to see from you in the next few years? Any hints or sketches you can share?
Currently I'm working on images in the medieval era, set around the Chateau de Guedelon, a castle in Bourgogne. So it's possible an image like that will be a puzzle soon.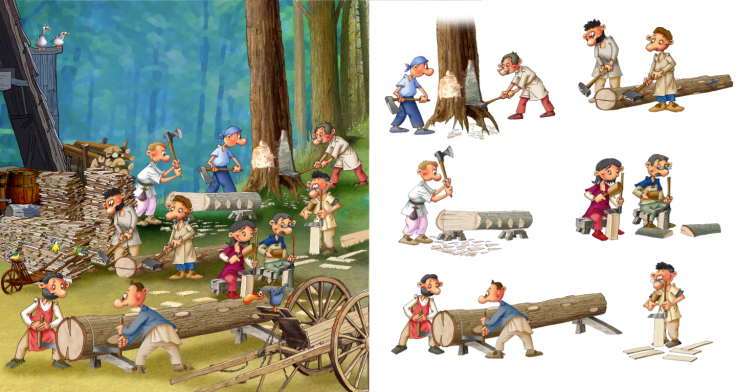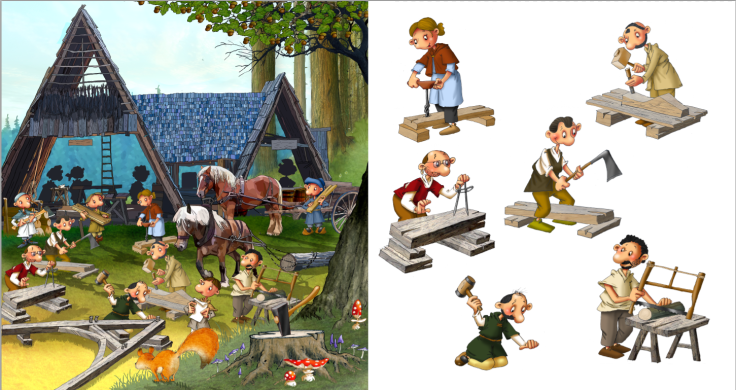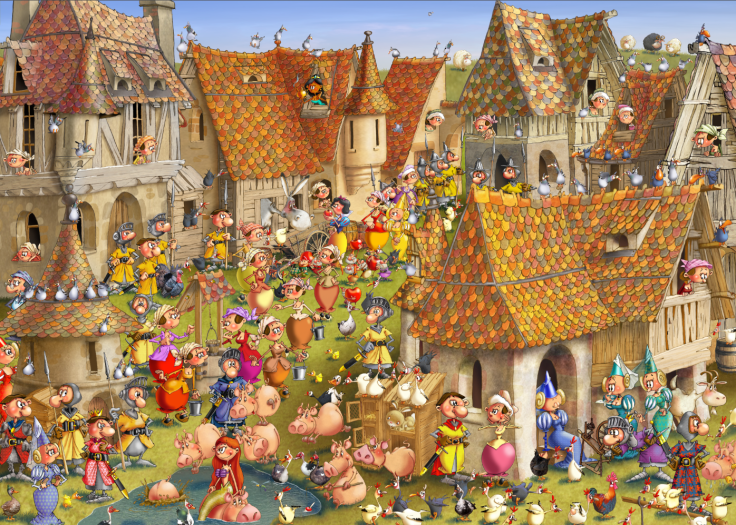 The above images were posted on Ruyer's blog and must represent his latest work on medieval castle images. Pretty cool! I'd love a puzzle of the bottom image.
Thank you so much for visiting with us, M. Ruyer!
Jane @ Jigsaw Junkies