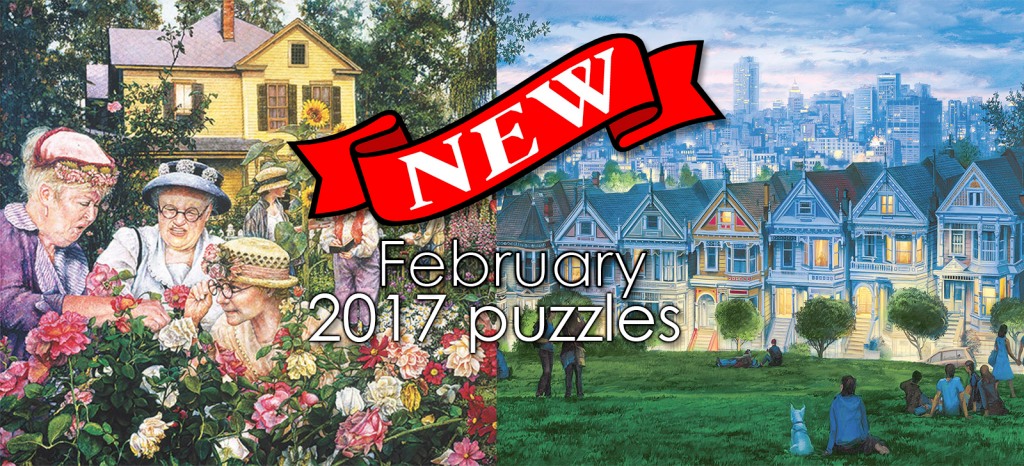 New Puzzles – Feb 2017
I'm back from hiatus and there's a lot to catch up on. I hope everyone had a happy and productive January! I'm going to be starting something new with my "New Puzzles" post, picking my top 3 new puzzles of the month.
For your Edification – A Tip on Saving Shipping Costs:
I used to never order a single puzzle because the shipping cost for just one can be nearly as much as the puzzle itself! Yet I'm not always ready to spend $75 to get free shipping either. That's why I really enjoy the Puzzle Warehouse's "Puzzle of the Month" club because it means year-long free shipping. You'll receive a puzzle each month with Puzzle of the Month club, and when you buy other items at any time, upon checkout you are asked if you'd like to hold that new purchase to ship with your puzzle of the month. Yes! This means I can order a single puzzle and have it sent to me later with my monthly shipment and there's no shipping fee on it. I also keep a "Wish List" on puzzle warehouse, so when I get my email about my monthly selection, I can easily exchange it for a puzzle I really want. Win/win.
JIGSAW JUNKIES TOP PICKS
Below are my top 3 picks this month. There are all available for order right now at Puzzle Warehouse.
PICK #1: "Say Cheese" by Gobel & Knorr, Heye, 1500 pieces
This is my favorite of the new 2017 Heye puzzles, and you can now order it at Puzzle Warehouse. I love the 1500 piece size, the highly detailed European city, and all the interesting figures. Grab it while it's in stock! Click here to view it at Puzzle Warehouse.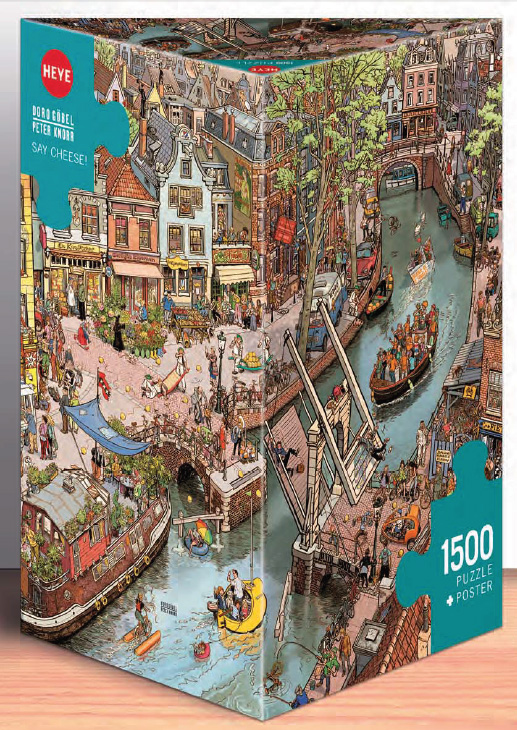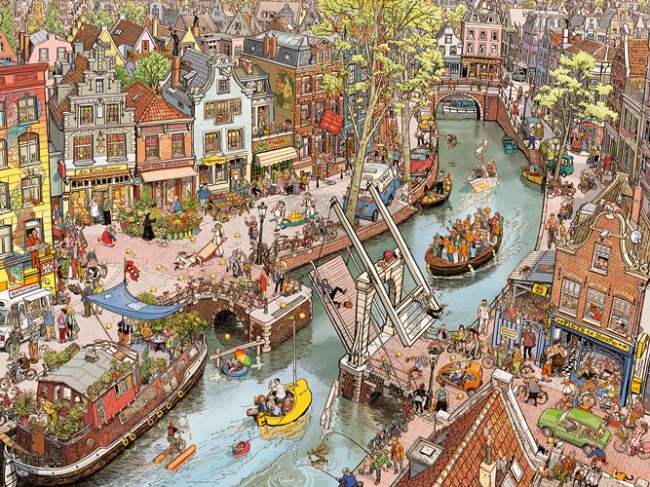 PICK #2: "Ladies Garden Club" by Susan Brabeau, Sunsout, 1000 pieces
Last year's "And the Winner Is…" from Susan Brabeau and Sunsout was one of my favorite puzzles of 2016. (See my review here.) This new 2017 puzzle looks just as good with lots of color and personality. This has been selling out everywhere, so grab it while you can! Click on the image to view it at Puzzle Warehouse.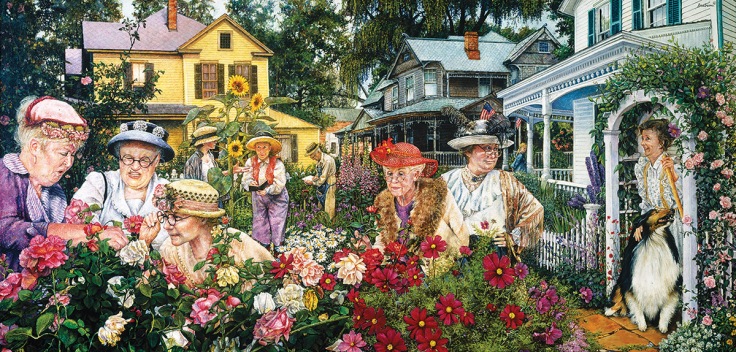 PICK #3: "Classic Stamps" by White Mountain, 550 pieces
For the collage lover, this stamps puzzle from White Mountain offers a sophisticated treat. It's refreshing to see a new subject in collage images and I like the fine detail in all the stamps. Click on the image to view it at Puzzle Warehouse.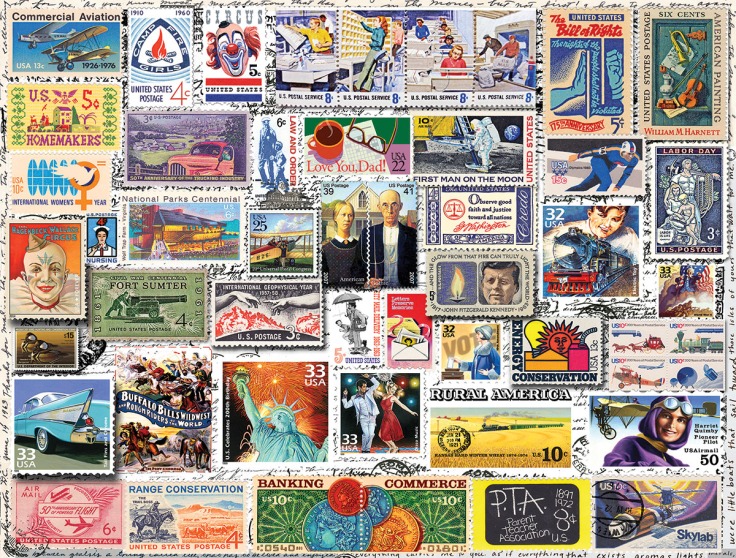 More New Puzzles at Puzzle Warehouse this Month
HEYE
Puzzle Warehouse received their first shipment of 2017 Heye puzzles. We'll be getting more soon, too, but these are currently in stock.
Click on any puzzle to view it at Puzzle Warehouse.
"Red Poppies" by Jane Crowther, 1000 pieces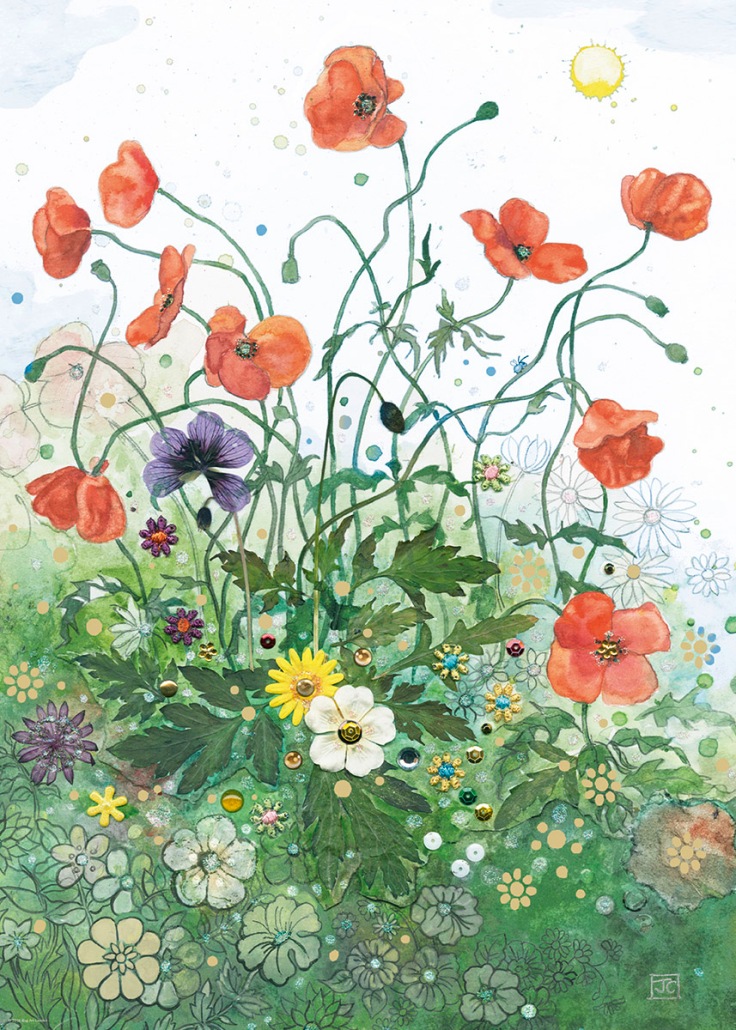 "Flea Market", 2000 pieces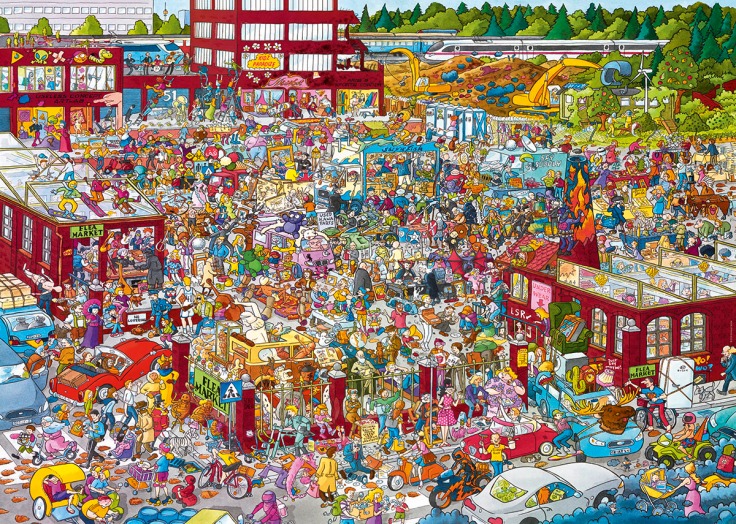 "Curiosity Cabinet", 1500 pieces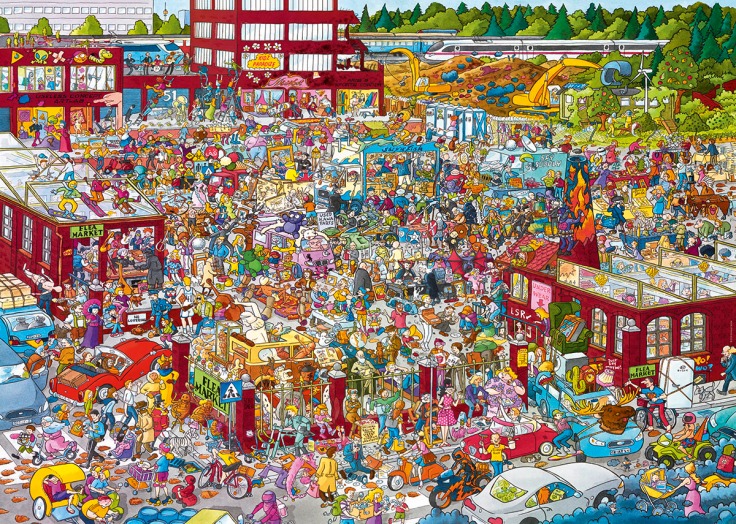 "Psychedoodlic" by Jon Burgerman, 2000 pieces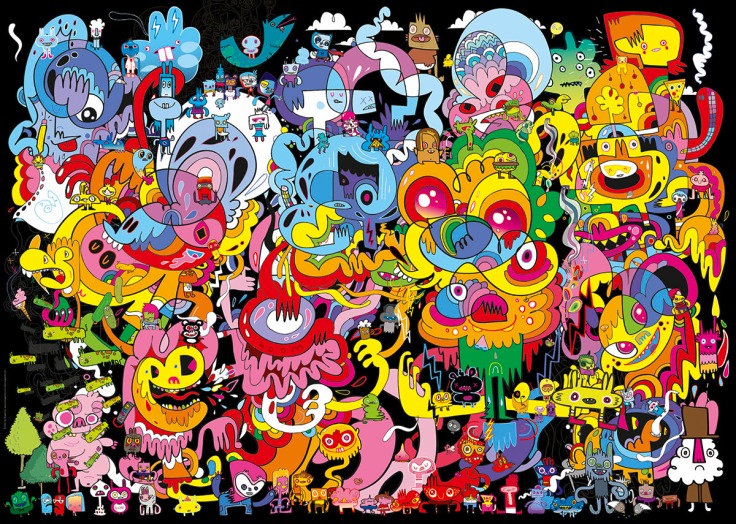 SUNSOUT
These new 2017 puzzles are now in stock.
"Orchids" by Nene Thomas, 1000 pieces
This is gorgeous!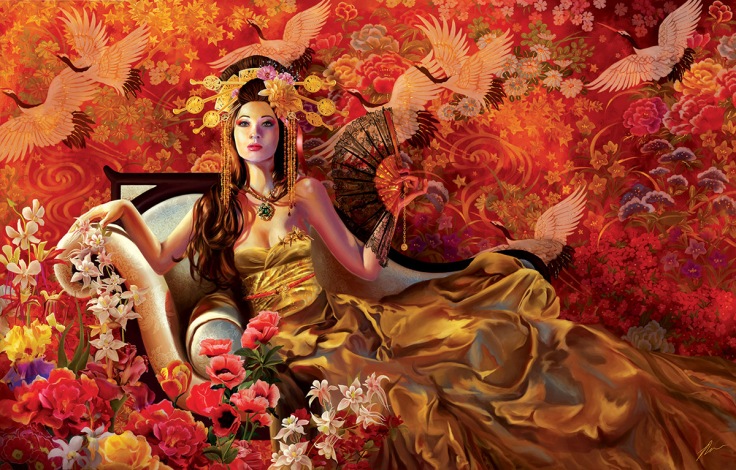 "The Butterfly House", 1000 pieces
So pretty and challenging with all that green!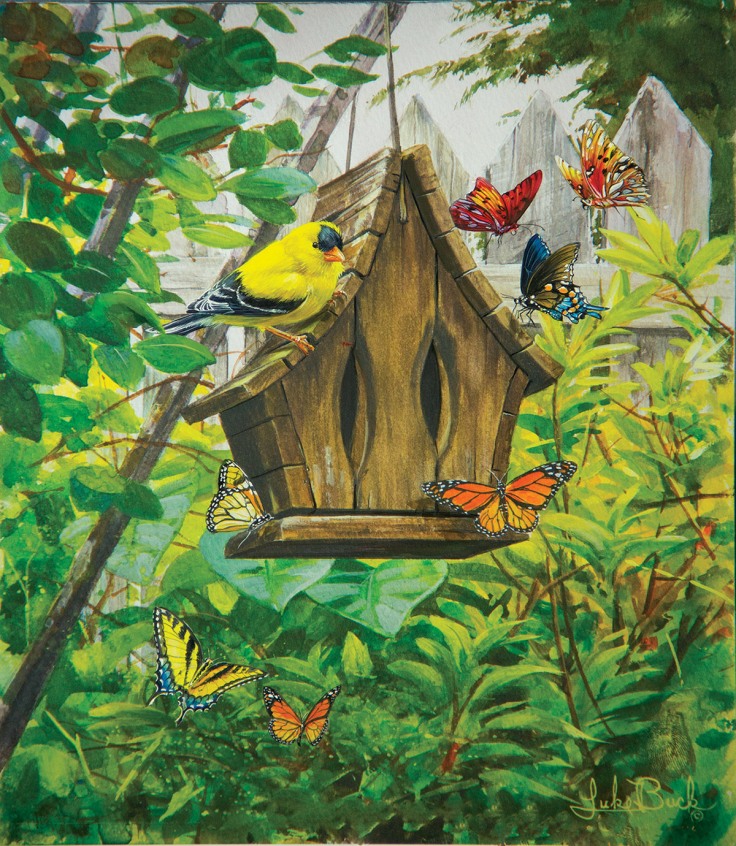 Two from Nicky Boehme: "Sea Haven", 1500 pieces and "Peaceful Reflections", 500 pieces
Pick your preferred size with these two colorful Nicky Boehme landscapes.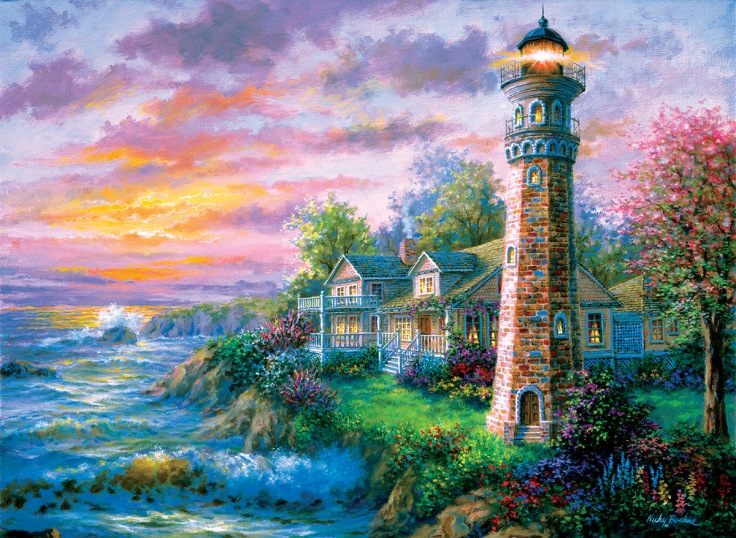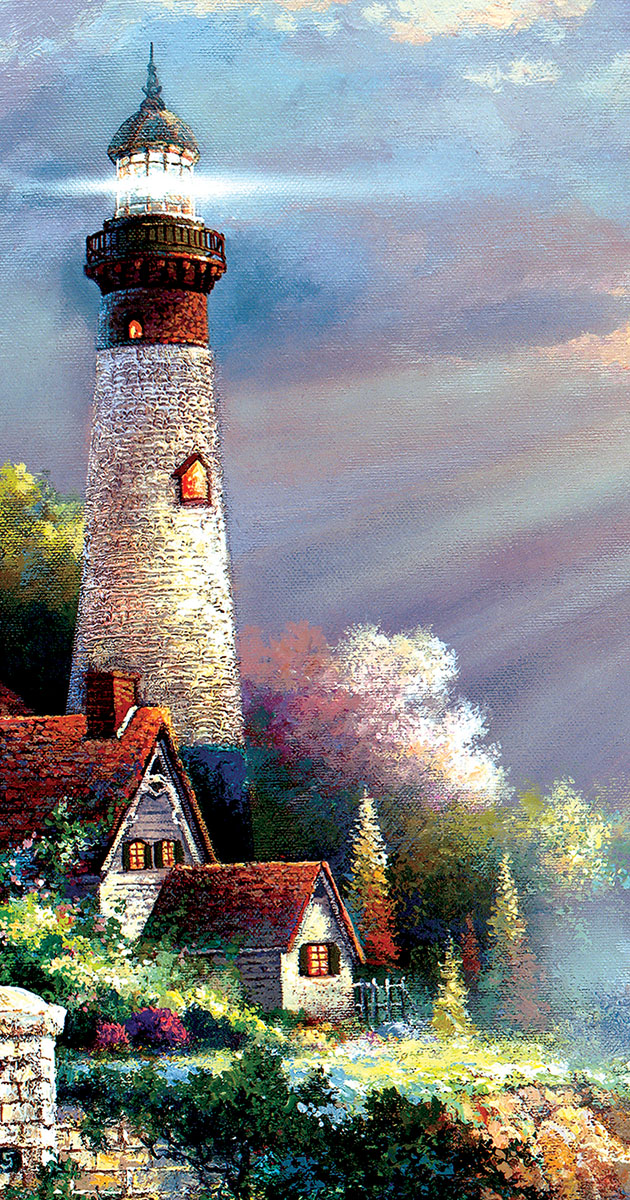 "Diamond in the Rough" by Jim Hansel, 1000 pieces
I love the colors and light in this one.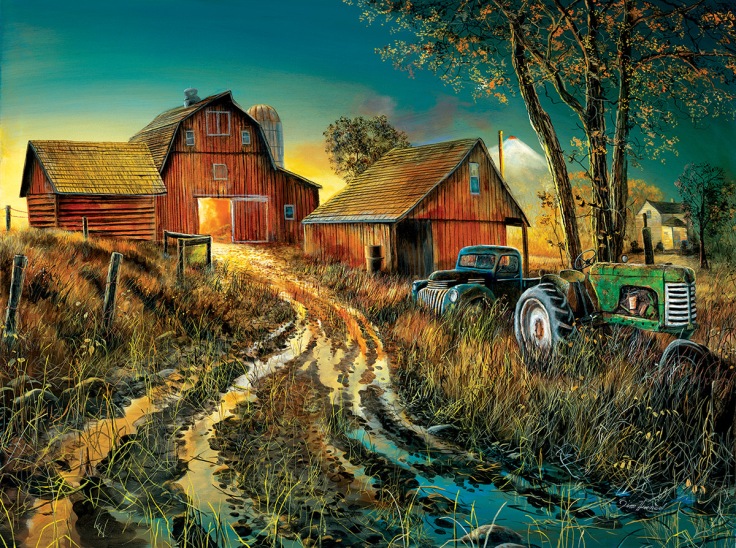 "Bedtime Battle" by Liz Goodrich Dillon, 1000 pieces
This cute puzzle has such wonderful colors and patterns.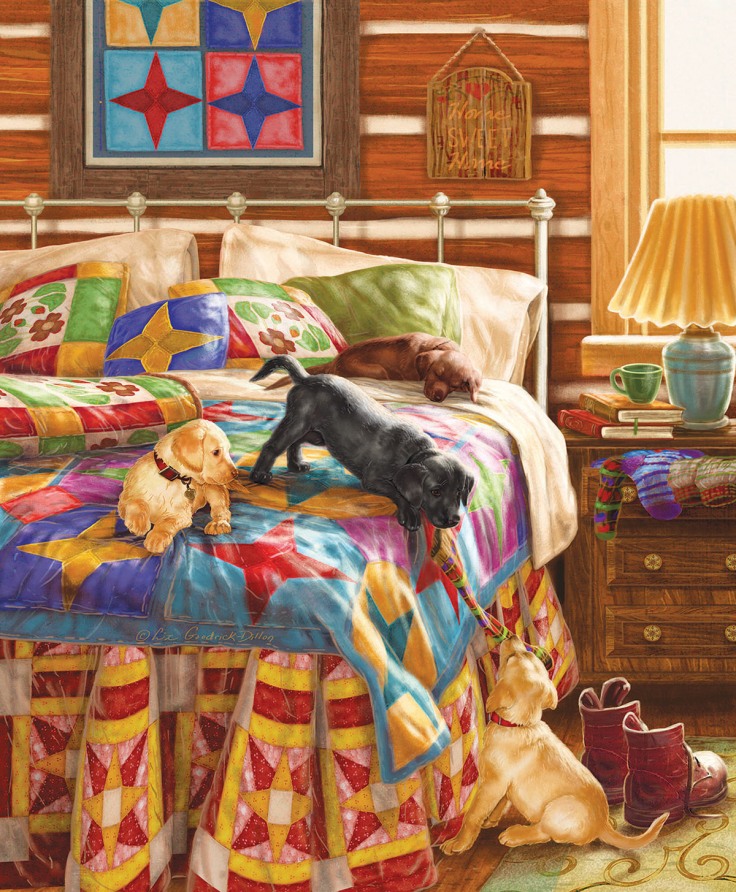 Eurographics
Brand new Eurographics 2017 puzzles now in stock!
"The Blue Country House" by Dominic Davidson, 1000 pieces & "Blooming Garden", 300 pieces
Fantastic colors. Pick your piece count!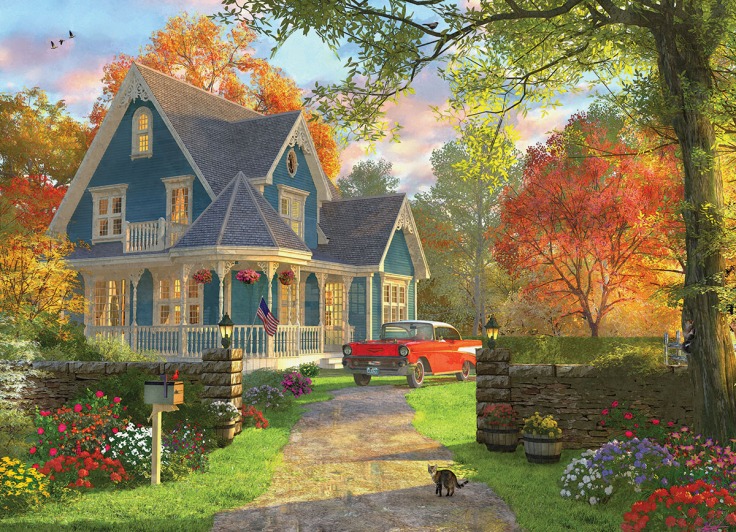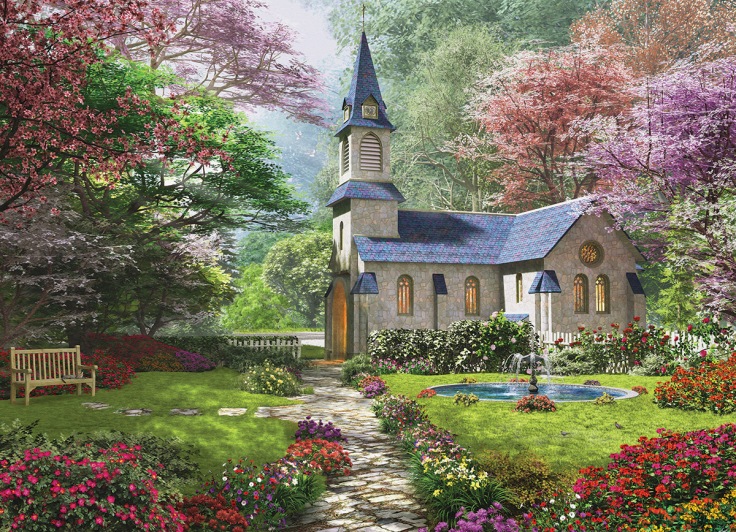 Two new San Francisco puzzles from Eugene Lushpin
"San Francisco The Seven Sisters" & "San Francisco Cable Car Heaven", both 1000 pieces
I adore these new Lushpin puzzles of San Francisco. The colors and light are amazing.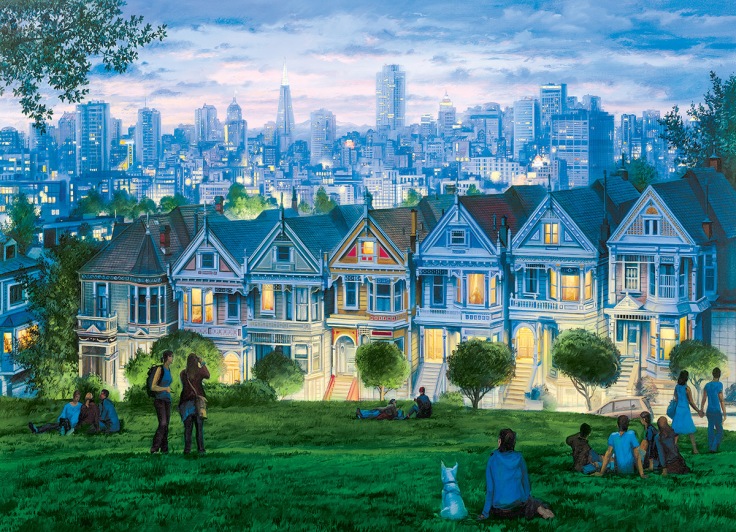 "Garden Birds" by John Francis, 1000 pieces
This is one of the best new bird-themed puzzles I've seen in a long time. I love the unusual setting and the vibrant colors.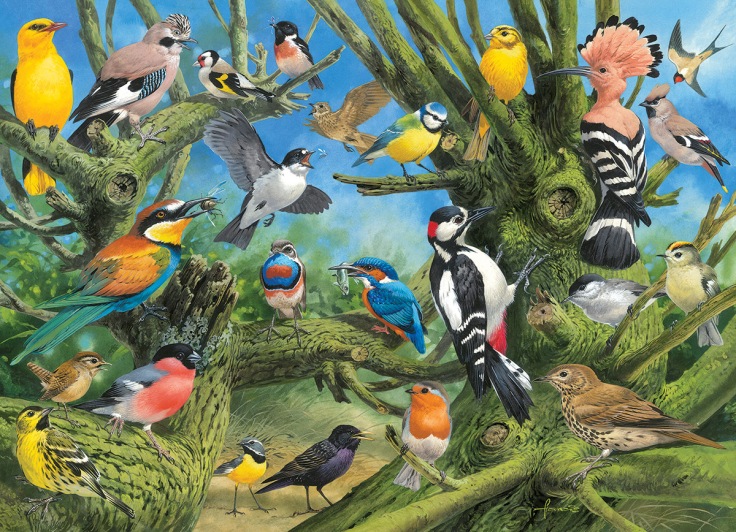 MASTERPIECES
These new 2017 puzzles are now in stock.
Jenny Newland set of 12 puzzles, 100-500 pieces each
This is a lovely set from Jenny Newland. So much cute!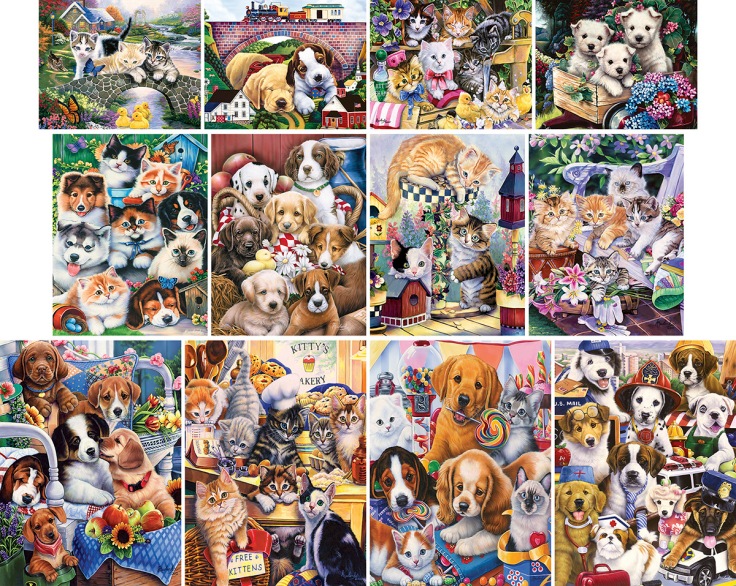 "Homecoming Marine" by Norman Rockwell, 1000 pieces
It's nice to see this classic image available in 1000 pieces.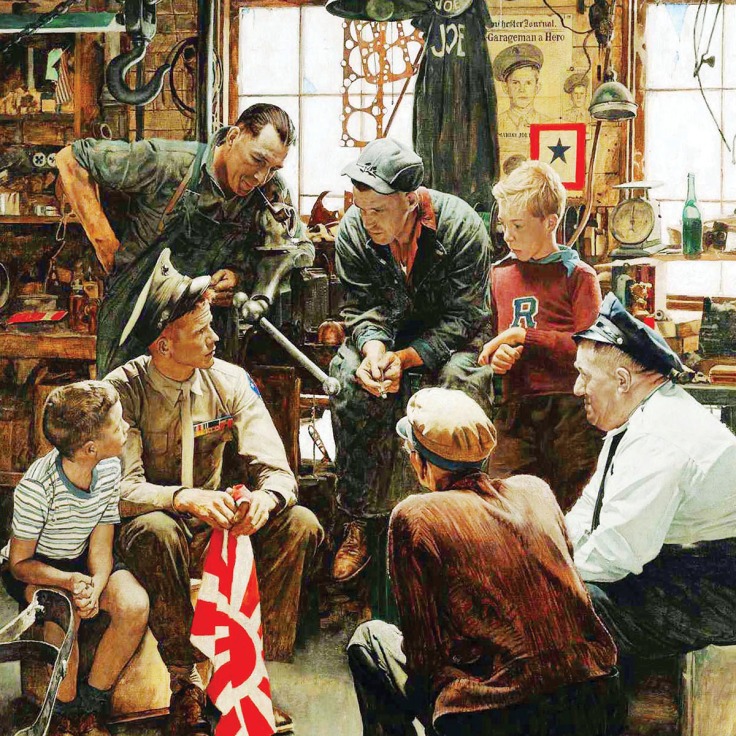 "Hershey Swirl", 1000 pieces
This looks like a fun challenge for collage lovers! All those Reeses packages!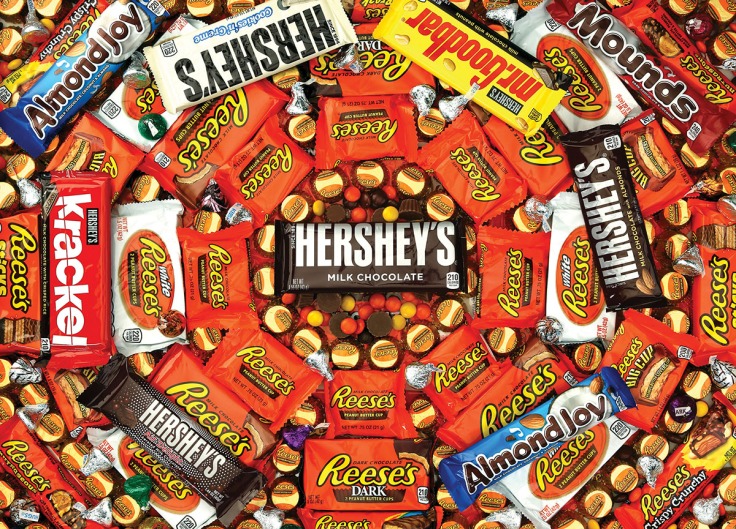 "Cinderella at the Ball" by Kinko Craft, 300 pieces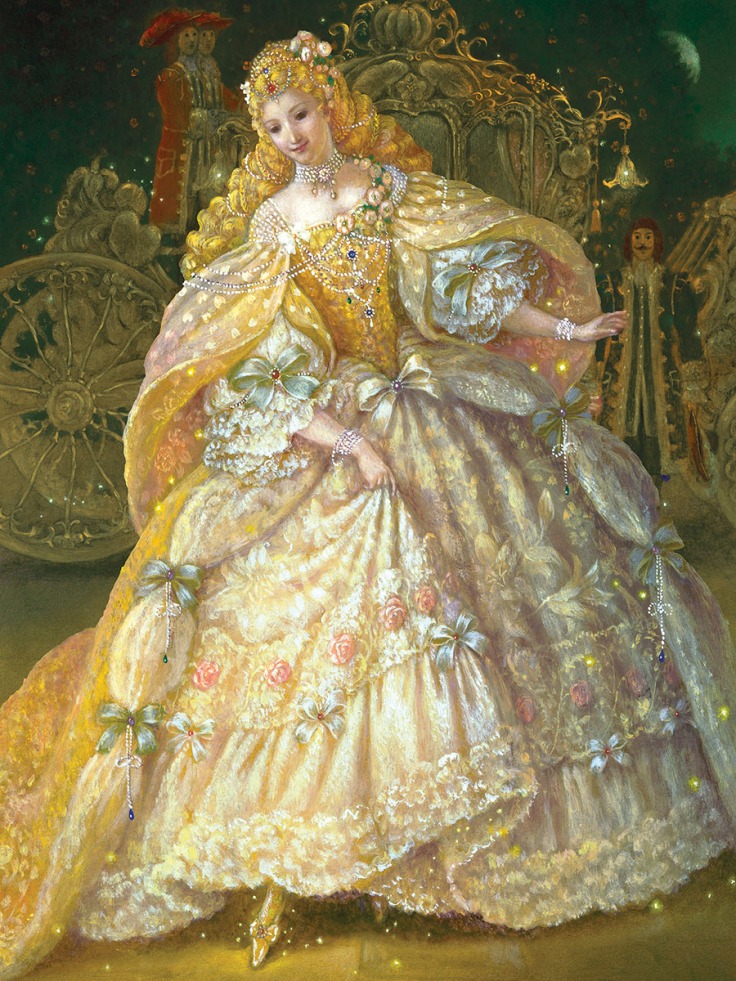 NEW PUZZLE ANNOUNCEMENTS
We previously showed Mike Jupp's new puzzle "I Love Fall". We're still waiting to get it in stock at Puzzle Warehouse, but I wanted to mention that it won the award for "Best Toy 2017 – Jigsaw Puzzle Category" at the Birmingham NEC's 'International Toy Fair'. Congrats, Mike and Gibsons! I look forward to getting this gem in stock. You can read our interview with Mike here.
GIBSONS
"I Love Fall" by Mike Jupp, 1000 pieces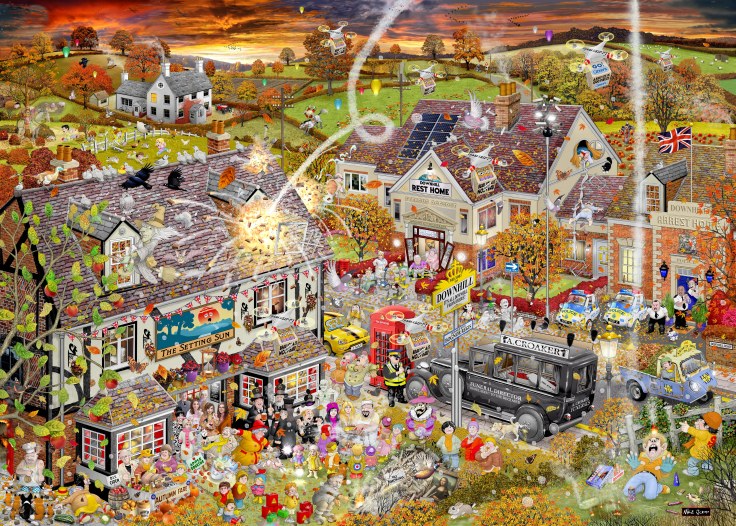 That's it for this month's new puzzle round-up. I'll be back next week with a new review.
Jane