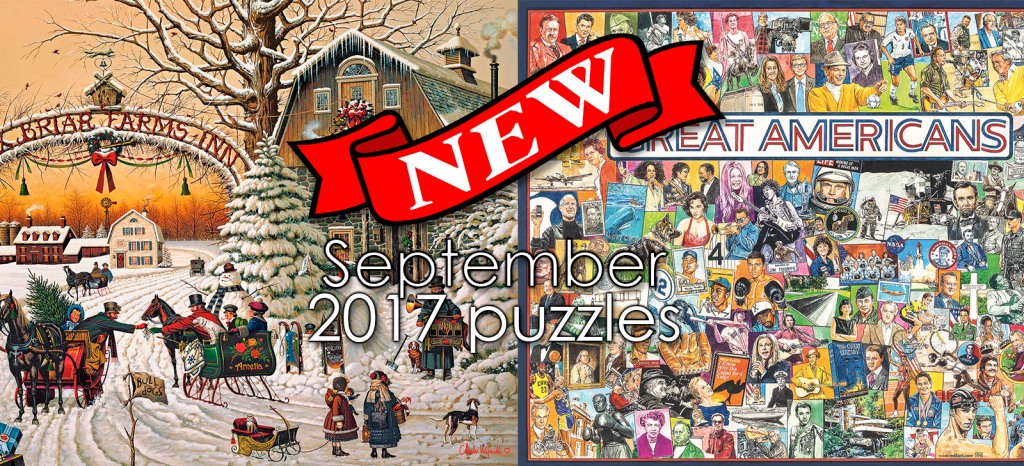 New Puzzles: September 2017
It's time for a new puzzle post for September! Where does the time go? This is a shortish month, but there are some great new puzzles.
For your Edification – A Tip on Saving Shipping Costs:
I used to never order a single puzzle because the shipping cost for just one can be nearly as much as the puzzle itself! Yet I'm not always ready to spend $75 to get free shipping either. That's why I really enjoy the Puzzle Warehouse's "Puzzle of the Month" club because it means year-long free shipping. You'll receive a puzzle each month with Puzzle of the Month club, and when you buy other items at any time, upon checkout you are asked if you'd like to hold that new purchase to ship with your puzzle of the month. Yes! This means I can order a single puzzle and have it sent to me later with my monthly shipment and there's no shipping fee on it. I also keep a "Wish List" on puzzle warehouse, so when I get my email about my monthly selection, I can easily exchange it for a puzzle I really want. Win/win.
When Puzzles are Out of Stock:
The inventory at Puzzle Warehouse moves quickly, and due to limited warehouse space, only certain amounts of any one titles are brought in at a time. But most of our suppliers replenish rapidly. When a puzzle is out of stock, it's likely to be back in stock within a week or two. Enter your email address on the out of stock page to be notified when it returns so you can place an order before it's out again!
JIGSAW JUNKIES TOP PICKS
September 2017
These are my top picks of the new puzzles that are currently available at Puzzle Warehouse.
TO SEE ALL NEW PUZZLES AT PUZZLE WAREHOUSE CLICK HERE.
TOP PICK #1: "A Christmas Greeting" by Charles Wysocki, Buffalo Games, 1000 pieces
A new Christmas-themed puzzle by Wysocki in 1000 pieces is always welcome, and the subtle colors in this one are gorgeous.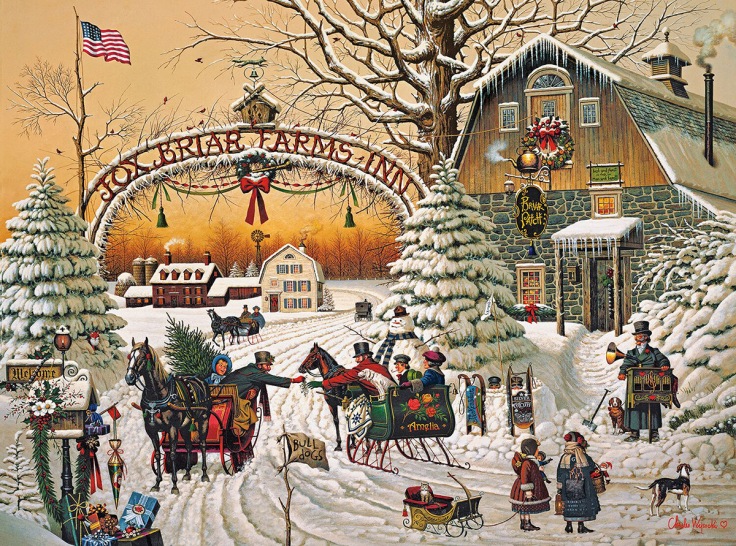 TOP PICK #2: "Great Americans" by James Mellett, White Mountain, 1000 pieces
So much work goes into these hand-drawn historic collage images, from researching to all the line drawing and arranging. Another instant classic from James Mellett.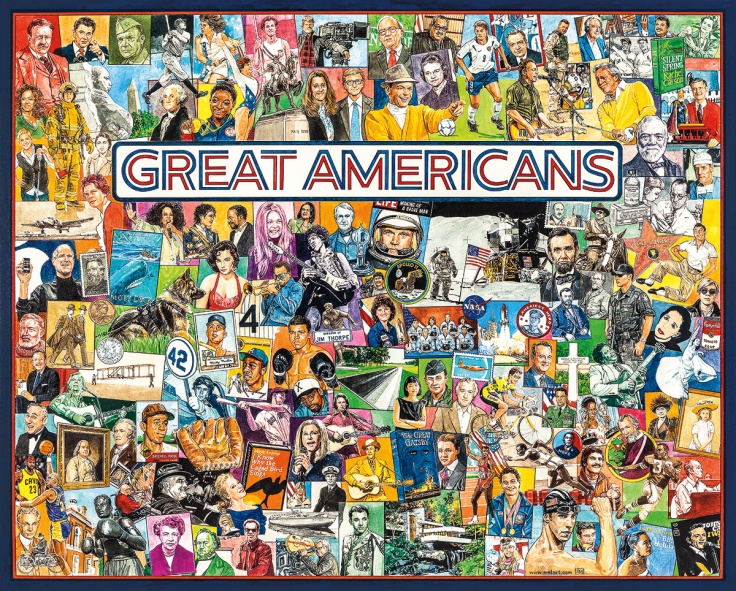 TOP PICK #3: "A Christmas Village", Sunsout, 625 pieces
My third "top pick" is this fun new Sunsout puzzle in a style and size ideal for a family project.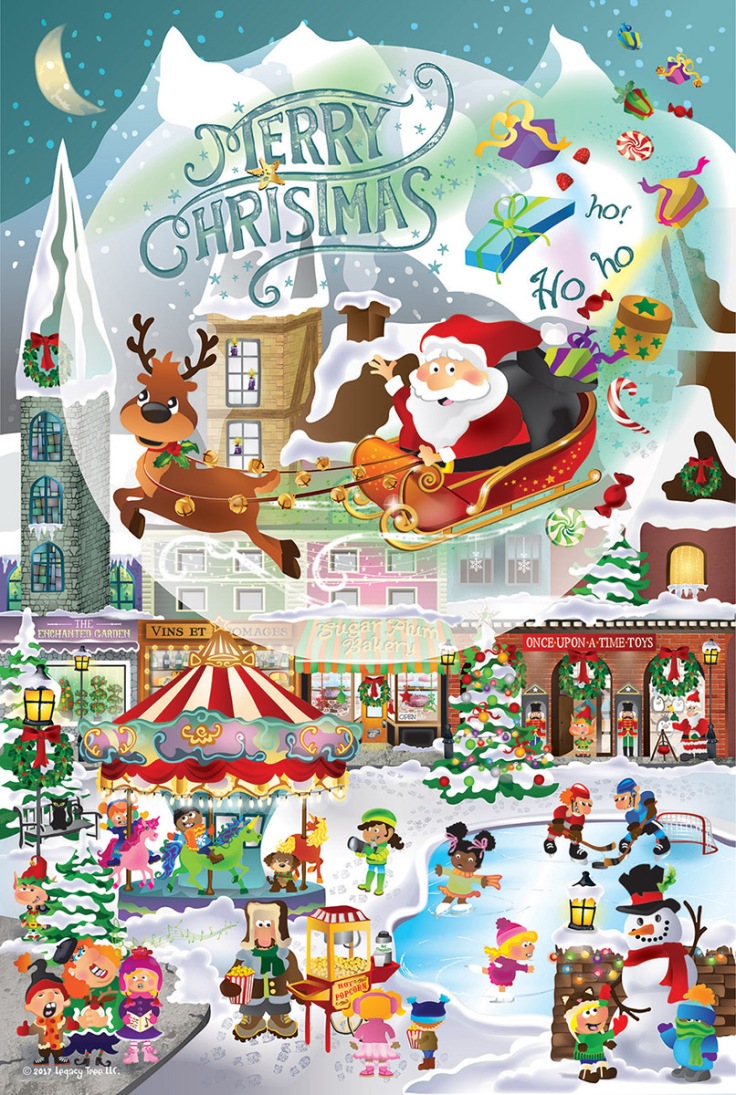 More new puzzles at Puzzle Warehouse this month
Buffalo Games
There are some awesome new releases from Buffalo Games this month.
"Lost in the Woodies" by Charles Wysocki in 2000 pieces!
Buffalo releases the larger 2000 piece size rarely, so I'm thrilled to see some new ones this month. "Lost in the Woodies" has been around for a while in 1000 pieces, but now you can get it in 2000 pieces!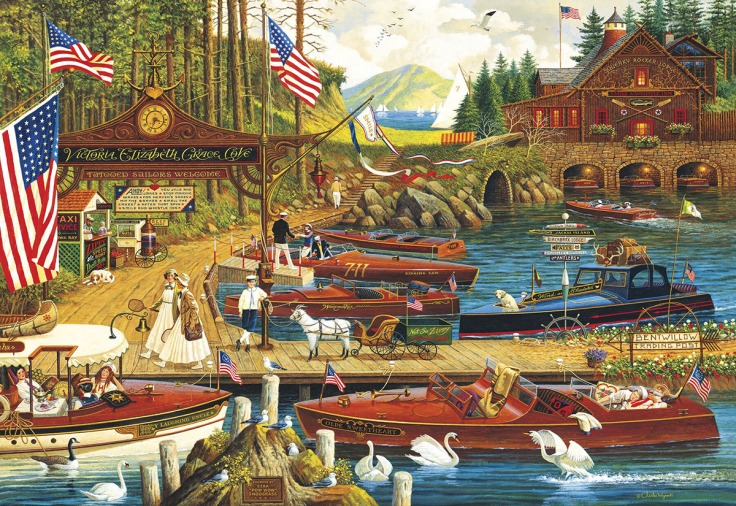 "America's Main Street" by Kate Ward Thatcher, 2000 pieces
Super colorful and tons of detail in 2000 pieces!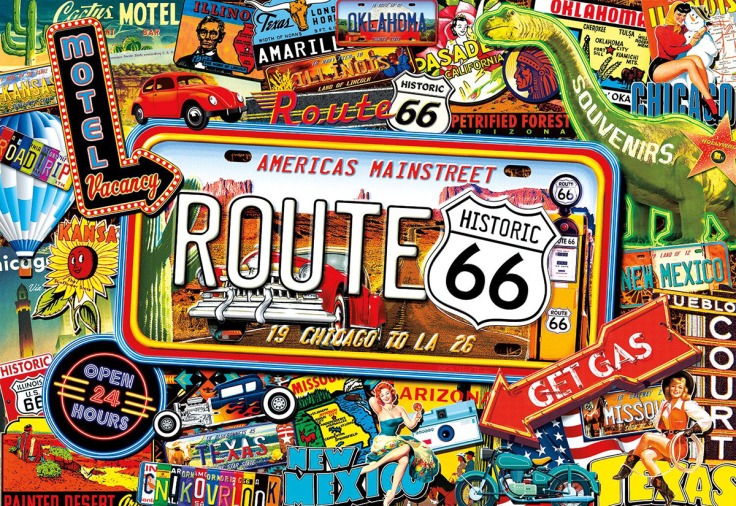 "Blackbirds Roost at Mill Creek", Charles Wysocki, 1000 pieces
This is a gorgeous new fall-themed Wysocki in 1000 pieces.
"Fireside Companions", by Charles Wysocki, 1000 pieces
Another lovely fall/winter themed image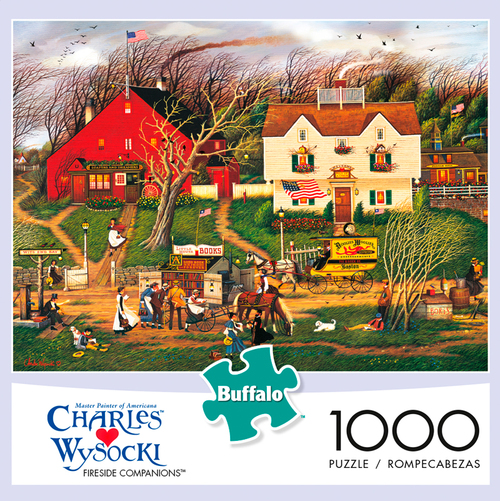 Where the Buoys Are — 300 pieces
I wish this came in a larger size, but for those who like smaller piece sizes, this is a must.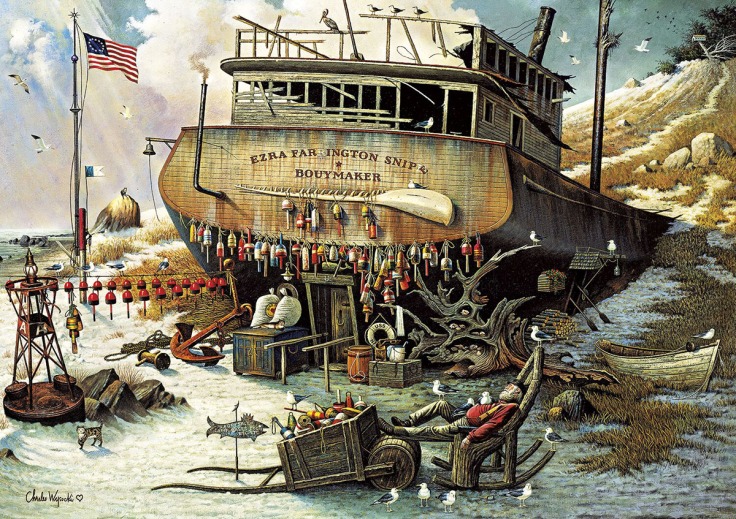 "Songbird Favorites" by James Hautman, 1000 pieces
This is a lovely new bird puzzle. I love all that white birch bark.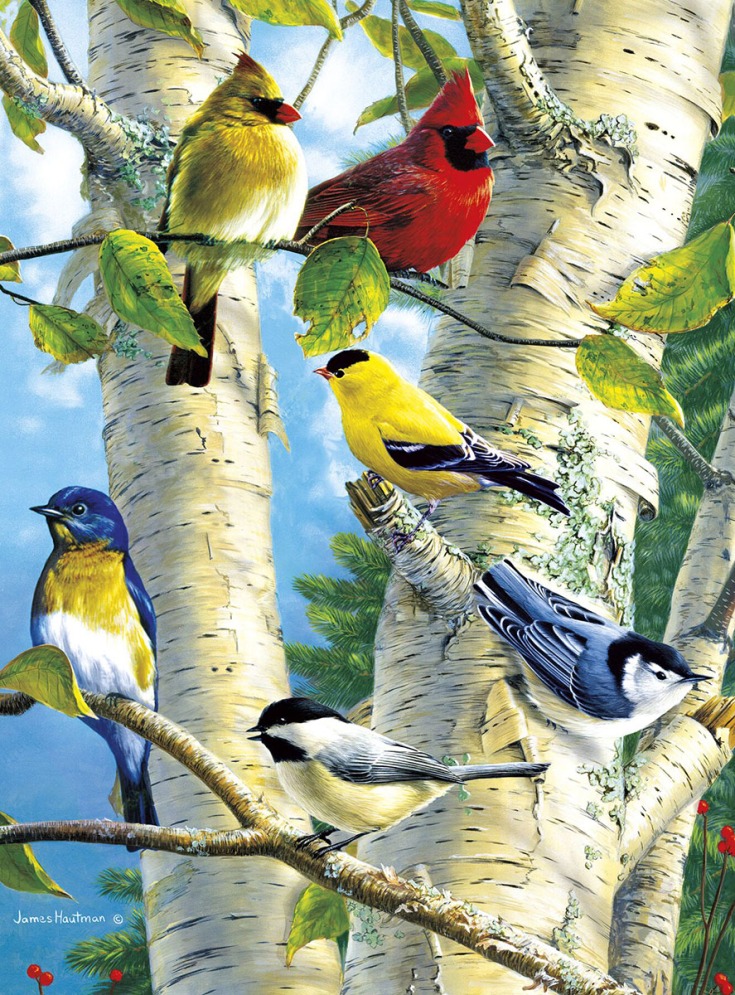 "Star Wars Fine Art Collection", 1000 each
These new Star War images are from fine art paintings and they're lovely. I prefer them to the photo montages!
"Yoda"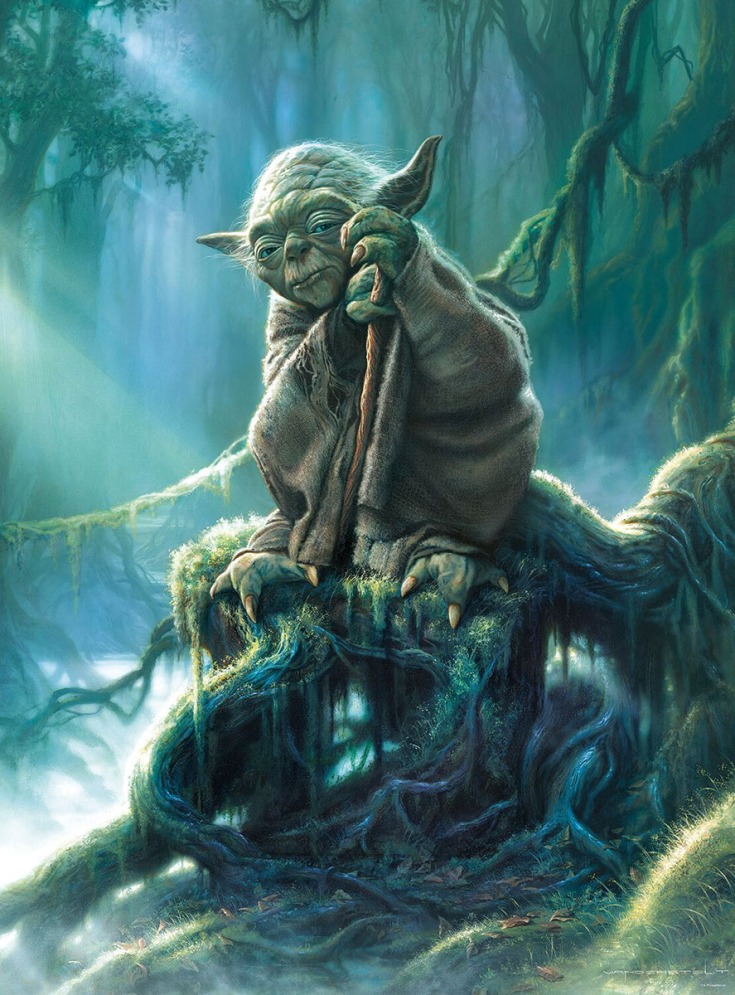 "Boba Fett"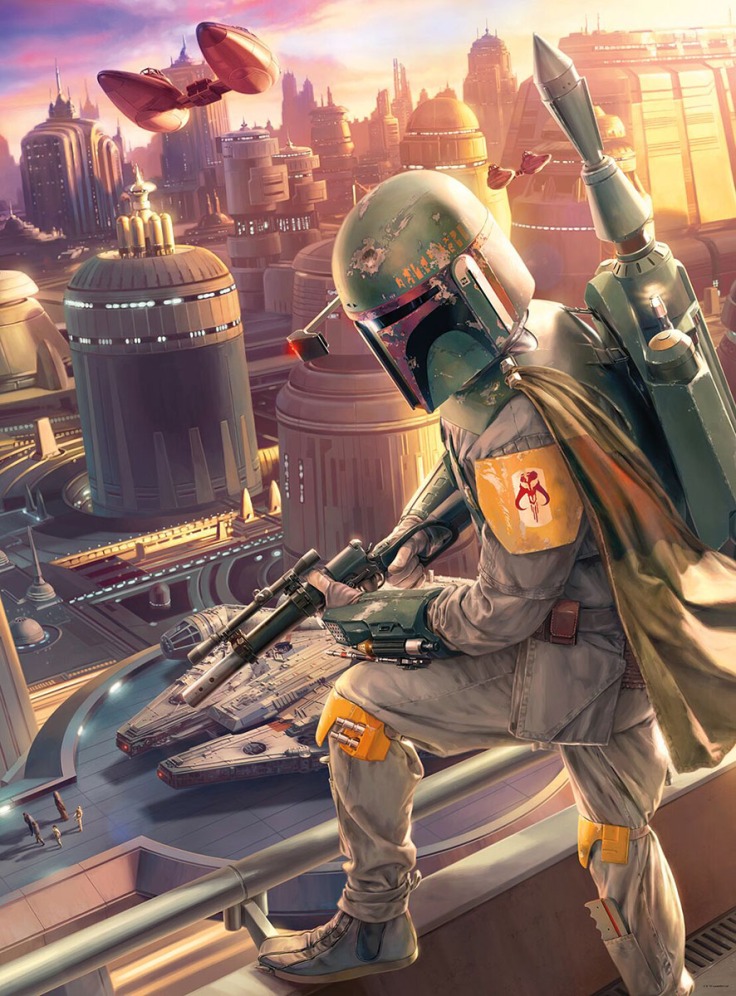 "Never Tell Me The Odds"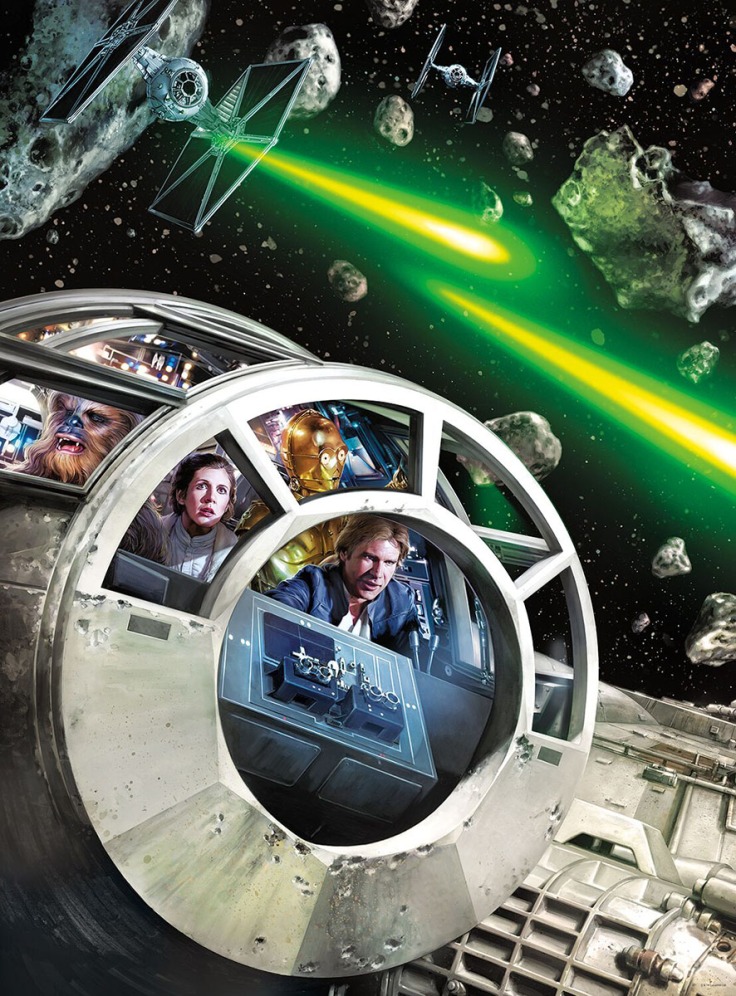 Sunsout
"Knit Wits" by Amy Rosenberg in 1000 pieces
A nice, bright new Amy Rosenberg in 1000 pieces. Plenty of patterns will make this one quick and easy.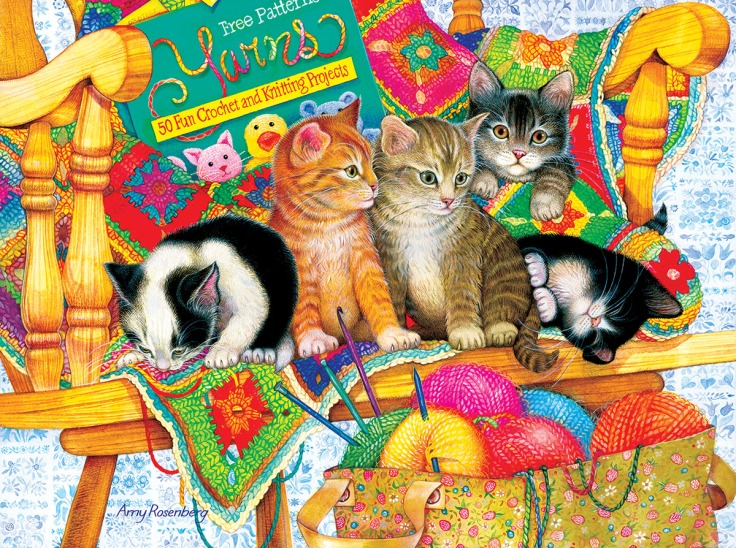 "The Quilt Fair" by Joseph Burgess, 1000 pieces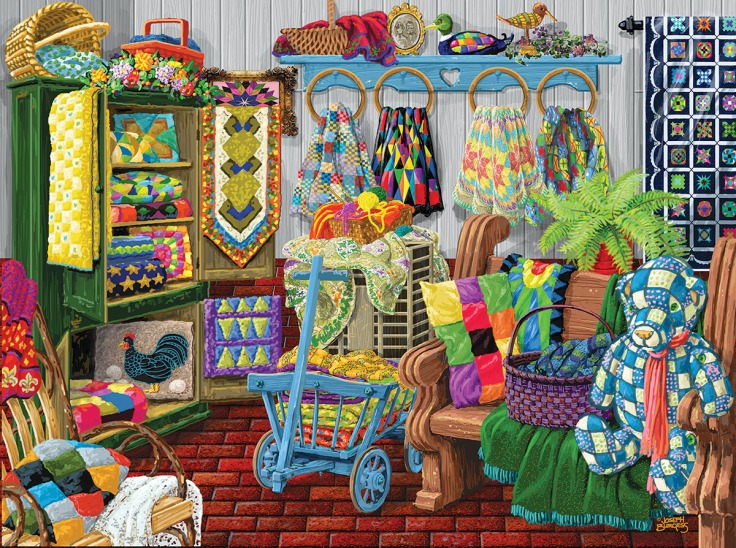 "Swan Song" by Nene Thomas, 1000 pieces
So glad to see Sunsout building their Nene Thomas collection.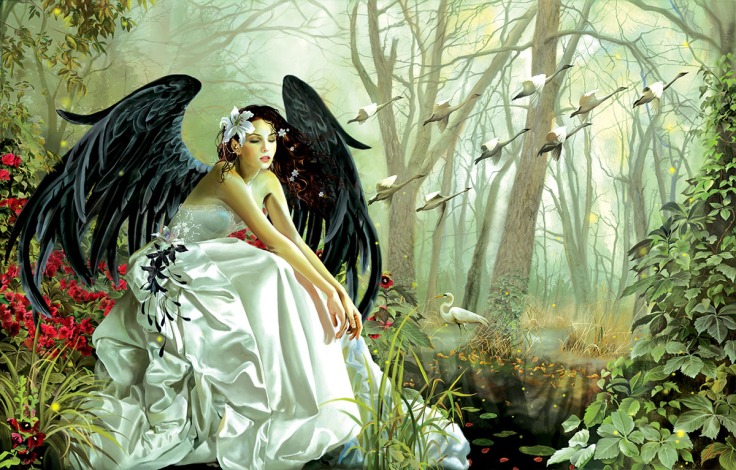 "A Christmas Village", 625 pieces
This is a super fun design that would be good for a family.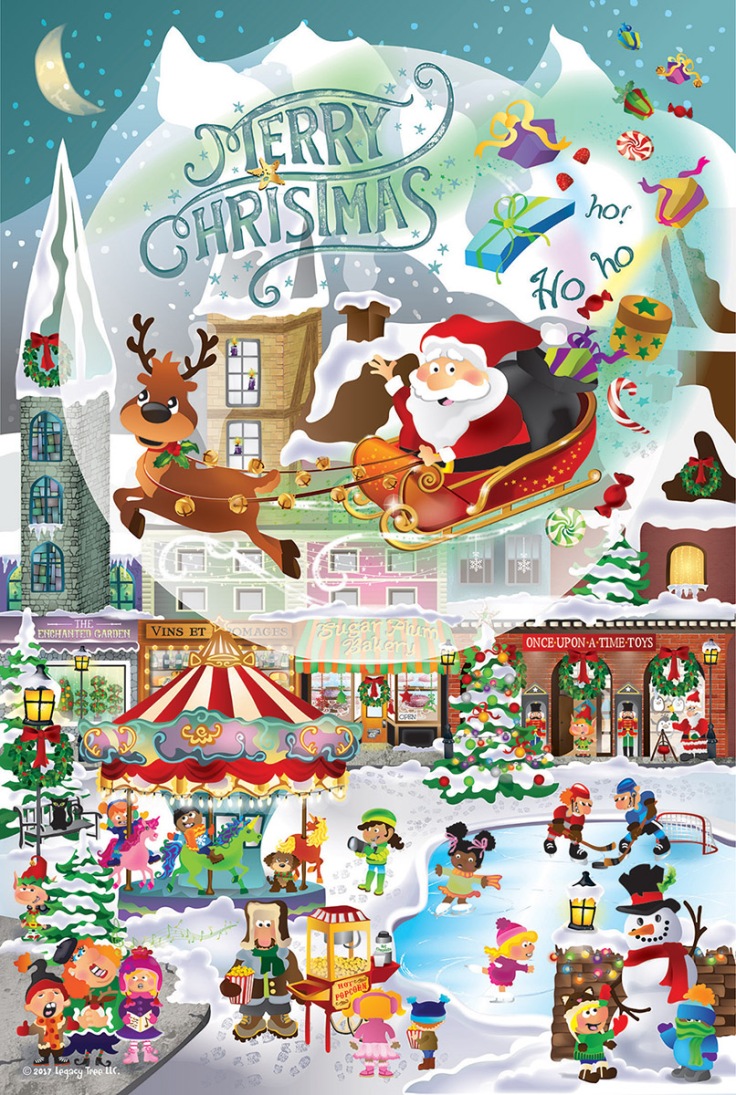 "Seaport Market", 1000 pieces
I was unable to find the artist's name on this one, but I love the color and style.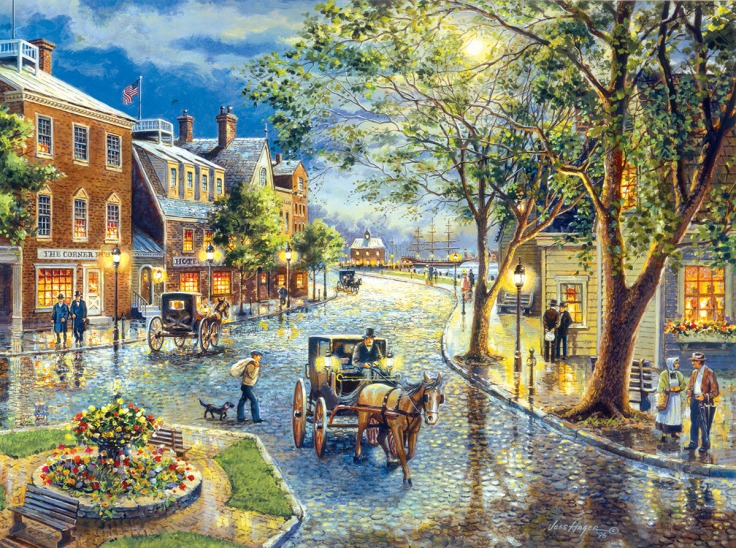 "Winter Village" by Steve Crisp, 1000 pieces
If you're looking for a new Christmas themed shaped puzzle, check this new one out with artwork from Steve Crisp. Cool!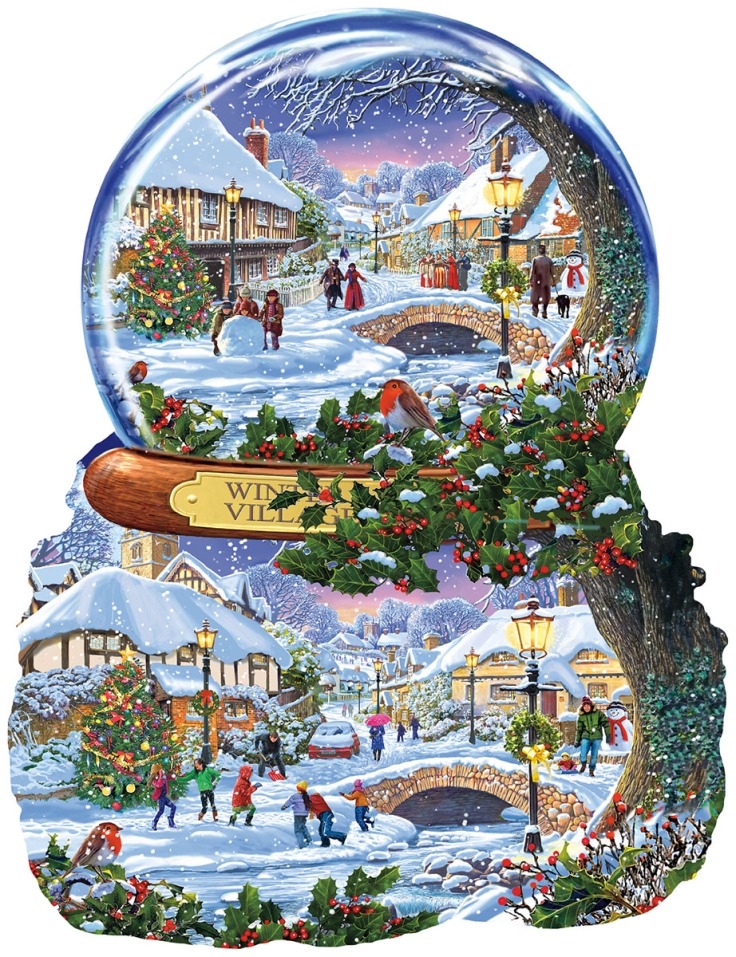 "Reindeer Training" by Lori Shory, 800 pieces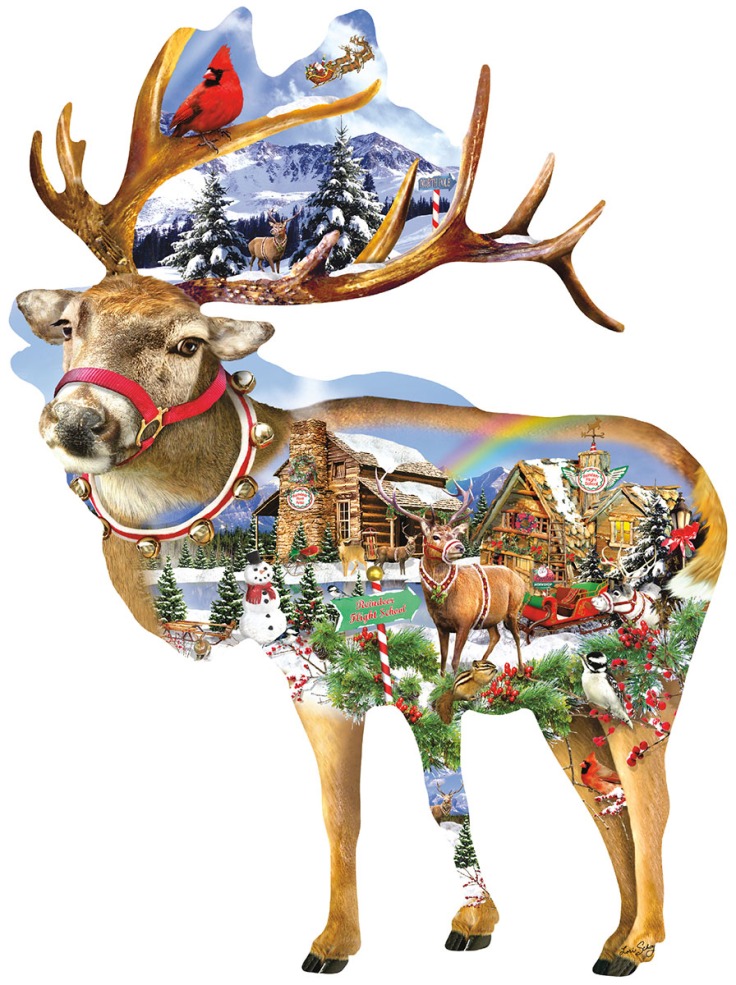 White Mountain
There are some brilliant new Christmas puzzles from White Mountain coming soon, but for September we have some new (and ever popular) collages.
"Great Americans" by James Mellett, 1000 pieces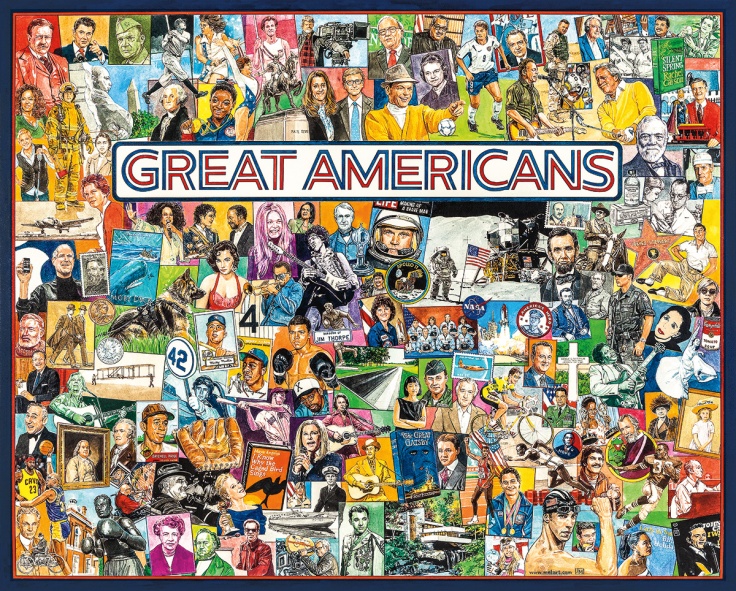 "I Love Canada", "I Love Vermont", "I Love Texas", "I Love New Hampshire" by Charlie Girard, 1000 each
New travel-themed collage puzzles.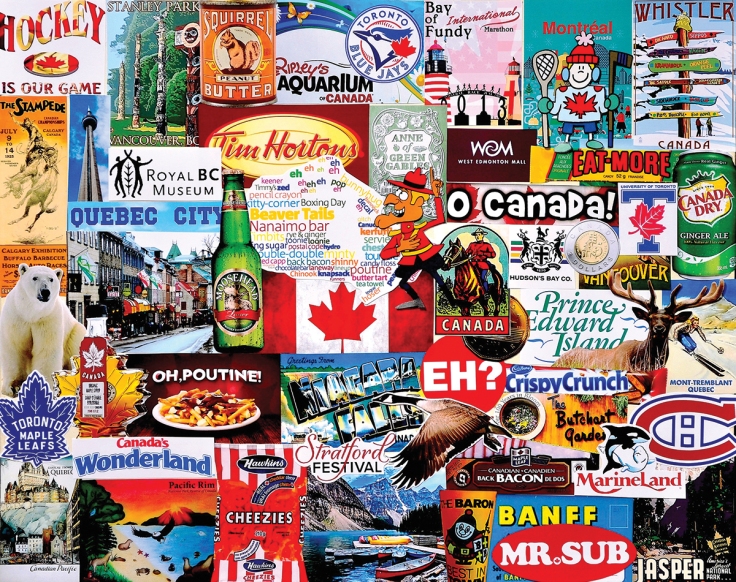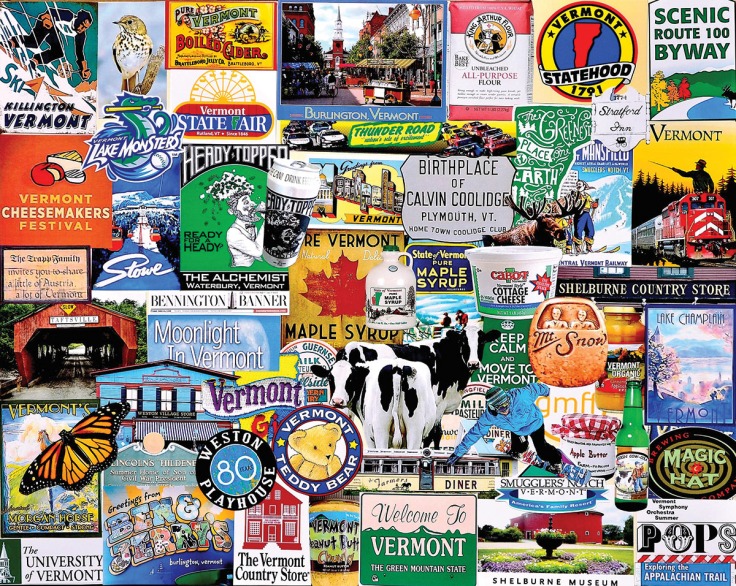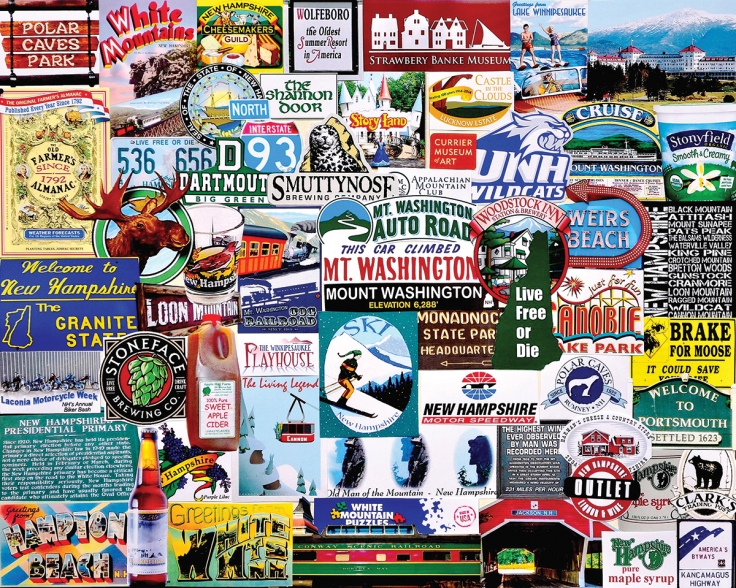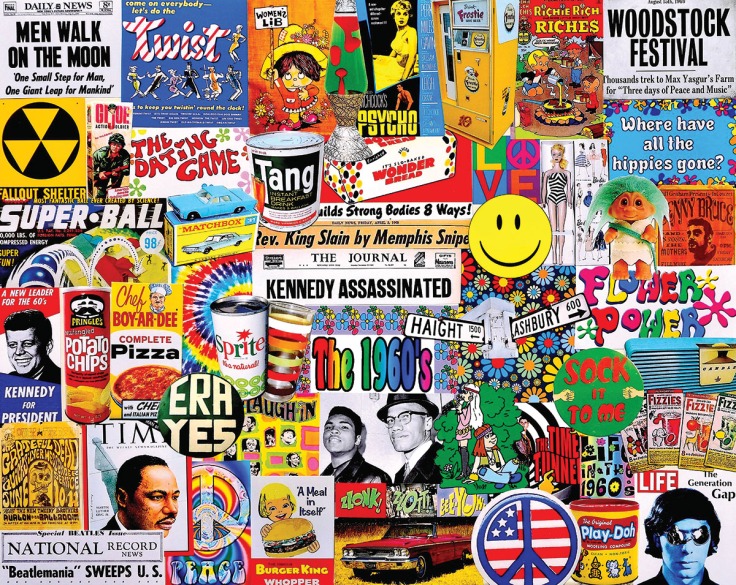 "Life in the 60's" by Charlie Girard, 1000 pieces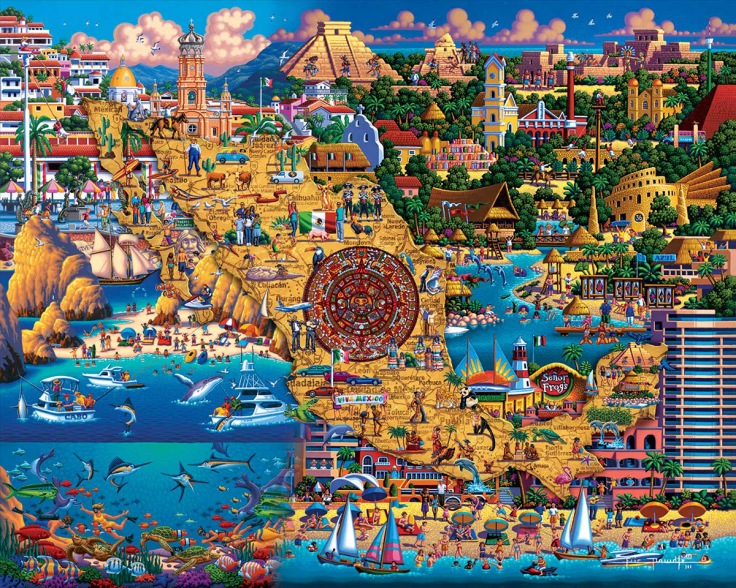 Dowdle Folk Art
We got a ton of new Eric Dowdle puzzles in, mostly themed on a location and from 500-1000 pieces. You can see them all here. I've pulled a few of my favorites.