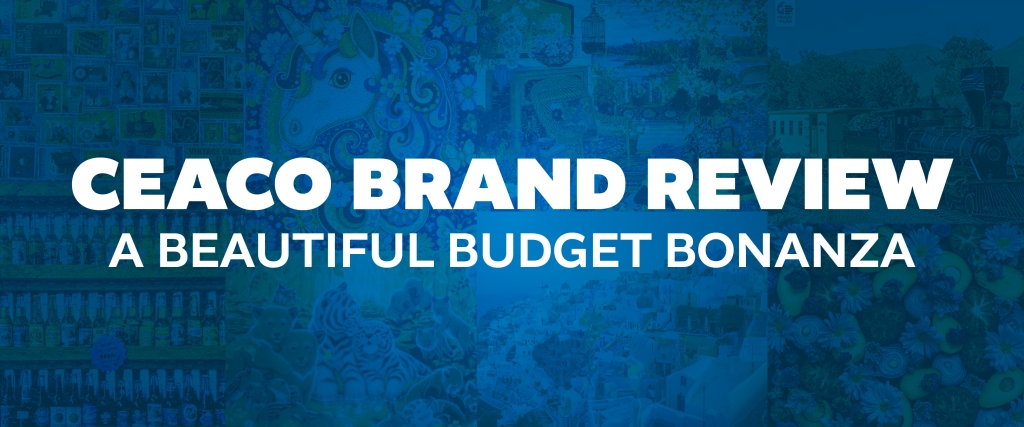 Brand Review – Ceaco: A Beautiful Budget Bonanza
Let's talk budget puzzles. Some people may turn up their noses at the thought, but I personally love them. They may not have the classic consistency of a Ravensburger or the fanciness of a Pomegranate, but they are dependable and you don't hate yourself if you buy more than one. One of my favorite budget puzzle companies is Ceaco. Ceaco has been around since 1987. They have a wide range of puzzle sizes, from kids 100 pieces to adult 2000 pieces. They also feature a lot of big name artists and brands! You want a Thomas Kincade? Ceaco's got you. You want a Disney? Done. You want a Disney x Kincade? It's yours! They also feature Jane Wooster Scott and Jan Van Haasteren. I recently did a selection of Ceaco puzzles ranging from 300-1000 pieces.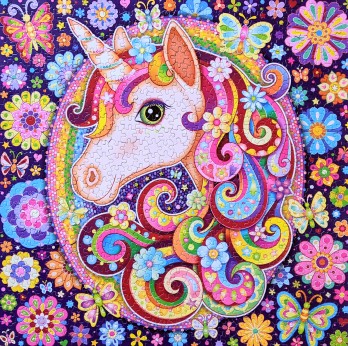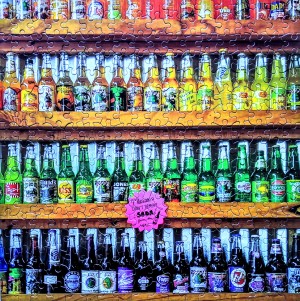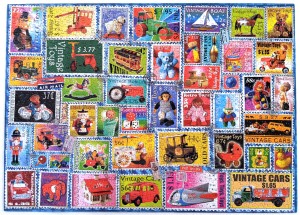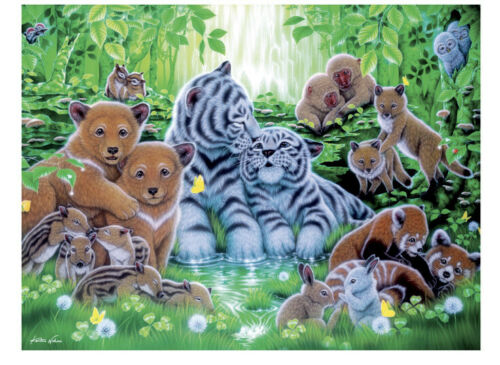 Ceaco boxes are the same size for all, about 8x8x2. The puzzles come in a non resealable bag and with a good size glossy poster. OK, good size is being modest. Ceaco gives you a glorious poster that lets you see every single detail. Not having a poster isn't a deal breaker, but I really enjoy having a nice one to reference. There is more than an average amount of dust, but colanders are your friends. Invest in a puzzle sieve! It really does make puzzle life easier. The boxes aren't the sturdiest, so don't put them at the bottom of your stash pile. However, these puzzles were so cute, they didn't sit in my stash for long.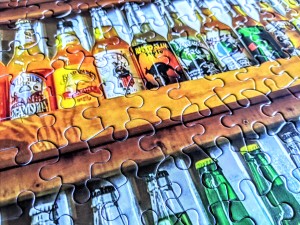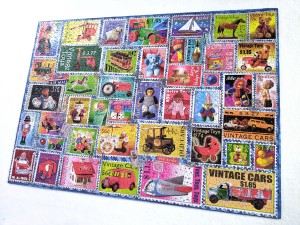 The pieces are thinner than average and I had a couple that were still attached. No big deal, just carefully break them apart. I had a few pieces that had a nib that was peeling, but I recently acquired some clear glue that I always keep handy next to my puzzle table. As my good friend Diane (the same Diane here!) always says "puzzles are paper, they will at some point peel." Glueing down a nib or two doesn't bother me, especially with a puzzle that doesn't have a high price point. The cut of the puzzles is very unique to Ceaco. You'll have the same 5-6 shapes that are similar to standard ribbon cut, just exaggerated a bit. I like to call them Wonkified, as they definitely have more personality than other brands. The shapes are the same throughout the range of Ceaco's puzzles, but they will vary in size depending on the piece count. As you can see from the pictures, the 300 is quite large, while the 1000 is slightly smaller than the Ravensburger. They will bend if manhandled, so be kind to them.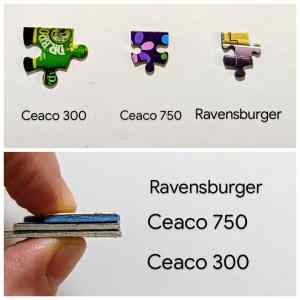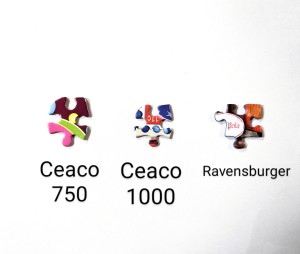 Ceaco has some great images in their collection. The unicorn is from the Groovy Animal series. It was super colorful and actually a bit of a challenge. Did I time travel back to the 60s for a second with that one? WHO KNOWS? The sheer color explosion was really fun and the finished picture made me smile. The #shelfies collection is a really great idea, and contains some awesome images. My one small issue is that this image isn't as crisp as I would like. The details on the bottle labels are a tad blurry, however, maintaining sharpness in images that are enlarged gets pretty tricky. If this was a $30 puzzle, I'd be annoyed, but for a budget puzzle, it was just fine. The 1000 piece was a ton of fun. I love collage and collection puzzles, and Vintage Toys did not disappoint. I will say though, that some of those toys are downright terrifying! What kind of person looks at that finished product and says, "Yup. That won't psychologically scar a child for life". All of the puzzle finishes were slightly glossy, but that didn't cause a glare. The fit on the 750 and 1000 were loose upon construction, but locked together upon completion and both could be picked up. The 300 fell apart on the way to the test site, but big pieces sometimes don't have the integrity of smaller pieces.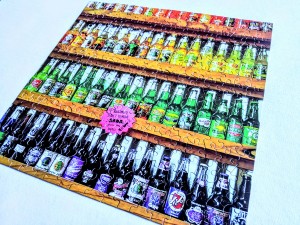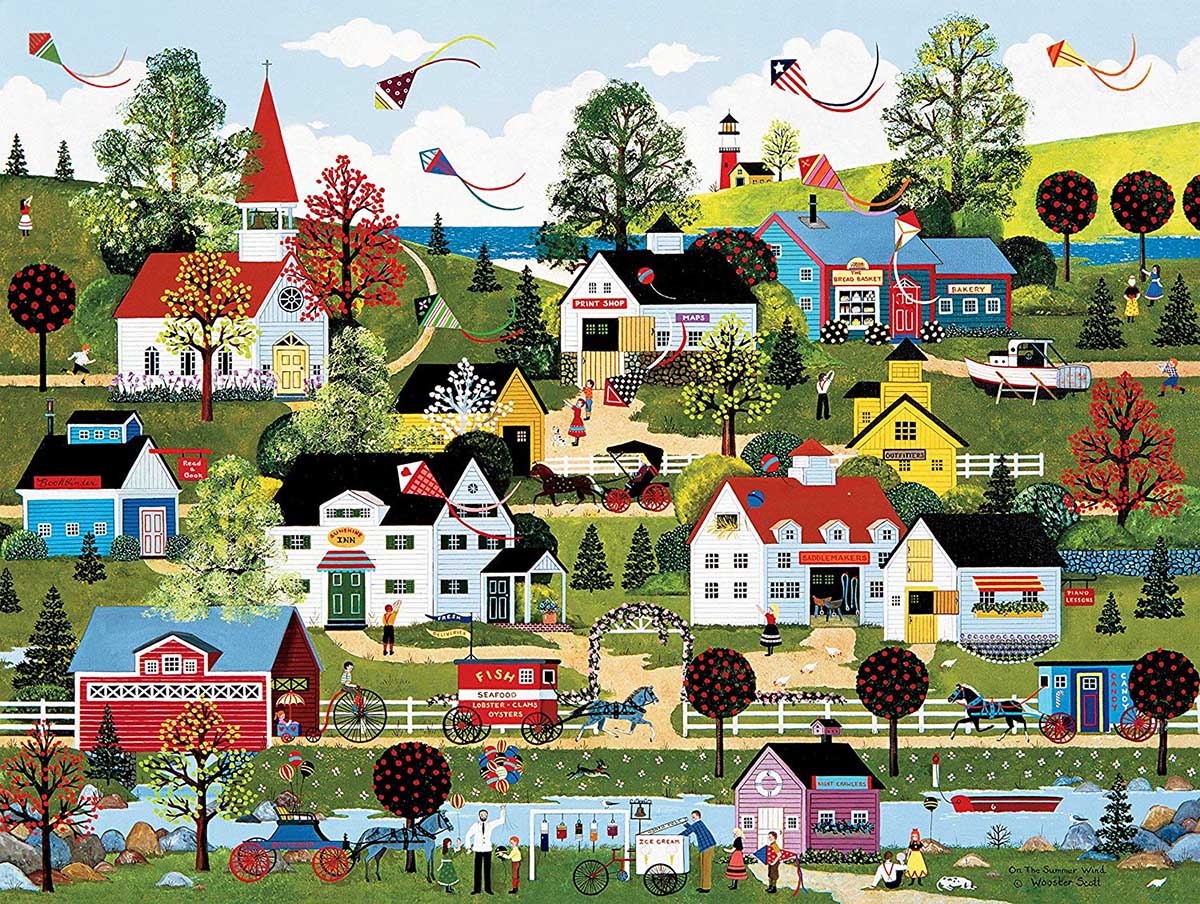 I really like Ceaco. They're a solid puzzle that won't break the bank. Expensive puzzles are lovely to have, but if you're like me and don't save them, it can be hard to justify the cost. Ceaco rests right in that lovely sweet spot. I don't feel guilty buying them and they provide a wonderful puzzling experience. They range in price from $7-$17. You can literally find them everywhere and they have a fantastic catalog of images. Fun fact, if you can get your hands on some vintage Ceacos, you can find some really cool images. I have about 3 from Colin Thompson that I haven't seen on other puzzles.
Happy puzzling!
Gaby @puzzlepastime