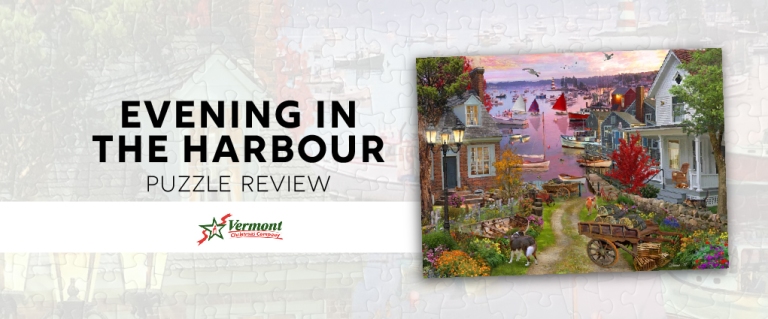 Evening in the Harbour – Vermont Christmas Company
I love Vermont Christmas Company puzzles! No matter what your taste in puzzles or where you might want to take that next "puzzle stay-cation" you will have lots of options with this company. Whether it's a beach getaway, a quiet harbor, a European setting or a return to winter and Christmas, you will find a huge assortment at Puzzle Warehouse. I think we've all had a number of "puzzle stay-cations" over this past year with the pandemic. These puzzles certainly make a great escape.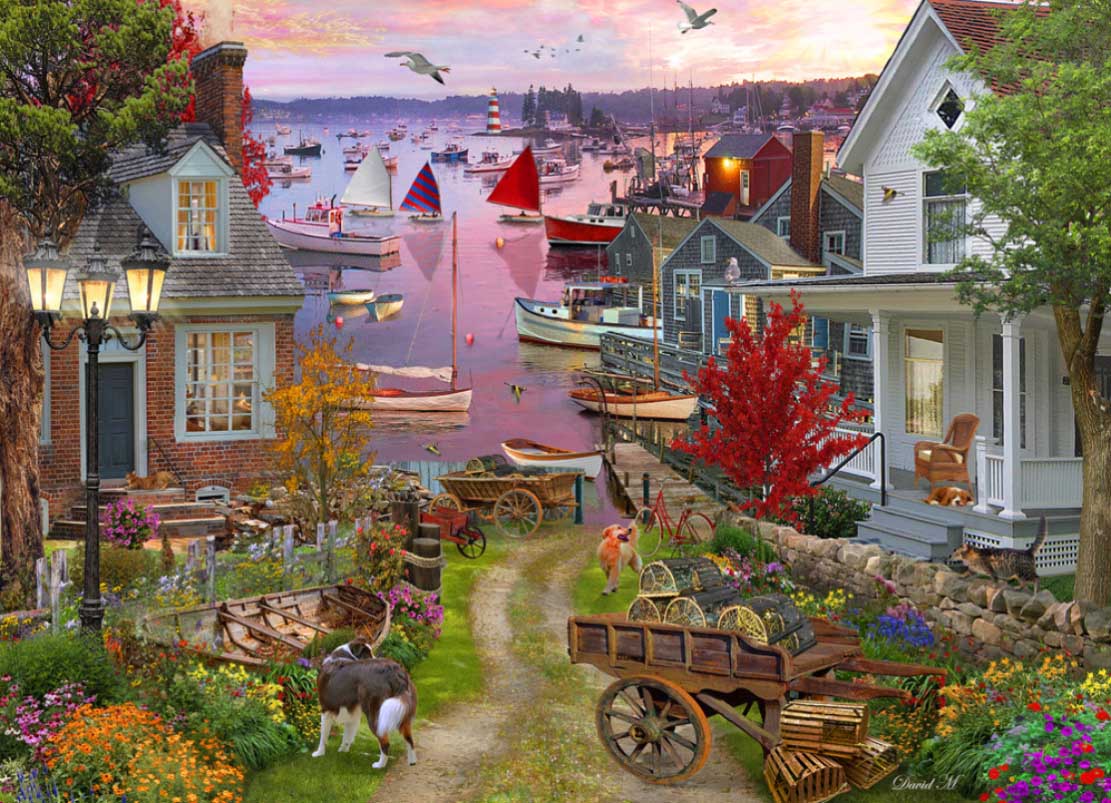 Vermont Christmas Company puzzles are made here in the USA. Located in Milton, Vermont, and according to their website, they sell anything Christmas related year-round. The company was started in 1998 when, "on a whim and definitely a shoestring budget", Andrew Kelly and Bill Flynn left their conventional careers to offer a small selection of Advent calendars. Now, years later, they sell everything from calendars and puzzles to chocolate and candles.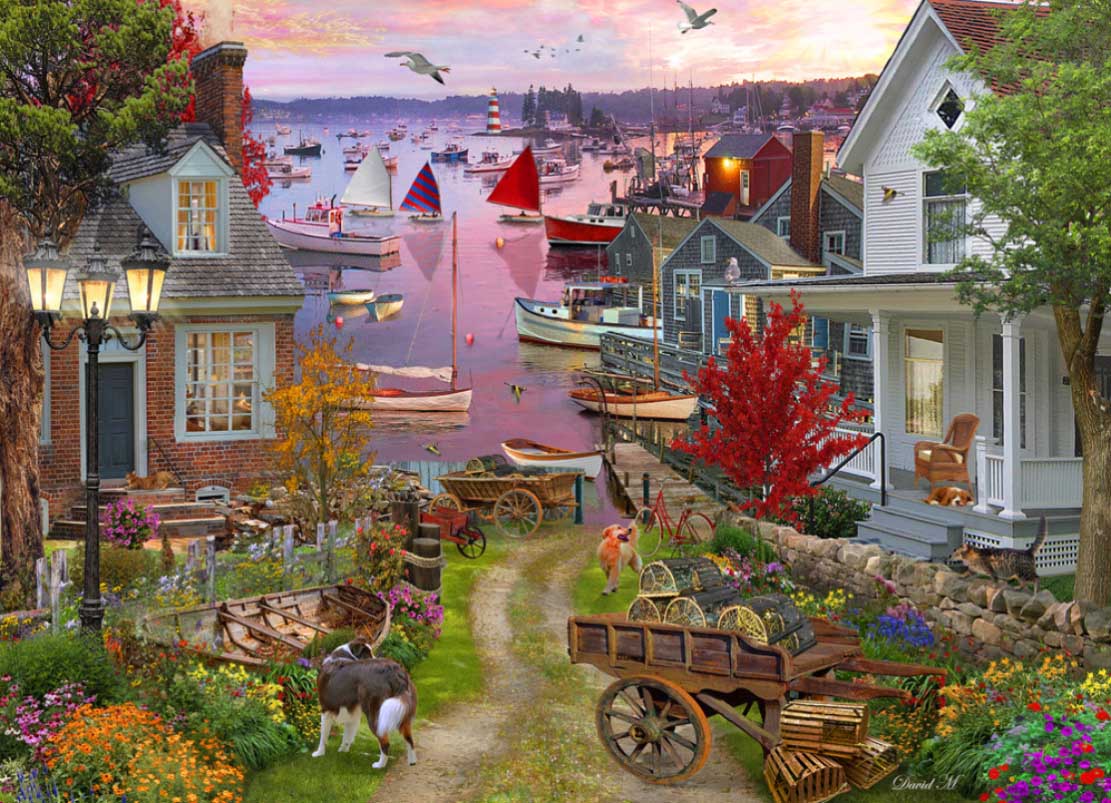 We just finished working "Evening in the Harbour", a 1000 piece puzzle. At first it might look a little busy but there are so many things to focus on in the puzzle. The painting is by David Maclean, a well-known artist in the puzzle world, and true to his style, there are always one or more dogs in the painting, a cat, wicker chairs, and a house or two. I especially loved the colors of the sky in the sunset in the background with the sailboats in the harbor. It definitely feels like one of those "day is done" moments, time to relax. You can even see the fire burning in the fireplace in one of the houses. The colors in the painting on the box and in the puzzle are sharp and crisp even with it being a "dusk" setting.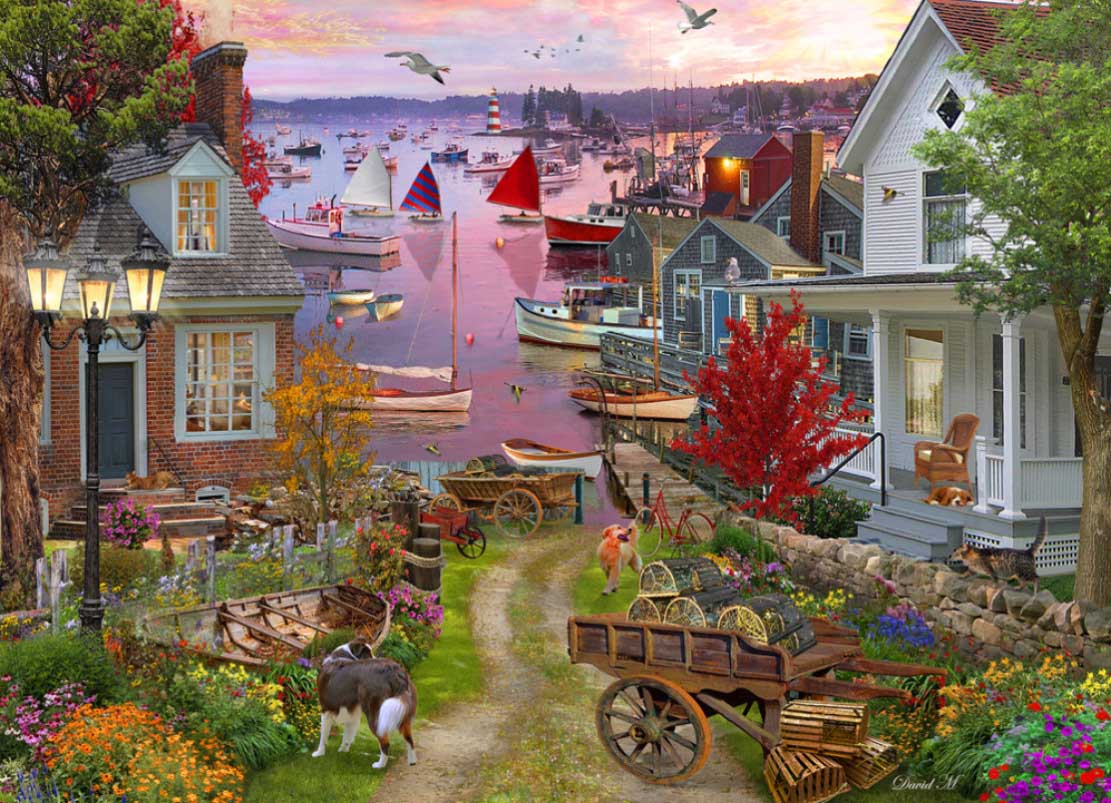 Finished size measures 26 5/8 by 19 ¼, a standard size for a 1000 piece puzzle. On the box it describes the pieces as "fully interlocking and randomly shaped". Pieces are about an inch in size, the size of a quarter, but still easy to handle and put in place. I really like the random cut pieces, the way they are offset from each other. They seem to make it easier to work than a standard grid cut where you have row after row of repeating pieces all the same size and shape. Like most puzzles now, it is made of recycled materials. We found very little dust in the box, another plus.
If you are looking for a new puzzle to work I would suggest you look at the many options Vermont Christmas Company has to offer. Plan your next getaway while shopping on-line with Puzzle Warehouse!
Happy Puzzling!
Patsy