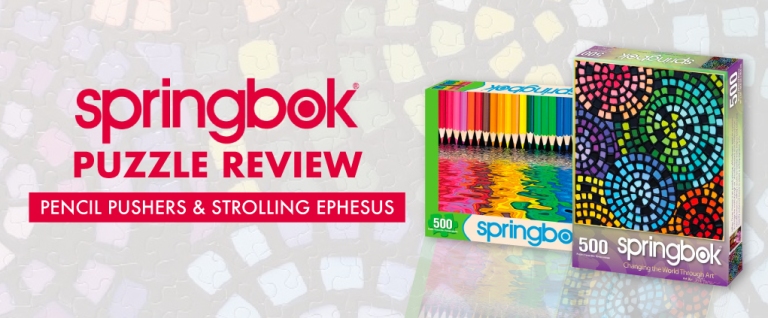 Springbok Puzzle Review
My Rating: 10/10
Let me introduce you to Springbok, an absolutely wonderful puzzle brand. If you aren't already familiar with this brand then you are in for a real treat. Springbok is definitely in my top five all time favorite puzzle brands. Trust me, if you saw my puzzle library you would know just by the sheer volume of my Springbok collection that I truly love this brand. Springbok is the oldest and most respected brand name puzzle manufactured in the United States. Springbok releases 20-25 new images a year. For all you Coca Cola fan, this is the brand for you. Allied is the corporation that manufactures Springbok puzzles. In 2002 Allied obtained licensing agreements with Coca Cola. You will find a vast collection of Coca Cola puzzles in their collection, but that's not all of course, Springbok carries puzzles for everyone. When you check out Springbok, at Puzzle warehouse, you will find a huge selection of themes to choose from, such as, landscapes, family favorites, wildlife and birds, graphics, flowers, hobbies, foods and last but not least Christmas.
Box Quality : 10/10
Springbok boxes for a 500 piece puzzles are well made rectangular shaped boxes. They measure 9″ x 12″. On the front of the box you will find the image, the brand logo, piece count, and the made in the U.S.A. stamp. On three of the sides you will find the piece count, company logo and image. Which is perfect for shelving purposes. On the fourth side you will find the barcode, a photo of the actual piece size as well as some advertising stamps and choking hazard info. On the bottom of the box you will find some interesting facts in three different languages. Springbok boxes are as well made as the puzzles themselves. These boxes will definitely stand the test of time.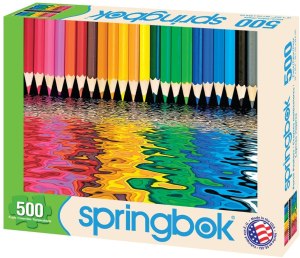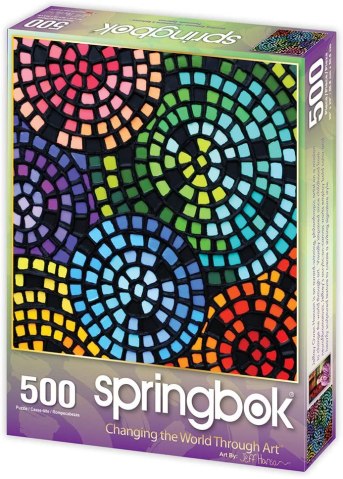 Image: 10/10
Ok seriously, how fun are these images. Pencil Pushers & Strolling Ephesus, are 500 piece puzzles and a ton of fun to assemble. I have to give Springbok the highest rating here because their image reproduction is flawless. All of Springboks lithographs are printed on acid-free paper with an aqueous coating for a high gloss finish to ensure superior image quality. I can assure you the high gloss finish does not add any glare to your pieces while assembling, it only enhances the beauty of the puzzle when completed. Because the image reproduction is flawless, you will never have an issue finding the right piece, simply because the colors match the image perfectly. Both these puzzles images are catalogued under "graphic & colorful puzzles. These are brightly colored images boasting every color of the rainbow. Strolling Ephesus unique tile work and the grouping of all the different shades of color is truly and unusual and unique image. Pencil Pushers image is distinctive in its use of water to carry the color through out the puzzle. There are a lot of colorful pencil images in the puzzle world, but I think the use of water to enhance the color in this image is definitely exclusive to Springbok.
Puzzle Quality: 10/10
Springbok puzzles deserve the highest rating for puzzle quality. Springbok is rated by consumers as the #1 puzzle brand for quality and design. Springbok uses 100% recycled material, and only vegetable or soy based inks. Their pieces are 18% thicker than average jigsaw puzzles. You will find no shards left behind here. Each piece is cut perfectly. I found very little dust left in the box. I found absolutely no raised edges while assembling both the puzzles. Each puzzle had a smooth and even surface when completed. Springbok delivers on all their promises for top notch quality. I promise a Springbok puzzle will never disappoint.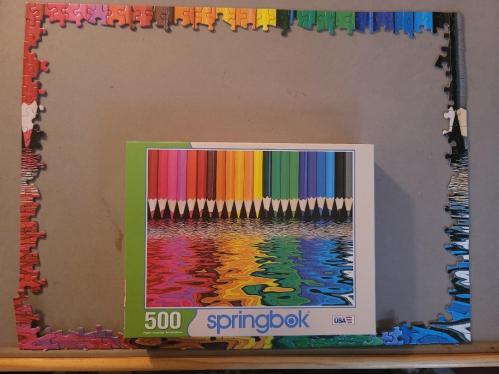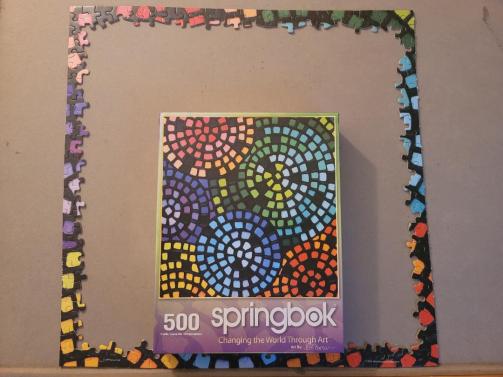 Assembly: 10/10
Once again nothing but the highest rating for Springbok. For those of you who have been puzzling for awhile, I'm quite sure you can appreciate the importance of a snug fit when assembling a puzzle. I can assure you that Springboks precision-made interlocking pieces will never let you down. You will never experience any issues moving small groups of assembled pieces around your board. These are truly entertaining and unique puzzles to assemble. Did you know that no two pieces are alike in a Springbok puzzle? I kid you not lol. Its true, each piece in the puzzle die is an individual-shaped cut. Assembling these puzzles was a breeze. I assembled each puzzle in about two and half hours. When you have perfect image reproduction and such unique puzzle pieces it certainly makes assembly a lot easier. I would rate this puzzles difficulty as easy, perhaps moderate if you are new to puzzling. Springbok is my go to puzzle brand, for when I'm looking for a more relaxed laid-back puzzling experience. If you don't already own a Springbok ,you simply must add them to your puzzle collection. Not only are they the highest of quality, also their puzzle selection is clearly outstanding. I truly enjoyed assembling these puzzles. Actually this is the second time I have assembled each of these puzzles. I know you guys will enjoy them as much as I did. Remember piece by piece and you will be on your way.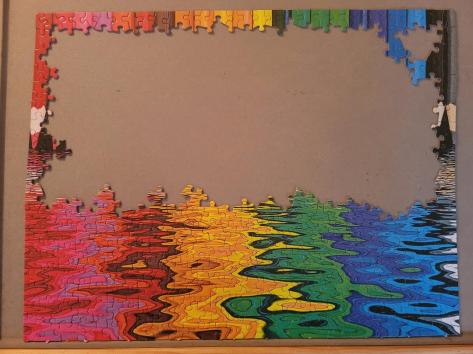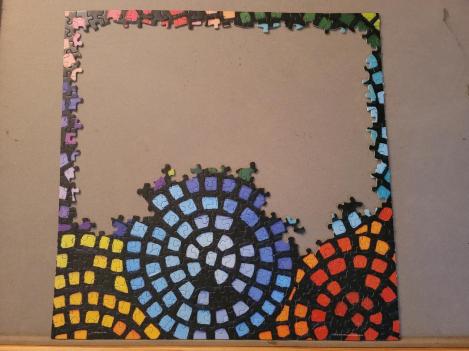 Summary:
Here's another fun fact for all my fellow "Jigsaw Junkies", Springbok puzzles are a collector's item. Springbok has been a leading name in the puzzle world since 1963. As one of the few puzzle manufacturers that makes puzzles exclusively in the U.S.A., they take pride in the superior quality of their puzzles. As I have been a long time Springbok customer I can vouch for their outstanding quality of their entire puzzle line. For those of you who love a beautiful Christmas puzzle you , check out Springbok's Christmas images they are truly beautiful. The one heads up I will give you with Springbok puzzles is they tend to be larger than some of the other brands. This wasn't really an issue for me until I assembled a 2000 piece puzzle. It didn't fit on my 2000 piece board. So just be aware of that one issue. Stop by Puzzle Warehouse and check out their Springbok collection its growing everyday. I know you will find an image you would love to add to your collection. Happy puzzling folks.