Brand Spotlight: MasterPieces
For over 25 years, MasterPieces has been creating a variety of high-quality puzzles, games, crafts, and more. MasterPieces has continued to innovate and develop puzzles that capture the world's beauty in every piece. From 24 pieces to 5000 pieces with an array of images and creativity, there is a piece for everyone with MasterPieces puzzles. Let's take a closer look at 3 of their puzzles - Neuschwanstein Balloons 300PC EZ Grip Puzzle, Santa Paws 500 PC Sparkle and Shine Puzzle, and Farmer's Market 1000 PC Premium Puzzle.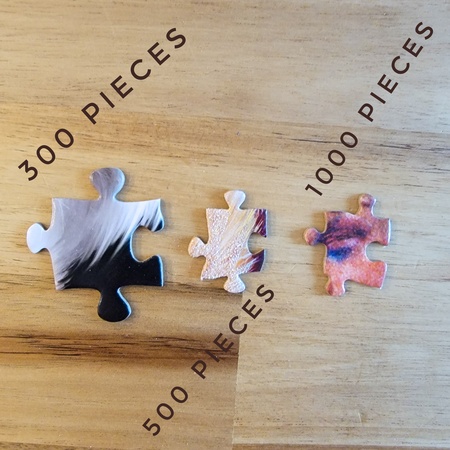 Featuring the art of Lars Stewart (yes, Aimee Stewart's husband), the Neuschwanstein Balloons puzzle is made with oversized pieces called EZ Grip. Taking care to pay attention to the details puzzlers love, MasterPieces has perfected oversized pieces puzzles without compromising image quality.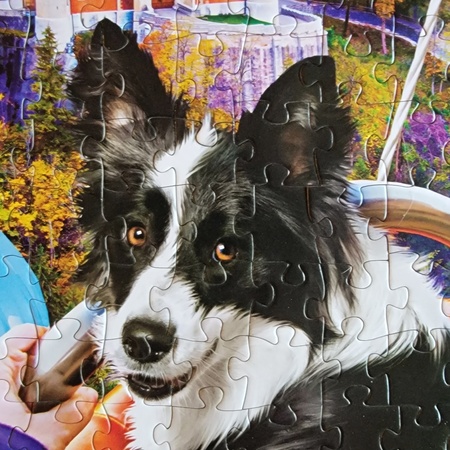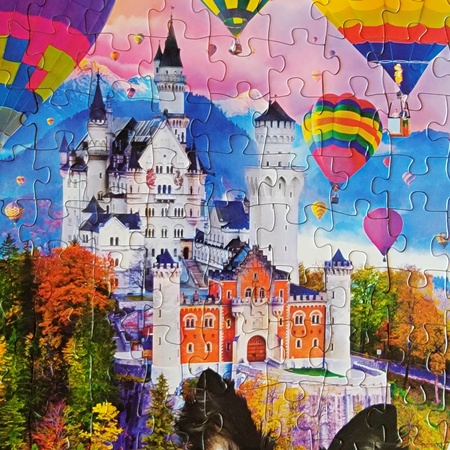 Taking a new spin on the classic Neuschwanstein castle, Lars combines photography with digital art to create his colorful montages.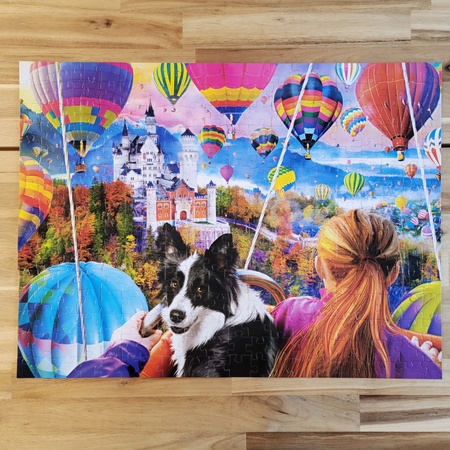 As you work on MasterPiece's Neuschwanstein Balloons, you will notice the way the photograph of the Neuschwanstein castle meshes with the colorful hot-air balloon. The placement of the ballooner, child, and adorable dog draws you into the image so much that you practically feel as if you are on the balloon as well.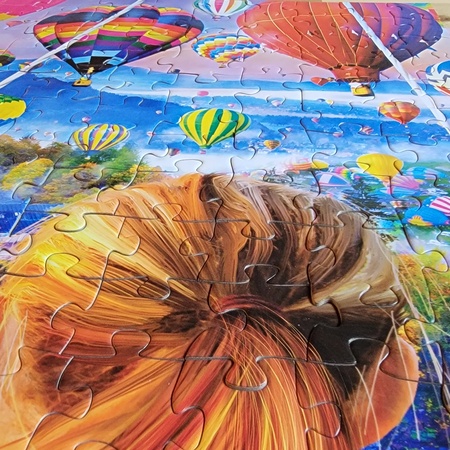 The EZ Grip puzzles have a tight, interlocking fit that allows you to easily move pieces around. You can even pick up the entire puzzle if you'd like. The box is sealed with 2 small circular stickers. Inside the pieces are in a non-resealable plastic bag and a poster is included.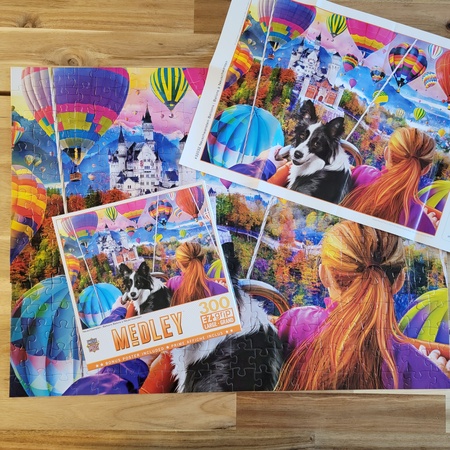 Next up, Santa Paws, a 500-piece puzzle shining with glitter. And a warning to anyone who is not a glitter fan, this style of puzzle is not for you. While there is very minimal glitter transfer from the puzzle to hands/surfaces, some specs did decorate my table when I finished. I don't mind leaving a little sparkle behind - it goes well with the constant corgi glitter.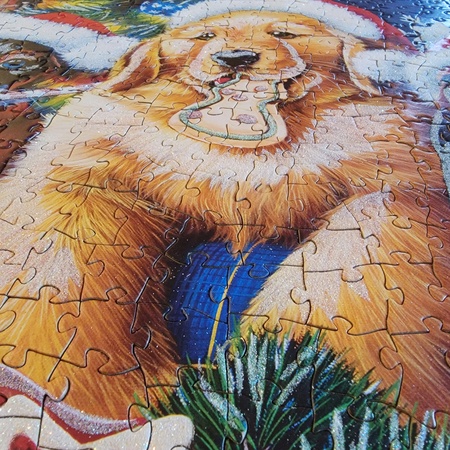 The art on the Santa Paws puzzle is beyond adorable. Arizona-based artist Jenny Newland uses a unique style of combining acrylics with brush and airbrushing techniques to create her art. Although she creates a variety of art, she is best known for her realistic portraits of animals. Looking into this puppy's eyes, you can certainly understand her popularity.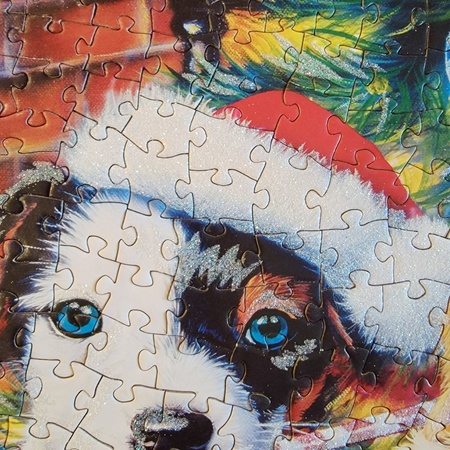 The pieces for the Santa Paws 500-piece puzzle are approximately the same size as MasterPieces' 1000-piece puzzles. Similar to the EZ Grip puzzles, the interlocking fit is secure enough to move sections, or the entire puzzle, around. The puzzle box is sealed with 2 small stickers and the pieces are in a non-resealable plastic bag. (Pro-tip, take a pair of scissors and cut the very top of the plastic bag open. You can then reuse it to store pieces after completing a puzzle. I reseal my plastic bags with masking or painter's tape.) A small poster is also included.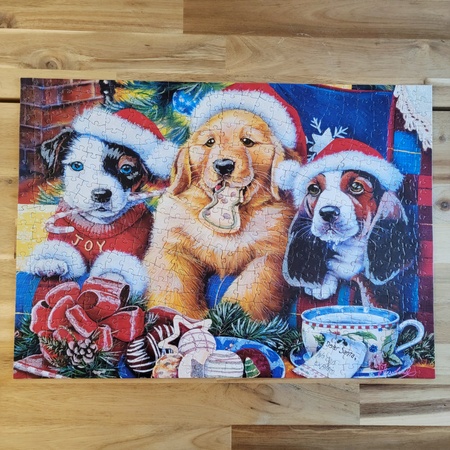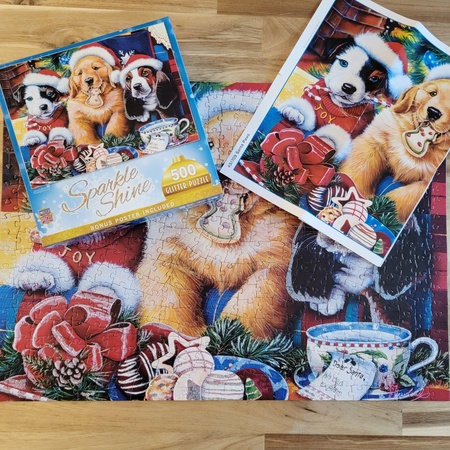 Finally, let's take a look at the most popular piece count for adult puzzles with the 1000-piece Farmer's Market. The MasterPieces premium collection has more elegant linen finish pieces. These are an excellent option if you prefer minimal to no glare when you are working on a puzzle. I typically puzzle at night so I do love the linen finish.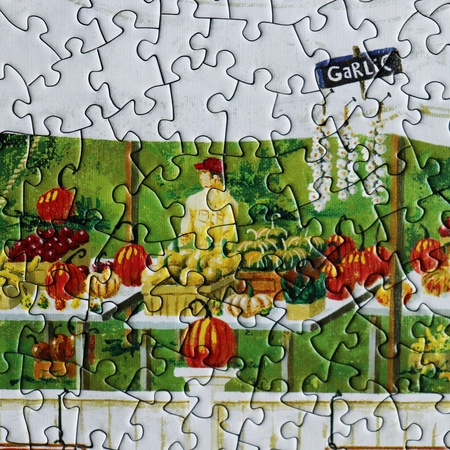 Americana art is always such a fun style for puzzles. The late artist and army veteran, Art Poulin, painted timeless canvases of inviting landscapes that blend life's simplicities with Art's deep appreciation and knowledge of rural architecture. In Farmer's Market, you can see that appreciation in the details.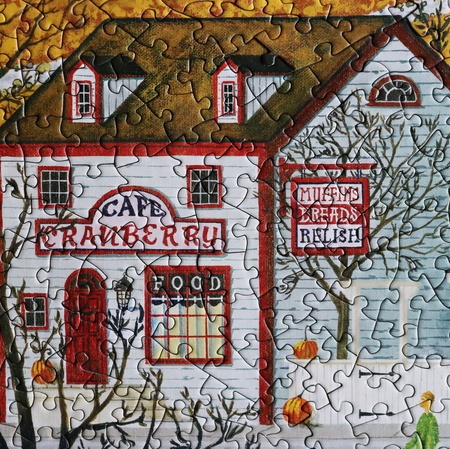 This premium puzzle also included a box stand, which is a nice bonus!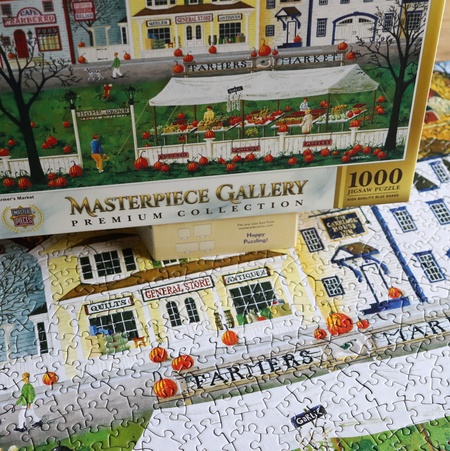 The pieces in Farmer's Market are shaped differently than the other puzzles - instead of a ribbon cut, these are random. I love a random cut! It gives my brain a different type of workout that I don't get with ribbon cut. I rely on the piece shape in addition to the color to determine piece placement. With ribbon cut, I mainly rely on the colors.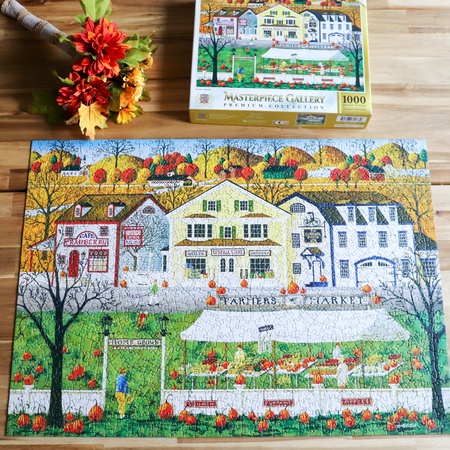 MasterPieces puzzles are truly the epitome of variety when it comes to puzzles. In addition to the abovementioned puzzles, they also have glow-in-the-dark, shaped, panoramic, hidden images, children's, photomosaics, and even puzzle accessories.
Happy Puzzling!
Diane - aka Bizzle's Puzzles