Sweets For My Sweet
When I was a little kid I loved Valentine's Day – the decorations (lavender and pink are my favorite colors), the cards, the school party (although I was usually SO excited about it that I'd work myself up into a sick tizzy and miss it)…and most of all, the sweets! Fast forward to present day and while I'm a bit jaded about the holiday, I must admit I STILL love the sweets! And I enjoyed puzzling all their ooey-gooey puzzling goodness too!

When I saw this 300-piece Candylicious puzzle from Buffalo Games' Vivid Collection featuring artwork by Aimee Stewart, I knew it had to "be mine." This puzzle certainly lived up to the "vivid" in the collection's title! It almost overwhelmed me as I tried to sort out the overlapping swirls of color, so I started with what really stood out to me – perhaps because it is my passion - the chocolate! From there, the 67% larger than traditional puzzle pieces and oversized poster helped me hone in on what went where and it was a sweetheart of a build.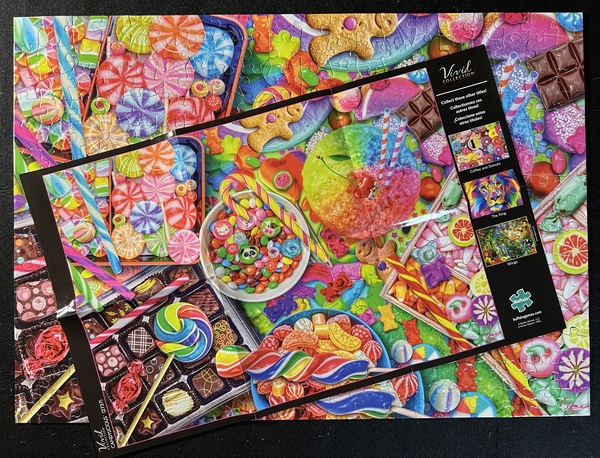 As Valentine's Day is all about couples and they say opposites attract, I thought I'd pair up these two similar, yet strikingly different puzzles. Life Is Sweet is a 1000-piece Buffalo and as I mentioned earlier, you know all that pink called to me!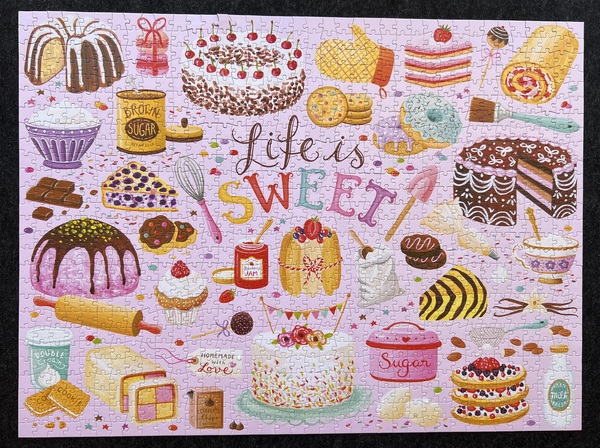 The 1000-piece All That Sweetness by JaCaRou had me nervous at first as dark spaces are usually my nemesis. However, I've discovered I don't struggle with JaCaRou puzzles as the black background allows those vibrant colors of theirs to leap right off the board making it easy to spot what goes where. Both stirred true love in me with their mouthwatering designs, no false fits and fun details which were easy to see on Life Is Sweet's bonus poster and on JaCaRou's large box.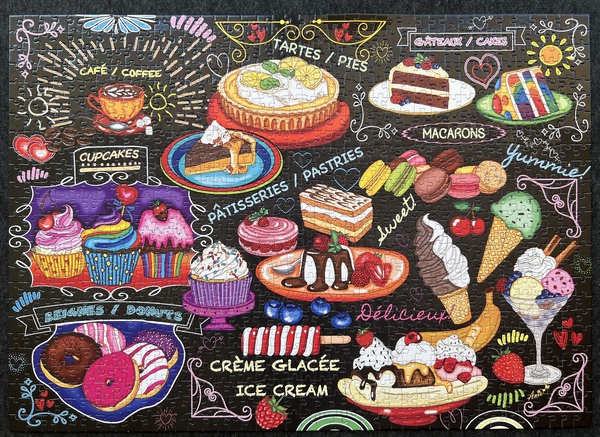 What's better than a dozen roses on Valentine's Day? A dozen cupcakes! Or in the case of the 1000-piece Cupcake Celebration by Eurographics, 42 cupcakes! Valentine's Day was featured on line two and I loved that the kiss of color behind each row helped you figure out where the pieces would go. I was charmed by all the varying cupcake designs - especially the cute character toppers - and random cut pieces are always the frosting on the cupcake for me.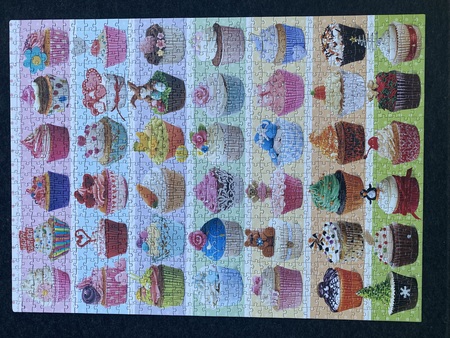 There was a "hole" lot I fancied about the first Ridley I've ever done, this 1000-piece Donut Lover's puzzle.

The bespoke packaging was delightful with the pieces packed up in a paper bag inside a cylindrical holder and a poster that thankfully meant you didn't have to keep rolling the holder to see what you were assembling. And how cool are those pieces? Thick, satisfying texture and how smart that they print their name on the back of each, so you'll never wonder which puzzle that dropped piece goes to again! It was fun dunking into all 55 of the donuts pictured as well.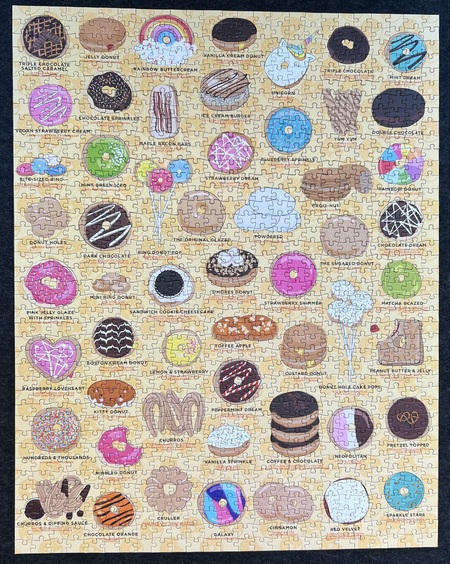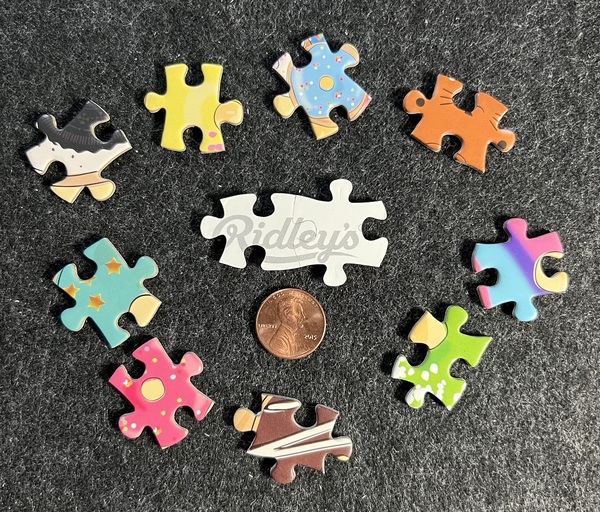 Finally, it was time to wash down all of those pastries with Freakshakes by MasterPieces (anyone else here grow up calling these ice cream sodas?). I completed this random cut as a 1000-piece, but it's also available as a 300-piece and I think I would have preferred that as I almost froze when presented with the overwhelming swirl of color. But once I focused on the variety of sprinkles it helped the build go down smoothly.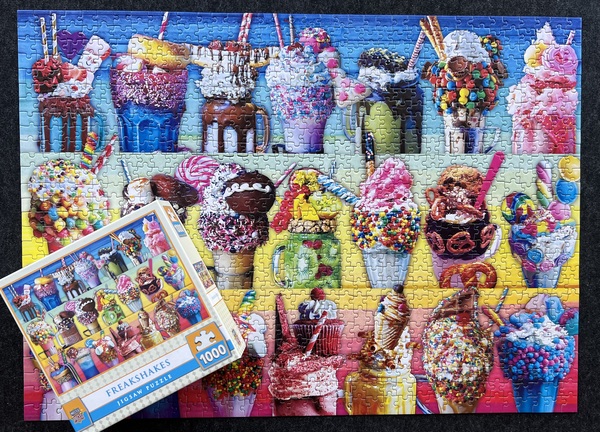 As I completed this puzzle, I found myself giggling over a Jay Leno monologue about only Americans believing that a piece of cake could be a topping instead of a whole dessert! Overkill to eat, but just the right serving of detail when it comes to whipping up an interesting puzzle.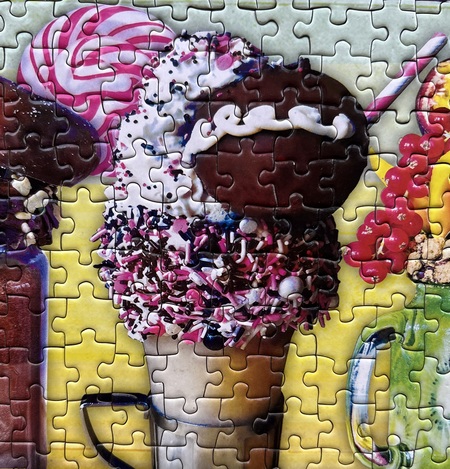 Thankfully, as a gluten and dairy-free girl, I never lost control of my eating while assembling these puzzles. But I did hunger for more sweet treat puzzles as I went along, including Chocolate Artistry by Springbok, Search & Find Chocolate Shop by Mudpuppy and Frosty Treats by Buffalo Games. Perhaps my Valentine will buy them for me?
Enough sweet talk from me! Until next time, sending all of you lots of puzzle love on Valentine's Day!
XOXO
– Lisa @lisalovespuzzles