Puzzling Traditions!
It's almost time to get out all the decorations that have been packed away and to refresh all the memories of past years. The Christmas season is often a time of hectic preparations with lots of extra baking and shopping. But it is also a time to repeat some well-loved traditions. Watching the same holiday movies every year is comforting and digging out those well-worn Christmas puzzles is a must!
Puzzle Warehouse has an extensive collection of Christmas and Holiday puzzles. One oldie and goodie that we love doing each year is called Seeking Holiday Treasures by artist Jane Wooster Scott. It is a Holiday Silhouette velvet backed puzzle with 550 custom shaped pieces and an irregular border. This is an antique and unfortunately no longer available for purchase.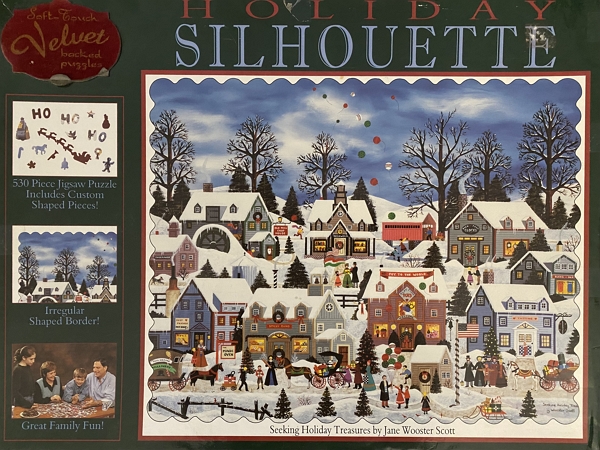 Seeking Holiday Treasures - End of Life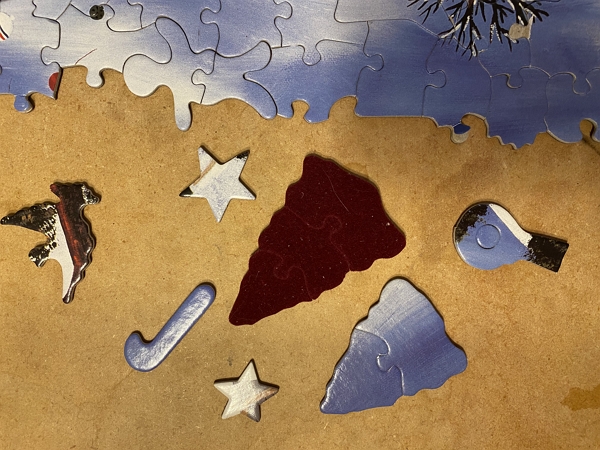 Seeking Holiday Treasures - End of Life
Another family favorite is the 1000 piece Home for the Holidays. I found a very similar puzzle by the same artist, Steve Crisp in Getting Ready for Christmas. It is a 1000 piece Eurographics classic. Note the similarities between the two! I could definitely replace our family treasure with the new one!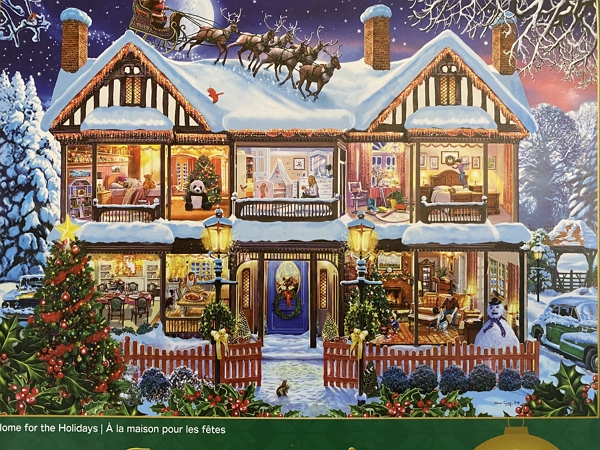 Home for the Holidays by MasterPieces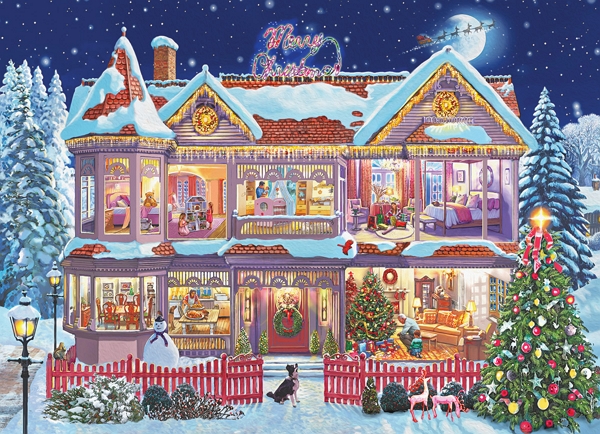 Getting Ready for Christmas by Eurographics
Winter Lights is a newer puzzle I have added to the holiday puzzling board. I was able to find this very similar look and theme in the Merry Moonlight Skaters. Both are Galison puzzles and feature the artwork of Joy Laforme. The pieces are a good size and sturdy to hold. The shimmering lights come alive with the shiny gold foil accents.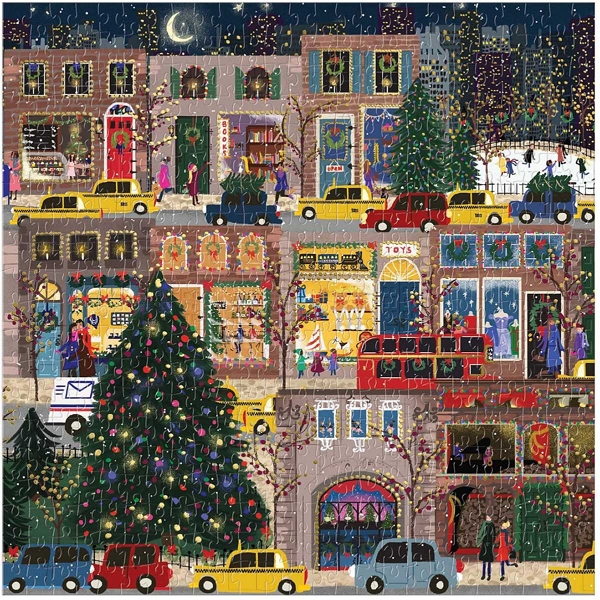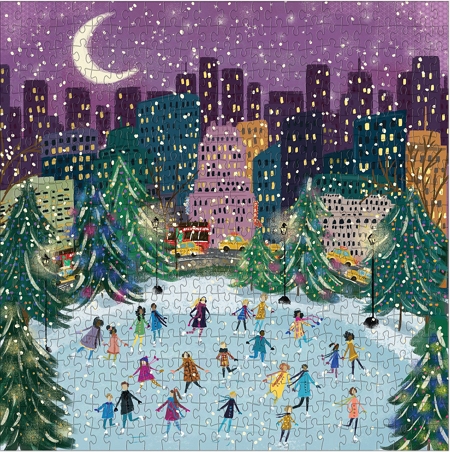 Merry Moonlight Skaters by Galison
This year I gifted some of the grandkids an Advent Puzzle Calendar, to start a new tradition! The Funny Animals advent calendar is distributed by Eurographics and has 24 different 50-piece puzzles, a new puzzle for every day leading up to December 25. There is a nice selection in this series by Eurographics to choose from. They provide Advent Puzzle Calendars with Cats, Dogs, Christmas Classics and Christmas Sweets. And Eurographics just released some new 2023 advent calendar additions including Donuts, Christmas Town, Christmas Memories, and Christmas Desserts.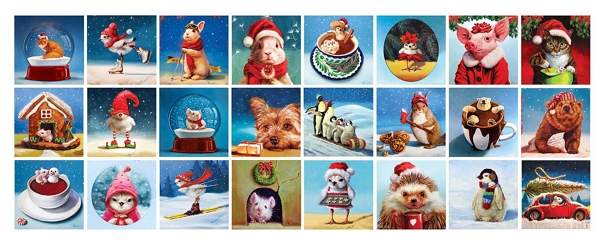 Advent Calendar - Funny Animals by Eurographics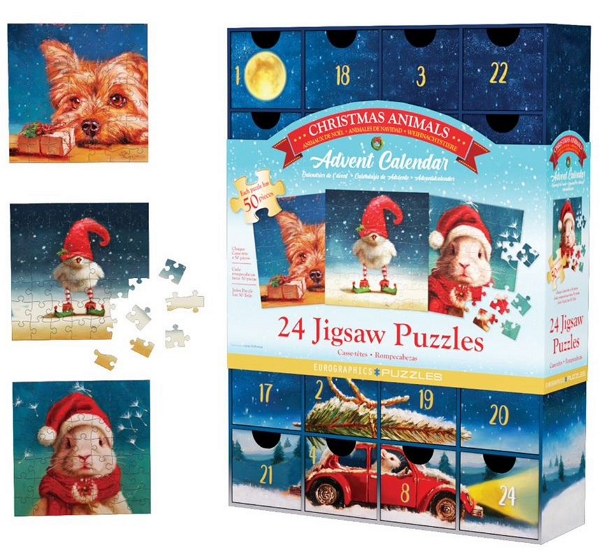 Advent Calendar - Funny Animals by Eurographics
Many other puzzle brands have released advent calendars this year. The New York Puzzle Company has an advent calendar puzzle that actually builds a 1000 piece image when all the days are completed called, City Advent Calendar.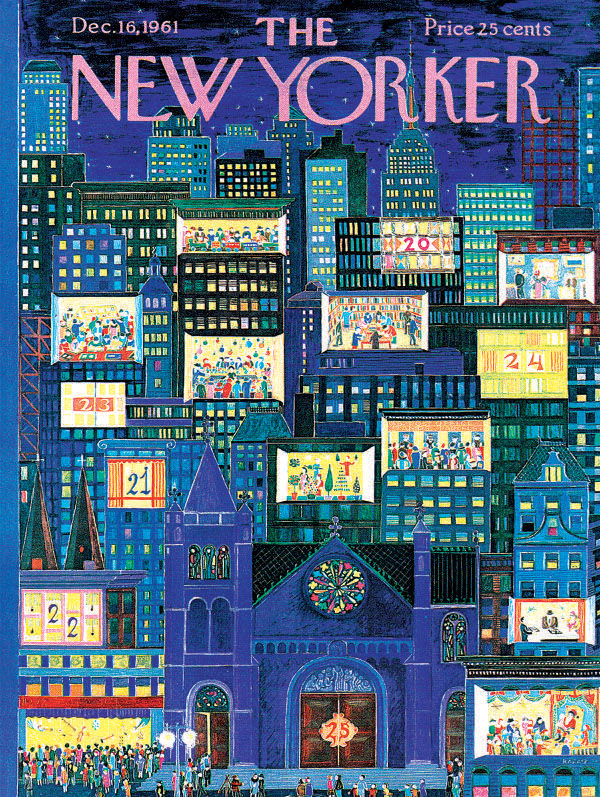 City Advent Calendar by New York Puzzle Company
Vermont Christmas Company follows that same idea with a 24 day countdown to Christmas. Beginning December 1, you complete part of the puzzle each day through Christmas Eve and you will have finished the Stained Glass Nativity puzzle advent calendar. They also have these 1000 piece puzzle calendars titled Christmas Cheer and The Inn at Christmas.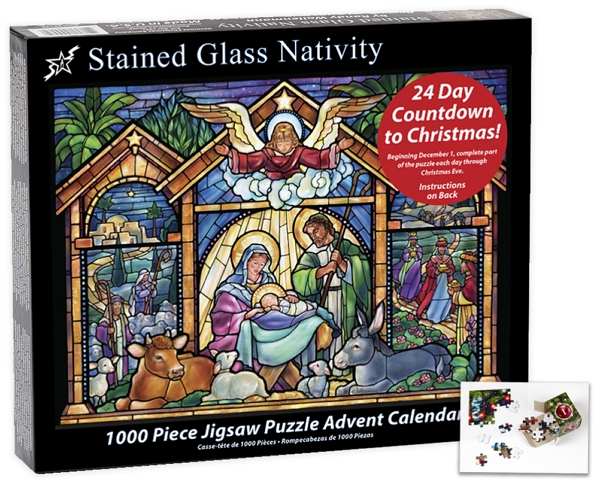 Stained Glass Nativity by Vermont Christmas Company
Galison has now produced two 12 Days of Christmas Advent Puzzle Calendars. One is Michael Storrings 12 Days of Christmas and the other Louise Cunningham Merry & Bright. They are perfect for younger children with only 80 pieces.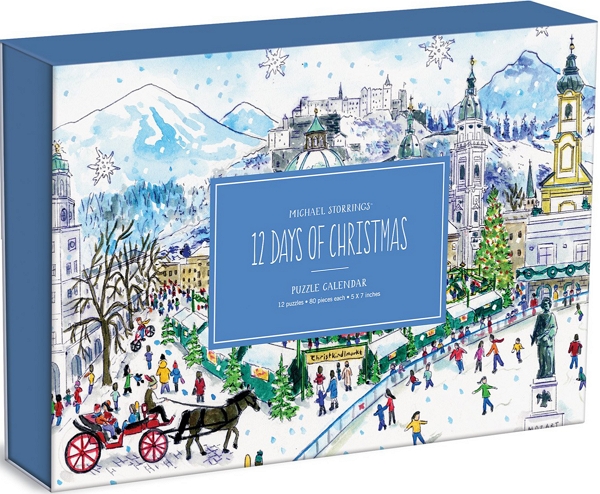 Michael Storrings 12 Days of Christmas by Galison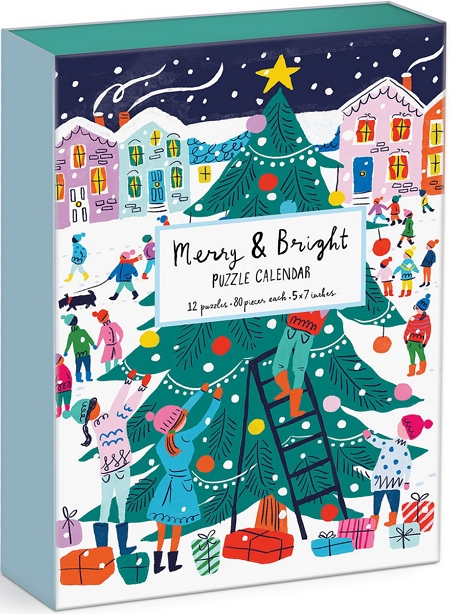 Louise Cunningham Merry & Bright by Galison

Years of new puzzling traditions await!
Mary Ellen