Create Your Own Advent Calendar
Happy November puzzle friends! It is officially Marwa's favorite time of the year! The days are thankfully shorter, the nights are wonderfully longer, the air is chillier, and all the holidays are coming at us with all their joy, beauty, magic, and sparkling lights. It is quite literally the most wonderful time of the year.
One of the holidays coming up is Christmas, and boy do I LOVE all things Christmas! One of the many things I adore about Christmas is… you guessed it! Advent calendars. Let's do a mini crash course on the history of advent calendars. The word 'Advent' is derived from the Latin word for 'coming'. Advent calendars can be traced back to the 19th century when families would mark every day in December until Christmas Eve with a chalk line. Now that we did some learning, let's get to the creativity I'm about to share with you.
Advent calendars have gotten creative over the years. There's an advent for anyone and everyone! You can have the usual ones like chocolate or little toys and money for kids, but now there's so much more out there! From cheese, wine, beer, to Lego's, Disney characters, and yup you guessed it again, puzzles. Over the years companies like Eurographics and Galison made the cutest advents.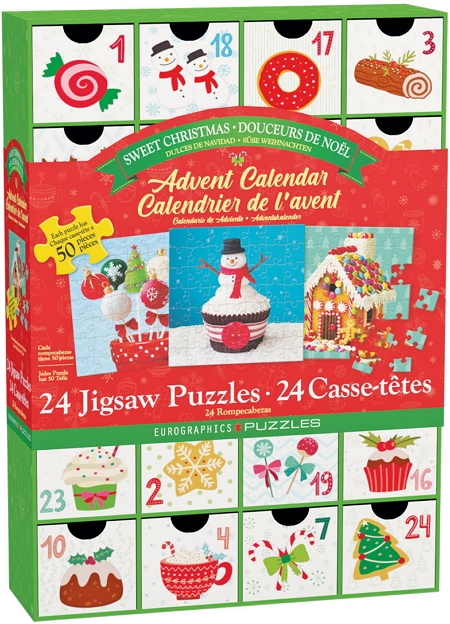 Advent Calendar Christmas Sweets by Eurographics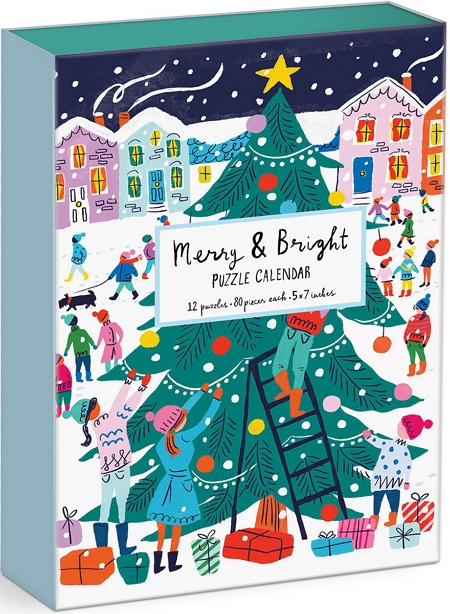 Merry and Bright 12 Days of Christmas by Galison
Consider this though… What if you made our own? Yes! You can totally make your own! It's fun, easy, and the possibilities are endless. You can make a Christmas one, or Hanukkah, a fall theme or a winter one. It can be a traditional 24 day advent, or a 12 day one… or you can be like me and mess up the math so bad you make a 29 day advent and that's ok. You can use a 1,000, 500, 300, or 2,000 piece puzzle. Anything goes. You're the boss here!
Here's what you'll need to start creating your own advent. A puzzle of your choice, a calculator in case math isn't your forte, little bags or boxes to put the puzzle pieces in, wrapping paper, scissors, and numbered stickers to assigned days for each box/bag you make. That's it! Easy peasy.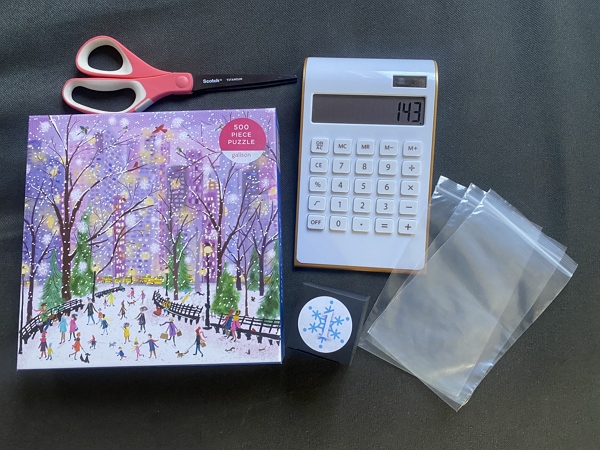 Supplies for your DIY Advent Calendar
First up, I used a winter themed 500 piece Galison Snowy Night for my first advent calendar. This gorgeous puzzle designed by Joy LaForme was a good one to start with because it isn't attached to any holiday. It's winter themed and neutral enough to gift any puzzle lover in your life.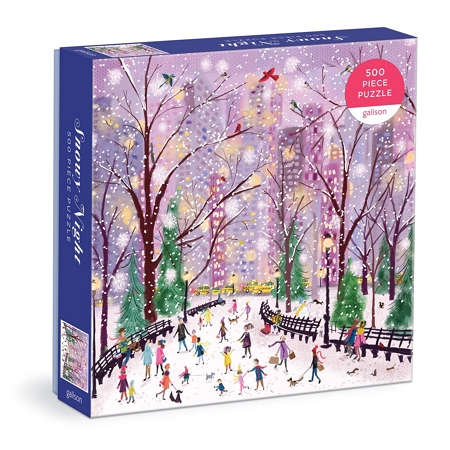 Snowy Night puzzle by Galison
Once you decide on your puzzle, go ahead and build your puzzle and then comes decision time. How many days do you want your advent? How many pieces per day? Once you make your choice, do the math. In my case, since the puzzle was 500 pieces, I had two choices - 12 days of roughly 40 pieces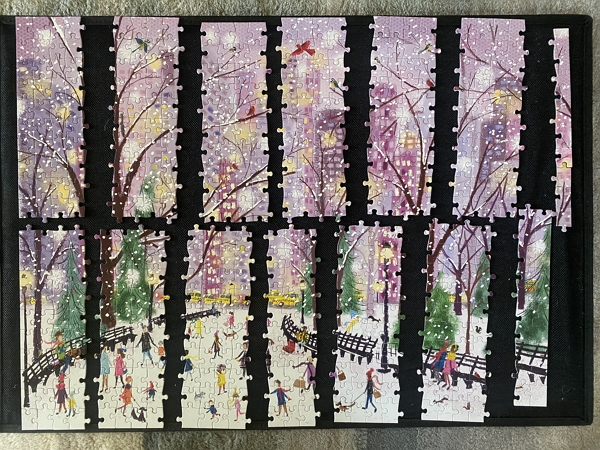 Or 24 days of roughly 20 pieces per day. You won't have exact numbers divvied up because the puzzle wasn't made to be an advent and that's ok. One day might have a couple more pieces or less pieces.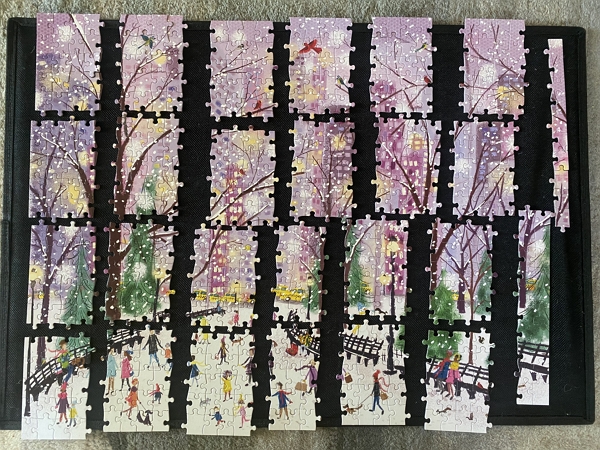 Once the puzzle is broken up into the amount of days you chose, then start breaking each section and either boxing or bagging them in whichever design you choose. I suggest you break them up one section at a time, so you don't mix up the pieces or drop a piece and miss bagging or boxing it. It happens, trust me! I chose to break the puzzle up into 12 days of 40ish pieces, and I used the bagging method.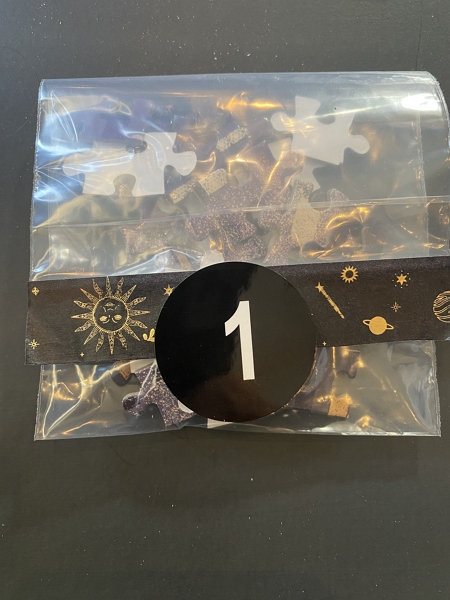 Once you finish separating, and bagging/boxing your pieces, then comes presentation. I wrapped the top and bottom parts of the puzzle box separately to make it look pretty and like a present, and placed the enclosed puzzle poster on the bottom of the box before placing the packaged pieces. Why, you ask? That way if your recipient doesn't want to see the image and keep the puzzle a surprise, they have that option. And if they want the image, the poster is available at the bottom of the box. Now start placing your baggies or boxes in either daily order or out of order to make it more fun. Again, this is your creation, have fun with it!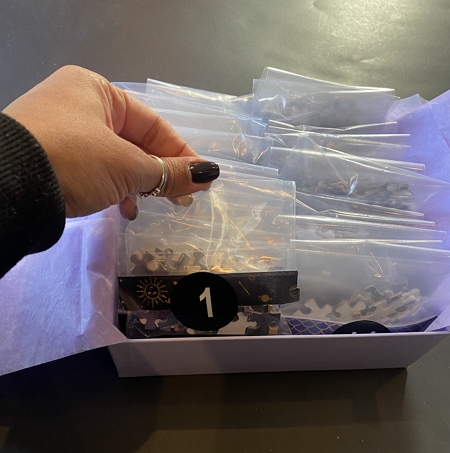 Another puzzle I turned into an advent is a 550 piece Christmas themed Masterpieces puzzle cutely named Greeting From the North Pole. I absolutely loved and thoroughly enjoyed putting this one together. It was a little tricky separating it into sections because of its random cut, but it makes for a fun advent for the more seasoned and quirky puzzler. This one I broke up in 24 days of 22ish pieces a day.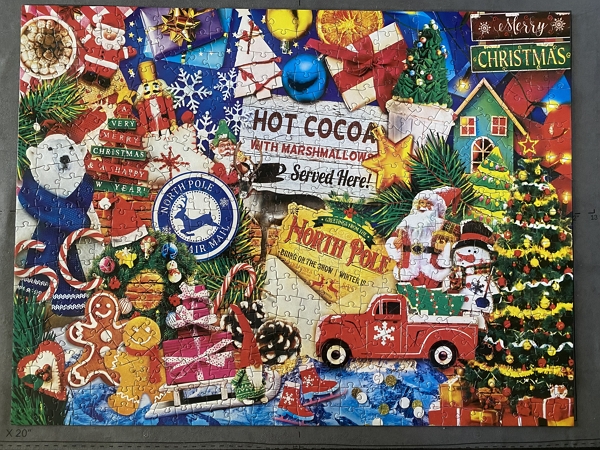 Greeting From the North Pole puzzle by MasterPieces
Lastly, this is a gorgeous 1,000 piece Galison also by Joy LaForme (can you tell she's a favorite artist of mine?) called City Lights I turned this puzzle into a 31 day advent for my friend last year. This one always sells out on Puzzle Warehouse so I suggest you go on the site, and click 'Notify Me' because you're going to want it in your permanent collection. It is by far my favorite and most beautiful Galison I have ever done.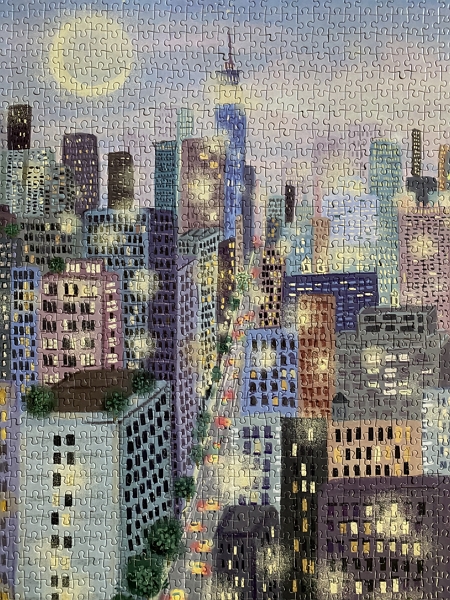 City Lights puzzle by Galison
There you have it. A step by step tutorial on how to make your own advent! Wasn't it so easy? It's also such a fun project to put together. It can work for any holiday, with any image, and any piece count for however many days you'd like. As I said, have fun with it! Be creative. There are no rules here other than having fun and spreading the puzzle love during this magical holiday season.
Puzzle Warehouse has so many options to choose from and get creative with. If this is something you plan to do, share it with me! I would love to see your creative process. If you have any questions, hop over to my Instagram Puzzledprincessdiaries and shoot me a message. I'm happy to answer any questions you have! Just remember, have the best time through this process!
Happy All the Holidays!
Marwa
5 Stars
Alyssa Z. - Stevenson Ranch, CA
5 Stars
Gail M. - State College, PA
I love the idea to make your own advent calendar out of an existing puzzle, or better yet, to make one for someone else so it's a surprise! I've also seen folks put the pieces in envelopes, though I do love the look of yours!
Great article, Marwa! You make me want to go make a bunch of puzzle advent calendars right NOW! 😁