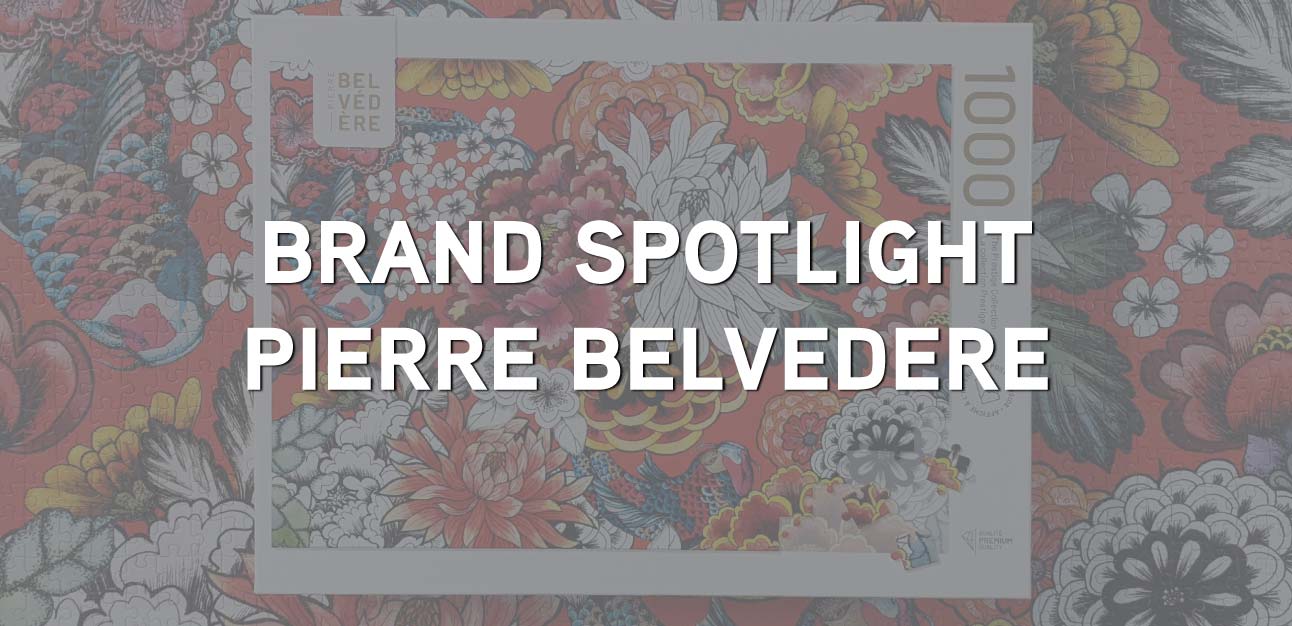 Brand Spotlight: Pierre Belvedere
Hello, beautiful puzzle people!
I'm not sure if you stay abreast of all the different weather patterns in the US, but this year, it was a wet spring in the PNW. The temperature stayed in the 60's for most of June and the rain seemed to want to stay forever! Now, if you've been with me (either here or on my Instagram) for a while, you would know that I am a straight up goblin girl. I love cloudy, cool days and my hoodies with leggings, so the extended PNW gloom into the summer months was a dream come true for me. This June was an absolute joy for me, especially after that bananas Heat Dome from last June. 115°F??? No thank you. We are a temperate people here.
Alas, those days are done as we are entering our first heat wave of the summer. The forecast for this weekend is the low 90°s! Yes, I know, that is chump change for the rest of the country, but for us, it's literally the surface of the sun. So, what does this have to do with puzzles? Well, although Washingtonians are used to outdoor activities in the rain, I spent more time inside to puzzle! That led me to discover a new to me brand called Pierre Belvedere and you know how much I love trying out new brands!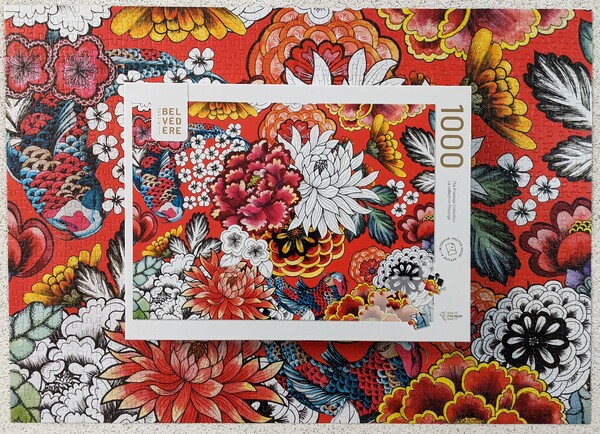 Pierre Belvedere is a stationery company based out of Canada. I had to do A LOT of internet sleuthing for this one, as PB has a wide range of puzzles. So, PB has two main puzzle lines; their standard line and their "Prestige" collection. Both of these lines feature art by original artists. Their standard line is manufactured in partnership with Trefl (it's designed in Canada, and manufactured in Europe). This line features local artists in 3 series: World-class artists, Canadian scenes, and "Must-haves". I can't speak of these puzzles, as I haven't tried one yet. I would assume that they're similar in quality to a Trefl puzzle, but don't quote me on that. Their Prestige collection seems to be from an entirely different manufacturer than their standard line. Trefl is made in Poland and the Premiere line is made in the Netherlands. The best way to tell which line you are purchasing is by looking at the box cover. The standard line will feature both a Trefl logo as well as a PB logo, such as this puzzle: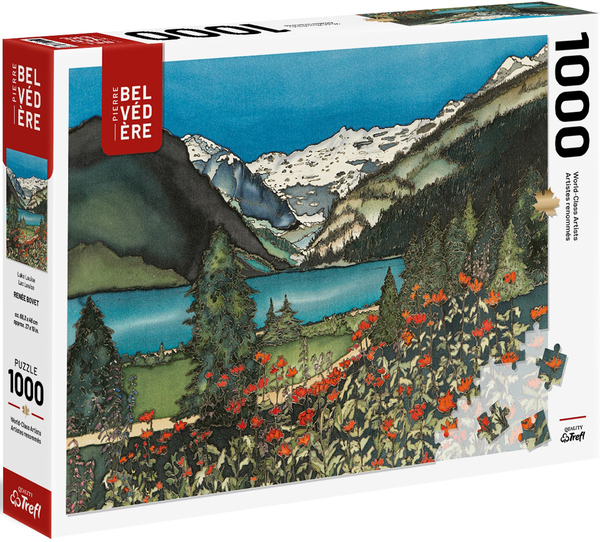 Lake Louise | Pierre Belvedere | 1000 pieces
The Prestige line has a diamond logo in the lower corner as seen in this one: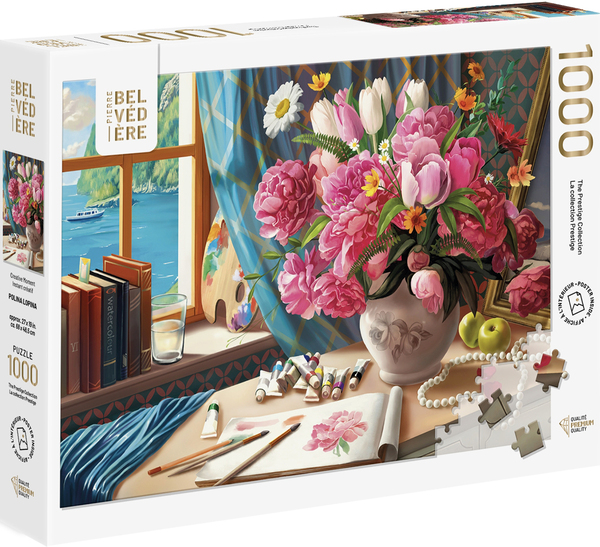 Creative Moment | Pierre Belvedere | 1000 pieces
The puzzle I'm talking about today, Chrysanthemums, is from PB's Prestige line, and prestigious it is. I'm always super excited when I try out a new brand and it turns out to be a wonderful experience. Alright, let's get all of the specifics out of the way first. The box is similar in size to a Ravensburger box. The pieces are in a non resealable bag and a poster is included. The cut is ribbon, but there is a good amount of shape variety and I didn't have any false fits. The finish is very low gloss and almost has a waxy feel. If you've ever tried a puzzle from the Cloudberries brand, it is VERY similar to that, but without the linen finish. I was able to move large sections of pieces, and the puzzle had a wonderful Goldilocks fit. Not too tight and not too loose. The pieces were also extremely sturdy and the dust was minimal.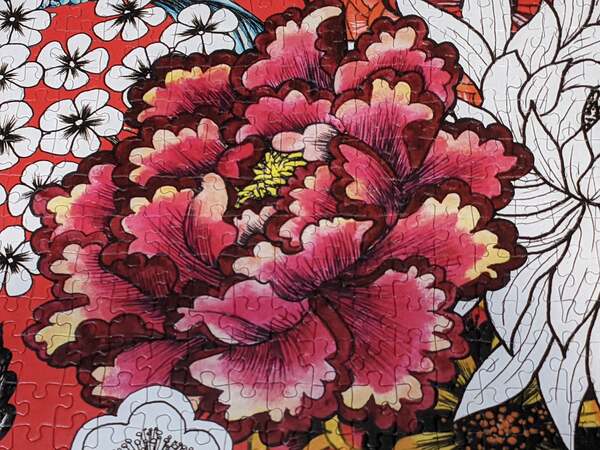 Assembly wasn't too difficult. The image by Arina Trapeznikova was full of different patterns and color combinations. It was easy to pick one, finish that section, and move on to the next. The image was beautifully rendered, every line crisp and clear, the colors bright and vivid. The pieces were so lovely to puzzle with. They are made from recycled cardboard and feature 100% organic inks. I don't know about you, but I'm a fidgeter when I puzzle, so I like my pieces to stand up to tapping, spinning, rolling, you know the drill. They passed with flying colors. There was zero peeling or bending and each placement provided me with a nice, satisfying snap onto my table. What more could a puzzler ask for?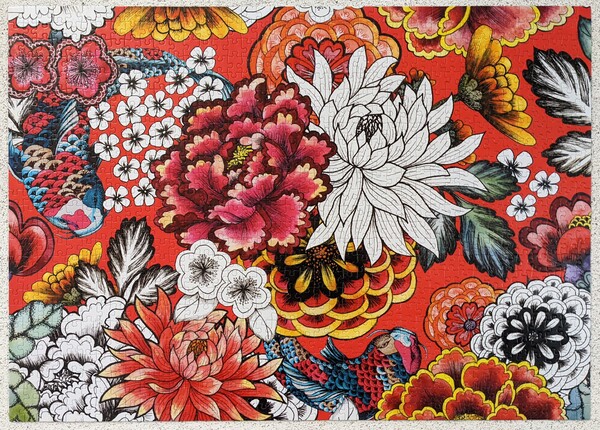 I'm so glad that I took a chance on Pierre Belvedere. Their Prestige puzzles are very well made and I would absolutely try one again. I think that I am definitely going to try one of the PB/Trefl collaborations and see what the differences are between the standard line and the Prestige collection. It would be interesting to compare the manufacturers. Maybe something for a future article?
As always, keep puzzling!
-Gaby @puzzlepastime