Celebrity Puzzlers
We all love puzzling, that's a given, that's why we're here. However, us "common folk" aren't the only ones who enjoy kicking back with a few hundred pieces of our finest artworks and finding peace in the pieces. Celebrities and notable figures around the world have often shared with us a sneak peek into their puzzling set up, or favorite images to tackle. With the recent years of COVID lockdown, and social media, we've been able to, quite literally, see this more often than ever before. In no particular order, here are some highlights of famous puzzlers!
(Note: Puzzle Warehouse and myself are not affiliated with any of these celebrities. We do not promote, condone, nor endorse any of their opinions/beliefs, actions, or partnerships they may have outside of a shared love for puzzling.)
Hugh Jackman
Hugh has never been shy of his puzzling habits, nor taking on a challenge of a larger puzzle, or harder image. Through his Instagram, he has shown multiple photos and videos of his progress. In a video where he is scraping fistfuls of pieces from a Starry Night puzzle off the table and putting them back in the bag, he comments what we've all said at one time before: "Four months of work, and this is what it looks like when you've got to put your toys away. I don't want to put my toys away. I don't want to do that."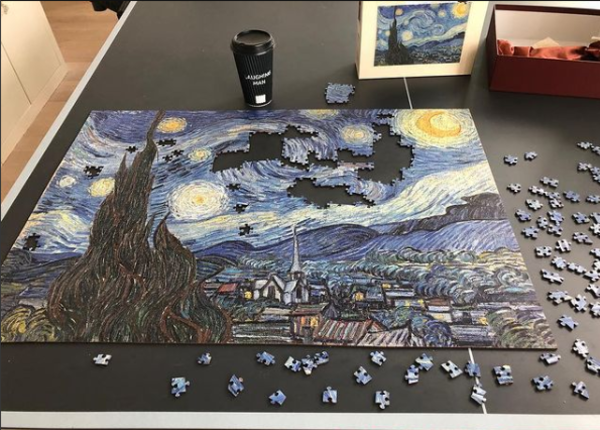 Tom Holland
Are your spidey-senses tingling too? Tom Holland, and his brothers, are the namesakes for The Brothers Trust, which among other things, have done puzzle competitions for charity fundraising.

Amongst the known completed puzzles are Vintage Pencils by Galison and Soft Drink Cans Panoramic by Educa
Tobey Maguire
Are your spidey-senses tingling too? You're not seeing double, it's just another Spiderman that takes pleasure in puzzles, and this one loves a little competition with it. In a 2019 interview with The Cut, Tobey dishes on his newest hobby "I've done a couple jigsaw puzzles recently. A buddy of ours does some puzzling himself, and he introduced me to competitive puzzling," I wonder if Andrew Garfield is a closet puzzler…
The British Royal Family
We've probably all seen the photos of the late Queen Elizabeth II with her puzzles in progress, or heard of her affinity for not using the box image at all (that's cheating according to her); but her puzzle-loving legacy lives on with King Charles, and presumably, other members of the royal family. On a tour of the Sandringham House, which is meant to be a relaxing place for the monarch, in September of 2022, it was noted that there were jigsaw puzzles set out and ready to be pieced together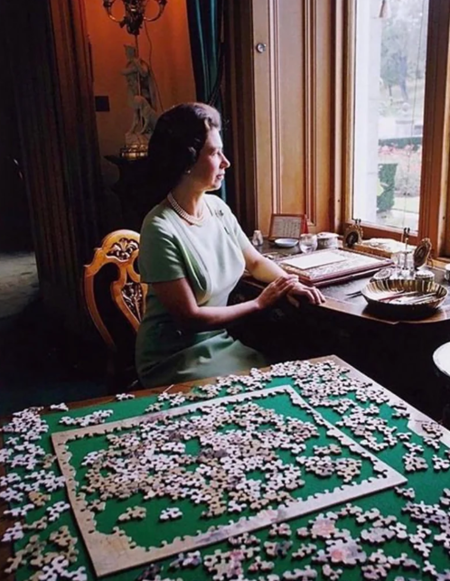 The Kardashian/Jenner Sisters
Reality shows are heavily debated to the level of "reality" depicted, but in actual reality, Kylie spent a lot of her time puzzling while in lockdown, and previously when pregnant with daughter Stormi. She and sister Kendall, posting progress to Instagram stories and Twitter often with friends and family to pass the time. Do I recognize Aimee Stewart Coffee and Donuts from Buffalo? Of course I do.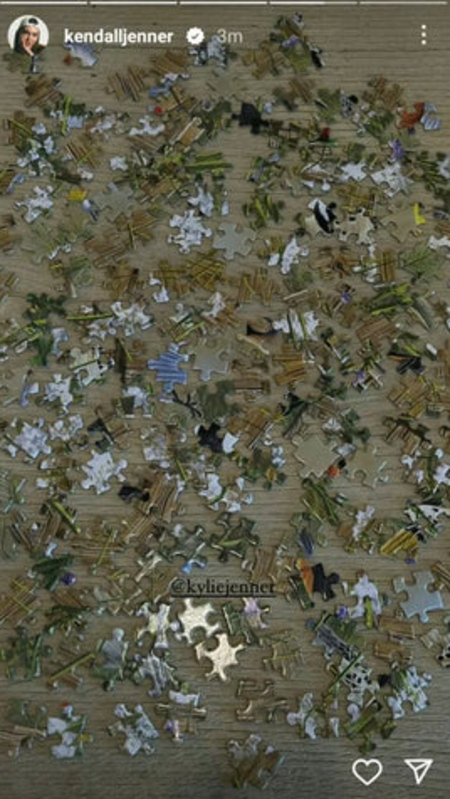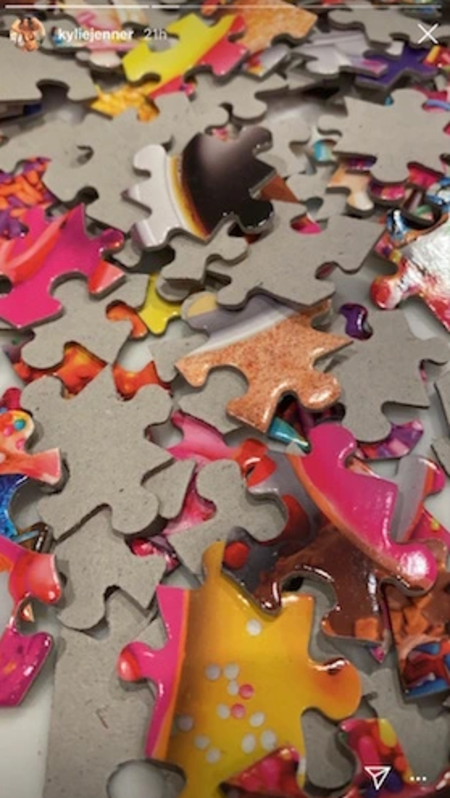 If you were watching their show KUWTK, you also caught Khloe bellied up to what looks like a 300 or 500 piece country scene.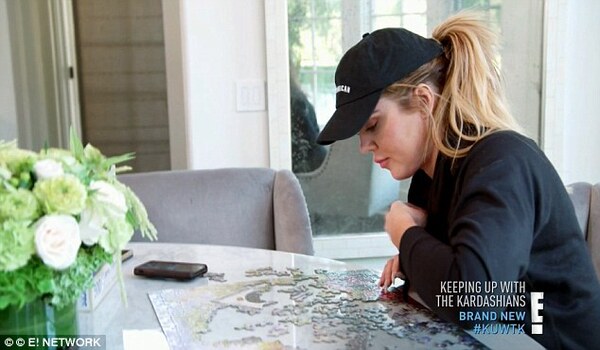 Bill and Melinda Gates
What puzzles would you choose to do if costs were not a factor? Would you buy up ALL the puzzles Puzzle Warehouse has to offer? Or would you be like Bill and Melinda and get a small but challenging mystery wood puzzle that costs thousands of dollars and be 2 of 3 people to ever complete it? Although the exact puzzles are probably not the same, we're all similar to them with this quote from around 2015 "We usually have one or two puzzles along on vacations and during the holidays. We often have a puzzle out on the table at the house. They're entertaining and stimulating."
Sofia Vergara and Joe Manganiello
Sofia and Joe get the whole family into puzzling, even the dog! I spy a nice view of Positano by Clementoni!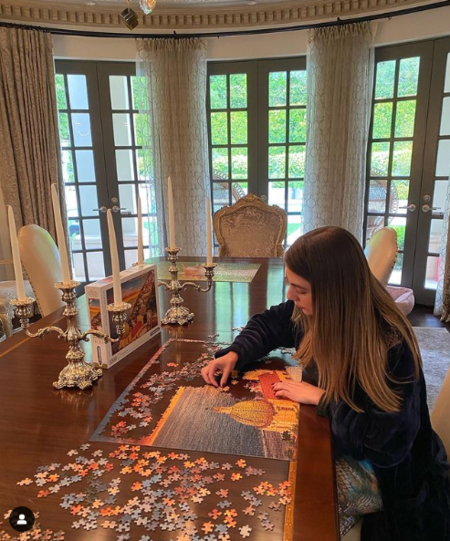 Kate Hudson
Kate Hudson staying warm at Christmas time with a Charles Wysocki design by Buffalo! With her use of #puzzlelover, you can be sure this isn't a one time thing. Anyone want to take guesses at her secret underground puzzlegram account is?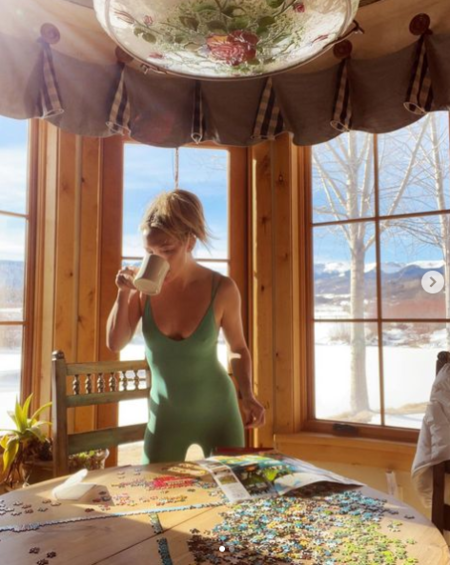 Ellie Goulding
OK, well it sounds like it's more her husband, Casper Jopling who is the puzzle super-fan, but for this romantic story about their "earlier than planned" proposal, as told on The Jonathan Ross Show, we think it deserves a spot on our list. "We were having maybe a couple of drinks and we were doing a Jigsaw puzzle. He likes them. I think it was quite an easy one. Probably 400 pieces. Anyway I think he was getting bored of it and then he proposed.
Marilyn Monroe
In the biographical documentary "Life Itself" about the late film critic Roger Ebert, filmmaker Ramin Bahrani reads an excerpt from a letter given to him by Ebert, who had originally received the letter along with a jigsaw puzzle and box from Laura Dern (who got it from Lee Stasberg…). "It was Marilyn Monroe's, who collected puzzles, and it had been given to her by Alfred Hitchcock. That night at Sundance you inspired me about film and contribution and I wanted to pass along film and connection in some way. Thank you again.". The puzzle comes with instructions of "You have to give it to someone else who deserves it." Talk about a traveling puzzle! Even with all the great hands its passed through, I can find no evidence of what the puzzle image is, and maybe it doesn't really matter when it's that magical anyway. I'd love to know what else was in Marilyn's collection though!
Oprah
Not only does Oprah often include puzzles on her "Favorite Things" lists, but she and her husband Stedman, also partake in puzzling! As shared on her facebook in May of 2020, they were working on Dogs on A Bench together to pass the time and feel connected together.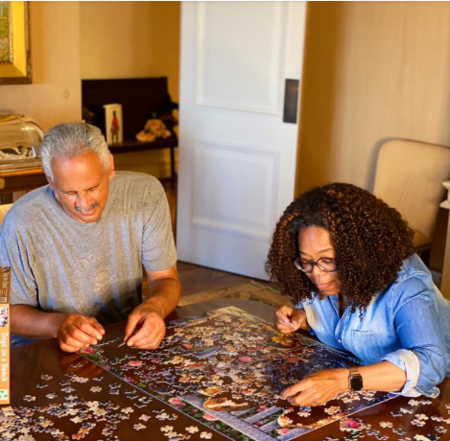 Nick Offerman and Megan Mullaly
In perhaps what is my personal favorite way of sharing their puzzle accomplishments. This fun duo poses themselves as sassy recreations of the images. Sometimes that includes props, or their dogs, but always shows why they have stuck together for so long.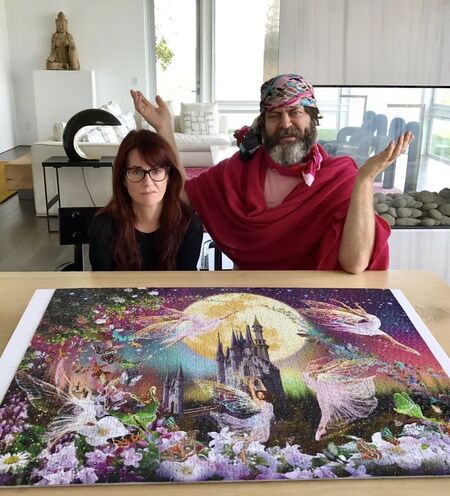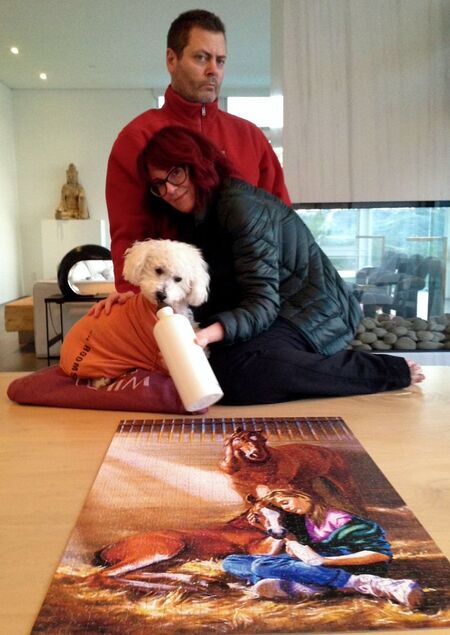 Sir Patrick Stewart
On the Graham Norton Show, Patrick, who was doing the interview remotely due to COVID lockdowns in April 2020, was able to show off some of his favorite pieces. One in a frame, because he "frames them all" and one precariously being held at an angle still on his puzzle board. The latter being the 750 Piece Frank Stella geometric painting from Galison, which took him weeks to complete.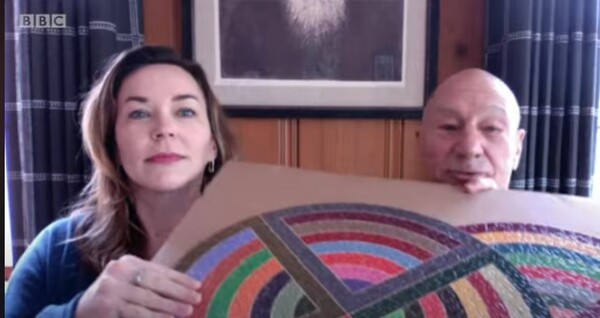 What other celebrities do you know who are dissectologists? Who would be on your fantasy puzzle competition team?
-Jenn / PuzzleKnucks