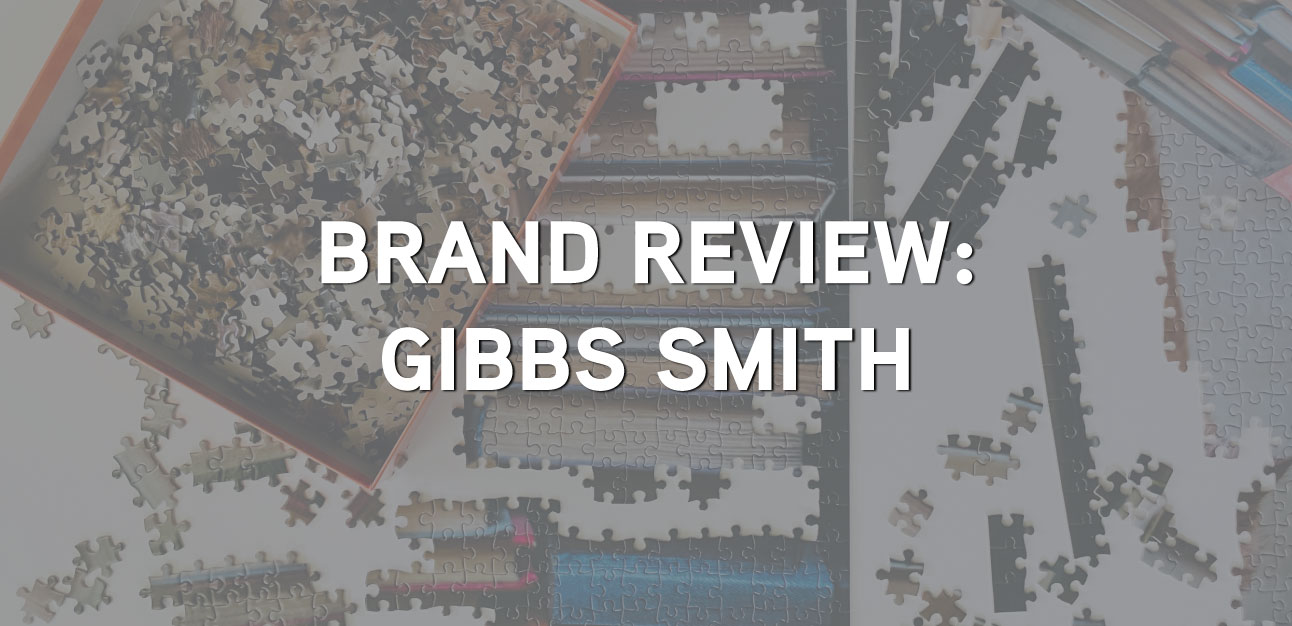 Brand Review: Gibbs Smith
I often get asked as a veterinarian if I have a favorite patient. Now, I try to treat all of my patients as if they were a favored and loveable little ball of perfection. Sometimes it's easy: puppies and kittens, no matter how sassy and intolerant they are of me, are always adorable and get many hugs and kisses! But sometimes it's darn near impossible, when yet another land shark is trying to nibble off a finger or two, or a spicy tamale of a cat is plotting my demise. PS: that puppy in the picture is only 16 weeks and was over 50lbs!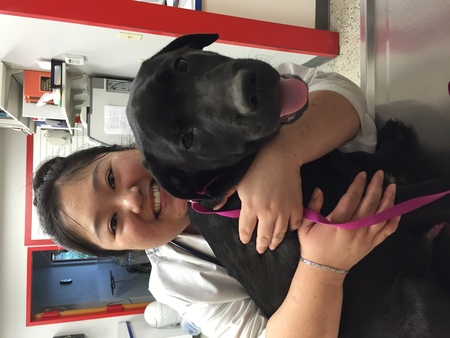 I know I shouldn't have actual favorites, but sometimes I just can't help myself. Through no fault of their own, often my most medically troublesome patients become some of my most favorite patients. I will never forget the two little westies from the same family- one with just about the worst allergies I have ever seen in a dog, and the other needing emergency surgery for a splenectomy and liver biopsy when mom and dad were out of the country. I still remember snuggling with his sweet little self at 10pm post op as he recovered. When I was still a newbie vet in the first year of my career, I will always remember the most adorable little Cavvie who became my first foreign body surgery, and probably changed the trajectory of my career forever. It was this little man that made me realize my passion and love for surgery, and really propelled me into the doctor that I am today.
And never fear! If you're a cat lover- I definitely have quite a few favorite feline patients as well! In addition to the one-eyed pirate who stole my heart, I pretty much love any and every orange cat that comes through my door. Which brings me to our actual topic of today's discussion! I mean, I guess I could continue to bore you with all the little furry loves of my veterinary life, but at some point, I should bring it back to puzzles right?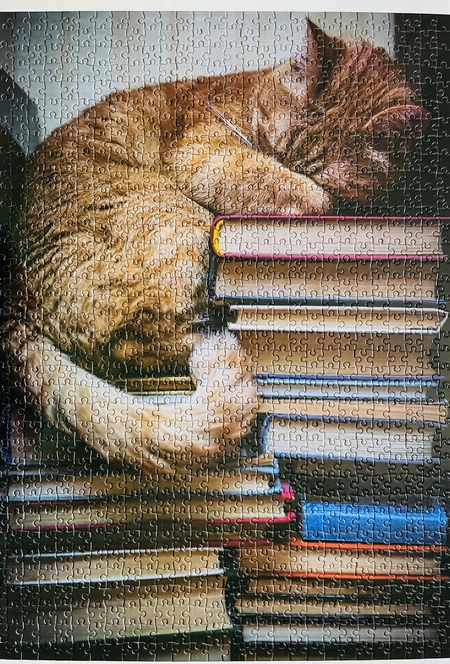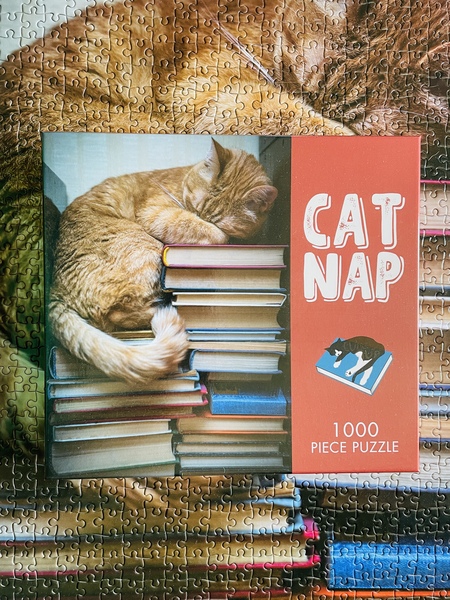 Enter this adorable puzzle image! Now, I am not normally a photograph puzzle person, so this is a very unusual puzzle choice for me. But the moment I saw this snoozing orange ball of adorableness, my heart melted, and I knew I had to get him! This orange cutie is brought to you by the brand Gibbs Smith. Gibbs Smith is an independent publisher and distributor located in Utah. They own both their namesake, Gibbs Smith, as well as Lucky puzzles- which I didn't know. I love Lucky Puzzles, so I had super high hopes for this puzzle as well!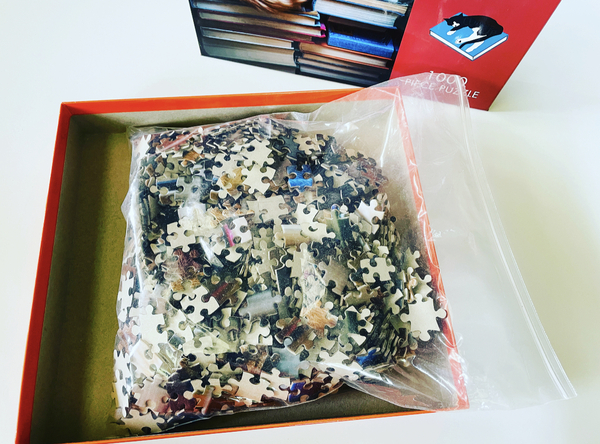 The box is super glossy, with the entire image on the front of the box- which is always my preference. It's almost a perfect square- at 11x10x1.75 inches. There's really no fluff or frills with this puzzle box, and that is just fine with me! There is no poster included (which I don't need if the entire image is uninterrupted on the box), and the pieces come in a resealable plastic bag (YAY for going green!).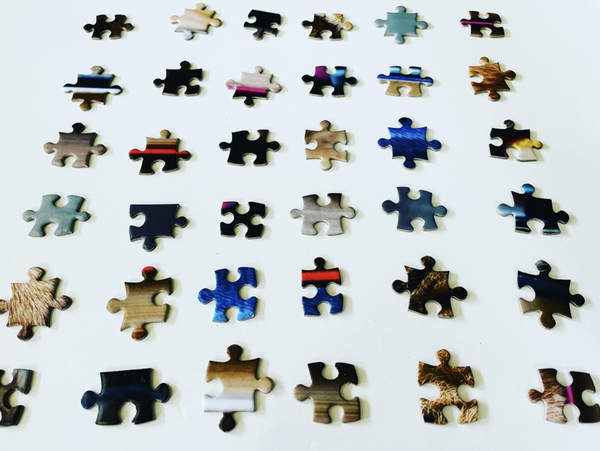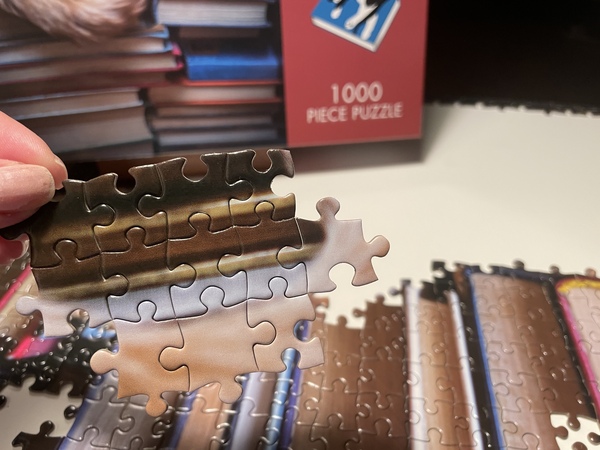 The pieces are very impressive! They are very sturdy, and all of mine were perfect straight out of the box: none were bent, none were peeling, and all were separated. They are 1.8mm thick, with a moderately glossy finish and regular cardboard backing. The pieces are a varied ribbon cut, and I didn't really have any issues with false fits! The pieces fit well together, and I could move small sections around easily.
I never really know how I'm going to start a puzzle! I often go in with a preconceived notion of how I want to attack it, but it never really comes to fruition when I start sifting through the pieces. Usually some sort of color or pattern will call out to my brain and I just go with it! This puzzle surprised me by how I started. Didja think I'd start with the cat? Because I definitely thought I would! But as I was going through the initial meet and greet with the puzzle pieces, I kept getting called to the colorful linework of the book covers. Essentially, I ended up puzzling everything but the cat, and saved his perfect little orange-y goodness for last!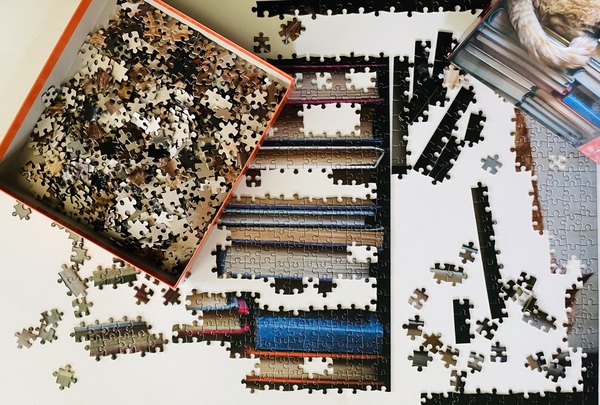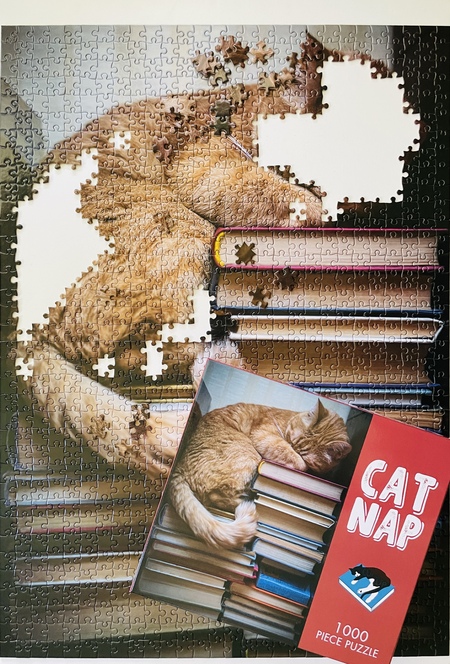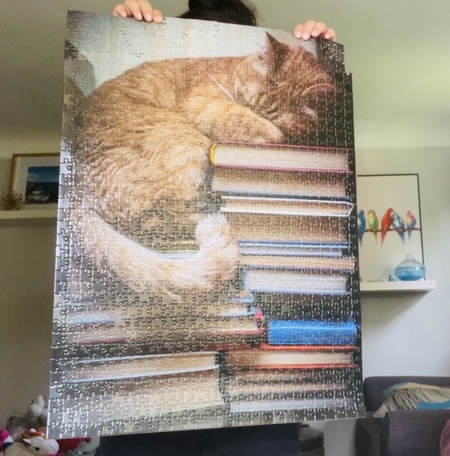 Overall, I loved everything about this puzzle: I think that the quality is great, I tend to love glossy puzzle pieces, and I really enjoyed the no frills puzzle box and resealable plastic bag. The only thing I didn't enjoy, was that parts of my puzzle were slightly blurry, and the colors didn't translate perfectly to the pieces. I feel like this may have everything to do with the fact that this is a photograph, and nothing to do with the actual manufacturing of the puzzle! I still enjoyed this puzzle from start to finish, and I still highly recommend checking out the Gibbs Smith brand!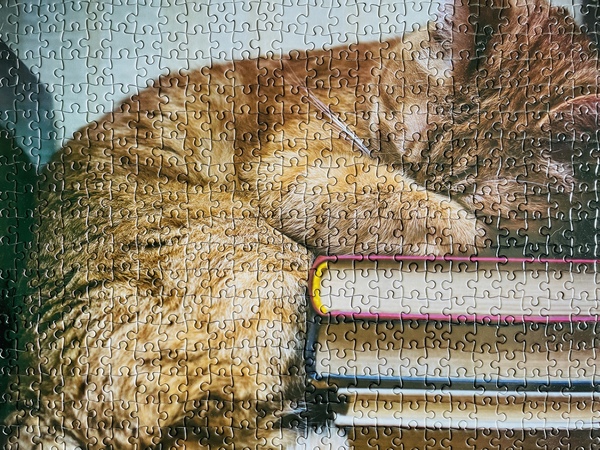 If you're like me, and you cannot get enough of orange cats (Fun Fact: an orange cat is almost exclusively male!)- check out these gems:
From Buffalo Games, they offer a puzzle series called Cats of Charles Wysocki and these two adorable orange dudes made it on my wish list: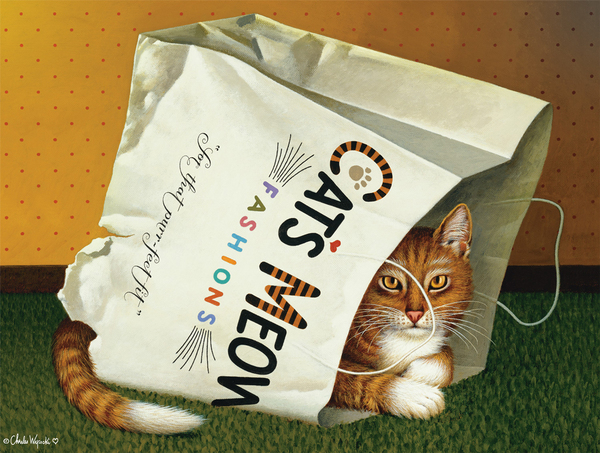 Dudley Wadsworth Catsinbag | Buffalo Games | 750 pieces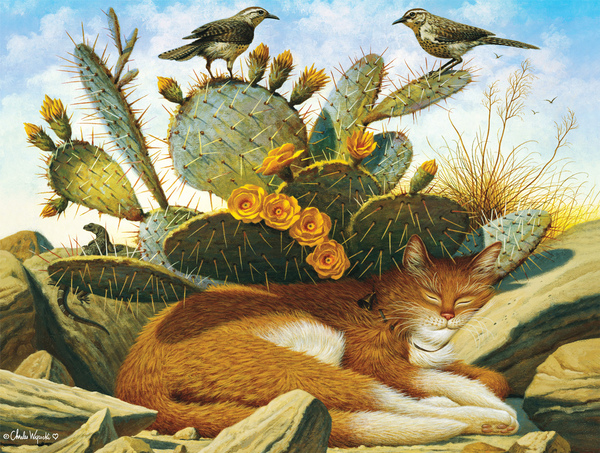 A Prickly Pair And Poncho | Buffalo Games | 750 pieces
This image from Cobble Hill called Flora focuses on this snoozing orange stud, and that yellow background just gives me all the feels: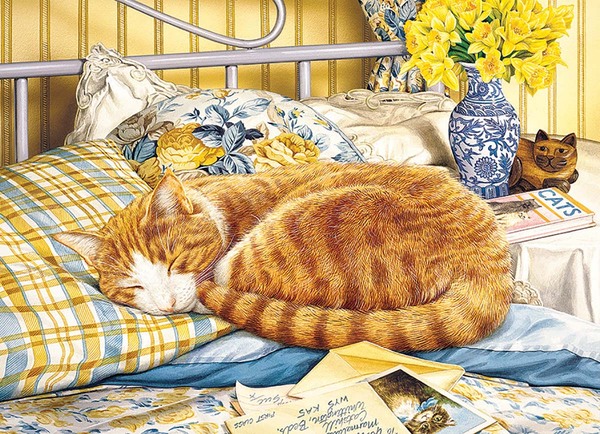 Flora | Cobble Hill | 1000 pieces
If you want a hearty chuckle, check out Eurographics Kitty Throne: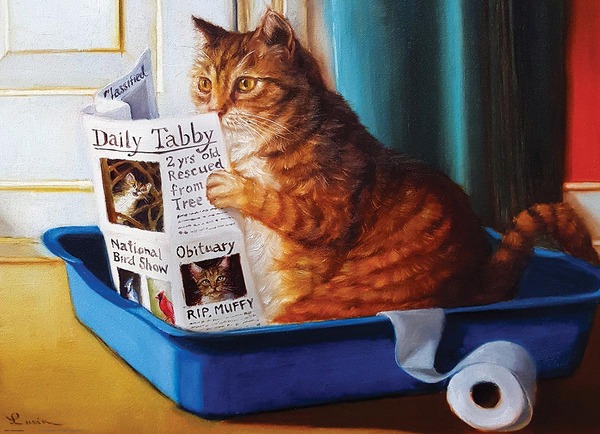 Kitty Throne | Eurographics | 500 pieces
For a super cute and unique take on the orange cat, piece together this New York Puzzle Co Cat-egories of Art: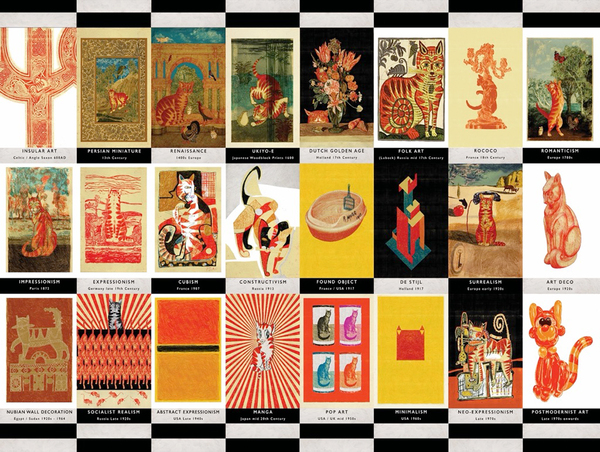 Cat-egories of Art | New York Puzzle Co | 1000 pieces
Well, my jigsaw junkies, I hope you love orange cats as much as I do! Until next time, happy puzzling!
-Amanda @600hoursofpuzzle