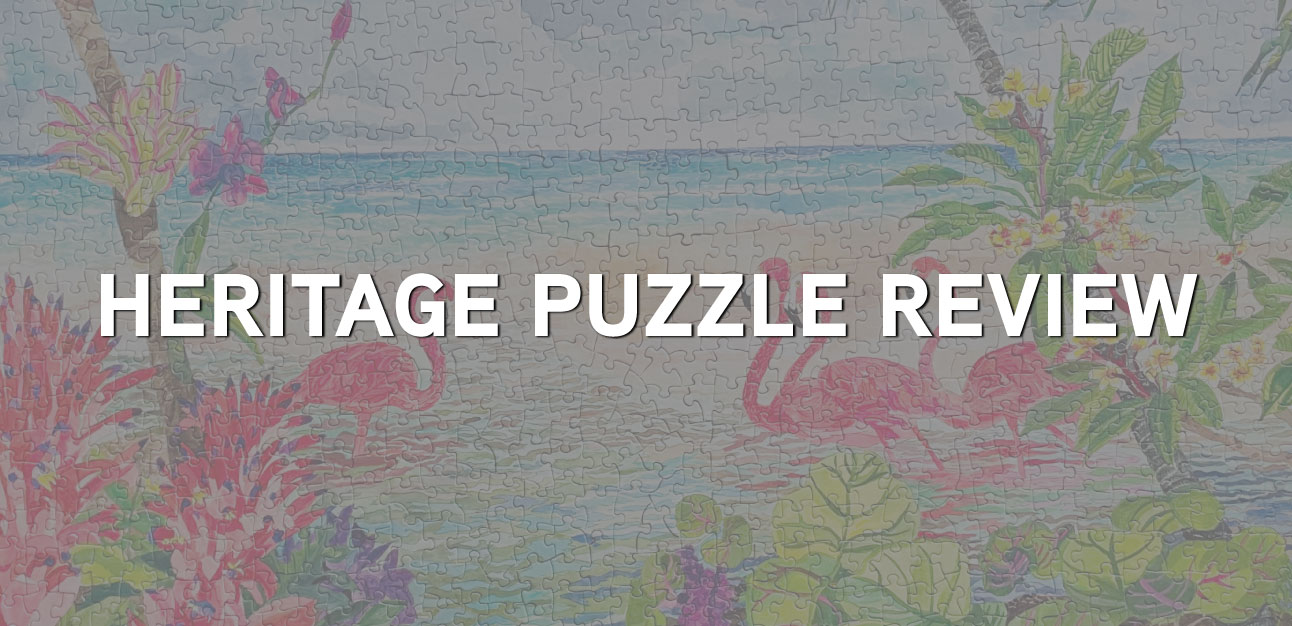 Heritage Puzzle Review
Good morning my Jigsaw Junkies! Today, I'm bringing you a puzzle review for a US based and manufactured, family owned and run, jigsaw puzzle company: Heritage Puzzles. I chose to do the 1000 piece puzzle "Join Us" by Eileen Seitz, and I absolutely loved it!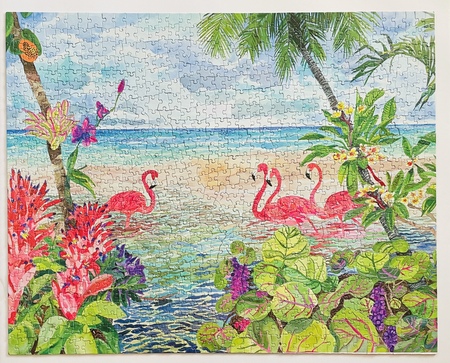 Join Us | Heritage Puzzles | 1000 pieces
If I said Cape Hatteras Lighthouse, I'm not sure if many people would know what it looks like or where it's located. However, this adorable humble lighthouse, with its iconic black and white candy cane stripes served as the starting point for Heritage puzzles. Cape Hatteras Lighthouse is the tallest lighthouse in the US, and, though its physical location graces the Outer Banks in NC, it also makes up the unique Logo for Heritage puzzles.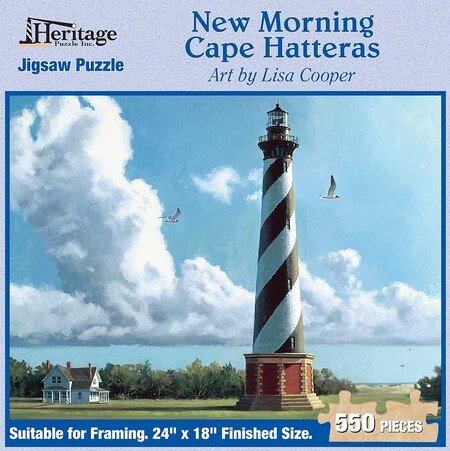 New Morning Cape Hatteras Lighthouse | Heritage Puzzles | 550 pieces
I was initially drawn to this brand because of their beautiful beachy scenes. Every year, my husband's family has a huge family reunion at Sunset Beach in North Carolina. In July, about 130+ people, which includes five generations of family, flock to Sunset for one week of beach shenanigans, lots of drinking and eating yummy seafood, and overall enjoying each other's company! This year when we go in July, it will officially be year 40 of the reunion! So, when I was surfing Puzzle Warehouse's website, and I stumbled across Coastal Moonrise, it shocked me because it looks so similar to where we vacation. I immediately started digging into this brand, and I just fell in love with their beachy images!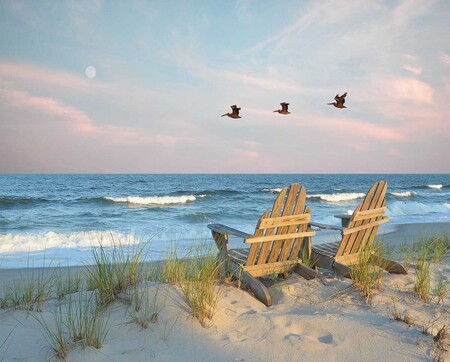 Coastal Moonrise | Heritage Puzzles | 1000 pieces
So let's start with the box: this thing is huge! This box is definitely going to take up some serious real estate on your puzzle shelf, coming in at 13" x 13" x 1.75"! This box rivals Springbok and SunsOut boxes. The full image is on the front of the box, along with the artist and the title. The pieces are in a non-resealable plastic bag, and no poster is included.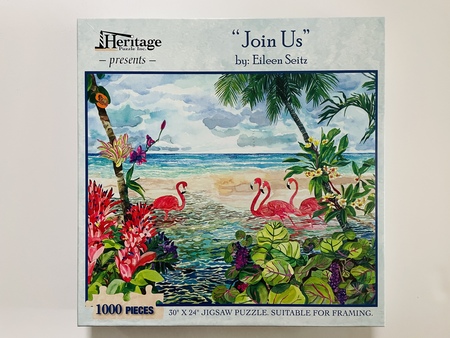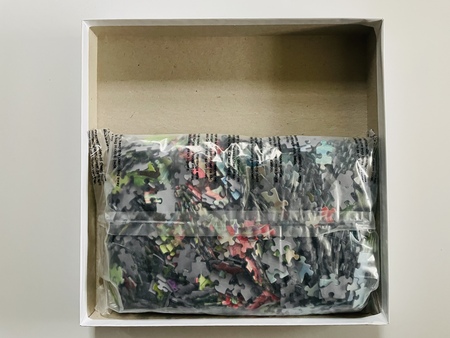 The pieces are really nice. This puzzle is random cut, and I love the added intricacy that comes with those funky shaped pieces. The thickness is 1.7mm, and the pieces are semi glossy. The piece fit is actually really good, and I was able to move small sections around fairly easily- this is really nice, as most random cut puzzles don't have a great fit. However, I did need to use my puzzle scoop to move larger sections around! All of my pieces were very sturdy, and none were damaged at all. I think this puzzle will hold up to many future puzzling sessions! Because the finished puzzle is slightly bigger than normal, at 24 x 30 inches, the pieces are also slightly bigger than I am used to working with. Check out my picture that compares Heritage pieces with Ravensburger pieces.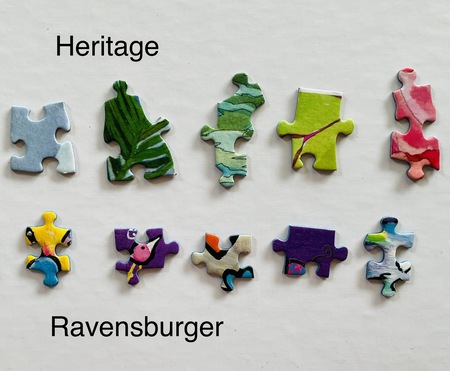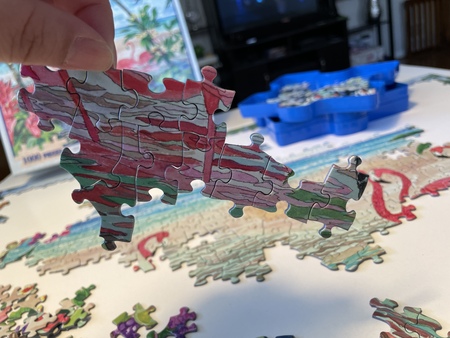 The overall experience of piecing this puzzle together was excellent! This puzzle was a great mix of easy and challenging. What I mean by that, and what I personally tend to find makes a perfect pairing for a great puzzle, is that this puzzle was really easy to sort into sections, but then those sections had some challenge to them when piecing them together. I don't like my puzzles too easy, but I tend to feel lost when I can't at least start sorting my puzzle into decent sections! Add in the random cut for this puzzle, and the challenge level was perfect! I will admit, I am not a huge fan of 1000 piece puzzles that measure 24x30 inches finished: this is because I puzzle in my living room on homemade puzzle boards, and my 30x30puzzle board does not balance well on my little fold out table that I puzzle on, so its more my problem than anything! However, I enjoyed this puzzle so much, that I will definitely be getting more, despite the fact it is not my favorite puzzle size! That says a ton about how much I love this brand!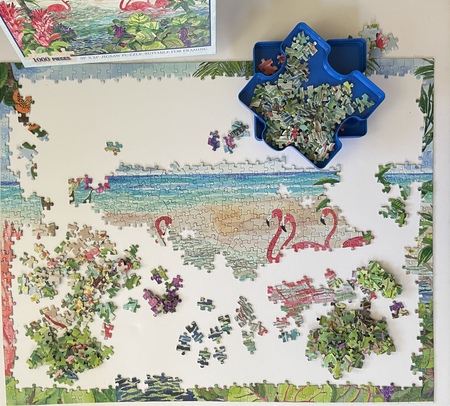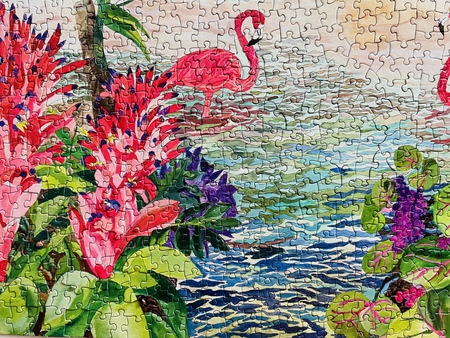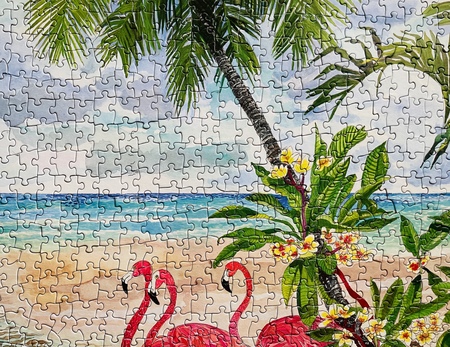 In addition to the fact that I just love the overall quality and experience of this puzzle, I really love the story of how this brand came to be. Heritage puzzles was started with one puzzle of Cape Hatteras Lighthouse that was borne from an idea during a fishing trip to the outer banks. I was lucky enough to get to speak with Matt and get the inside scoop on Heritage puzzles. His Grandfather was the original puzzle lover and, together with Matt's Dad, they started Heritage Puzzles in 1998. Matt's Mom got involved, and really drove the business to grow into what it is today- a local family owned business that offers almost 250 different puzzle images! Check out their very first puzzle ever made: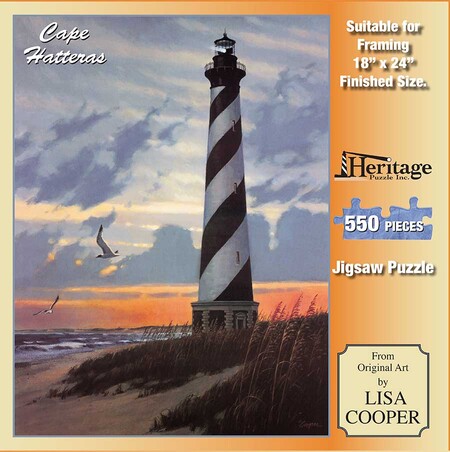 Cape Hatteras Light | Heritage Puzzles | 550 pieces
If you're looking for a beach themed puzzle, this is the brand for you. From iconic lighthouse puzzles, to whimsical colorful beachy puzzles, to gorgeous photographic puzzles, this brand has anything you could want regarding any sort of beachy theme! Think something looks familiar? You're probably right. Heritage licenses artwork from many local artists that love to take their inspiration from a specific location, beach, house, or anything else that catches their eye. Matt let me know that often times, locals will swear they know exactly where a certain house from one of their puzzles is located! Its little personal touches like this that truly make me love a business! Check out some of my favorite images:
Bicycles with Baskets, from the same artist as Join Us. I just love the use of those pastel-ey colors!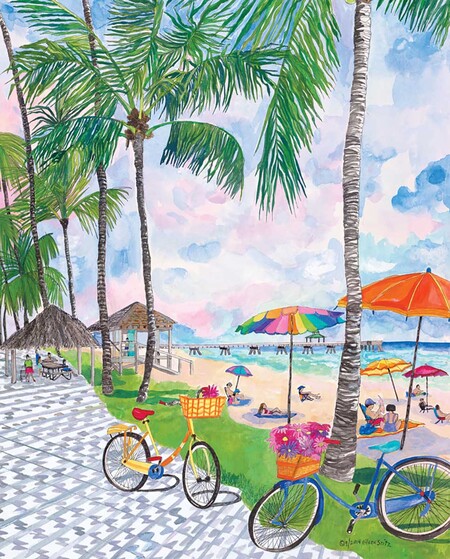 Bicycles with Baskets | Heritage Puzzles | 1000 pieces
I would absolutely love this puzzle- it just looks so inviting! I could completely imagine myself as a subject in this puzzle, sitting with a book, working on my tan, and listening to the gentle waves rolling in! (Hey, in a few months, that's exactly what I'll get to do!!)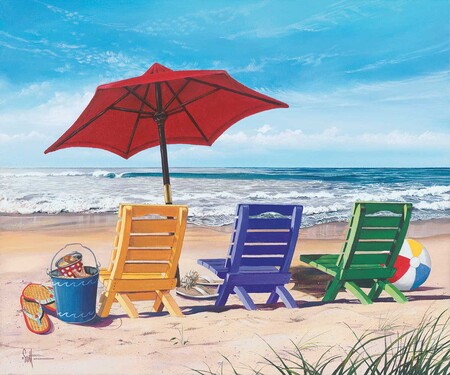 Beachy Keen | Heritage Puzzles | 550 pieces
If you're looking for a more challenging image, I bet this colorful Jellyfish puzzle will do the trick!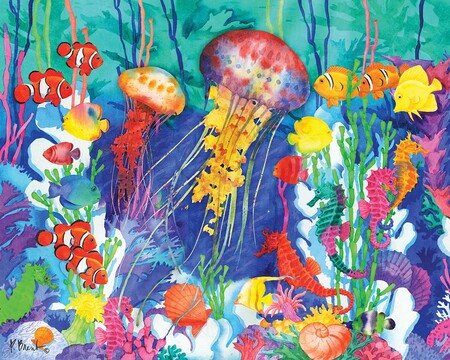 Jellyfish Lagoon | Heritage Puzzles | 1000 pieces

I also have to include some of their lighthouse puzzles. Matt let me know that they have a goal of featuring Lighthouses up and down the entire coast line, and I love this idea!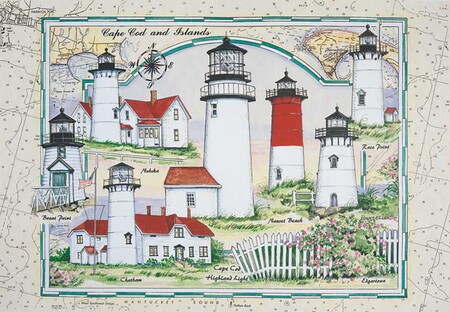 Cape Cod and the Island Lights | Heritage Puzzles | 550 pieces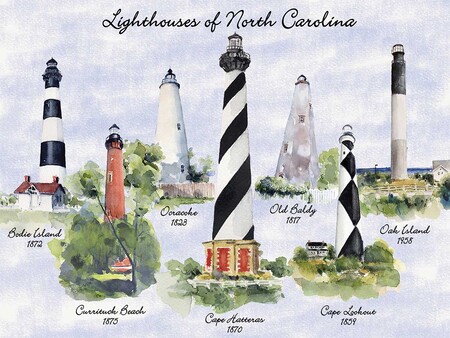 Lighthouses of North Carolina | Heritage Puzzles | 550 pieces

If you're looking to support a great local puzzle business, get amazing beachy images, and a fabulous quality puzzle, look no further than Heritage Puzzles! Thank you so much Matt, for taking the time to answer all of my crazy puzzle questions. Quick fun facts: Matt is a total puzzle loyalist, and pretty much only does Heritage puzzles! His favorite piece count is 500 or 550, and he loves the 500 piece landscape images that they offer. He let me know that he does a total of about 5-6 puzzles per year, and was very surprised when I told him that I was around 38 puzzles at the time of our discussion (mid March). Sometimes I forget that not everyone is as silly and ridiculous about puzzles as I am, and have other things that they do with their spare time!
Until May my Jigsaw Junkies- Happy Easter and try to stay dry from the April showers!
Amanda @600hoursofpuzzle
PS: I definitely tried the Puzzle Pickup Challenge with this puzzle! I was really surprised that it held up as well as it did- most random cut puzzles wouldn't make it nearly as far as this one! Bravo Heritage!